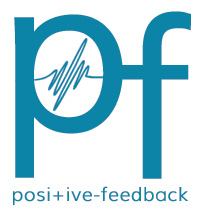 You are reading the older HTML site
Positive Feedback ISSUE 65
january/february 2013
Notes of an Amateur: The Alexander Quartet's Shostakovich.
by Bob Neill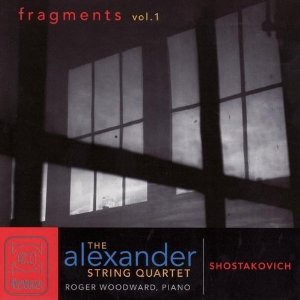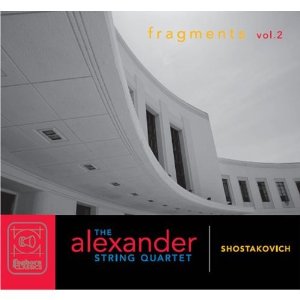 Shostakovich, String Quartets, Vols. 1 and 2: 'Fragments.' The Alexander Quartet. Foghorn Classics. CD 1988, 1991. (2006-2007)
These Fragments I have stored against my ruins. T.S. Eliot
This is not a review of Shostakovich's quartets, which most of you who read this column know well. It is a review of the Alexander Quartet's revelatory performance of the quartets. I am going to begin at the beginning and go on until I begin to repeat myself, at which point I urge you to proceed on your own. This double set (6 CD's) includes all of the known works the composer wrote for string quartet, including an unfinished work; some works that he did not write for string quartet that Alexander first violinist, Zakarias Grafilo has arranged for quartet from a handful of Shostakovich's preludes and fugues for piano; and the well known Piano Quintet.
The Alexanders provide the headnote from Eliot to have us understand what is meant by calling their traversal of the quartets "fragments." They mean to suggest that this entire oeuvre is the composer's major artistic response to the western world of 1938-1974, just as Eliot's The Wasteland was his equally major response to the world of the earlier part of the century. They want us to see that these two artistic expressions are of the same kind: entire visions constructed in the only way that seemed possible to many artists in the twentieth century: configuring a whole vision from fragments.
Shostakovich's quartets have become more prominent as they have settled into the modern mind in the generation following their composition. Recordings now appear regularly, the most recent being the Pacifica Quartet's in progress from Çedille. It is entirely fair to see them now as holding a place in the modern canon similar to that held by Beethoven in the pre-modern one. The quartets of Bartok, less popular but equally esteemed, share this role—and we will be getting the Alexanders' Bartok later this year.
So what do they make of this music? Many (most?) ensembles like to string Shostakovich tight from the start—and then screw the intensity up from there! The Sorel Quartet from the UK on Chandos do not and I love them for it. Neither do the Alexanders, who have found a deep meditative quality in this music. They let us inside the music where we want to be but seldom get. There's nothing wrong with intense Shostakovich—we have been given the impression the composer liked his quartets played that way. But, as one of my favorite clichés goes (probably stolen from Northrop Frye), composers know what they intend but not always what they actually create.
Quartet No. 1 (1938) played by the Alexanders has a beauty we won't often hear from it. There's plenty of vigor when it's called for -- vigor is not synonymous with intensity—but there is an intoxicating lyrical spirit that controls the performance. And presages what is to come.
Quartet No. 2 (1944) on the page and in the Alexanders' hands is a more vigorous work. There is a firm and crisp restraint that I remember from their Beethoven performances (which get better every time I hear them). There is plenty of the Shostakovich intensity here but it feels natural and unforced. In its different way, Quartet No. 2 is as beautiful as Quartet No. 1—just as The Wasteland can be. Some kinds of beauty come from eloquent honesty. The Alexanders show us how much more emotional profundity comes from Shostakovich's quartets when musicians use more restraint in bringing a specific agenda to them. The Alexanders have great confidence in this music, which breathes in this performance. They are making me admire these quartets more than I ever have. There is an overall warmth, both emotional and sonic, that I don't remember. Highly respected recording engineer Judith Sherman is a full partner here, as she often is.
Quartet No. 3 (1946). The Alexanders' approach lets the first movement of this quartet be the innocent dance that it is, lets its counterpoint prance and dance. Far in the background we can even hear Tchaikovsky. How heretical! I have never been so engaged by this music before. As the dance accelerates it loses none of its poise. The mood darkens and becomes more dissonant and complex in the second movement, but here the Alexanders deliver a probing delicacy. In movement three, the musicians dig into their instruments and emotions heat up. Contrasted with the usual performances, this is still less intense and vigorous than we are used to—but compared with the first two movements it feels like an entirely natural development, which soon becomes a deliberate and dramatic adagio. Movement four is introduced by an almost Beethoven like statement by the cello. Even so, its voice is more somber than declamatory. It is joined by the violin and then the other strings in an extended song which is actually more a dance. But we are dancing on the black keys. We are not entirely comfortable and grow less so the deeper we get into the movement and then the next. Again, we have a clear sense that it is the music rather than the musicians that is in control, which inexplicably deepens the listening experience. This is an illusion, of course, which is a credit to the Alexanders.
Quartet No. 4 (1949)—which the Alexanders will perform here at Amherst College's Buckley Recital Hall next month—begins as an intense affair no matter what ones overall view of Shostakovich is; but while the musicians don't hold back here, they continue to demonstrate that it is misguided to overwhelm the melancholy poetry that lies in all of this music.
Quartet No. 5 (1952) opens with a vigor that is gradually eased off as the musicians move out of the first movement and into the second, which is a lyrical meditation. By the time I reached Quartet No. 6 (1956) and Quartet No. 7 (1960), I had pretty much stopped taking notes and was just listening. I had become so accustomed to the ensemble's way with Shostakovich it had almost disappeared as an interpretation. The particular balance of ease and forcefulness, edge and beauty had established a world inside of which all of their choices simply felt right. What I noticed, moving on, was that the slower, quieter movements have a degree of release and meditative ease that is nearly impossible to attain when the ruling mode is 'tension.' Is it un-modern to sing without constant irony? Or is it a more complex, less doctrinaire modernism?
Quartet No. 8 (1960 - Quartet No. 15 (1974). What becomes apparent as we move through the second half of the oeuvre is how the Alexanders' overall approach gives the quartets more of a monumental quality than I generally associate with them. Rather than leap out at us in attack mode, they spread out and invite us in. Tempo likely has something to do with this. Part of releasing tension is slowing the pace a bit. Just a bit but a noticeable bit. And just to remind us they can read a score, when the second movement of Quartet No. 10 (1964) comes along, marked allegretto furioso, the Alexanders bring fury. It comes as the shock it was presumably intended to be.
At this point in my two-week listening session, I switched in a pair of new (French) Tocaro 40D speakers for my usual (also French) JM Reynaud Orféo Supremes (somebody has to break them in in!) and heard both the shock and then the subsequent calm of Quartet No. 10's second movement in the greater contrast these remarkable single driver standmounts deliver. Tocaros, even broken in which these are not, are legendary for riveting transparency, directness, and luminous coherence. Until I adjusted to them, they had the effect of italicizing the performance.
I decided to leave the Tocaros in for Quartets 11-15 for the pleasure of the excitement they generate. They had great fun tracing the Alexanders' pursuit of the complex counterpoint and cross rhythms of the second movement of Quartet No. 12 (1968) in particular.
"What more is there to say?" This is an immensely satisfying traversal of one of the great quartet oeuvres in our literature. Different aspects of its excellence came through the two different speakers in play, but the monumental quality of the music that the Alexanders bring out remained intact through both. If you want an emphasis on intensity, the Borodins on Melodya and Fitzwilliams on Decca are there for you. If you want to hear the first expression of the humanity in the music, try the Sorels. The ongoing series by the Pacificas seems to be searching for a middle path. But today, in this house, it's the Alexanders who are making the strongest case for the greatness and completeness of this music's vision.
Equipment used for this audition: Resolution Audio Cantata CD player; Crimson CS710 preamplifier and CDS 640E monoblock amplifier; Jean Marie Reynaud Orféo Supreme and Tocaro 40D loudspeakers; with Crimson cabling.
Bob Neill, a former equipment reviewer for PF Online and For the Music, is also proprietor of Amherst Audio in Amherst, Massachusetts, which sells equipment from Audio Note, Blue Circle, Crimson Audio, JM Reynaud, and Resolution Audio.