Positive Feedback ISSUE 65
january/february 2013
Notes of an Amateur: Penderecki II, Telemann, Goerne's Schubert lieder 7.
by Bob Neill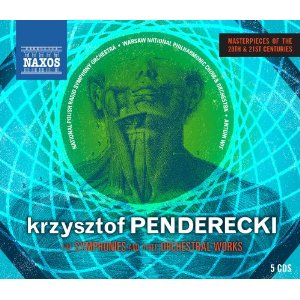 Krzysztof Penderecki, The Symphonies and Other Orchestral Works. National Polish Symphony Orchestra, Antony Witt conductor. Naxos 8.505231. (5 CDs)
Naxos has got more going on musically than any one reviewer could keep track of but lately I've got hold of two of their most monumental recording projects—Petrenko's Shostakovich symphony cycle and now Antony Witt's Penderecki symphony cycle. The latter is part of a comprehensive Penderecki project that has already generated over twenty releases. In Penderecki I, I looked at the chamber music and a couple of concertos. This is a one-box reissue of Symphonies 1, 2, 3, 4, 5, 7, and 8, along with several other works of orchestral music. As a package, it provides a rich and varied introduction to a modern composer some of us are just beginning to comprehend and admire.
There is no obvious place to begin for someone coming along at this late stage other than at the beginning, which I've decided not to do. Rather, I'll simply drop in here and there and see what I can see.
Symphony No. 8, composed in 2005 (Penderecki is eighty this year) shows us what the Mahler orchestral song cycle sounds like birthed a century later. This extraordinary work, consisting of twelve German lieder by Eichendorff, Hesse, Rilke, Arnim, and Goethe, flooded into the room like a gorgeous, passionate tidal wave. As we wander through all of these symphonies, we are reminded of how major composers find their ancestors and weave their musical influences into something new. Here it is Mahler mixed with passionate Slavic song, chant, and choral music. Elsewhere it will be Bruckner transformed into wild fauns and other earthy creatures, Shostakovich grounded in...well you get the idea. I returned to Symphony No. 8 several times during a month long Penderecki odyssey and grew extremely fond of it.
I think you have to know more than I do about modern Polish music beyond Gorecki and Lutoslawski to truly understand what's going on here historically. As I moved through the rest of the music in this set I found that Symphony No. 8 is not typical of Penderecki's orchestral music. Even this disc gives us a warning with the other two choral works included on it: Dies Irae is full of ferocious dissonance—ire; And the Psalms of David are a mixture of reverence and fury.
In Symphony No. 2 (1980) there is stentorian stormy weather which frequently gives way to something like a Mahler-like calm and lyricism. There are occasional hints of Shostakovich slash here and there. The work frequently feels like an argument between Shostakovich and Mahler moderated by Penderecki in search of a middle ground. It refuses to stay anywhere for long. This symphony's equivocality is actually exciting if you can stay with it. Symphony No. 2 is one of Penderecki's most popular, which I'm sure has partly to do with its accessibility but also with its expression of Poland's (all of Eastern Europe's) passionate and unsettled feelings during the latter half of the twentieth and early twenty-first centuries. Penderecki definitely shares in the Eastern European spirit of his time.
Symphony No. 4 ( 1988) is peripatetic—we walk through a forest of interesting instrumental sounds—sometimes individual instruments, sometimes groups of instruments. There is none of the violence we hear in many of the other symphonies, but lots of action: sounds are flying all around us. As a whole the work feels diffusely discursive! To repeat myself, it wanders rather than proceeds. And then it's over.
Symphony No. 1 (1972) begins like a concerto for percussion but the fascinating array of percussive sounds is soon joined by blaring brass followed by throbbing bass strings. All of this is presumably to set the stage for the whirlwind of orchestral sound that soon whips in. We had no idea it would lead to this—and then the storm disburses and we are somewhere else, amidst blasting brass, which in turn soon takes us somewhere else. We are reminded that when listening to Mahler or even Shostakovich we are seldom shocked: we have a sense of where the music can go and where it is not likely to go. With Penderecki we soon learn we can go anywhere. This is eventually part of what we come to relish about his symphonies. Meanwhile, back in Symphony No. 1, the somewhere else we were delivered to from the blasting brass is back with the percussion—many blocks clicking around us like rain on a light resonant surface. And then, no rest for the weary, we have shrieking violins—and yes, Penderecki composed the soundtrack for Psycho. What keeps us listening to the sound of this musical jungle? Fascination, curiosity, and the realization that we're going too fast to jump off. This must be great if daunting fun for an orchestra to play. It is a lot of what modernism promised us nearly a century ago: a new sense of exhilarating freedom. It just took longer to get there than expected. I would love to hear this in Symphony Hall, Boston, but I'm not holding my breath.
There is more to listen to and talk about here but I think I've said enough. Penderecki's symphonies are to my ears the next step in the history of the form. If that's enough to get your attention, there you are.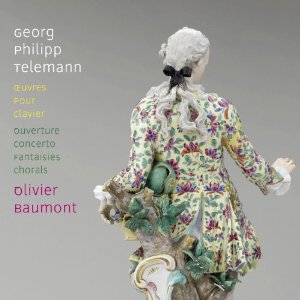 Georg Philipp Telemann, Oeuvres pour clavier. Olivier Beaumont. Euromusic LY 052.
Curiosity can delight a dog as well as kill a cat. None but the hopelessly curious would seek out a new release of keyboard music of Telemann, known for virtually everything but. On pure whimsy we order it, hold our breath, and... smile.
Baroque music is sufficiently formal to protect anyone competent from making a fool of himself. But its very formality is also a challenge to true originality. While Telemann has written some wonderfully engaging and melodically pleasing music, as a rule he is more dependable than brilliant, more satisfying than exciting. In the eighteenth century world of inspiring Bach, glorious Handel, scintillating Vivaldi, and the sensuous French, that is the fate of Telemann. But there are surely worse ones. Telemann's keyboard music, played here by Olivier Beaumont on five different instruments (which are themselves half of the pleasure of the program), is full of the usual delightful surprises he springs on us throughout his oeuvre. To my surprise, he can be positively Handelian in melodic creativity. In some of the music here, the keyboards positively sing—no mean accomplishment for a harpsichord or clavichord.
One side discovery I made listening to this album was how pleasing (and accurate) the German (I mistakenly called them French last time out) Tocaro 40D speakers are on harpsichords. These instruments are notoriously difficult to reproduce without irritation, no matter how good the musician or instrument. The Tocaro importer, Creston Funk of Austin (Texas) HiFi will be pleased to read this.
So, if you enjoy baroque keyboard music (and your speakers are accurate or kind or both), don't let this unheralded release get away.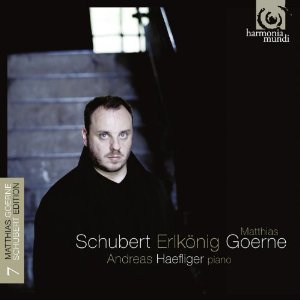 Schubert, Erkönig. Matthias Goerne, baritone. Andreas Haefliger, piano. Schubert Edition 7. Harmonia Mundi HMC 902141.
Matthias Goerne's voice is like no other. Like a viola compared with a violin, it does not communicate a sense of transparency. It adds something to the transmission. We hear this and it affects how we hear and respond to the music. It is the kind of voice than can mesmerize listeners who have never cared much for lieder. It is a baritone voice that has some of the peaty quality of a bass. That it is one of the great voices of our time has been recognized by Harmonia Mundi who a few years back began what appears to be an open-ended series of Schubert lieder recordings by the singer, which here reaches Volume 7. It includes the famous setting of Goethe's Erkönig.
Many of us having heard Goerne's Schubert find it difficult to hear anyone else's, including that of the great Fischer-Deiskau. What Goerne "adds" to Schubert's music turns out to be essential. I don't know really know what else to say. There is no particular volume in this series one needs to begin with. Any one will do. Try this one.
Equipment used for this audition: Resolution Audio Cantata CD player; Crimson CS710 preamplifier and CDS 640E monoblock amplifier; Jean Marie Reynaud Orféo Supreme and Tocaro 40D loudspeakers; with Crimson cabling.
Bob Neill, a former equipment reviewer for PF Online and For the Music, is also proprietor of Amherst Audio in Amherst, Massachusetts, which sells equipment from Audio Note, Blue Circle, Crimson Audio, JM Reynaud, and Resolution Audio.