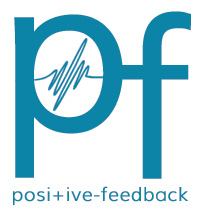 You are reading the older HTML site
Positive Feedback ISSUE 65
january/february 2013
The Future Is Here - Audio Still Rules
by Karl Lozier
Blu-ray recordings may be video, audio or most commonly video plus audio. If the video is a distraction turn it off though I would suggest watching the video at least once; at times it can be interesting or entertaining. Naxos is again following up with more high definition (Blu-ray) audio only releases. For many listeners that will be a distinct improvement in audio quality if the HDMI digital output signal is used instead of the analog. That one cable carries everything including stereo or multi-channel audio in addition to the very high quality Blu-ray video signal. Greater clarity and a smoother treble will be noticed with many if not most home audio systems. So far this seems to be consistently true. Easier connection needing only one cable is appreciated by all. Sometimes new-fangled things are even easier to use while offering better quality, at least in the audio musical field.
An easy way to get into the beauty and audio and video qualities of Blu-ray releases is by getting a truly good player (a good start is important with many things in this old world). In this issue I will continue to use the moderately priced Oppo BDP-95 player for all the Blu-ray reviews, an over performing universal player; other players may be used for SACD recordings. Next item needed would be a very decent AV receiver such as by Onkyo, Integra, Denon and others that have multiple HDMI cable inputs and good digital or digital to analog connections and jump right in. Your newer television sets will have the correct and simple HDMI connections for simplified setup. The AV receiver will let you add surround sound easily. Remember that quality is more important than quantity in the long run. If possible, try to get an AV receiver that has an official manufacturers' list price of $1200 or even a bit more, particularly if you like to listen at fairly loud levels at times and with multichannel connected. If you like "an in the theater" atmosphere or feeling, multichannel will be necessary now or later. In Issue 60, I went into some detail about why I have now chosen the Nola loudspeakers, namely the Boxers (for right and left front channels) and the specifically designed Announcer model for the very important center channel to use for the all important front trio in these and continuing reviews. Yes, you may have heard that all three would ideally be the same. That is not necessarily true; here both models are, the same, in that each uses the same drivers/cones in a different designed cabinet for an even slightly better sounding center channel. As many have found out, center channels can be of extreme importance to many listeners; that is where singers live as do news reporters. In this very competitive price range, models are offered by Paradigm, PSB, Definitive Technology and others. As before, a right and left pair of Nola Thunder Bolt II subwoofers complement the front channels for even deeper and more palpable bass range desired by some listeners.
Notice the generally favorable brief reviews I write each issue? There are logical reasons for that to happen. Changes such as digital and HDMI connections have made pretty darn good audio to be easier for the manufacturers to give us and easier for us to put to use. Same is true for the video portion that we pretty well take for granted here. As you purchase and use some of my suggested performances you may notice that relatively unknown sources and performers are often doing a superb job and why not! Unlike many of the big professional outfits and famous performers they can and possibly do practice for many months on end, repeating the same music or performances. That can be the way for an individual, or group, chorus or orchestra to be discovered by being on these well done Blu-ray recordings! Pay attention, watch and listen to the possible stars of the near future in the comfort of your own listening and viewing room.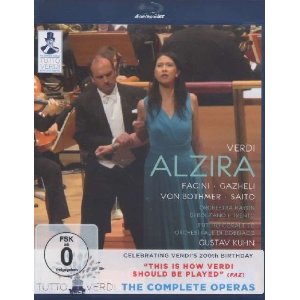 Verdi, Alzira. Orchestra: Haydn Di Bolzano E Trento. Conductor: Gustav Kuhn. Cmajor Blu-ray 721504
I might guess that pretty close to a hundred percent of those of you reading this review recognize the name of Giuseppe Verdi. As he is recognized by probably all music reviewers and reporters as one of the top two or three opera composers ever, many of our loyal readers are at least familiar with the names of a fair number of Verdi's operas. Now think for a moment or a bit longer; how many of them start with the letter 'A'? Many or hopefully most of you remember the famous grand opera Aida. It would be almost rare for more than a couple of you to remember or even heard of the one under review here or the third one, Atilla. Well, I certainly do not really care for all of the really famous operas I have heard over the years. I really like this one though and had never heard of it until it arrived unannounced recently. I shall listen to it more and soon. A small part of the reason is that I was very impressed with much of the visual effects here. You need to know that that this is is a so called concert version. That means no costumes and relatively limited movement on stage. I guess that I am painting every thing with a broad brush and the limits of a very good concert version simply did not bother me. The performers, male and female are relatively young and nice looking. Excellent voices and no shrill or edgy treble range to mar the overall relaxed singing are to be found. If you hear any of that, check out your listening equipment, starting with your player as it is not on the disk. Fine and abundant choral work is "frosting" on the overall melodic beauty. The music is very melodic and satisfying on all levels here. It is meant for the enjoyment of the listening audience, me included. Highly recommended for its listening pleasure, audio, and performance qualities, at a price less than for tickets to the real thing. I might guess that it might not be easily found at your usual local sources as it is not well known and so on. Ordering might be the order of the day in this case.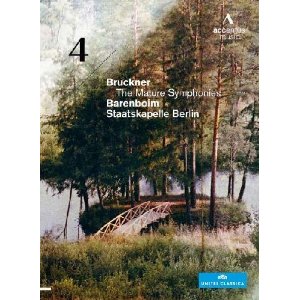 Anton Bruckner, Symphony No.4 "Romantic". Orchestra: Staatskapelle Berlin. Conductor: Daniel Barenboim. Accentus Music Blu-ray ACC 10217
If you are interested in music by Bruckner, this recording should be of great interest to you, particularly if you do not have any recordings by him. Many years ago many sources listed music by Mahler and Bruckner together. Both now seem to be enjoying great interest and many new releases in the past two or three years. Both are best known for symphonic compositions though Mahler's works are wider ranging than Buckner's who continues to be known for symphonies that are a bit harder to grasp or enjoy than most others. This one is an exception and you are definitely in luck here. This symphony number four is the first one to be included in his group of mature symphonies and is particularly attractive and my favorite. The scherzo, third movement, features a sublimely beautiful "hunting theme" showing off the various horns and the outstanding visual showing clearly how the various horns sound; a very real learning session and not to be missed. The playing of the entire orchestra is simply outstanding with no sense of stress or strain. All is presented as well as you are ever likely to hear it performed. Some credit must be given to the conductor, perhaps better known for decades as one of the outstanding pianists. This is simply a top recommendation for adding a Bruckner symphony to your musical library collection.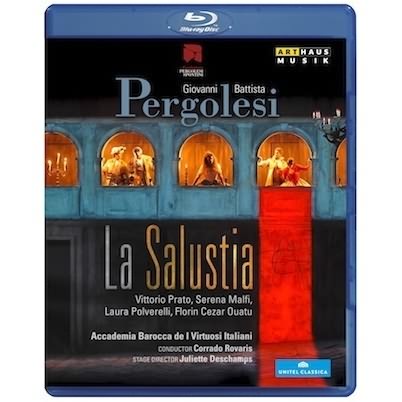 Giovanni Pergolesi, La Salustia. Orchestra: Accademia Barocca de I Virtuosi Italiana. Conductor: Corrado Rovaris. Art Haus Musik Blu-ray 108 065
This was a really tough one for me to review. Much of the time I had little idea of what was going on with any degree of certainty. Much of my usual reference sources for relatively obscure musicians, including composers, failed me here. Fate must have just not treated him kindly. I did discover some sources that hinted that he was better known for his comic operas. I have received one of those also, IL Flamino. I may get to it later in this issue; if not, then in the next issue. The setting for this opera goes way back to the third century AD and the court of the Roman emperor Alessandro Severo (simply referred to as Alessandro) in this opera. I finally decided to add a bit of trivia to this introduction at the last minute to help make up for my lack of more relevant current background.
In 1732 shortly before the first performance the main role of Marziano which had been composed for the famous castrato singer Grimaldi, had disaster hit. The famous castrato, died unexpectedly.
What to do about the loss of the famous and unique singer? A replacement castrato was found but was then judged to be too young. Next it was decided to have a real tenor take Grimaldi's place and a soprano was interpreting the role originally intended for the tenor. It pretty much makes for two different operas, the intended original and the performed one. In the recent festival held in Jesi, Italy both versions were performed at the Pergolesi Theater. After that the modified score seems to have taken hold and definitely contrasts with the original traditional performances. The setting is now is ancient Rome and unlike the older time dramas revolving around sorts of love situations and complications reminding us of settings such as common in the eighteenth century, now all sorts of dramatic plots are tried and mostly fail. Often the plots or tales are difficult to follow for a number of reasons. It is clear that two women battling here have little to do with love. The audio quality is just fine as it well should be with the relatively small forces involved. I think this opera should be tackled by serious opera lovers and not those just being introduced to the beauties of the world of opera and hopefully Pergolesi's comic opera or the beauty or some of the newer opera productions that are easier to follow and love. This one is easy to recommend to serious opera lovers that want something different or something so old it is now new and rediscovered.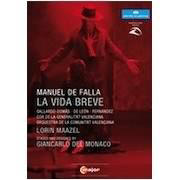 Manuel De Falla. LaVida Breve. Orchestra: De La Comunitat Valencia. Conductor: Lorin Maazel. CMajor Blu-ray 710804
A national monument in Spain, Manuel De Falla's Lavida breve is perhaps the greatest opera ever written in the Spanish language. Let's not completely forget Bizet's famous and very popular opera "Carmen". Falla had been a very serious composer and worked slowly turning out fine compositions. Long interested in writing a Spanish opera with Spanish and folk elements he took the logical advantage when the academy of San Fernando had a competition with part of the prize being a prompt performance of the winner's prize competition. His one act winner did not get performed as promised. Falla moved to France and after meeting a number of well known composers there he added to his "The Short Life" opera expanding it to two acts. Mentioned early it appears to be referring to a young girl that fell in love with a wealthy young cad that is not to be trusted. The music does not cover the situation directly. The opera is pretty much full of Spanish music and dances. I believe that conductor Lorin Maazel was of great help here raising the orchestra's performance level significantly. My personal suggestion is to simply play the fine Blu-ray recording just listening to the music only the first time. This is a very serious opera, a two act tragedy, remember. I am convinced that first just listening to the beautiful Spanish melodies will make the appeal of the whole opera much greater. Try it that way. Just listen to the excellent music first in this case help make it worth the high recommendation I am awarding.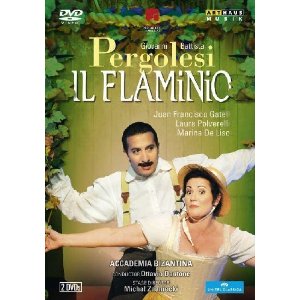 Giovanni Pergolesi. Il Flaminio. Orchestra: Accademia Bizantina. Conductor: Ottavio Dantone. Art Haus Musik Blu-ray 108 067
I found just enough time to listen completely twice plus the usual in depth audio session and then try to sneak it by editor Dave Clarke as I mentioned, I would try to not let him see another three thousand year old opera, a comedy at that. By the same composer as the above La Salustia, to get it in this issue. Instead of a setting of three thousand years ago earlier, this comedy was written just a bit more than three hundred years ago. I clearly found this opera more enjoyable than the composer's La Salustia also reviewed in this issue. Once again, this Blu-ray release has fine voices and orchestral playing. This opera has a simple plot and humor that reminds me of films/movies that have 'G' rating. Easy listening and pleasing viewing pretty much describe this new release. Repeat viewings let me conclude that there is more humor here than I first thought.