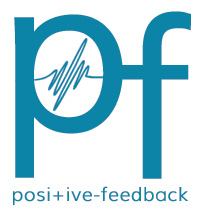 You are reading the older HTML site
Positive Feedback ISSUE 65
january/february 2013
Impressions: My Brutus Awards for 2012, Part 2
by David W. Robinson
[Photography and image processing by Robinson, unless otherwise indicated.]
Continuing from part one of my year-end reflections, here are the balance of my Brutus Awards for 2012…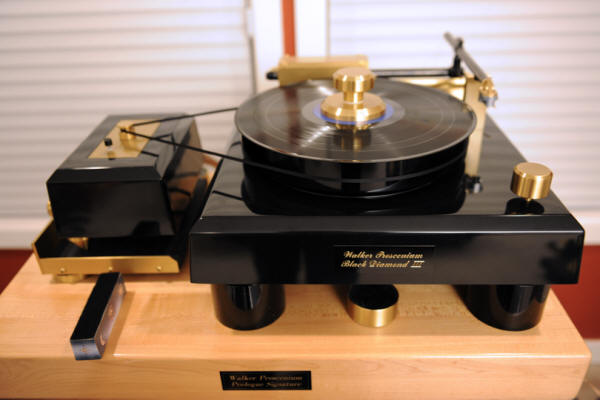 Walker Audio Proscenium Black Diamond Level III Turntable System (upgraded)
Lloyd Walker never sleeps! Our winner of a "Gizmo Award for Life" back when, is at it again. During 2012, Lloyd Walker sent along two new upgrades to my Walker Audio Proscenium Black Diamond Level III Turntable System. The first one was a completely new formulation of the synthetic oil used in the damping trough of the Level III turntable. With the installation of the Level III system (new split-pressure system with a separate new pressure loading feed, and upgrades to the air pump), Lloyd had found that the old synthetic oil was not necessary, and had me remove it. It was too heavy-handed for the new system. However, he subsequently discovered a new oil that was lighter in weight, and worked well with the Level III version of the Proscenium Black Diamond, and sent along the new oil for my use here.
Well, it works very nicely, all right. The dampening functioning for zingy/bright/brash pressings works very nicely, working delicately with the Level III system, which is much more sensitive to such parameters than earlier revisions of the turntable. Nice to be able to dial-in the dampening factor again! Some LPs definitely need it.
The other upgrade item that Walker Audio sent along was their latest drive belt, enhanced for operation on Level III systems. Change-out is easy, and once you put a few hours on the belt, it seems to be somewhat clearer than the old belt. How Lloyd does all of this is no mystery: he is passionately dedicated to getting every last bit out of his fundamental design, and works at it continuously, year in and year out.
The combination of these two new upgrades advances the state-of-the-Walker-art once more, and keeps the world-class edge that the Walker Audio turntable system has maintained for many years now. (Lloyd sent a new motor-mount system late in the year, but I haven't had time to install and evaluate that yet. It's in the queue for 2013.) It's brought me years of delight with my LPs… I love it!
No doubt about it: a Brutus Award for Walker Audio in 2012.
(For more information, go to http://www.walkeraudio.com.)
Furutech Esprit DAC, and DF-2 LP flattener, latest version
[images courtesy of Furutech and ADL]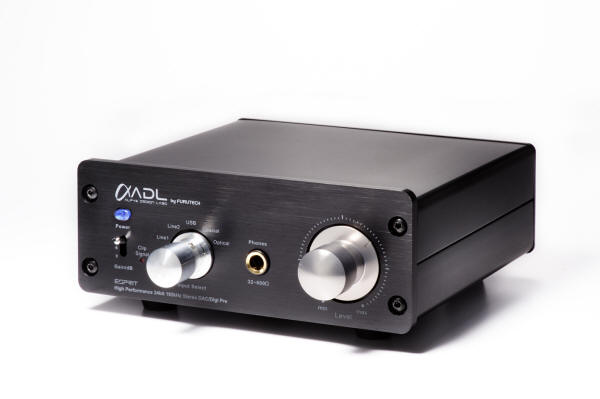 The ADL Esprit DAC
The Alpha Design Lab/Furutech Esprit DAC is another of the burgeoning inventory of compact high-performance DACs that have become so common in fine audio these days. I reviewed this back in PFO Issue 63, and decided that it was definitely an advance over the GT-40 from ADL in 2011. Not merely in resolution specs, but also in the quality of the sound… more detailed, without losing the silky smoothness and musicality that I associate with Furutech's DACs, and made it very pleasant to listen to via the Sennheiser HD-800/Cardas Clear headphone cable combination.
The only thing lacking on the Esprit was support for DSD/Double DSD over USB 2.0. I trust that ADL will correct this in 2013.
On balance, and for PCM-only use at this point, the Esprit merits a Brutus Award for 2012.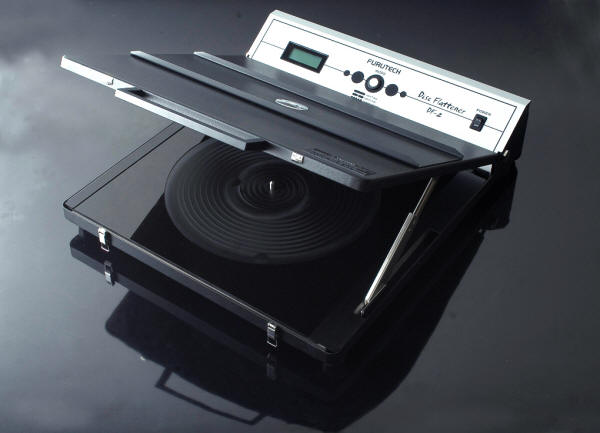 I also want to recognize Furutech for their new DF-2 LP flattener.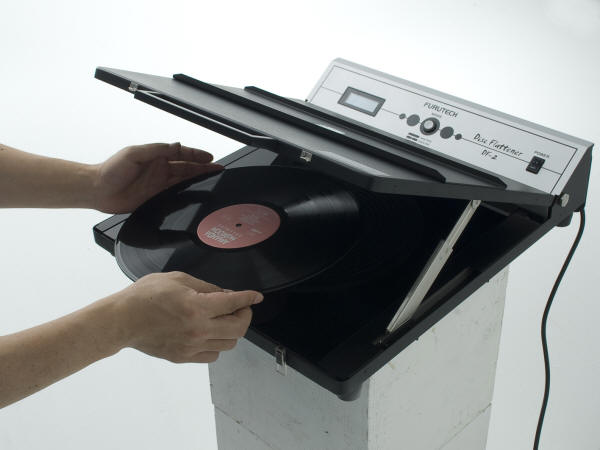 The Furutech DF-2 LP Flattener
Successor to the DFV-1 LP flattener, the DF-2 has been improved to handle 180 gram and heavier LPs with greater precision in the heating/cooling process. This includes "heavy LPs without groove guards." According to Furutech, all LPs with warps may be treated in the DF-2, with the exception of the following:
Do not use the DF-2 on flexi-discs, EP versions on LP, SP versions, and LPs made with special materials (various colored vinyl or picture vinyl, I would guess), LPs from Super Analog Discs, LPs from Sheffield Lab, LPs from BMG-UFA, LPs weighing less than 100 grams, and light LPs that were manufactured during the 1973-1974 oil crisis, with weights ranging from 100-115 grams.
Naturally, Furutech recommends that you test a given manufacturer and weight of LP with a less precious album before using it with valuable records.
With all of those exceptions and caveats in mind, my practical experience with the DF-2 is very much like mine with the DFV-1: it works, and it works wonderfully. I haven't put a warped LP of 140 grams, 160 grams, 180 grams, or 200 grams into the Furutech LP flatteners without uniformly excellent results. And operation is simplicity itself. Place it properly; plug it in; follow the instructions for use, and put your warped licorice pizza in the DF-2. Close it. Press the "Mode" button. Come back in a few hours.
And, like Porky Pig says, that's all, folks!
In each case, it returned to me a previously-warped LP in a condition of spot-on flatness. In fact, I've never had an LP that Furutech's flatteners didn't fix completely. (I suppose that it's possible, but I haven't run into their caveat LPs in my collection.) Given the thousands of LPs around this place, I consider the Furutech LP flattener to be a truly essential accessory for the LP lover.
Who needs a warped LP? And with the Furutech DF-2, you don't have to put up with the malformed creatures!
An obvious Brutus Award winner for 2012…done.
(For more information, check out http://www.furutech.com.)
Black Cat analog and digital cables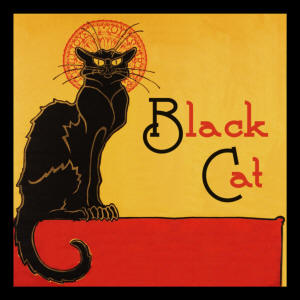 [Logo image courtesy of Black Cat]
Chris Sommovigo's Black Cat Neo-Morpheus analog interconnects (RCA) and Silverstar 75 digital coax cable have been with me throughout most of 2012. I've put them to daily use in my desktop system, either via the Oppo BDP-95, followed recently by the Oppo BDP-105 (Silverstar 75! for PCM out to 192 kHz/24-bit, Morpheus for the analog from the Oppo players), or via the analog outs from the ADL Esprit DAC, the Benchmark DAC1 HDR and DAC2 HGC DACs (the latter DSD-capable), or the Mytek Digital Stereo 192-DSD DAC. That's a pretty fair array of source quality for desktop systems, with tons of hours of editor-working-at-his-desk flying hours.
The Morpheus is a mid-price-point ($195 per pair) product in their Neo-Morpheus! product group from Black Cat, while the Silverstar 75 is one of Black Cat's entry-level ($150 per 1.23 meter [only] cable) offerings in their Firefly line. Chris has accomplished great return-on-investment by producing his own cables in his own facilities, with a careful eye on the nature of the metals and the composition of the shielding that he uses. His RCA connectors are very carefully crafted to get the most out of the terminations, and are configured to guarantee the maximum purity of transmission at the price point. Likewise, the BNC connectors on the 75 Ohm Silverstar 75's are precision engineered for signal transmission in the digital domain. (The Silverstar 75's come with a pair of BNC-to-high-bandwidth RCA adapters for RCA S/PDIF usage.) He has an exceptional sense of what will work, and a fine ear for assessing the results of his designs. It shows quite obviously in the Neo-Morpheus and Silverstar 75 cables, which offer a pleasant portion of performance for a few paltry pence. (Nicely alliterative, that!) In a world filled with expensive and ultra-expensive cables, the Black Cat lines make it possible for neo-audiophiles and 'philes on a restricted budget to achieve very good results without busting the banks.
Hundreds of hours of listening have confirmed my impression that… once again… Chris Sommovigo has proven himself to be a true maestro of the cable design and construction arts. And why not? He's been at it since his days at Illuminati, back in the early '90s, when he first turned the digital cable world upside down. I have many of his designs in our reference cable library at PFO Central. There are more than just a few there, tracking his progress over the years.
The sound of the Neo-Morpheus and Silverstar 75 are reasonably detailed, very smooth, and always musical. Given the price ranges involved, this is a pretty amazing accomplishment by Sommovigo.
These products are price-performance killers, definite blessings to audiophiles on a budget.
They are also definitely Brutus Award 2012 winners, as my constant desktop audio buddies.
(For more information, see http://www.stereolab.us/gallery-view/black-cat-cable-2/.)
Stein Music Harmonizer System
[images courtesy of Stein Music]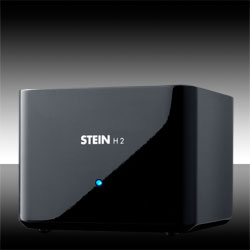 Some audiophile items are obvious in their role in good audio system. Big-iron or big-tube amps; no-holds-barred turntables or MC cartridges; state-of-the-art SACD or DSD playback sources; world-class loudspeakers; cost-no-object cables. Most everyone can get these. (Well, maybe there would be an argument about the cables. Some folks don't get that… poor them!)
But the world of accessories can be a good bit less clear. This is the domain of degaussers, demagnetizers, stones, cable tweaks, and so on. Into this world has come the Stein Music Harmonizer System, and I have to say, it's arrived with a quiet bang in my reference listening room, here late in the year.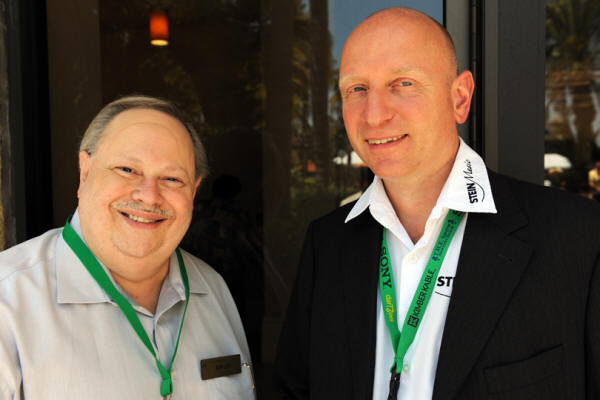 Bob Levi, President of the Los Angeles/Orange County (LAOC) Audio Society, with Holger Stein of Stein Music, at THE Show Newport Beach, 2012.
Holger Stein, the designer behind the Harmonizer, is an electrical engineer and audiophile, who became interested in various aspects of audio sound propagation. He has spent years investigating how to enhance our experience of fine audio. Dave Clark did a column about his experience with the Stein Harmonizer System, and included some commentary from Holger, all definitely worth a read (see PFO Issue 62). Bob Levi has been raving about Stein Music all year long, and is a dyed-in-the-wool Harmonizer System man (see all the way back in PFO Issue 59).
So, what did I think about this?
Holger was kind enough to send me the Platinum version of his Harmonizer System, with six of his H2 Harmonizers (three "A", and three "B"), a set of his Black Stones, and a set of his Blue Diamond Stones. Following his placement diagram, I put up a setup adapted to our reference listening room. Initially, this meant that four H2s were placed, since my current room configuration (moderately sized, and filled with audio equipment) made it difficult to place rear units. More on this in a moment. I was able to place four Black Stones in the corners of the room on the floor, with one Black Stone at 180cm high in the center of the back wall. A Blue Diamond went on the ceiling about midway between the speakers and the listener, and another Blue Diamond behind me, at 180cm high. I haven't yet tried Holger's optional recommendation of two Blue Diamonds placed at 120cm left and right wall of speakers. But I'm sure that I will soon, given the results that I am hearing.
Everything was set.
Then I listened to some reference SACDs and DSD recordings via the Playback Designs MPS-5 with USB-X interface, the music streaming from JRiver's Media Center 18, all played back via the MBL Reference system cabled with Kubala-Sosna Elation! cables, and a PS Audio P10 Line Conditioner in place for the digital and preamplification side. This is definitely a preeminent world-class-resolution reference system. If there was a change, I would surely hear it.
First, with the Harmonizers off, but the Stein Music stones in place, the music sounded a touch more dimensional and involving than usual. The only change that I had made was to add the Black Stones and the Blue Diamonds, and so I would have to attribute the quiet advance in the room sound to them. I should note that the effects of the stones alone appear to be subtle, and would require extended listening with reference sources to qualify them more precisely. But the altered aural geometry in my room seems real; I know my listening room quite well. And it was desirable.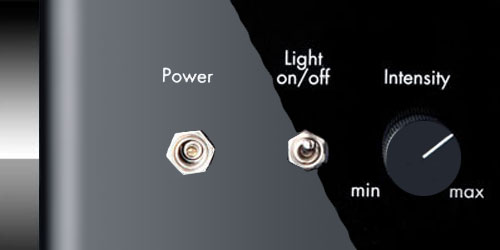 But then, with the Harmonizers switched on… well, now! That made a change that was not subtle. With the intensity set to between 1:00 and 2:00 on the variable dial, the sense of increased dimensionality… a movement of the music towards me… made an unmistakable advance. SACDs of radically different genres like Stockfisch Music's Closer to the Music 4 (any track!), Mobile Fidelity's SACD of the Doobie Brothers Toulouse Street (track 4, the title cut), or a modern classic for reference quality, Music for Organ, Brass and Timpani on Sonoma Records (track 2, "Overture" from Music for the Royal Fireworks; track 6, "Kantate" BWV 29; and track 12, "The Great Gate" from Mussorgsky's Pictures at an Exhibition) all made a real step forward in the sense of being enveloped by the music. Ditto with a couple of my favorite SACDs from Top Music: Break in and Joe Weed and the Vultures. (By the way, if you don't have these SACDs, do yourself a really big favor. Really big.) It was almost like a shift from "soundstage" (a stereo criterion) to "soundfield" (a surround sound criterion), as the music seemed to embrace me. I also noticed a subtle gain in detail across genres, and a greater sense of ease and presence in the music.
Damn! Now I was going to have to put the other two Harmonizer H2 units in place towards the rear of my listening room, no matter how awkward it would be to set it up. I had to see if the sense of being enveloped by the music would extend. I was able to find two places to put them into place, though they are somewhat asymmetrical in their final placement in the rear.
The results? Well, I found that with six H2s units, the soundfield effect advanced even further, as the music now seemed to stretch around me. It was almost as if small rear channel speakers had been put into place, with just enough gain to produce a three-dimensional sense of spaciousness, but not enough to draw attention to the rear channel. Surround enthusiasts will know what I mean.
In general terms, Holger Stein speaks of his Harmonizers enhancing the ability of air molecules to transmit music more effectively to our ears. I am not in a position to evaluate Holger's proffered explanation of the effect, but I can comment on the fact that the Harmonizers and associated stones do seem to produce a real and pleasant improvement in the sound of our listening room.
That's enough, folks. The Stein Music Harmonizer System is definitely worth its weight in stones! I'll have to agree with my colleagues Dave Clark and Bob Levi: this is the real deal.
If you're looking for an audio enhancement system that will transform soundstage into soundfield, and give you a greater feeling of tactile detail and living presence, I can say that Stein Music Harmonizer delivered in my listening room.
Definitely a Brutus Award winner for 2012!
Software
JRiver Media Center 18

[Image courtesy of JRiver.]
With the growth of computer-based music, the need for audiophile-grade software is growing as well. The one feeds on the other, and vice versa. In particular, the need for superior Windows-based software that can handle DSD and Double DSD has been an obvious need; Macs already have the excellent and award-winning Pure Music package from Dr. Rob Robinson's Channel D.
I have spent quite a lot of time with the beta of the Emotion Media Server from Pyramix for Windows PCs, but that promising product has not yet been released to the general public, even after many months in testing. Progress there has been slow. (C'mon, Pyramix! Get with it!) Since I wanted a DSD and Double-DSD-capable product (along with high-resolution PCM, of course) that I could recommend to our readers, I kept my eyes open. While working with Michal Jurewicz of Mytek Digital with his Stereo 192-DSD DAC earlier in the year, I linked up with the good folks over at JRiver, since their Media Center software system was a developing DSD playback option for the Mytek. After some three-way email and phone conversations, all the pieces came together, thanks to the great collaborative work that Jim Hillegass and Matt Ashland of JRiver accomplished with Michal and the Mytek team.
I started out with JRiver's Media Center 17, and found that it could be configured to playback DSD and Double DSD files with the Mytek Digital Stereo 192-DSD DAC. The results were great, sonically, but the setup sequence was a bit scattered on the interface, and not as simple to configure as one might like.
The good news is that Media Center 18 made the configuration of DSD/Double DSD a pretty simple and straightforward procedure, and the results have been exceptional. With Media Center 18, users have an extremely powerful system for music playback in both DSD/Double DSD, as well as PCM at all resolutions. You can set audio and video parameters quite nicely, construct playlists, import music files into your library, and generally slice and dice your computer-based tunes any way that you like. There is support for both ASIO and DoP (DSD-over-PCM) solutions for DSD playback, which should be adaptable to any DSD-capable DAC that's out there. DSD and Double DSD run very well, with sound that I consider to be excellent… the DAC is the variable. PCM is supported at all key resolutions; I have checked 44.1 kHz (both 16- and 24-bits), 88.2 kHz, 96 kHz, 176.4 kHz, and 192 kHz (all at 24 bits), with no problems. I have personally used Media Center 18 with DACs from Playback Designs, Mytek Digital, and Benchmark, and will be using it for the exaSound e20 DSD DAC that will be arriving very soon now. (George Klissarov recommends JRiver's Media Center 18 for use with the e20; he confirmed that on the phone with me when we were discussing this project.)
The results of extended listening tests with JRiver's Media Center 18 have been uniformly excellent on all of our evaluation DSD/PCM DACs: the Playback Designs MPS-5 with USB-X interface; the Benchmark DAC2 HGC (DSD only at the present time) and the Mytek Stereo 192-DSD (DSD and Double DSD). It was a pleasure to use this software, and equally to listen to the results.
Given the combination of features, performance, and DSD-compatibility, there's no doubt that JRiver's Media Center 18 deserves a Brutus Award in 2012… done!
Music Awards
The following companies and people have made significant contributions to our libraries of great recordings in 2012. Without excellent recordings, issued in DSD, SACD, LP, and open reel tape, we audiophiles would be having a lonely go of it! Remember that their work is worthy of your support.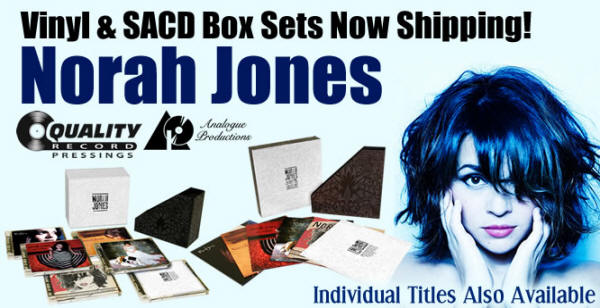 [Images courtesy of Acoustic Sounds/Analogue Productions.]
Analogue Productions for Blue Note SACDs/LPs, Doors SACDs/LPs, Elvis SACDs, Norah Jones SACD box set
Once again, Chad Kassem and company are doing all that they can to keep us very well supplied with terrific recordings of great music. I am finding that Chad's SACDs are consistent: extremely well mastered in every case. The sense of master tape is very clear… no digititus via the exceptional Playback Designs MPS-5. The heavy-duty LPs from Chad's Quality Record Pressing (QRP) have been commendably free of defects, I'm glad to say. There's great mojo here… definitely in the groove! Like the SACDs, Chad's LPs represent state-of-the-art mastering, and terrific sensibility.
And the man knows his A&R!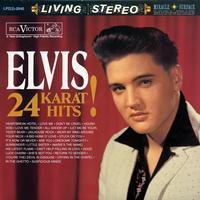 There are too many grand slams here to mention them all individually, but the continuation of the Blue Note series on SACD, the reissue of the doors on LP and SACD (choice!), the Elvis SACDs, and the Norah Jones SACD box set all by themselves would be killers.
The collective of them is an audiophile-Borg "you will be assimilated!"
A Brutus Award in 2012, for sure!
2L for SACDs and LPs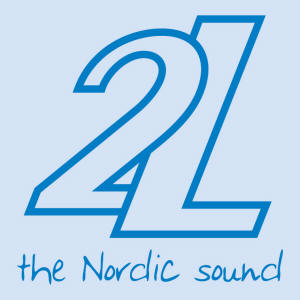 [Images courtesy of 2L.]
My good friend Morten Lyndberg and company continue to craft haunting and devastatingly beautiful recordings in Norway. I have been knocked out by their recordings in the past… their SACDs have a treasured place in our reference collection here… but now they have issued an LP or two, as well!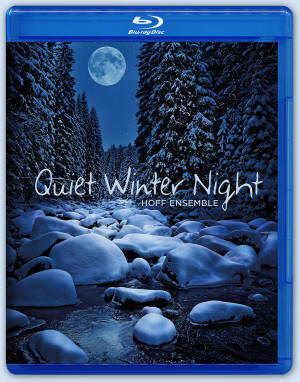 The combination of less-known (or unknown) composers/compositions, together with inspired performances and well-executed recordings in 352.8 kHz DXD (usually then transported via SACD/Blu Ray/LP) provided me with many hours of enchanted listening in 2012. For example, just the Blue Ray (no SACD, alas!) of the Hoff Ensemble's calm and mellow Quiet Winter Night at 192kHz/24-bit was definitely world-class, a pleasure to listen to on melancholy late fall and winter days. (Welcome to Portland, Oregon!) This recording has been nominated for a Grammy in the category of "Best Surround Sound Album."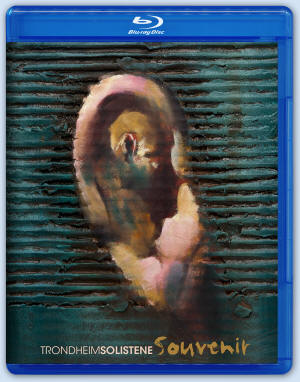 Their other home run of the year was the smashing Trondheim Solistene Souvenir, on Blu Ray (I listened to the stereo mix at 192/24 PCM) and LP, but no SACD. It's no surprise that Souvenir was nominated for a Grammy in the category of "Best Engineered Album, Classical"… it's a rich delight for those of us who adore great classical performances that are superbly crafted. Morten
My only regret with these titles is that 2L didn't issue their usual commendably done SACDs. I hope that this is not a trend; 2L SACDs have been too much a treat to collapse entirely into Blu Ray with its PCM fingerprints. If you want surround, give us the SACD in six-channel and stereo as well, Morten! (I should also note that Morten and I would disagree about the use of DXD, instead of Double DSD, when it comes to the maximum combination of beauty and resolution. For me, Double DSD provides the full realization of master tape/microphone feed, but that is neither here nor there in recognizing the fine quality of Morten's exceptional work.)
That aside, if you are not familiar with 2L, you really owe it to yourself to extend your listening to this bright gemstone of a label. Definitely a Brutus Award winner in 2012!
Channel Classics for DSD downloads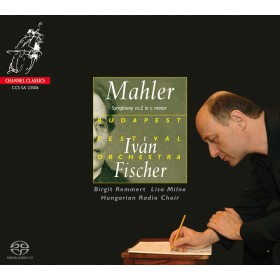 [Images courtesy of Channel Classics.]
Here's an open secret: Jared Sacks is producing an enormous number of spectacularly beautiful recordings of exceptional classical music performers—and all recorded in marvelous DSD. A partial list of my favorites include Ivan Fischer and the Budapest Festival Orchestra; Peter Wispelwey on cello; Rachel Podger on violin; Dejan Lazic on piano… the list goes on… makes for a genuine feast, with remarkable diversity, for lovers of classical music of all stripes.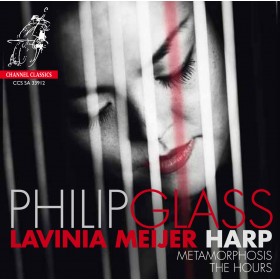 Jared does them with extraordinary feel; as a classical musician himself, he has a deep feel and genuine empathy for both score and performance. Better yet, he knows how to record such performances with breathtaking balance and transparency, producing pure DSD recordings that show us how such things ought to be done! Bravo!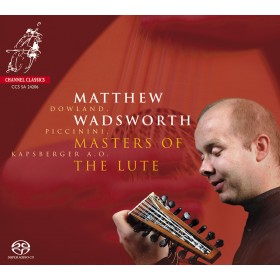 But then there is his brilliant online system for ordering his recordings… far better yet! If you go to Channel Classics you'll find that you can purchase his recordings in everything from the pure DSD master (the only way to go if you have a DSD-compatible DAC) all the way down to .MP3. SACDs are also available, and sell well from his site. Prices on the SACDs are quite reasonable; download pricing varies according to the resolution that you purchase, which is quite a sensible thing to do. I have a number of his DSD master files downloaded to our multi-terabyte storage system here at PFO Central; they are all, without exception, exemplary recordings… beautiful to hear on state-of-the-art DSD DACs!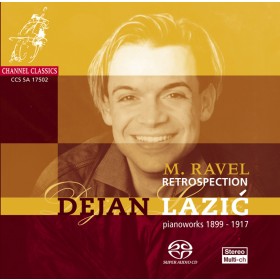 I have used the DSD download system on numerous occasions, and have found it to be solid and reliable. Java-based, the client downloader installs easily, and then handles your downloads, taking the .ZIP files and automatically unzipping them to the subdirectory that you've specified. The .ZIP is retained, just in case you need to repair or replace a file. The entire system is tied into a very good point-of-sale system, accepting both major credit cards as well as PayPal. Email notifications are sent out to allow you to track your purchases, as well as knowing when you download is ready to be made. Nice!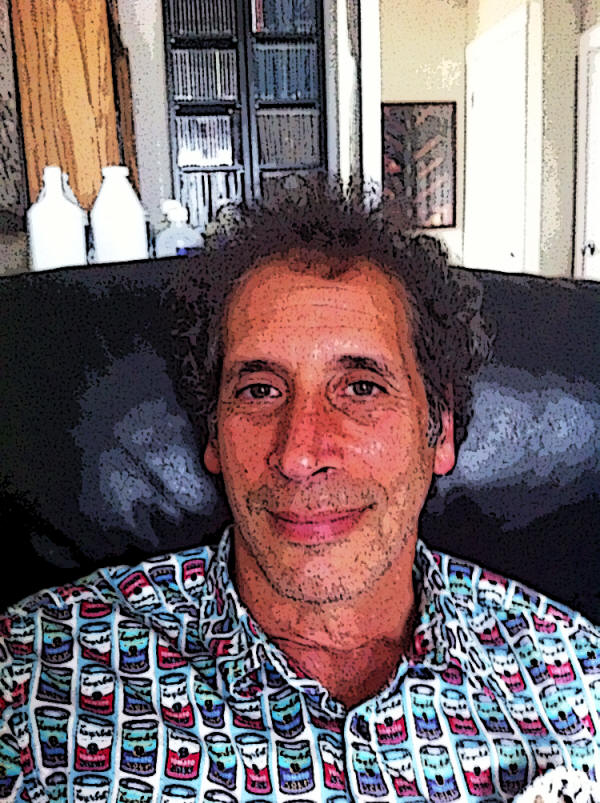 Jared Sacks visiting PFO's reference listening room, June, 2012
[Photograph and image processing by Robinson]
I've gotten to know Jared better over the past year…in fact, he came by and visited our PFO reference listening room in June of 2012. It is quite apparent that he is passionately dedicated to his work, for which his qualifications are abundant, and as to his work… well, res ipsa loquitur.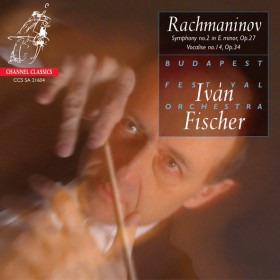 If you are not familiar with the Channel Classics catalog, do yourself an immense favor: go to Jared's site above, browse his recordings, and purchase at will. You will definitely not be disappointed.
They are best savored in either downloadable DSD or SACD (I have stacks of both).
A huge Brutus Award winner for 2012!
Opus3 for SACDs and Analog Master Open Reel tapes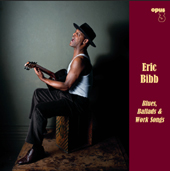 [Image courtesy of Opus3.]
Jan-Eric Persson, founder of Opus3 Records, has been producing superlative recordings for many years now. I have a large collection of Opus3 LPs and SACDs going back to my early days in audiophilia. All of them are packed with music of varying flavors and types… from Eric Bibb to B. B. Driftwood to Lars Erstrand to the Omnibus Wind Ensemble. Eclectic ain't in it!
Jan-Eric has a very well developed philosophy of audio recording and the relationship between the musical and audio arts… see Opus3 Records. Like PFO, he has a pretty strong sense of why he's here, which is all to the good. And his creative values show in the recordings that he has been making for many years now.
Something new was added in the past year or so, when Jan-Eric released his new Analog Masters series. These are very limited runs of 50 selected titles of his pure analog master tapes (the last of which was recorded in 2000) to second generation analog open reel tape, using state-of-the-art techniques and tapes. (For details on the duplication process, visit the Opus3 Records.) In effect, purchasers get a safety copy of the analog open reel stereo master, which is as close as you can get to the master tape in the analog domain. (Note: In the analog domain!) This is an important vote from Opus3 for the Reel-to-Reel Movement that we've been talking about here at PFO during 2012, and a great opportunity for audiophile RTR aficionados. I have three tapes from this series…the Opus3 "One" RTR sampler tape, The Stockholm Guitar Quartet's Bach – Telemann, and the Stockholm Guitar Trio's Albeniz – Granados – Ravel – Peterson – Berger. I must say that they're absolutely scrumptious… silky, atmospheric, filled with analog tape wholosity. (Don't try looking that one up. And pardon my obvious preference for classical guitar in this first batch; it's my Dad's fault, he whose love I absorbed while very young. I plan to invest in more titles, and a broader repertoire in Opus3's RTR catalog.) If you have a yearning for excellent recordings in the all-too-rare format of 10.5" half-track 1/4" IEC EQ open reel tape, have a quality RTR machine and the dollars for these Opus3 titles, then don't just sit there… jump over to the Opus3 site! (Check with Opus3 for pricing and availability on these, though.)
Jan-Eric has a strong preference for DSD as the preferred recording format of the future, has been using it for years, and believes it to be the best method for sharing his recordings without compromise in commercially viable numbers. Thus the SACD catalog at Opus3 is a thriving portion of his revenues, and his SACDs are uniformly exceptional. I love Jan-Eric's production values, his unique A&R, and his willingness to give us SACDs, LPs, and now open reel tapes. What a guy!
Speaking of SACD and DSD, I suspect that we'll be seeing more from Jan-Eric and Opus3 about DSD downloads in 2013…stay tuned!
Regardless of format, however, the Opus3 catalog is a brilliant and constantly growing. I haven't ever heard a lemon on this label, and 2012 was no exception. If you haven't picked up the new Eric Bibb and B. B. Driftwood SACDs, treat yourself… they're terrific!
A Brutus Award winner for 2012, and gladly given.
Impex Records for its new LP releases in 2012

[Logo image courtesy of Impex Records.]
One of the very pleasant surprises over the past year or so has been the emergence of Impex Records. Audiophile LP lovers will remember the name of Cisco Music from back when. I purchased a number of Cisco Music LPs over the years, and mourned with the label passed away years ago. The good news is that a number of the good people associated with Cisco Music have carried on their vision of uncompromising excellent in LP pressings in a new company, called Impex Records. Under the leadership of Abey Fonn, and with great people like Bob Donnelly helping, Impex has issued a number of terrific LPs in 2012, every bloody one of which has hit a home run with me.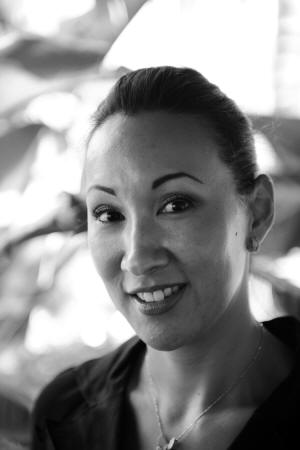 Portrait of Abey Fonn, Newport Beach, CA, 2012 [photograph by David W. Robinson]
The A&R is already impressive. Jennifer Warnes, The Well, a spectacular 45 RPM box set. A masterful pressing of Willie Nelson's Red Headed Stranger. (Think that Stardust is it with Willie? Check this one out!) Dave Brubeck. Leonard Bernstein. Miles Davis. Duke Ellington. (The best-ever LP mastering and pressing that I've ever heard of Ellington Indigos.) Johnny Cash. Harry Belafonte. Thelonius Monk. A mix of 45 RPM titles and some 33.3 RPM releases. (See the Impex Records catalog online)
And that's just in the first year or so. There's more to come in 2013!
The quality of the 180 gram pressings is brilliant: pristine, with commendably quiet and flat vinyl. The mastering must be first-rate to produce such elegant sonic results. Again and again I was knocked out by the lack of problematic pressings that some reissue companies have foisted upon us. What was it that Barry Goldengrooves used to say? "Extremism in the defense of groovic perfection is no vice."
Something like that, anyway.
The quality of the LP jackets and box sets are absolutely top-flight. That's where Abey and company are coming from, and there's no question that they are achieving what they are setting out to do: LP reissues done without compromise.
The prices do reflect the quality, but I can assure you that they are worth every penny of their asking prices. No broken hearts, no frustration here amigos… you can buy Impex Records pressings with confidence, and anticipate listening with delight!
I do hope that we'll see Impex Records take this same aesthetic and passion to the realm of DSD and Double DSD reissues in the future. To have this sort of quality and attention to detail in the emerging world of DSD downloads would be an exceptional thing for audiophiles everywhere.
Meanwhile, a 2012 Brutus Award to Abey Fonn and her colleagues at Impex Records for these superb LPs. Keep them coming!
(To learn more, or to purchase, check out http://impexrecords.com.)
HDTracks for continued excellence in high-resolution PCM downloads

[Logo image courtesy of HDTracks.]
On the high-end digital download front, the current (and continuing) champion is HDTracks. David and Norm Chesky and company have taken HDTracks from being an interesting idea to a burgeoning audiophile download site, with an extraordinary catalog of great artists and recordings. For example, I'm sitting here right now and listening to Eric Johnson's Ah Via Musicom in 192 kHz/24-bit PCM via the very fine Benchmark DAC2 HGC DSD-capable DAC to our Bel Canto DAC 3.5 VB Mk. II/REF 150 system. This certainly takes the CD that I've owned ever since it came out and stomps the hell out of it! (No, don't bother defending Red Book CDs to me; go fertilize the cat box with that stuff.)
I've been following the Cheskys for many years now, and the HDTracks project since it began. The amazing thing is that their catalog grew bigger and better in 2012 than ever before. There are tons of labels here, with some great stuff in all sorts of genres. Not just weird audiophile Tibetan Yak music; not just female jazz singers. Classic music; rock and roll; world music; blues; really great jazz; alternative. (I tell you, it's great to be on a bona fide high-end audio download site, and find Aretha Franklin, Oscar Peterson, R.E.M., Jerry Lee Lewis, Carl Perkins, and Green Day, side by side!
Resolutions vary widely, though. Some titles are in "high-resolution" 44.1kHz/24-bit PCM, which is a contradiction in terms in my audio lexicon. (See, for example, the U2 Achtung Baby Deluxe Edition, a fine example of this sort of thing.) It's not the fault of HDTracks, of course; there are labels and producers/groups out there for whom this sort of thing is "deluxe." The most egregious example of this sort of thinking by far is over there in the UK, handling the Beatles master tapes. (LPs issued from 44.1kHz/24-bit "masters"?! Pathetic muck, that. Where the bloody hell are the Double DSD masters that ought to be made of the entire Beatles catalog?!) Various other titles range from standard CD resolution all the way up and through 96 Hz/24-bit on their way to the occasional title at 192 kHz/24-bit. These are always my preference; if I must endure PCM, then I want it at absolutely the highest resolution that I can get it. I'm delighted that HDTracks has made this possible on some very fine and important titles, and that the sonic results are very good for PCM… certainly better than CD resolution, and miles better than iTunes crunchpot mu-sick.
At this point, the only suggestion that I would make is that HDTracks start to release titles in DSD and Double DSD. This would take their work beyond the limitations of PCM, and provide us with analog masters translated into DSD/Double DSD. This is the major hole in their inventory right now, and with the growing number of DSD-capable DACs now on the market, represents a golden opportunity. Given that they have the licensing relationships in place, a good track record, a functioning infrastructure, and have demonstrated that downloadable music in higher resolutions are an important market segment, it's time to let the other shoe drop, and get downloadable DSD online. I know that David and company are aware of this; I hope that they act on it in 2013. This upcoming year is definitely the year that downloadable DSD/Double DSD will begin to emerge as a noticeable market of its own; HDTracks ought to jump on this one.
We'll see what happens at HDTracks in 2013.
Regardless, what HDTracks has done thus far is pretty amazing. This is an enormous project that took a lot of chutzpah to pull off! So a huge salute to the Chesky's for the breadth of their vision and the quality of their work thus far, and a Brutus Award for 2012 is cheerfully given.
(For more, see http://www.hdtracks.com.)
The Tape Project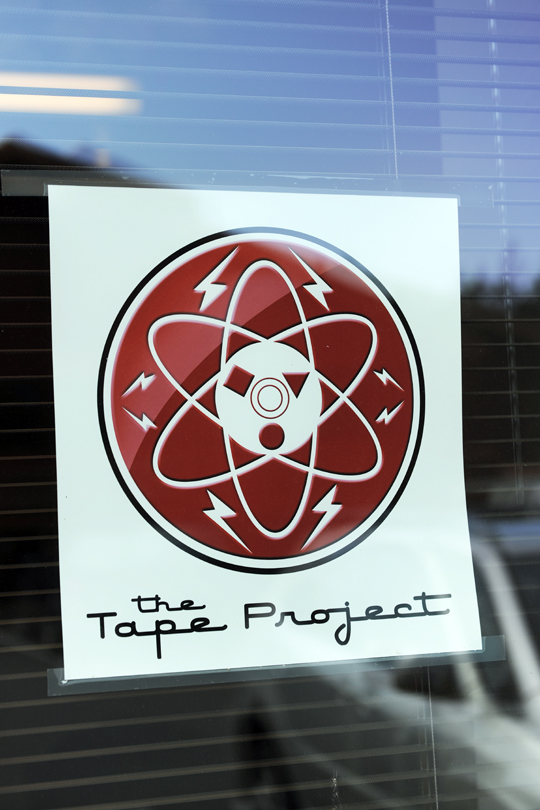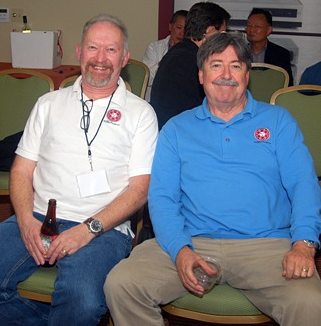 Dan Schmalle and Paul Stubblebine of The Tape Project in a mellow moment! [Image courtesy of The Tape Project; http://www.tapeproject.com]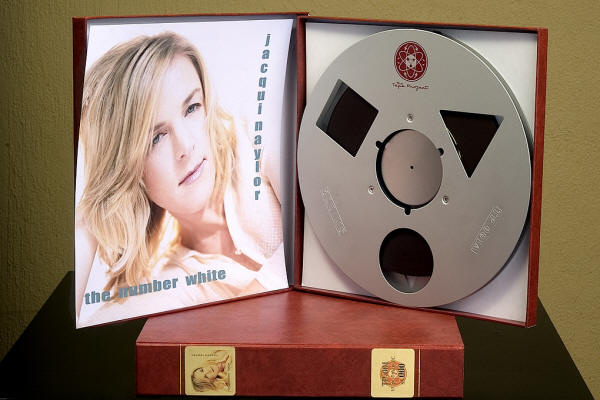 [Image courtesy of The Tape Project.]
Dan Schmalle and Paul Stubblebine have been quietly cooking up good things at The Tape Project for years now. Don Quixotes in a world filled with audio windmills, Dan and Paul have sought to provide that most difficult audio objet d'art: open reel tapes of great music. I can remember when I first heard of their project way back when. Frankly, I wondered if such an enterprise could succeed, given the difficulties of the business model. It's a damned hard audio business to succeed at, this open reel tape thing.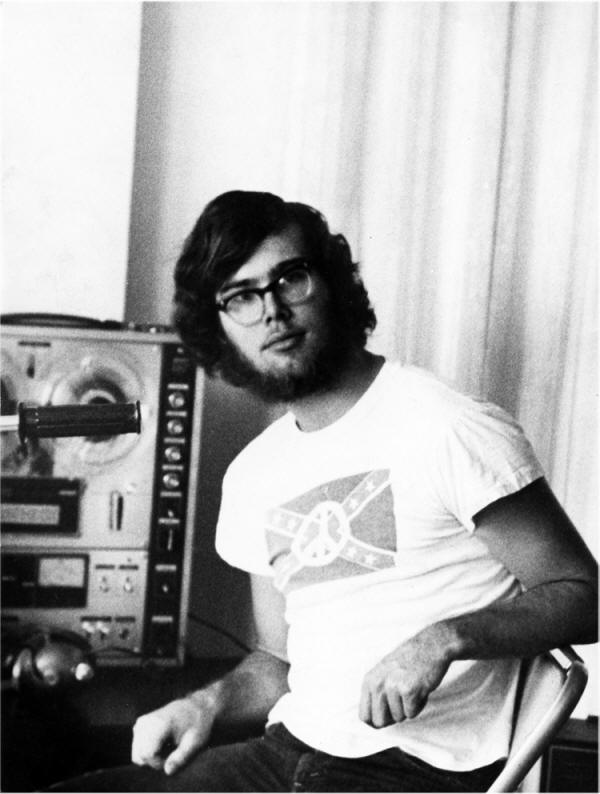 Ye Olde Editor, Sao Paulo, Brasil, 1971: Passionately in love with RTR even then…
Then again, as I confessed back in PFO Issue 61, I am a dyed-in-wool RTR lover from way back. So I pursued trying to connect with the Tape Project back at the beginning. Somehow, that never worked out… obtaining a quality RTR machine turned out to be too much for Dan and company to deal with, on top of everything else that they were doing. Eventually, the idea of a review project died back at the beginning.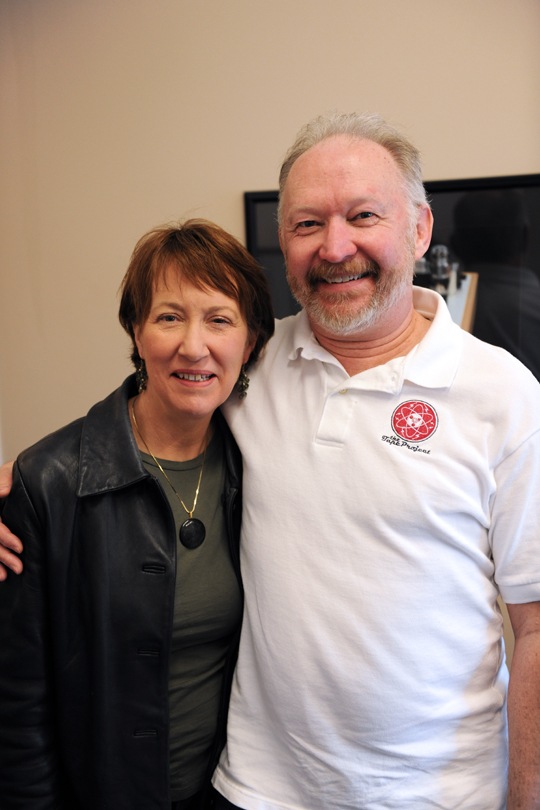 Our good friends Eileen Schmalle ("Queen B") and Dan Schmalle ("Doc B")…"B" for "Bottlehead," their tubed electronics and DIY kit company… on site at Bottlehead Central.
This year, however, with both the UHA Phase9 and SonoruS RTR machines in for several months, I was finally able to score some Tape Project tapes from Greg Beron of UHA, as well as directly from Dan and Paul. These tapes are all on 10.5" custom reels…very attractive use of their logo, by the way… half-track, 15 ips ¼" tape, IEC EQ, with levels set at 250nW.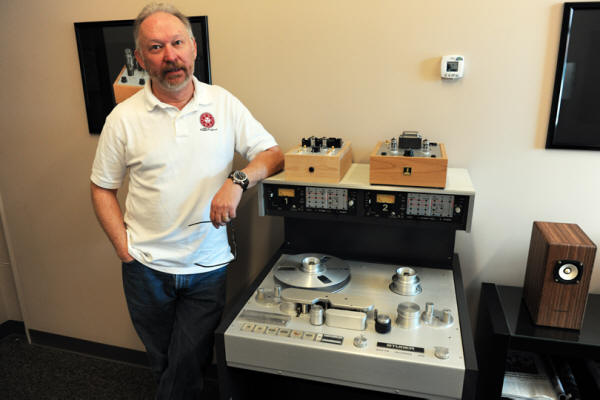 Doc B. and his Studer at Bottlehead Central in Washington State.
I had heard Tape Project tapes at various audio shows over the years, but show conditions are show conditions… usually wildly variable. They sounded great, but always with a caveat due to the usual blotto stuff going on at audio shows. With the arrival of the tapes in 2012, I was finally able to listen to The Tape Project tapes in my own listening room, on top-notch systems in a superior environment.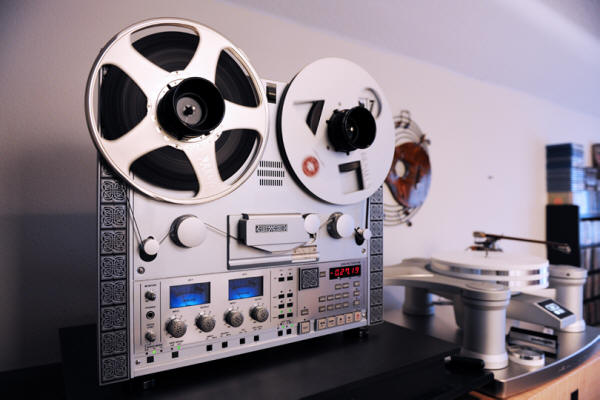 One of the Tape Project tapes in action on the UHA Phase9 RTR machine…superb!
I used both the UHA Phase9 and SonoruS RTR machines in extended listening to two classical sampler tapes, a rock and roll sampler, plus the well-known very dynamic audiophile standard, Nojima Plays Liszt. Altogether, it gave me a good feel for the quality of The Tape Project's handiwork.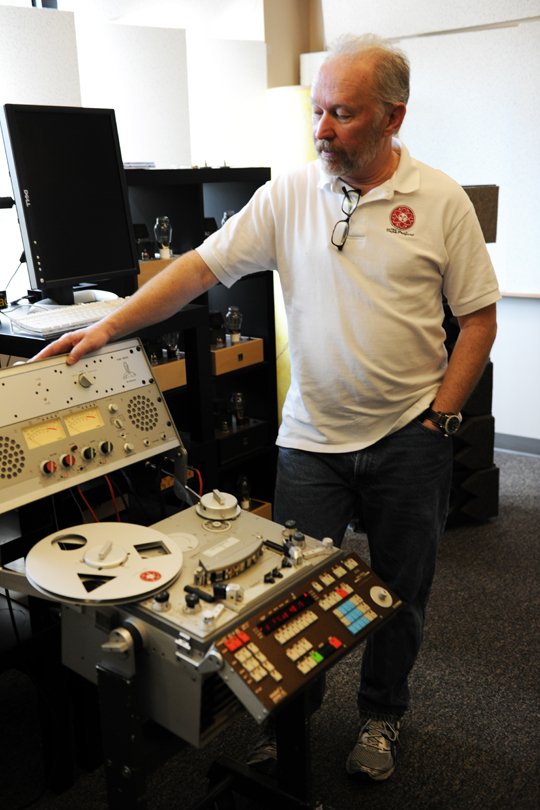 Dan Schmalle with his beloved Nagra RTR machine at Bottlehead's listening room.
Which is, in a word, spectacular! Finally I was able to confirm what I had to listen to through show conditions heretofore, and that is that The Tape Project tapes are glorious to listen to. All of the wonders of analog in spades, with smooth, effortless tone, dynamics, and presence. Very quiet noise floor; the ease and naturalness of the music was just shocking. The rock and roll sampler was killer; listening to Respighi, a favorite composer of mine, from such a source was a real joy to my soul. It was truly addicting to listen to the four samples that I had from Dan and Paul… and so I did it again and again, cleaning heads faithfully on a regular basis.
"I just gots to get me more of these!" sez I to meself!
We'll see how things go in 2013… Greg Beron has promised me time with the new Phase11 RTR ASAP. Maybe I can get Paul and Dan to get us some more tapes for that project….
Regardless, a 2012 Brutus Award to Dan and Paul and The Tape Project…richly deserved, after all these years!
(To learn more, and to purchase tapes, visit http://tapeproject.com.)
Universal Japan for the SHM SACDs
On a different front, the folks at Universal Japan have continued their series of SHM SACDs that I gave a Brutus Award to last year. These rather expensive SACDs (around USD $60 per title) are formulated of a special material derived from the space program, with purportedly better properties than the standard stuff used on CDs, DVDs, and SACDs. Taking a purist approach, the folks at Universal Japan have shed any multi-channel DSD material for surround, and ditched the hybrid layer for PCM Red Book CD compatibility. SHM SACDs are purely stereo DSD only, to provide maximum purity in the product.
There has been a great deal of discussion about the provenance of these SACDs, the production values/systems that went into their mastering, and a wide range of responses to them. Most of these claim that they have been mastered from analog master-quality sources directly to DSD. (Note that I do know that the various Queen titles were mastered from 96/24 PCM, however, which is why I have discontinued purchasing that series.) Mastering to DSD seems to have been made at a number of different sites, by various mastering engineers.
While I am hearing a variation of quality, with some of these being better than others (this could be for many reasons, of course), overall I am impressed by the sonic quality of the SHM SACDs. And their A&R is a pleasant plus, with a number of artists and recordings that have never been released to DSD/SACD before: the later Rolling Stones, more Dire Straits, Creedence Clearwater Revival, a ton of Bill Evans (bring it on!), Coltrane, Guaraldi, The Who, Mike Oldfield (excellent!), Stevie Wonder by the pound, Black Sabbath (!!), classical works from a very broad UMG catalog (too many to list)…on and on it goes.
This actually gives us a sense of what the world could have been like, if Sony Music hadn't screwed the pooch of SACD at the very time that UMG was getting warmed up on its releases. I'm not sure that there is a vulgar profanity that is low enough to describe the banal stupidity of those responsible for the SACD fiasco. Lord knows I've tried to come up with something that's crude enough…but no, it's beyond my word crafting.
If you would like to partake of that world, you should invest in your SACD collection, and pick up at least some of these great titles… the A&R is not to be missed!
And another PFO Brutus Award for Universal Japan for their SHM SACDs here in 2012!
(I recommend that you visit Acoustic Sounds or Eastwind Import to purchase SHM SACDs.)
MA Recordings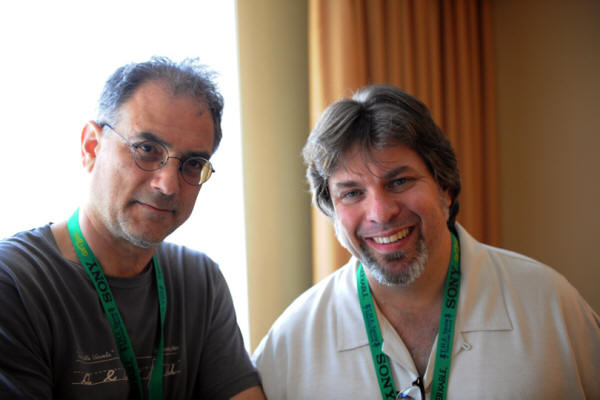 Todd Garfinkle of MA Recordings with Chris Sommovigo of The Signal Collection at THE Show Newport Beach, 2012.
Todd Garfinkle, audio recordist at MA Recordings, is a wonder. For many years now Todd has been traveling all over the world, recording music from many different cultures and settings. All of them are beautiful and moving, even in Red Book PCM. This is due to the purist aesthetic that Todd takes to all of his venues, an audio artisan who brings out the best in the musical artists that he works with. I think I have just about every recording that he has produced, and keep them in a place of honor in my library.
Todd shifted to 96kHz/24-bit recordings many years ago, and then followed that transition with others to 176.4kHz/24-bit, and finally (blessedly!) to Double DSD. Todd now records his work to Double DSD, a potential treasure trove now that downloadable DSD is becoming a reality.
Nima Ben David's superb recording, Résonance, on MA Recordings. [Cover art courtesy of MA Recordings.]
The quality of Todd's work was best exemplified for me this year by extended time with the 176.4kHz/24-bit PCM version of his recording of Nima Ben David on the viola da Gamba, Résonance (MA 088). An eclectic collection of works by Abel, Bach, Gurdjieff (!!!), and others, this solo album has been a special favorite of mine all year long. Completely seductive and haunting, I have spent many hours with this friend that I've never met, Nima Ben David. What interpretation! What mastery of touch and intonation!

If you do not have this recording, by all means order a copy of the 176.4kHz .WAV version of Résonance. You simply cannot go wrong with it…unless you have no soul, in which case you have bigger problems than not possessing this recording.
Whenever you have the option, take the highest resolution that you can get of Todd's masterly recordings. The quality of his work becomes ever more clear as you increase the resolution.
My only hope here is that Todd will start to issue his Double DSD recordings in Double DSD. I'm pushing him hard on this…visit his site and bug him to do the same!
(For more information/to purchase MA Recordings, visit http://www.marecordings.com.)
Blue Coast Records
Cookie Marenco has the right idea: cut to the chase and provide DSD downloads to audiophiles and music lovers NOW! She has been working hard to provide this, and made good progress on this front during 2012.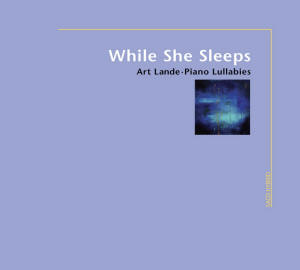 I downloaded a sample of her work as an audio engineer, Art Lande's While She Sleeps, in DSD. (You can find it here for purchase at Blue Coast Records.) This is a solo piano recording, very much in the spirit of Windham Hill (I have a ton of WH on LP and CD in my library), for which Cookie did some work back in the day. It has the same gentle and contemplative feel, only in DSD the dynamics of Lande's performance on the piano is no longer muzzled by the limitations of Red Book PCM (thank God!). I am listening it to it now in DSD, via the Benchmark DAC2 HGC…the winter sunlight is shining on my face…and this recording is helping me to remember why we love music and great recordings so much. Art Lande's touch is gentle; the intonation, feel, and decay are all quite transparently rendered in DSD.
Superb.
It's time that I recognized Cookie's exemplary work as an audio engineer. A Brutus Award for music to her and Blue Coast Records in 2012!
(For more information, or to purchase music, visit Blue Coast Records at http://bluecoastrecords.com/home.)
Circuitous Maximus Award
MBL/Playback Designs/Kubala-Sosna/Wave Kinetics/Durand Tonearms for their reference systems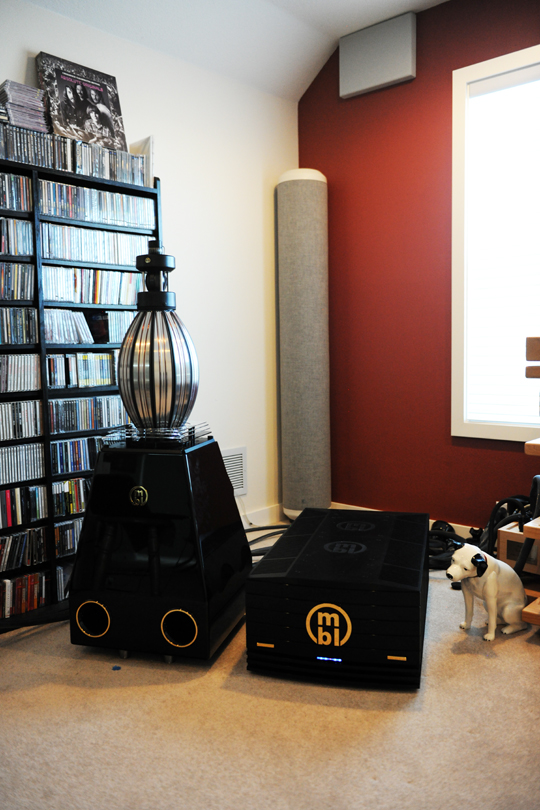 My Circuitus Maximus Award is one that I developed to recognize systems that were greater than the sum of their parts. I believe that greatness in audio reproduction doesn't happen in isolation. Even exceptional products that do not work and play well together, due to mismatches, incompatibilities, or more or less gross design differentials, may be audio train wrecks just waiting to happen. (I know; I've heard a lot of this over the years.) Therefore, whenever I run across the extraordinary in my listening room, I sit up and pay attention.
And, sure enough, it happened this year, which made this an easy award to give in 2012.
At last we were able to arrange to get the latest iteration of the MBL Reference System (Radialstrahler 101E Mk. II speakers, a pair of 9011 amplifiers, the latest version of the 6010D Reference preamplifier, the 1621A CD Transport, and the 1611F DAC) into our listening room for an extended stay. (I had been hoping to do this for the past three years, as a follow-up to my initial exposure to an earlier version of this MBL system.) This was coupled with the outstanding Playback Designs MPS-5 with USB-X interface for SACD and DSD/Double DSD files, and the world-class Wave Kinetics NVS turntable with Durand Telos 12" tonearm, and an Ortofon Anna MC cartridge, all connected with Kubala-Sosna Elation! cables.
The results were more than just excellent: this definitely one of the three best systems that I've had in my listening system (all three of which have been here in the past two years, amazingly enough). The quality of the synergy of this system will be described in my final comments in 2013; for now, let's just say that there's no doubt that these components… MBL and otherwise… are an extraordinary blend of complementary virtues.
Not to award a Circuitus Maximus to this system would make a farce of the award…can't have that!...so here it is… and richly deserved!
Lifetime Achievement Award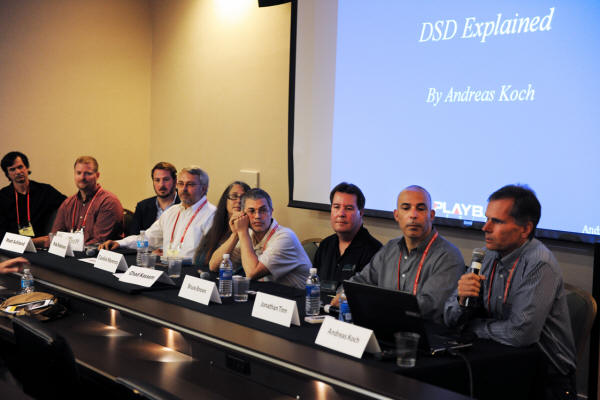 Andreas Koch (right) speaking on the PFO panel discussion about DSD at RMAF 2012. [Photograph by Robinson.]
It's been a long time since I've given a Lifetime Achievement Award here at PFO. As a matter of fact, I think it's been since 2005, when I gave one to Gordon Holt. Since then, I haven't been inspired to add to our Lifetime Achievement list… until this year.
As I thought about it, I was struck by a person whose achievements have been of global significance to the development of DSD and SACD: Andreas Koch of Playback Designs. Certainly there have been a large collection of gifted audio engineers who have contributed to the difficult challenges of making DSD a reality in the control room and our listening rooms, but of the people that I know, Andreas has taken a consistent leadership role in the development of DSD for quite a long time now.
It's time that Andreas' long-term achievements as an audio engineer was recognized; this Lifetime Achievement Award does exactly that.
Gizmo Award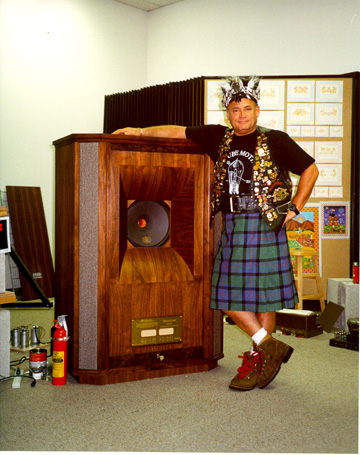 Finally, there's the question of a Gizmo Award for 2012. This award, done in memory of our good friend Harvey "Gizmo" Rosenberg, goes to the person who demonstrates that they are a genuine audiomaniac: wild, crazy, and over-the-top in pursuit of audio excellence. I don't always give one of these…some years, I just don't run across someone that meets the criteria.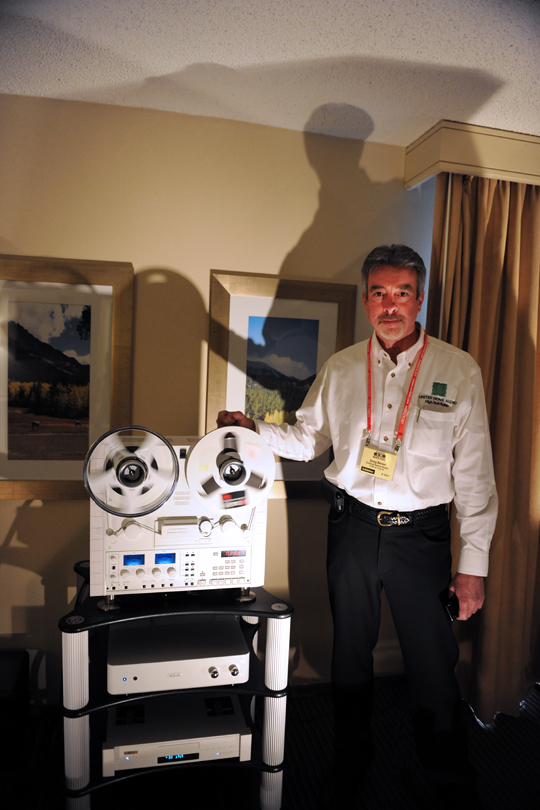 This year, I'm glad to say that there is a very obvious winner for the 2012 PFO Gizmo Award: Greg Beron of United Home Audio.
In my conversations and emails with Greg this year, plus my meetings with him at audio shows, makes it really clear that Greg deserves this award… the man is absolutely passionate about taking his Phase-series RTR machine to the highest peak that he can take it. Each iteration of his RTR work finds new ways to improve the sound, clear up the signal path, and get every last thing that he can from the underlying Tascam BR-20 ma-cheen. The man enthuses about ultra-expensive and well-matched capacitors… finds ways to remove the extraneous from the operation of his RTR decks…and has spent countless hours and serious dollars in pursuit of his vision for RTR playback. This includes encouraging music labels to issue open reel tapes of their analog masters, which is a lonely path, brother!
Yep, there's no doubt about it. Greg's a full-fledged audiomaniac!
He wins the Gizmo Award for 2012. Somewhere in a metagizmological zone, Gizmo is smilin'…!