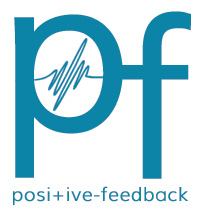 You are reading the older HTML site
Positive Feedback ISSUE 65
january/february 2013
International CES and T.H.E. Show 2013
by Steve Lefkowicz
I've been attending CES on and off since about 1979. I've seen and heard a lot of different things over the years; some good and some bad, and much that was simply indifferent. Generally, I attend for two reasons; to get photos and information for my show report, and to find interesting products to request for future reviews. Without the photos and information, I've got nothing for the editors to publish. Without interesting products arranged for review, well, you've got nothing to read about later in the year.
At times it does get hard to get excited about attending, yet, once I am there, and once I start roaming the hallways, I remember why I have maintained a love for the better quality audio products that help me really get in touch with my all-consuming love of music. I actually appreciate the passion that many of these manufacturers, designers, distributors, and other exhibitors express at these shows (at least on the first day or two). I am always disappointed when I step into a room or exhibit and don't feel that passion from the people in there. If they're not passionate and excited about their product, why should I, or anyone else, be excited by it?
On the other hand, I have been at this long enough to know when an exhibitor has chosen music to play based on characteristics that highlight the strengths of the system while minimizing or masking the weaknesses. Audiophile recordings of boring jazz and female vocalists might sound nice, but in all reality, tell me nothing about a product. Let me play a few minutes of whatever I might bring, or have some "real" music available to play. That not only might help me to connect with your product, but also tells me you have confidence in what you make.
And, unfortunately for your highly tuned state-of-the-art new six-figure system, not all real music is a three-piece jazz band with female vocalist, or necessarily all that well recorded. Chances are, the "test tracks" I have brought, will not be audiophile classics. They will be music I connect with, that I like, and that tell me quite a bit, very quickly, about whether your system does anything special or is something I might be interested in commenting on in my show report or reviewing later. If you tell me "no, we can't play that" that's fine, but don't expect to see your stuff mentioned in this article.
I used to see this all the time at the large trade conventions in the photo industry years ago, where manufacturers would show their expensive pro-lab printers, photo paper, film and chemicals with "reference" images that were all bright, saturated colors and high contrast. For those not familiar with the photo industry, saturated colors are easy to produce, and quality is always exhibited in the pastels, mid-tones and shadows. When I was demonstrating printers for the company I worked for (priced from $60,000 to $500,000) I always had negatives (and later, digital files) with pastels, skin tones, and subtle gradations of color. At the time we were the largest manufacturer of photo finishing gear in the world, though no one outside the industry ever heard of us, as we made no consumer products. I would challenge customers to get an image like that printed at our competitors' exhibits. They usually couldn't get them printed, but it made my point.
The point of this is simple. There is a reason trade shows like having press attend, and why manufacturers actually need members of the press there: One way or another, being mentioned positively in the multitude of show reports that will be posted or printed about the show here and in all the other magazines and web sites amounts to free, positive advertising. They get to quote things like "best sound I heard at the show!" or "great sound that competes with systems costing twice the price!!" or other comments like that. It's good for everyone to have press coverage of these shows.
Having said all that, rooms that insisted on limited demo tracks of audiophile favorites, that inflicted Diana Krall on me (or worse, Patricia Barber), that refused to play anything that I requested (or actually, my son, since his demo CD was more interesting and fun than the one I brought) simply won't be in this article. Sorry, I had too many rooms to see and not enough time.
So, here it is. I am going to combine both CES and T.H.E. Show in one article. And unlike previous year's show reports, I will actually single out a few rooms for exceptionally good sound, whether it is overall good sound, or, more importantly to me, exceptionally good sound for a reasonable price. If you see some dollar sign symbols ($$$) in the heading for an exhibitor, that is a mark of both exceptional sound and value, and not a sign of high price.
Also, because this was the first CES that my nineteen year-old son attended, I did stop at more of the high priced rooms that I would normally have skipped. I felt he needed to see the kind of equipment that I don't normally write about. But still, if your favorite very high priced gear is not in this article, good chance I just skipped it, while looking for more affordable offerings.
So, in somewhat alphabetical order, regardless of price, here is what we saw.
Angel City Audio, Melody Audio, Onyx (T.H.E. Show) $$$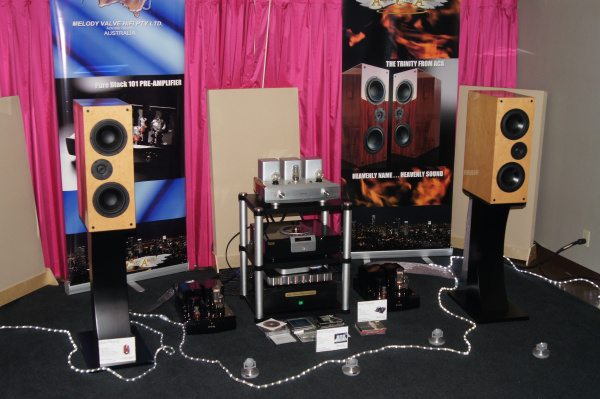 Angel City Audio's Trinity speakers ($2599) were shown with Melody amps and Onyx digital front end, as usual, since Angel City is the US importer for those lines. The Trinity speakers, which were just reviewed in Issue 64, and this system were sounding as they usually do at shows; dynamic, detailed, lively and very tuneful.
Avatar Acoustics, Tri-Art Audio, Current Cables (CES) $$$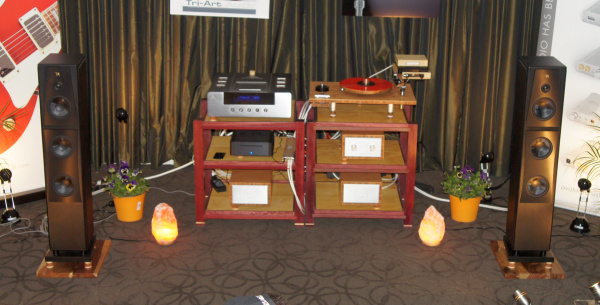 Avatar Acoustics (importer of Abbingdon Music Research (AMR) and Rosso Fiorentino speakers), Canadian manufacturer Tri Art Audio, and Current Cables shared a very nice sounding and highly entertaining suite at the Venetian. The system included an AMR DP-777 processor ($4995) and CD-777 CD player ($10,995) as a transport, playing through a variety of Tri Art Audio electronics (price TBD), into Rosso Fiorentino Conqueror speakers ($5995) and all hooked up with Current Cables (priced from $1495 to $2995).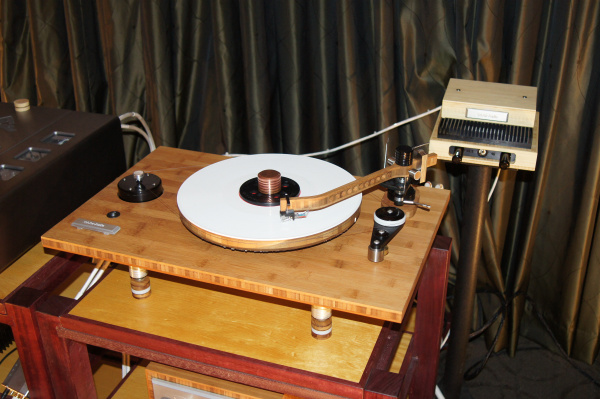 They also had a beautiful, all bamboo Tri-Art turntable (about $2900 including the tonearm). These guys really get it, and had a great selection of music to show off just how musical their system could be. Where else could you have heard songs from Flight of the Conchords on vinyl! Sounded sweet, too.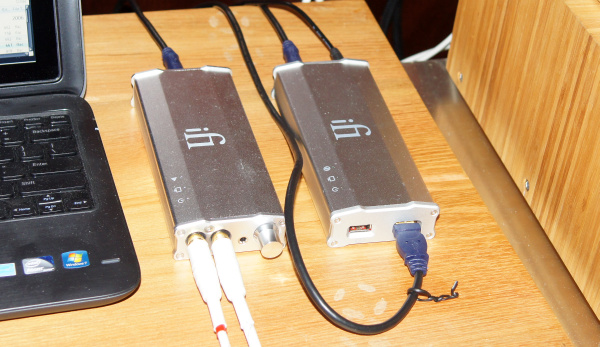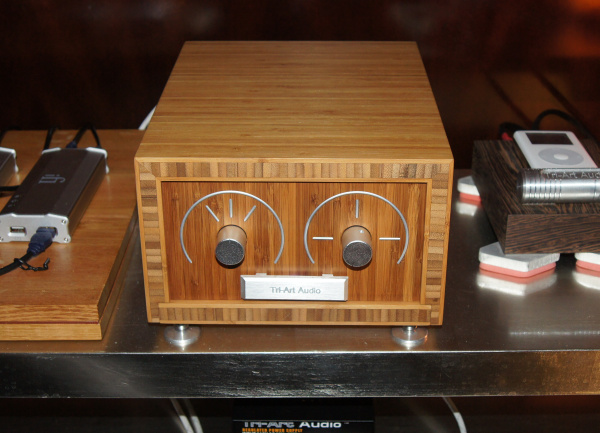 On display also was AMRs low cost iFi Micro line, including the iDAC $299), iUSD Power Plant ($199), iPhono ($399) and the iCAN headphone amp ($249) all of which I am eagerly awaiting on for review, and Tri-Art Audio "The Bam-Bam" 20 wpc Class-D integrated amp ($1495) that, like all of Tri-Art's gear, comes housed in an all bamboo enclosure.
While I discussed gear with the friendly folks here, they played a wide variety of vinyl and digital for us, including most of my son's CD. It all sounded great.
Bang and Olufsen (CES)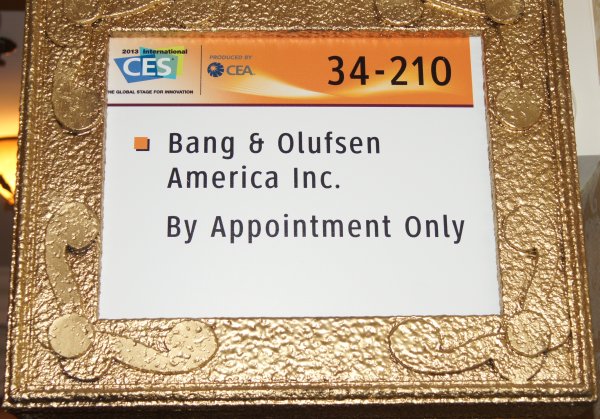 I would have loved to mention B&O and shown a few photos of their generally cool looking gear, and even with this sign up, the door was open. I walked in, was asked if I had an appointment. I said, "No, I just want to get a few photos." I was told to check back "in a few days, maybe Thursday" to see if there were any openings. I didn't.
Bluebird Audio, Peak Consult, Chord, Van den Hul (CES)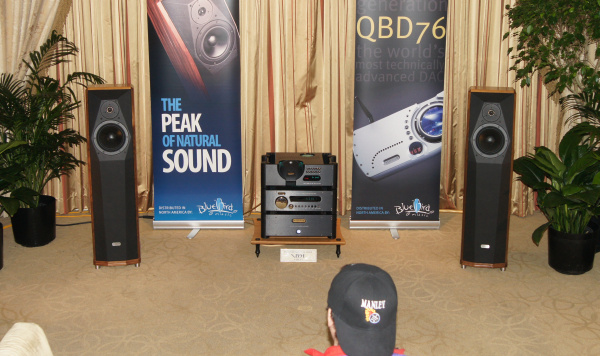 Bluebird Audio, the Canadian based North American Distributor of Chord, Peak Consult and Van den Hul was showing a fine sounding system with a total system price of $94,985. Peak Consult InCognito XII speakers ($26,000); Chord Red Reference Mk III CD player ($25,000); Chord SPM 1200 MkII amplifier ($14,000), Van den Hul MC 3T Mountain interconnects ($2990) and Nova Cumulus 3T Speaker cable ($6995). The system sounded great, but for me, the real exciting part was Chords new lower cost Chordette QuteHD DAC ($1795).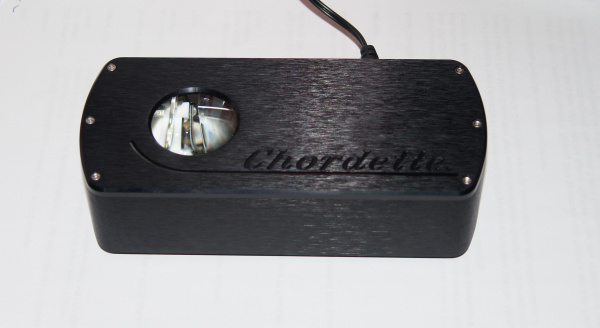 Derived from Chord's $8500 dollar QBD76, and fully DSD capable, the QuteHD brings Chord's high technology down to a broader audience.
CEntrance (T.H.E. Show) $$$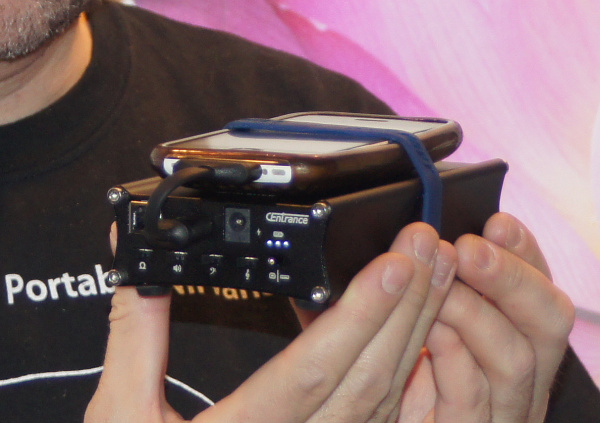 CEntrance, whose DACport LX is one of my two reference low cost USB DACs at the moment, was showing their various products, including their mini desktop system. But, their big news is their new portable DAC/Headphone amp, the HiFi-M8, shown here with CEntrance Managing Director and Chief Designer Mike Goodman. This 24/192 portable USB DAC should be available soon, and is targeted to go for $699. It certainly seems like something to get excited about.
Colleen Cardas Imports, Unison Research, Opera Loudspeakers (CES) $$$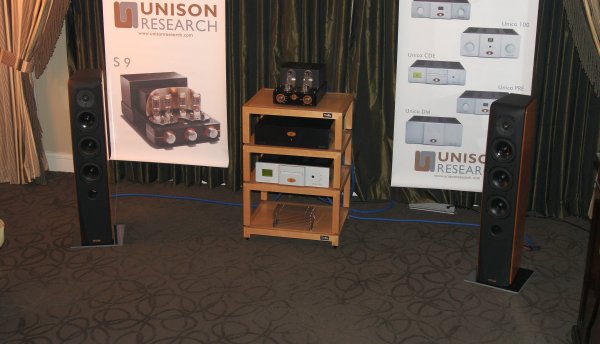 Colleen Cardas Imports was showing an impressive sounding and moderately priced system. The most expensive piece on display was the Unison Research Unico CD Player, with upgraded dual-mono optical DAC for $4120. The rest of the system included Unison's Simply Italy 12-watt EL34 integrated amp ($2450), a new Unison UPower Booster amplifier ($2895) and Opera Grand Mezza speakers ($2795). Of course Cardas cables connected everything.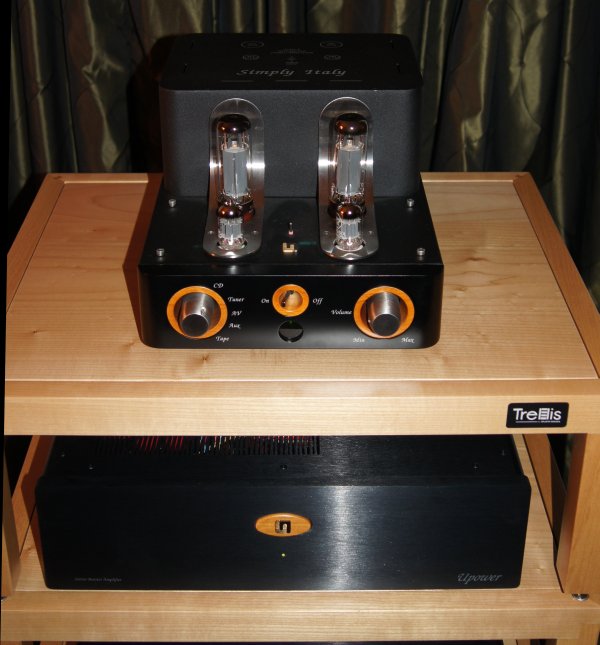 The UPower booster amp is different from earlier attempts at this from other companies, as it boosts both voltage and current, which is supposed to ensure that the characteristics of the primary amp aren't altered. It boosts by a factor of 4X, up to about 100 watts. So teamed up with the Simply Italy, it was putting out about 48 watts.
As I already mentioned, the system was impressive, with beautiful tone, plenty of dynamics, and excellent levels of detail.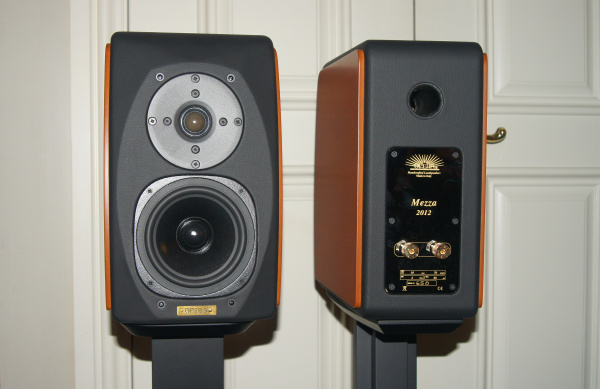 We also had the chance on the last day to hear the smaller, stand mounted Mezza speakers from Opera ($1495). We played a wide variety of music on these, and I think they'll give any small, stand mount $1500 speakers serious competition.
We spent a lot of time in this room over the four days of CES just listening to tunes, letting out feet relax and our ears recover. You have to find a few rooms for that when covering a show, and they have to have excellent sound.
DeVore Fidelity, Naim, Well Tempered, AcousticPlan (CES) $$$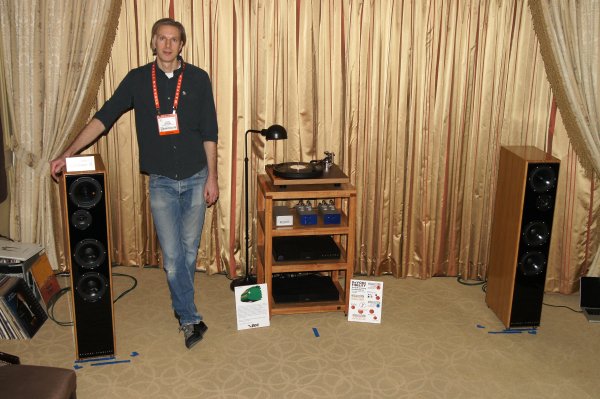 Here we see John DeVore standing next to his new Gibbon X ($11,000/pair) speakers. Their bamboo cabinets looked as nice as the speakers sounded! Devore is one of those manufacturers that, wherever I hear one of his speakers, regardless of what's playing into them, they have that magic that I look for. Having a "real" Well Tempered Labs table with a Van den Hul Frog cartridge and Naim electronics certainly didn't hurt.
E.A.R., Marten, Jorma (CES) $$$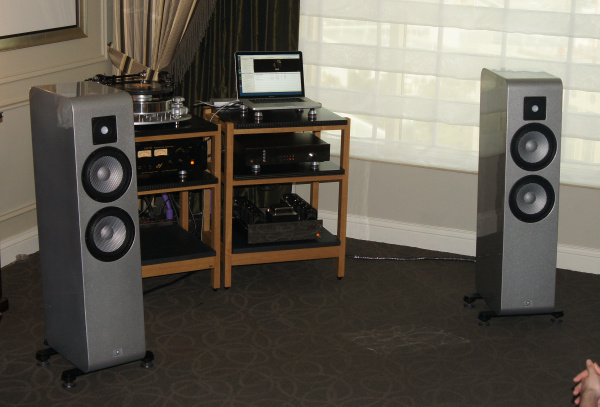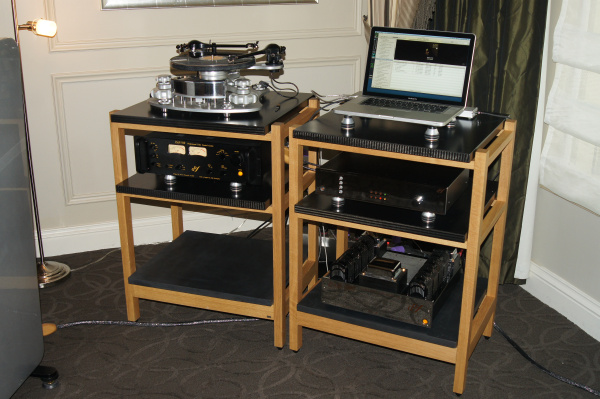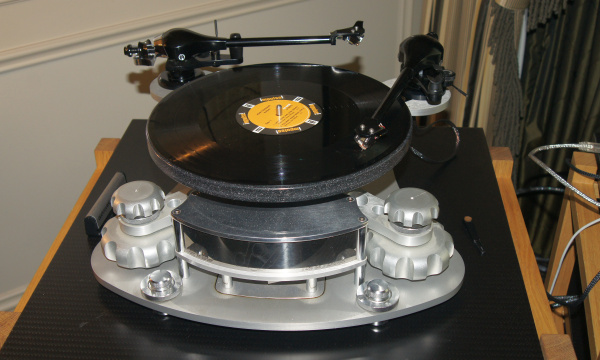 Over the years, some exhibitors' rooms just always sound great. Dan Meinwald (importer of E.A.R, Marten speakers, Jorma cables and Townsend turntables) is one of those exhibitors. This year Dan was showing the new Marten Django L ($9000), the little brother to the $15,000 Django XL. Powered by an all E.A.R system (including the rarely seen $28,000 E.A.R turntable!) and Jorma cables, the system had it all. Just a thoroughly wonderful sound on everything we played through it. Though certainly not low priced, it was nowhere near the cost of the really high priced rooms we visited. So there is definitely a high value content here, also.
ESS Laboratories (T.H.E. Show)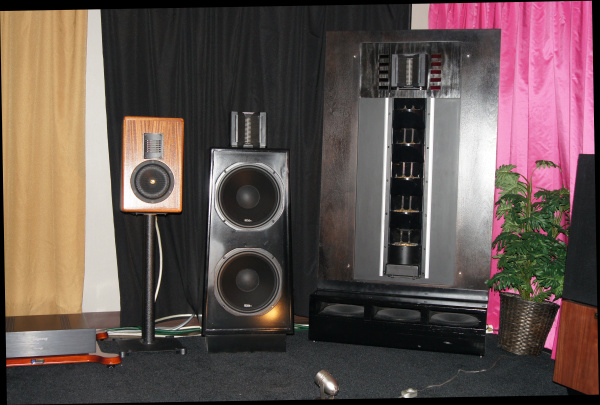 ESS Labs was showing their complete of fine sounding speakers, based on Heil AMT drivers. They were playing the large Transar system when we were there, and which seems to sound better every time I hear it at a show.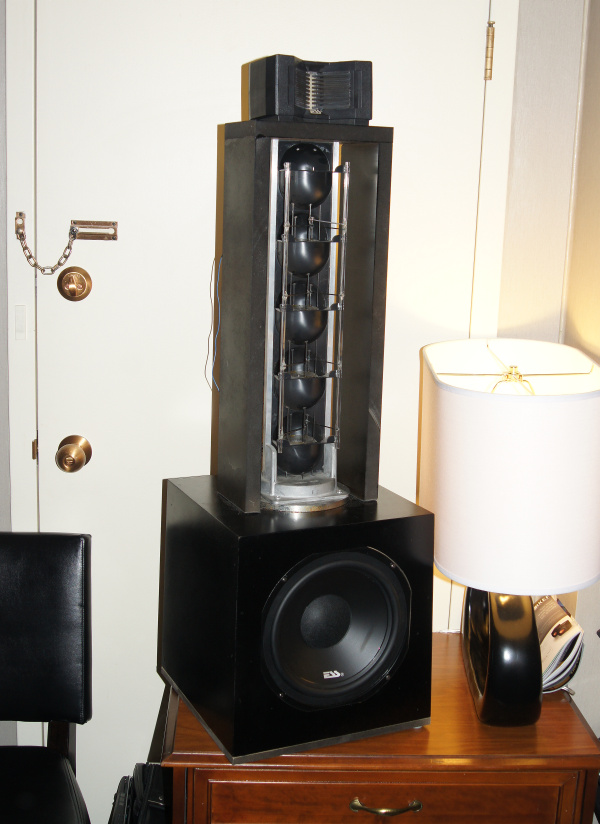 However, the real exciting thing they showed was a prototype of a mini Transar seen in the photo above. I'm hoping it will on full demo by the Newport Show.
Gallo (CES) $$$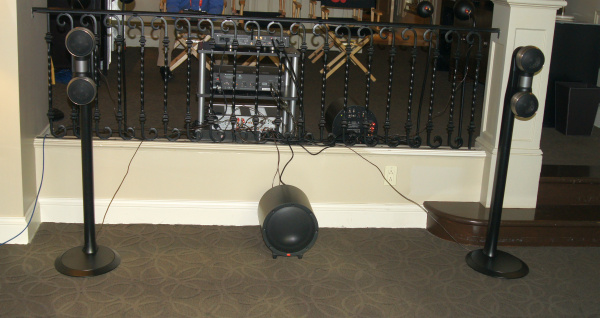 Anthony Gallo Acoustics has been a long time favorite of mine. There's something about the quality of sound they get from every speaker of theirs that I have ever heard that just resonates positively with me. This was the first time I was able to hear their Reference Strada speakers. Showing the new Reference Strada 2 ($1998/pair) on their optional Floor Stands ($425) and with the TR-3d subwoofer ($984.50) for a total speaker price of $3407.50, the sound was excellent, in spite of a less than ideal environment.
GoldenEar Technology (CES) $$$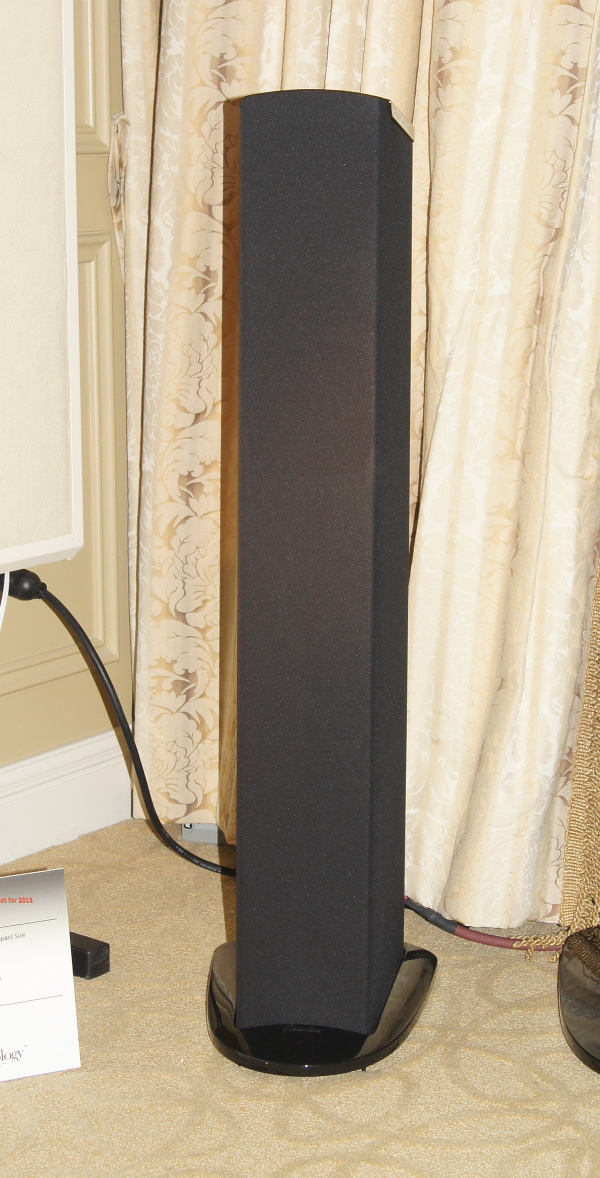 GoldenEar Technology appears to be continuing its winning ways with another new, high quality, low cost speaker system. The new Triton 7 speaker ($1398/pair) leaves out the powered woofers of the larger Triton series, but still includes passive radiators for low frequency extension. We played several tracks (company owner Sandy Gross has become a Rebelution fan!) and the sound was way beyond what one would expect from speakers in this price range, especially with its bass power and overall transparency. They were using very expensive Audio Research electronics, which certainly helped. I've requested a review set, and hope they get here soon!
Legacy Audio, CODA, Morrow Audio (T.H.E. Show)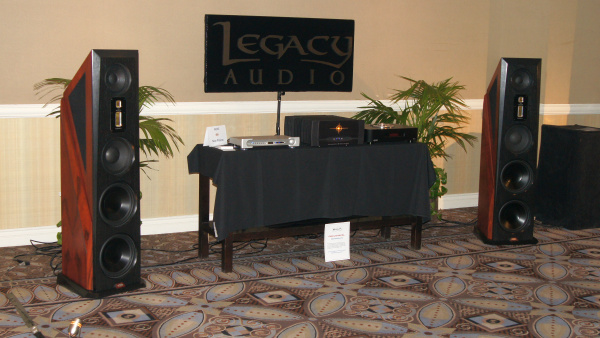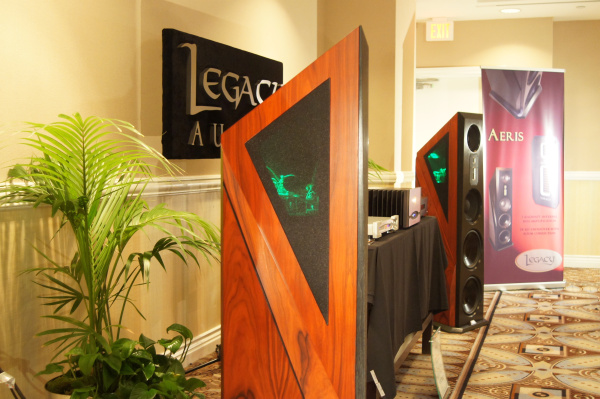 Although I have only heard Legacy Audio speakers at shows, I have been very impressed with their products over the past several years. This year's new model, the $17,750 Aeris, might be the best I've heard from them. They were powered by a CODA 15.0 Amplifier ($10,000), CODA 07 Preamp ($6500), an Ayon CD 2S player ($6350) and wired with Morrow Audio SP7 speaker cables (2 meter pair, $1499), MAP3 power cords (1 meter, $369), and MA3 ($199) and MA6 ($899) interconnects.
In a very large downstairs suite, the sound was everything I could have asked for from an expensive system; dynamics, detail, deep powerful bass, and superb clarity and extension from Legacy's new Dual Air Motion Tweeter System. It includes a 1000-watt bass amplifier, 24-bit crossover and room correction. We came back to listen several times.
Linn Audio (T.H.E. Show)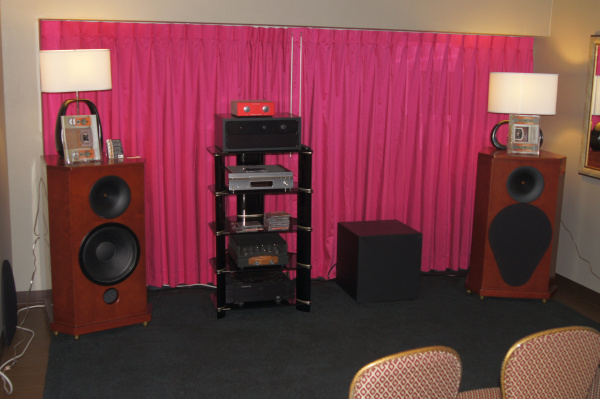 Not to be confused with Linn Products, Linn Audio is an Oakland, CA based manufacturer of expensive, large, high efficiency speakers. Here they showed their $80,000 Athenaeum system.
MBL (CES)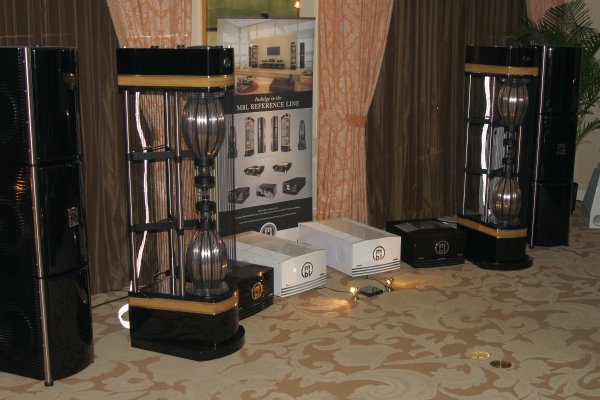 At $265,000 for just the speakers, MBL can't be considered as a value proposition by anyone's standards. However, I'm guessing you could still buy this entire system and a new entry level Ferrari for less than a Bugatti Veyron, so maybe I'm wrong. However, regardless of price, playing tracks from The Who and Bob Marley (24/88 files ripped from LP!) this room was, for me at least, maybe the best I heard at the show. It seemed unlimited in dynamics, frequency extension, and all matters purely musical. It was the first room we stopped in, and everything after that had to stand in comparison in our minds.
McIntosh (CES)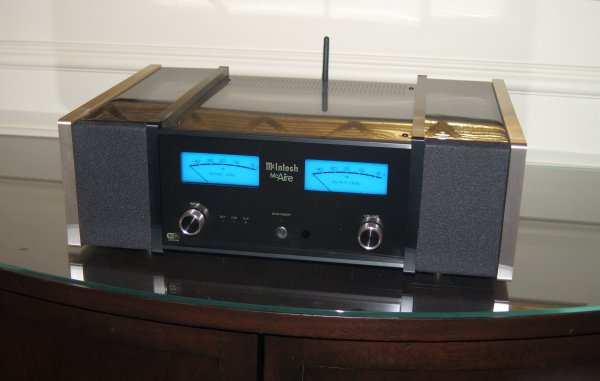 Though McIntosh was showing a lot of high priced gear, as usual, they also had their new McAire Tabletop Player (around $3000). Basically, it is a high end all in one tabletop player for iTunes. A brief listen showed it actually sounded pretty nice, and certainly looked better than any other table top player I've seen.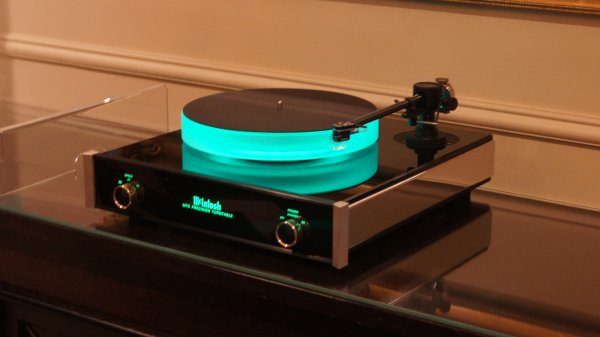 Also shown was this beautiful looking MT5 turntable (about $6000). McIntosh certainly knows how to make nice looking gear.
Music Hall, Creek, Epos (CES) $$$
As usual, Roy Hall was showing a wide variety of nice, reasonably priced audio gear, under his own Music Hall brand, as well as products he imports from Creek, Epos, EAT, Bellari and Aktimate. Music Hall is a place where you can get everything you need to assemble a complete, high quality system without taking out a second mortgage or risking your child's college education.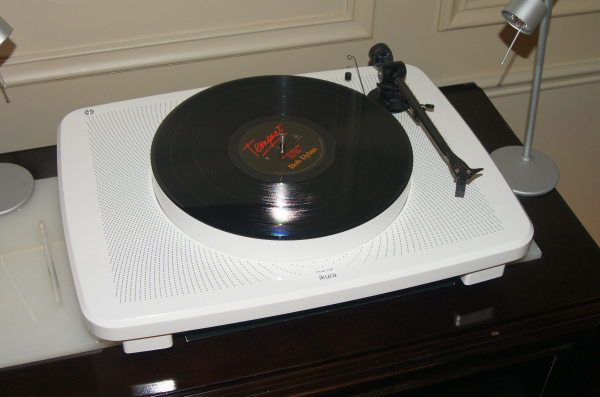 Music Hall offers a wide variety of reasonably priced, high quality turntables. Though quite good, and always recommended products in their respective price ranges, they may be considered a little bland in their appearance. The new Music Hall Ikura turntable (projected to be under $1000 including the arm) certainly changes that. It looks even better in person than in this photo.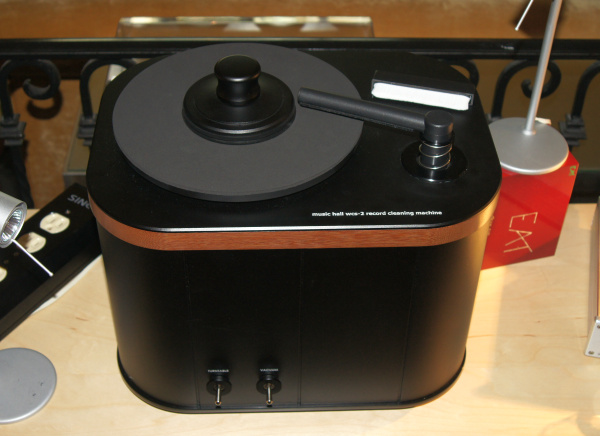 Since they sell so many turntables, it only makes sense that Music Hall would enter the record cleaning market too. Their WCS-2 record-cleaning machine ($595) uses an extremely powerful 1200-watt motor, to dry records in just one revolution. "WCS" apparently stands for "Wets, Cleans, Sucks." You have to love Roy Hall's sense of humor.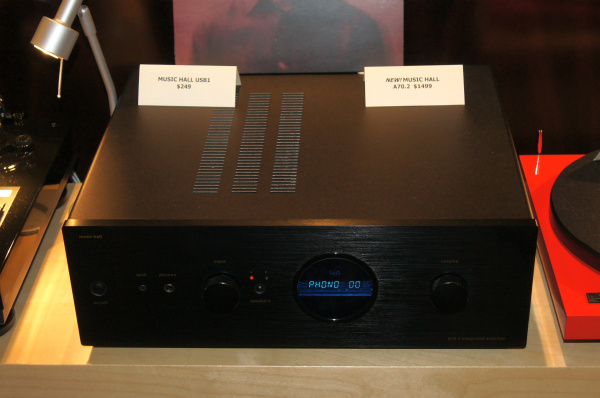 The Music Hall A70.2 integrated amp ($1499) including a built in MM phono stage and a remote, outputs 125 watts in a hefty 31-pound package.
Polk (CES) $$$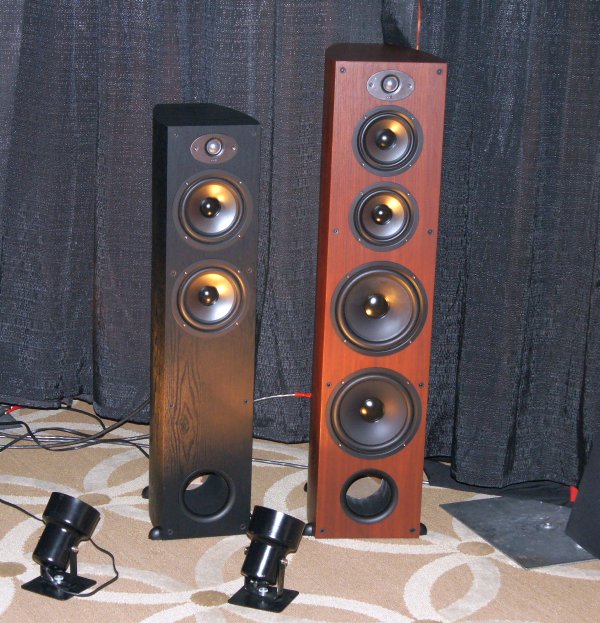 Although I got stuck for a few minutes in a demo of a soundbar playing a DVD of a Diana Krall concert, which almost caused me to fashion a hasty exit from the room, I'm glad I didn't. Otherwise I would have missed out on two very interesting low priced tower speakers. The larger speaker in the photo, the TSx550r ($1000/pair), whose published specs claim bass response down to 28Hz, sounded open, energetic, powerful and clean on some old Steve Miller tracks they played for me. The smaller TSx33r, which I didn't get to hear, are only $599/pair. They also have the model TSx44r ($800, not shown) in between in the lineup. I'm hoping to get a set in for review later this year.
PranaFidelity (T.H.E. Show)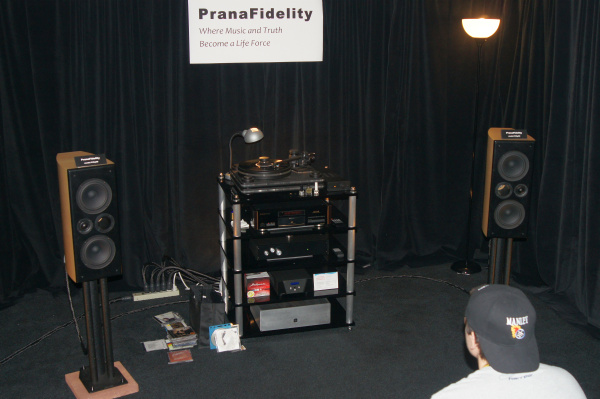 PranaFidelity (not to be confused with Prana Wire) is run by Steve Norber, formerly of Edge Electronics. He was exhibiting his model Fifty90 speakers ($3950/pair), 400-wpc Purna amplifer ($8950), and a protoype preamp. This system offered up some seriously good sound, with exceptional presence and detail, especially on the acoustic Rebelution tracks from my son's demo CD.
Precision Transducer Engineering (T.H.E. Show) $$$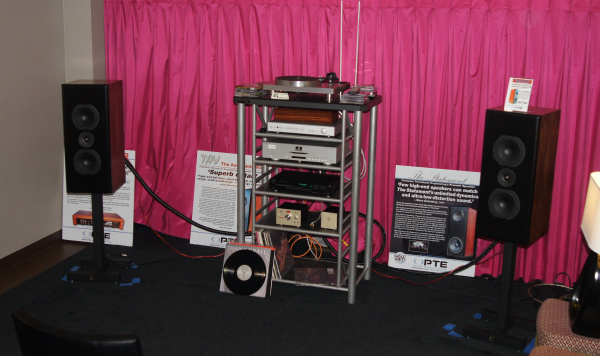 Precision Transducer Engineering (PTE) has been showing their Phoenix powered speakers ($5700) at all the shows I've been to over the past few years. This Southern California based company is one of the few that bucks standard audiophile thinking by offering powered speakers. Each Phoenix has three 120-watt solid-state amps built in. It's too bad that so many audiophiles just don't warm up to powered speakers, because these have sounded very impressive every time I've heard them. Considering the amps are included, they are actually very reasonably priced.
Pro-Ject - Sumiko (CES) $$$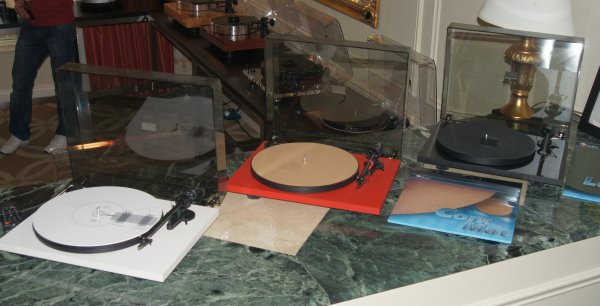 Pro-Ject was showing their vast array of high quality moderately priced turntables, with starting prices as low as $299. Even their best, top of the line table is only $14,000. That is less than one-tenth of the price of the most expensive tables I saw at the show. It's hard to imagine any discussion of "affordable" turntables that doesn't include Pro-Ject.
Rega Research (CES) $$$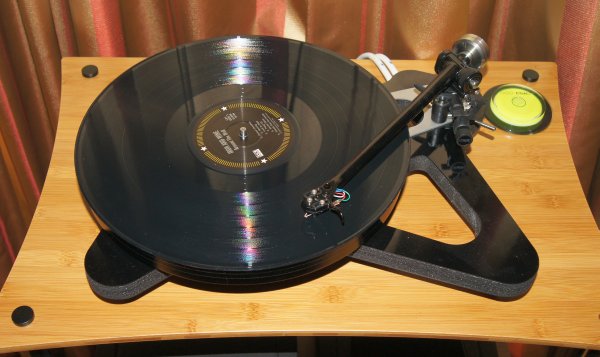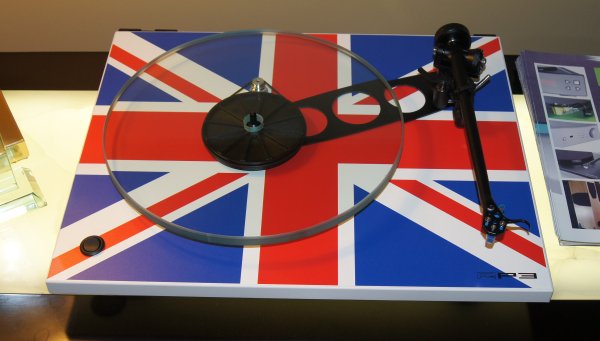 Rega, one of the longtime established kings of sensibly priced audio gear, was showing their new RP8 turntable $2999. Seen above without its base and dustcover support. It's great to see Rega continue to push the limits of what a reasonably priced turntable can be. Also shown was the Union Jack edition of the classic RP3 turntable, the latest version of what for many is the reference in under $1000 turntables.
Rogue Audio (CES) $$$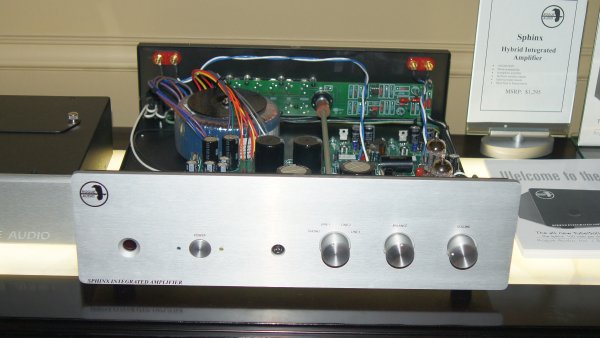 Rogue Audio was showing off some new, exciting, lower cost options in their line of American made electronics. Building on the hybrid (tube/ClassD) power amps from last year, they were showing the new Sphinx hybrid (100-wpc) integrated amp ($1295, plus $100 for optional remote), which includes a moving magnet phono stage and headphone amp. They used one to drive a very large, expensive ($18,000) pair of Egglestonworks speakers, which it handled very nicely.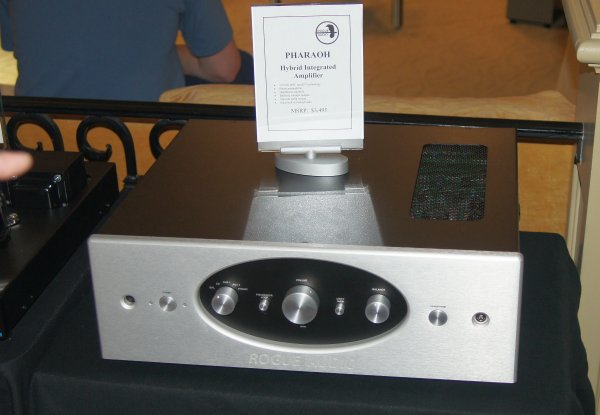 The other new integrated amp was the more upscale hybrid, 175-wpc Pharaoh ($3495), which includes both a MM/MC phono stage and headphone amp. My experience with the Rogue Perseus Magnum preamp last year showed me that Rogue certainly knows how to make excellent phono stages.
Any new addition to the Rogue Audio lineup is noteworthy, and I love that they are bringing new products out at lower to moderate price points, rather than releasing some megabuck "statement" product.
SGR and MSB (CES)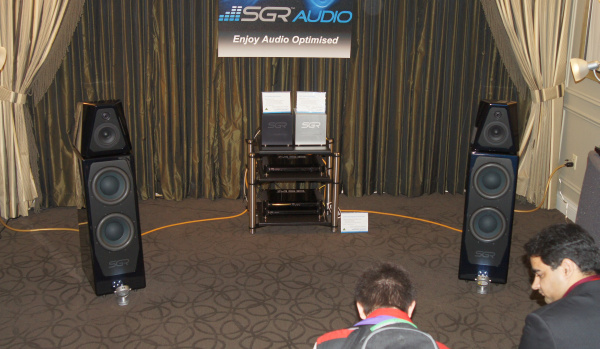 Australian manufacturer SGR was showing its $60,000 MT3F fully active speaker system and music server ($10,000 including an MSB sourced DAC and analog outputs, $5000 without DAC, using digital outputs) used with MSB DAC and Transport, while seeking US distribution. The system had a very powerful, immediate presentation, with nicely controlled, very deep bass. I'm sure we'll be hearing more from them when they are fully available in the US. We spent a lot of time in this room playing a variety of good tunes, including from our own disks. We didn't spend a lot of time in rooms that didn't get the music right! Also, the SGR crew, Belinda Walsh, Aditya Caprihan, and lead by Managing Director Stuart Ralston, were some of the nicest people we met throughout the week.
Sonist Speakers (T.H.E. Show) $$$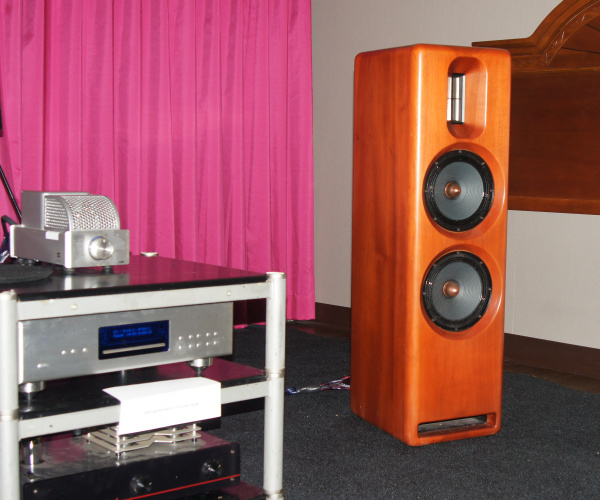 I've been following the development of Randy Bankert's line of Sonist Speakers for many years. This time around, in a system that exemplified the easy-to-drive- nature of his speakers, he displayed his top of the line Concerto 4 ($5895) with an inexpensive ($840) Glow Audio Amp 1, (5 watts from EL84 tubes). Smooth, musical, enticing, and they get music right for me.
Soul by Ludicris (CES)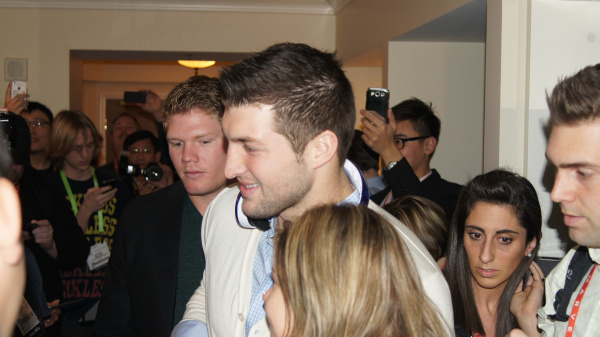 Headphone manufacturer Soul by Ludicris showed their line of in-ear and over-the-ear headphones at the Venetian, though they might have gotten a better reaction over at the LVCC with the other more mainstream consumer headphones. They seemed well built and stylish, but a quick listen showed they seem geared more for the portable, pump up the bass crowd than true high-end headphones. However, they did draw quite a crowd for the press conference they held with football player Tim Tebow.
Tannoy, Cary, Audio Electronics, WyWires (CES) $$$ for 2nd and 3rd systems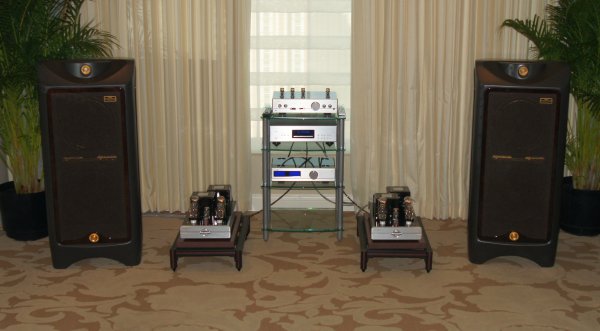 This system, comprised of the remarkable Tannoy Kingdom Royal speakers ($55,000 and the same pair that Jeff Day reviewed in PFO Issue 64), Cary CAD-211 power amps ($19,995/pair), Cary SLP-05 tube preamplifier ($8495), Cary CD-303T SACD player with DAC ($6495), all wired up with WyWires top of the line cables and their new Power Broker AC distribution unit ($2895), had that large scale, totally effortless sound that too few systems can manage. Beautiful in every way, and one of the handful of systems that deserve a "one of the best sounds at the show" comment.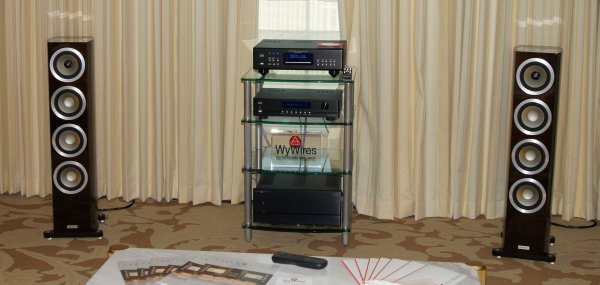 However, for those who like this sound but don't have the budget for it, the other system Tannoy, Cary and WyWires displayed in the adjoining room might fit the bill. The system was made up of Cary Audio CD-303T SACD/CD player/DAC, Cary Audio SLP-03 tube preamplifier ($1995), Cary Audio SA-200.2 power amplifier ($3995), Tannoy Precision 6.4 speakers ($3200/pair), and more WyWires cables and power distribution. This came in at under $20,000, and seriously outdid several other exhibits I heard costing more than five times the price.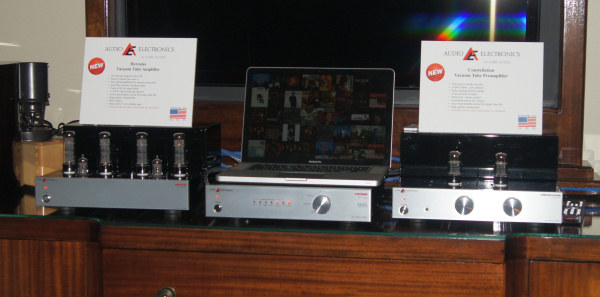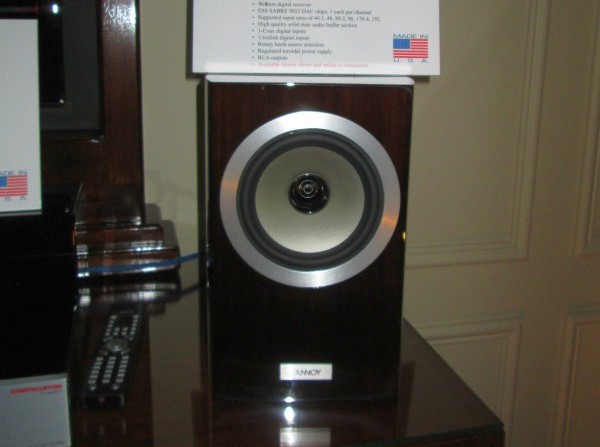 Cary has resurrected their Audio Electronics line of high value equipment, and was showing their new Audio Electronics Lightning DAC ($1295 starts shipping in February), Hercules tube power amplifier ($1895), and Constellation tube preamplifier ($1495), They were playing through small Tannoy Precision 6.1 speakers ($1200/pair) with WyWires Blue cables ($249+), power broker AC distributor ($2899) and using a MacBook Pro running Amarra as a source.
Voce Audio, MBL, One World Audio, Scheu Analog (T.H.E. Show)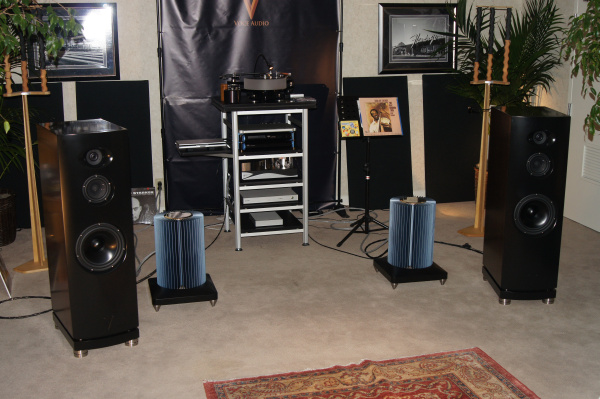 In one of the larger conference rooms at the Flamingo was the system showcasing Voce Audio VA-3s speakers ($35,635, including Stillpoint Ultra 5s), MSB DAC ($7990), MSB Disc Player ($7490), MSB 203 monoblocks ($27,500/pair), Zesto Audio Andros PS1 phono stage ($4300), Scheu Analog Prmier MKIII turntable, 9" Tacco Arm and 12" Classic arm ($4225, $3995 and $995 respectively), Soundsmith Hyperion cartridge ($7500), WyWires Gold and Silver cables and their Power Broker AC Distributor ($2895), and, finally, an Auraliti Music File Server ($5000). Total system price was $118,600.
We spent a lot of time here, also, and this room became our "safe haven" at the Flamingo. My son's Rebelution, Sublime, Jack Johnson and Local Natives tracks sounded superb, and they had a wide variety of good music to get the point across that this system could do it all.
Wells Audio, Voce Audio, WyWires (T.H.E. Show)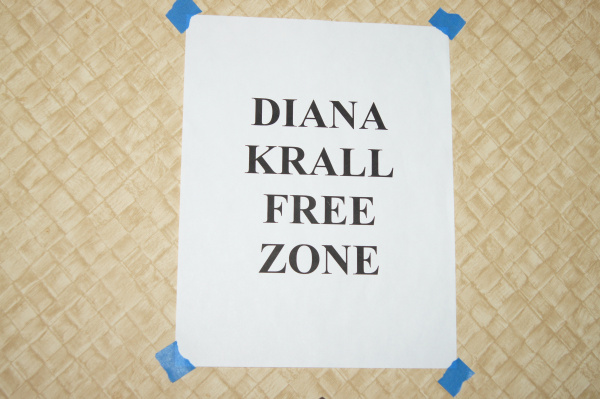 Seeing this sign at the door of Wells Audio's room certainly made me want to stop in!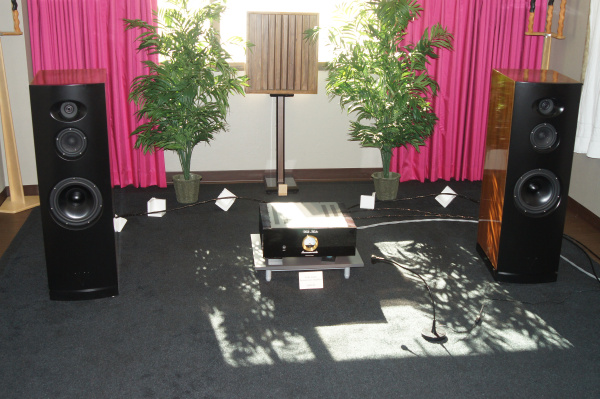 Using the same Voce Audio speakers we saw in the previous room, Wells Audio showed off their $6000 Innamorata 120 watt/channel power amp. The smaller room didn't serve the Voce speakers as well, and the demo suffered from excessively high playback levels. However, the amplifier certainly seemed to handle the loudness easily enough to still be impressive.
Zesto Audio, WyWires (T.H.E. Show)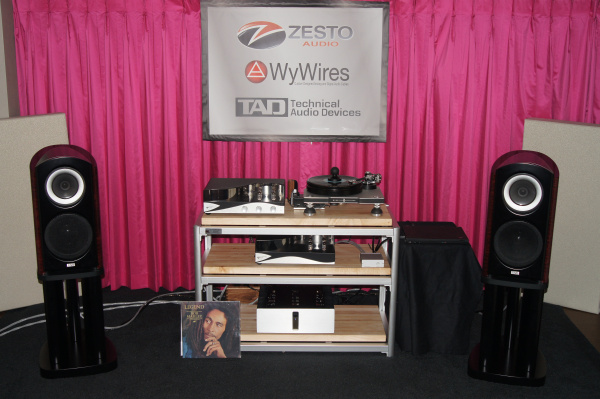 As usual, Zesto Audio showed their Andros phono preamp ($4300) and Leto preamp ($7500) with TAD CR-1 speakers, an older GaMut amplifier and of course, all hooked up with WyWires. They spun a vintage Bob Marley LP for us, and as has been the case in past shows, it sounded absolutely wonderful, among the very best at the show.
All things said and done, I'm already looking forward to T.H.E. Show Newport in June! Hope to see all of you there.