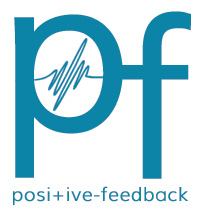 You are reading the older HTML site
Positive Feedback ISSUE 65
january/february 2013
Linn Records, Naxos, LSO Live, Idil Biret Beethoven Con. Vol. 3.
by Karl Lozier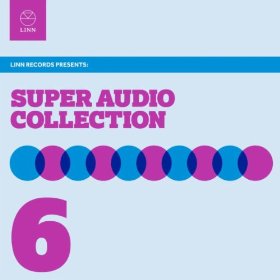 Super Audio Collection. Linn Records Volume 6. Many Varied Performers and Groups. Linn AKP Multichannel hybrid 408
Still valid I assume, is the term "Sampler Recording", particularly if you are only familiar with the company's rather famous turntables of many years ago. Now they are seriously into source items, such as the current SACD release, probably the best musical source readily available. It is playable on almost any sort of player though maximum performance and listening quality demands a truly good SACD player. There are fifteen selections on this fine disc ranging from Claire Martin's excellent phrasing and tone singing "Lazy Afternoon" to a rather small scale version of Berlioz famous "Marche" from Symphonie Fantastique. In between, selections from Handel, Byrd, Britten, Purcell, Mozart and many others are to be found. In fact they are to be found in possibly the highest audio quality to grace your ears in many a moon. The audio quality is simply pristine, that is crystal clear with extremely low amounts of any obvious distortions. That famous " Marche" being played by the relatively small Scottish Chamber Orchestra may disappoint though. I consider the selections to be close to a perfect group. Put this recording on, lean back and be surrounded by a great variety of simply pleasing music beautifully performed and recorded; enjoy and perhaps even be rejuvenated. Obviously a high recommendation for what it is.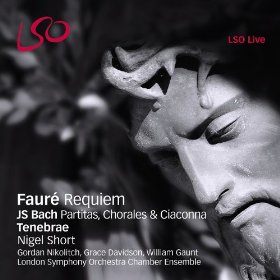 Faure, Requiem. Bach. Partita, Chorales and Ciaconna. Orchestra: London Symphony Chamber Ensemble. Leader: Nigel Short. LSOLive Hybrid SACD SLO 0728
Requiem Masses wound up usually as very large scale compositions, almost as if composers were almost trying to out do each other. Such compositions would need the backing of wealthy patrons or royalty or the churches where they might be held. Along with that, some people simply did not want a showoff type of requiem mass. Appealing to that was Gabriel Faure's, more recent than most, requiem mass. I rarely seem to receive copies of it and many reviewers and listeners routinely refer to its unique subtle beauty. Soloists, both vocal and instrumentalists are more the rule here and might not be particularly appropriate in larger churches. Yes, I also call its appeal rather subtle and beautiful rather than bold, powerful or over whelming. The other selections contained here are kind of fillers and similar musically and to each other. The Faure selection is the "star attraction" here, that simple and attractive. LSO Live's production is a gem; do not wait around to hear its superior in any aspect; it might be a very long wait. That is a very definite recommendation.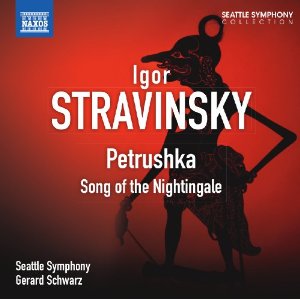 Stravinsky, Petrushka. The Song of the Nightingale. Orchestra: Seattle Symphony. Conductor: Gerard Schwarz. Naxos CD 8.571222
Petrushka is a burlesque in four scenes and the story is based on a puppet brought suddenly to life and is a ballet. Seemingly that would that would give Stravinsky great latitude in the composition. The end result can to a certain extent, have strong hints of old time American burlesque with its slap stick fun-poking humor. No telling what might happen next though. The early minutes of Petrushka with its rhythmic repetitious vitality have always held my interest for a fair length of time. Even with many changes and often difficult to follow melodic lines, Petrushka is one of the greatest ballets of the twentieth century and deserves consideration and at least some listening time. As has been true for many years now, which ever company has recorded Schwarz and the Seattle Symphony, the audible results have typically been quite excellent and still true here with a particularly solid deep bass response. Perhaps the recording venue should receive some credit here. Other Stravinsky orchestral programs to consider would include The Firebird, even for, or particularly for, classical beginners.
Beethoven. Piano Concertos Vol.3. Concerto No.5 (Emperor), Fantasia for Piano, Chorus and Orchestra. Pianist: Idil Biret. Orchestra: Bilkent Symphony. Conductor: Antoni Wit. IDIL Biret IBA 8.571261
At the age of eight years, Idil Biret entered the studios in Paris of ORTF, French Radio and Broadcasting to make her first recording. Following that she made more than eighty LPs and CDs for ten different labels. Obviously a historical event and now to be continued by IBA, Idil Biret Archive to be distributed worldwide by Naxos on CD and all major websites digitally. The performances of the great Beethoven piano concerto and the simply great piano Fantasia are simply out standing as might be expected from such a famous recording artist, no other comments needed. However the audio quality of the recording is presenting problems to me. Too late to get a definitive answer, I have been wondering if the listed recording date of February 2008 is correct or if it is possibly the date of a remastering of a version of an earlier recording. I shall eventually find out or certainly try. Why am I even thinking along those lines of thought? Simply because I am hearing some spots in the recording, that while only a very few seconds long each, sound like audible common flaws of twenty to thirty or more years ago. They are subtle and may not be noticed by most or many listeners, but they are there. How could that happen, is what I need to find out or at least simply find out.