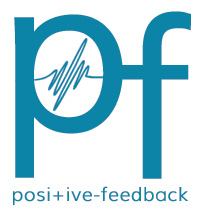 You are reading the older HTML site
Positive Feedback ISSUE 65
january/february 2013
Contrasts in Sound: The latest MA Hi-res DVD-ROM and Their First Recording
by Teresa Goodwin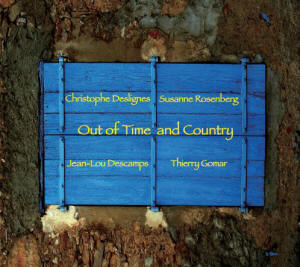 Out of Time and Country
Susanne Rosenberg (voice), Christophe Deslignes (organetto), Thierry Gomar (percussion), and Jean-Lou Descamps (medieval fiddle, tambura).
"Gullesol - Soleil d'or - Sweet Golden Sun," "Cantiga," "Kärlek är fri - L'amour est libre - Love is Free," Improvisation," "Min Själ och Ande - Mon âme et mon esprit - My Soul and Spirit," "Deus Miserere," "Orgviel (Instrumental/Improvisation)," "Amour m'est au cuer entré," "Kyrie cum jubilo," "Näktergalen - The Nightingale," "Improvisation II," "Organum," "O viridissima Virga," "Clara (Instrumental)," "Aftonkoral - Hymne du Soir - Evening Hymn," "Improvisation III," "Jungfrun i blå skogen - La pucelle de la forêt bleue - The Maiden in the Blue Forest," "Miserere (Instrumental)," "Plocka Plantor - Ramasse des herbes - Picking Plants"
An Original 5.6 MHz DSD recording made February 2008 in the central church of Nevian, Southern France. Producer and Engineer: Todd Garfinkle. MA Recordings M080A-HR - 24 Bit 176.4 wav file DVD-ROM
This recording is said to be "a unique journey of creative minds from Sweden and France intent on exploring the possibilities for the juxtaposition and interweaving of each other's folk and medieval music traditions". If you like early dance music from the medieval and renaissance eras with world music mixed in you will love this recording! It is truly amazing from both musical and sonic viewpoints. This is my favorite MA recording so far.
See "MA Recordings High Resolution Audio Data DVD discs" for reviews of their first data DVDs and how they are made. http://www.positive-feedback.com/Issue53/ma_recordings.htm
The music is truly engrossing, beautiful, mysterious, and sounds amazing! According to Todd Garfinkle, the title was chosen during a conversation with organetto player Christophe Deslignes' mother, who upon first hearing the music, exclaimed it to be "out of time and country." Being French, she of course chose her words in her own unique way, but it made perfect sense to everyone in the project who initially had no idea what exactly Todd had gotten them into.
This is a quartet of creative musicians from two distinct cultures: Sweden and France, who approach their instruments with total freedom and a profound musical knowledge.
Susanne Rosenberg is a contemporary master of Swedish folk singing, she is also the head of the Folk Music Department of the Royal Academy of Music in Stockholm.
Christophe Deslignes is from France, and his forte is medieval music; his instrument of choice, the "organetto" a small portable organ which he plays on his lap. The melody is played with the right hand, while the left hand works to expand and contract the bellows. Christophe is one of the very few people who play this instrument, and he is a true master.
Thierry Gomar's focus lies in two main areas, medieval percussion and mallet instruments, particularly Marimba and Vibraphone. On this recording, he plays frame drums, ghatam clay drum, darbugas, and various bells. Thierry also teaches percussion at the conservatory in Narbonne, France.
Jean-Lou Descampes, the Viola player, is a long time friend and cohort of both Christophes and Thierry, particularly in the group Milenarium. On this record he also plays tambura which is the equivalent of the Greek Bouzuki and Turkish Saz.
Susanne brought songs and hymns from Sweden and other Scandanavian areas, while Christophe and Jean-Lou suggested songs from the French medieval tradition. Susanne translated the French lyrics into Swedish, or adapted other lyrics to the French melodies and sang them as if they were Swedish folk, blurring the lines between Northern and Southern European musical traditions. There is also Gregorian chant and music by Hildegard von Bingen. Moreover, there are purely instrumental tracks on which Christophe, Jean-Lou, and Thierry shine, three of which are free improvisations.
The project was recorded with MA's own custom made omni-directional microphones on the amazing Korg MR-1000 portable DSD recorder at the sampling rate of 5.6 MHz, twice that of SACD.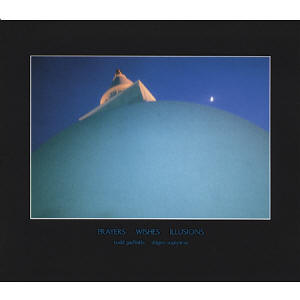 Prayers Wishes Illusions
Todd Garfinkle (piano) Shigeo Sugiyama (bass)
"The Real Thing," "Children's Prayer," "First Flight," "Sweet Illusion," "Happiness," "Away From Her Native Theatre," "The Thousand Stone Steps," "Billy's Bounce" (Bonus track performed by Milcho Leviev and Dave Holland).
One point "true stereo" digital recording. MA Recordings CD M001A
This catalyst for the label presents a collection of lushly exotic, but simple piano and bass chamber jazz duets by MA producer and founder Todd Garfinkle with bassist Shigeo Sugiyama. Much of the music was composed for a documentary about the survival of the Japanese crane on the northern most island of Hokkaido, which is known for its beauty and grace. The piano used was the Bösendorfer Imperial at the Harmony Hall in Matusmoto, Japan. The startling cover photo is of a Buddhist temple in Sri Lanka.
This sounds very good for a CD, not a favorite format of mine as I was strictly in the analog camp prior to the invention of high resolution digital. If you like the sound of CD, this is one of the finest sonic examples of that format, and the recording that introduced MA's realistic recording techniques to the world. However it is Todd Garfinkle's high resolution DVD-ROMs that showcase his true talents and expose his "you are there" realism to the world.