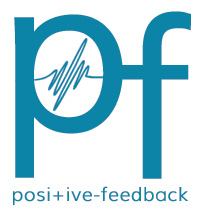 You are reading the older HTML site
Positive Feedback ISSUE 66
march/april 2013
Notes of an Amateur: Shostakovich's Quartets and Music for Cello.
by Bob Neill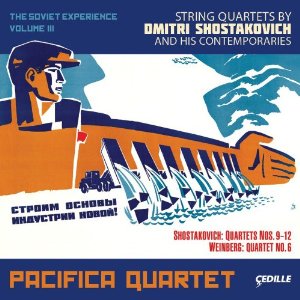 Dimitri Shostakovich, String Quartets, Nos. 9-12. Weinberg, Quartet No. 6. The Soviet Experience, Volume 4. Pacifica Quartet. Çedille CDR 90000138.
The Pacifica Quartet are back with Volume 3 of their traversal of Shostakovich's quartets, the whole series presented in the context of other Russian quartets of the times. In reviewing the Alexander Quartet's set of Shostakovich, I characterized the Pacificas as seeking a middle path between the wiry intensity of what used to be the authentic approach to the composer and the more deliberate, searching approach of the Alexanders.
I intended the Pacificas no slight in that characterization. It is not obvious how best to approach this music to bring out its... essence? And for some listeners, it is often a middle path, especially when executed with warmth and command, that wears the best over time. We first heard this sense of command from the ensemble in their monumental Eliot Carter release several years ago and it appears to be their trademark.
The Pacificas have been playing Shostakovich together in complete cycles at concert venues around the U.S. and U.K. for the past three years: their interpretation has the feel of a developed and polished point of view. What is especially notable in listening to this third volume of their series is how they let each movement have its own musical life. Shostakovich's quartets thrive on contrast, furious allegrettos coming hard on brooding adagios. If you bring too strict an interpretative approach to the composer, these powerful differences can be suppressed, sapping some of the music's unique energy. The Pacificas appreciate this quality of the composer especially well and their performances gain emotional power as a result. The move from Quartet No. 10's vigorous second movement to the quiet, wailing lament of the third is a great example. I don't remember being quite as moved by this movement before. The relation of the third movement to the second exists off the page, as it should. And then the fourth movement, while it flows directly from the third without pause and in a sense is a mediation between the two, seems to be born in its own space. This may be a modest observation but it really does point to the special power of the Pacifica Quartet's Shostakovich. If you're a Shostakovich fan, this ongoing series belongs on your shelf. If you're just a music lover looking for a contemporary performance (Sorels, Alexanders, Pacificas) to set alongside your Borodins, and Fitzwilliams, this one is a strong nominee.
The other virtue of this Pacifica Quartet album is the inclusion of Shostakovich's 15-years younger contemporary countryman, Mieczylaw Weinberg's String Quartet No. 6, a work that is thought to have loosened Shostakovich up a bit. Weinberg's quartet was composed in 1946, suppressed by Stalin as decadent formalism, and not published until 1979. It was not performed until 2007! Listening to it now, it's, of course, difficult to imagine how the Soviet mind that felt threatened by it. The People surely wouldn't have paid it more attention than the people do now.
It is clearly a cousin of Shostakovich's quartets. Rhythmic, swirling like a dervish... then dusky and meditative and, yes, passionately troubled—admittedly the Soviets wouldn't like that. Especially as things then pick up and one could imagine things getting actually troublesome. Oh well. Weinberg clearly loves the genre—the instruments alone and together generate some wonderfully inventive sounds. If you know the music of Prokofiev, you'll hear hints of him here too. It's all Russian, all good.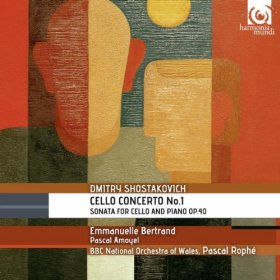 Dimitri Shostakovich, Cello Concerto No. 1. Sonata for Cello and Piano. Emmanuelle Bertrand, cello. Pascal Amoyel, piano. BBC National Orchestra of Wales, Pascal Rophé conductor. Harmonia Mundi. HMC 902142.
Speaking of Shostakovich, here is another of Harmonia Mundi's early discoveries, French cellist Emmanuelle Bertrand, playing two of the composer's best known and most admired works. Her tone, in the French performing style, is gorgeous. Not over sweet or soft, gorgeous. We are not likely to hear a more appealing performance of either of these works and both can take it. If you are used to either Rostropovich or Heinrich Schiff on the concerto in particular, you may initially miss their darker, flintier interpretations. But major works of music frequently surprise us with their ability to abide different points of view.
Bertrand's can take you if you let it. She feels the energy of the first movement and communicates it with stunning élan. Both she and conductor Rophé feel some of the earthy strength of the music and unleash it. The long second movement, some of Shostakovich's most eloquent music, takes us to a quieter, elegiac place where the rich beauty of Bertrand's tone comes to the fore and keeps the mood from growing too dark. In the lower range her cello sounds enormous. It is in this movement in particular where her interpretation of the composer is most persuasive. Delicious but firm.
In the third movement, Cadenza, which Bertrand almost convinces was written expressly for her, her command of its changing, searching mood is breathtaking. The work moves directly from the Cadenza into a bold, stentorian, dissonant fourth movement Finale, and Bertrand and Rophé march forcefully into it from the shadows of the Cadenza.
It took me one hearing to realize I was hearing a new and different Shostakovich Cello Concerto No. 1. Halfway through a second hearing, I knew it was a great one.
I have nothing to add here about the Cello Sonata. If it were just so-so, it wouldn't matter, given how wonderful the concerto is. But, of course, it's just as good and in the same ways. A wonderful release.
Equipment used for this audition: Resolution Audio Cantata CD player; Crimson CS710 preamplifier and CDS 640E mono-block amplifier; Tocaro 40D loudspeakers; with Crimson cabling.
Bob Neill, a former equipment reviewer for PF Online and For the Music, is also proprietor of Amherst Audio in Amherst, Massachusetts, which sells equipment from Audio Note, Blue Circle, Crimson Audio, JM Reynaud, and Resolution Audio. He is also a sales agent for Tocaro loudspeakers distributed by Austin (Texas) Hifi.