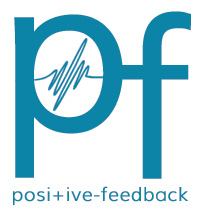 You are reading the older HTML site
Positive Feedback ISSUE 66
march/april 2013
The ASR Emitter II Exclusive Version Blue Amplifier
by Jeff Day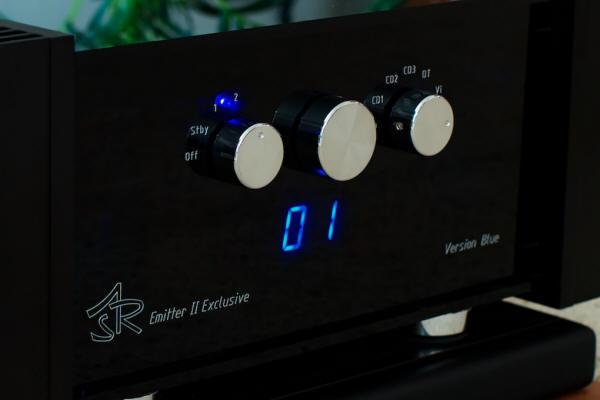 The ASR Emitter II Exclusive Version Blue amplifier is the most musically satisfying amplifier I've ever had the pleasure of listening to—period. In terms of sheer musicality the Emitter II Exclusive Version Blue has bested both the vacuum tube and solid-state amplifiers I have heard. Did that get your attention? The Emitter II Exclusive Version Blue certainly has got my attention!
Friedrich Schaefer's ASR Audio Systeme
Friedrich Schaefer and Michael Rompf founded ASR (Audio Schaefer & Rompf) in 1980, with Friedrich doing all of the design work and Michael the sales.
Friedrich's first product for ASR was a loudspeaker in 1980, and then in 1982 he designed the Basis phono equalizer. Friedrich told me that because the Basis phono equalizer had such high output, that when he started thinking about designing an amplifier he realized that he really didn't need a preamplifier at all. Friedrich points out that in most modern preamps the line section only offers about 10 dB of gain (a factor of gain of approximately 1.5 from input to output), which means that when the volume control is set at 10-12 o'clock for normal listening levels the source signal is not even amplified. So really most modern preamplifiers function only as a volume control, so it makes sense that an amplifier with direct inputs and a volume control would provide less circuitry and thus better sound quality, so that's what he designed. In 1983 the first Emitter amplifier was born!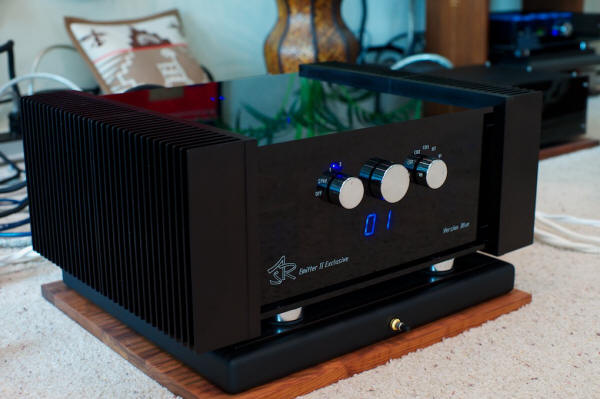 Friedrich's design goal for the Emitter amplifiers was to combine the harmonically rich and musical sound of vacuum tube amplifiers with the precision and high output power that modern transistor amplifiers are capable of. He wanted the Emitters to sound very "live"—in the sense of the live musical experience – so that the listening room would disappear as "live" music appeared in the listening room. Friedrich also wanted his Emitter amplifiers to be transparent and able to resolve even the finest musically significant details, while at the same time being completely stable into even low efficiency or low impedance loudspeakers.
As time went on and the very positive reviews of the ASR equipment Friedrich designed kept rolling in, growing sales success allowed ASR to move into a larger manufacturing space in 1988. In 1994 Michael left the company and Friedrich bought out his interest in it. As more positive reviews came in, and with increasing market awareness of the excellence of the ASR electronics, sales continued to increase, and in 2000 ASR moved into an even larger manufacturing space.
Friedrich felt that the new space provided nicer conditions for everyone working at ASR, which was really important to him. His employees now had their own space to work undisturbed, to play the music they enjoyed, and to have the temperature set to what was most comfortable for them. Friedrich told me that as an added bonus, "When you look outside the window you see the green wood, and most time you have the sunshine in the rooms," and that, "I truly believe that the conditions of the workplace can be found in the quality of the products, so I prefer to have a good environment and working conditions for my employees, and the result is they make very good products."
It turns out that Friedrich's employees aren't the only ones that are happy about all things ASR, as a number of Friedrich's customers from around the world have contacted me to voice their enthusiasm for both Friedrich and his ASR electronics – that's impressive.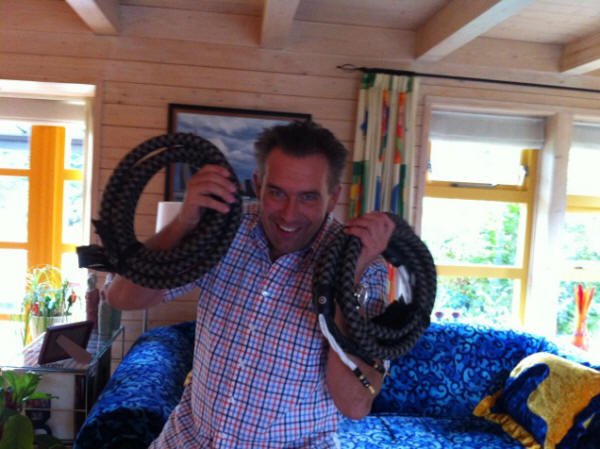 A case in point is Siedy, a fellow Tannoy Westminster Royal SE loudspeaker aficionado who lives in the Netherlands, and who happens to be a man of particularly good taste. Siedy had been telling me for quite a while about how remarkably good his ASR Emitter II Exclusive Version Blue amplifier performed with his Westminster Royal SEs, and what a terrific person Friedrich is. In fact it was Siedy who got me interested in finding out more about the ASR electronics, and then introduced me to Friedrich, and so this article is the result of Siedy's personal touch (to be followed by another article about the ASR Basis Exclusive phono equalizer in due time).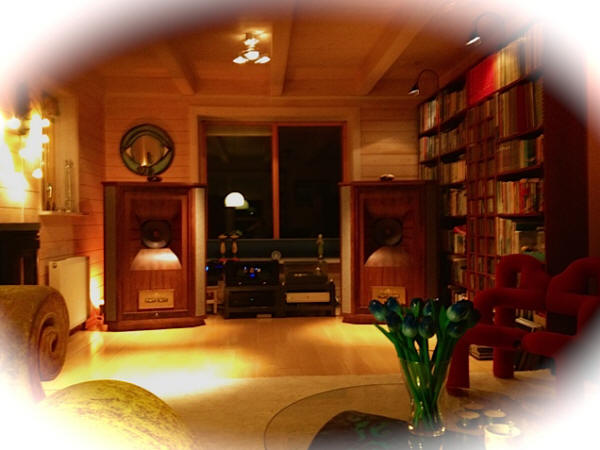 I know that Siedy considers Friedrich a friend (and vice-versa), as do other ASR owners who have contacted me to express their enthusiasm when they had heard I would be doing articles for the readers of Positive Feedback Online about the ASR Emitter II Exclusive Version Blue and the Basis Exclusive phono equalizer. As Friedrich tells me, "Many of our customers have become my friends, and they tell me how much fun they have listening to music with ASR products, which I've designed to enrich people's lives with music."
The relationship Friedrich has with his customers really impresses me. That sort of dedication by Friedrich to his customers, and in turn Friedrich's customers devotion to Friedrich and all things ASR, is a rarity in the world today.
The ASR Product Line
First I'd like to do a high level overview of the ASR product line, and then I'll go into more depth about the Emitter II Exclusive Version Blue main amplifier that is the subject of this article.
The ASR product line consists of two power amplifiers (the Emitter I & Emitter II), two phono equalizers (the Mini Basis & Basis Exclusive), and an active power cord (the Magic Cord Active).
The Emitter I and Emitter II are "main-amplifiers" as Friedrich likes to call them, and are not to be confused with integrated amplifiers, where a preamplifier and amplifier are combined on the same chassis, as I had made the mistake of thinking initially. Friedrich has optimized the Emitters to be stand-alone main-amplifiers that can be driven directly by a phono equalizer or digital source without the need for a preamplifier, because less circuitry in the signal path means more music gets through to you, the listener.
The primary differences between the Emitter I & II is the amount of output power, and that the Emitter II is a dual mono design (the Emitter II is of course physically larger as well). The Emitter I uses 12 Toshiba MOSFETs to produce 140, 250, and 450 watts into 8, 4, and 2 Ohms, respectively. The Emitter II uses 20 Toshiba MOSFETs to produce 250, 450, and 800 watts into 8, 4, and 2 Ohms, respectively. The Emitters operate in Class A up to 20 watts, and in Class B over 20 watts.
The power supplies for the Emitter I & II are located outboard of the main chassis, with the input, driver, and output stages each having their own dedicated supplies with separate rectification and capacitor buffering. You can choose to "hot rod" your Emitter by adding additional power supply capacity with the 'Exclusive' and 'Exclusive Battery' options if you wish (Emitter II Exclusive Version Blue shown below with power supplies for each mono channel and the battery power supply for the inputs).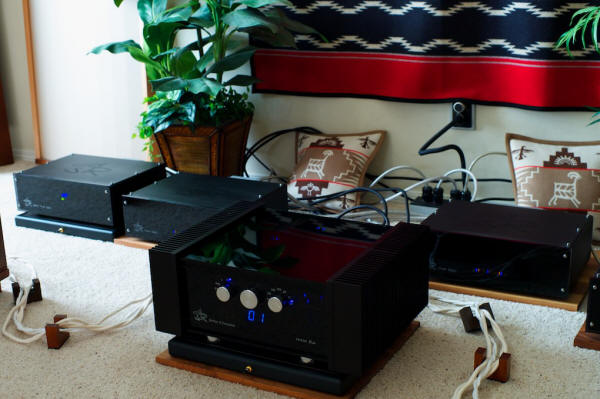 Friedrich chooses to locate the power supplies outside the main chassis to eliminate AC interference, EMI radiation, and transformer vibration issues from the power supply so that the signal-to-noise ratio in the sensitive amplification circuitry inside the Emitter chassis is as low as possible. The other reason Friedrich places the power supplies outside the main Emitter chassis are because he believes in using massive power supplies for the ultimate in performance, and they are just too big to fit inside the main chassis. The massive power supplies of the Emitter amplifiers can easily drive difficult loudspeaker loads through complex musical passages with ease and with no loss in musical performance. As you'll read about during my listening impressions, this aspect of the Emitter II Exclusive Version Blue's performance is very impressive, and once I had heard what it does to instill a sense of musical ease in even the most difficult musical dynamics I realized what I'd been missing when using other amplifiers. It was an eye-opener for me. To achieve this level of performance in the outboard power supplies Friedrich likes to use enormous Philbert Mantelschnitt transformers with special laminated-cores and windings. The primary and secondary windings are a split bobbin design that works in similar fashion to an isolation transformer to give an extra performance boost.
The Exclusive option adds various parts upgrades, additional buffering capacitors (from 406,440 uF to 606,440 uF for the Emitter I Exclusive, and from 757,520 uF to 957,520 uF for the Emitter II Exclusive), double the number of Philbert Mantelschnitt transformers, and increased regulation (from 32 to 56 Schottky rectifiers for the Emitter I Exclusive, and from 64 to 112 Schottky rectifiers for the Emitter II Exclusive).
The Exclusive Battery option for the Emitter I & II adds a massive and ultra-low noise outboard battery power supply for the input stage with an additional 428,000 uF of buffering. Friedrich likes using a battery power supply for the sensitive input stage, because with the batteries ultra-clean and stable DC voltages there is less noise effects that can interfere with the music signal and mask music harmonics and other tiny details. Friedrich says the battery power supply option for the inputs takes the Emitter amplifiers to a new level, with improvements in resolution of fine detail, dynamics, soundstaging, soundspace ambience, imaging, and instrumental harmonics (which I think are important in the realistic reproduction of timbre). Friedrich says that the music also becomes more live and organic sounding with the outboard battery power supply, which helps the emotional soul of the music come through.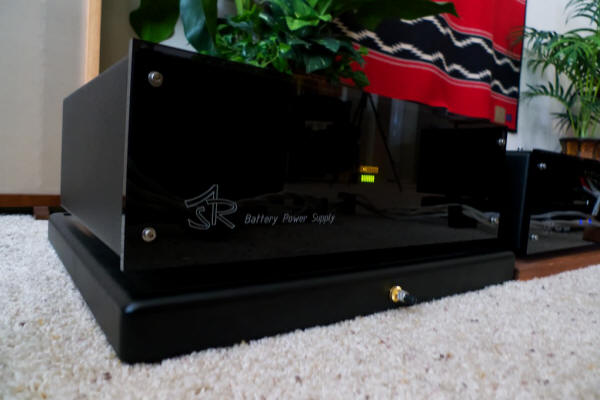 The outboard battery power supply for the input circuits is physically the same size as the main power supplies (battery power supply on left in photo below, next to dual mono power supply). Friedrich says the outboard battery power supply contains a "highly sophisticated & complex charging & monitoring circuitry… in fact the inside of our battery unit looks more like a powerful amplifier than a simple battery-cell compartment." The circuitry automatically monitors & charges the batteries as needed, monitors the batteries output, and filters & stabilizes the voltages that are supplied to the input circuitry of the Emitter amplifier. Once fully charged the battery power supply can power the input circuitry for more than 100 hours, which is much longer than any listening session is likely to last.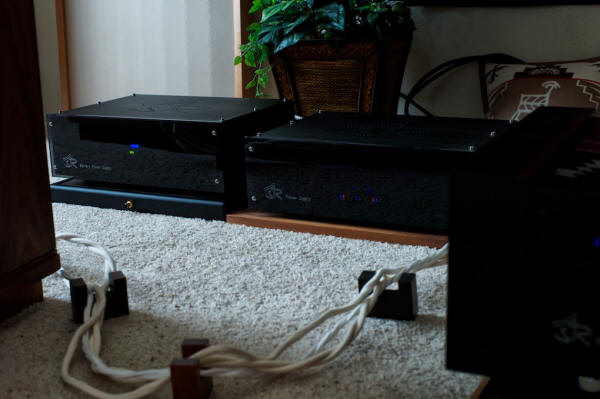 You might expect that given the important role of the volume control in the Emitter amplifiers, and that with Friedrich's attention to detail in achieving ultimate performance, that the volume control would be pretty special too – and it is. The Emitter amplifiers do not use a conventional volume control. Rather, Friedrich uses a step-relay volume control that the incoming music signal does not even pass through as with conventional volume controls. Friedrich says that the step-relay method of volume control is the most transparent way to adjust volume, and technically speaking there is zero degradation of the signal from the volume control. This is because the step-relay volume control doesn't work by attenuating the incoming music signal, but rather it adjusts the overall gain of the amplification circuit to control volume. The step-relay volume control divides gain into seventy-five 1dB steps which are controlled through a microprocessor and sixteen individual relays for each channel that achieves a very low 0.1dB channel to channel deviation throughout its 75dB range. Friedrich says that using the step-relay style of volume control contributes significantly to the excellent imaging, soundstaging, and ambience of the soundspace that the Emitters are known for.
The Emitters can be ordered with a variety of finish options: black, gold, or silver anodized heat sinks; a clear or dark tinted acrylic chassis; a yellow display & LEDs or a Version Blue with a blue display and blue LEDs. As you can see in the photos, the Emitter II Exclusive Version Blue discussed in this article has the black anodized heat sinks, dark tinted acrylic chassis, along with the blue display & LEDs, and it is a very attractive combination.
The Mini Basis and Basis Exclusive are the two different phono stages that Friedrich makes available to his customers. The Mini Basis is a high-performance phono stage that has an adjustable moving magnet (MM) and moving coil (MC) pre-amplifier housed in an acrylic-case. The Mini Basis is also available in an optional Exclusive version that includes an ASR Magic Power cord and high performance ceramic integrated circuit, with additional options for a second pair of balanced XLR outputs or WBT NextGen copper or silver RCA connectors.
The Basis Exclusive is Friedrich's ASR statement phono stage. The standard Basis Exclusive has an MM/MC pre-amplifier with a battery power supply, one unbalanced RCA stereo input and one balanced stereo XLR input, and one unbalanced RCA output and one balanced XLR output. Optionally, you can choose to add WBT NextGen copper or silver RCA connectors, Argento Audio silver XLR connectors, and rhodium fuses for the battery power supply. For those with two tonearms on their turntable, or two turntables, there is a version of the Basis Exclusive that includes two unbalanced RCA stereo inputs and two balanced stereo XLR inputs and double the MM/MC preamplifier circuitry so you can switch tonearms or turntables on the fly (which is the version I was provided for review).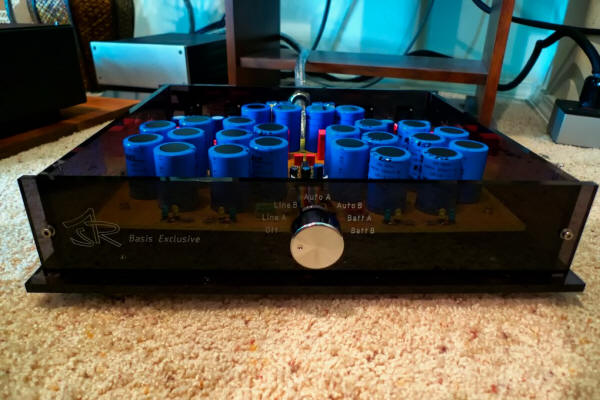 All of the ASR amplification products come with an AC power cord called the Magic-Cord Active that is an active device that decouples DC from the AC source in order to minimize or eliminate transformer hum. The Magic-Cord Active is also available as an accessory from ASR for CD players and other electronics devices.
When you purchase an ASR amplifier or phono equalizer they are custom built according to your specific needs as a user. There are numerous options an ASR owner can choose from to custom tailor the amplifier or phono equalizer of your choice to best fit your needs, and you will want to work closely with your dealer to understand the available options and which of those options will be best for your needs.
A Tour of the ASR Emitter II Exclusive Version Blue
As I just mentioned, when you purchase an ASR Emitter II Exclusive Version Blue amplifier it is custom built specially for you according to your needs as a user. For the Tannoy Kingdom Royal and Westminster Royal SE loudspeakers I used in my system during the review period, Friedrich recommended an Emitter II with the Exclusive and outboard battery power supply options ($29,000 USD), the Version Blue option ($880 USD), and the silver WBT connectors option (WBT silver connectors on the 3 inputs of CD 1, phono, and direct, plus speaker binding posts, is $1340 USD). The total for an Emitter II hand-made in Herborn, Germany, with this set of cosmetic and performance-enhancing options came to $31,220 USD as reviewed.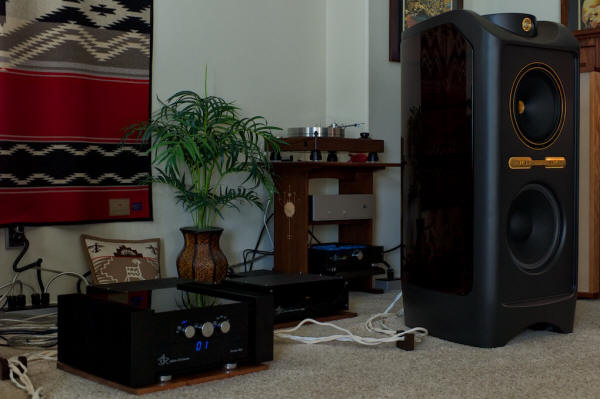 As you will read about in just a moment, the ASR Emitter II Exclusive Version Blue amplifier Friedrich recommended turned out to be a stunning match for both pairs of the Tannoy loudspeakers, and I was extremely impressed with the result.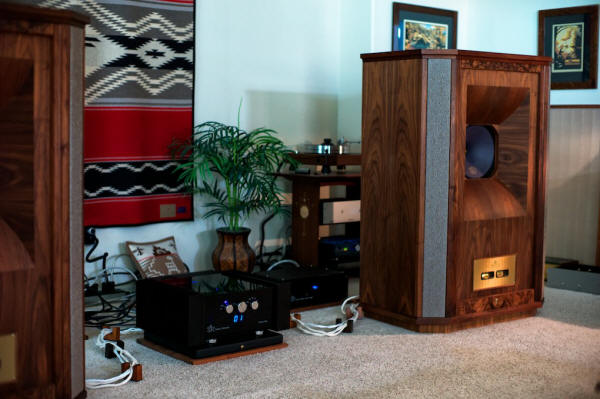 The Emitter II Exclusive Version Blue amplifier that is the subject of this article is an amazing device. I've caught myself just standing there and staring at it in a state of wonderment a number of times—it can have that effect on you.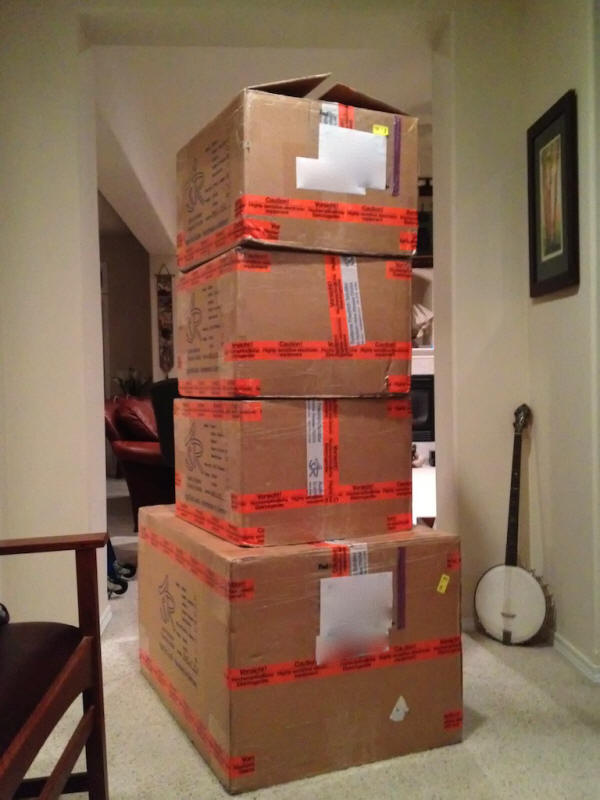 When the Emitter II Exclusive Version Blue amplifier arrived at my home in its four (!) shipping containers it was as awe-inspiring a sight as seeing a 6-foot 4-inch (193 cm) and 300 pound (140 kg) National Football League offensive tackle bearing down on you in a big hurry—its sheer physical presence deserved respect!
As I unpacked the Emitter II Exclusive Version Blue amplifier and set it up in my living room, I couldn't help but be impressed with its extreme level of build quality, both with the main amplifier chassis, the two external power supplies for the dual mono amplifier channels, and the third external battery power supply for input stages.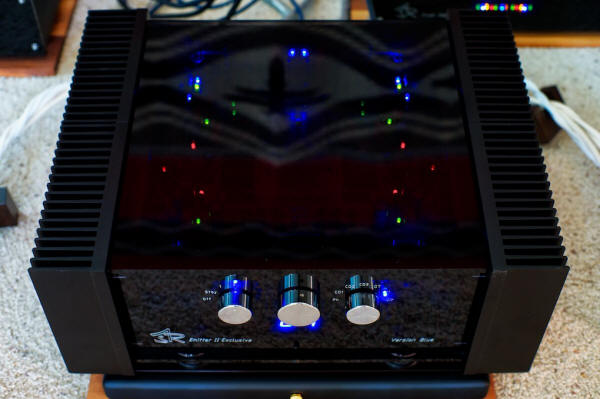 Friedrich constructs the main Emitter chassis from an acrylic glass (e.g. transparent plastic) because it is more rigid and resonance-free than metal, as well as having no electrical & magnetic influences on circuitry components the way metal can, resulting in an audibly more neutral and smooth sounding reproduction of music. The acrylic glass also is quite beautiful visually, and I found it alluring to be able to see the inner workings of the Emitter II in operation. So while acrylic glass was chosen because it performs better and enhances sound quality, I also found it to be a very attractive way to display the ultra-quality of the components & construction that are evident inside the Emitter II.
Let's take a little tour of the outside & inside of the Emitter II Exclusive Version Blue amplifier. On the front face of the chassis there are three controls: a power control on the left that allows you to power the Emitter up by placing it in a standby mode; an intermediate energy saving position "1" that cuts the driver & output voltages in half from the power supplies, and allows you to adjust volume from positions 0 to 61dB of gain (this is the normal operating position); and a position "2" that allows the amplifier to draw full voltage from the power supplies for the driver & output stages, and to operate the volume control up to 76dB of gain. For my listening sessions I generally operated the Emitter II in position 2.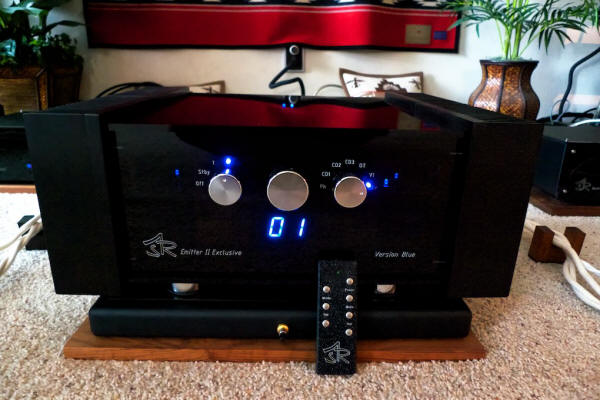 After placing the Emitter II in standby mode, you can power it up the rest of the way by using the remote control if you wish, however, I always enjoyed the more visceral manual powering up of it by turning the front panel control first to "1" and watching the lights in my house momentarily dim, then waiting a few minutes and turning it to "2" and watching my lights dim again, while seeing the internal light show of LEDs in the amplifier & power supplies illuminating as it goes through its self-check procedures on its way to full power. I found it all strangely fascinating, beautiful, and satisfying!
In the middle is the volume control, and on the right is a source selection control that includes a phono input, three "CD" inputs, a "DT" (digital tape) input, and a "VI" (video) input. Friedrich says that all of the inputs technical characteristics are identical, only the names are different for identification purposes. Well, with one exception that is—the direct input. The direct input is for those who use only one source component (like me most of the time). If you use only one source component Friedrich recommends that you use the direct input, because the RCA inputs of the direct input are connected directly to the volume control, eliminating an input relay, so it has better sound quality.
All of the front panel controls can also be operated by the remote control that comes with the Emitter. This is probably as good a place as any to mention the adjustability of the Emitter. You can adjust quite a few features from the remote: channel balance, the energy saving mode, display brightness and features, input level, and high-frequency compensation, for example.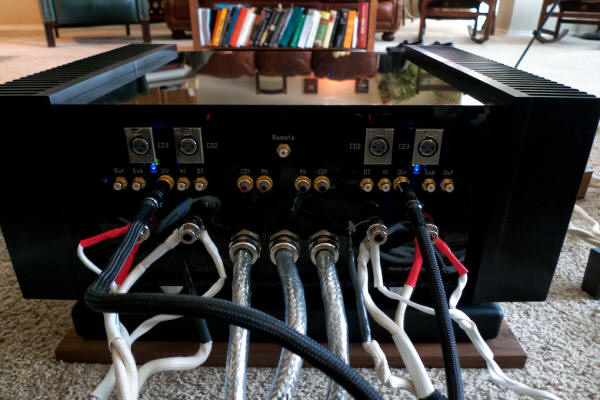 If you go around the back of the Emitter you'll find inputs corresponding with the front panel selector positions. There are a pair of direct input RCAs, a pair of phono RCA inputs, a pair of RCA inputs for CD1, two pairs of balanced XLR inputs corresponding to CD2 & CD3 (which have adjustable input impedance), a pair of RCA tape outputs, a pair of RCA subwoofer outputs, a pair of RCA video inputs, a pair of digital tape inputs, a single RCA remote input, and two pairs of binding posts for loudspeakers. The big burly connectors in the center of the back panel are for the external power supplies.
As a signal from a source comes into the Emitter, input relays route the signal to the volume control (except in the case of the direct input where the signal goes directly to the volume control without going through a relay). Up to level 50 on the volume control the signal is attenuated, at level 51 the signal passes through un-attenuated, and at level 52 and above the gain is regulated.
The Emitter has three amplification stages: the input stage is an FET Op Amp, the driver stage is composed of MOSFET transistors, and the output stage is composed of high-power MOSFETs. Each of the three amplification stages has their own voltage power supply, with the transformers providing eight separate voltages that are rectified and buffered. Friedrich says he utilizes extremely short signal paths from the high-speed input stage to MOSFET-driver and output stages, which he says has the benefit of adding additional clarity and smoothness to the music reproduction.
As I mentioned earlier, inputs are powered by an ultra-low noise external battery power supply that has 428,000 uF of buffering, and the external power supplies for the driver & output stages have 957,520 uF of buffering, Philbert Mantelschnitt transformers, and regulation from 112 Schottky rectifiers.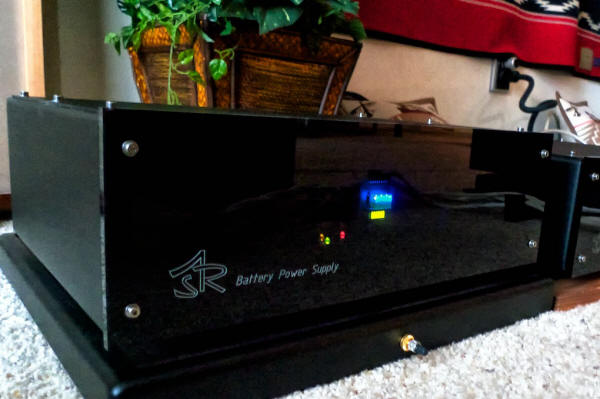 This gives the Emitter II an output of 250, 450, and 800 watts into 8, 4, and 2 Ohms, respectively, from its 20 Toshiba MOSFETs. Friedrich says that the Emitter II Exclusive Version Blue can output 1,150 watts per channel into a 1 Ohm load from 20Hz to 20,000Hz with less than 0.1% distortion—it is extremely stable into difficult loads. The Emitters have a frequency response from 0.1Hz to 500kHz of +/- 3dB, which makes them capable of reproducing ultra-low & -high frequency overtones & harmonics that some instruments are capable of producing that are outside the realm of human hearing (approximately 16Hz to 18kHz), but which Friedrich feels can be important for achieving the most realistic musical reproduction. Because of the Emitters' high output power, ultra stability into difficult loads, and ultra-wide frequency response they open up musical possibilities that many other amplifiers cannot even approach, driving even low efficiency or low impedance loudspeakers with ease.
Friedrich chose to run the Emitter II in Class A up to 20 watts as a practical consideration, as most music listening is done in the range of 10 to 20 watts, with only momentary loud passages in the music like loud bass notes and crescendos exceeding 20 watts. As Friedrich points out, operating the Emitter II in full Class A at full power all the time would mean "a consumption of 2000 Watts, more than enough to heat a big room." For the two loudspeakers I used during the review period, the Tannoy Kingdom Royal (a sensitivity of 96dB (2.83V @ 1m) and the Tannoy Westminster Royal Special Edition (a sensitivity of 99dB (2.83V @ 1m) this means that at my normal listening levels of 70 to 90 dB the Emitter II loafed along using less than 1 watt the vast majority of the time, so the amplifier was effectively always in Class A.
Review System
To gather listening impressions for the ASR Emitter II Exclusive Version Blue amplifier I used my usual front-end combination of an EMT TSD-15 phono cartridge mounted on a VPI Classic turntable, the Tannoy Kingdom Royal loudspeakers (during the time I had them in for review), and of course my usual reference Tannoy Westminster Royal SE loudspeakers. For phono equalization I used the ASR Basis Exclusive (in for review), the New Valve Order SPA-II, or the New Valve Order SPA one (in for review), to get a few different data points. Both the Kingdom Royal and Westminster Royal SE loudspeakers, and all of the aforementioned phono equalizers, were superb with the ASR Emitter II, so I wouldn't expect any compatibility issues whatsoever to come up.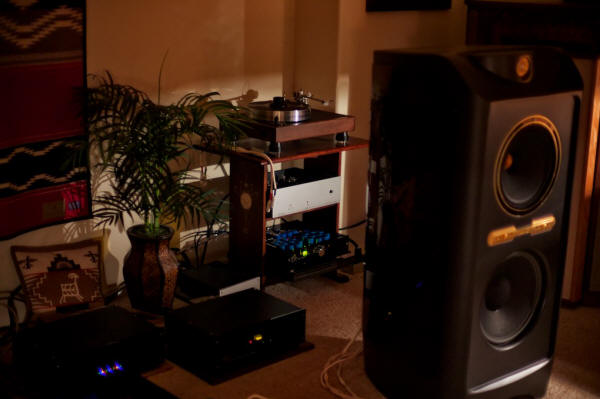 I used the Sablon Audio Panatela interconnects from my turntable to the phono equalizer, and the Sablon Audio Panatela component speaker cables for my Westminster Royal SEs (and Kingdom Royals). From the phono stage to the ASR Emitter II amplifier I have been using a long run of Acoustic Revive Single Core interconnects (in for review). The power cords for the ASR electronics are captive versions of the ASR Magic-Cord Active (you cannot substitute accessory power cords with the ASR electronics). For my turntable and the New Valve Order phono equalizers I used either the new Sablon Audio Petit Corona power cords (in for review) or the Acoustic Revive Power Reference power cords. All power cords were plugged into Acoustic Revive RPT-2 and RPT-4 Ultimate Power Distributors and connected to wall receptacles with the Acoustic Revive Power Reference power cables.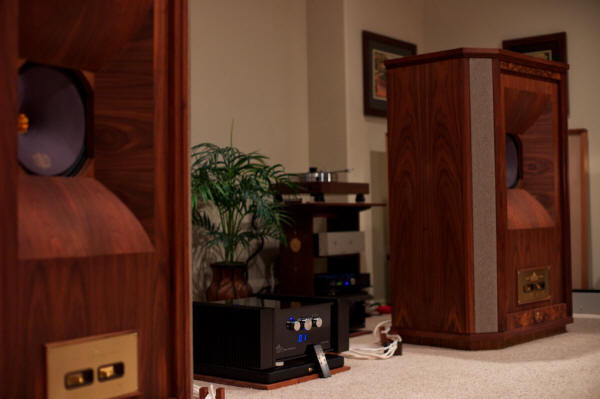 I use one of Alan Kafton's Audiodharma Cable Cooker devices to periodically condition all of the cables in my system for best performance (personal purchase, no review). I also use quite a number of the very effective Acoustic Revive accessories to optimize performance of the system in my primary listening room as described in the Acoustic Revive Chronicles chapters (1, 2, 3, 4, 5, 6, 7, 8, 9).
During the review process I occasionally used my Leben RS-100U line preamplifier, paired with either my Sophia Electric 91-01 300B mono amplifiers or my Fi 300B mono amplifiers, for an amplification reality check.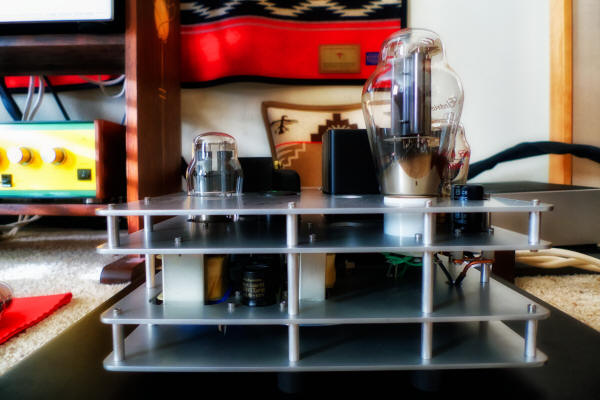 Listening Impressions
In my opening statement for this article I said, "The ASR Emitter II Exclusive Version Blue amplifier is the most musically satisfying amplifier I've ever had the pleasure of listening to—period. In terms of sheer musicality the Emitter II Exclusive Version Blue has bested both the vacuum tube and solid-state amplifiers I have heard."
From my opening statement it's easy to tell that I have really enjoyed listening to music with the Emitter II amplifier, but you're probably wondering exactly why I'm so impressed with it. To address that question I'm going to try and articulate what musical & sonic performance attributes I'm hearing when listening to music with the Emitter II.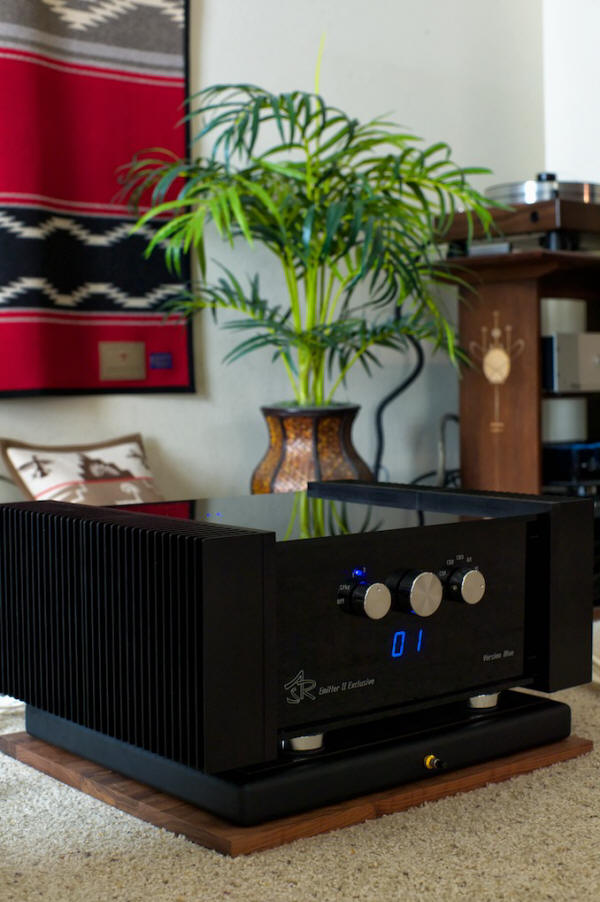 I think all of us in our Hi-Fi hobby have pondered at one time or another why some Hi-Fi components can draw us so deeply into the musical experience, while others sound uninvolving or can even present a barrier to our musical satisfaction. It seems to me that in a high-performance audio component that musicality is a product of a designer's artful balancing of a component's high-fidelity reproduction of music attributes like timbre, melody, harmonies, rhythm, tempo, dynamics, and beat, in a manner that is consonant with live music, as well as a complimentary presentation of those non-musical audiophile parameters like transparency, soundstage, soundspace, and imaging. There are materials science and audio & electrical engineering choices that a designer makes that allow for the optimization of balancing those factors, but primarily it is the designer's ear for voicing a musical balance that is the single most important factor.
I have the highest regard for Friedrich Schaefer as a designer. Friedrich's design choices for the Emitter II have provided the most artful balance of high-fidelity parameters that contribute to a component's overall musicality that I have ever come across. Probably the highest praise that I can bestow upon Friedrich and the Emitter II amplifier is that whenever I listened to music—any music—the full focus of my attention was always on enjoying the music itself for its own sake, which allowed me to become immersed in a state of musical satisfaction while listening that has been unparalleled for me. The Emitter II amplifier is so cannily voiced and so perfectly balanced both musically & sonically that it never presented even a hint of any kind of a sonic barrier that could have distracted me from my music listening experience. Rather it does exactly the opposite by making the musical experience even more meaningful and involving because it was so perfectly balanced both musically & sonically. It is more musically compelling on a day-to-day basis than any amplifier I have had the pleasure of living with to date.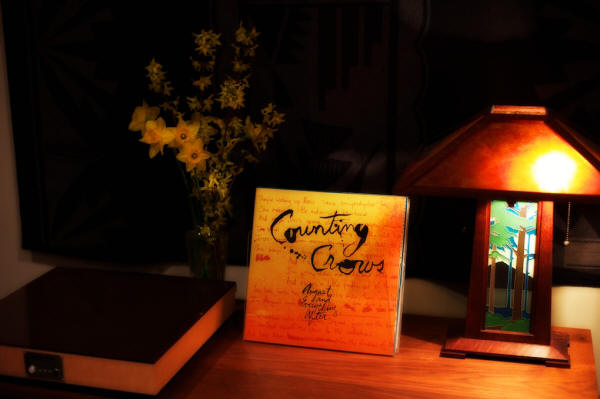 With the ASR Emitter II Exclusive Version Blue amplifier I just wanted to pull out my favorite albums and listen to them just for the sake of the music so I could revel in the musical performance. A case in point is the Beserkeley, California, rock & roll band Counting Crows' August and Everything After album. This is an album that I keep coming back to time-after-time, as I simply love the music, and I never seem to get enough of it. I'm hooked on Adam Duritz's songwriting and I think his lyrics are witty, insightful, and they always strike deep emotional chords in me. Adam's songs focus on articulately expressing vivid human emotions, and the emotional expressiveness of Adam's voice makes it seem like he is living those emotions as a real event while the song is playing. The Emitter II has the uncanny ability to allow my emotions just to plug into the Adam's music and get carried along for the emotional ride. From their formation Counting Crows has focused primarily on live performances, and T Bone Burnett's production of August and Everything After aided by the Emitter II really managed to capture the spontaneity, excitement, and intimacy of a live performance in a studio recording.
I love the choice of the timbral fabric of the instruments used in the album, which the Emitter II renders in a completely believable and truthful way. I love the expert musicianship displayed by the Counting Crows, the engaging beats they use in the music, the mesmerizing melodies, and Adam's amazingly emotive vocals. The Emitter II allowed all of that musical and emotional energy to come through in full force and carry me away.
In other words, when I was listening to August and Everything After with the Emitter II all I noticed was that incredible music. It didn't even occur to me to think about the sonics of the Emitter II because I was drawn into the music to such an extraordinary degree. The same thing happened to me with every album I listened to with the Emitter II playing the tunes. When I finally faced up to the fact that I had to listen to the Emitter II in a more analytical fashion so I could write up a meaningful review for you, I must admit I felt a little bit annoyed because I was having such a good time listening to music for fun—I didn't want to listen analytically—that's no fun!
Ok, the ASR Emitter II Exclusive Version Blue plays music like a million bucks, and I never got tired of enjoying music played through it, but let's go ahead and break its performance down into the usual sort of Hi-Fi criteria to get a little deeper glimpse into its abilities. From a high-fidelity standpoint the Emitter II really presents timbre with a lot of realism, and that's important. A system can sound pretty and musical in a sort of impressionistic way, but if it presents timbral color and textures too far from the truth it certainly can't be called high fidelity, and eventually you'll realize the music is screwed up as a result as well.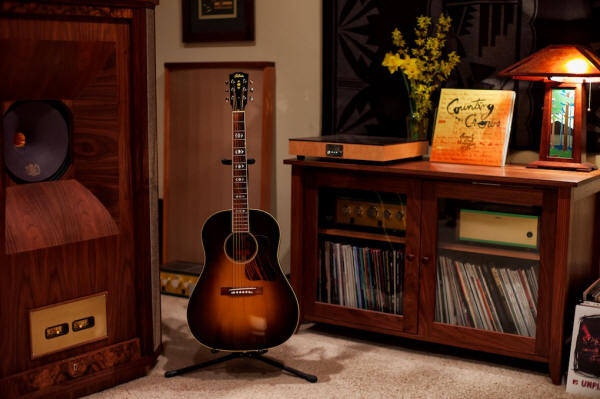 Case in point: I was visiting a friend while traveling a while back, and after visiting for a while the evening progressed into a listening session. I was impressed with the beautiful sound my friend was getting from his system that night as we listened to some music. After a while he asked me if I had anything in particular I'd like to listen to, and I did, Jorma Kaukonen's Blue Country Heart album. I really like the music on Blue Country Heart, as well as the fact that Jorma played a Gibson Advanced Jumbo guitar on the album from the Gibson Custom Shop which was identical to my own Gibson Advanced Jumbo from the Gibson Custom Shop, so I was intimately familiar with what the guitar should sound like, making for a great timbre check for Hi-Fi games. The timbre of the AJ through my friend's system couldn't have been more wrong, sounding for all the world like a nylon string guitar of some sort, but definitely not a steel string Gibson Advanced Jumbo you'd use to play some country-blues cover songs with. Given all the vagaries of microphones, recordings, strings, humidity, playback gear, and all that sort of thing, you might expect that the timbre of the AJ on Blue Country Heart might not sound exactly the same as my AJ, and that would be ok, but it should be in the same ballpark timbrally. It wasn't. I told my friend what I was hearing and we talked about it, and he commented about how sometimes it's nice to have something like that happen as a reality check. Believe me, we have all had that sort of thing happen to us at one time or another, and it takes constant diligence to keep the "high" in fidelity.
So the reason I mention this is to inform you that you can have a Hi-Fi system sound pretty and musical in an impressionistic sort of way, but if the way it presents timbre is hosed up you're eventually going to figure out that the strings don't sound like they're supposed to, that the horns are off, that the vocals are off, and so forth. It might sound pretty but it's not high fidelity, eventually it'll take a toll on your musical satisfaction when you realize it.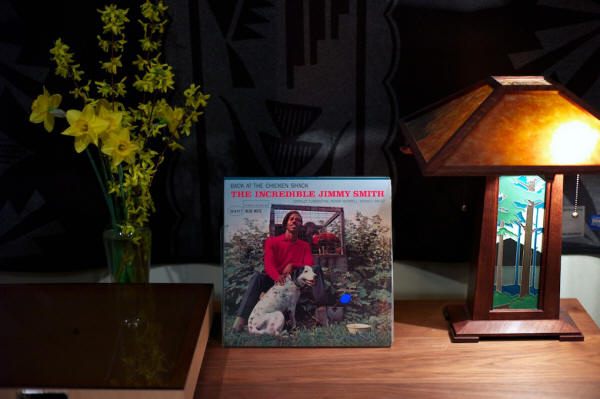 So timbre is an important factor in high fidelity playback, and the good news is that the Emitter II does a very credible job of getting the timbre right, which very positively contributes to its enchanting musicality. For example, on Jimmy Smith's Back at the Chicken Shack album that Hammond B3 & Leslie speaker timbre is so nice, reminding me of all those times I've heard a B3 (or C3) struttin' its stuff over the years.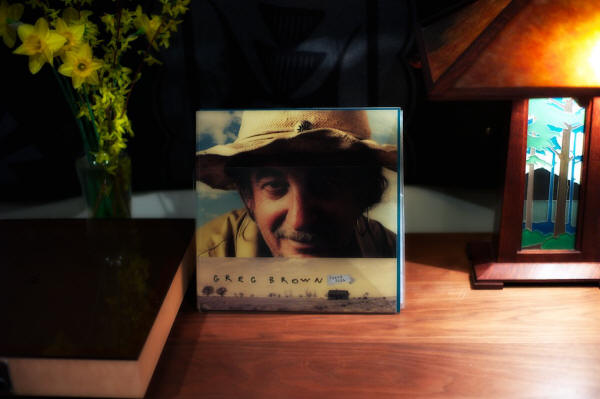 So whether I'm listening to Jimmy's B3 on Chicken Shack, or Greg Brown's J-45 style custom guitar on Freak Flag, or Jerry Douglas' Dobro or Alison's fiddle on Allison Krauss + Union Station's Live album, the Emitter II lets timbral reality shine on through, which just helps give me that goosebumps "I'm listening to live music" sort of feeling. For those who tend to be timbral listeners that's particularly good news about the Emitter II's timbral truthfulness. Timbre – it's important!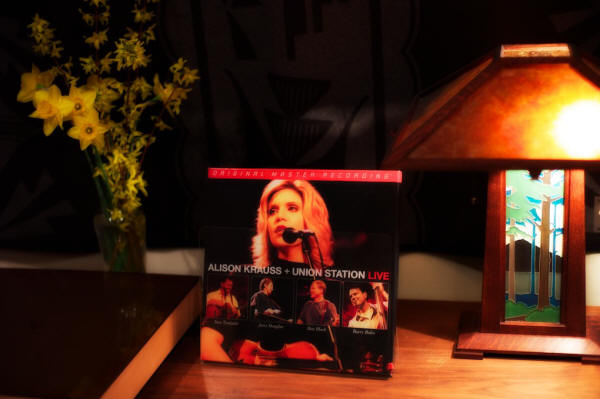 Another important factor in high fidelity playback are dynamics rendered realistically from piano (p) to fortissimo (ff) and everything in between. Dynamics are a musical attribute where the Emitter II particularly shines. Whether it's the Emitter II's high output power, its massive outboard power supplies, or its ultra-low noise outboard battery power supply for its inputs, or all of the above, I don't know, but I've been particularly impressed with the Emitter II's dynamic abilities. Take Rickie Lee Jones' vocal dynamics on the album Pop Pop, where Rickie goes from soft to very loud in a couple of different spots on songs. My 300B amps couldn't handle the dynamic transition from soft to loud completely, they ran out of steam and the sound broke up a bit, and that with the Westminster Royal SEs' sensitivity of 99dB at 2.83 volts at 1 meter! On those same dynamic peaks the Emitter II was completely unfazed, and smoothly & effortlessly transitioned through the dynamic swings of Rickie's voice. Dynamic ability is important not only from a p to ff standpoint, but also because the dynamic ability of an amplifier informs the dynamic nuances that makes melody, rhythm, and beat come alive, like Robben Ford's guitar melody lines on Pop Pop. The Emitter II has me rethinking how much power you really need for truly natural sounding vocal and instrumental dynamics even on sensitive horn loudspeakers like the Westminster Royal SEs. I love my 300B SET amplifiers dearly, but it's pretty clear to me now that you can really benefit from more power to get the full dynamic envelope expressed in completely natural fashion, and once you've heard the difference the extra power can make it's a bit disconcerting not to have it.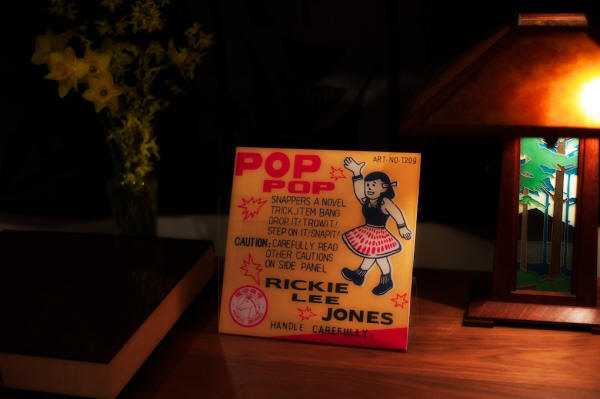 The Emitter II's output of 250, 450, and 800 watts into 8, 4, and 2 Ohms, comes in handy when playing music more often than you might think from a dynamics standpoint, but I also found it to be important to high fidelity from a loudness standpoint. From a loudness standpoint—that ability to have playback at a natural level of volume for the type of music being played—the Emitter II can play loud and strain-free at any volume the music might require. Or not. The Emitter II is also very articulate when playing music at lower than natural volumes for those who are trying to take it easy on their ears. Either way all the music gets through, but with the Emitter II it's your choice whether you want to rattle the windows or not when the music calls for it.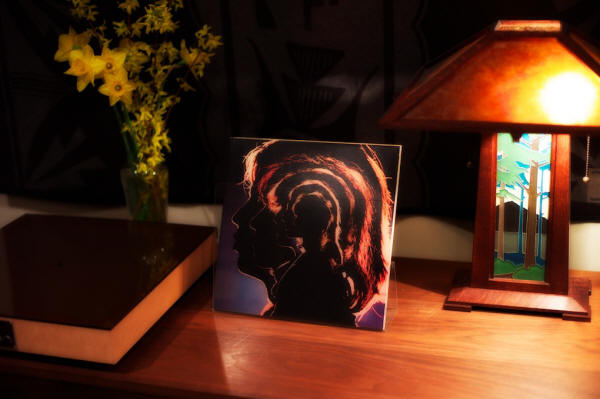 The believable reproduction of those motional (and so emotional!) elements of music like rhythm, tempo, and beat is also important to high fidelity playback, and baby, if your amp ain't got that swing it's a mean thing! Taking a listen to The Rolling Stones' Hot Rocks 1964-1971 will help you get your ya-yas on straight from a rhythm, tempo, and beat standpoint, because if everything is working right the Stones' will have you up and out of your seat and dancing around the room, informing you that everything is just fine from the tempo, rhythm, and beat front. With the Emitter II I could really get into the tempo, rhythmic and beat elements of the music in fine fashion, struttin' around the room like Mick Jagger himself!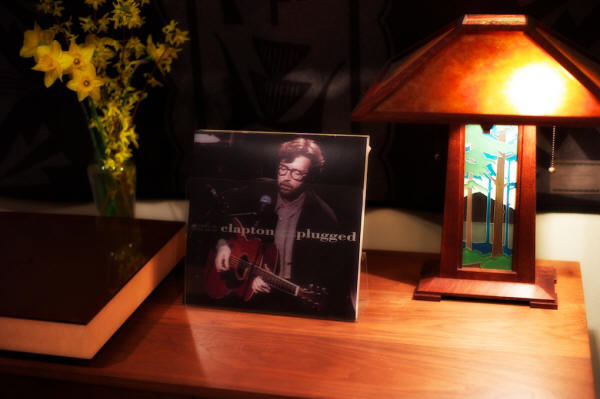 One of the other attributes that really impressed me about the Emitter II was how well it portrays harmonies in the music. The harmonies on You Can't Always Get What You Want are brilliant, for example, and I just couldn't listen to it without wanting to add in my own harmony vocal line when the Emitter II was providing the juice. It's not just with vocal harmonies that the Emitter II excels either, as it does the same thing with instrumental harmonies. Listening to Eric Clapton's Unplugged album with its combination of vocal and instrumental harmonies on Lonely Stranger is as good example as any of how adept the Emitter II is in displaying the harmonies in a completely cohesive and organic fashion, while still showing all the layering that makes the harmonies come alive.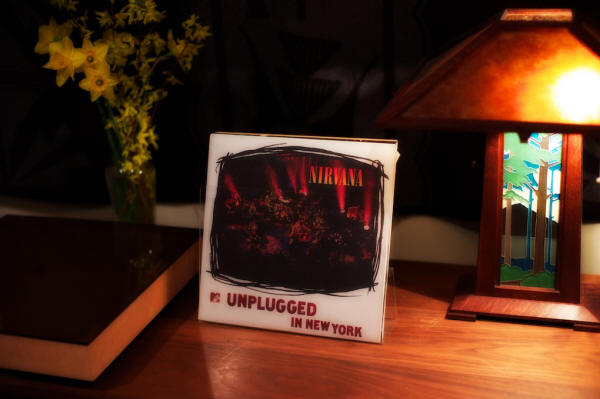 Let's shift gears for a moment away from the music, and discuss how successful the Emitter II was on those non-musical audiophile sonic parameters like transparency, soundstage, soundspace, and imaging. The level of transparency of the Emitter was good, but it's not quite up to the level of my Fi 300B mono amplifiers, which allowed me to hear deeper into the soundstage on, for example, the Nirvana Unplugged album. So while the Emitter II may not be as transparent as the very transparent Fi 300B monos, I thought it was at all times very natural sounding, and probably closer to what you would actually hear at a live musical performance than the Fi. But I'll tell you what, when I was listening to Nirvana Unplugged I never thought even for a moment about transparency, I just was immersed in the music, listening to fellow Washingtonian Kurt Cobain's melancholy vocals and superb musicianship. All I could think about was how amazing the music was, and what a sad day it was for music lovers when he died before his time. The Emitter II does all of the audiophile sonic attributes like transparency perfectly well while never calling attention to itself, but on Nirvana Unplugged, and everything else I listened to, its strong suite was delivering an engaging musical performance in an utterly believable and emotionally engaging fashion. This is what you buy an Emitter II for – the emotionally engaging musical experience it delivers up in spades.
The same holds true for soundspace and imaging of the Emitter II: Single ended triode (SET) amplifiers like my Fi 300B monos are better at imaging and lighting up a soundspace than the Emitter II is. In fact SETs are better at imaging and soundspace than live music is by quite a lot, with SETs giving an exaggerated presence to images as well as a more noticeable sense of lighting up the space than you'll ever hear in life. I'm not saying this aspect of SET performance is necessarily bad, in fact it can have quite a lot of allure, and more than a few Hi-Fi enthusiasts are devoted to this performance attribute, but at the end of the day it really is a deviation away from fidelity to the standard of live music.
The Emitter II's more natural portrayal of transparency, soundstage, and soundspace, actually has more fidelity to what you hear in a live performance than SETs do, but the Emitter II also provides more information than you would actually hear in a live performance, it's just not quite as exaggerated as an SET-style presentation. One thing I can say about the Emitter II's portrayal of transparency, soundstage, and soundspace is that it seems to manage a very natural sort of presentation that is easy to embrace, and it's one that never gets tiring by overtly calling attention to itself. I thought that the imaging, soundspace, and soundstaging abilities of the Emitter II were cannily balanced, and nicely complimented the overall musicality in a way that is flattering to the music.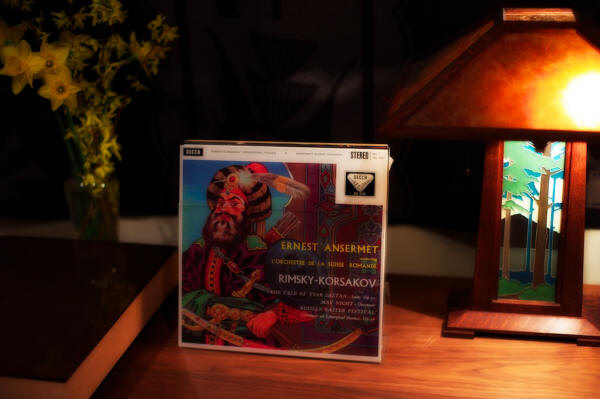 The level of detail recovery of the Emitter II was consonant with what you'd hear when seated towards the middle of the first third of concert hall seating, which means it's nicely realistic and you can hear everything that is musically meaningful, but it's not hyped up or overdone. For example, my friend Cindy and I were listening to the Speakers Corner LP reissue of the Decca Rimsky-Korsakov Tale of Tsar Saltan performance conducted by Ernest Ansermet, and Cindy, who is not an audiophile, but rather a musician, remarked on the ability of the Emitter II to resolve every instrument in the orchestra while still sounding very natural and live music-like. As Cindy was commenting on this aspect of the Emitter II's performance she was pointing out the different instruments over the rather wide and deep soundstage thrown by the Emitter II. I suspect you, like Cindy, will be quite impressed with its imaging & soundstaging abilities, and particularly its ability to make for an engaging musical experience. It impressed me that the Emitter II could maintain a high degree of musicality while still throwing a wide, deep, and detailed soundstage, without overtly calling attention to itself in that regard.
From a tonal balance standpoint, the Emitter II Exclusive Version Blue sounded just a touch to the warm and dark side of neutral through my Westminster Royal SEs, meaning that it has an almost perfectly natural flesh & blood style of presentation that strikes me as just right from a musical standpoint. With its intended partner, the clean & clear sounding ASR Basis Exclusive phono equalizer, the resulting overall tonal balance through my Westminster Royal SE loudspeakers is natural and neutral in a high fidelity sort of way when compared to live music.
Summary and Conclusions
In 1983 Friedrich Schaefer released the first ASR Emitter amplifier to audio enthusiasts, and now after thirty years of development, refinement, and production the ASR Emitter II Exclusive Version Blue is the ultimate statement of that original design idea. Frankly, I think ASR Emitter II Exclusive Version Blue is a stunning accomplishment in the world of high fidelity audio.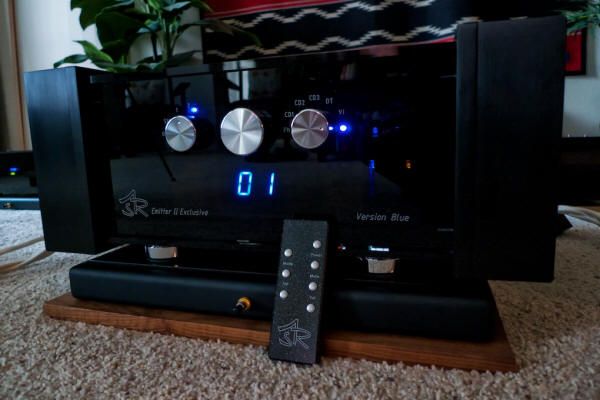 In writing about audio electronics over the years I have observed that there is a fairly large group of audio components that perform well on the reproduction of non-musical sonic attributes of recordings (imaging, soundstage, resolution, transparency, soundspace, etc.). Of that large group there is a smaller subset of audio components that also performs with high fidelity on the reproduction of the musical attributes in recordings (timbre, melody, rhythm, harmony, dynamics, beat, etc.). Of that smaller subset that perform well on both sonic & musical attributes of recordings there is an even smaller subset of audio electronics that transcend those attributes in the sense of making recorded music come alive to become very involving in the way a live musical experience is involving, strongly engaging listeners' emotions while drawing the listener into the artistic experience of the music, rather than just presenting 'sound' for the listener to listen to, as the vast majority of audio components do.
The ASR Emitter II Exclusive Version Blue is one of those very rare audio components that sounds superb in reproducing the sonic aspects of recordings as well as musical content of recordings, but also transcends both of those categories of attributes to make the recorded music listening experience come alive and be involving in the way a live musical experience is, engaging my emotions and immersing me into the artistic experience of the music.
I have found Friedrich Schaefer's ASR Emitter II Exclusive Version Blue to be simply the finest musical transducer in an amplifier that I have ever encountered. The ASR Emitter II Exclusive Version Blue is very adept at presenting the music in a true high-fidelity manner with an intense level of musical involvement. The ASR Emitter II Exclusive Version Blue does everything right with musical attributes like timbre, melody, harmonies, rhythm, tempo, dynamics, loudness, and beat. It also does everything right on audiophile sonic parameters like transparency, soundstage, soundspace, and imaging. However, describing its performance in those terms just doesn't begin to capture the mesmerizing musical abilities I have heard from the ASR Emitter II Exclusive Version Blue while playing music through both Tannoy's statement Kingdom Royal loudspeakers or my own reference Westminster Royal SE loudspeakers.
When I asked Friedrich how he was able to design such intense musical ability into the Emitter II Exclusive Version Blue amplifier, he told me he designed the Emitter with both his heart and head, his head striving to achieve electronic & mechanical perfection in every aspect of the Emitter, but with his heart selecting every single component and design element to "follow the soul of the music."
Friedrich told me, "In the design process I work more like an artist, like a painter, a sculpturist, and use my mind to follow up the impulses of my heart. I get inspirations and ideas about how to make it more harmonic, closer to the music, to follow the soul of the music, and I use my technical experience and knowledge to bring them into my electronic and mechanical design solutions."
I have come to the conclusion that the ASR Emitter II Exclusive Version Blue is an amplifier that is as much felt with the heart as it is heard, transcending all the usual audiophile performance considerations to evoke an emotional response that made listening to recordings of jazz, classical, blues, rock & roll, or any music I chose to listen to, immensely involving and satisfying in a way that I have never before experienced.
The ASR Emitter II Exclusive Version Blue is a custom amplifier that is hand-made in Herborn, Germany, to an astonishing standard of quality and performance. As reviewed, with the set of cosmetic and performance enhancing options that Friedrich recommended for the Tannoy Kingdom Royals and Westminster Royal Special Edition loudspeakers, it sells for $31,220 USD.
As I said in the very first paragraph of this article, the ASR Emitter II Exclusive Version Blue amplifier is the most musically satisfying amplifier I've ever had the pleasure of listening to. I enjoyed listening to music with it more than any vacuum tube or solid-state amplifier I have ever heard. If you can afford to purchase it I recommend you do so!
For information worldwide about where to purchase the ASR Emitter II Version Blue, please contact Dr. Friedrich Schaefer. In North America please contact Mr. Zed Husain of Musical Sounds, LLC, for more information or to arrange for a purchase.
I'd like to thank Friedrich, Zed, and Siedy for making it possible to write about the ASR Emitter II Version Blue for the readers of Positive Feedback Online. The review of the ASR Basis Exclusive phono equalizer will appear in a future issue of Positive Feedback Online, so stay tuned for more in-depth reporting on these fine custom electronics from Herborn, Germany.