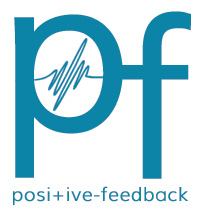 You are reading the older HTML site
Positive Feedback ISSUE 66
march/april 2013
AXPONA 2013 – AKA: I Hate O'Hare Airport
by Jonathan Tinn and photographs by Gary Radca
[Jonathan Tinn is the owner of Blue Light Audio, and a partner in Playback Designs, Wave Kinetics, and Evolution Audio. In the interest of full disclosure, readers need to be aware of his involvement in high-end audio; all standard disclaimers apply. A very experienced audiophile, Jonathan has been a long-time friend of mine, and a supporter of PFO. He spent some time at AXPONA 2013, gathering impressions of this rebirth of audio shows in Chicago for us. His report follows…]
The last time I flew into Chicago was 12 years ago. I remember this because my 14 year old son Charlie was going through his terrible twos and we were delayed in O'Hare airport on our way from New York to Portland. I chased him around the airport for three and a half hours, and was finally told the flight was cancelled and I would have to spend the night at a nearby hotel. I was pissed. I promised myself I would never fly through or into Chicago ever again.
Fast forward to a couple of months ago when I received a call from Brian Tucker, our rep in the Midwest, telling me that our product would be in a number of rooms at a new show in Chicago called AXPONA, and he requested that I come out and support them. SHIT!
I land at O'Hare, amazingly on time, and while taxiing to our gate we hear the pilot on the com tell us that we were directed to an incorrect gate where a plane was already parked and there would be a short delay. After about 15 minutes we start moving again and sure enough we stop shortly after. After another 10 minutes we start to go once again and I glance out the window and realize we are going in circles. Needless to say, following our landing, we were held captive on the plane for about 45 minutes in total.
Man, I hoped that this show was worthwhile.
DISCLOSURE TIME
I am one of the owners of Playback Designs. I will not talk about any of the rooms my products were in, as it would be unfair. I am going to talk about a few of the rooms, in no particular order, which I thought stood out from the others for one reason or another. Also, I will not award a "Best of Show" or any other awards, as I leave that for others to do.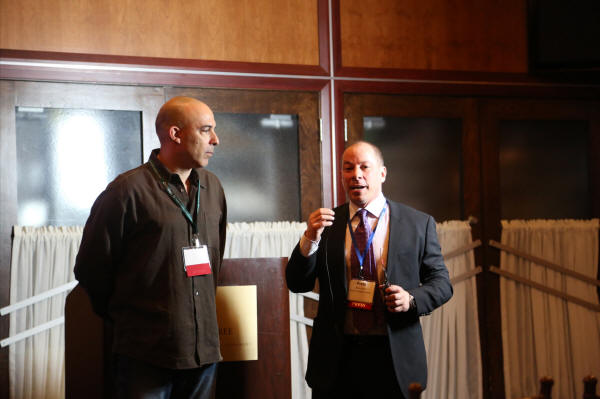 Myself and Myles Astor of Positive Feedback leading a spirited discussion...
Medallion Conference Room
Quintessence Audio / Sonus Faber / Audio Research / Kubala-Sosna - This room sounded very at ease and was nicely involving. It was a good-sized room and the system's sound filled it quite well. Congratulations to Mick Survance of Quintessence Audio on the birth of his first granddaughter, 18 days ago.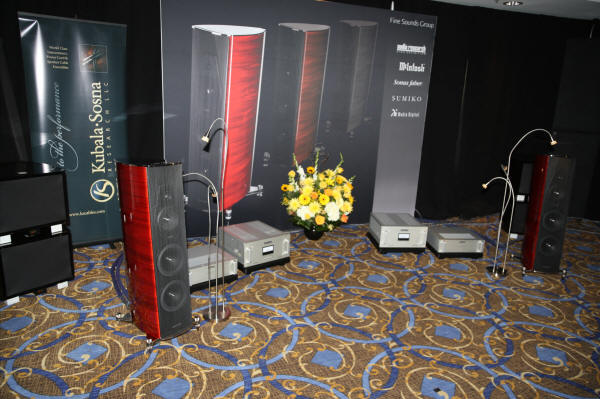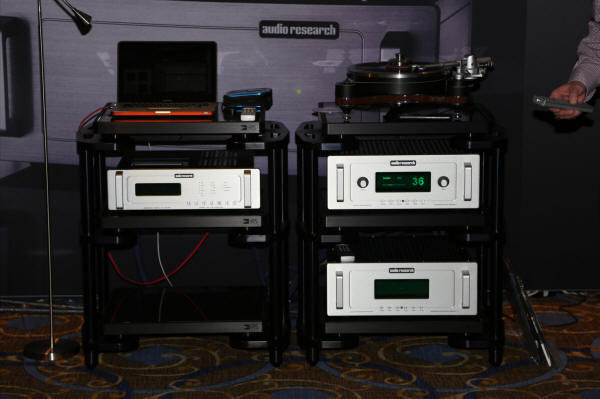 Othello Conference Room
Von Schweikert Audio / Kronzilla / Purity Audio - Albert Von Schweikert and I have known each other for many years, and we used to work together. Nowadays we are competitors, but I still appreciate his designs and sonics. His speakers are always musical, dynamic, and have excellent staging. He is a very capable and talented designer.
When I first visited this room, I thought there were some nice things happening, but the subwoofers were just a tad too loud. I revisited the room on Saturday, and noticed very quickly that they made the necessary adjustments to the subwoofers and the sound was greatly improved. A worthwhile visit.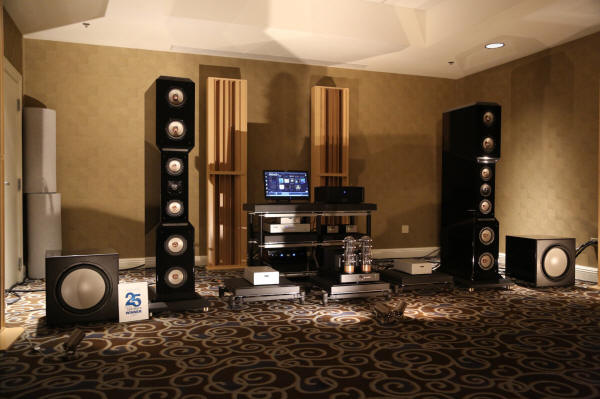 Chicago Peace Conference Room
Hifi Imports / Thrax Audio / Venture Loudspeakers - Darrin O'Neill put this room together and I thought of all the rooms using the Venture speakers, I enjoyed this one the most. I meant to go back and listen some more, but unfortunately did not get the chance.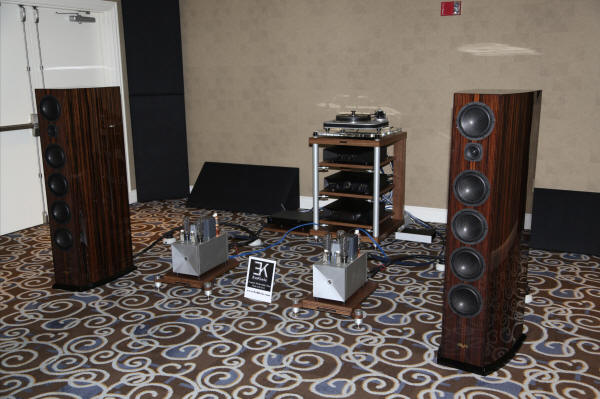 Room 741
The Soundsmith - Okay, I carry Peter Lederman's line of cartridges, I am a big fan of his, and consider him a friend. I just had to share what I thought about the room, even though it might go against perceptions of conflicts of interest. I am not sure which Soundsmith speakers we were listening to, but I think they were about $2000. He was playing vinyl with his Hyperion cartridge on a VPI turntable. The sound was really surprising, and many of the much more expensive rooms could not keep up with it. Excellent speed, dynamics and body. Nice job Peter, and thanks for the M&Ms.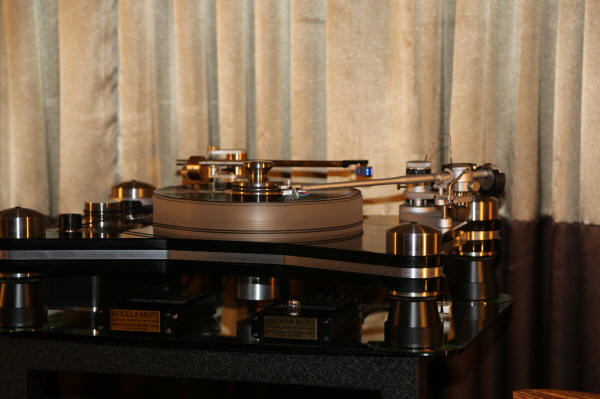 Room 714
GTT Audio / YG Acoustics / Veloce Audio / Kubala-Sosna - I have heard the YG Acoustics Carmels many times at many different shows, and they never sounded as good as they did in this room. Bill Parish, Dick Diamond, Mark Conti, and Joe Kubala did a nice job putting this room together. It was also a pleasure to hear music being played at a reasonable level.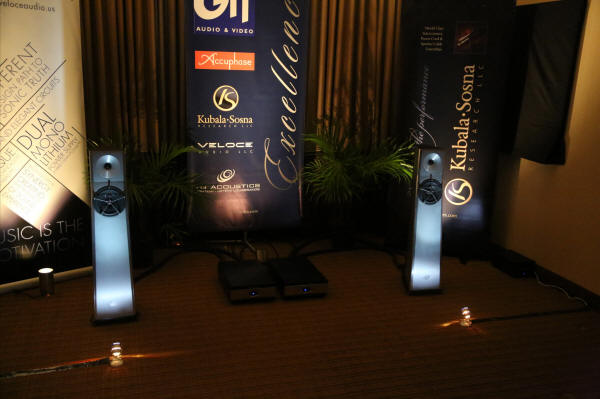 Room 705
International Phonograph Inc. / Artisan Fidelity / Wells Audio / United Home Audio / TAD - Jonathan Horwich brought an open reel tape for me to play at one of the shows where I was exhibiting, and I have never forgotten how good it was. It was TERRIFIC. For those of you looking for an excellent source of Master Tape copies, Jonathan records up-and-coming local Chicago musicians, and not only is the music fantastic, but so are the sonics of the recordings. Playback of his stuff was done on Greg Beron's UHA Phase11S tape recorder; see the photos below.
Chris Thornton of Artisan Fidelity restores vintage turntables and in most cases redesigns and handcrafts new plinths for them. When he is done, they sound way better than new. Chris had two beautiful tables there and I drooled.
This room really had an involving sound. It was fun to hear great jazz played on both the United Home Audio tape machine and Artisan Fidelity turntable through the TADs while being driven by Wells Audio amplification. Very enjoyable.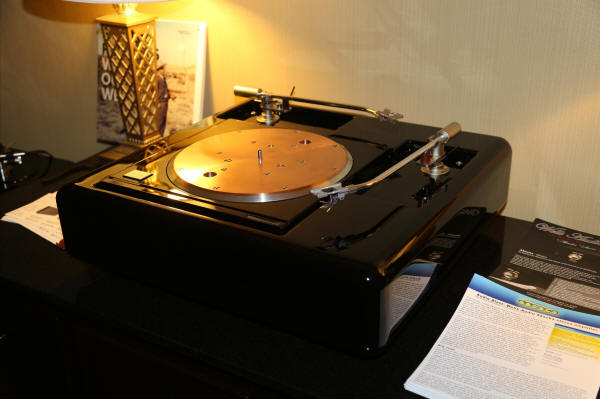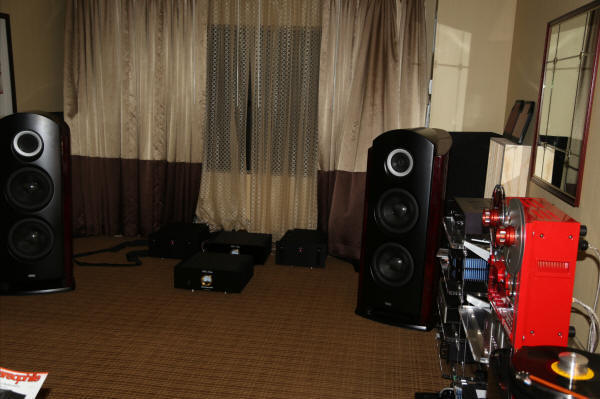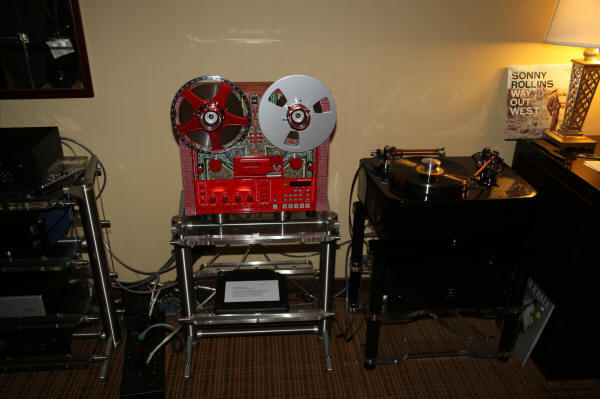 Room 934
MBL North America - Setting up rooms at shows is not easy work. Normally it takes at least a full day and sometimes even more. Early Friday morning, I knocked on the door to the MBL room, which was locked. Jeremy Bryan of MBL North America answered and he looked haggard. The room was not ready to enter. I later found out that the hotel roof was leaking water into the room, and Jeremy had to bust his butt to get everything ready to show.
I revisited the room on Saturday and it looked terrific and the sound was quite good. It was very powerful and exciting. Great job, Jeremy.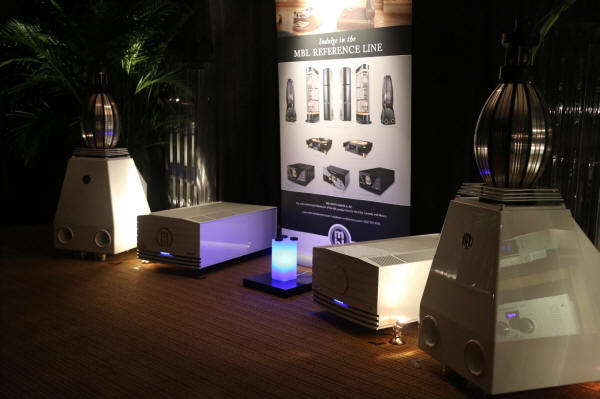 Room 940
Mytek / Sony / Pass Labs - Years ago, my friend and M.I.A. PFO writer, Rick Gardner, played a multi-channel DSD recording of Count Basie's Orchestra that he and Mike Papas had done. To this day I cannot forget it. That was my introduction to multi-channel music done right. Since then, I have put together some multi-channel rooms at shows, and continue to love this presentation of music. Unfortunately, most audiophiles never embraced multi-channel audio since it requires so much more equipment and cabling.
Mytek, Sony, and Pass Labs did something pretty ballsy, and I tip my hat to them for the outcome. They setup a wonderful 5.1 channel system, using a stack of three Mytek Stereo 192-DSD DACs to do the processing. Listening to the live version of Alison Krauss' New Favorite was a blast! The recording was not gimmicky; it was done right. I felt as though I was in the audience toward the front. The soundstage and imaging was so much fun. It was good sound.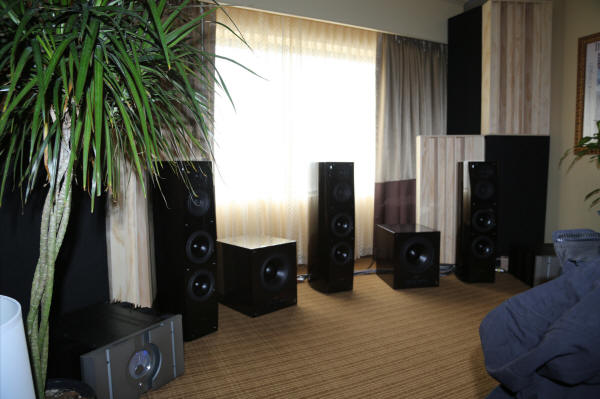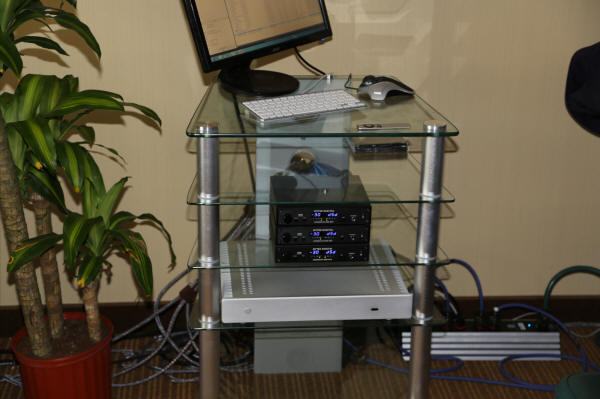 Room 930
MA Recordings / Burmester / Elac Audio - Todd Garfinkle's M.A. Recordings have been in my library for as long as I can remember. The music he records, in many instances, is quite unusual, but in a good way. I would describe it as "world music," and if not for Todd, I would probably have never become aware of this genre. His recordings are terrific and the music is addicting. I urge all of you to grab a couple of his titles and see if you connect with them as have I.
As you will see from the pictures, Todd set the system up on a desk table as you might do for a small office system, and played his music. No dog-and-pony show, nothing. The sound was quite good, and the Double DSD recordings coming from the Korg MR-2000 were wonderful.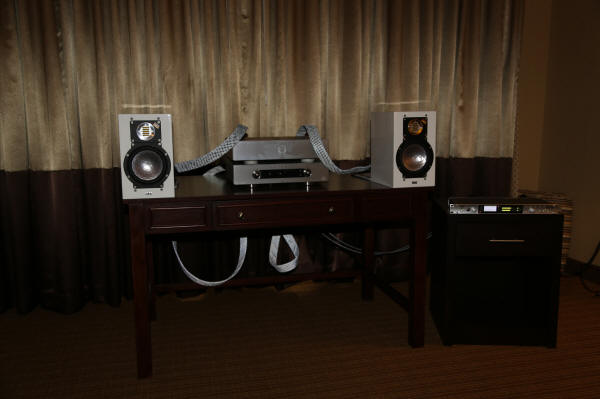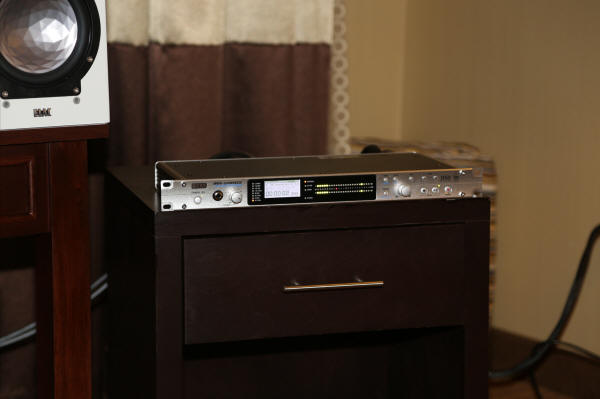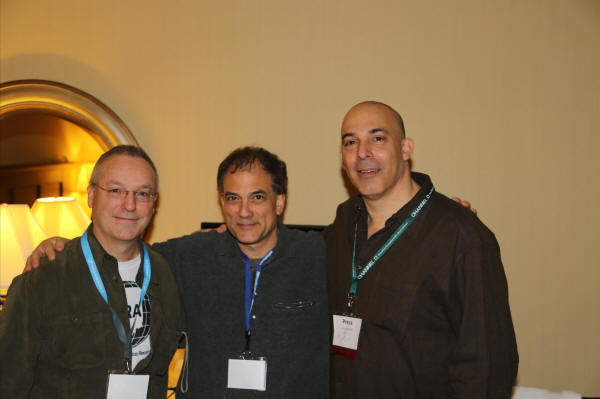 Room 841
Kyomi Audio / Marten Design / Townsend Audio / CAT - Dan Meinwald of E.A.R. USA always seems to get good sound at every show he attends. This show was no different. Dan was playing some great music and the sound was very involving. I sat there for much longer than I realized and just kept getting swept away with each track he played. That probably explains why we do not have any pictures of this room… I forgot! Thanks Dan.
Room 909
High Water Sound / Horning Hybrid Systems / TW Acustics / Miyajima Labs / Thoress Systems – The reason I am listing this room is not because of sonics. I never got a chance to listen. I walked in and was so warmly welcomed by Jeff Catalano that we just started talking and before I knew it, I walked out forgetting why I was there. Jeff is a great guy. I did visit this room again, but it was too crowded when I returned.
I mention the High Water Sound room in order to recognize and give credit to those who cover these shows on a regular basis. It is a ton of work, and staying organized and focused is vital.
Goodbye Chicago
Upon my arrival to the airport, I asked the United Airlines representative if my flight would be delayed for any reason, and I was told that we would be on-time. I wanted to call my wife and give her a heads up. We all board in a timely manner and the plane door closes. It appears I may get out unscathed, but no, we are delayed on the tarmac for almost an hour. Figures.
Photographic note: All the photographs in my report were taken by Gary Radca (below left, and yours truly below right) who I have known for probably 6 years. Although we talk quite often, this was the first time we actually met in person. How can we call someone we have never met a friend? In high-end audio, this is the norm.