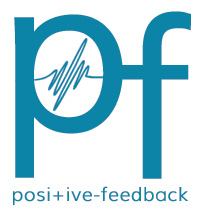 You are reading the older HTML site
Positive Feedback ISSUE 66
march/april 2013
AXPONA 2013 - Chicago: My Drive-By Report…
Report and Images by Greg Weaver
March 2013 saw the first time in 14 years that the Windy City played host to a high performance audio show. The last one, Hi-Fi '99, had been held at the Palmer House in May of 1999. I was there, of course, and filed my take on some of the rooms I heard.
What is of major interest to me is that while I had been listening to Von Schweikert loudspeakers since somewhere in 1996, it was there at the grand old Palmer House at Hi-Fi '99 that I first met the man behind then Von Schweikert Research, Albert Von Schweikert. Not coincidently, it was his announcement that his latest handiwork, the Universe VR-100XS loudspeakers, would make its world premiere at the event that provided the final nudge, assuring that I would make my way to this event in Chi-Town.
If you are wondering what I could possibly be implying by "…a drive by report," the answer is quite simple. While the event was slated for Friday, March 8, through Sunday, March 10, with my schedule, (including our two college aged children arriving home for their spring break) and prior commitments, I would only be able to attend on Friday; and at that, I could only stay the early part of the day. As I live in mid-Northern Indiana, it would require only a short (two-hour or so) drive. However since I would have to be on the road home by 4 p.m. that afternoon, I clearly wouldn't have much time to enjoy this one. As I indicated, had it not been for Albert's invitation to come witness the unveiling of the VR-100XS, I may have passed on this one entirely.
Since my time at this event would be severely limited, I had to make some hard choices as to what rooms to visit. I knew I could not cover the entire event that was hosting hundreds of vendors over five floors, so I decided to select carefully where I would go. I made conscience decisions to go where I KNEW I would find good sound and good music.
On my original short list was to be a visit with my old friend, Dr. Doug Hurlburt of Dynamic Sounds Associates, builder of my Phono-ONE reference phono stage. Doug and I had met thought my listening group when I lived in southern Maryland, as Doug then lived in Potomac, some 15 miles north west of DC. Coincidentally, leaving the Press Registration table just before 10:00 a.m., I ran into him and was only too happy to start my show experience catching up with him.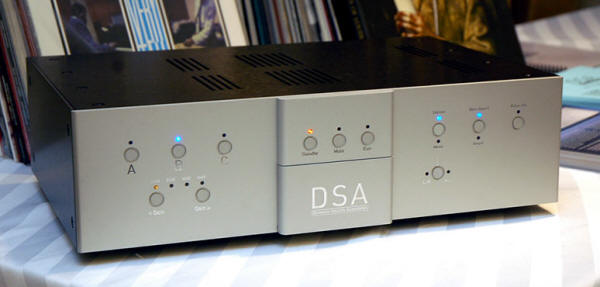 The simply gorgeous – looking AND sounding – Dynamic Sounds Associates Phono II ($12,000), which made its world debut here in Chicago
While I'm using an early version of the Phono-ONE, the Dynamic Sounds Associates Phono II would make its world debut here in Chicago. I reviewed the original Phono ONE here in these pages back in November 2004. This is the latest all-out assault on the phono stage accomplished by my longtime friend, Dr. Doug Hurlburt, and it is one stunning performer.
Using DC coupled, balanced-differential gain stages, and a Class-A, balanced-differential, push-pull output stage, IRAA compensation is provided by a passive, two-stage filter. With a channel separation of ≥ 55dB and an RIAA accuracy of ± .02dB from 20Hz to 20KHz, and with 20 volt peak to peak output voltage, this is a major player.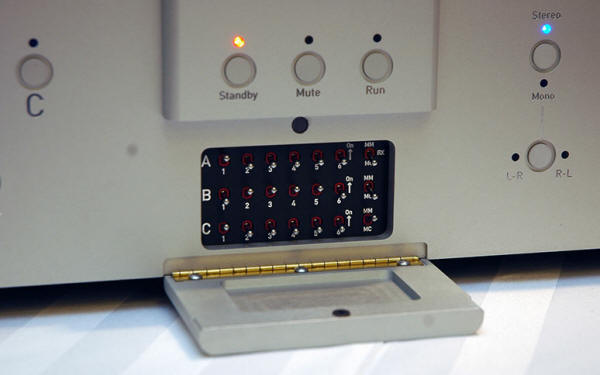 With the front access door open, showing the ease of access to custom tailor cartridge loading on the fly…
Gain can be user optimized, at 40, 50, 60 or 66dB and with three sets of inputs, each accepting either single-ended and balanced connections, the TWO has plenty of versatility. One of the most useful and unique features of the TWO is the flip down door on the front panel, giving the user EASY access to select Moving Coil or Moving Magnet settings, and over 60 combinations to optimize Moving Coil loading impedance.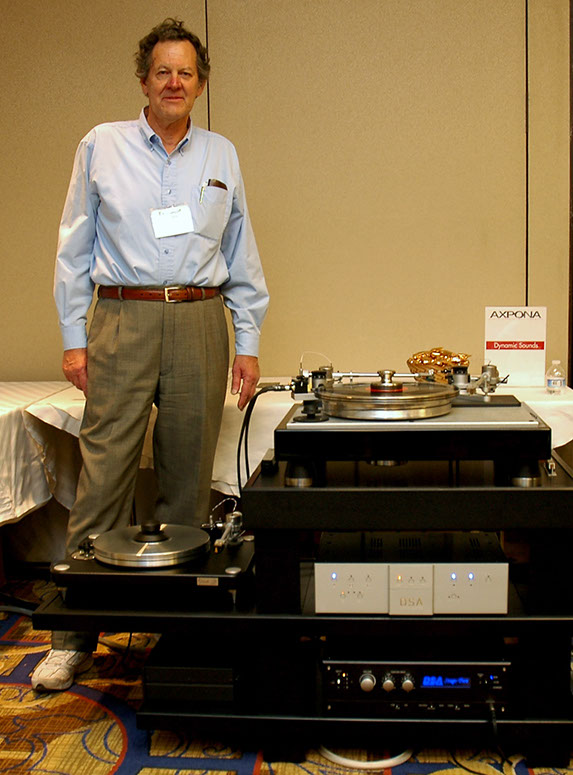 Dr. Doug Hurlburt stands by a second system, also using the Phono-TWO, but showing DAS's prototype linestage (black with blue DSA display on bottom shelf)
The Phono-TWO was being auditioned in the Signature II room on the main level. Doug and DSA's Director of Sales and Marketing, David Sckolnik, were also showing a prototype of Doug's new Linestage (price to be determined) in a second system. David has indicated that he would be interested in placing the Phono-TWO in my system for evaluation sometime soon, so stay tuned.

The 10" Tri-Planar Mk-VII Precision Tone arm
Tri-Mai of Tri-Planar was on hand in the Dublin Room on the Hotel's Mezzanine level, along with Classic Audio Loudspeakers, Atma-Sphere Music Systems, Purist Audio Designs, and Stahl-Tek. While Tri was showing off the new Ultimate 12 inch Tonearm, Jim Aud of PAD had a nice surprise for show-goers as well. He was introducing a new, VERY affordable line of cables, the Genesis interconnects ($310 for a single-ended one-meter pair), and speaker cables ($455 for an 8 foot pair). Very impressive performance at a VERY attractive price.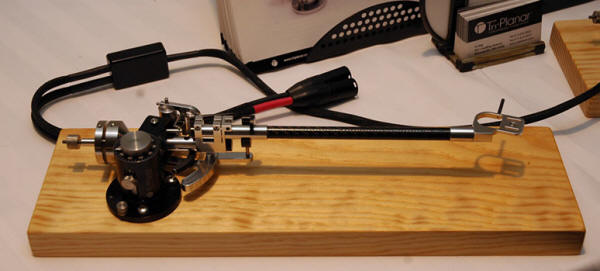 The new Tri-Planar Ultimate 12 tonearm, introduced at this year's CES in 'Vegas
The Tri-Planar U12 uses a new 12" carbon fiber wand with coaxial damping. All structural components are hand polished and rounded to control resonances. Tri uses pure silver internal tonearm wiring on this model, which uses Avionic bearings, and has a damped head-shell. The U12 also uses a progressive anti-skating design, with handcrafted, hardened, and polished needle cones at record height, and he employs a sophisticated system of decoupled counterweights.
This is a seriously superb sounding arm, one whose design is the logical expansion of the company's 40-year history of design excellence, achievement, and awards. The 12" length of this arm provides a 27% angular error reduction over the typical 9" arm, the Tri-Planar Mk VII included. Tri contends, and my ears agree, that the U12 further offers improvements in the areas of resolve, detail, and dynamic range.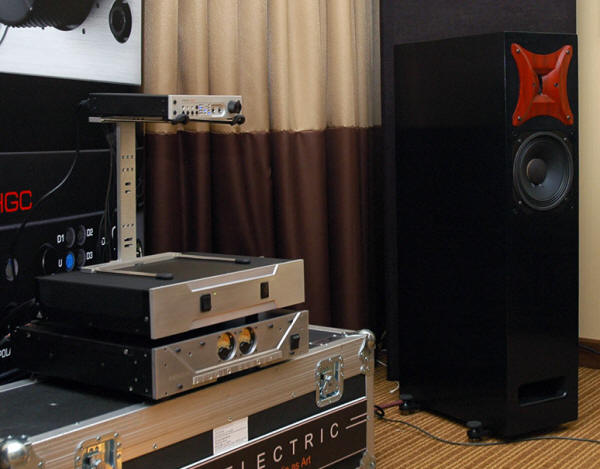 The new Benchmark DAC2-HGC ($1995) sitting on a lofty perch above the new Studio Electric EA5 amplifier ($2495), with the new T5 loudspeaker ($5500) to the right
Making my way to the ninth floor, I found audio artesian and musician David MacPherson of Studio Electric teaming up with Rory Rall of Benchmark. These guys team up regularly, and for good reason. David was showing two new products, his new EA5 hybrid amplifier ($2495) and T5 Loudspeaker. Rory was quite proud to be showing Benchmark's new flagship DAC/Preamp/Headphone amp, the DAC2-HGC ($1995).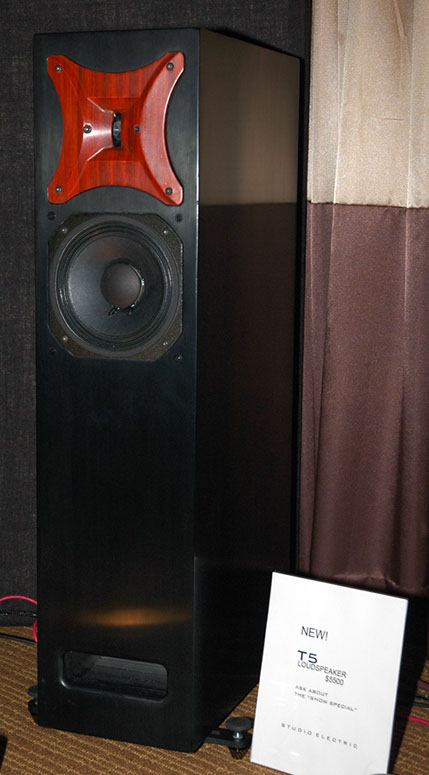 The first time anyone heard the new T5 Loudspeaker ($5500) from Studio Electric, and brother, what a voice
Like the larger and seductive Studio Electric EA4 amplifier ($7900), it uses 6922/E88CC tubes in the first gain stage, and transistors for the outputs. However, it has been scaled down a bit, with a single power supply rather than the three supplies used in the EA4. The EA5 uses a widely used bipolar output transistor (the EA4 uses MOSFETs), but since EA5 is a hybrid, it has a bit smoother sound than many solid-state amps. Output power is 120Wpc into 8 ohms, and it should start shipping on or around May 1st.
The T5 ($5500) is a tower speaker that uses components normally found in high-output, horn loaded studio monitors. The custom woofer uses a 2.5" voice coil and has a huge magnet resulting in power handling in excel of 600 watts, and is designed to go low (for and 8") and play LOUD! The horn uses a 1" compression driver with a fabric diaphragm (not a tweeter on a horn). The use of these robust, pro quality drivers offers a system that shows no sense of strain, even with difficult program material. The T5 is also expected to start shipping on or around May 1st.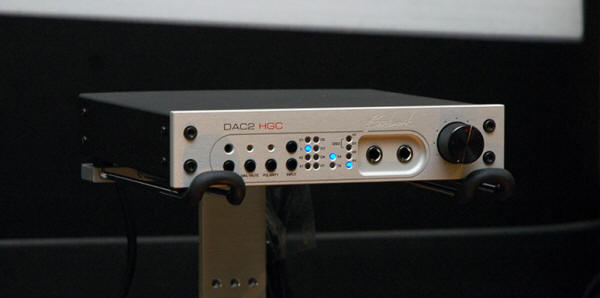 One MIGHTY formidable DAC/Preamp/Headphone amp, the new Benchmark DAC2-HGC ($1995)
The new Benchmark DAC2-HGC takes its place as the flagship DAC from Benchmark, and outperforms the award winning and widely used DAC1 in every respect. It has lower noise, lower distortion, improved accuracy, an advanced digital filter design, and a new high-sample-rate Asynchronous USB Audio interface. All inputs are fully isolated from interface jitter by Benchmark's new UltraLock2™ jitter attenuation system. Internal digital processing and conversion is 32-bits, and includes 3.5dB of headroom above zero dBFS. Four balanced 32-bit D/A converters are summed together for each balanced output. Benchmark claims that the resultant performance of the DAC2 HGC exceeds the measurement limits of today's state-of-the art test equipment.
The DAC2-HGC also incorporates a host of new features including both sample rate and word length display, a total of 5 digital and 2 analog inputs, and 3 analog outputs. It offers a digital pass through, native DSD conversion, and has both asynchronous USB 2.0 and driverless Asynchronous USB 1.1 connectivity. With an absolute polarity switch, a Home Theater Bypass option, a bi-directional 12 Volt Trigger, lower power consumption than the DAC1, and a power switch, the DAC2-HGC is as feature leaden as it is impressive to listen to.
It also rolls out some new Benchmark technologies, which include, but are not limited to their new Hybrid Gain Control and UltraLock2™ Jitter Attenuation system. I have one in-house right now (thank you, Rory!), and I'm here to tell you this is one very impressive DAC. More to come soon.
David only plays music from his MacBook, and no matter what he chose to play while I was in the room, this system had an undeniable sense of ease, an amazing ability to portray rhythm and pace, and was just plain fun to sit in front of. Three new products you'll be hearing MUCH more about over the next few months.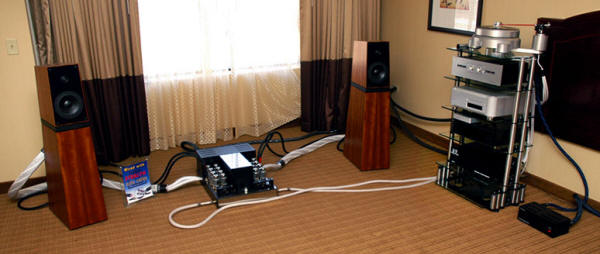 Convergent Audio Technology electronics, Stealth cables and a prototype DAC, and Verity Loudspeakers
Kyomi Audio of Chicago is owned and run by George Vatchnadze, an exquisite pianist (I own a number of recordings on which he has performed) and professor of piano at the DePaul University in Chicago. Teaming up in this room with Ken Stevens of CAT, and Serguei Timachev of Stealth Audio Cables, this room was an absolute treat.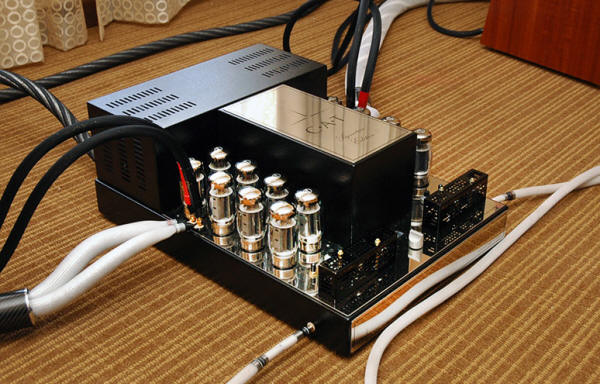 The Convergent Audio Technology JL2 MK III amplifier ($22,000), fitted with all Stealth cables, signal, speaker, and AC.
Vinyl was handled by the Acoustic Signature Thunder Turntable($13,250), using a Funk Firm FXR II 12 inch Arm ($3195), fitted with a Van Den Hul Colibri XGP Reference MkII ($7850). Ones and zeros were decoded by the Esoteric P-03 Transport ($18,000) and fed to a prototype 3 Dimensional Audio/Stealth Audio DAC ($24,000). Electronics were the CAT Legend Preamp with Phono Stage ($20,000) and the CAT JL2 Signature MK III Amp ($22,000), and loudspeakers were the Verity Amadis loudspeakers ($32,000).
All cabling was from Stealth, including the Stealth Śakra V12 interconnects($12,000 for 1m), the remarkable looking Stealth Dream Royale Speaker cables (price TBD), the Stealth Dream power cords ($3000 for 1.2m), and the Stealth Sextet Digital cable ($2700 for 1m). Equipment, except the JL2 Sig MK III, all rested on the Townshend Seismic Sink Stand ($3500).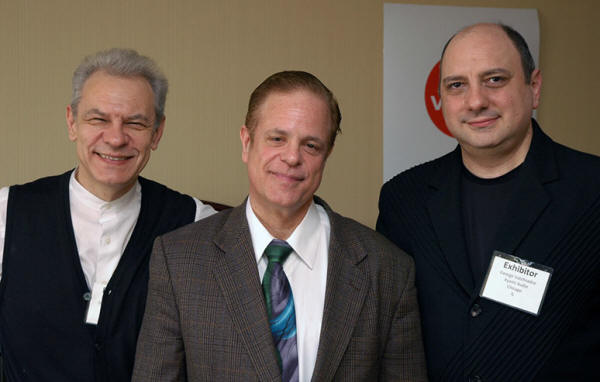 The three handsomest men at AXPONA? Serguei Timachev of Stealth Audio Cables, Ken Stevens of CAT, and George Vatchnadze of Kyomi Audio
With digital or analog, I have to say that this room offered up one of the most natural presentations I've heard at any show. Most notable was one recording; the Analog Productions 45 rpm double disc set of Nat "King" Cole's, The Very Thought of You. Though this was only a prototype DAC, the naturalness and smoothness was utterly involving and inescapable. It will be housed in a stone enclosure that you will either utterly adore (I do) or dislike immensely—I just don't see much in between on the aesthetic here. Regardless, I can't wait to hear the fully realized product.
The sound in this room was articulate without calling attention to resolution artifacts, prodigiously natural sounding, full of body and bloom, with scintillating large- and small-scale dynamics, and subtly intimate and evocative microdynamic shading. Now, while the gear in this room could not be mistaken as "cheap," the pricing of the analog front-end system in particular cannot be seen as excessive in today's market. No, this was a very well thought out and synergistically accomplished system. Well done Ken, Serguei, and George!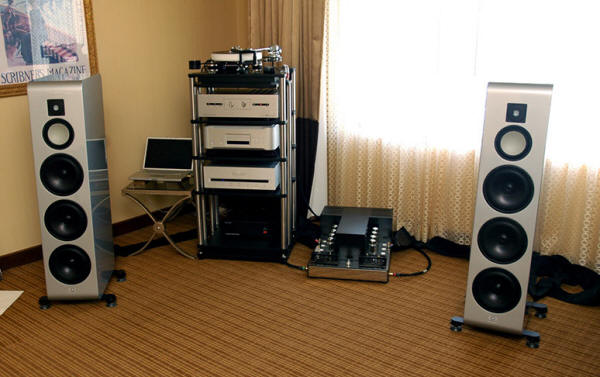 Marten Django Loudspeakers ($15,000) have made quite an impression given their affordability, and the new CAT JL5 stereo amp ($15,000) is poised to do the same
What an overachieving room! I got a chance to hang with longtime friend and consummate room set-up guru, Dan Meinwald. The front end was either the Townshend Rock 7 Turntable (with upgraded DC motor - $5200), the Helios Omega Arm with Ruby bearings ($5100), using the ZYX Universe cartridge ($8495) or the Esoteric K-01 CD/SACD player ($20,450), Esoteric G-0rb rubidium clock($17,000), and a MacBook Pro running Amarra with a WireWorld Platinum starlight USB cable ($699).
Electronics were again Convergent Audio Technology, with the CAT Renaissance preamp with phono($10,000) and the brand new CAT JL5 Deluxe Amp($12,000). Loudspeakers were the Marten Django XLs ($15,000). All cables were from Magnan, with the Magnan Vi interconnect($700/$1000 with WBT terminations), Magnan Signature Speaker cables ($1200 for 7 ft. pr.), and the Magnan Signature AC cords ($1100 for 6 ft.).
The JL5 is the latest creation to join the extraordinarily musical product line at Convergent Audio Technology. Rated at 100 Watts into 8 or 4 ohms, with a frequency response of 1Hz to 70KHz (!), the all triode stereo amp owes its entire prowess to Ken's development of his $80,000 The Statement amplifiers. Using the same driver tube technology, it is specifically optimized for the high current KT120 tube. The new JL5 "baby" CAT is said to deliver the now famous "drive anything" sound of its larger siblings.
In this chassis, Ken has created the most affordable CAT amplifier yet, one that ushers in triode purity, transparency, and vibrancy, combined with the brute force current delivery of the larger, more costly JL designs. It is a CAT, through and through. And, dear readers, Ken implied that he just might let me have one for review!
Once again, there was a standout cut, this time, it was from the 2011 Pat Metheny release, What's It All About. The intro to the opening cut, Simon and Garfunkel's "The Sound of Silence," intonates just the slightest suggestion of the tones of a Japanese Koto courtesy of his 42-string Pikasso guitar. When the melody commences, its languid sumptuous tone and rhythmic balance were so engrossing that I could almost forget that I was listening to an electro-mechanical reproduction system! What a wonderful overall presentation. Again, a job exceedingly well done!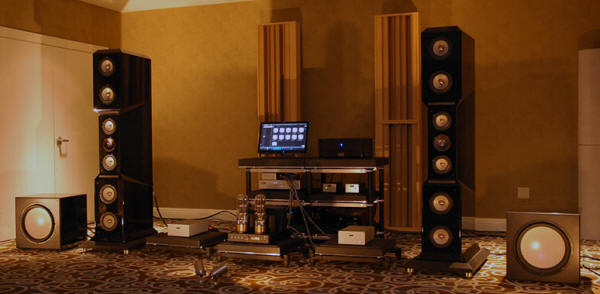 The impressive, to say the least, front end of the Von Schweikert Audio Othello Room, cosponsored by YFS, a Cloud-Server-Class music server manufacturer
Yes, I saved the best for last. As I mentioned at the outset, the note from Albert Von Schweikert that he was unveiling the UNIVERSE (the VR-100XS) Holographic Projection Speaker System at this event was a major influence in my attending, so it was not without some serious anticipation that I wandered into the Othello suite on the Mezzanine. In a partnership with YFS, a computer technology company who is presently building Cloud-Server-Class music computers, Albert truly assembled a state-of-the-art music system, one that I had occasion to visit repeatedly, on three separate occasions.
The UNIVERSE is a four-piece speaker system featuring two main towers with two outboard subwoofer modules. In addition to holographic sound projection, the VR-100XS also has built-in Room Bass Correction that eliminates the dips and peaks caused by boundary reflections in the deep bass range. This system has six Patents Pending, with nearly every aspect of the design being unique, according to Albert.
The system employs twenty drivers, all using metal alloy construction with ceramic damping, to create what Albert refers to as a Holographic Sound Field Projection, driven by a point source array. All drivers are time aligned in a phase coherent driver array for correct image focus.
This system generates a Cardioid/Omni Radiation Pattern used to help ensure an almost surround-sound-like sonic result and it employs servo circuitry to help replicate a Single-Driver transient response. Further, Albert manages the control of cabinet vibration with his Patent Pending Noise Canceling Triple-Wall Laminate Construction.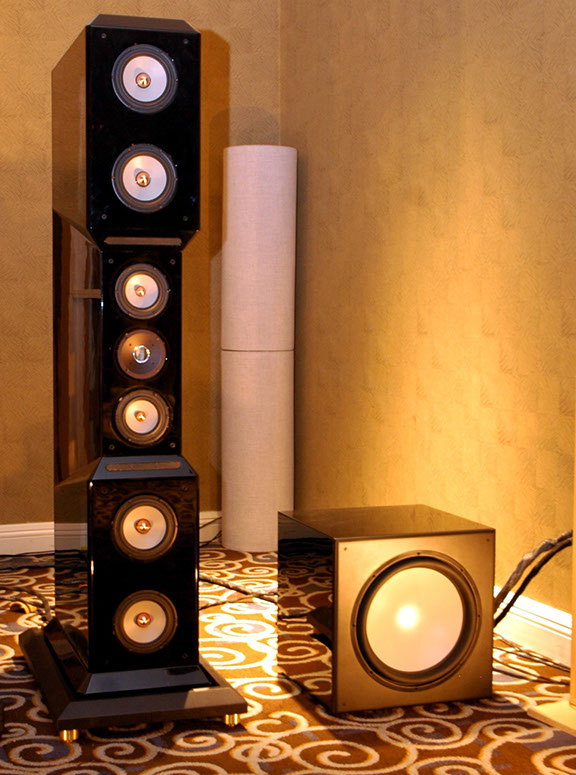 Sporting 10 drivers per channel (two on the rear of the main housing), the Von Schweikert Audio UNIVERSE offered far and away the best sound of this event.
The new YFS HD Ref3 SE Music Server ($14,000 including remote tablet) provided ones and zeros to the Meitner EMM Labs DAC2X ($15,000). Electronics included the Purity Audio Ultra GT Silver Preamp ($53,000), the Channel Islands Audio D-200 Mk2 mono amplifiers ($3500/pr.) driving the midbass woofers, and a KR Audio Kronzilla SXi Mk2 tube integrated amp ($21,000) driving the midrange/tweeter arrays.
Complete system wiring came from Master-Built Audio Cables, including all internal wiring, which are designed and manufactured by a division of Delphi Aerospace. This included the Signature Speaker cables ($7500/pr.), which I currently use as my reference, the Signature Interconnects ($4250/pr.), and the Signature Noise Reduction Power Cords ($6200/ea.). All amplifiers used the Master-Built standard (i.e., NOT the Signature series) Power Cords ($3500/ea.).
All equipment rested on the QXK Racks by Critical Mass Systems ($37,000 including three amp stands), and a host of room treatments were applied, including, but not limited to, 16 GIK Acoustics diffuser panels ($350 ea.), 4 ATS Acoustics bass traps ($129 ea.), and 4 ASC Tube Traps ($399ea). The EquiTech balanced transformer ($3000) handled line conditioning.
As indicated, even with my short day I still made three visits to this room. My first visit was early in the day. As I made my way in, I found Damon Von Schweikert, Albert's son and the CEO of VSA, doing some last minute set up and polishing the mirror-like finish on the speaker cabinets. Music was playing during this visit, but I didn't really get to do any listening. At this point, the show was still closed to the public, and only Press members were running around gathering photos while the rooms were still rather vacant. Besides chatting with Damon, I got as many shots of the room set up as I could during this trip. My third, that was just to sit and listen!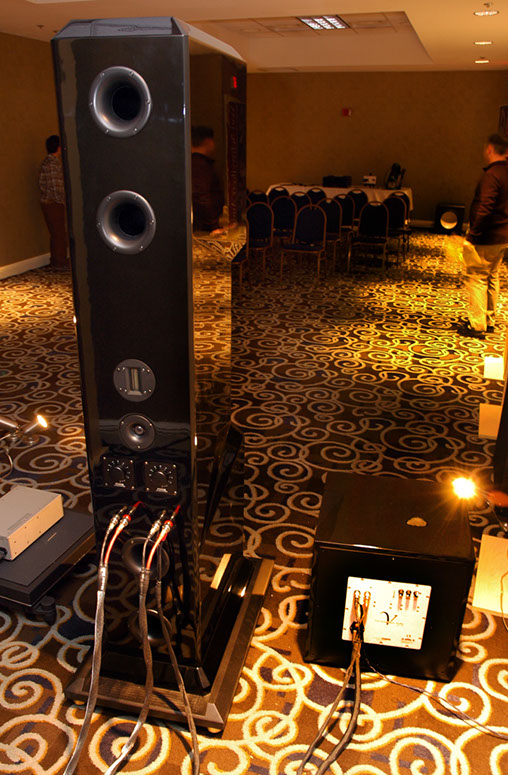 A view of the rear of the UNIVERSE, showing the pair of drivers there.
The second trip back was very rewarding for two reasons; Albert was now there so we would have a chance to chat, plus, the room was up and running! It was also during my second visit I that I was able to chat at some length with Kevin and Michael O'Brien, the father/son principals of YFS (Your Final System). Once they learned that I was as an IT Engineer, with certifications on both the Microsoft and Apple platforms, the conversations deepened. I was very interested in their solution, and we have plans for me to take a closer look at the HD Ref3 SE Music Server sometime soon.
I was privileged to make a few requests, and I have to say, like ANY great system, each recording revealed something special about the system and laid the recording bare. DAMN, what an impressive room! Any attribute that you can think of that you'd expect to hear from a world-class speaker was achieved in that Othello Suite. Fundamental bass support in the room was remarkable, never calling attention to itself, but unswerving in its ability to convey the lowest, most cavernous depths. Midrange was magical, with body, texture, and dimensionality (which was somewhat aided by the exceptional low frequency performance) that was breathtaking, recording permitting, of course. Treble extension was delicate, light, and illuminating, never bright, hard, or harsh.
Space and dimensionality were definitely this system's über strengths. Deep and clearly layer, expansively wide, with a sense of three dimensionality that was, well, holographic. While this has always been an attribute of all of Albert's previous designs, the UNIVERSE clearly upped the ante in this regard. Staging was walk-around real, with images offered up perfectly sized and occupying clearly demarcated relationships with each other and the resultant soundstage.
The hour of my departure arrived too soon, but, when it finally came, I reluctantly bid adieu to what had undoubtedly marked a very exciting return of a High Performance audio event to Chicago.