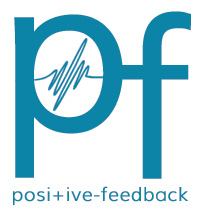 You are reading the older HTML site
Positive Feedback ISSUE 66
march/april 2013
The Future is Here - Audio Still Rules
by Karl Lozier
Blu-ray recordings may be video, audio or most commonly video plus audio. If the video is a distraction turn it off though I would suggest watching the video at least once; at times it can be interesting or entertaining. Naxos is again following up with more high definition (Blu-ray) audio only releases. For many listeners that will be a distinct improvement in audio quality if the HDMI digital output signal is used instead of the analog. That one cable carries everything including stereo or multi-channel audio in addition to the very high quality Blu-ray video signal. Greater clarity and a smoother treble will be noticed with many if not most home audio systems. So far this seems to be consistently true. Easier connection needing only one cable is appreciated by all. Sometimes new-fangled things are even easier to use while offering better quality, at least in the audio musical field. An easy way to get into the beauty and audio and video qualities of Blu-ray releases is by getting a truly good player (a good start is important with many things in this old world). In this issue I will continue to use the moderately priced Oppo BDP-95 player for all the Blu-ray reviews, an over performing universal player; other players may be used for SACD recordings. Next item needed would be a very decent AV receiver such as by Onkyo, Integra, Denon and others that have multiple HDMI cable inputs and good digital or digital to analog connections and jump right in. Your newer television sets will have the correct and simple HDMI connections for simplified setup. The AV receiver will let you add surround sound easily. Remember that quality is more important than quantity in the long run. If possible, try to get an AV receiver that has an official manufacturers' list price of $1200 or even a bit more, particularly if you like to listen at fairly loud levels at times and with multichannel connected. If you like "an in the theater" atmosphere or feeling, multichannel will be necessary now or later.
In Issue 60, I went into some detail about why I have now chosen the Nola loudspeakers, namely the Boxers (for right and left front channels) and the specifically designed Announcer model for the very important center channel to use for the all important front trio in these and continuing reviews. Yes, you may have heard that all three would ideally be the same. That is not necessarily true; here both models are, the same, in that each uses the same drivers/cones in a different designed cabinet for an even slightly better sounding center channel. As many have found out, center channels can be of extreme importance to many listeners; that is where singers live as do news reporters. In this very competitive price range, models are offered by Paradigm, PSB, Definitive Technology and others. As before, a right and left pair of Nola Thunder Bolt II subwoofers complement the front channels for even deeper and more palpable bass range... as desired by some listeners.
Notice the generally favorable brief reviews I write each issue? There are logical reasons for that to happen. Changes such as digital and HDMI connections have made pretty darn good audio to be easier for the manufacturers to give us and easier for us to put to use. Same is true for the video portion that we pretty well take for granted here. As you purchase and use some of my suggested performances you may notice that relatively unknown sources and performers are often doing a superb job and why not! Unlike many of the big professional outfits and famous performers they can and possibly do practice for many months on end, repeating the same music or performances. That can be the way for an individual, or group, chorus or orchestra to be discovered by being on these well done Blu-ray recordings! Pay attention, watch and listen to the possible stars of the near future in the comfort of your own listening and viewing room.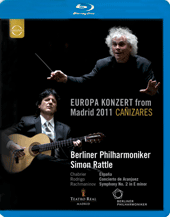 Europa Konzert 2011 from Madrid. Emmanuel Chabrier: Espana. Joaquin Rodrigo: Concierto de Aranjuez. Guitarist: Juan Canizares. Sergey Rachmaninov: Symphony No. 2. Orchestra: Berliner Philharmoniker. Conductor: Sir Simon Rattle
This Teatro Real in Madrid has played an important part in the city's and Spain's musical life since its completion under Queen Isabel ll. Closed for sometime, it reopened in 1997. Since then it has hosted the annual Berliner Philharmoniker's annual Europa concert. The 2011 concert had a real Spanish flavor featuring Chabrier, Rodrigo's guitar Concierto and Rachmaninov's second symphony. The French composer, Chabrier not only has composed one the most popular works, he is one of those few outsiders that has composed this unique piece, Espana, that is widely and almost instantly recognized as music of another country, Spain. Simon Rattles' performance here seems to be rather sophisticated, letting the inherent beauty of this fine composition stand on its own, sort to speak, rather than emphasizing the brilliance of the colorful and easily recognized score. The more I think about it the more I become convinced that is true to a great extent for this entire beautiful and excellently recorded composition. The strings are simply sumptuous and for a real relaxing treat try leaning back and indulge yourself in Rodrigo's composition featuring fine guitar playing in this piece inspired by the gardens of Palacio Real de Aranjuez. This composition is said to have inspired Miles Davis. To complete this truly excellent release is an outstanding performance and recording of the justly popular Rachmaninov Symphony No. 2. From the beginning until at least the middle of the third movement all is going very well indeed. Then some hints seem to start appearing and by the beginning of the fourth (last) movement the conductor and sections of the orchestra seem really to 'come alive' and all seems to be almost perfect and everyone seems to know it. Conductor Simon Rattle at times appears to be making horn sounds with his mouth and is obviously exhorting to give it their all, as if they have a perfect finish in their grasp and soon they do. A once in a great while effort that can not be bettered and the entire group of musicians know it and it shows and shows even more as they and audience knows it. I am very fortunate to have witnessed a great ending performance! Thanks to all involved and an outstanding recommendation is an absolute must. The excellent audio quality is a perfect complement to an outstanding performance. Do not miss it is my advice.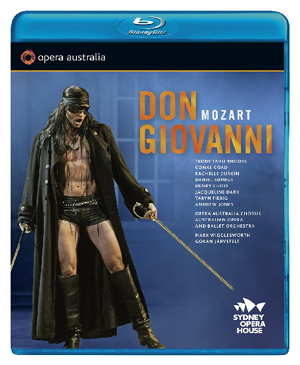 Mozart. Don Giovanni. Orchestra: Australian Opera and Ballet. Conductor: Mark Wigglesworth. Opera Australia Blu-ray OPOZ56024BD
Opera lovers will not need me to tell them what is going on in this famous opera by the justly famous composer Mozart. A bit of a surprise to me was that the singing is all done in Italian. Yes, the common choices of subtitles are available though for a long time I had been receiving Italian operas, by Italian composers. So I assumed the German/Austrian Mozart had written this famous opera in German. Finally Naxos' very knowledgeable national publicist, Kelly Roch informed me that Mozart had indeed written this opera and many of his others in Italian.
I did not ask her why, though I remember hearing, once upon a time, that composers had written many vocal compositions in Italian or French as those languages were naturally more appealing when sung. In any event this opera's main character would probably been named Don Juan in some other languages. He is definitely the sort of guy no parent would ever consider letting a daughter go out with even if a chaperone or two would be along. The accompanied notes used the words libertine and a rake with a devil may care attitude to describe this Don. Those words are not nearly adequate or accurate enough. He is nobility and always accompanied by his paid and rather faithful servant, Leporello. Among other duties, his servant keeps track, in a large notebook, of his master's conquests while noting in which countries he has had the greatest success. The numbers are huge and possibly suspect.
In this opera, Don hits a few snags and some serious trouble. Not wanting to, he is forced to a duel (yeah, sword stuff) with that evening's choice of ladies' father. Don kills Donna Anna's father. That really upsets everything as might be imagined. Don's servant is pressed into service in many ways to help his master including changing clothes, mistaken identities and other gimmicks. Good old Leporello is rapidly getting tired of his job now. Usually he spends much time stationed under a lady's window as a lookout and now this problem. Mozart creates a few humorous situations along with some very serious ones. The unknown singers in this fine Australian production have fine voices and the orchestral playing and its audio reproduction is close to faultless. In my surround system setup for symphonic music it adds a theater's ambiance. Here the audience's laughter is slightly noticed in that ambiance in those relatively few humorous passages that balance the overall production and with a live quality. Ultimately, using the stage's trap door, Don Giovanni slides down into the flames of hell after dining with the statue of the man he had killed. All is handled as well as could be expected in live theater. So I can easily recommend this truly fine Australian production; more productions may be coming from them.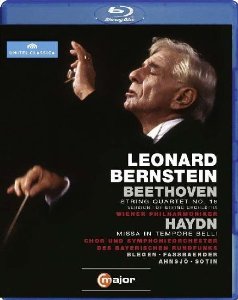 Beethoven, String Quartet No. 16. Version for String Orchestra. Haydn. Missa in Tempore Belli. ( Mass in Time of War). Conductor: Leonard Bernstein. Orchestras: Vienna Philharmonic. Bavarian Radio Symphony. CMajor Blu-ray 711604
You might logically ask what is going on with this release. I do not think they are trying to create a historical release, just giving the public a chance to have and save what many consider some possibly unique opportunities to hear and see Leonard Bernstein again. The Beethoven selection is an expansion of a great chamber music composition from his final days. Does it hold up expanded or is something unique lost in the transition, must be asked or determined. You, the listener must decide and yes it was taken from a high definition source in 1989. It is a large group though it sounds very different than a large group that is mainly strings instead of only strings. The subtitle of the Haydn, a Mass in time of war, begs the question, when is there ever not war? That philosophy was important to Bernstein. This recording is from a unique performance in 1984 held in the basilica of the Benedictine Abbey at Ottobeuren Germany specifically chosen by Bernstein for the occasion. A powerful piece and performance with outstanding vocalists and fully captured by the audio engineers even when near the end the bells began to peal and Berstein appeared to start praying. Definitely a unique time and captured here faithfully.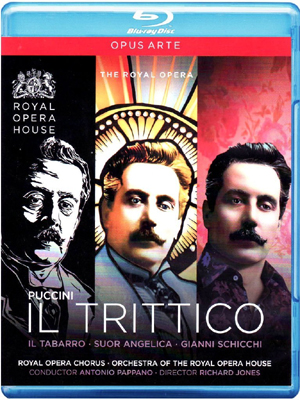 Puccini. IL TRITTICO: Il Tabarro. Suor Angelica. Gianni Schicchi. Orchestra: Royal Opera House. Conductor: Antonio Pappano. Chorus: Royal Opera. Opus Arte OABD7102 D
What is going on here? Opera lovers know; others are left behind sitting in front of the family TV set. Trittico should mean something like three or close to it I hope. The next three names up there are the names of three operas, three short operas, like short stories. As with short stories there is little space or time to have much background information. So the short story like the short opera might be only about an event or about what happens in a part of a day. We are really in luck here. One of these short operas is a real gem. It is cute, fascinating, comical and even plausible. It is also not to be missed. Unfortunately it is the last one on the disc, though all three are well done, very well actually just much more serious. The settings for all three are fairly contemporary; remember Puccini was still alive after World War l was over. The three narrow photos on the inside cover give at least two of the operas' endings strong hints.
In Il Tabarro the resigned lives of the stevedores and boatmen are dramatically contrasted with the simple desires of Giorgetta for life in a simple town or city.
In Suor Angelica basically the rather simple story background of a redeemed nun is expanded interestingly by Puccini after visiting his sister Iginia who had become a Mother Superior.
In Gianni Schicchi a very brief comment just will not do. Think of the Monty Python group before its prime. At times it seems as if the family involved here is trying to compete with the Monty Python group for almost slapstick humor and mistaken identities and so on.
Here's the situation; an attorney or notary had been contacted to come over to wealthy Buoso's bedroom to make out a new will for the mortally ill Buoso before he dies. A small problem arises. Before the notary arrives Buoso dies… Oh, Oh. Gianni Schicchi of opera title fame has a plan. He and others stuff the now dead Buoso behind the bed and Gianni puts on Buoso's nightcap and while grumping and whimpering in Buoso's bed he proceeds to will away Buoso's estate, very deftly to greatly benefit. Humorous in the extreme and not to be missed is my best recommendation. Much is going on and around and after what I have written. On top of that, purchasing this opera rewards you with two others.
Stanislaw Moniuszko. Bajka (The Fairy Tale). Frederic Chopin. Piano Concertos. Nos. 1 and 2. Mazurka. Pianist: Garrick Ohlsson. Orchestra: Warsaw Philharmonic. Conductor: Antoni Wit. Ideale Euroarts Blu-ray 3078944
There is a great deal of music on this single disc Blu-ray recording. As you probably guessed, the featured selections are the piano concertos by the famous composer for pianos, Frederic Chopin. He is unique and though prolific his compositions all feature the piano, no symphonies or operas from Chopin. The heading lists a very rousing selection by Polands' most famous opera composer. It is a real showpiece and certainly shows off the virtuosity of the Warsaw Philharmonic. It is the opening selection in this concert and the mazurka listed above was done as an encore. It is commonly known that Chopin's first piano concerto published is actually the second to be performed. It seems logical that the two share the maturity that the timing of the two offer. I certainly was not aware of any maturity differences between the two, perhaps you may come to a different conclusion. In any event, you are not very likely to hear a better performance than Ohlsson's here. Do remember that Garrick Ohlsson was the first American to win the International Chopin Competition back in 1970. I have a number of famous competitive version and none are better to my thinking. The excellent contribution of conductor, orchestra and audio quality would be very tough to beat. Add the excellent seldom heard Bajka introduction, the mazurka encore and the not yet mentioned, very interesting film "The Art Of Chopin" by Gerald Caillat and dear readers you have an abundance of entertainment riches that is an easily top recommended release even for newcomers to the beauty of classical music.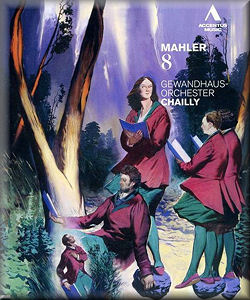 Mahler. Symphony No. 8. (Symphony of a Thousand). Orchestra: Gewandhaus Leipzig. Conductor: Riccardo Chailly. Male Chorus. Female Chorus. Children Choruses. Male Soloists. Female Soloists
This is probably still the most ambitious and grandest symphonic music ever written and performed. The 1910 premiere in Munich with many hundreds of performers resulted in the subtitled thousand. Observers more cautiously estimated the number of performers to be closer to eight hundred. As the outstanding Blu-ray recording here obviously reveals many hundreds we remember there have to be places for the audience to sit. The back cover states, "almost five hundred musicians" Chailly's efforts must be applauded, he seemingly had firm control from beginning to end. The probably overly ambitious goals include heavenly creations, desires and efforts and things such as damnation and exiling in hell as punishment. This is not music for pleasant background listening at low volume levels. There is so much of importance as well as overwhelming beauty that demands listeners' attention. I do not believe it possible to even begin to describe much of what is going on here in this unique and overwhelming musical production. A once in a lifetime project that demands listeners' attention; so simply do that and enjoy it visually( yes, put that big screen HD television set to use here and those quality audio components) and audibly of course!
Do not miss this; who can guess how long we might wait before the performers, funds and desires to put this event together again. Get it while the getting is good and consider yourself forewarned.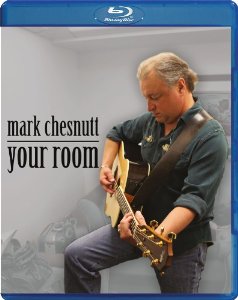 Your Room. Mark Chesnutt. Vocals and Guitar. AIX Records Blu-ray AIX 86061. (THX Media Director Enabled)
Thanks to two Marks for making this review so simple, easy and short. Mark Chesnutt for your outstanding country music, keep it up even if there are pieces of folk and honky tonk in there somewhere, why bother drawing some sort of dividing line-it is all beautiful music. Readers should know there is a group of eight performing and they are achieving a nice balance audibly with five guitars, lead of course, steel, acoustic and bass models plus drums, fiddle and piano. The group is pictured as in a semicircle and not close to walls. Mark Waldrep for what is probably the most nearly perfect recorded sound on a disc ever in my experience. By that I mean it sounds exactly as what I hear, including the surrounding space, when I am listening to a relatively small group. Congratulations and some more soon please.
BD-ROM audio files are available on this disc!