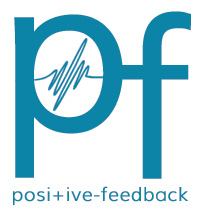 You are reading the older HTML site
Positive Feedback ISSUE 66
march/april 2013
From Clark Johnsen's Diaries: A Tale of Two Passings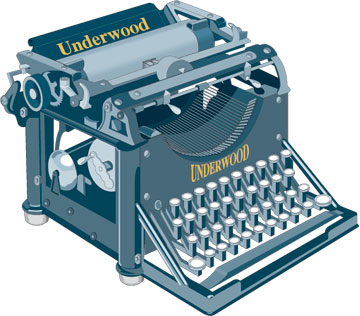 Brian Cheney Remembered
Hard to believe. I first met Brian 1980, upon flying from Boston to the Bay Area to hear his VMPS loudspeakers with an eye towards becoming a dealer. At that time, and until my last moments with him at the Newport Show in 2010 and then at his home early in 2011, he rarely lacked for energy and enthusiasm although often overweight and sallow of complexion. Nor was audio his top interest—that would be music, musical performance, and recordings, especially historical. Our numerous meetings and discussions always evolved to those topics, audio becoming secondary.
But why does this matter?
Because Brian Cheney designed, and built himself at his own factory, with only a couple loyal employees, the best loudspeakers for the money ever. And not just by a factor of two or three. His predicament was summarized by Clement Perry in Stereo Times: "…these ridiculously affordable and wonderful sounding VMPS RM50 loudspeakers. Here is the best $60,000 speaker system money can buy!" The irony? List price for the RM-50 system was $14,900.
But now, alas, no longer available.
Nor any VMPSs at $1200, $2000, $4800, $6400 and other price points equally the bargain of the RM50. Myself I have the RM40s and consider myself the most fortunate of men, having gotten in before their finale. In 2002 his room with this very system won the CES "Best Sound in Show" award. What did that do to help his business? Nothing. Nothing.
So what does it take? One has to wonder.
Throughout VMPS' three and a half decades Brian never managed to achieve what's called success. I told him he should triple the list prices if he wanted due recognition, but that wasn't his style. He got an early rave from Tony Cordesman in Audio and a fine review too in Stereophile (where he never even once advertised, let it be noted). Then Peter Moncrieff's International Audio Review gave him a great notice, and then there was that CES "Best Sound in Show" award. Nevertheless none of this translated into many sales, possibly owing to his having only eight dealers, possibly to the unfashionably large, boxy aspect of his otherwise brilliant designs.
Or perhaps it was his attention to, and love for, classical music, which almost exclusively he played at shows, to the dismay of writers and audiences alike. VMPS speakers were built to play the panoply of instruments of the orchestra, with full tone and dynamics. Jazz sounded well on them too, but pop music maybe not so much—unless the recordings were acoustically balanced. The VMPS's terrific bass response was linear, without wolf tones if correctly set up to the room, but this feature did nothing to enhance the "beat" of pop music, which so many large speaker systems do. Smaller systems of course have no real bass to worry about at all.
So as I was saying, Brian was most interested in music. On one illustrative occasion back in the late eighties he got us together with Neil Levenson, beleaguered audio critic of the routinely orthodox Fanfare magazine. Neil was a buddy of Enid Lumley as well, and after I became a writer too the three of us over the years managed to upset a goodly number of people with our odd (but unmistaken!) views. So meeting Neil was fun, although, did we discuss audio? Nosiree.
On another occasion Brian and I attended a piano recital in Oakland (of which all I recollect is a great performance of the Liszt b-minor sonata) with audio critic J. Peter Moncrieff, whom I had known back in the Sixties in Cambridge. Talking together afterwards does anyone suppose we mentioned audio?
Nor shall I ever forget the time he took me to meet John Curl at his lab on Telegraph Avenue in Berkeley. Those were difficult times for John. Several companies had failed to pay him for past work (like Dennessen, which he made famous with the JC-2 preamp), and even for current work (for instance, a highly modded tape recorder for Wilson Audio, but at least those payments were almost up to date). He also had girlfriend troubles. So we went out drinking and did we talk about audio? Certainly not, but we did talk a lot about problems in the world. John was broke so I picked up the tab; that was okay, he was a famous person with whom I got to spend a few interesting hours.
Brian also introduced me to John Atkinson at a Stereophile party in Chicago, just after JA had left HiFi News & Record Review. Must have been 1986 or 87, but the party was breaking up by then and we hardly spoke. So, how did Brian know him already? That, I can't answer. Later Brian had a piece published in Stereophile: "Yamaha GH1B digital home music system." Very wry. Pointer at bottom.
The VMPS loudspeakers (Veritone Minimum Phase Systems), besides being wonderful, musical, efficient, award-winning and a steal pricewise, taught me two particular things, which subsequently I was able to pass on to him and others. First, because of their low-phase-distortion approach I (re)discovered Absolute Polarity, "the sine qua non of correct audio practice" and the topic of my book The Wood Effect (4000 copies in print). Second, because of their amazing bass response and dynamic linearity, I was able to demonstrate that "old 78s", especially those from the golden era of 1928-1936, could sound in some ways better than the latest-type recordings. Brian was doubtful, but when he finally visited The Listening Studio he was forced to agree. Over the years we spent many happy hours listening to those ancient spinners, as well as going to concerts in Symphony Hall and other locales.
Sometime back in the late Eighties we joined to give a presentation to the Westchester Audio Society. This was at the lovely home of Leon Yorburg on City Island, a land unto itself in New York City. We were invited to spend the night there as well, although already it had started snowing, cutting the meeting short. By morning the accumulation had reached two and a half feet: Snowed in! So there we were, trapped with Leon and his wonderful, considerate wife, an excellent audio system, thousands of records and, fortunately, plenty of food. What to do? Well, listen nonstop to music! It began with Brian hauling out records and talking about performers and compositions, the piano repertoire especially. I'll never forget how he spoke about Richter and the young Ivo Pogorelich. Two days later we were dug out and drove up to Boston for more jollies.
Brian's interest in classical music had blossomed when he lived in Germany, his father having been stationed there in the Sixties and Seventies. He attended concerts in all the Munich venues, where he heard some of the most famous performers of the era. There too he began his record collecting, made recordings (quite excellent, I have the LPs) and mulling over loudspeaker design.
While not a successful businessman, Brian was a consummate promoter in prose. His every press release, every instruction sheet, every post on the web was stylishly crafted, yet not mere puffery. Although rather shy and other-worldly, he was a personable presenter at shows too and upbeat to callers on the telephone, which he always answered himself.
[Story: I was talking to him once and heard a commotion outside and nearly below my second story window. Gunshots! The Studio was in a former warehouse area near the waterfront where foot traffic was minimal. Cautiously I peered out the window to see what was happening. A car had pulled up down the street and three guys had hopped out, shooting at two cop cars who were returning fire. Oh my. I began narrating the scene to Brian, who said, Well stay alive and call me back when they're done. Later when I went to Scorcese's The Departed I was amused to see its gunfight scene happening just a block away from my old location.]

Speaking of shows, several years ago Brian began his Herculean effort to do live-vs.-recorded, proving that the line between the two was more thin and wavering than ever. An immense amount of work was involved in these fascinating demonstrations, and his various associates, dealers, friends, loyal wife Shirley and other manufacturers all pitched in. In my view, however, these grand occasions were sadly ignored by the audio press, so the attendance was never what it ought to have been, nor the public's exposure to the great, full, realistic sound his VMPS designs could produce.
Yamaha GH1B digital home music system http://www.stereophile.com/content/yamaha-gh1b-digital-home-music-system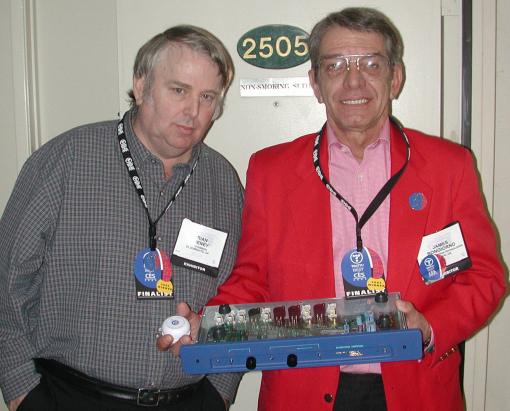 David Manley Remembered
How we met, I can't exactly recollect. Possibly it was a telephone call instigated by Bruce from Ocean State Audio down in Providence. But somehow there he was at The Listening Studio in Boston demonstrating his VTL amplifiers on the late Brian Cheney's VMPS SuperTower IIa/R loudspeakers—full-range, floor-standing, high-efficiency units with deep bass response on which tube amps had not produced a favorable response. Until then.
These were his traveling pair of VTL100s and could not be left, but he promised to return. And so he did, in style. The first large shipment to America (from his UK factory) was to arrive in the Port of Boston and could I lend a hand? Well, sure. How? Well, my son Luke and I will rent a van and pick everything up, could we store it all at your place for a while? Of course!
So we loaded the boxes onto the freight elevator and moved them inside, then strolled over to Chinatown for dim sum. There at table David began holding forth in the manner I soon became accustomed to—not just his own, so much as the way famous audio designers do like to perform. Except that David was both wittier and more knowledgeable than most.
Soon thereafter VTL became a signature product at the Studio, although not very much was sold. Everyone did however get a good look inside the preamp, where old-fashioned mechanical shafts from the front knobs operated pots back where the actual circuitry was, eliminating considerable wiring. Everyone was impressed.
And the design advances kept on coming. Then one day, the "Ultimate Preamp". David, I said, that's a terrible name. You're leaving yourself no wiggle-room for future improvement. Why not call it the Penultimate Preamp? That's even alliterative! Then you can have the Penultimate II, and the Pen III, etc etc? But, no, he was adamant—this one was the Ultimate, period.
Okay. But the Ultimate was indeed succeeded by several more, although now I forget what they were called.
Then he showed me his new ad campaign, which in the 8x10 for the three-chassis 200 Watt Monoblock System had a silvery male statuette standing at priapic attention beside the 8-output-tube units. Oh no!
In the meantime the Manleys had decided to do business out of Rhode Island, and set up an office there from where they attempted to establish a national presence. Later he and Luke relocated to California and we lost close personal touch, although I would meet them at various shows. Also, over the years, David ceded VTL to Luke and became married to this great lady EveAnna with whom he started a new company, Manley Labs. Huh!
After that I don't think I ever saw David again, anyway not sober; evidently he had fallen over a long-time-coming cliff. The last time we were together, at a bar, he wasn't making much sense.
But what a legacy he left! And it all went to his son and his fifth wife, albeit as two different companies. Both individuals have grasped not only the audio design essentials taught by David, but also acquired a business sense that he never himself possessed. So far as I know neither one of them does any actual designing, although they both now head successful and highly regarded companies.
I could stop right here, although the story would be incomplete without a last word about Luke. When I first met the young man, he was nearly insufferable. While the congenial David had spent some time in England, his son grew up entirely in South Africa and had not only that clipped accent but also the seemingly-superior attitude that I have discovered is typical of the S.A. breed—very off-putting to an American. Boy has he changed! His dad would be proud.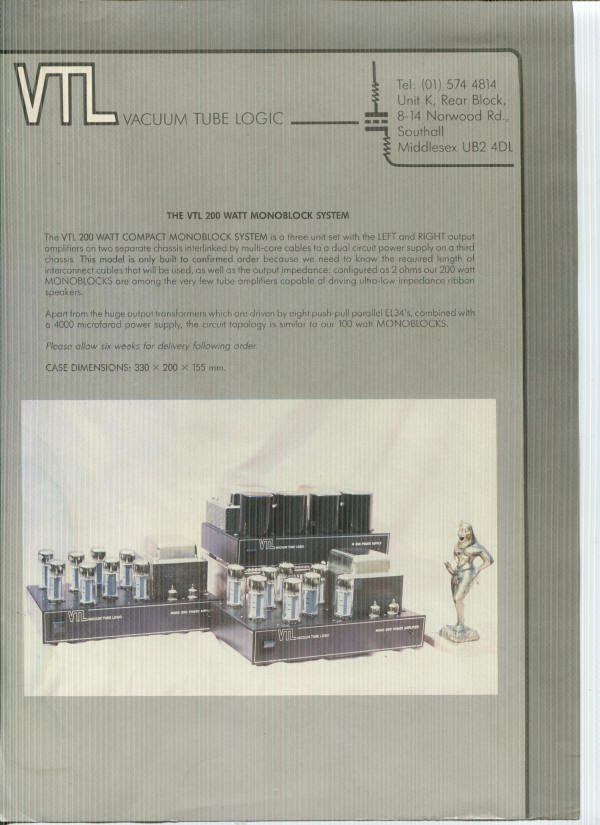 Upon submission of the draft of this remembrance to Luke for any corrections, he replied with this revealing note to PF editor David Robinson:
If you are concerned about Clark's reference to my father's sometime bouts of heavy drinking, there were certainly a few years toward the end of his time at VTL, and later towards the end of his time at Manley, where he went over the cliff. If you want to know the background, he was fairly widely known to have suffered from and battled alcoholism for much of his adult life, but what was not understood then was that he was also bipolar. He was apparently drinking heavily during most of his marriage to my mother, and throughout his second, brief marriage, but then managed to quit, apparently with the help of his third wife, who I seem to remember was a nurse. He was clean through his 4th marriage, and managed to stay off alcohol for quite some time, at least 25 years, through the startup and the early successful days of VTL, until many years later, when he and I split up in 1993, at which time he went through the Betty Ford program. He stayed clean then for a short while, until he split up with EveAnna, and then managed to pretty much kick it after he moved to France, where he was finally diagnosed bipolar. He pretty much stayed clean then, almost certainly with the help of his sixth wife, Veronique, who he was married to when he passed away, some 18 years after he had left the US.