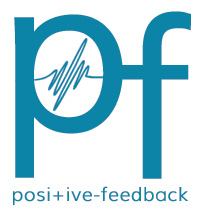 You are reading the older HTML site
Positive Feedback ISSUE 66
march/april 2013
2013 New York Audio Show... Day Two
by Ken Micallef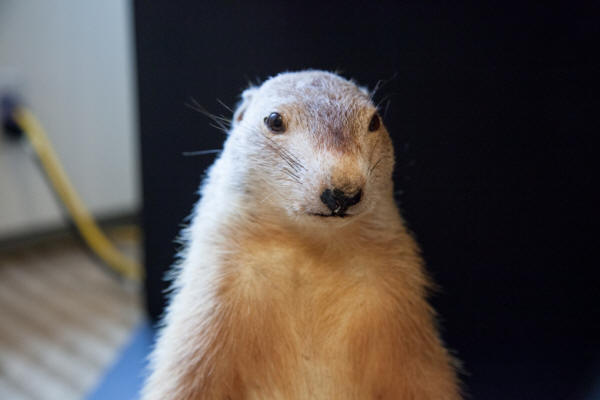 Symbol Audio Mascot
If day one of the NY Audio Show was an occasion to rub shoulders with audiophile brethren from across the land in tiny hotel rooms rife with gear odor and curious fingers, Day Two was all about the "seminars." And Chester Group certainly filled the bill. Seminar descriptions piqued one's interest: "Cutting the Cord – Will Bluetooth Replace Audio Cables?" "Take the Intimidation Out of Buying Audio" "Accurately Accessing Sound Quality: from Old School to New Tools" I opted for "Virtues of Vintage: Audio Gear from the Early Days of High Fidelity"
Led by Stereophile Editor-At-Large Art Dudley and TONEAudio Magazine publisher Jeff Dorgay, the panel description read "panel members will discuss the relevance of domestic audio products designed and manufactured a half century ago and the challenges of reconditioning, repairing and maintaining classic audio gear." The panel consisted of (LtoR) Robyatt Audio's Robin Wyatt, Tone Import's Jonathan Halpern, and writer, designer and all around audio guru, Herb Reichert. The panel offered a collection of one line zingers that supported their "older is better credo" with plenty of real world examples.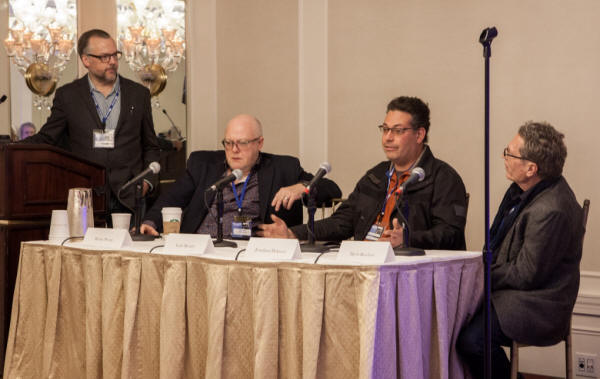 Reichert explained that the audio press of the '70s and '80s created today's environment where terms like "imaging," "soundstage" and "bass extension" have replaced the ideals of texture, richness, and color. "The press created a checklist and people used that checklist to judge their components," Reichert said. "Post '90s expectations have changed. But vintage gear reminds you of when you were young. It puts you back into the romance of the music."
Jonathan Halpern went further, saying "High end started in the 1920s and the 1970s was the beginning of the end."
"It's like we've gained the world and lost our souls," said Art Dudley, who has written of reconditioning vintage gear often in Stereophile. "Vintage offers a sense of touch, of flesh and blood. Some newer gear [sounds like] a skeleton without any meat on its bones."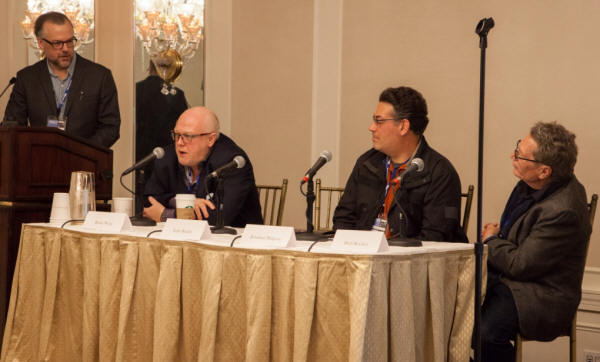 "But what about the enormous costs of reconditioning and repairing old vintage tube amps and speakers?" asked Jeff Dorgay, who added, "You have to decide if you're a check writer or a wrench turner."
Dudley then asked the panel for vintage gear recommendations, items that wouldn't break the bank yet which might also increase in value. "Vintage for Newbies," as it were.
Robin Wyatt: Sherwood amplifiers and Voice of the Theater radios. "A Garrard 401 is better than a Garrard 301," he added, and "The best sound you will ever hear is from an FM broadcast of the Metropolitan Opera."
Halpern: Altec Valencia 846A or Flamenco speakers. (Tone Imports is reissuing the EMT 927 turntable)
Reichert: Altec 604 and Quad 57 speakers
Dudley also recommended the reissues from the Electric Recording Company (http://www.theelectricrecordingco.com/) which produces classical LPs using vintage recording and mastering gear.
And what about wife acceptance factor?
"Some of the old gear you can't buy," replied Wyatt, "but you can always get a new wife," which brought down the house, err, room.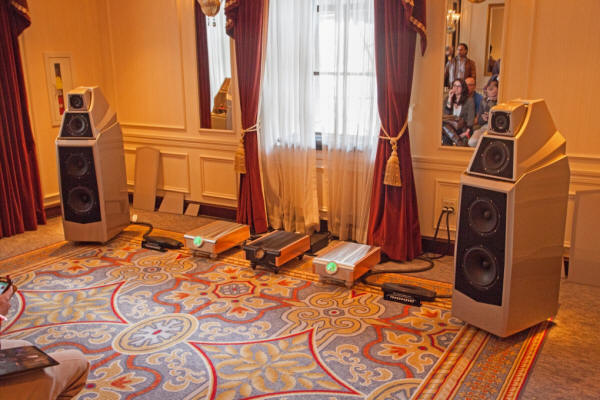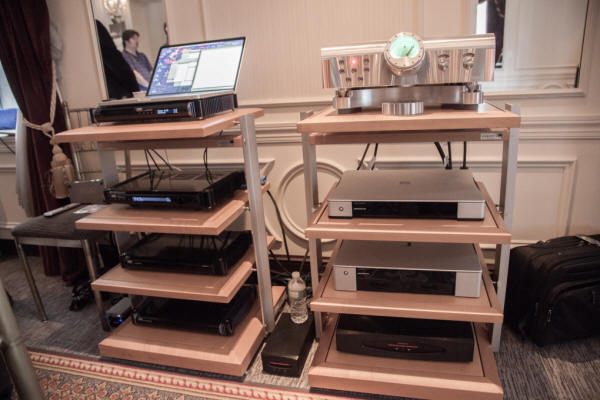 I bumped into fellow former 6Moons.com writer and current Audiostream.com editor Michael Lavorgna outside the Standord room where NY dealer Innovative Audio had assembled a beautiful sounding system, which we both enjoyed. Wilson Alexia speakers ($48,500 a pair), D'Agostino Momentum monoblocks ($55,000 a pair), D'Agostino Momentum Ultra Analog preamp ($32,000), and various MSB digital front end items ($30k give or take a thousand), and Transparent Opus and Reference cables ($80k). I tend to shy away from components with this kind of Trump only price appeal, not only for the funds required but for the, in my opinion, lack of humanity these types of systems often express. But here was the best of multiple worlds. Playing everything from gospel to tango, the Innovative Audio system had incredible weight, purity of sound, vibrancy, tone and speed. There was a visceral impact to the system's delivery of the notes, a sense of hyper-reality, the kind of sound you only hear from a stereo, not in actual performance, but thrilling nonetheless.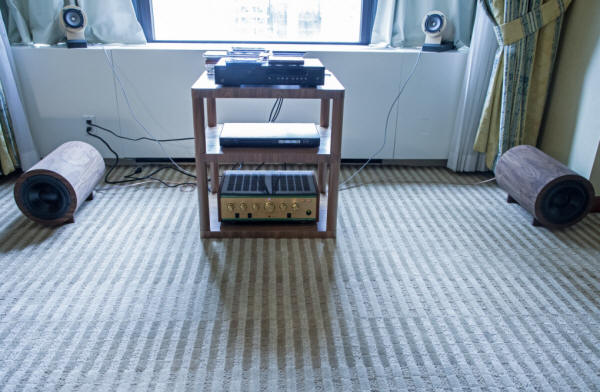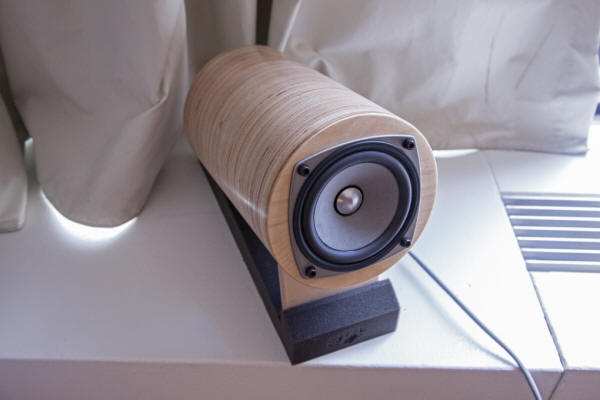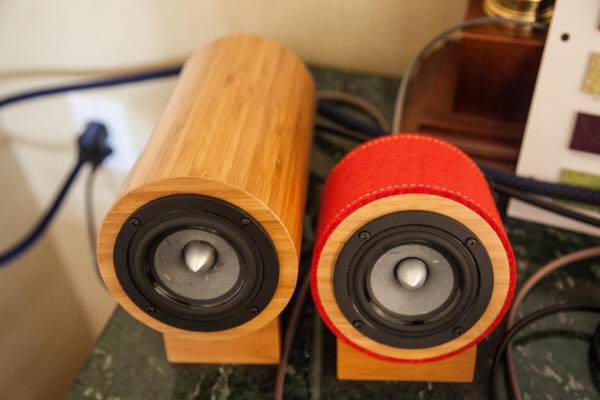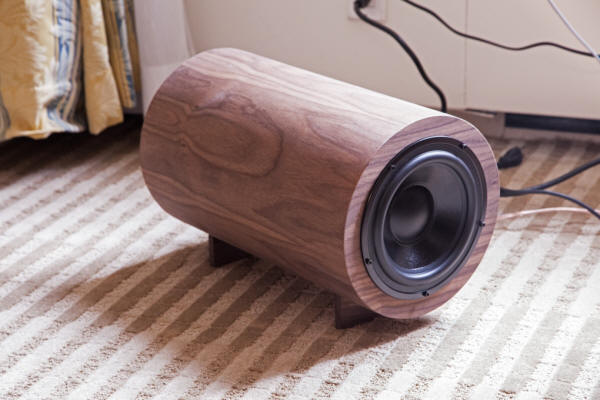 At the other end of the price spectrum, going from the Sultan of Brunei to Average Joe Sixpack, Well Rounded Sound put together a sweet system that did most everything right. Playing their custom designed Corgi speakers ($799 a pair)—beautifully turned out wooden tube enclosures containing a secretly sourced Japanese driver—paired to their log roll looking, passive subs ($800 a pair with secretly sourced Japanese woofer), Well Rounded Sound succeeded in creating a musical system that didn't leave me wanting for Innovative's massive sound field. Sure, the parameters were smaller, but this system was soooo easy to relax into. It wasn't the last word in resolution, and the bass had a kerplunky feel at times, but paired with a Leben CS-600 integrated amp and Oppo CD player, the music, from Jaco Pastorious to John Abercrombie, flowed with a relaxed, natural, human, totally non fatiguing sound. I sat in the front row, totally relaxed and refusing to leave. The WRS system made wonderful music regardless of price, and was easily the best bargain at the show. And to top it off, their products are designed and manufactured in New York State.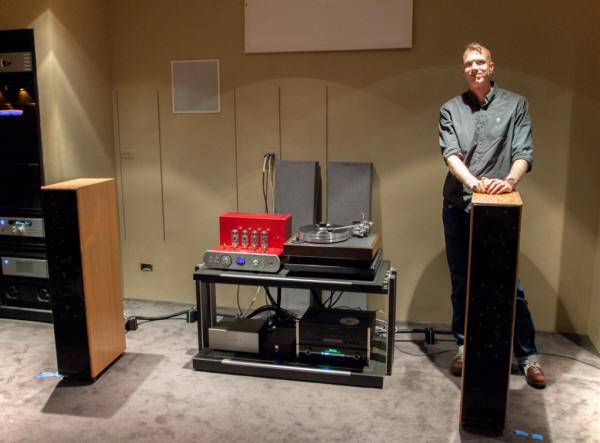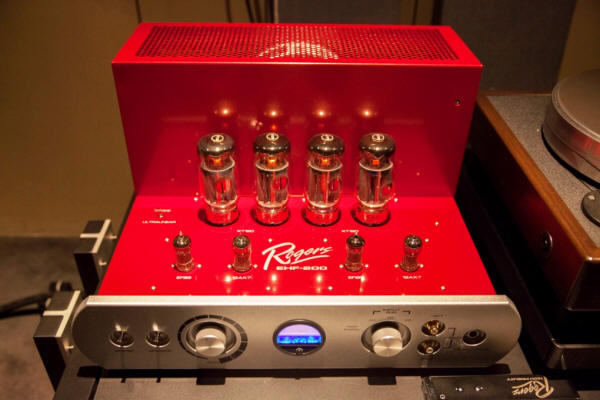 Not everything at the show happened within the confines of The New York Palace. New York City High end dealers Lyric and Stereo Exchange offered their own shows of a sort, including the debut of DeVore Fidelity's Gibbon X speakers. Producing the natural, fast and tonally accurate sound or which all DeVore speakers are known (including my DeVore Nines), the Gibbon Xs being played at Stereo Exchange were prototypes, but they still sounded fantastic. A three way design with three 6.5 inch coated paper SEAS drivers made to DeVore's specs with ¾" silk dome tweeter from his flagship Silverback line, the Gibbon X is ported three ways as well, a transmission line porting the midrange driver to the back/top of the speaker. Rated at 91dB with 8 ohm impedance, these are reasonably easy to drive speakers, DeVore driving the Xs with a VPI Classic table, Shelter 501 cart, a Sim Audio P/S Moon phono stage, and a fabulous sounding Rogers EHF-200 integrated amp. Used to hearing the DeVores driven with various Shindo gear, I was happy to hear them rock and boogie with a different power horse. DeVore has a knack for finding exceptional LPs to show off his wares and this time was no different, the newly Mohawked speaker designer spinning Brandt Brauer Frick Ensemble's Mr. Machine (K7!), a splendid recording of tuba, harp, vibraphone, drums, and percussion that sounded incredibly vital and natural.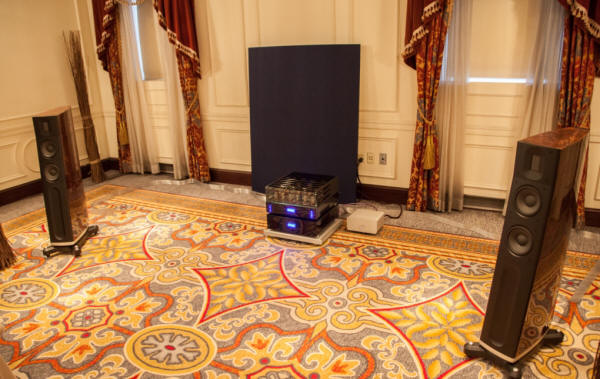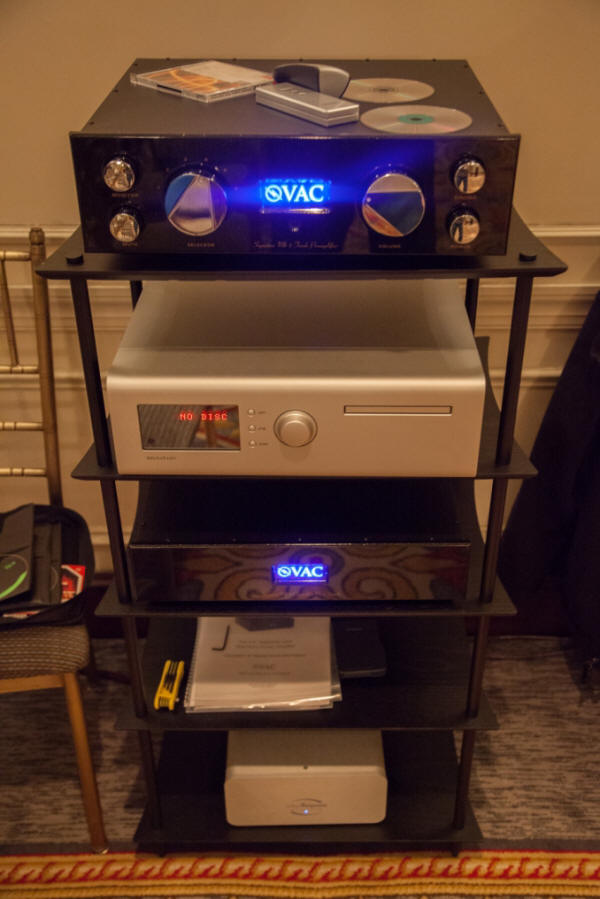 Andy Singer, one of New York City's founding fathers of high end audio retail, had a simple system on display, yet without the simpleton's price tag. Debuting the Raidho Acoustics C2.0 speakers coupled with a Solution 540D SACD player and VAC electronics, the sound was sparkling, fast, articulate and brilliant. I couldn't make out if Andy said the speakers were $4,350 or $43,500, but somehow I think it was the latter. In burled walnut finish, of course.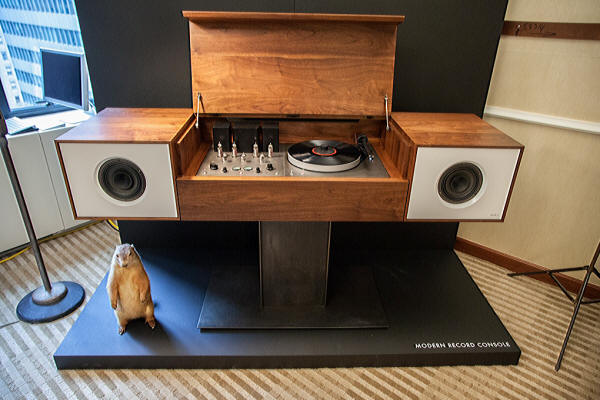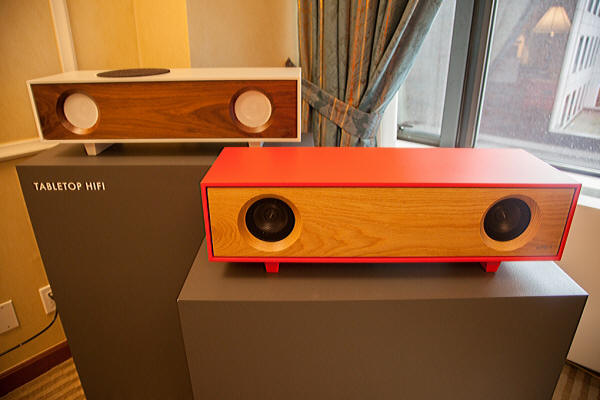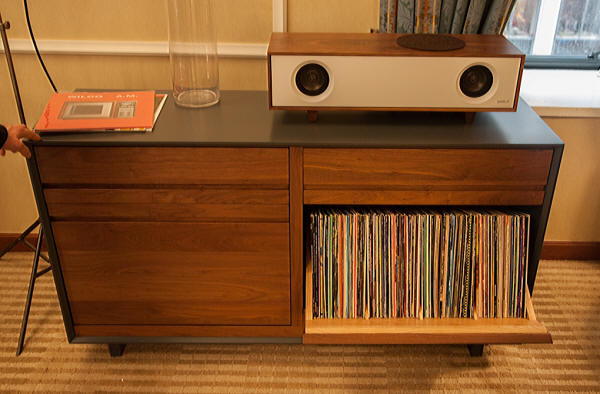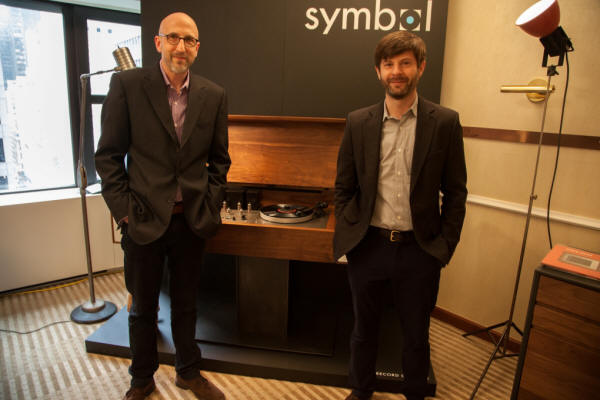 Newcomers Symbol Audio from Nyack New York has their finger on the contemporary audio pulse. Manufacturing beautiful console stereos with a wealth of options including Pro-Ject turntables, Sumiko cartridges, Meridian Explorer DACs, Apple AirPort Extremes and more, Symbol is tapping into the trend for analog warmth and vinyl lushness in cabinetry that reflects the modern Mad Men esthetic. The "Modern Record Console" sells for $26,500 including a Pro-Ject 5.1 table, Sumiko Blue Point No. 2 cart and Omega Hemp drivers designed and manufactured by Louis Chochos of Omega Speaker Systems, a rock solid audio value in my book. Its "reference quality tube integrated amp" offers 15 watts per channel, Chochos' 6.5" HempCone Drivers and a downward firing 8" powered subwoofer sourced by Chochos. Beyond the gorgeous Modern Record Console, Symbol's head honchos Blake Tovin and Matt Richmond offer the "LP Storage Cabinet" and "TableTop HiFi." These units sounded good and attracted a lot of deserved attention at the show. As did the furry rodent standing guard.
Up next, day three….