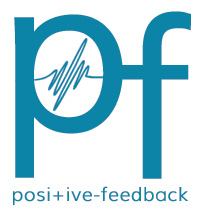 You are reading the older HTML site
Positive Feedback ISSUE 66
march/april 2013
New York Audio Show 2013
by Marshall Nack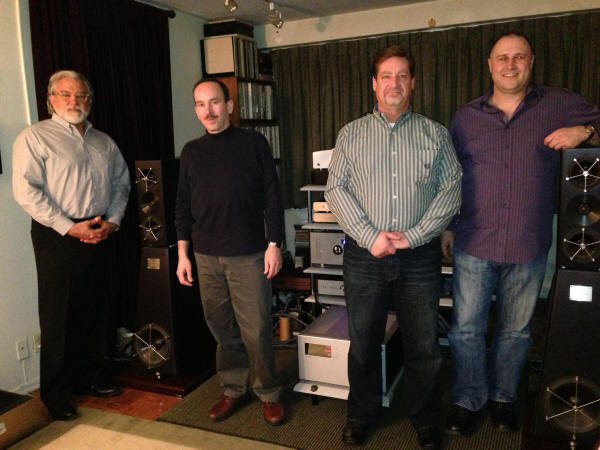 My NY Audio Show 2013 started on Thursday evening, the day before it officially opened, when a half dozen show participants came to check out my current system. Mainly I demoed playback from CD versus music server. (I'll be posting a discussion article on the mbl Corona C31 CD Player and the Sonore Signature Music Server next month.) The spirited discussion continued over beer and schnitzel at Rolf's German Restaurant and throughout the three-day event.
Here are the rooms I visited in approximately the order I saw them.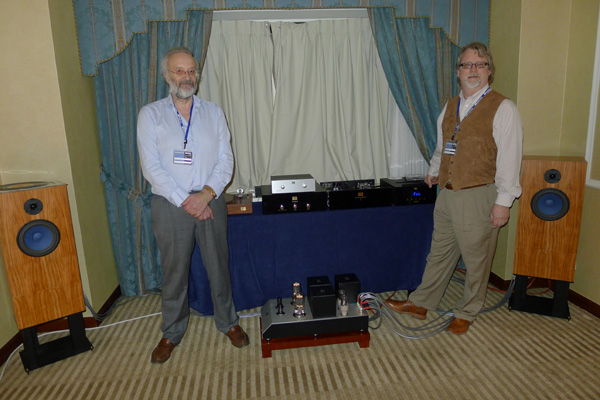 Robert Lighton on the left
Audio Note UK
Audio Note has always been about the tone. Forget precise imaging and soundstaging. You expect their room to have a big, bloomy, beautiful tone.
On display were some very fine (and pricey) gear, including the Tomei Kinsei 211 SE amp ($58K).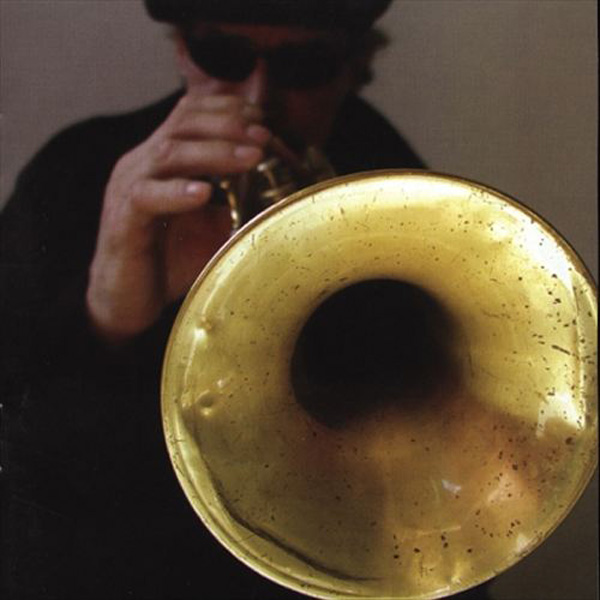 I was struck by the realistic trumpets when they played my CD Y los Piratas del Flamenco (Sunnyside SSC 1135), featuring the jazz trumpeter Jerry Gonzalez. The E/SPe HE speakers ($9,300) had tone to die for, although it left the lowest bass notes of the cajón on the table.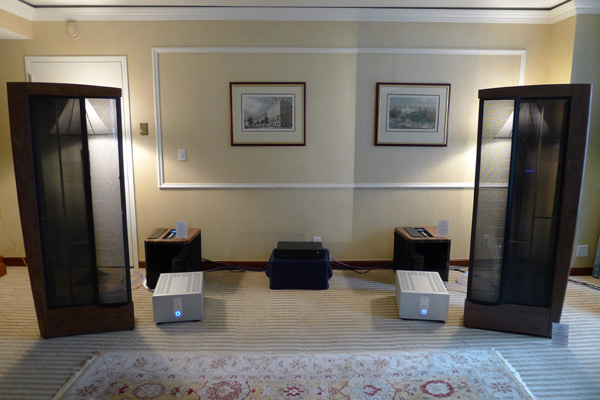 Martin Logan & Krell Industries
Gosh, this may not have been the best choice following the AN UK room. The sound here was neutral, pure and crystalline, with a well-developed and very airy stage. Images had just enough flesh and body to stay on the right side of thinness.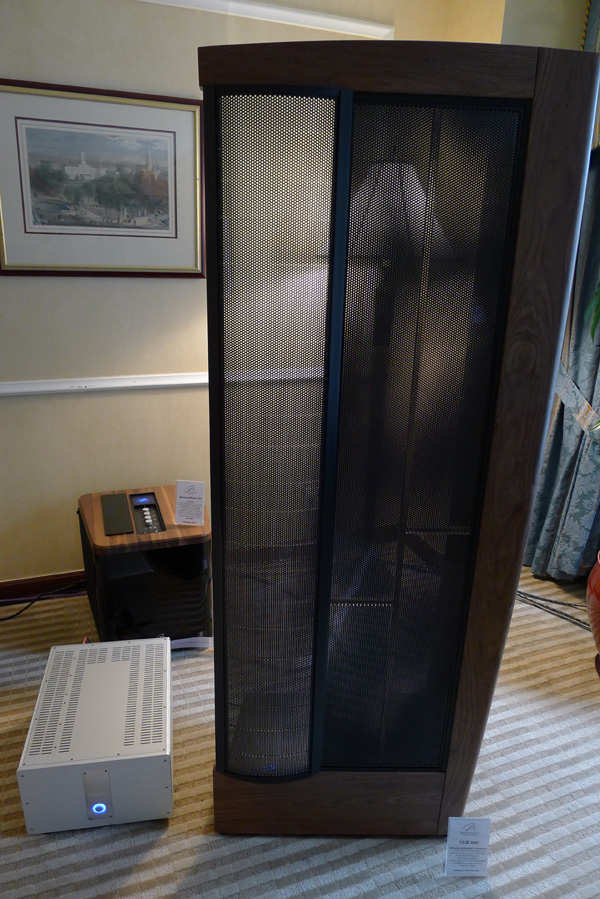 the CLX Art speaker
The cajón was handled superbly through the prototype subs ($22K each, estimated). Krell contributed the Cipher SACD player ($12K), Phantom Preamp ($20K), EV-400e mono amps ($24K).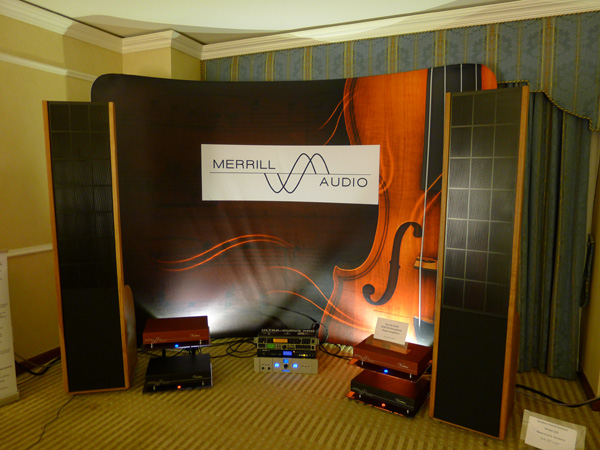 Sanders Sound & Merrill Audio
Right across the hallway was another electrostatic speaker, the Sanders Model 10c, and another variation in sound quality. Power was provided by the Merrill VERITAS Mono Blocks, which use the latest Hypex Ncore NC1200.
Radically different than the Martin Logans, the expected transparency usually associated with 'stats wasn't in evidence. The midrange on down was heavy and the top lacked a bit of sparkle.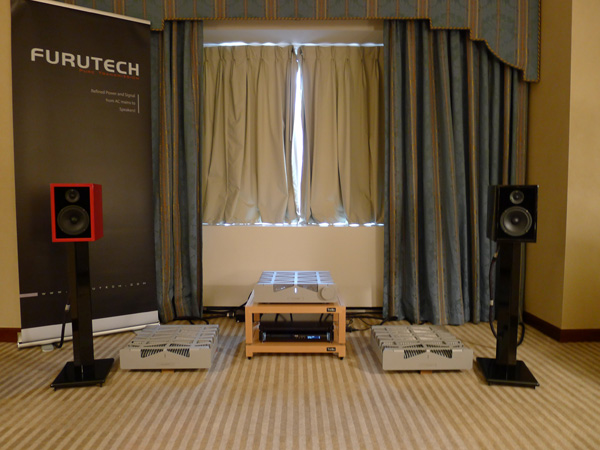 Colleen Cardas Imports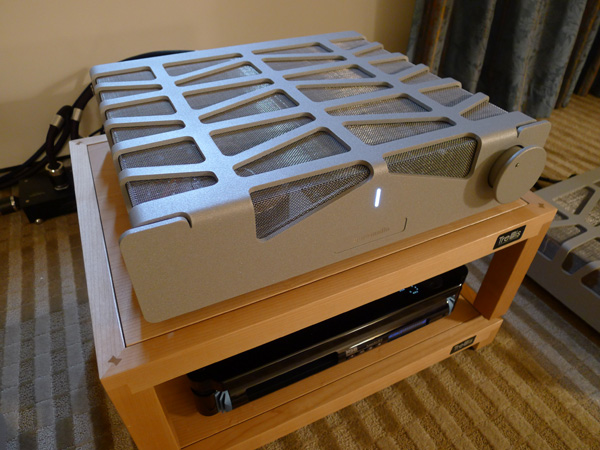 PureAudio Reference Preamp
The amplification in the Colleen Cardas Imports room was by PureAudio, which sported attractive cosmetics and potentially superior sound. However, it was hard to tell just how good they were because the MAD 1920S Mini speakers ($3450), while resolving as hell, didn't have much low-end. (These two kind of go hand-in-hand.)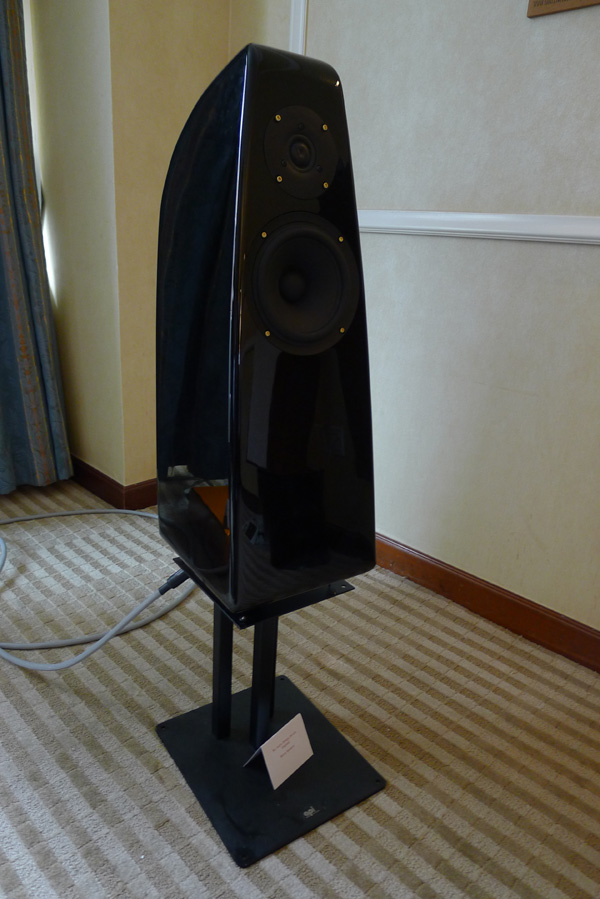 Care Audio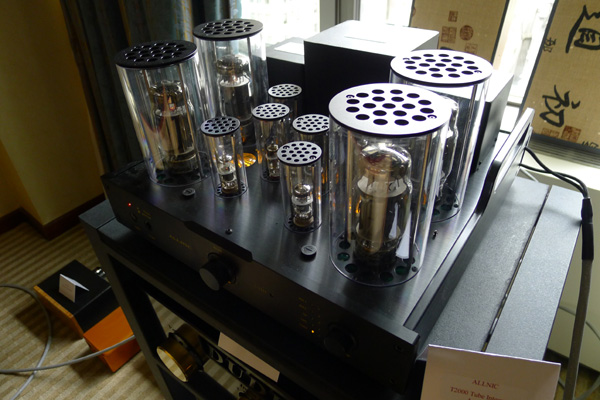 Allnic T-2000
Later I heard the larger MAD Baron speakers ($13,000) driven by a Musica Pristina Network Player and an Allnic T-2000 tube integrated ($8,900) in the Care Audio room, which sounded good, with plenty of resonance and air.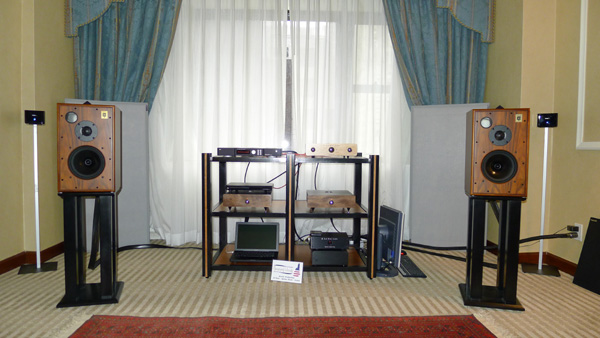 Harbeth & Red Wine
I expected more from this room, simply because the gear looked so cool!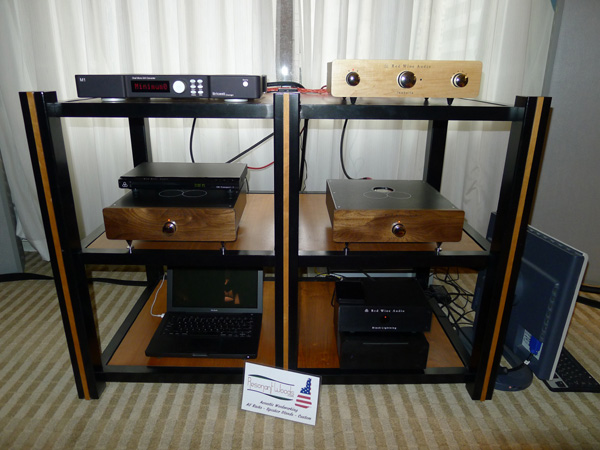 Red Wine components on Resonant Woods Racks
On Friday, they were still installing pieces of the Stein Harmonizer System. As Black Stones, Blue and Black Diamonds were distributed, I could sense the sound moving into the room, becoming more 3-D and detaching from the speakers. But the quality of the sound was soft and resonant, with a suppressed treble—a bit dull.
I suspected it had to do with the Stein Harmonizers. I asked if it was possible to do an A/B and they graciously consented. Zap! With the four active Harmonizers taken out of the room corners, all of the problems went away. I don't understand why the Stein Harmonizers are such a popular product.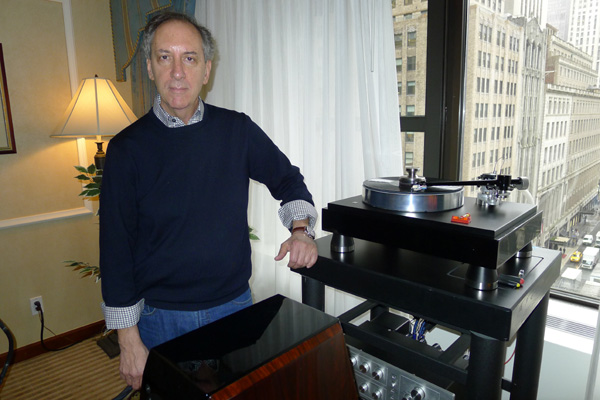 Harry Weisfeld and a prototype table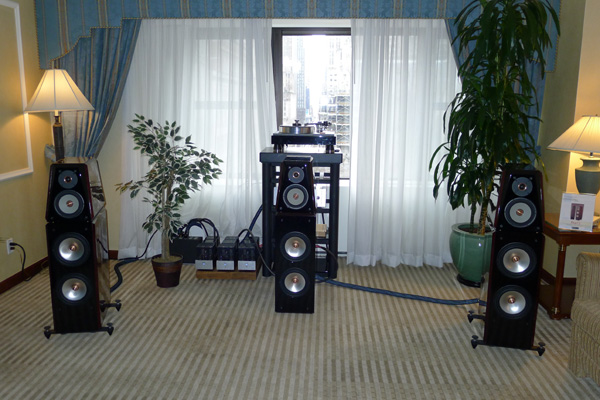 VPI Industries & Joseph Audio
VPI debuted a prototype Classic Direct Turntable. (Retail is not finalized, but it will be in the ballpark of $20-25K.) The speakers were Joseph Audio Pearl 3 and amplification was a pair of refurbished Citation 2 vintage tube amps.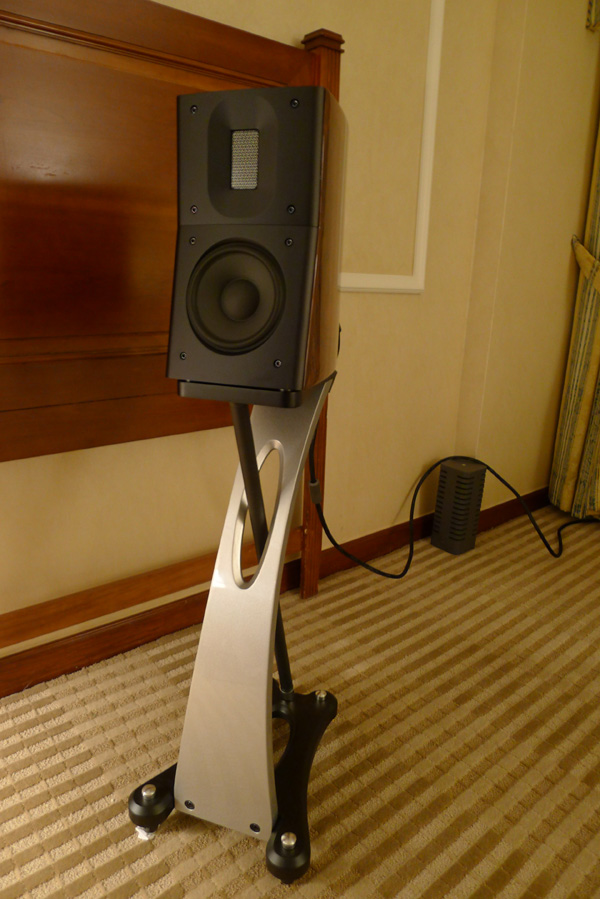 Raidho D-1 Monitor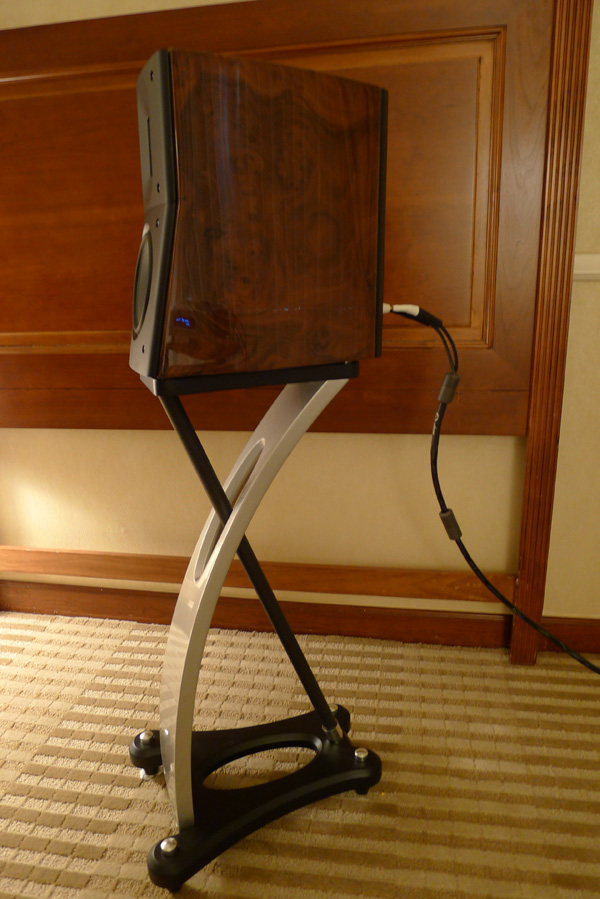 Merrill Audio, Raidho Acoustics
The Raidho D-1 Monitors were stunning on their custom stands. (The integrated speaker package has an MSRP of $28,000.) It was quite surprising how they are able to fill the room. For a smallish profile, they were amazingly full range and dynamic. This was another room with Merrill Audio amplification.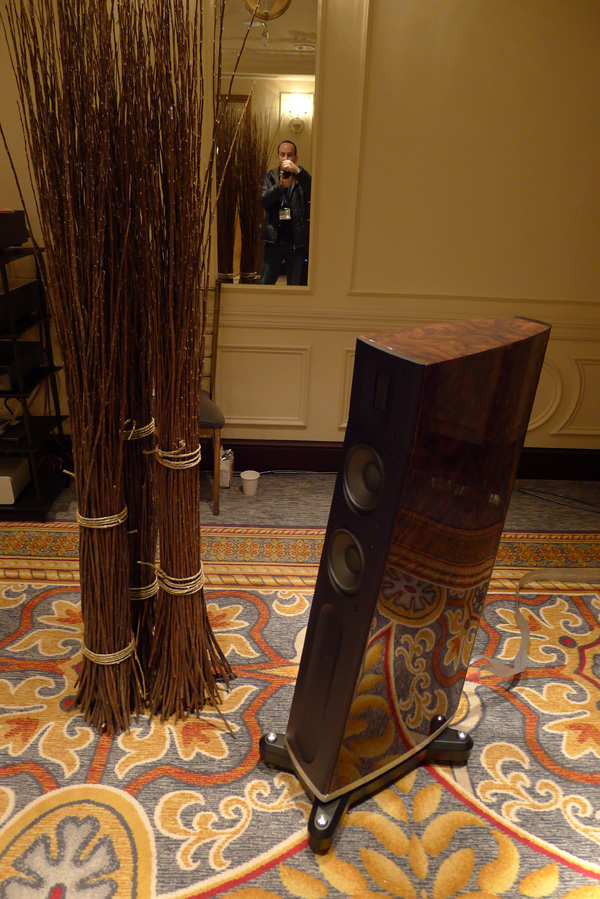 Raidho D2.1
Sound By Singer, Ltd
The Sound By Singer room also featured Raidho speakers—the floorstanding D2.1 ($43,500) held court, supported by VAC and Soulution electronics.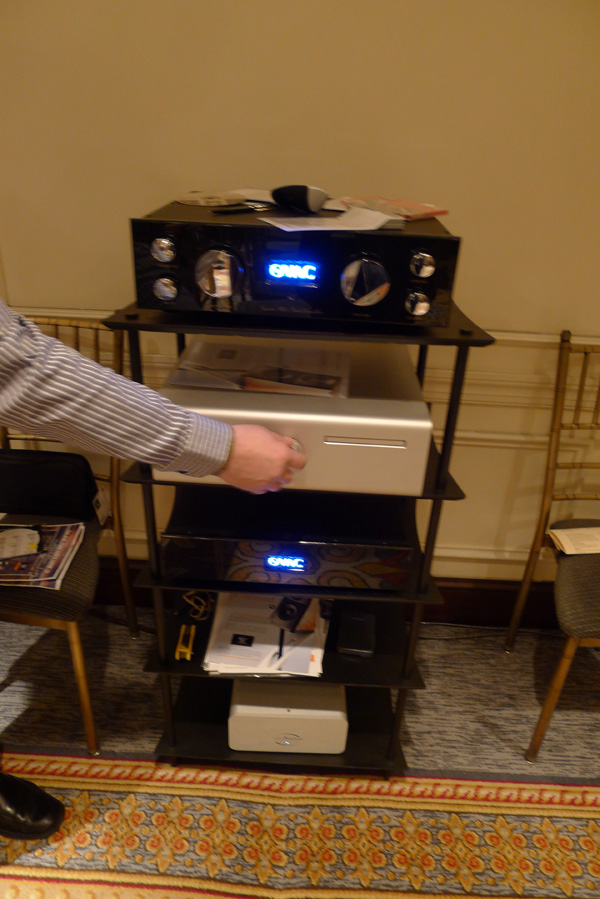 VAC Signature and Soulution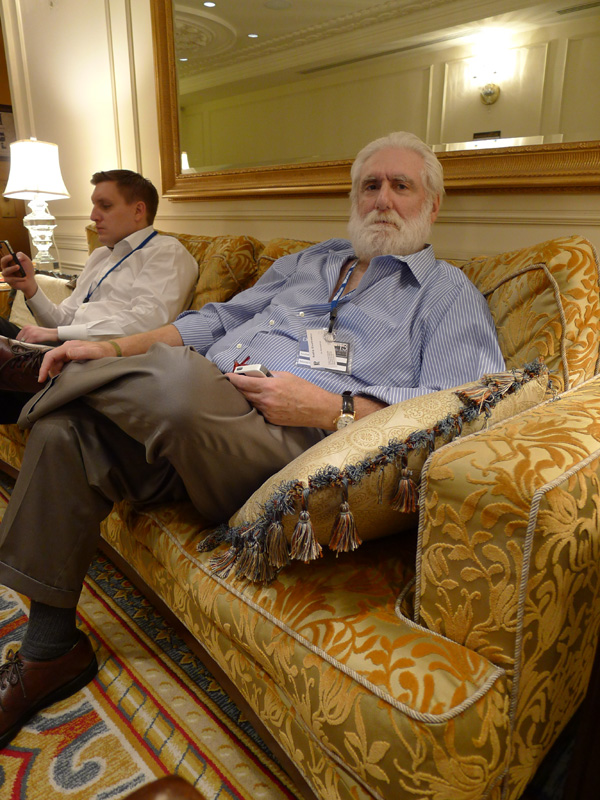 Andy Singer relaxing outside his room
How do the Raidhos manage seamless frequency integration between the ribbon tweeter and the cone mid-woofs? Some people claimed they could hear the crossover point—not I. As beautiful as the treble through the midrange were though, bass extension of the organ on Canatate Domino (Proprius) was shy and lacked power.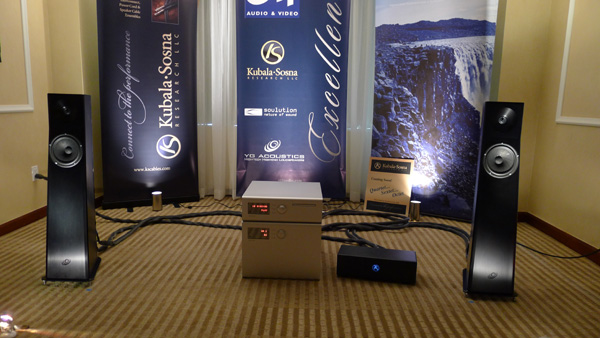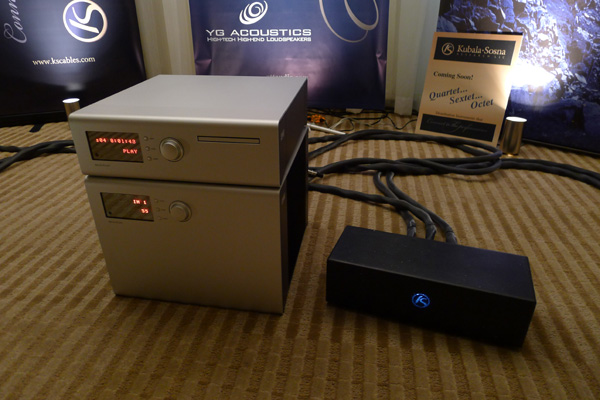 GTT Audio, room 1
It was amazing how the petite YG Carmels ($18K) suffused the front of the room with plenty of air and atmosphere yet texture was there when called for. Dynamics were equally surprising. Even on large orchestral programming, i.e. Saint-Saens Dance Macabre, they filled the room.
But then look what was driving them: Soulution 540 CD/SACD player ($32,500) and 530 Integrated Amp ($49,000). Wiring was all K-S Elation!, and making its debut was the K-S power distributor (available spring 2013, price TBD). This system was designed to put the Carmels in the best possible light.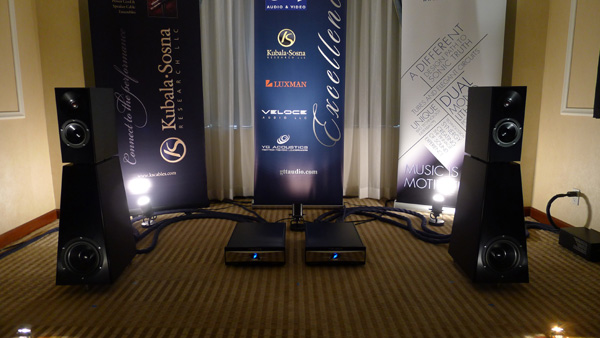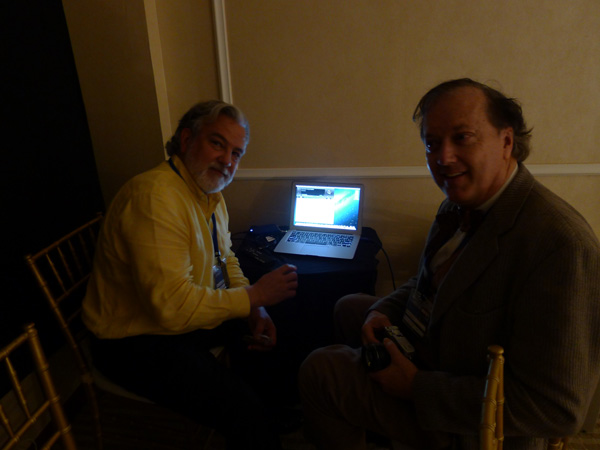 Mark Conti & Philip O'Hanlon
GTT Audio, room 2
Next door it was the YG Acoustics Kipod II Studio Signature speakers ($38,800) that disappeared into an enveloping space. They occupied the entire front of the (small) room seamlessly.
Veloce exhibited their Plantino LS-1 linestage ($18K) and brand new Saetta mono amps ($18K/pr). Are the new Saetta mono amps as good as their well-received Plantino LS-1 linestage? I hope to find out soon. Luxman contributed the new DA-06 DAC ($6K), which accepts streaming data in nearly every possible format, including double DSD. (That's two times the density of standard SACD.) K-S Emotion wired up the system.
Master of ceremonies Philip O'Hanlon presented several hi-res formats and made very impressive comparisons, including raw and edited (or ready for the consumer) versions of the same master tape.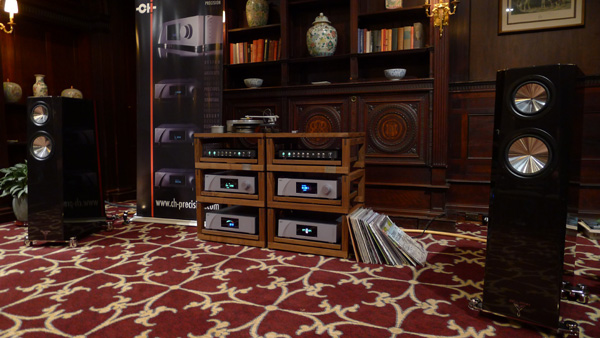 Zellaton Loudspeakers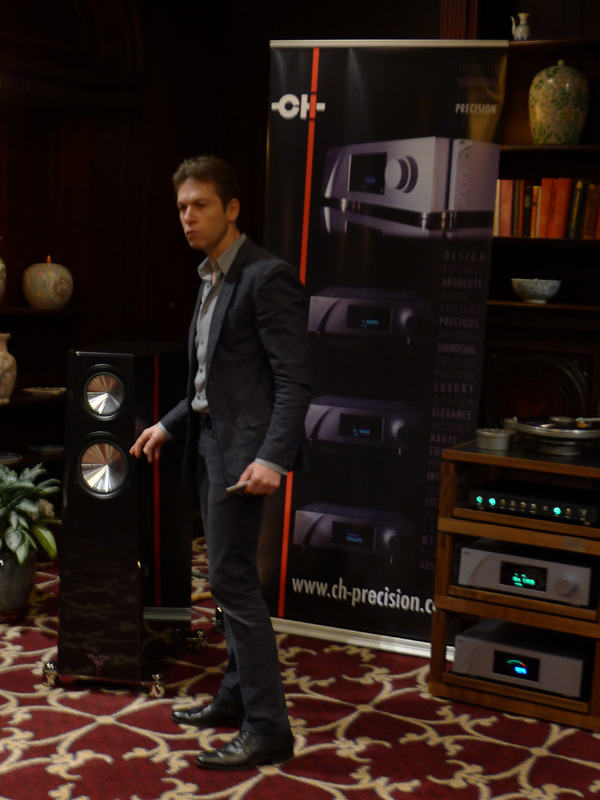 Gideon Schwartz
Audio Arts
I had a mixed reaction to this retailer's room last year. I felt the proprietor had good musical intuition, but it wasn't fully realized.
This year, I am happy to report that the Audio Arts room was excellent. Vinyl ruled the roost via the Simon Yorke S10 turntable ($19,950) and Trinity Phono stage ($34,750).
The rest of the system was the Zellaton Studio Reference One loudspeakers ($52,750) and CH Precision electronics.
Transients had bite: decay was decisive and didn't linger about in a cloud of air. Some listeners heard overshoot in the transient that was corrected in the sustain. Some thought decay was truncated. I found it all highly engaging and a refreshing change—this room bucked the current trend towards politeness. Micro dynamics were outstanding. My only reservation: for gear at this level, I was surprised the low end evidenced a bit of compression.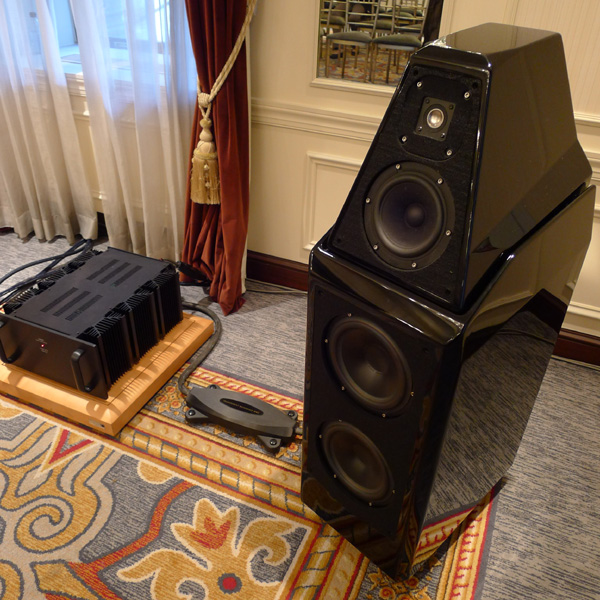 Wilson Sasha W/P
Innovative Audio Video Showrooms – room 1
Innovative Audio's first room had Wilson Sasha speakers, Lamm M1.2 mono amps, VTL preamp and phono stage, and Naim CDX2 digital player.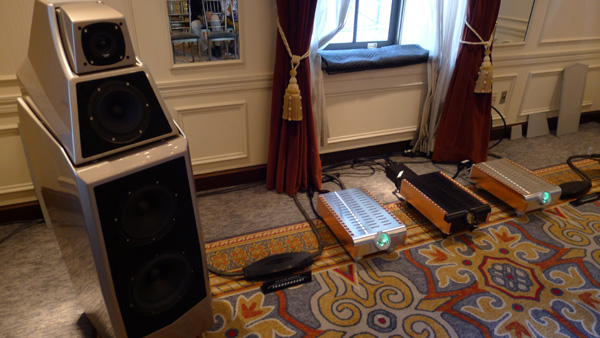 Wilson Alexia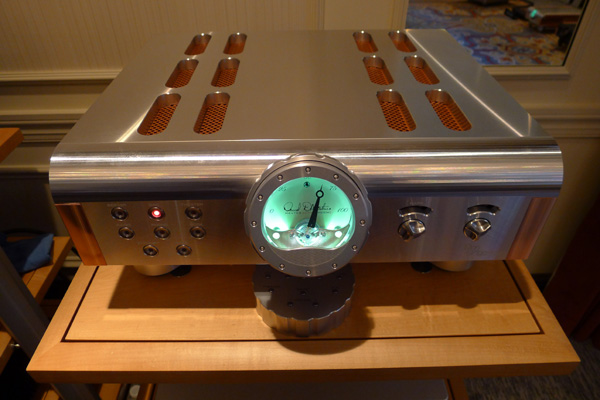 Dan D'Agostino Momentum Preamp
Innovative Audio Video Showrooms – room 2
Innovative's second room had the big Alexia speakers with D'Agostino electronics and MSB digital.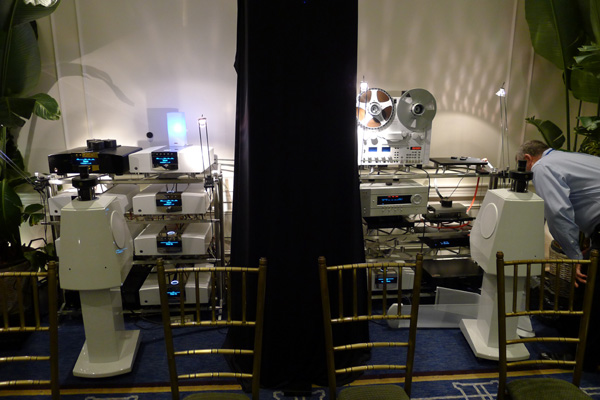 A view of some of the gear in the Sensorium room
Sensorium AVR
Sensorium AVR presented quite a multi-media spectacular, with a lengthy program by reservation only! (Tickets were available on a first-come, first-served basis.)
There was so much gear I couldn't take it all in. It began with purist two-channel stereo playback from a United Home Audio reel-to-reel tape deck and proceeded to 7.1 channel surround sound with video. Ancillary components included a ton of MBL Corona Line electronics and various Radialstrahler speakers, JL Audio Gotham subwoofers, a Theta Casablanca and Sony Tru4K projector.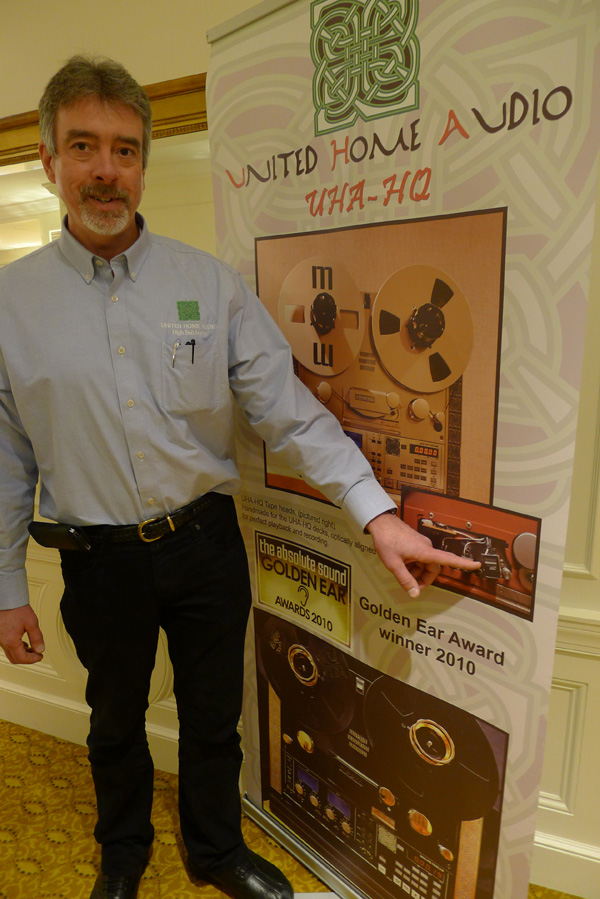 Greg Beron of United Home Audio, the tape deck guy.
If the goal was to transport you somewhere outside a room in the NY Palace Hotel, it succeeded. The walls were lined with tall tropical plants, no doubt placed for acoustical reasons, which gave the impression you were in a botanical garden. (Or maybe a fancy jazz club, or a stadium.) This was home entertainment on a grand scale.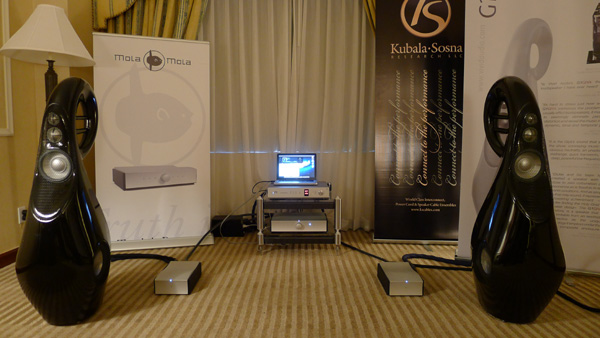 Vivid & Mola
Rhapsody Music and Cinema
My initial impression was of this room was very good sound that fell just shy of really opening up. With Vivid G3 speakers, Mola Mola mono amps and preamp, Luxman DA-06 DAC and K-S cabling, I thought I detected the hallmarks of Class D amplification.
Then Philip O'Hanlon took us on a journey of sampling rates via the Luxman DAC. Master Philip began with the very famous Bill Evans track Waltz for Debby sampled at 44K. It was dynamic and big, but the piano and cymbals were kind of glassy—too smooth and lacking texture. Then he cued up a 96K version from the same master, followed by a 192K. With each upward bound, we moved away from smooth into micro-detailed and textured. By the end it was there: there was no trace of that glassy, Class D quality.
It seems the benefits of higher sampling accrue without limit. Competition for vinyl? IMHO digital has arrived.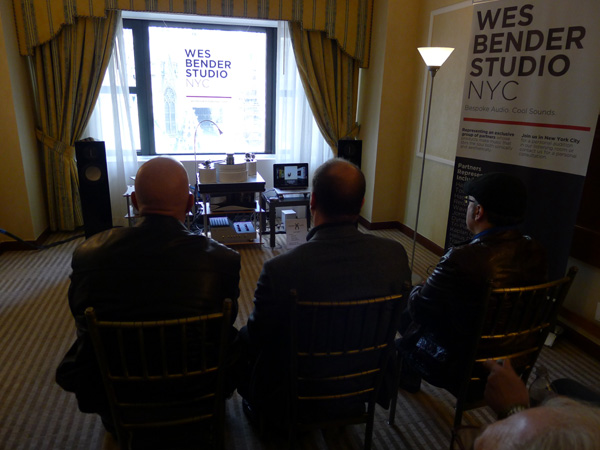 Wes Bender Studio
You can count on Wes for good vibes and good tunes. Once again, analog was ascendant, fronted by the Redpoint Audio Model D turntable ($29,000), with two arms (Helius Omega and a Tri-Planar Ultimate), and two phono stages (Hagerman Trumpet Reference and the well-received Zesto Audio Andros PS1.) Actually, there were three phono stages, if you count the one in the E.A.R. 868/PL preamp. E.A.R. introduced their two-chassis SACD player.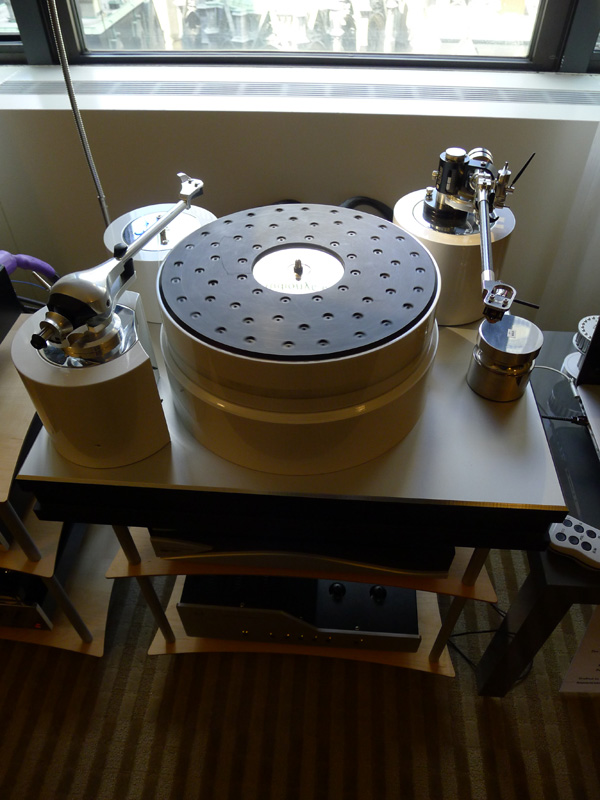 Redpoint Audio Model D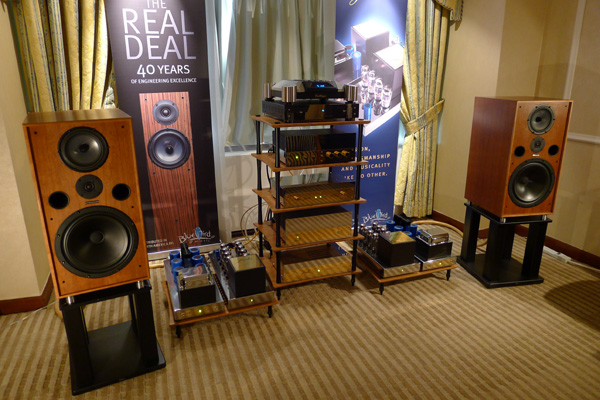 Jadis Electronics and Spendor Speakers
David Lewis Audio
Jadis Electronics are back in the USA. The photo shows the beautiful, two-chassis JA200 monoblocks.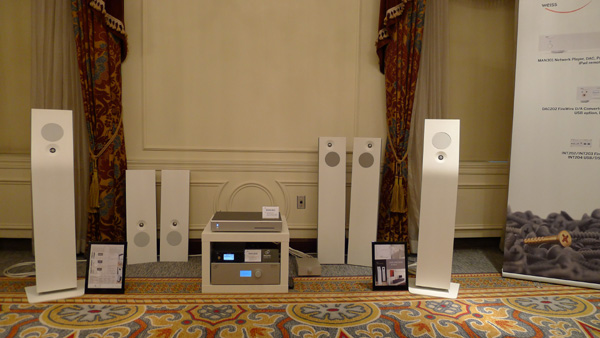 SimpliFi Audio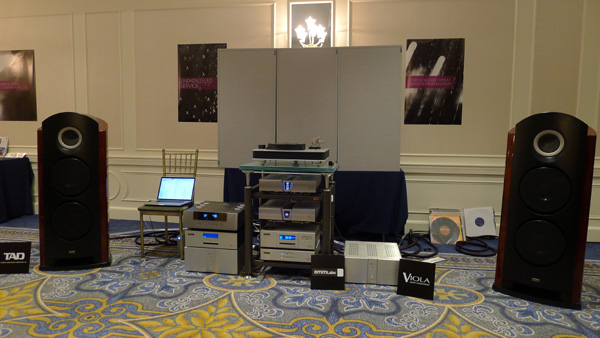 TAD speakers 1
TAD, Viola, Avatar Imports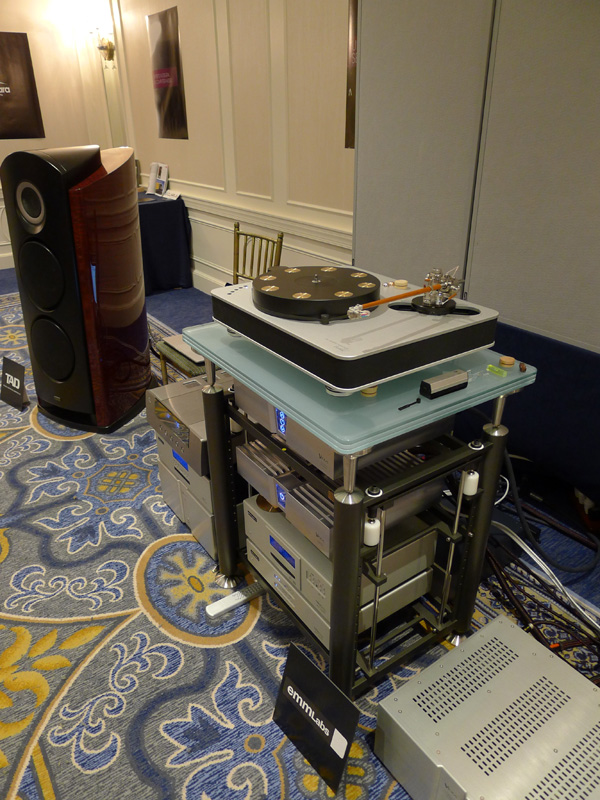 Dr. Feickert Firebird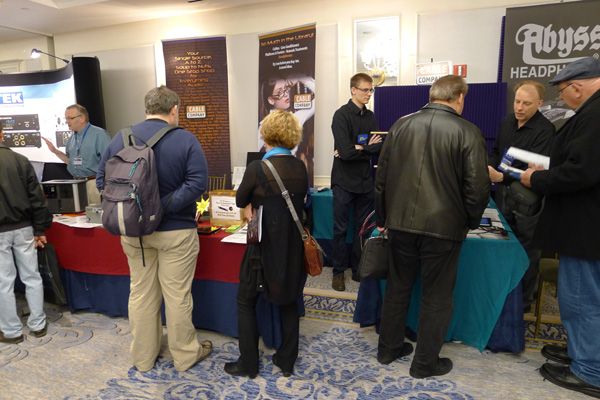 Wrapping Up
NYAS 2013 was both bigger (40 plus demo rooms) and more upbeat than NYAS 2012. Public attendance appeared quite heavy and the vibe was better.
Last year I noted the vinyl resurgence evident everywhere. Now it looked like music servers were taking over. Still, reissue LPs were dominant on the retail floor, but discounts were scarce with most vendors asking close to full price.
I found NYAS 2013 unusually stimulating in one regard. Those demos with the new Luxman D06 D/A converter convinced me that hi-res digital files can be competitive with the finest vinyl playback, and even reel-to-reel tape, for that matter. Audiophiles in pursuit of the ultimate now have three possible sources.