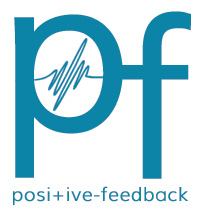 You are reading the older HTML site
Positive Feedback ISSUE 66
march/april 2013
2013 New York Audio Show... Day Three
by Ken Micallef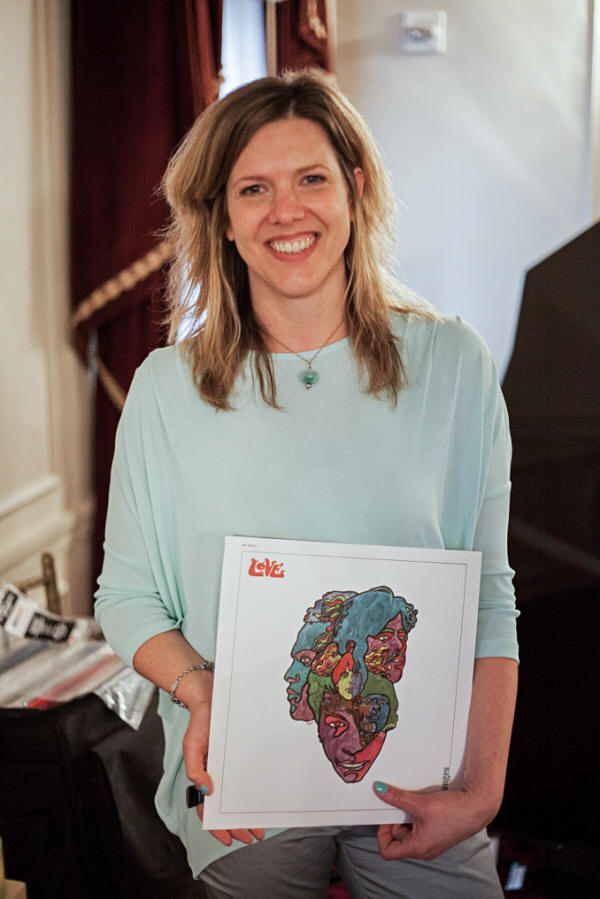 While most exhibitor's rooms were up and running on the last day of the show, the final day afforded one the leisure to enjoy rooms of a more theme-based variety. Colleen "Cosmo" Murphy's "Classic Album Sundays" was a big hit at NYAS, the former record store clerk turned international DJ/audiophile/record historian bringing passion and insight to her popular LP listening sessions, which began in the UK and have now gone global. Murphy brings select LPs, played through a well chosen system and insists on a text-free, talk-free listening environment.
Each "Classic Album Sundays" session begins with Murphy enlightening the audience about the history of the album she's about to play. The Chester Group and Wilson Audio Specialties brought in a super system of Wilson MAXX3s, VTL Siegfried tube amps and VTL Reference preamp and phono preamp, and Transparent Opus cabling. For LP spinning, a Spiral Groove SG 1.1 turntable was outfitted with a pair of Centroid arms, one fitted with a Lyra Atlas and another with a Miyajima Labs ZERO. Over the show's three days Murphy played Kraftwerk's Autobahn, Talking Head's Remain in Light, The Beach Boy's Pet Sounds, Stevie Wonder's Innervisions, and more. See Murphy's site, http://classicalbumsundays.com/, for a location near you!
Sunday's Classic Album session was combined with "Michael Fremer's Big Opinions on Pressing Quality" for a double whammy sound experience. Playing two pressings of the same LP back to back, Fremer illuminated the huge differences that mastering labs, mastering processes, and the vagaries of record label involvement can have on the LP you purchase. Think all original or reissue copies of Nick Drake's Five Leaves Left sound the same? Think again. The sonic differences between the LPs Fremer played were stark, from an original Love Forever Changes to the reissue (the reissue sounded better), to two reissues of Tom Wait's Small Change, one mastered from digital and the other from analog tape. Perhaps most puzzling, two seemingly exact copies of Buffalo Springfield's Again, same label, same mastering house, and presumably the same matrix number. One sounded good, the other glorious. The moral of the story? If you see an original copy of a favorite LP in excellent shape, buy two.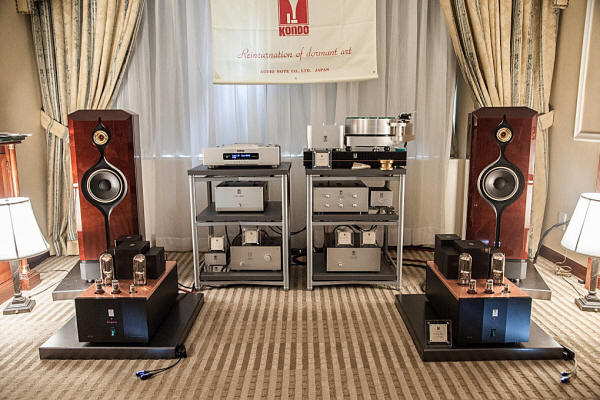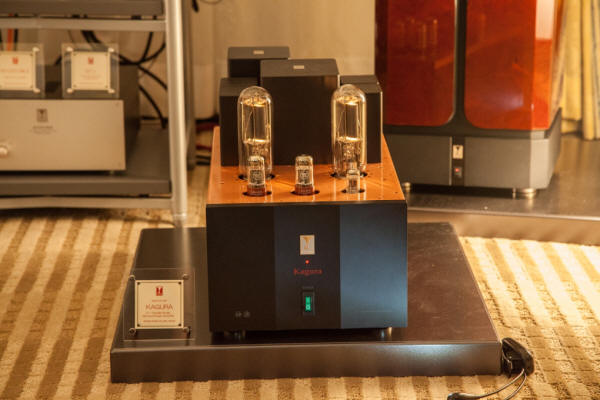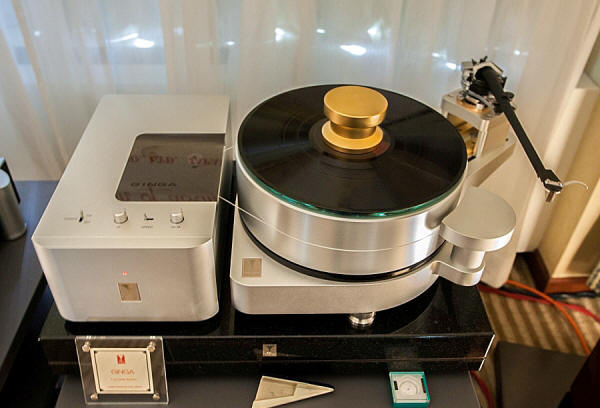 Back in the hallways... Rhapsody Music & Cinema brought Japan's original KONDO Audio Note Co., Ltd. to NYAS, playing a system that included the prototype Kagura 55W mono-blocks ($150k a pair), Biyura field coil speakers ($65k a pair), Ginga turntable ($100 - $120k), GE-1 phono amplifier, G-70 line preamplifier, and CFz MC step-up transformer. Under a banner stating "KONDO Reincarnation of Dormant Art," the Audio Note system depleted my adjectives for sonic beauty: pristine, dynamic, rich, tonally accurate. The KONDO AN system truly followed the musical notes with an at times spooky faithfulness. An early '50s recording of Louis Armstrong's "St. James Infirmary" was revelatory, the weight, breath and air of his vocals and trumpet enough to bring chills. When a system can translate the deathly beauty of such a masterful performance, that's special. At track's end I could almost see Armstrong aiming his horn heavenward, trumpet notes blasting the sky.
Finally, it was back to the registration area, which was still hopping with record sellers, manufacturer's reps, tweaks of every variety, mute displays and plenty of audio discussions. As I cocked my ear in and out of various conversations everyone sounded happy with the show, a good sign for next year.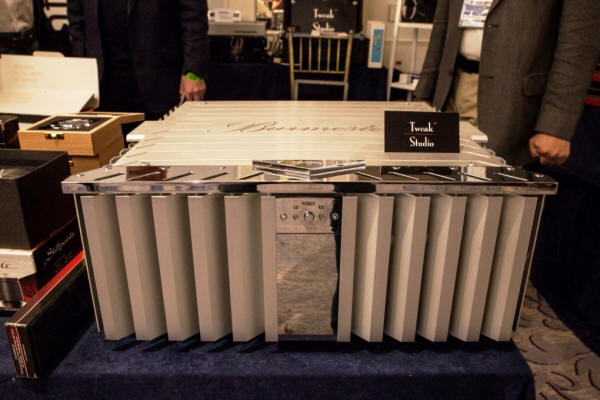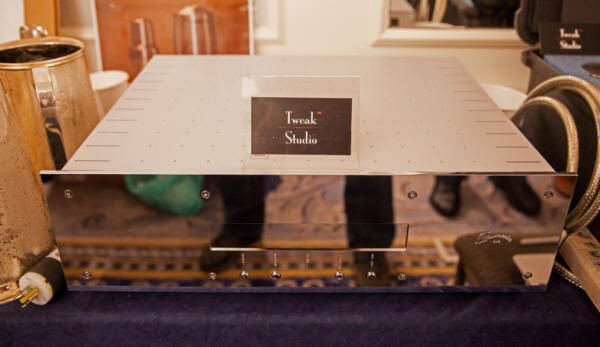 Arnold Martinez of Tweak Studio had two heavy duty Judy Burmester units on display, the 948 Power Conditioner ($8900) and the 911 MK3 power amp ($31,000).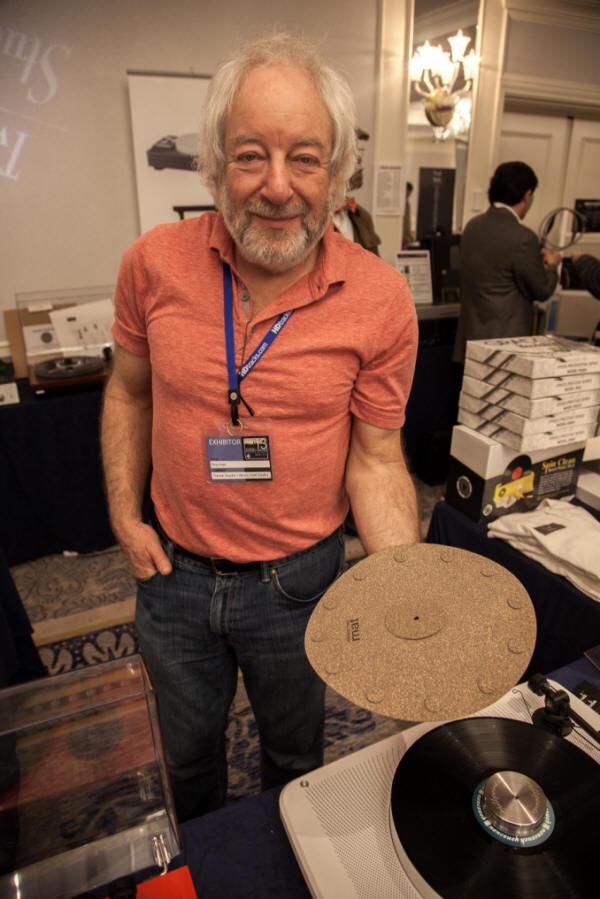 Along with various tweaks and turntables (including the forthcoming Ikura), Music Hall's Roy Hall (wha? No libations?) proudly held his all cork Music Hall MAT ($50) aloft, like a proud papa offering a child. The MAT's design includes 12 small cork pads around its circumference, which suspend the LP slightly above the mat, as does a single larger pad around the spindle. Roy claims greater resolution and pacing from the MAT.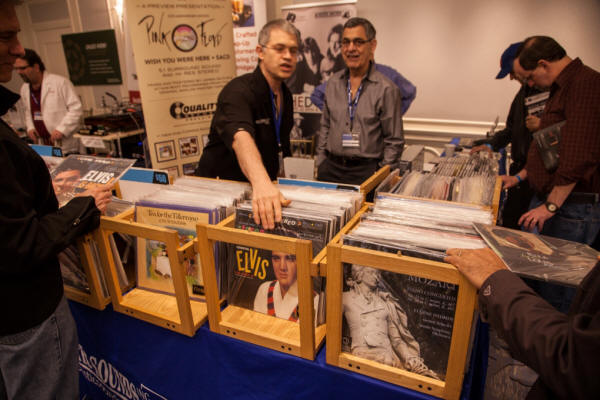 Acoustic Sounds and Chad Kassem were in full force at the show, selling unique vinyl and offering plenty of free advice. Kassem could be overheard passionately promoting his records to everyone within earshot. Out of earshot, at the first floor entrance to the event, I overheard Chad trying to entice the security guard with a few bucks to let him bring in coffee. As I learned earlier, The New York Palace is a coffee free zone. But Kassem wouldn't be deterred. As he offered cash, the guard said, "Sir, it's not about that." To which Chad replied, "It's always about that." The coffee stayed on the first floor.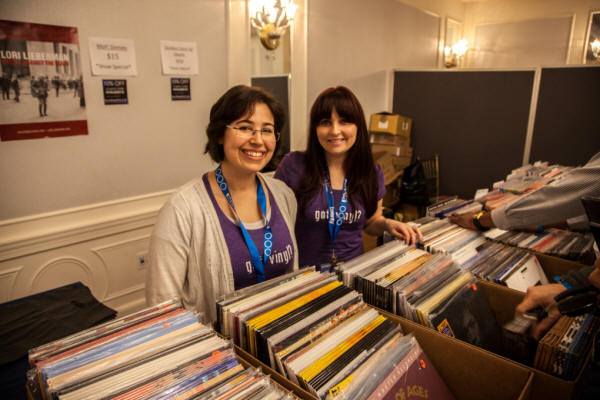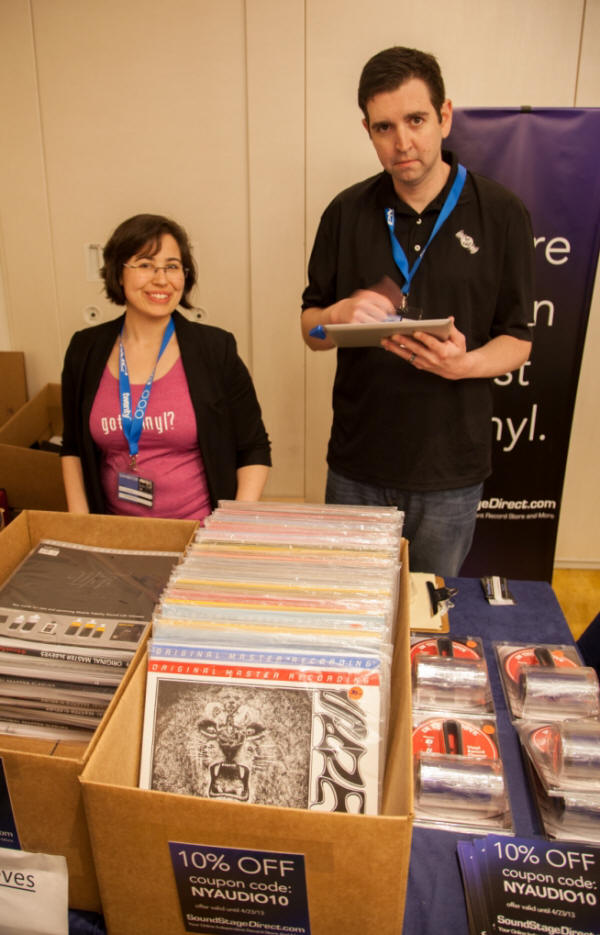 The good people at SoundStage Direct were selling vinyl on three floors, and offering 10% off both at the show and with a supplied coupon to their site. Their professionalism and friendliness really impressed me, for two days in a row not only holding my purchases until day's end, but running them down to the fourth floor registration area for pickup whenever I was ready!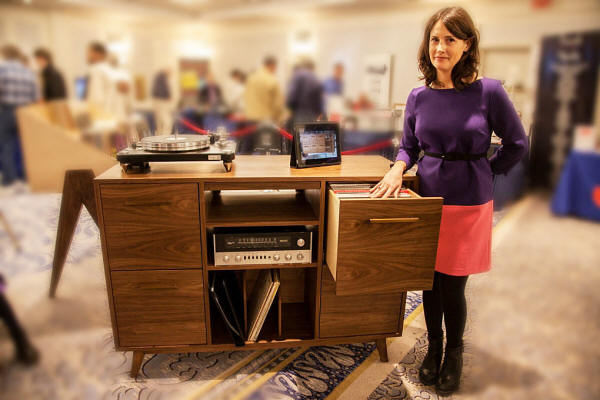 "Atocha Design specializes in artisan crafted, mid century inspired furniture to store records, CDs and Audio equipment." Here, Jennifer Levin Atocha and her Open Close Series cabinet ($5,985) in Walnut with 4 LP drawers and a digital slide out shelf stand center stage, VPI Scout optional. See more of Jennifer's work at ATOCHADESIGN.COM. And to think, I thought she was selling turntables!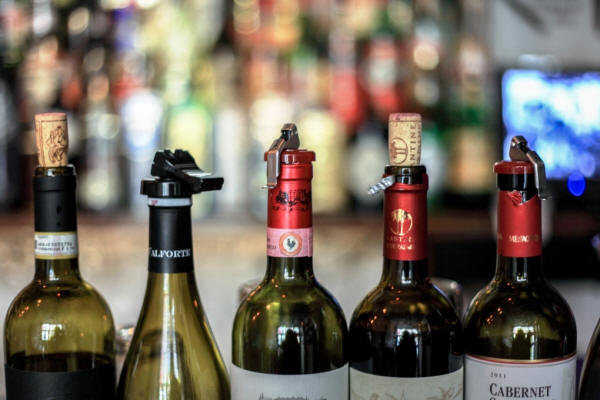 The 2013 NYAS offered a few rooms with truly excellent sound, a lot of average sounding rooms, but all with great human interaction and information to be had. Most rooms played good music beyond the usual audiophile malaise of creamy voiced female vocalists and crusty blues crooners, and hearing Love's Forever Changes and Pet Sounds through the Wilson/Transparent/VTL system during Classic Album Sundays was terrific. All hail The Chester Group! I tip my bottle, and my glass!