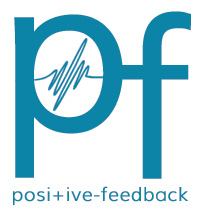 You are reading the older HTML site
Positive Feedback ISSUE 66
march/april 2013
Primyl Vinyl and The Collector's Illustrated Vinyl Bible
by Bruce Kinch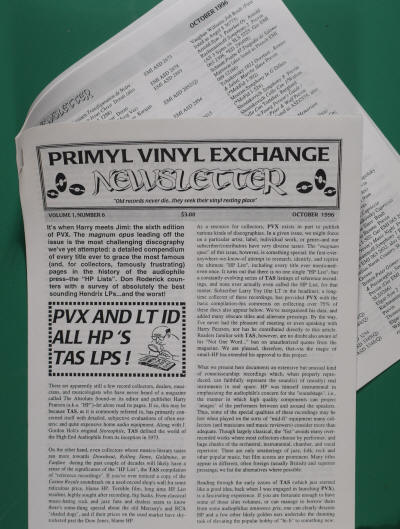 Way back in the last century when Positive Feedback was printed on paper and in living black and white, I self-published a photocopied newsletter for audiophile record collectors called Primyl Vinyl Exchange, PVX for short. The Perfect Sound of CDs had arrived a decade before, and lots of folks had been helpfully dumping entire collections of primo vinyl at Boston's many used record stores. I was filling boxes with Mercury's and RCAs and Blue Notes at $1-5 a pop, even less at yard sales over the weekend. I had long been a reader of The Absolute Sound and Stereophile as well as Fanfare, Gramophone, and had started using an early Mac to collate various reviews into want lists. I was still single and had my priorities straight. I spent more money on concerts than records, more on records than audio gear, and more on audio gear than I probably should. Still do. The Internets was only just beginning to take over the arcane knowledge universe, and there seemed a need for a forum for unreconstructed analogists like myself.
But the real reason I started Primyl Vinyl was fraud. I was a college professor teaching photography, and always took a trip to shoot somewhere warm over the semester break. That year, I was heading to Death Valley; from Boston, I could fly to either LA or Las Vegas and rent a car, and Vegas flights were cheaper. I was tire-kicking at one of my regular haunts, Q Audio in Cambridge, when the trip came up in conversation with the then owner, Bob Heenan. He laughed when I complained how hotels in Vegas were surprisingly expensive. "That's because it's CES week... and you should go!". Except CES was not open to the public, trade only. Bob refused to let me steal a business card and impersonate him, but suggested I "go as press".
So, mea culpa. All I needed was a publication and a business card in 48 hours. I "borrowed" a layout program from a fellow faculty member, and started designing a fake newsletter. For content, I boldly violated copyright on whatever might fill a page. The lead article was from the early days of the LP, complaining that despite the marketing hype, 78s sounded better. Plus ҫa change, etc. I needed a back page, so I scanned record store ads from the Yellow Pages. Avery made sheets of blank precut business cards, so that was easy. I printed a few copies, packed the camera gear, and headed for the airport.
Death Valley was awesome, but when the time came to pack up and head for Sin City, I was more than nervous. As it turned out, at the CES check-in, the fake business card was all I needed to get a Press badge: Primyl Vinyl in bold, me as editor. The Convention Center was a zoo, but high end audio was actually blocks away at a slightly dowdy but slot-free motel, busy but not mobbed. I tried to blend in, but show etiquette requires everyone surreptitiously scanning the badge around every other person's neck before greeting them like old friends; I had to keep explaining what Primyl Vinyl was, and weirdly enough, people wanted copies. Each night I photocopied another batch at Staples. At the end of the show I had somehow given away over a hundred samples and acquired 13 paid subscriptions. My kind of luck.
Why? Well, I figured I could do a few issues in exchange for discounts (and tax deductions) on equipment and audiophile LPs. I ended up doing four years of Primyl Vinyl, because it was kind of fun, and because subscribers started submitting articles (the Exchange part) on re-wiring Rega tonearms, record cleaning tricks, record reviews, 10-Best lists, all sorts of things.
One of the issues featured (with Harry Pearson's blessing) a collation of all the titles ever to appear on the many Absolute Sound "Super Discs" lists. Much of the work was done by a subscriber, Larry Toy, who was intent on collecting them all. Between us, we had a complete run of TAS from issue one. We went over them again and again, as there were typos, changes, revisions, and alternate pressings galore. Most of HP's own LPs had been lost in a fire, so there was no officially "absolute" list possible.
The copyright cops never knocked on my door, but Primyl Vinyl succumbed to its own modest success when subscriptions approached 1500 and the part-time venture began to consume far too much time and energy from my day job and personal life. I had segued into writing occasional pieces for Positive Feedback, Listener, and yes, TAS, so at least I had gone legit. But I still run into ex-subscribers now and then, or get emails about back issues.
Which, in a roundabout way, is why a few months ago I received a very interesting and impressive hardcover book, The Collector's Illustrated Vinyl Bible, direct from the author, Alfred H.C. Wu. Alfred had emailed me a while back asking for a copy of the TAS List issue. We were cited in Wu's bibliography, and he most graciously sent me a copy. Crime pays, Mom.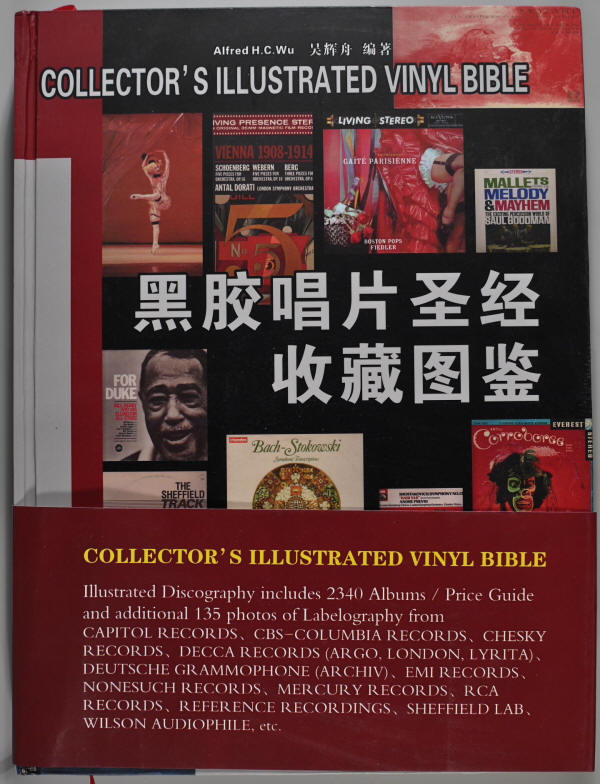 And Wow! An active collector/audiophile himself, Wu has managed to print full color photographs of the covers of every LP, CD, and SACD ever on the TAS lists, with basic discographic and production information and even a price estimate (basically what he had paid). That takes up the first 394 pages, followed by pictures of other TAS recommendations from Sid Marks, Jonathan Valin, and Mark Lehman, illustrated summaries of James A. Mitchell's "Golden Era of RCA" list, the Gramophone Top 100 lists, a compilation of the best early Everest LPs and the entire Lyrita stereo catalogue. There are often pictures of alternate covers and reissues, labelographies, and an index by artist and composers. It ends up at 693 pages, and nearly 6 lb. There is even a ribbon bookmark, just like those other Bibles.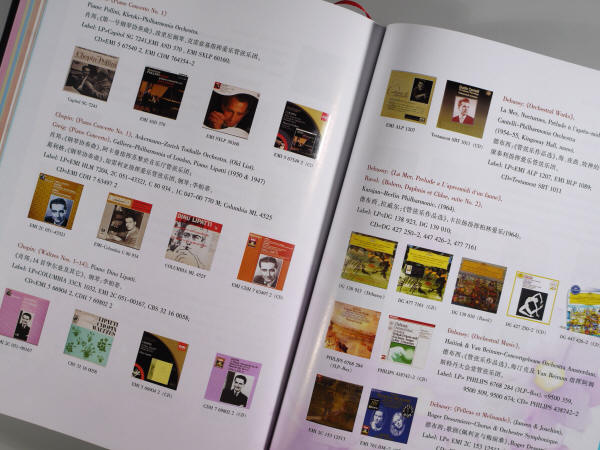 Many collectors I know can happily flip through countless LP jackets in record store bins and yard sale boxes, but don't carry around detailed want-lists and check catalog numbers. Eventually, one simply develops a visual memory of covers, labels, and other indicators of desirability. But if you've never seen a copy of something, you can often pass it by (I know I have, all too often). Spend some time with Wu's magnum opus and you won't flip by the many less obvious audiophile spectaculars, like Cantabile CSPS 1349, Orion ORS 78282, or Richardson RRS 70001.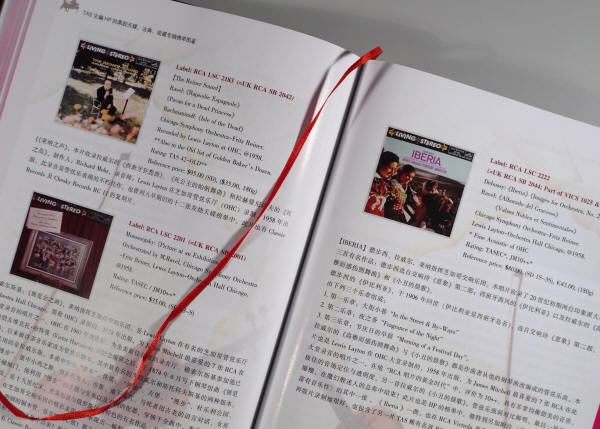 There are some limitations to this ultimate audiophile discography, however. It is TAS/Gramophone intensive, so primarily covers classical music recordings and the few pop/rock/soundtrack LPs HP favored. While all the essential information is in English, some of Wu's own commentary is in Chinese only. It is also a limited edition, and I think he may have only about 100 copies left (it has done well in the Chinese/Taiwan market). There is no official US distributor, so the books must be shipped from China or Austria (where Alfred is based).
Given the superb reproduction quality, and personally understanding the research involved, I consider it an amazing bargain at the official list price of $75, and. However, Alfred understands the language and shipping problems, and is willing to offer a substantial 25% discount to US-Canadian buyers, available through 4/30 if you mention you saw this on Positive Feedback. (I'm sure he would consider trading for a copy of Valin's RCA Bible, too).
For more information, see his web page, www.alfredwu.com, note the link to web page 8, which has the ordering information.