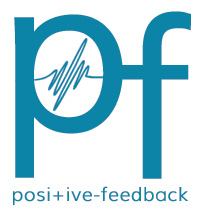 You are reading the older HTML site
Positive Feedback ISSUE 66
march/april 2013
Rodrigo: Complete Orchestral Works - 2
by Stephen Francis Vasta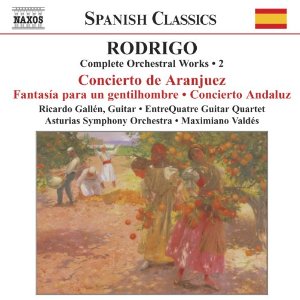 Asturias Symphony Orchestra/Maximiano Valdes. Naxos 8.555841. TT: 68.14. Downloads: classicsonline.com (mp3, 320 kbps); emusic.com (mp3); amazon.com (mp3). Concierto de Aranjuez; Fantasia para un gentilhombre (Ricardo Gallén, guitar). Concierto Andaluz for four guitars and orchestra (EntreQuarte Guitar Quartet).
In the Concierto de Aranjuez, Joaquin Rodrigo fashioned one of the best-loved concerti for guitar; and he did so shrewdly, so that it "works" in almost any competent performance. He masses the players -- the woodwinds as a choir, the strings in unison or octaves—thus minimizing the effect of technical weaknesses within sections while intensifying timbral contrasts. He also has an ear for clear, distinctive instrumental combinations, as when he sets a solo trumpet going in one direction, supported by a reed chorale going the other way. So, while it doesn't hurt to have, say, the lush sounds of the Philadelphia Orchestra behind the soloist—as John Williams does on Sony—the scrappier Monte Carlo Opera Orchestra, supporting Alexandre Lagoya on Philips, can bring the piece off equally well.
All this is by way of saying that the Asturias Symphony, standing somewhere between Philadelphia and Monte Carlo in expertise, sounds lovely, not just in the Concierto but throughout the Naxos program. The strings make handsome, unified sounds—note the warm outpouring of sound at the start of the Fantasia para un gentilhombre—and the roster of principals is fine: the 'cello solos are vibrant, the cor anglais liquid, and the horn particularly velvety. The solo trumpet is capable of pillowy, pinpoint articulation, but rides sharp in those wind passages cited earlier; some of the woodwinds, in their turn, are blowing sharp in the Fantasia. But the phrasing is consistently pointed and graceful.
Interpretively, the outer movements of the Aranjuez have a nice rhythmic lift, but the central Adagio doesn't quite hang together—for all the beautiful playing, it seems endless. The Fantasia begins with a grave dignity befitting the "gentleman" of the title, becoming more spirited at the Española y Fanfare (track 5). In both these scores, Ricardo Gallén needn't yield to any of the high-profile guitarists on the big labels. He renders the passagework crisply—articulating even the quick triplets with breathtaking rhythmic precision—and projects the cantabile lines of the slow movements with feeling.
The members of the EntreQuarte quartet are equally deft and precise in the passagework of the Concierto Andaluz—the point of having four guitars isn't to add volume, but to access a greater variety of textures—and add rhythmic bite to the sweeping orchestral sound. The piece certainly sounds livelier, and less clichéd, than it did in either of the versions by Los Romeros (Mercury, Philips)—the finale's dash is irresistible.
The recorded sound is excellent, providing color, depth, and clarity in equal measure.
Stephen Francis Vasta is a New York-based conductor, coach, and journalist.