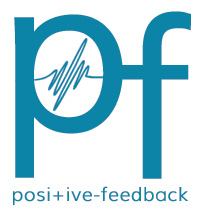 You are reading the older HTML site
Positive Feedback ISSUE 66
march/april 2013
stein music
Aventurin 6 Phono Cartridge
as reviewed by Robert H. Levi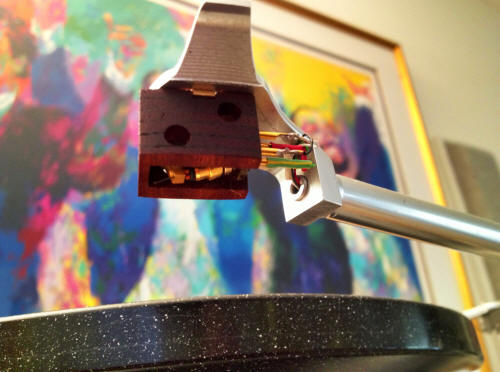 Photograph courtesy of Michael Mercer, Positive Feedback Online
From that wondrous inventor of Stein Music accessories—with which I have trouble living without—comes a surprise! Yes, the speaker Matches and Harmonizers, etc., are complex and well thought out, but excellence in the world of audio enhancement accessories does not necessarily mean that you can develop and manufacture phono cartridges. But in this case, it does! I will tell you this: once the Aventurin 6 MC is nicely installed and tweaked in a reference system, be prepared to rejoice.
The System
The Aventurin 6 weighs in at 11.5 grams, so I installed it in my Helius Omega Tonearm, which has appropriate balance for cartridges weighing over 9 grams. With so many 90 degree planes, leveling was a snap. I tried numerous stylus pressures and settled on 1.8 grams with about .9 grams of anti-skate.
The turntable is the E.A.R. Disc Master Magnetic Drive. The phono cables tried included the Kubala-Sosna Elation and Emotion, Jorma Origo, and Kimber 1036. I settled on the Jorma Number 1, recently discontinued. (If you can find it used, buy it!) The phono stage is the E.A.R. 324 Solid State piece. Interconnects to the preamp are the Kubala-Sosna Elation balanced. The preamp is the E.A.R. 912 Tube unit. The amps are the E.A.R. 890 monoblocks, and the speakers are the Marten Birds with diamond tweeters. All interconnects are the Jorma Origo and all power cords, save one, are Kubala-Sosna Elation. The PC to the 912 is the Jorma Prime. Lowest frequencies are handled by the REL Stadium 3 subwoofer crossed into the circuit at a low 23Hz.
Specs from Stein Music, Newly Revised
Holger Stein provided me with an updated spec sheet and construction blueprint, as follows:
Stein Music Aventurin 6 Cartridge
The base of Stein Music Aventurin cartridges is the harmonic construction using a cast bronze structure as a base in conjunction with a housing made out of a composite of Mahogany and Carbon.

Here we optimized every detail to get the overall performance we wanted to have.

The bronze base is made of a special alloy optimized for its acoustic qualities.

It is not machined, but cast to get a tension free structure.

Also mass distribution and geometry of this base is optimized to give the cartridge a stable base to work and also transmit resonances effectively.

After a long test series with different materials we choose a composite of Mahogany and Carbon for the best sonic results in conjunction with the bronze base.

A final treatment with Stein Music Maestro lacquer then is what makes the overall result perfect.

The generator of Aventurin cartridge is similar to the top line Benz generator.

It was adopted in long time listening tests to become a perfect match to our ideas of a natural sounding cartridge.
The original bare motor, cantilever, and stylus are provided by Benz of Switzerland from their top LP model cartridge. Everything else is Stein Music: including the unique bronze housing, carbon/mahogany body, and many other modifications.
Tracking and loading
The Aventurin 6 will not mistrack. (Well, OK, so maybe a serious earthquake or a very clumsy person might be able to do it. Try not to be a very clumsy person!) I tried to disturb it, but at 1.8 grams it will work flawlessly. I just wanted to get that bit of info out of the way. Also, it is a 90% cartridge. That is, get it 90% tweaked and it will perform superbly. Do not sweat the small stuff with the Aventurin 6. By the way, I settled on a load of 500 ohms; 1000 ohms sounded almost as good. That is the range I recommend, and so does Holger Stein.
The Sound of Music
To compete directly with the Aventurin 6, I set up my London Reference Cartridge, a killer powerhouse if there ever was one, on my second arm. I also spent time with the Grado Statement 1, Koetsu Rosewood Signature, and Dynavector XV1s. On LP after LP, stereo and mono, original and reissue, 33 and 45 rpm, 150-200 gram thickness, and all prewashed with Record Time fluid from Musical Surroundings, I preferred the performance of the Aventurin 6 over all the others. (The LPs that I used are listed at the end of this review.)
The most important musical features to note where the Aventurin 6 excelled included:
1. More meat on the bones reproduction was evident, even on electronic music! I heard clearly the boxes and strings of string instruments. Vocals were more complete and complex. Horns had more textural information. I was always surprised by how complete and protoplasmic instruments and vocals sounded. Amazing.
2. Surface noise in all its guises was reduced. I have never heard a moving coil cartridge do this. I consider this a breakthrough for cartridge design and dampening. It seemed 25% quieter than the London Reference, while providing even more definition. This is an engineering feat of the first order!
3. The Aventurin 6 was even-steven from top to bottom, with nary a lump or bump at any frequency. Its response on complex material was awesome. None of the other cartridges were as even and complete sounding as the Aventurin 6. The Dynavector was close, but its leanness and lack of slam was evident.
4. Images were more solid than any other cartridge I know of... tape-like sound was very evident. Breakup and grit were near non-existent. The Aventurin 6 had a solidity and authority not heard by this reviewer from phono, ever.
5. Front-to-back and right-to-left staging was superb. Layering in every way was exceptional and authentic sounding. Scary great sound on chorus, and large orchestras were a treat to hear. Image height and mellifluousness was a thing of beauty.
6. Set and forget. Not many expensive MCs are like this. The need to fiddle with this beauty, once dialed-in, is gone. You just enjoy to the max. This is the exact opposite of my London.
7. Overall definition of the Aventurin 6 is top of the heap. None of my cartridges on hand, or those I am most familiar with, compete with this winner. The Aventurin 6 is a must-try and, for me, a must-own!
Quibbles
OK, so I've been singing praises. Are there any items that I didn't care for so much? Well, yes, there was one thing: the composite box around the cartridge is large and makes spotting the stylus a bit tricky for setup. I got it done, regardless, but things could have been easier. Holger Stein has reduced and rounded the box a bit for easier setup in the next batch coming to the USA, so no worries.
I have no other notes.
Compared to the Benz LP
Amazing but true: the Benz LP's guts used on board the Aventurin 6 would logically mean the Aventurin 6 would sound similar to the LP. Or so you might think. Not so. They could not sound more different. The Benz LP is laid back and polite. The Aventurin 6 is a battleship in wartime. The LP is neutral to the point of bordering-on-bland. The Aventurin 6 is neutral, but with high caloric count, and fleshy like the world's most sophisticated Koetsu (which does not exist.) Stein Music has taken a very well made Swiss ruby generator and transformed it to a musical machine that is new, dynamic, and powerfully musical. Well done Holger!
Conclusion
I have owned many, many cartridges, and have enjoyed LPs for over 50 years. The Aventurin 6 is the best MC yet in every parameter that my ears know. This is saying something, since I have never owned a more sophisticated reference system, from magnetic turntable to diamond tweeters. Hell, my interconnects retail for over $70,000! And yet, I listen to the Aventurin 6 and imagine a half-track tape deck playing the master tape at 15-ips. I hear clear solid images with zero etch, just like being there.
Plus, this is the first time I have experienced a cartridge that reduces surface noise without screwing up anything. Holger says the cartridge was designed to do this. OK by me! Playing a super quiet reissue of a jazz concert is an outstanding experience of sheer realism and musicality. You are there!
I hesitate to gush even more, so let me just say I recommend the Aventurin 6 be on your short-short list for new acquisitions to advance your LP playback. Is it the universal super cartridge we have all hoped would eventually appear on the scene before the LP disappears into download land? Maybe so.
It is available now in America from Fidelis AV. The Stein Music Aventurin 6 earns my most heartfelt and humble cartridge recommendation for a brilliant design producing the real thing. Robert H. Levi
LPs Used to Audition the Aventurin 6 MC
The Nat King Cole Story in Stereo, Capitol Records, SWCL 1613
The Bassface Swing Trio, Stockfish direct to disk, 3578056.1
Belafonte Sings the Blues, Impex records
Eva Cassidy, Songbird, S&P501
Johnny Hartman and John Coltrane, Impulse Reissues A40
Bill Evans, Live at Art D'Lugoffs Top of the Gate, HLP 9012
The Royal Ballet, Ansermet, Classic records LSC 6065
The Firebird, Stravinsky, Ansermet, Speakers Corner SXL2017
Heifetz, Beethoven Sonatas, Impex records, RCA Victor LM 1914
Beethoven Piano Concerto No. 4, Glenn Gould, Impex Records, Columbia MS 6262
Howard Hanson Song of Democracy, Mercury SR90150
All Night Long, Prestige HIFI, QRP, LP7073
Mozart Piano Concertos, Reference Recordings RM2506
Informal Jazz, Prestige HIFI, QRP, lp7043
Scheherazade, Ansermet, Decca, Speakers Corner, SXL6081
Mobleys Message, QRP, Prestige HIFI, lp7061
Rumer, Seasons of my Soul, Atlantic 505
Aventurin 6LO
Retail: MSRP USD $6000
Frequency Range: 10 Hz- 50,000 Hz

Frequency Response: 20 Hz - 20,000 Hz +/- 1dB

Output Voltage: 0,32 mV (@3.54cm/sec/45Deg. 1,000 Hz)

Output Impedance: 12 ohm @ 1,000 Hz

Channel Separation: 35 dB or more

Channel Balance: Below 0,5 dB

Compliance: 15 x 8th Power of 10/dynes

Cantilever Material: solid boron rod Stylus Chip: Micro-ridge diamond.

Coil wound on pure ruby

Recommended Stylus Pressure: 1,8-2,2 grams

Vertical Tracking Angle: 20-22 degrees

Weight: 11,5 grams

Optimal load resistance: 300 – 10,000 Ohms

Tracking ability at 315Hz and 2 gram tracking force >80µm

Suitable for Phono Stages with about 60 dB gain

Lacquered with Stein Music Maestro Lacquer for optimum resonance control

Cast bronze frame for maximum stability

Handcrafted housing made of a carbon / mahogany composite for best
resonance control

Please allow at least 50 hours break in time
Steinmusic Ltd.
Hingbergstr. 103a 45468
Mülheim Germany
Tel.:++49 (0)208 32089
info@steinmusic.com
www.steinmusic.com