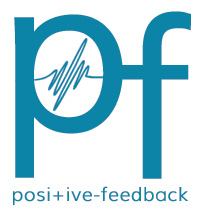 You are reading the older HTML site
Positive Feedback ISSUE 67
may/june 2013
Notes of an Amateur: Messiaen, Saariaho, Beethoven, Mozart; with a p.s. from the Gardiner Bach Cantata Cycle.
by Bob Neill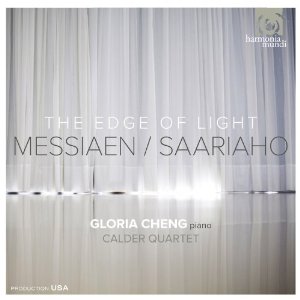 The Edge of Light. Messiaen/Saariaho. Gloria Cheng, piano. Calder Quartet. Harmonia Mundi HMC 907578.
If Debussy is in your head and you are a French composer in the early twentieth century, where do you go? Messiaen's Preludes (1929)—his earliest acknowledged works, written when he was twenty—seem to go through and come out the other side of Debussy. We can hear the older composer's Preludes but we are in an open field beyond them. It is impossible to imagine that this music could have come into being without Debussy, but it really is new. Freer. It is music on the way to modernism but in no hurry to get there. Meditative, elegiac, transcendental. Late impressionism is a fine place to live, Messiaen seems to be saying. Light, space, with no concern for time.
Piece for Piano and String Quartet (1991), which is also included here, comes from the other end of Messiaen's life. He died in 1992. It is very short, playing the role of last words. Classic modernism that lives beyond impressionism altogether.
Contemporary Finnish composer Kaija Saariaho's contribution to this recital is mainly her trio for viola, cello, and piano, I feel a Second Heart. (2007). It is preceded by a Prelude (2006) and Ballade (2009) for solo piano which, presumably by intention, refer back to both Debussy's and Messiaen's preludes whose aesthetic they share. Bolder and more dramatic, they are still quite different from what we expect from this radically modernist composer. Both of these are first recordings.
I Feel a Second Heart is made up of music taken from Saariaho's violent opera about a woman pregnant during wartime. It is recognizably Saariaho: instruments confront one another in their raw beauty to give us access to strong human emotion. We have moved a long way from the transitory consolations of impressionism here.
Pianist Gloria Cheng is a widely acclaimed performer of contemporary music, as is the Calder Quartet. All seem well suited to this music.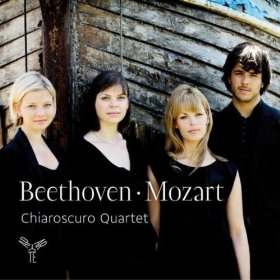 Beethoven. Mozart. Chiaroscuro Quartet. Aparte AP051.
This is Alina Ibragimova's ensemble's second recording and it is as oddly expressive and captivating as their first. (http://www.positive-feedback.com/Issue59/amateur.htm) Their raison d'etre is to play the classical repertoire on period instruments so distinctively that we are not entirely sure what we are hearing. Their implicit statement is that we have not really heard (in this case) Beethoven's Quartet No. 11, Opus 95 or Mozart's No. 16, K. 428—nor the latter's two movement Adagio and Fugue, K. 546, also included.
I finally realized in the middle of Mozart's K. 428 that either they were right or this wasn't Mozart. To begin with, the four instruments do not blend together to give us anything like Mozartian charm and grace. Each feels like a distinct voice; and the tempo/pace feels... well, odd. We feel we are being asked to attend more carefully: this is extremely expressive, thoughtful Mozart. That the instruments are of the period, a little edgy and coppery rather than modern, adds to the effect. Chiaroscuro means literally light and dark, an artistic technique which contrasts rather than blends - and that is obviously the clue. Everything is these performances is about contrast—light and dark, loud and soft, slow and fast, smooth and rough. The musicians seem to feel that we tend to exaggerate the 'classicism' of this music, that we have overlooked its expressive (expressionist?) character to better suit our ideas about the eighteenth century. Those of us who take the smooth edges and polish of Mozart and even of Beethoven for granted are in for a surprise. This is not overplaying that exaggerates for effect. It is revelatory musicianship.
In my amateur opinion, Russian violinist Ibragimova and her colleagues—Spanish violinist Pablo Hernán Benedi, Swedish violist Emilie Hörnlund, and French cellist Claire Thirion—have in two recordings (and to be fair a number of performances) come to the top of the heap. No other ensemble excites me as much in this repertoire. They remind me very much of Alain Planes' Schubert which opens up the whole idea of what Schubertian is.
Don't draw any conclusions from your first hearing. It will take that one just to wake you up to what's going on!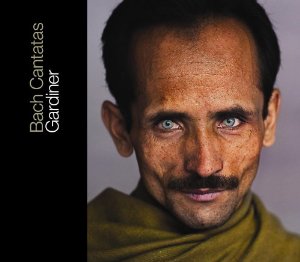 Bach, Cantatas. Volume 28. For Ascension Day. John Eliot Gardiner. Monterverdi Soloists, English Baroque Soloists. Soli Deo Gloria. SDG 185.
For some reason (financial? logistical?) when John Eliot Gardiner and his people completed their Bach Cantata pilgrimage that produced one of the very best Bach Cantata cycles we have, the four cantatas celebrating the ascension of Christ were never done. Over a couple of years following the end of the pilgrimage, the SDG label raised the funds (from folks like us) and here they are. They were recorded last May in St. Giles' Cripplegate, London, with no big name star performers (that I recognize) other than the brilliant Bachian Gardiner himself.
I am pleased and gratified to report that the extremely high standards of the previous 27 volumes have been maintained. The same 'spirit' that animates the earlier performances is here, more than enough to get the Messiah up and away. Especially notable are the male soloists, tenor Andrew Tortise and bass Dietrich Henschel. Tortise's voice is both rich and wonderfully open in its high range. In the second movement of BWV 37, which incidentally had to be reconstructed from just the tenor part by violinist Kati Debretzeni, Tortise and Debretzeni playing together give us some of most eloquent Bach I've ever heard.
So for those of you who like me love Gardiner's Bach, dessert is served!
Equipment used for this audition: Resolution Audio Cantata CD player; Crimson CSD710 preamplifier and CDS640E mono-block amplifier; Tocaro 40D loudspeakers; Audio Note OTO Signature integrated amplifier and E/SPe HE loudspeakers. Crimson cabling.
Bob Neill, a former equipment reviewer for PF Online and Enjoy the music, is proprietor of Amherst Audio in Amherst, Massachusetts, which sells equipment from Audio Note, Blue Circle, Crimson Audio, JM Reynaud, and Resolution Audio. He is also a sales agent for Tocaro loudspeakers distributed in the U.S. by Austin (Texas) Hifi.