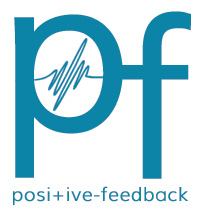 You are reading the older HTML site
Positive Feedback ISSUE 67
may/june 2013
Notes of an Amateur: Rihm, Shostakovich 7, Bruckner 6, and Vivaldi Cello Concertos.
by Bob Neill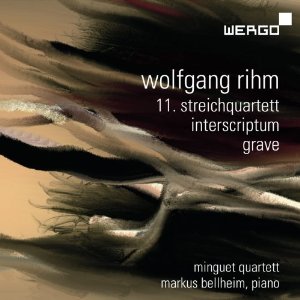 Wolgang Rihm, String Quartet No. 11. Interscriptum. Grave. Minguet String Quartet. Markus Bellheim, piano. Wergo WER 6576.
Dean of contemporary German composers, 61-year-old successor to considerably less radical countryman Werner Henze and to the sparer and more self-consciously avant-garde (and a generation earlier) Austrians, Alban Berg and Anton Webern, Wolfgang Rihm writes rich, vibrant high modernism.
What sets him apart from many of his contemporaries around the world is that he truly seems to speak the language of modernism, rather than just explore or perform it. Listening to him, we sense that we understand better what this continuing movement is really about and why it remains viable a century after its introduction. Rihm has the power to make us believe that traditional classical music can no longer speak to us as it once did, as a living musical language. This is foolish talk but there is also something to it.
Listening to his duo for string quartet and piano, Interscriptum (2000/2002), I had exactly that feeling. This stunning work has the insistent quality of all modernism, but it rises above insistence to description—we feel its powers of description—and it is describing a world we know: a world traditional music can't, for all of its other powers, quite access, let alone contain. I take it that this is the highest praise we can give a modernist work and I intend it to be just that.
String Quartet No. 14 (1998/2010) is the main event of this release. Again, unlike much modernism written these days, it is discursive. It moves in descriptive narration. And it compels us to follow it. We are drawn along, as we frequently are in the music of Penderecki. Increasingly I am finding these two composers, along with Thomas Adès, the most compelling of contemporary modernists.
And I must say, the heretofore unknown to me Minguet Quartet play a powerful role here. We would expect Rihm's Quartet No. 14 to be premiered by the world famous Arditti Quartet who gave us No. 12 as well as No. 3, 5, and 8. The Minguets are firm, forceful, fast, subtle, and delicate—all of which this quartet requires. Quartet No. 14 is a 35+ minute work and the Minguets make every one of the minutes matter. As with Beethoven, we feel the form itself is being elevated. The fourth and final movement is extraordinary.
The final work in the program, Grave (2005), is a single movement work for string quartet, and it is exactly that and little more—grave. A dark epitaph, as it turns out, in memory of the violist for the Alban Berg Quartet, Thomas Kakuska, who died in 2005. The Bergs, who retired in 2005, premiered many of Rihm's earlier works.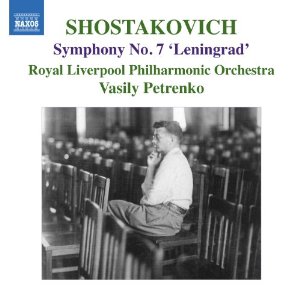 Shostakovich, Symphony No. 7 'Leningrad.' Royal Liverpool Philharmonic Orchestra, Vasily Petrenko, conductor. Naxos 8.573057.
What Vasily Petrenko and his Liverpudlians continue to find in the symphonies of Shostakovich never ceases to impress. Mainly poetry. Quiet eloquence in amongst the tall towers of fff drama and excitement. Walking into the room a few minutes along in my second hearing of the second movement of his Symphony No. 7, I'm forced to stop, sit down, and attend to what's going on: lovely, anxious, searching stuff I'd forgotten was in there. This is one of the truly great recording projects currently in process.
Around the time these recordings began coming out, coincidentally (!) critical opinion about Shostakovich's symphonies began to change for the better. Until then it was mainly the quartets, a few other chamber pieces, and the music for solo piano that appealed to sophisticated Shostakovich fans. Now they're widening their lenses a bit. Listen to the bassoon brooding off behind the clarinets and a couple of violins in that second movement. Listen to the clarinet take over the line. Listen to the whispering muted strings. Shhhh, now the flute and its breathy moaning. And then we're into movement three where the whole woodwind section intones like a chamber organ until the violins join them in a rich chromatic chorus. Can a soul be wrenched? If so, this is utterly soul-wrenching in a wonderfully dark and poignant way that Mahler never imagined.
Petrenko knows that this music is not as sonically enriched as Mahler's. There is more space among the instruments, less blending. The overall effect is of a passionate leanness, a refusal to generalize, smooth, and thicken. If your loudspeakers are especially good at articulation, this recording will spin your head. Shostakovich is more about articulation and detail than I remembered and that is Petrenko's forté. For all of the well-known extraordinary energy and dynamics of its loud sections, the secrets of this music lie in the quiet passages where we hear every word the instruments speak.
Anyway, if you've not gotten into this cycle yet, start here. I've lost track but I think it's pretty near complete now.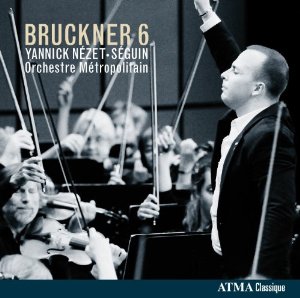 Nineteenth century poets and essayists often talked about an "oceanic" feeling. To understand and enjoy Bruckner, both as performer/interpreter and listener, I think you have to hear him that way. Yanick Nézet-Ségan in his ongoing Bruckner cycle with Montreal's Orchestre Métropolitain has understood this from the beginning, which has won him lots of praise and some criticism. The ocean is not characterized by sharp and sudden dynamic contrasts but rather by long swells leading to crashing breakers. Its storms are fulsome and terrible, not sudden tragic bursts. You cannot 'take arms against the tide,' you ride on it. The oceanic feeling the poets wrote about has to do with breadth, height, depth, and distance. To express it you must write in long periods with themes that rise, fall, and repeat.
I wouldn't labor this metaphor so long unless I meant it to stand for Nézet-Ségin's performance of Brucker's Sixth. Some fans of the composer find Nézet-Ségin's Bruckner insufficiently dramatic. I was not a fan of Bruckner until I heard him through this marvelous conductor—who is about to become head of the Philadelphia Orchestra, by the way. I consider them extremely fortunate but do hope he maintains a relation with his Montreal orchestra, as the chemistry here feels quite wonderful. This performance has lyrical sweep, extended spells of relatively quiet rolling. It is nothing like the hugely rhetorical rumble and stentorian holler I remember in earlier meetings with the work under other conductors.
If you suffer from my previous negative impression of Bruckner and want to hear him done 'properly,' try this recording. If it works for you, move on to his Nos. 4, 7, 8, and 9!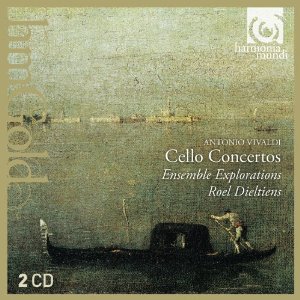 Antonio Vivaldi, Cello Concertos. Ensemble Explorations. Roel Dieltiens, cello. 2 CD's. Harmonia Mundi HMG 508235.36.
This set is made up of two individual releases (made in 1997 and 2001) deemed worthy of re-release by Harmonia Mundi at a bargain price in their Gold Series. The principal musicians are Belgian from I can determine and yes, the overall impression we get here is of northern European rather than Italian Vivaldi. Which is a glib way of saying there is no excessive (or lovable) flamboyance. Tempos are brisk, regular, and spirited; the solo cello is firm, clear, and not at all indulgent. Violins (just two of them—the whole ensemble numbers just seven) are clear and present rather than airy and bittersweet.
Because of the style of play and the small forces, we often have the impression we are listening to chamber music—in fact, a septet. The sound is not at all lean—quite the contrary; but we hear each of the instruments clearly and the solo cello seems more intimate than in performances with more musicians. In comparison, Christopher Hogwood's Academy of Ancient Music numbers fourteen in their set with cellist Christophe Coin, Il Guardino Armonico, sixteen, also with Coin. So this is crisp, resonant, intimate Vivaldi rather than (relatively) fulsome and spacious Vivaldi. The album notes assure us this music was originally played with both small and large ensembles, so 'everything is permissible.' The smaller ensemble definitely suits the 'northern' sensibility.
Cellist Dieltiens, in his solos, especially during the slow movements shows us a very fine and feeling musician. In the faster outer movements his technique is more conspicuous and is equally compelling. Overall, he certainly seems Coin's equal.
Vivaldi's cello concertos are among his most popular music for all of the right reasons, so you needn't feel fat having more than one interpretation on your shelves. These should wear well. My second time through, larger ensembles farther away in my memory, I grew very fond of the warm and savory quality of these 'chamber concertos.'
Equipment used for this audition: Resolution Audio Cantata CD player; Crimson CSD710 preamplifier and CDS640E mono-block amplifier (all solid state); Tocaro 40D loudspeakers. Audio Note OTO Signature integrated (tubed) and E/SPe HE loudspeakers. Blue Circle FtTH2 integrated amplifier (hybrid), and JM Reynaud Abscissa loudspeakers. Crimson cabling.
Bob Neill is a former equipment reviewer for Enjoy the Music and Positive Feedback Online. He is proprietor of Amherst Audio in Amherst, Massachusetts, which sells equipment from Audio Note (UK), Blue Circle (Canada), Crimson Audio (UK), Resolution Audio (US), and JM Reynaud (France). He is also a sales agent for Tocaro loudspeakers (Germany), distributed by Austin Hifi in Austin, Texas.