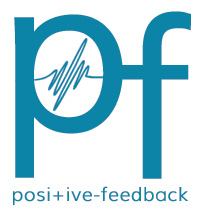 You are reading the older HTML site
Positive Feedback ISSUE 67
may/june 2013
The Future Is Here - Audio Still Rules
by Karl Lozier
Die 12 Cellisten. (The 12 Cellists of the Berlin Philharmonic Orchestra). Documentary Film by Enrique Sanchez. Guests: Annette Dasch soprano and Till Bronner trumpet. EuroArts : Blu-ray 2059314
This rather unique Blu-ray recording is actually a documentary film featuring the group's fortieth anniversary. Much of the time, here the group is usually seated in a semi-circle. The reasons behind this group are probably mainly marketing and simply uniqueness. The popularity of the ever popular cello is always known for its rich and appealing mellow qualities. Its sound easily fills a typical living room though not nearly so fully. So used here as for the past forty years has drawn attention, though it is not always easy to find twelve excellent cellists. Formation of this group cures that problem and the cure is seemingly continuing to be popular.
There are certainly limits to any group of only string instruments that even large numbers can not completely overcome. The beauty and pleasing richness is certainly seductive for the large group though that is not always enough for long term listening. To help that a fine variety of selections including jazz, pop, Beatles, movie themes and light classics and a couple that feature a vocalist or solo trumpet are featured.
Piano Improvisations. Pianist: Ola Gjeilo. 2L Blu-ray recording #082-SABD
Totally unlike his earlier and typical 2L release this sequel release is to be completely spontaneous. Gjeilo says that as a pianist free improvisation is where his heart is. He may know what the first few notes will be and nothing more and may or not insert some old popular passages that just simply appear. I have no idea and neither do you, so we shall learn together. I shall let you know in advance that the audio quality is particularly outstanding and somehow unique in that it seems to more nearly sound like a real piano is being played in my multi-channel listening room. Yes, I mean that there is at least some live quality to what I am hearing. That quality must be in the recording as nothing new is in that system or any changes in the room to affect the audio quality. I can only hope that you find a similar result in your listening room. I have listened to this recording more than once. I do not feel comfortable recommending it to others; I am not certain that it meets most definitions of the word, "music"!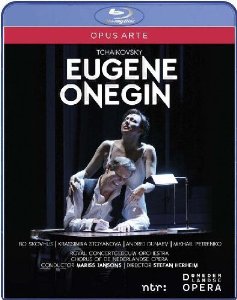 Tchaikovsky Eugene Onegin (opera). Orchestra: Royal Concertgebouw of Amsterdam. Conductor: Mariss Jansons Opus Arte BD71000 D
There are not a great many operas by Russian composers out there, though none are more Russian than the deservedly famous Pyotr (Peter) Ilyich Tchaikovsky and still probably my favorite composer, particularly, when helping newcomers to learn to enjoy classical music.
The story line here falls into one of the usual sad opera plots and in this case I thought the wrong person was the namesake, Eugene. We have a rather unusual introduction and not a typical overture. The voices are all good and as expected with Tchaikovsky, melodies are in abundance. Orchestral playing is simply excellent as is the recorded audio quality. I found myself starting to enjoy this unknown to me opera, previously. The ending passages were longer and a bit more contemporary than expected. Also included were many unexpected philosophical thoughts and passages. This was probably Tchaikovsky's ideas about changes throughout life as youth matures. This outstanding presentation elicited some of the longest lasting audience approval and curtain calls ever and well deserved; very well deserved.
Give it your interest and see if you agree.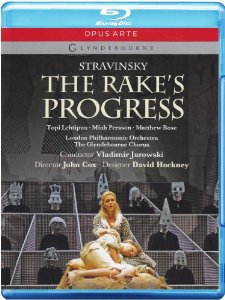 Stravinsky. The Rake's Progress. Orchestra: London Philharmonic. Chorus: The Glyndebourne. Conductor: Vladimir Jurowski. Opus ArteBD7094
Okay, you gardeners and retired farmers. Let's get the title out of the way; do not include it with your shovel and hoe. I really wonder what your dictionary says about it. My constant dictionary companion listing more than 350,000 entries says that it is 'short' for rakehell.
Looking that word up, resulted in a definition of "A dissolute person". We shall just leave it at that, okay? Discussing it with others, all of whom had different thoughts, resulted in general acquiescence that the meaning usually implies fraud, lying or deceit by that person. This revival is supposed to have captured the opera's neo-classical spirit and the actions or reactions of whimsy, cynicism and compassion to become the "classic version of this opera". Not in my mind or any dream episode that I may ever have. Immaturity covers the situation to my satisfaction. Enough said. Listen to it and view it carefully and remember I did not recommend this one. I guess that the acting met somebody's standards; just not mine.
Carl Maria von Weber. Der Freischutz. Orchestra: London Symphony. Chorus: London Symphony. Conductor: Sir Colin Davis. 2SACD LSO0726
Note: With the exception of the Wolf's Glen scene which was recorded with integral German dialogue, all was recorded from live performances.
This concert opera is said to have enjoyed great success in its early years beginning in 1821. The scene is set much earlier in the middle of the 17th century. A variation on the well known and famous selling a person's soul to the devil (or a reasonable substitute) for short term benefits and long term terrible grief is a main part of this composition and many others. In this production , a seemingly a large number of the best known contemporary vocalists in the UK have enlisted and heard in this quite excellent release. It is a concert version (no costumes or scenery though as with the recent inclusion of Naxos audio only Blu-ray recordings here we have the multichannel high definition SACD audio only version. It is seemingly very comparable. As usual with the consistently excellent LSO musicians, the quite fine London Symphony Chorus gets a goodly amount of well deserved praise for this rather recent 2012 recording. This three act romantic opera presentation is simply seemingly without any major flaws. If I could have my druthers, as usual I would give more or closer presence to that outstanding chorus. This composition has seemingly fallen out of favor in more recent years.
Perhaps this fine release will help generate more interest. The audio quality in no way draws attention to itself; it seemingly just gives us what the musicians are doing. No more and no less.