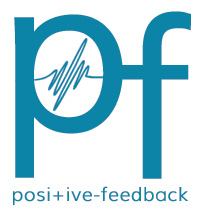 You are reading the older HTML site
Positive Feedback ISSUE 67
may/june 2013
Chandos, Chicago Symphony (CSO), Naxos, Tudor, 2L and PentaTone
by Karl Lozier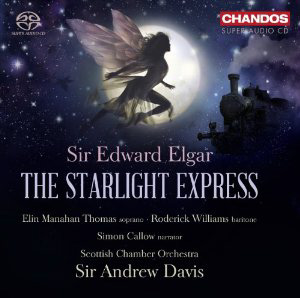 Sir Edward Elgar. The Starlight Express. Orchestra: Scottish Chamber. Conductor: Sir Andrew Davis. Narrator: Simon Callow. Soprano: Elin Manahan Thomas. Baritone: Roderick Williams. Chandos 2-disc set Hybrid SACD-CHSA 5111(2)
There is more than two hours of beautifully performed and recorded music on this outstanding release. You may notice that I've listed a narrator as above. What is going on here? Not the usual or norm that is for certain. Also this recording is a slightly unique production and rather easy to follow and enjoy to your heart's content. A narrator is active here much of the time. So what do we call this sort of production or composition? I am thinking about Grieg's out standing composition of Peer Gynt's story telling though without a narrator. Peer Gynt was a theatrical play and beautifully embellished by Grieg's incidental music. Here also is simply beautiful music that could stand on its own and is aided or guided by a narrator. After a few listening sessions many listeners may simply skip over the narrator sections. The attractive solo voice passages will not be skipped over as they add much to the overall production. Fortunately the Scottish Chamber Orchestra is up to the musical demands of Elgar and the recording is as good as it gets. A photo in the liner notes shows nearly thirty musicians with this chamber orchestra and at no time was there any sense of any lack of fullness in the recording. It is easy to give this two disc release a top recommendation though as usual Chandos' SACD layer offers subtly but definitely better listening with even finer detail than the regular CD layer.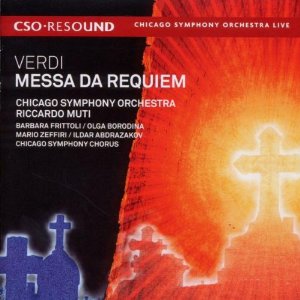 Verdi. Messa Da Requiem. Orchestra: Chicago Symphony. Conductor: Riccardo Muti. Chicago Symphony CSO 2 disc set Hybrid SACD-CSOR 901 1008 (2)
The Requiem Masses are usually very serious religious compositions. There are some rules or guidelines that are usually followed. The very famous and prolific opera composer Verdi is used to writing music, operas mainly, so that listeners hear things that simply are very appealing. Treating parts of his Requiem he is making this Mass as if it is meant to be appealing to most listeners, and it is. Attractive passages and melodic lines are at times very appealing. He is not making it as if it was an opera though attractive words and phrases are certainly there. All that makes for one of the easiest if not the easiest Requiem Mass to find appealing. The performance is very good for all concerned, soloists, orchestra and luckily the recording itself. There are some strong passages that even audiophile types will enjoy as they are so well recorded and have some really palpable bass notes captured quite solidly. Basically a solid and excellent release that is easy to recommend.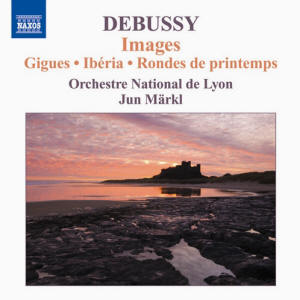 Debussy. Images (Orchestral Works). Gigues, Iberia, Rondes dePrintemps. Orchestra: National de Lyon. Conductor: Jun Markl. Naxos CD 8.572296
A collection of some of Debussy's most attractive compositions are skillfully presented here. Some of the selections are often embellished though not here and Markl is letting the music flow and resisting the temptation to make them even more of a showpiece. That works outstandingly well. Nearly everything on this release is quite simply attractive and needs no hyping to attract even more attention. Sit down and relax after putting this disc into your top notch player and see or feel what great music can do for you at the end of a tough day. Obviously the conducting is spot on here and the orchestral response is simply excellent. It makes for a great evening of great music. Everything seems just right, so enjoy the entire recorded disc. Sure, it makes for an easy recommendation even for new classical listeners.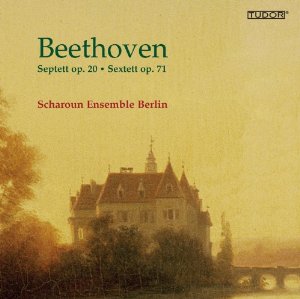 Beethoven. Septet op.20. Sextett op.71. Scharoun Ensemble, Berlin. Tudor Hybrid SACD 7146
This release I deliberately picked out because of a great deal of the music is simply played by just one or two instruments and that lets you pay close attention to a favorite one or two to hear how good or accurate your sound system is; you were wondering about that weren't you? On the second day of April 1800 Beethoven premiered his first Symphony and this Septet. The works were published in that sequence. The septet as Opus 20 and the symphony as Opus 21 and Beethoven had dedicated the Septet to Maria Theresia, wife of the "last Emperor Franz ll". Instruments included violin, viola, cello, bass Klarinette, faggot (bassoon) and horn. For a number of reasons this septet had become very popular. The sextet added one more Klarinette, bassoon, and horn. Hopefully these distinctions will aid you in picking them out during the performances of these pleasing compositions. Tudor is still one of a handful of labels turning out excellent quality SACD recordings with music lovers as well as audiophiles in mind.
This release is aimed at music lovers, particularly those interested in chamber music. This performing group could fit into many of our homes as needed for musical enjoyment, lucky us.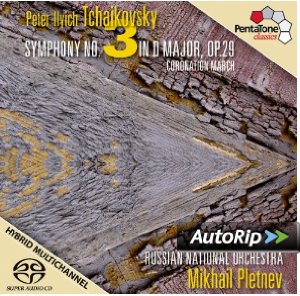 Tchaikovsky. Symphony No.3. Coronation March. Orchestra: Russian National. Conductor: Mikhail Pletnev. PentaTone Hybrid SACD PTC5186 383
The reason for this review is simply that a few weeks ago, I was leaving the Kravis Center after listening to a program of Russian music played by this same orchestra! In the lobby, this recording, in its regular CD format was being sold to the parting members of the audience. I remember distinctly that I had received it weeks previously from my usual promotional sources to be reviewed. I was anxious to return home and play this recording to see if it sounded just like what I had been hearing live in my usual seat in row 4 (DD) or not. Not the same was the answer and why not would be the logical follow up question. The listening venue had to be the answer or at least a major part of it. Overall the audio quality is quite good as usual for PentaTone and SACD. Another label trying to give us listeners the best possible audio quality; remember that when you next are searching through recordings for purchase. I must admit I prefer either the second or first symphony for listening to a Tchaikovsky's early work. The included Coronation March is new to me and also a bit disappointing. With a large number of his recordings why would you think that his Coronation March would be so rather rare? Think about it. The orchestral playing and recorded audio quality are just fine here.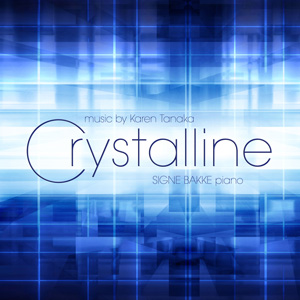 Karen Tanaka. Crystalline. Pianist: Signe Bakke. 2L-074-SACD
Karen Tanaka is one of the current leading Japanese composers. Many of her compositions are on this single disc. Titles include Crystalline (Title of the album), Water Dance, Northern Lights, Lavender Field, Techno Etudes, Children of Light and Crystalline ll. The recording offers great clarity as is often true of 2L recordings. There is seemingly logical progression with the compositions listed here. Seemingly simple, well before the end of the recording I had kind of gotten used to the compositional "style" and enjoyed it thoroughly. Building slowly though steadily with seemingly great detail, fascinating seemed to describe the end results. Something different for sure and attractive; you just have to hear it, relax and hopefully enjoy it all. Somehow I did.