STEVE KOZLE'S SYSTEM
LOUDSPEAKERS
Axiom Audio W22 In/.On Wall Speakers (titanium tweeters and aluminum woofers), Orb Audio Super Eight Custom Sub (8" driver, 200W BASH hybrid digital amplifier and 12" cabinet).
ELECTRONICS
Dayens Ampino integrated amplifier - 25W per channel.
SOURCES
Recent-generation Mac mini with Intel Core 2 Duo processor, 8GB RAM, 128GB SSD, running Pure Music and iTunes Applications. HRT Music Streamer II.
CABLES
Dayens InVivo Silver RCA interconnects, Shunyata Venom 3 power cable, Axiom Audio 14AWG Speaker Wire.
ACCESSORIES
Auralex Subdude isolation platform, Vibrapods, Vibracones, Monster QuickLock MKII Gold Banana Connectors, Innovolt Power Asset Manager PM-15.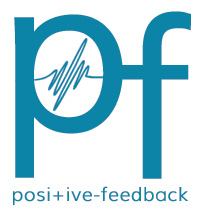 You are reading the older HTML site
Positive Feedback ISSUE 67
may/june 2013
daber audio
Monitor 2 Loudspeakers - Packing an Affordable Punch
as reviewed by Steve Kozle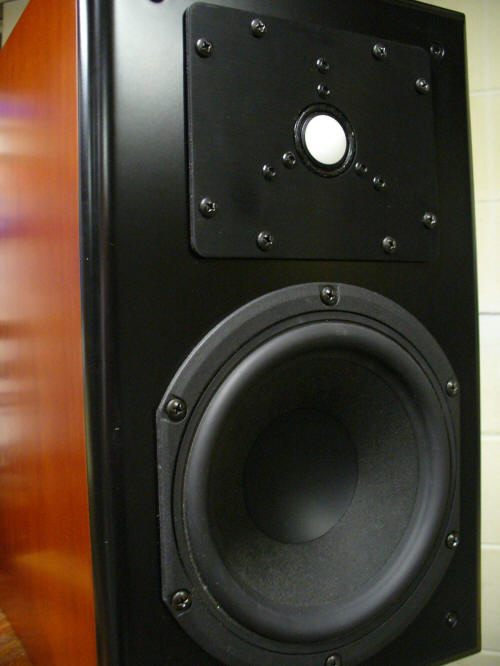 Daber Audio is an Internet direct sales company whose new Daber Audio Monitor 2 is the subject of this review. The Daber Monitor 2 is a bookshelf speaker available in a variety of finishes for an affordable price, made in the USA. The Daber Monitor 2 is a 2-way design, featuring a 6.5" mid/woofer and a cutting edge 1" ceramic tweeter. Located in Taylorville, IL, Daber Audio is an American Manufacturer that builds speakers to a strict tolerance with regard to both the cabinet appearance and the matched drivers used.
Daber Audio speakers have garnered some success in audiophile circles over the last few years, including a "most wanted component" award from another online audiophile publication. Sticking to Daber Audio owner Stephen Brown's original company vision of offering an exceptionally high value to price ratio, the Daber Audio Monitor 2 was designed to deliver the highest possible performance from a two way monitor that sells for under $1000 ($969 USD plus shipping, to be exact).
Description
The cabinets are solid MDF with Cherry or Maple veneer, or Piano Black lacquer finishes. The review sample I received was in Cherry veneer, the fit and finish of which, while not luxurious, is commensurate with other veneered speakers that I've experienced in this price range. The cabinets are rear ported with fluted ports to minimize turbulence. The 6.5 inch woofer has a powerful motor system coupled to a finite element suspension system, containing a linear spider design and rubber surround. A cast aluminum basket provides high structural rigidity, and the motor incorporates an aluminum shorting ring that reduces coil inductance, extends frequency response performance, and reduces second order harmonic distortion.
The hand assembled, made-in-the-USA 1" tweeter is made of high purity, molded AI203 Alumina ceramic material and features a high flux double magnet design, an underhung voice coil with 1mm of linear excursion, pure sterling silver binding posts, and frequency response to beyond 24kHz. Daber Audio only acquires tweeter pairs that are individually matched to -/+ .75dB by the manufacturer, and subsequently confirms all measurements in the Daber lab before approving them for use. In addition to using very high quality drivers, the internal parts are on par as well. Speaker connections are heavy duty, high current five way posts, and all internal point to point wiring is comprised of 99.999% oxygen free copper.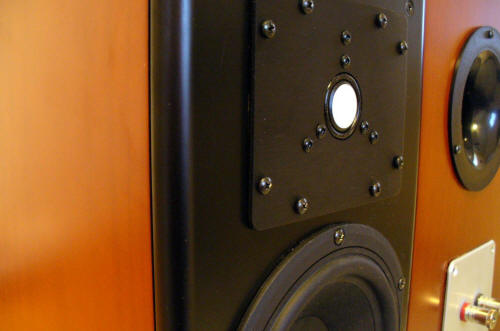 Bear in mind that at 20" H x 9" W x 16" D, and 22lbs. each, the Daber Audio Monitor 2's are substantially sized bookshelf speakers that do their best situated on stands in a prominent position in the room. A word of caution must be made about the Monitor 2's however, as they do not ship with grilles, making it important for homes that include children with curious fingers to spring for the $20 optional grilles which are said to invisibly attached via magnets. I can't imagine that the combination of small fingers and this tweeter could end in anything other than the owner's tears.
Listening
When placed on stands, the Monitor 2's show themselves to be relatively authoritative looking. For stand-mounted speakers, they're quite substantial. I like that. These aren't toys and they don't look like toys. In my listening room, the Monitor 2's weren't what I expected. So much had been made of the new tweeter that I expected a speaker that would set itself apart with attention-grabbing and perhaps distracting extended treble response. This was not the case. In fact, eventually I discovered that the brilliance of the Monitor 2's 1" ceramic tweeter may be best observed not only in the high frequencies, but everywhere else as well. It was by listening to the Monitor 2's top-to-bottom performance that I finally clued into exactly what that excellent ceramic tweeter was bringing to the party.
There are a handful of artists that I've never stopped following over the years and will instantly buy any new album they release on the day it's available. These artists include Dead Can Dance, Neil Young, Depeche Mode, The Cruxshadows, and the band which I have perhaps followed more faithfully than perhaps any other... KMFDM. I'm the type of guy who can usually see the other person's side of a friendly debate, and will typically try to go out of my way to acknowledge and respect the other person's point of view. However, if you do not agree with me that KMFDM is the greatest workout/weightlifting music in the history of mankind, then you would simply be wrong. Nothing can motivate a person to reach the next level in the gym like KMFDM. That's a stone cold fact, no debate necessary. You heard it here first.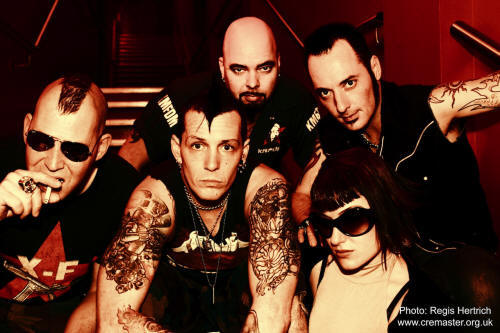 20 years ago you could find this reviewer standing in an overcrowded smoke filled room, wearing a threadbare "GODLIKE" tee shirt and chanting "KMFDM SUCKS!!!" (the battle cry of their true fans) over and over again while Sascha Konietzko (lead singer, genius, and personal hero of mine) would toss his microphone into the crowd, pull out a big police megaphone and sing/growl his lyrics through that while the crowd passed around the stage mic, screaming along with him. Those nights were bad ass. KMFDM is bad ass. And as I was pleased to discover, their music through the Monitor 2's sounds fittingly muscular and bad ass. The opening synth line on "Kunst", the title track from KMFDM's new album billowed throughout the room—like a calm before the storm—as a distorted, menacing voice growled "...get your ass back here...", but it was that first guitar lick exploding out of the speakers when they demonstrated how they can throw up big, sharp, fast riffs with a hard leading edge, lots of body and absolutely no overhang. The rest of the song, and entire album, continued to delight with a crunchy, accurate reproduction of the data contained in the lossless files that I ripped the CD into and played back through my purely digital system.
In other words, the Dabers nailed it.
On the complete opposite side of the rock music spectrum, the Monitor 2's showed amazing clarity, body, and bass-resolving ability on the drum and its overtones on "Repo Man" by Ray LaMontagne. Even the bass lines on "For the Summer", which are hardly prominent in the mix, remained superbly intelligible. The Monitor 2 doesn't sound like a small speaker trying to sound big. There's a genuine sense of ease about its presentation at any volume—though they don't fully blossom until cranked a little. It's worth noting that bass is at its best when playing back at volumes that preclude polite conversation, and I wasn't able to get them to say uncle in my room. Even at enthusiastic volumes, there's a natural and unforced quality to the Monitor 2's. Apartment dwellers with restricted volume constraints probably won't get the best they have to offer with regard to bass authority. With regards to the bottom octaves, the character of bass produced by the Monitor 2 depends extensively on the program material, although crisp and nicely damped is a description that I used more often than not. With useful response down to about 45 - 50Hz, the Monitor 2's produce the kind of bass that excites the ears more than the gut. That's no slight on the Dabers, mind you. They're quite good for what they are but they're still bookshelf speakers, not subwoofers. In smaller rooms, I suspect that Daber owners wanting more bass will be referring to more bass extension rather than more output. Of course, getting proper bass from any speaker—large or small—requires proper positioning of both the speakers and the listening seat. Once properly situated, the Monitor 2 is extremely solid down to its cut-off, and full and rich through the upper bass in a very natural sort of way. That's good news all the way around. Those in small rooms will most likely revel in the Monitor 2's bass, and those starting small and possibly wishing to add a subwoofer later will be happy to hear that they mated flawlessly with my very fast, very accurate Orb Audio 8" subwoofer. I had lesser results with a larger, slower 12" subwoofer that I briefly paired with the Monitor 2's. The smaller, sharper subwoofer was an easily better match, as it was better able to keep up with the Daber's quickness in my relatively large listening room.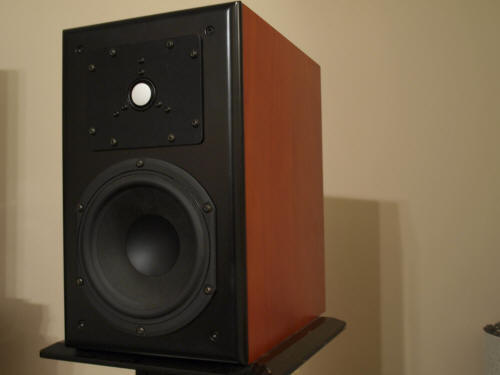 The Monitor 2 is very lucid and musically detailed through the midrange, and it does have just a slightly more exciting character than absolutely neutral. It's not bright but it sounds more alive than laid-back. Superbly transparent, it's one of the least colored speakers I've used. But don't confuse transparent with light and airy. This speaker throws up one of the more solidly present images I've experienced from a speaker of this size, and in that regard it's at least on par with my Axiom's. The presentation has a reach-out-and-touch solidity that, with good volume from good amplification, can make the Monitor 2's sound like a much larger speaker. Not many small-two ways I've heard exhibit such a harmonically saturated midband. The new remix LP of Norah Jones' excellent Little Broken Hearts album is an excellent re-imagining of the original songs. I've listened to it often since its release and know it very well. One track in particular, "Say Goodbye"—remixed by Jose Padilla, has a part in which all instruments stop, all voice effects are removed, and Norah's voice is presented raw. As the instruments slowly faded out, and the echo melted off of her voice, the feeling of having her in the room through the Monitor 2's was downright spooky. (Unfortunately for me, she actually wasn't in the room with me... sigh!)
The Dabers image like few other speakers in or above this price range. Imaging is wide, tall and deep. Though the image extends well beyond the position of the speakers, images placed to the extreme outsides didn't have the solidity and almost visual presence of those placed between the speakers. I think the only listeners who would even notice this are those exposed to much more expensive speakers.
Throughout the treble range, the 1" ceramic tweeter failed to make its presence obvious. That's a good thing. I've heard some highly touted tweeters sound really good in some speakers, and really bad in others, simply by making their presence known. No matter the quality of the driver, how it's implemented is just as important as the raw driver itself. The Monitor 2 sounds naturally extended and nicely detailed, but never artificially so. There's no edginess, harshness, or hardness. The tweeter and the speaker as a whole are extremely honest—not exaggerating or concealing any of the musical information. This is the aspect of the tweeter I referenced in the beginning of this review—it very politely upgrades the listening experience over the full audio spectrum without drawing undue attention to itself.
Comparison
The bookshelf speakers in use daily in my home are Axiom M22's, which to my ear, have always had an almost perfectly neutral sound, driven by the absolutely excellent Dayens Ampino integrated stereo amp with MIT Interconnects and HRT Streamer fed from a Mac Mini running Pure Music on top of iTunes.
The Axiom's utilize dual 5.25" aluminum woofers and a 1" titanium tweeter. In listening sessions, it's readily apparent that the Monitor 2 is a much better speaker from 80Hz on up—in other words, the full power range of the music. While the M22's did much right, and had no fatal flaws, the Monitor 2 builds upon its performance with a more transparent midrange, tighter and more articulate bass, and much better microdynamic snap. The timing of the entire spectrum seems better, with leading edges sharper than I recall, lending the Monitor 2 better rhythmic swing and bounce, more snap, and an improved sense of timing. Those attributes combine to make the music more dramatic, more expressive, and more involving than what I was used to from my Axiom's. To be fair, the Axiom speakers now sell for roughly half that of the Monitor 2's. You can expect to get your money's worth and then some from the Monitor 2's, however... the Monitor 2 is simply a more involving speaker than the Axiom, and more so than most any other that I've heard in its class.
These Daber speakers are more dynamic and seemingly limitless to play loud as compared to the previous pair of speakers I had in for review, which were a pair of slender Dayens floorstanders I was quite impressed with. Although they were floorstanders, each speaker had two small 3" mid-woofers and a 1" ring radiator tweeter, which equates to a similar surface area for the drivers in each speaker. The floorstanders were probably the more neutral of the two, with the Monitor 2 voiced just ever so slightly to the wild and exciting side. In my room, and with the same amplification, the Monitor 2 sounds just as clean and uncolored as the Dayens speakers, but it plays louder with a greater sense of ease. It's got plenty of natural body and warmth and as I said before, there's nothing about the treble that requires fixing.
Conclusion
The Monitor 2's proof is in the listening, and it's a stellar performer by almost any measure. Fed by a reasonably powered amplifier of commensurate quality, the Monitor 2's are terrific performers combining a beautifully articulate and expressive mid-band, and an honest yet fatigue-free treble. I find these speakers from Daber Audio to be exceptionally endearing and involving, which is by far the most important characteristic that I look for in any category of audio equipment.
Anyone in the market for a pair of stand mount audiophile loudspeakers should put these at the top of their audition list because, in the $1,000 and under price class, I think a speaker that hits all its marks is difficult enough to find—but one that is as engaging to listen to as the Daber Monitor 2 is really something special. Steve Kozle
Monitor 2 Loudspeakers
Retail: $969 a pair
Daber Audio
www.daberaudio.com