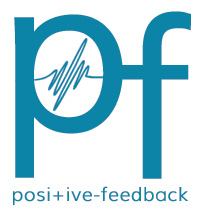 You are reading the older HTML site
Positive Feedback ISSUE 67
may/june 2013
Daft Punk - Random Access Memories
by Jimmie Bustillos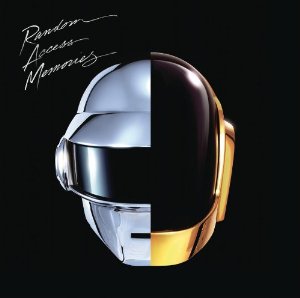 There are many things that can be stated about this album and it would barely cover the main points. With that being said, I will do my best to give an overall summation of what I consider a great album that was eight years in the making. To begin, many people consider this album to be Daft Punk's weakest album. People say it is their St. Anger to Metallica, their most well produced pop album, their most mainstream album, their most collaborated album to date, their strongest fight against what electronic music stands for today, a different approach to a rock album than before, and behind all of that criticism and labeling lies some truth.
To me, Daft Punk was the beginning of a blissful encounter of electronic and dance music that all started in 2008. Around 2008, my brother bought what I still consider to be one of my most favorite albums from Daft Punk, Alive 2007. Listening to that live album, after hanging out with friends on a late summer night, was mesmerizing, captivating, heavy, atmospheric, and soothing. It felt like it captured what Pink Floyd had embodied in their Dark Side of the Moon album, but for a newer generation. On that note, Daft Punk's Random Access Memories was said to have been inspired by Pink Floyd's Dark Side of the Moon, among other bands and artists. Prior to listening to the Alive 2007 album, I had only heard Daft Punk's singles over the radio throughout my adolescence and adulthood. Ultimately, that Daft Punk album brought forth a whole new side of music I had never given much thought to. It can be said that it might have been the album to inspire me as a musician and eventually to DJ; simply because giving people the pleasure of enjoying great music gives me a tremendous feeling of joy.
Fast forward to today's music and you will encounter snippets of electronic music in almost every genre except country, but actually one artist is known to have tried to blend both into one. RAM is considered to be Daft Punk's attempt to the masses to bring "soul" back to electronic music, and to be different. Furthermore, this album has many elements behind its production that include jazz, soul, R & B, classical/orchestral, rock, funk, and of course electronic. The duo brought with them influences from all of the albums and experiences they've had across the years as producers and musicians. Each track has a different feel with live instrumentation, and in most cases live drum work as well. This was a main contributing factor for them because most electronic produced albums use preset drumming or electronically produced drumming on their tracks. Both Guy-Manuel de Homem-Christo and Thomas Bangalter of Daft Punk wanted to make this album feel like one of those 1970's memorable studio albums, and in order to do so they felt that having key collaborators, with great instrumentation would help cement that into their album.
The whole album is said to have an essential vibe set to a "funk west coast style", but with that being said, there were a couple of tracks which I'd like to address as my favorites. To start, RAM kicks in with a bang in "Give Life Back to Music," with guitar work from known funk artist Nile Rogers of the band Chic. This track dispels any notion of techno-acid-French-house structure that they are known for in previous albums. It explodes with guitar riffs, loud drumming, which comes and goes every so often, to eventually lead into a soft funk guitar driven verse/chorus. Another one of my favorites came to me by surprise because I had been a fan of his music after learning he did the score for the movie Scarface and was featured on the video game Grand Theft Auto: Liberty City Stories. The track is called "Giorgio By Moroder" featuring monologue by Giorgio Moroder about his early days in the music business as a German club musician and eventually as an electronic producer. The track starts with a disco funk feel and as he states how his friends simply call him Giorgio. Then it abruptly explodes into an arpreggiated synth electronic beat. Additionally, it is a progressive track in the sense that it shifts into jazz piano melodies, orchestral melodies, house, and with smooth transitions as well.
A third track I felt was really great is "Doin' It Right" featuring Panda Bear of Animal Collective. It is basically considered to be the only true pure electronic track on this album. The track consists of a robot vocal repeating "Everybody will be dancing and we're feeling it right, everybody will be dancing and be doin' it right" while Panda Bear sings over the vocal. The song is interesting because as it progresses it layers the vocals and beat playfully.
"Lose Yourself to Dance" featuring Pharrell Williams of The Neptunes and again Nile Rogers of Chic, is one of those tracks that represents "funk." This track shows what made Rogers one of the pivotal musicians in Chic. He has simple funk guitar grooves driven into the background of the song while Pharrell Williams pushes his vocals on the forefront. Other than "Get Lucky," this is a track that would have been the single of the album, in my own opinion, because of how catchy the song is. The song is so simple, yet it is funky and soulful.
"Contact," featuring DJ Falcon, brings out the atmospheric, spaced out, theatrical, side of Daft Punk. It starts out as if you're ready to lift off into space with a NASA inspired vocalization, and eventually leads off with organ synths, rock melodies, and explosive live drumming. As the track progresses it becomes very climatic and energetic. Finally, "Horizon," which is a bonus track on the Japanese import album, is a track that I feel should have been placed the US version. This song is very soft and has an acoustic guitar playing while moving forward onto lullaby melodies. It almost seems like Daft Punk brought in some slight oriental influences on this track. It really is something you can sit at home and listen to as the sun sets, and for me it is the perfect way to end the album. It's just a shame that it is not included on the here in the states.
In the end, there is much more to be said of the rest of the tracks, but little time to fully address everything. Instead, I would insist on listening to it yourselves to catch the little surprises the album brings along. Is it different? Yes. Is it mainstream? Sure, I would say it's their most radio friendly album, but that doesn't mean it's essentially their worst. The structure of the track listing and arrangement could have been done better, but it is something minimal. The two robots themselves have stated before that making albums for them is not about creating the same thing over and over because they could easily do that if they wanted to. Instead, it is about creating something different and challenging to push their musical creativity. It is no Discovery, no Human After All, no Homework, but that is what they wanted. That is what they delivered. It's a solid album capturing a time when music was soulful, funky, danceable, experimental, the Daft Punk way. If you like all of the above, YouTube it, buy it on CD, Vinyl if you're a bigger fan, and enjoy some great music!