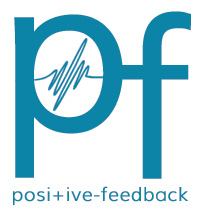 You are reading the older HTML site
Positive Feedback ISSUE 67
may/june 2013
devialet
D-Premier DAC/Amplifier
as reviewed by Arnis Balgalvis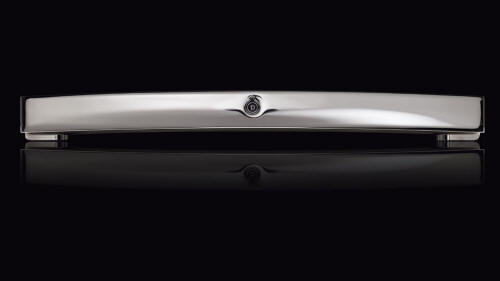 Any way I look at it the D-Premier stands alone. In all of my years of reviewing I have not encountered a product that has been as outstanding in every aspect of evaluation as has been the Devialet D-Premier.
Be it innovation, topology, functionality, sonic performance, size and weigh—or for that matter, price—there is no other component in high end that comes close to what has been accomplished with the D-Premier.
Additionally, I can't think of another product that has been so favorably received by the reviewing community. No, I'm not talking about reviewers here in the USA, I'm talking about the worldwide press: Japan's Audio Art: Best Performance of the Year 2011, 6moons.com: Blue Moon Award, Soundstage Network: Product of the Year 2011, Innovations International CES 2011 and 2012, Rave reviews in Britain's Hi-Fi News and Hi-Fi+, What Hi-Fi?, Stereophile, France's Arets Beste, Haute Fidelite, Asia's Hi-Fi Review Products of the Year 2010, Europe's EISA Award High End Audio Best Product 2010-2011, Russia's Top End, Luxemburg's High End 2012 in Munich in Télécran. And the list continues.
The Devialiet D-Premier in its basic form can be viewed as a DAC/Amplifier. Some call it an Integrated Amplifier. But it is far more than that—the D-Premier is a very sophisticated high performance component, where innovative cutting edge technology is combined with multi-faceted flexibility.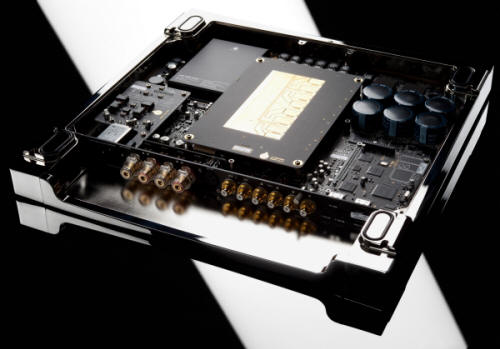 The D-Premier consists of a stereo power amplifier delivering 240 watts per channel, and a Digital-to-Analog Converter (DAC) capable of handling digital signals up to 192/24 and also includes a phono stage, a line stage, and a Wi-Fi Streamer! That's five components individual components rolled into one device that measures 15.75" (400 mm) wide by 15.75" (400mm) deep by 1.75" (44.5mm) high and weighs a mere 15.2 lbs (6.9kg). How's all that feasible? Well, it's innovative technology in combination with today's intelligently implemented Digital Signal Processing (DSP) that makes it possible for everything to gel. And then some.
What's it all about, Alfie?
The D-Premier is all about ground-breaking innovation, admirable flexibility, and outstanding value. I'll cover the stunning performance a little later
The D-Premier demonstrates an exemplary melding of analog and digital techniques where the advantages of each domain are explored to their utmost: it's the inventive blending of the finesse of Class A amplification with the practically unlimited elasticity of Digital Signal Processing (DSP). See Figure 1.
Practically everything—the sole exception being the unity gain Class A power amplifier and the analog portion of the DAC—taking place inside the D-Premier happens in the digital domain. That means that every analog input signal to the D-Premier gets digitized to 24/192 to facilitate internal processing and control. That goes for the phono cartridge signal as well. Phono enthusiasts should not despair—some real good news will follow shortly.
The ADH Amplifier Innovation
The engineers at Devialet began with a ultra-linear unity-gain Class A amplifier—a highly refined design having been granted a patent—that supplies nominal power to the load. When the load, the loudspeaker, demands a current that exceeds the power capability of the Class A stage, a class D digital switching amplifier is seamlessly engaged to supply additional current—and current only, mind you—to help maintain the voltage across the load called for by the music. Devialet call this process ADH which stands for Analog Digital Hybrid.
This is a completely fresh approach that has never been used in a high end amplifier. The ADH technology is an innovative integration of the best that analog and digital worlds offer. It is an example of what 21st Century technology can do; it's something novel and is not the reworking or refining of some existing topology like SET, push-pull, Class AB, etc. It is not an analog amplifier nor is it a digital one. See Figure 2.
At the heart of the D-Premier is the combination of the Analog Digital Hybrid (ADH) amplification and the patented DAC design. All of the D-Premier's functionality is controlled by the thoroughly thought out and exceptionally versatile Digital Signal Processor (DSP).
The DAC
The DAC is unique because it can, among other things, deliver the very high output voltage swing necessary to drive the unity-gain ADH power amplifier stage. Furthermore, a number of other innovations like their patented zero processing I/V conversion technique and the low jitter capability combine to provide state-of-the-art DAC performance. All timing is provided by a single on-board Ultra High Precision Master Clock. BTW, the signal path within the D-Premier from the DAC to the speaker terminals is all of 2 inches long and completely devoid of any coupling capacitors.
The Power Supply
Every great amplifier is unconditionally dependent on a great power supply. The D-Premier uses a 600-watt switching mode power supply that will accept an AC input voltage from 90 volts AC to 240 volts AC. It can be used practically anywhere in the world without the need to reconfigure.
This power supply uses a proprietary 16-layer planar-type transformer with an ultra low capacitive coupling on the primary side. This component has very small dimensions to help keep the overall package very compact. The power supply is fully power-factor corrected and has the capacity of supplying an uncommonly high transient peak power of 2100 watts.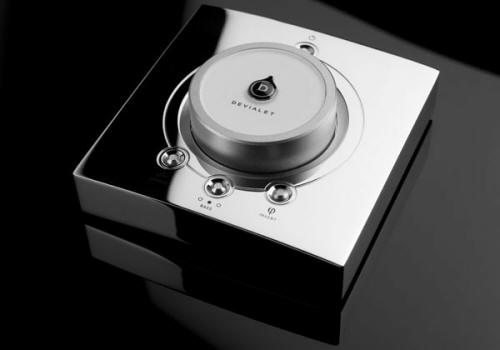 The RF Remote Control
For me the icing on the cake is the Radio Frequency (RF) remote control. Using RF frequencies has the advantage of omni-directionality for the control signal unlike an Infra Red (IR) remote that has to be pointed towards the receiver. In addition to the volume control function, ON/OFF, Input selection, absolute polarity and woofer Low Pass function are all available on a very attractive 4.5 inches by 4.5 inches and 1.75 inch tall device. The volume, performed in the digital domain, is under the control of a 2.375 inch diameter knob that rotates smoother than silk. A display on the top surface of the D-Premier main chassis shows the volume settings over a range of -97.5dB to +30dB. For protection purposes volume settings above 0.0dB are gradually compressed.
The D-Premier Loves DSP
When it comes to performance the ADH amplifier and the DAC dominate. But when it comes to flexibility and reliability and performance upgrades DSP rules the roost. Additionally, DSP in combination with the AIR Wi-Fi feature makes the D-Premier future proof creating a path for future upgrades to be implemented seamlessly.
DSP monitors the inputs so that the circuits are not over driven, DSP monitors the outputs so that the component parts operate within reliable regions. DSP monitors the performance of the remote control All of the flexibility offered up by the D-Premier is controlled by, you guessed it, DSP.
The Configurator for the D-Premier is the prime example of the power of DSP. See Figure 3.

The physical input complement coupled with the configuration options is adaptability personified.
A cursory view of the rear panel of the D-Premier can give a deceivingly basic impression. All you see are two TOSLINK inputs, 6 RCA jacks, an XLR input and a set of 4 five-way binding posts for, obviously, speaker cable connections. Two additional connectors designated HDMI In and HDMI Out are provided for HD formats, SACD, Blu-ray players and HDTV.
A closer look will reveal that two of the RCA jacks are labeled Digital 1 and Digital 2. The next two are designated as Digital 3 and Digital 4 but also as Line 1. And the next two RCA jacks are Line 2 AND Phono. There is even a grounding post right under these two jacks. Something is up!
Here's where the flexibility part shines. Look at Fig. 3 again. Due to DSP programming, a number of these RCA jacks can be assigned functions where they can be configured as inputs or as outputs. For example, one of the RCA jacks can be set to be an output to supply a low-pass line signal for driving a woofer amplifier.
The Phono Stage
One of the most remarkable capabilities of the D-Premier is the flexibility of the phono stage. As soon as the analog signal of the phono cartridge enters the D-Premier it is converted to a 192/24 digital bit stream. And that is a good thing. All configurations such as the RIAA processing, MM or MC cartridge setting, and cartridge loading resistively and capacitance-wise, takes place in a low-noise and hum-free differential environment in the digital domain.
The flexibility of the D-Premier is implemented with the use of the SD Card located in a slot on the rear panel. Custom cartridge loading is available from Diavalet for practically any cartridge. They claim to be able to provide as many as 4000 cartridge configurations.
On top of that should you want equalization curves other than RIAA, just reach for the SD card and download them from Devialet.
AIR – The Wi-Fi Streamer
Transitioning from the Analog to the Digital world, the D-Premier is also a High Definition Assynchronous 24/192 Wi-Fi Streamer using its proprietary Devialet AIR wireless protocol. It provides HD streaming from iTunes using an iTunes based control Interface where the internal DAC master clock provides vanishingly low jitter performance.
By using factory downloads it is possible to keep up with the latest revisions and updates all done over the Internet.
Protection
The D-Premier is protected against virtually any wrong manipulation, input signals, or unusual output loads. There are, among many other things, a 40A over-current protection, protection against any DC voltage on the output, thermal protection (a total of 10 sensors are incorporated in the unit), protection against over-power on the output etc. Additionally, DSP controlled self-adjustments and control-checks happen at each start up. Those routines may trigger a protection circuit if the timing or the values measured during the initialization phase are found incorrect.
Yes, the D-Premier is "Green"
Devialet proudly points out that the D-Premier is very "Green". Using a switching mode power supply it is 85% efficient when supplying 240-watts with both channels operating. In its sleep mode it consumes a mere 5 watts.
A $16,000 Bargain?
At a $16000 price the D-Premier appears to be expensive. But when you consider that it contains a phono stage, a line stage, a 240-wpc state-of-the-art stereo power amplifier, a DAC, and a Wi-Fi hub, and taking into account the complete elimination of the attendant inter-component cabling costs and two AC power cords, I see the D-Premier as nothing but a great bargain.
Devialet Who?
I can't but help to put in a few word about the company as such. Some people might have some apprehensions about dealing with not only a new company, but a foreign outfit to boot.
As far as I'm concerned, such concerns are not warranted. Devialet is exceptionally well financed to the tune of $19 million. This money was raised as a result of the overwhelming response to the success of Devialet, a company that was started only in 2007. Today the product is available in 60 countries.
Here's one example of how they operate. When the D-premier was first introduced 3 years ago it did not include the AIR Wi-Fi capability. At that time the Wi-Fi feature had not been developed to its full potential. Rather than wait for AIR to be finished and delay the introduction of the D-Premier, they released the basic unit anyway, but with a promise that when the AIR feature will be ready Devialet will implement it at no cost to the user. And that is precisely what has happened. Not only that: Devialet delivered the AIR kit as soon as I requested it and the kit came with ALL the tools necessary to complete the installation!
I will prepare an update later after I've had a chance to install and use the AIR application.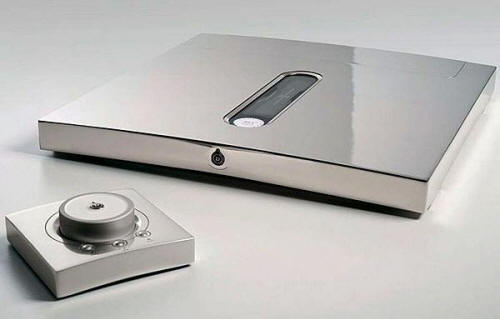 Use
I want emphasize that the D-Premier is as simple to use as any "normal" product out there. Just because the flexibility and options are there does not mean that you have to use them. But, should you want to use them, they are very easy to implement.
When I received the D-Premier two years ago, I removed the unit from its shipping container, plugged it in and have not changed anything since then with the exception of upgrading to have more transient power available. The SD card did it.
Not having the AIR Wi-Fi function set up, I took the SD card to the computer, downloaded the desired upgrade, inserted the SD card into the slot on the D-Premier and I was done.
There's no need for external displays for setting things up, no menus to deal with. DSP does the work unseen to keep everything running, checked and balanced.
In two years of use the D-Premier did not have a single glitch or hesitation. It is in constant use in my system. It is my mainstay unit since I do not have any other components available. I even took it to friend's place for a trial. No problems at any time.
I have experienced this unit while setting up my listening room after relocating from New Jersey to Pennsylvania. My listening room now is a quite spacious space dimensioned 17' wide by 30' long and 7'10" high where the speakers are set up to play into the 17' dimension.
Room treatment consists of Avalon Acoustics distributed Acoustica Applicata DAADs and foam panels from Acoustic Fields.
All my listening has been with a number of digital sources, but not with vinyl. Only two speakers, though of vastly different technology approaches, have been available: the dynamic Revel Salon 2s and the Quad ESL-57 electrostatics completely upgraded by Quads Unlimited. Speaker cables used were Tara Labs Omega, Klee Acoustics Grand Illusion, Audience AU24e and the improved AU24SE
At this point I would like to praise The Memory Player in its latest MP64 incarnation. It is the brainchild of Mark Porzilli, and manufactured and distributed by Laufer Teknik.
Some Positive Feedback Online readers might remember that I have been using this marvel of source components for over 5 years, enjoying it immensely during that time. Now that the MP64 is available, my enjoyment of music has been taken to another level. You can read about the Memory Player in Ross Wagner's two piece review that appeared in PFO recently.
Why bring up the MP64? Because it is a game-changing component of such scope because it takes digital music playback to an unprecedented level. In my case I'm talking here only about Red Book CD playback even though the MP64 can handle .wav files up 24/192.
All I can say is that I never knew just how good my system was until I heard it being energized by the MP64.
Furthermore, I also never realized what amazing levels of performance the Revel Salon2 loudspeakers could achieve until they were driven by the D-Premier fed by the MP64.
Sound
We all know that innovation, flexibility, versatility and all the functionality in the world goes out the window if the sonic performance is not up to par.
That is certainly not the case here. In all my listening situations I found the D-Premier to be an absolutely spectacular performer. I'm talking here about an even-handed, across-the-board stellar execution. I found myself struggling to single out specific strengths since presentation of the whole performance package embodies effectively proportioned assets.
But analysis is a foregone demand, so here goes.
But... before I start I want to point out that I have read at least 6 reviews of the D-Premier in a number of publications. I mention this because I will invoke in my sonic portrayal of the D-Premier some the same descriptors that others have used. Those words are clean and clear.
Absolutely no qualms there. However, I'm also prepared to say that in my experience the D-Premier is also complete, certain, thorough, unimpaired, free, and open.
It is not crystalline, antiseptic, glassy, refined, sterile, nor sanitized.
But, for me, what the D-Premier brings to the table is honest.
I found the D-Premier to be the most honest performer in all my encounters with power amplifiers in all my years of reviewing. No, I have not heard any of the current, excellent designs such as Soulutions, BAlab, VTL, Technical Brain, or Spectral in my own listening room. I have, however, heard most of these amps at audio shows over the years. I do have a reasonable idea of what is going on.
The D-Premier delivers the message of honest in a loud and clear manner. It is not a product that edits; it is a product that delivers the message with its intent intact.
No matter how you pick it apart, the ambient cues, the most subtle instrumental shadings, the micro and macro dynamics are revealed aptly proportioned to communicate the joy that music is intended to convey.
It's not a matter of just honest. Under most circumstances that message has a number of shadings. However, the honesty that is consistently conveyed by the D-Premier is not only downright thrilling, it is deeply satisfying.
When we are in a concert hall listening to a performance and the music gets to be really dynamic and intricate, thoughts about clarity or purity of sound are just not there. It is taken for granted that this is how things are; it's live, it's unamplified, it's something that is to be expected. It is a reality. It all adds to the drama and expression of the music, but not because it is really pure or clean.
Well, listening to music with the D-Premier is very reminiscent of these types of presentations of purity and seemingly effortless clarity. If the recording captured that intangible "it", the D-Premier was there to recreate it. It was that same effortlessness and, yes, simplicity, that allows it to replicate the dynamic and harmonic complexities with an ease reminiscent of the live event.
It approached that elusive spring-to-life aspect more closely than any other audio component in my experience. It exhibited a vivid vitality aglow with a sonic presence that was captivating and energizing.
The way I hear it, it's all about speed. More speed means more bandwidth, more bandwidth results in more information. The trove of sonic trivia, the shadings, the intonations, the subtleties, the spatial relationships, were not only revealed, they were now thoroughly versed and clearly delivered in a very profound, yet refined, manner.
What sets the D-Premier apart is its ability to convey the sense of the starkly sudden leading edges of transient attacks that allow us to relate to the dynamics of a live situation. Be they guitar plucks, rim shots, or brushes caressing a cymbal—that ability to replicate the immediacy and speed is the prominent aspect that takes the D-Premier to that exceptionally lofty performance level that distinguishes it from the rest of the crowd.
This sense of speed and openness translated into a transparency and immediacy that was breath taking. It was best experienced when the ESL-57s were used. This speaker's legendary ability to remove just about every conceivable sense of veiling left me with admiration and wondrous fulfillment.
Time and time again, the musical presentations had a drive and power, that sense of energy that conveyed the musical intent with great conviction. The bottom end of the spectrum was delivered with power and extension, the midrange was present, dimensional and involving. The highs had an effortless air about them exhibiting a sense of speed that implied dynamics with minimal impediments.
If there was any euphonic embellishment, I was not able to detect it: it never intruded, that's for sure. It simply did not interfere with my enjoyment of the music. If I heard any stridency, harshness, or something jarring, I could usually trace it to the source material. It may have glistened once in a while, but it did not glare. Whatever departure from decorum there was, it was always subtle. If anything, it was subtractive, but certainly not additive. In my experience the D-Premier proved to be an excellent guardian of sonic sanctity.
In Conclusion
This I know, the D-Premier is a superb product. Ground breaking technology, great conveniences, flexibility galore, future-proof upgradeability and sonic excellence can all be found in this one component. The RF remote control is icing on the cake.
What has gone into the design of the D-Premier makes it a prime example of what today's leading edge technology can accomplish. Even a mere five years ago a product of D-Premier's sophistication and performance would not have been possible.
In the two years that I have owned this unit, I found the D-Premier to be a world-class sonic performer. Moreover, I am judging the D-Premier to be the best amplifier that I have ever had in my system. And because I have been listening to the D-Premier for two years, I am not speaking with the enthusiasm of someone who has just encountered something new.
The D-Premier stands alone towering above the rest as a technical tour de force and a sonic masterpiece. Arnis Balgalvis
D-Premier
Retail: $16000
Devialet
http://www.devialet.com