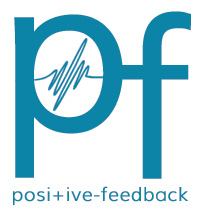 You are reading the older HTML site
Positive Feedback ISSUE 67
may/june 2013
Impressions: The exaSound e20 DSD DAC
by David W. Robinson
[All photographs of the e20 courtesy of exaSound, except as marked. The cover art for the DSD recordings mentioned appear courtesy of their respective record companies.]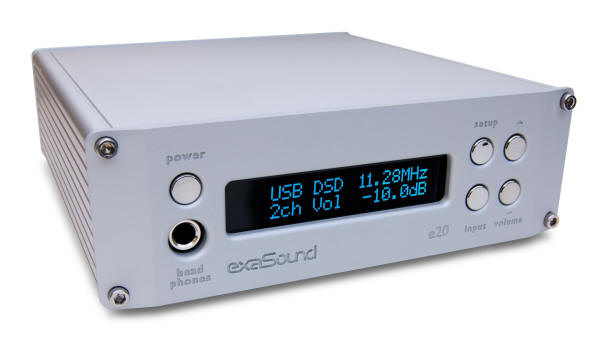 The exaSound e20 DSD-capable DAC
Yes, that's right: Your eyes are not deceiving you. The exaSound e20 display above is highlighting the fact that the e20 is the first consumer stereo DSD DAC that can handle Quad DSD (256fs, sometimes denoted DSD256). Here 'tis…11.28MHz DSD at your fingertips!
The first, though undoubtedly not the last.
Which is a segue into my review notes on the e20…
Those of you have been following our series of articles here at PFO on DSD over the past couple of years or more know that the DSD Movement has been building momentum throughout that time. More and more manufacturers have released DSD-capable DACs… not DACs that convert DSD to PCM, but ones that process DSD in true native mode… or have announced their intention to do so. The list of DSD download sites and stores is increasing, as well, and I expect more to come online in the near future. (The latest version of my DSD hardware and downloads list is published elsewhere in this issue.)
In fact, we're clearly at critical mass in DSD hardware already, with DSD download sites hitting this point by (or before) the end of this year.
Into this brightening world, along comes George Klissarov and his team at exaSound, up in Canada. George and I connected at long distance several months ago, as I was doing research for one of my aperiodic DSD hardware updates. We had a good conversation, and talked about the work that his group had been doing. Composed of a team people who have had significant experience with DAC and ADC projects, exaSound looked to have what it took to launch a DAC company… especially one that would be able to handle the challenges of DSD playback.

George was willing to send along the latest version of their e20 DAC, which is the model that is DSD-capable. (Their e18 DAC is multichannel, with support for PCM and DXD, as well stereo DSD, though its DSD implementation is not at the same level as the e20… for example, it does not yet support Quad DSD at 256fs, the way the e20 does.) True to his word, the e20 arrived not too long thereafter.
Product Description
The exaSound e20 is a very attractive, compact DAC. Finished in a pleasing aluminum chassis, the e20 is light in the hand, tipping the balance beam at only just over 1.5 pounds. This makes it ideal not only for listening room use, but also nicely trim for desktop and near-field use, as well. (In fact, that's where I have it right now.) The layout of the front panel controls is clean and logical, with push buttons for power on/off, setup, input selection, and up and down buttons for volume. These controls also double as up/down option buttons for the setup mode. The LED display shows the current input, the data stream type, the data rate, the channel count (stereo only in this unit), and the volume level in dB (0.0db is the maximum, standard for digital).
Setting up the Apple-type remote control is very simple. You press the "setup" button on the front face, press the "Volume +" button as directed, and then follow the directions on the LED for programming the remote functions. At the end, the configuration is saved. That's all there is to it, and the Apple remote worked like a charm after that.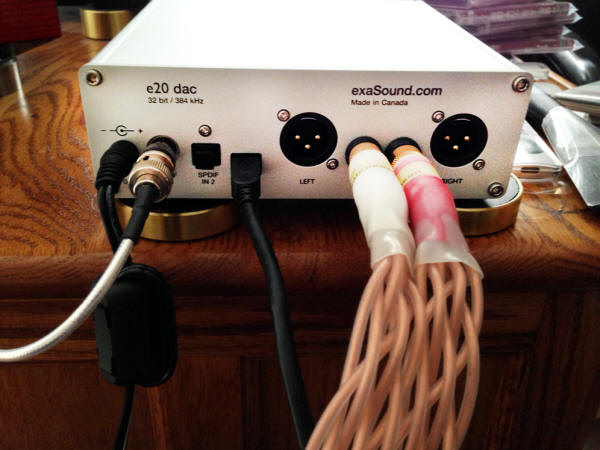 In situ: rear view of the exaSound e20 DSD DAC in action (image by Robinson)
The rear side of the e20 has a plug for DC from its power supply, which is a separate unit. Also in evidence, from left to right, is an RCA input for S/PDIF, TOSLINK input, a Mini-A USB for USB 2.0 input, and XLR and RCA analog outputs. During this review, I used both the S/PDIF and USB 2.0 connections, and ran unbalanced out, as you seen above. The overall layout front and back is clear and easy to understand, with good ergonomics.
The e20 supports DSD (64fs), Double DSD (128fs), and Quad DSD (256fs) in ASIO mode. On the PCM side, it will handle everything from standard Red Book CDs (44.1kHz/16-bit) all the way out to 384kHz/32-bit. This includes DXD with its 352.8kHz/32-bit rate. Upsampling on the PCM side is available to 384kHz. This means that it sets the standard for great flexibility in playback formats for DSD-capable DACs at the current time.
USB 2.0 is asynchronous mode, as one would expect. Jitter is stated at 0.13 picoseconds, a goodly number. exaSound makes a big point about the quality of their "galvanic isolation," which provides a high degree of decoupling of the e20 from interference generated by the computer or the electrical environment. George Klissarov takes pride in the design steps that exaSound has made to assure the quality of the ultra-quiet noise floor that this produces in the e20. Certainly the e20 is a well-behaved unit, without a sense of hash, grain, or junk lurking in its performance. I heard zero indication of electrical nasties…ground loops, transmitted garbage, or other gremlins… either via two different sets of speakers, or my very highly resolving Sennheiser HD-800 headphones through the e20's very fine headphone section.
Nice!
Altogether, the e20 makes a very good initial impression, with a solid set of I/O ports, and a useful interface.
But how would it sound?
The System
I listened to the e20 in my desktop system. This is where I do my PFO writing and editing; given the number of hours that I spend in near-field listening, and with my Sennheiser HD-800 headphones, this was the best place to spend a long-ton of time with the exaSound unit.
The associated system:
Oppo BDP-105 universal player
Evolution Acoustics MMMicro One monitors
Nova USA Ovation monitors (Scanspeak two-way)
BMC CS2 Integrated Amplifier
JRiver Media Center 18 for Windows
HP Pavilion DV-8T notebook computer (Windows 7 64-bit Ultimate Edition, Intel i7, 8 GB RAM, dual 320 GB internal hard drives, dual 3 TB external USB 2.0/3.0 hard drives)
Furutech Daytona 303 AC Line Conditioner (for the BMC CS2 Integrated) with Furutech FP 314AG-II power cable
Furutech Flow-28 AC filter (for the BMC CS2 Integrated)
Two APC UPS XS-1500 line conditioning and uninterruptible power supply units (1500 VAC per unit)
JENA Labs Symphony RCA interconnects
Silent Source Music Reference power cable
On the USB cable front, I started with plain-old-generic stuff. Later, I shifted to one of my USB reference cables, the late-and-lamented Lee Weiland's Locus Design Group Cynosure USB cable. If you don't think that USB cables make a difference 'twist your computer and your DAC, this one just might change your mind… it's one of several USB cables that I've heard that improve the sound. Of course, if you're not interested, or are sure that "nothing makes a difference," then by all means feel free to continue to use generic USB cables. Please.
Heh!
The Sound
I've had a chance to listen to a handful of DSD-capable DACs over the past two or three years. Each one has its own sonic character; the e20 is no different in that regard.
I gave the e20 between 100 and 200 hours of break-in before I began to listen carefully to it. We have a very large collection of DSD (64fs) and Double DSD (128fs) source files here at PFO River City, from a large variety of sources, and representing a broad array of musical genres. In addition, we have PCM files ranging from 44.1kHz/24-bit up to 192kHz/24-bit (mainly from the good folks at HDTracks), and a few DXD files at 352.8kHz/32-bit (courtesy of 2L). I will freely admit my strong preference for DSD and (especially) Double DSD sources over PCM. (I don't yet have any samples of Quad DSD (256fs) recordings yet, though I hope to have some in hand in the near future.) Listening to these sources via the e20 has underlined the more musical nature of DSD, and strongly confirmed my preferences.
DSD just sounds better.
Go ahead, call me prejudiced. Because I am: I prefer my music to sound like music. DSD does it; I find that PCM falls short.
Anyway, among the DSD recordings that I used with the e20 were the Double DSD Samplers 1 and 2 from Opus3 Records, some sample DSD files from 2L, and a couple of dozen albums from Channel Classics, all of these in single DSD. I have other samples from various industry sources, but am not at liberty to say what they are. I can say that they are both single DSD (64fs) and Double DSD (128fs) in nature. They include recordings that are classical, jazz, folk, and rock… a very broad array of music, perfect for putting any DAC through its paces.
And so, I did. First, I'll dispose of the PCM recordings. The HDTracks files of Michael Jackson's Thriller sounded lively and nicely dynamic with the e20, with very good punch and excellent definition of bass lines and the tight percussives of these classic tracks. Prince's 1999 was a pleasant surprise, with solid attack and a better sound that I remembered back in the day. The title track; "Little Red Corvette"…that man can jump! And the e20 swung nicely right along with him, but without slapping my tympanics with razor blades/sand paper. That's a helluva accomplishment in PCMland. Joni Mitchell's magical voice in Ladies of the Canyon at 192/24 was certainly well above the CD's flat edge…love that "Morgantown"!…though not what it is on LP, or could be on DSD, or especially Double DSD. (Damn.) The e20 took the vestigial glare and edginess that remains in 192/24 and reproduced it with a sense of control and an elegance that is pretty rare in high-resolution PCM DACs.
I even took things as low as 44.1kHz/24-bit with the remastered Deluxe Edition of U2's Achtung Baby, an album that I've loved since it was first released. Apparently, someone somewhere thinks that going to 24 bits in 44.1kHz represents "Audiophile" grade sound.
Well here's some news you can use, Schmooze: 'Taint.
Granted, U2's production values make this something less than a reference-grade call, and you'd likely never cite this title as an example of the possibilities of the audio arts. The LPs from US are certainly more listenable, though; wish that was equally true with the Red Book stuff, even remastered. (I do love the music, though!) This reissue on the exaSound e20 made Achtung Baby sound better than I remembered from the original CD… a spot less jagged and brittle. Not bad, considering the limitations of Red Book.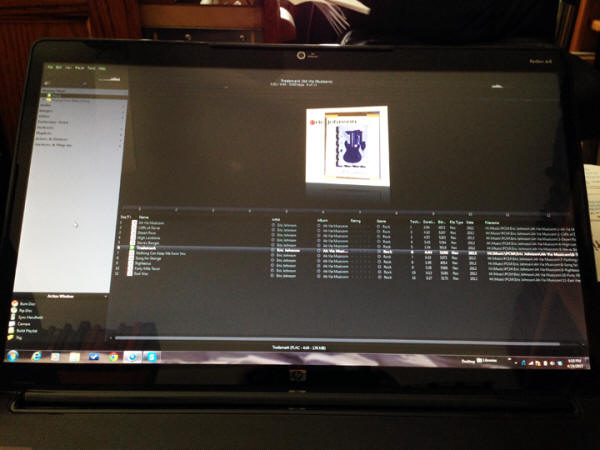 JRiver's Media Center 18 on my HP Pavilion 8DT notebook; Eric Johnson's Ah Via Musica is in action (image by Robinson)
I did a turn with HDTracks' download of a top-notch love-it rock album of the 80's, Eric Johnson's knockout A Via Musicom. This was a throb of mine from the first time I heard it, and I picked up the CD first chance I got. (I do miss the days of Music Millennium on E. Burnside Street, you know?) At 192kHz/24-bit, this beat the CD all to hell… no doubt about it. The e20 showed that it could rock 'n roll with the best of 'em, keeping the PCM from the edge of edge. "The Cliffs of Dover" was tight, clean, and toe-tappin'… a real pleasure. When you gotta PCM, the exaSound get me in the game. Nice job, e20!
I did also try the S/PDIF input, using the Oppo BDP-105's S/PDIF output and some high-resolution files that I have on disc… DVD-As and some high-res Blu-Ray. The results were creditable to my ears; certainly the S/PDIF input, which standard is limited to 192kHz, will do solid work with PCM files if that is your preferred source. My preference was USB 2.0, but your mileage may vary… I understand that other folks have different reactions than mine.
Overall, the PCM performance of the e20 was creditable, with resolutions from 88.2kHz on up sounding better and more refined along the way. I don't think that anyone looking for excellent performance in that format will be anything other than pleased.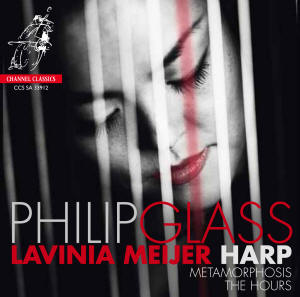 It's on the DSD side of the ledger that I was much more impressed, though. DSD files at 64fs were very fine, one end to the other. I spend tons of hours listening to the brilliant recordings of Jared Sacks of Channel Classics from his DSD downloads section (http://www.channelclassics.com/dsd.html), all recorded with great sensibility and exceptional touch. I have been particularly smitten with the recording of Lavinia Meijer on harp performing the music of Philip Glass. What incredible work! And recorded with such a deft feel for the proper sound of a harp in a fine setting; it holds me in a spell every time that I hear it, which I confess has been time and time again. This recording has become my favorite classical recording of 2013 thus far… very hard for a recording to do. (In fact, Jared tells me that Channel Classics has sold over 18,000 copies of the SACD of this recording already…in the Netherlands alone!! An unbelievable result! This is a statistic for those readers who believe that "SACD is dead." Guess again, Smedley.)
Throughout my many listens to Meijer's recording, the e20 DSD DAC riveted me with its ease and naturalness of presentation… silky, and mesmerizing. Flawless.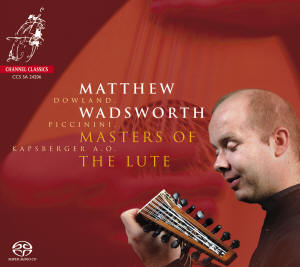 Likewise, the lute performances of Matthew Wadsworth were truly delectable, with the e20 delivering a fine balance of warm wood and the plucking percussives of strings. Breath and life; history and longing. Wonderful! In fact, I'm sitting here listening to one of the Wadsworth lute recordings again, and I marvel that I never tire of the magic of DSD. Like great analog, it connects with the soul, and lets you rejoice in the experience of the audio arts. Isn't that what this is all supposed to be about?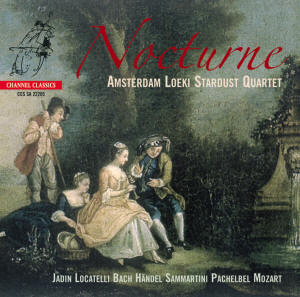 Or there is the blessedness of fine recorder music from the Baroque and Classical periods, as performed by the Amsterdam Loeki Stardust Quartet. Nothing shrill, screechy, or off-putting here: just the breathy sweetness of recorders in beautiful harmony. You really feel the solidity of the instruments, the attack of fingers, the lips on pipes, and the chestiness of the musicians. This is the finest recording of recorders that I can remember hearing. Jared Sacks' production work is excellent; the e20's rendition of these wind instruments is flawless.
Also of note is the very fine work that Cookie Marenco and Blue Coast Records have been doing with DSD over the years. I tried a favorite album of mine, Art Lande's lyrical solo piano album, While She Sleeps. Oh yeah. This has the feel, all right… late night, sitting in a lounge, and listening to a guy who's been playing those 88's for a long time. Cookie and company have the range on the piano…not too close, not too far… and the sweet sadness of tracks like "Tenderly" just washed over me. Lots of great covers here, including some tunes from the Beatles that I really like. Do yourself a favor: purchase and download this album. It's perfect single malt music. The exaSound e20 does exceptionally well this DSD recording of piano; a fine tonal balance, and real presence. Nice.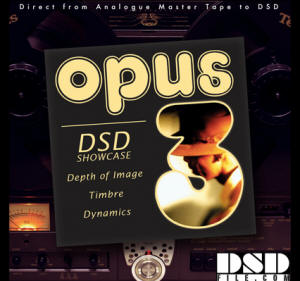 Double DSD recordings, that ava raris, but growing in number, were even better via the e20. I know that there are those who question this, but once you've done listening comparisons, you'll hear that the Double DSD from an analog source will definitely have "more there there!" than a Single DSD from the same source. Opus3 Records has jumped into the game with several offerings from their catalog, with more to come. In each case, they have been offering both Single DSD and Double DSD versions of their recordings, all transferred directly from the 15 ips open reel stereo master tapes.
The results are nothing less than spectacular! In Double DSD, these recordings brings you right into the presence of master tapes, which—unless you have a lot of these in your library—is an ear-opening experience. The Stockholm Sinfonettia plays with verve and a delightful feel for Beethoven, with smashing dynamics and brilliant detail in the Double DSD of Ludwig van's symphonies 1 and 2…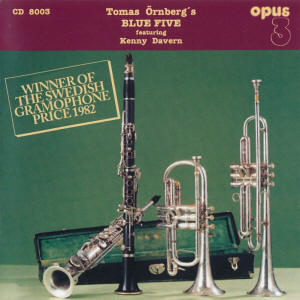 ...and Tomas Örnberg's Blue Five just floats, floats, brother, in the utter transparency of the feel of stereo analog master tape. This is a small jazz quintet, doing the New Orleans wing with some Ragtime swing… definitely toe-tapping stuff. I can imagine Woody Allen sitting in on clarinet, pulling material for the sound track of one of his movies right here. "Mood Indigo," one of my favorite jazz songs of all time, made me feel like the '30s and '40s were right here… right now… in a haunting way.
Emotional connection, in spades, sweetheart! Which seems to be the blood-brother connection between DSD and great analog… both have soul, and tie your heart to the music. With the e20, it's definitely happening.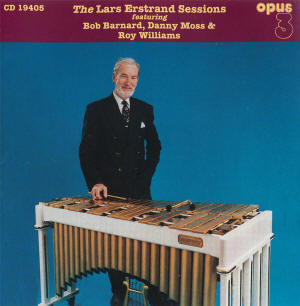 Likewise, the Double DSD of Opus3 Records' The Lars Erstrand Sessions features another quintet, only with very different instrumentation and mood than we find in the Örnberg. Erstrand's group has the lilting swing of jazz ensemble and vibes, with keyboards, drum set, bass, and brass joining in. In CD, this sort of thing is flat, edgy, and a bit congested. There's no way to confuse the CD version with the original 15 ips analog master tape.
The Double DSD jumps you right to the tape, putting the very subtle presence of tape on heads in the place you expect it to be… part of the air. The e20 delivers that experience on this recording in a very elegant way.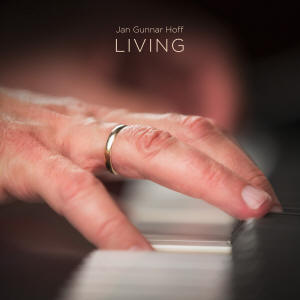 2L is also entering the race for Double DSD. 2L's approach to DSD and SACD is different. Rather than deal with the problems that DSD poses, especially for editing, 2L has opted to record in DXD, an ultra-high resolution PCM format, running at 352.8 kHz/32-bit. Once the work is done there, 2L outputs the recording to various formats, including DSD. In terms of provenance, this means that 2L's recordings are technically not pure DSD, but until we have a complete professional editing toolset for DSD (Merging Technologies is working on this problem), true "pure DSD" is going to be a rare creature.
It's hard to argue with the fine results that 2L is getting in its recordings, though. Morten Lindberg was good enough to get a review sample of 2L's Double DSD (from DXD) of Jan Gunnar Hoff's delightful solo piano album, Living. A wildly creative set of pianistic essays, dancing and floating from one musical meditation to another, Living feels just like what the name says: this music is alive. And once again, the e20 was up to the task, handling the extraordinarily revealing and beautiful album with grace, rich musicality, and a luscious woody power that only a fine piano projects. (Don't believe me? Check out the track "Mirror II"… then write me a letter.) I have listened to this album time and again: DXD or not, it's an argument for 2L putting out all of its DXD recordings on Double DSD.
Morten, that's what we call jiu-jitsu.
Heh heh…
Conclusion

And so, after hundreds of hours of careful listening to many, many DSD and PCM sources, what would I say in conclusion about the exaSound e20?
Simply that the e20 provides a silky elegance of sound that is impossible to gainsay. In this attractive, compact package is an enormous sonic performance whose ability to delight me, day in and day out for several months now, has been bloody impressive. While the variety of inputs may not be as extensive as some other DSD DACs, most audiophiles are concentrating on USB 2.0 for the reproduction of their DSD downloads. The e20 provides exceptional performance that simply worked, without a fault, in all formats that I tried, both DSD and PCM.
At USD $2500, the exaSound e20 DSD DAC is a stellar performer, a rocketship to the sonic stars that doesn't cost you a second mortgage or another divorce to obtain. Possessing a very solid headphone section, easy-to-use controls, and a compact footprint, the e20 is elegant, portable… and affordable. Clear, transparent, detailed, and always silky-smooth, the e20 is a major breakthrough in price-performance, and gives you the more-distant future by supporting DSD, Double DSD, and Quad DSD now.
I can't find a thing not to like about it… the e20 is a wonder!
The exaSound e20 DSD DAC therefore earns a Ye Olde Editor's "Very Highly Recommended!"
With enthusiasm!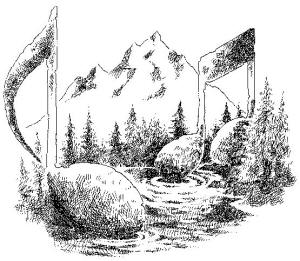 exaSound e20 DSD DAC
Retail: $2499
exaSound Audio Design
3219 Yonge Street, Suite 354
Toronto, Ontario
Canada M4N 3S1
www.exasound.com/Home.aspx