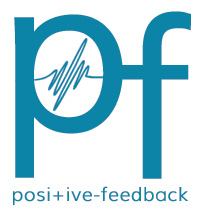 You are reading the older HTML site
Positive Feedback ISSUE 67
may/june 2013
Jean Françaix: Music for String Orchestra
by Stephen Francis Vasta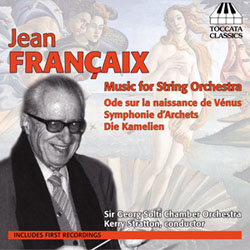 Symphonie d'archets. Ode sur 'La Naissance de Vénus' de Botticelli. Die Kamelien: Pantomime für Schauspieler. "Sir Georg Solti" Chamber Orchestra, Budapest/Kerry Stratton. Toccata Classics TOCC 0162. TT: 53:06.
On casual listening, the music of Jean Françaix—varied in color and mood and unfailingly tonal—can seem agreeable enough. Yet the playful episodes and moments of Poulenc-style wit can leave the unsuspecting listener unprepared for the angular contours and textural sparseness of other, contrasting passages. So that very accessibility can, ultimately, set up the music to sound "difficult"!
This collection of works for string orchestra offers us Françaix at his most mercurial, as encapsulated at the start of the Symphonie d'archets: the opening phrase, lush and Romantic, gives way to an astringent answer, but then the body of the movement, at a mobile tempo, is buoyant and playful! The Andante moto is poised—only the French know how to manage this sort of thing in duple meter—while the Scherzo and Trio movement is really an elegant waltz, spiced up with a few "wrong note" harmonies. The pleasant, cheerful note-spinning of the finale goes on a bit too long.
The first movement of the incidental music to Die Kamelien begins severely, setting an almost Expressionist tone, gradually gesturing towards a sweeter lyricism. But this suite is dominated by waltzes of various kinds, including a quirky one in the Ball bei Flora and a Broadwayish jazz waltz in Das Landhaus. And the Ode sur 'La Naissance de Vénus', brooding and agitated at the start, moves into a graceful but still disturbed contrasting section.
Conductor Kerry Stratton clearly loves this repertoire, and his well-prepared, sympathetic performances are persuasive. He draws an enthusiastic, committed response from the "Georg Solti" Chamber Orchestra, which sounds at its best in the Symphonie. The Kamelien music is nearly as good, though the trim violins in the Ball bei Flora movement are a bit dry. Parts of the Ode sound uncertainly tuned, as if the intonation were accurate within each instrumental line, but didn't quite line up right as those strands converged.
The sound is full, and vivid: the low divided strings in the Symphonie's slow movement are clear and resonant. The Ode, however, now betrays a touch of hardness that I'd not noticed on my pre-production copy.
Stephen Francis Vasta is a New York-based conductor, coach, and journalist.