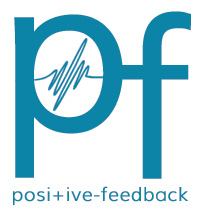 You are reading the older HTML site
Positive Feedback ISSUE 67
may/june 2013
T.H.E Show Newport 2013 - Part 1 (A through Hi)
by Steve Lefkowicz
It seems there are audio shows everywhere and all the time these days. Some people travel to many, if not all of them, and for many people, the shows are the only chance they ever get to see most of the equipment on display. For me, CES and T.H.E. Show Newport are the only shows I attend, most due to logistics and cost. One day I will attend RMAF. I've heard it's the bomb, that is a must for all serious audiophiles, and also for those of us who try to ease off on the "seriousness" of the hobby while remembering that listening to music is supposed to be fun.
As has become a habit for me, I'll preface my show coverage here with a little rant of sorts. I've been attending these audio shows for many years, and it's time to get a few things off my chest, and air out some grievances. Some will be rehashing the same issues as in previous show reports, but I'll add in some new ones, too. I won't mention names in this part, as I'm not picking on any particular manufacture or exhibitor, but maybe you can have fun guessing.
First I need to bring up the all too common rudeness of many of the attendees themselves. I understand that time is limited, and you have a lot to see. But you don't have to push and shove in the hallways, you don't have to force your way to the head of the line for the elevators, you don't have to interrupt demos, and you don't have to act like the rest of us are ruining your day. And more importantly, don't take the fact that someone else's music is playing as a signal to carry on loud a conversation next to the person in the "sweet spot." And don't act disgusted when someone is trying a system with their own music, rather than your favorite audiophile classic. Don't interrupt my demo by bitching about how bad my music is, or how inappropriate it is for a demo. You can play Diana Krall when I'm done. Oh, and your twenty questions about design choices or internal components don't impress anyone: they take away from actual demo time that both the exhibitor and all the other attendees are there for. Have that conversation in the hallway if the designer is interested.
Second, if you're a manufacturer demoing your product, please trash the limited playlist of demo tracks and let us play even one or two minutes of something we want to hear. I'll sit through boring audiophile jazz for a couple minutes waiting my turn, but when it's my turn it should be my music too. Also, remember we all have limited time in each room, and would rather spend five minutes listening to something we can relate to than fifteen minutes listening to you talk about your design. If we want to know more about the intricacies of your design, we can have that conversation out in the hallway if you're interested.
Third, if you are trying to impress us with your products, don't be dour, morose or act uninterested, while playing music that matches your attitude. Music should be fun, and a demo should be fun. If your room is empty, don't act like I'm ruining your day by asking to play a track from my CD or USB drive, especially if you just have another jazz combo with female vocalist playing to your otherwise empty room.
Fourth, don't trash talk your competition. I don't care what you think of the room down the hall, or a competitor from the same town that you're from. I'm in your room to see your stuff, not hear your opinion on anyone else's stuff. I hear enough trash talk from the people whose conversations I overhear out in the hallway.
And finally, if you are an exhibitor, and want all the details of model names or numbers, and prices listed in a show report, take a few minutes to put together a product list to hand to the press. Or just tape a copy on the wall, and we can take a photo of it for our notes. If I have to spend my time writing all your information down, rather than listening to your setup or hearing about some interesting aspect of the product, I'll probably just leave it out.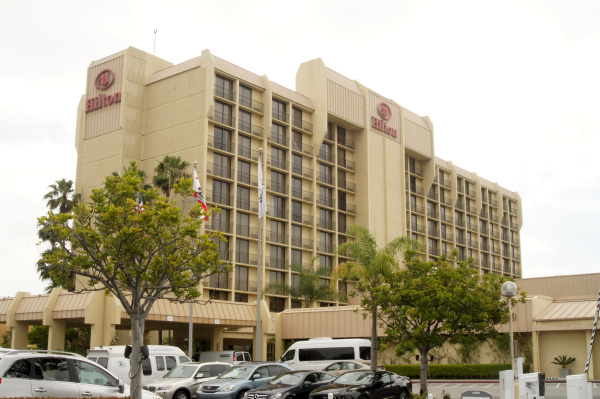 I also want point out a few really positive aspects of this years show. For starters, I simply need to thank Richard Beers and Bob Levi for organizing such a great show. From a press/attendee standpoint, I love the layout, the venue, the organization, and even the staff hired to run everything. CES always seems too tense, crowded, and business oriented. This show is a treat to attend.
I was quite pleased to see many companies showing off some of their lower priced products. Certainly still far from cheap, there seemed to be fewer $100,000 or higher speakers systems, $50,000 amplifiers, or $10,000 tweaks on display. Instead, I saw more $20,000 and under products, many under $10,000. Quite a bit of true quality budget gear was on display, too. Some of you might not agree, but I find that to be a good sign, indicating that maybe the industry is reaching out beyond the top 0.5% of the population. Maybe not…
I was also delighted to find that well more than half of all exhibitors could play 24/96 files from a USB flash drive, and were actually willing to do it. At the first Newport show a couple years ago, only three or four exhibits could (or would) do that. I brought a few LPs, a burned CD with a few sample tracks, and a 2 GB flash drive with a dozen or so FLAC and Apple Lossless files. Every time I played 24/96 files of LA Woman, Band on the Run, or The Battle of Epping Forest, the room filled and people enjoyed it.
Most importantly, in spite of what I ranted about above, I found a higher percentage of exhibitors than usual having fun and playing good music. It is that level of fun and enthusiasm that makes the show experience worth the effort. I saw several new faces and brands I hadn't heard of before, some of which were showing pretty serious, nice sounding gear.
Finally, it seems that over the last several years, the same exhibitors usually have the best sounding rooms (to my taste and overall outlook). There are certain companies that, through a combination of good gear, thoughtful setup, and exhibiting experience, just always seem to get things right. Seems repetitive writing about it, but these people deserve recognition. I'll be sure to mention them.
Finally, my standard disclaimers:
I am lenient of less than perfect sound unless the exhibitor insists it sounds great. I understand the difficulties of setting up under show conditions. I listen for potential. I've been at this long enough to have an idea if an issue is gear or setup related.
I do skip a few of the super expensive rooms or just stop in for a brief look, based on time. I'm not interested in most of them, and figure other people's show reports will cover them.
If a room missed out on being in this show report, don't take it personally. It may just be that my photos didn't come out well enough or it may be I simply missed the room. For example, many of my photos from the Headphonium exhibit didn't come out, as I didn't notice a setting on my camera had accidentally been switched. That is unfortunate, as the Headphonium area was both way cool and very important. The next generation of audiophile will surely come from the personal audio crowd.
So, on to the show! In somewhat alphabetical order:
Acoustic Zen, ModWright, Red Dragon, Durand Tonearms, PTP Audio, HHG Stands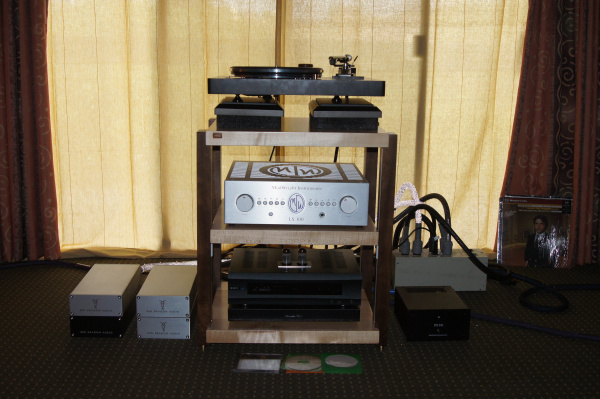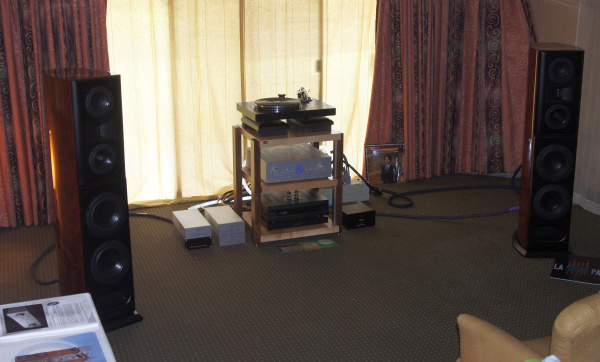 Let's start off with a nice sounding room showcasing some sweet gear. Acoustic Zen Crescendo speakers ($16,000), being driven by four Red Dragon Audio M1000 monoblocks ($1099 each), ModWright LS100 line stage ($3495) and ModWright modified Oppo player ($2495 plus your Oppo). The Durand Talea tonearm ($19,500) was mounted on a PTP Audio Turntable with an Ortofon MC Anna cartridge ($8499). The stand was supplied by HHG.
Affordable Audio, Bluebird Music, Spendor, Exposure, Chord, Van den Hul, Baetis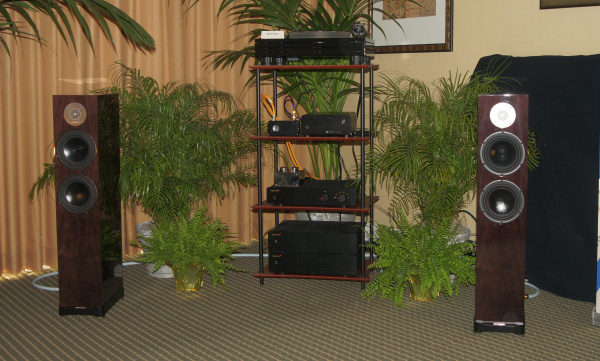 Spendor loudspeakers and Exposure electronics have been making wonderful music for as long as I've been involved in audio. Local SoCal dealer Affordable Audio and distributor Bluebird Music teamed up to showcase the new Spendor D7 speakers($6495), Exposure 3010S2 preamp ($1795) and matching 3010S2 monoblocks ($3195/pair), Chord Chordette Qute HD DSD DAC ($1795), Baetis Revolution media server ($3595), and a Music Hall mmf 11 turntable ($4495). Cabling was mostly Van den Hul, but with a Snake River Audio Boomslang digital cable.
Angel City Audio, NuForce, LA Sound Panels, WyWires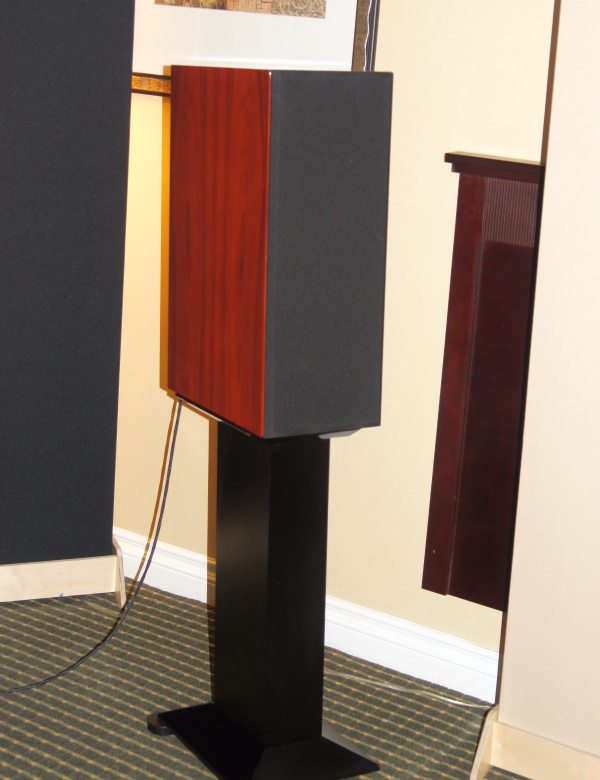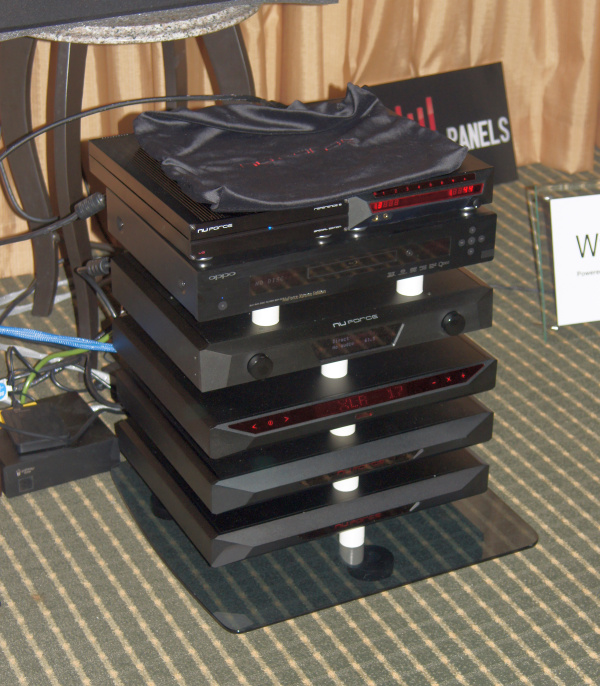 In a change of pace Angel City Audio was demonstrating their Trinity loudspeaker ($2599) with NuForce amplification instead of Melody tube electronics. The combination was powerful and highly musical. The room was treated with LA Sound panels, and all the gear was hooked up with WyWires cabling and power conditioning. WyWires continued their trend of showing up in very good sounding rooms.
Audioengine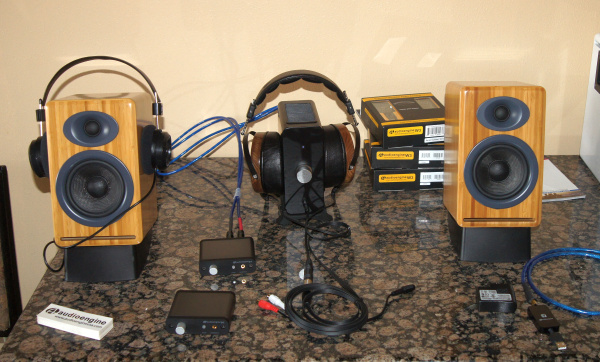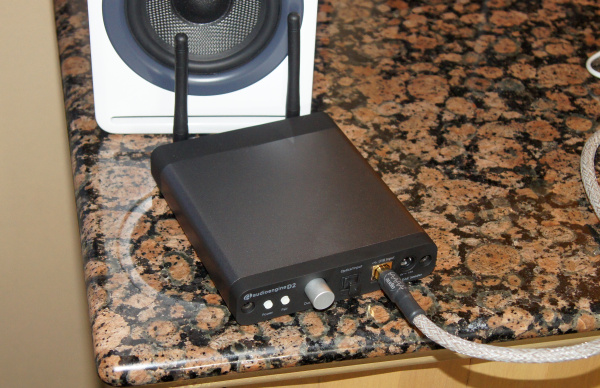 For someone who loves lower cost audio, and who is always looking to bring new people into this hobby, Audioengine continues to be a favorite. Their highly affordable powered speakers, and high-resolution wireless adapters, make good sound easy for everyone. Great on the desktop in a computer audio system, but here they showed they can handle a room sized system, too.
Basis turntables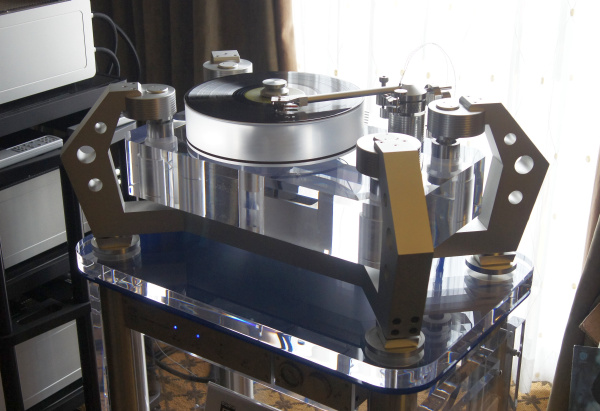 I know, I usually avoid over the top extravagances like the $179,000 Basis Work of Art turntable, which includes the Super 9 tonearm. However, there's no denying that it is a pretty slick piece of work.
Benchmark – Studio Electric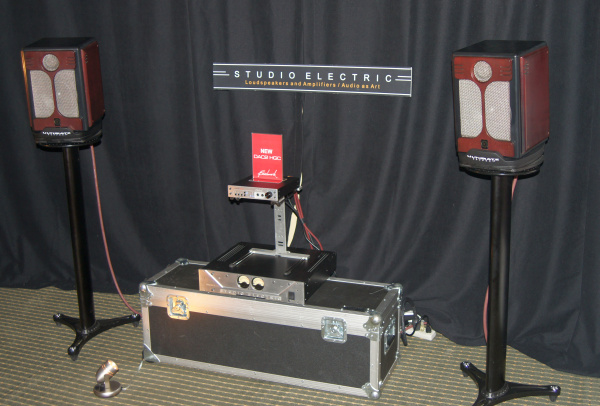 Benchmark and Studio electric teamed up again with an amazingly simple system that simply rocked. The new Benchmark DAC2 HGC preamp DAC ($1995) sent high-resolution files (including DSD) from a notebook PC to the Studio Electric hybrid amplifier ($7350) and then to the Studio Electric Monitor speaker ($2750). We cranked LA Woman (24/96 FLAC) and the room stayed packed for the whole track. Extremely dynamic and full sound for such a small speaker.
Blackbird Audio – Trenner & Freidel, Viva, Basis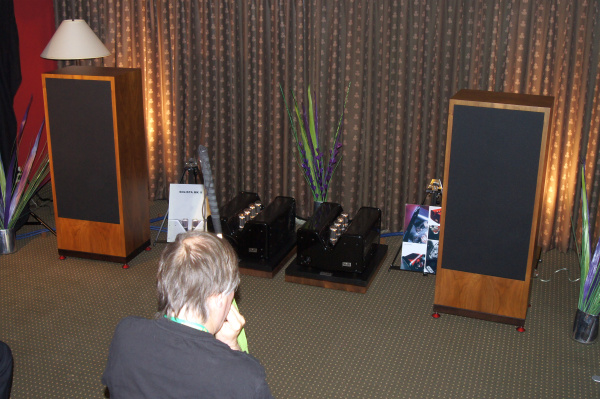 Blackbird Audio (a dealer near San Diego), teamed up with importer Profundo to host a room showcasing a fairly pricey and extremely beautiful sounding system. The Viva gear looks even better in person than in the photos. Once again, Blackbird proprietor Dan Muzquiz knocked it out the park with great sound.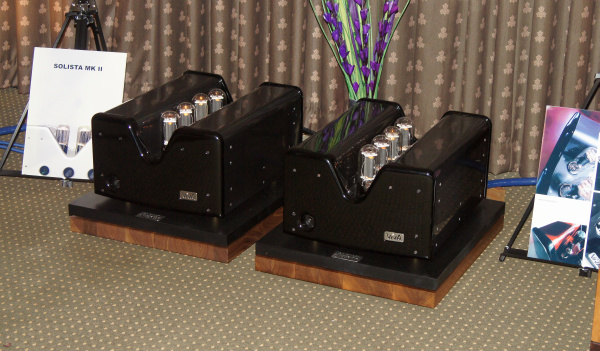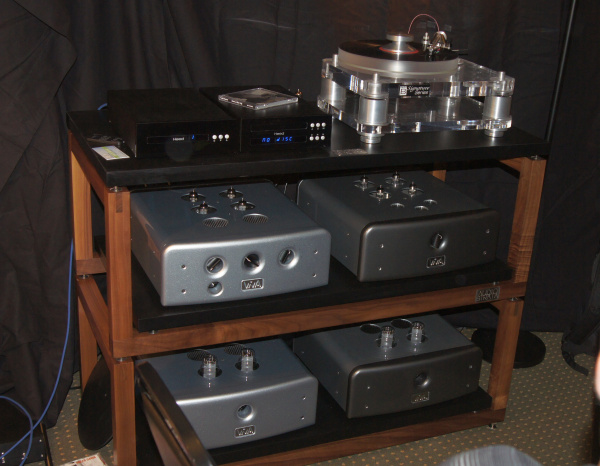 Basis Audio 2200 Signature w/Vector 4 arm w/optional VTA micrometer, calibrator base and Syncro-wave power supply ($18,895), Transfiguration Proteus low output MC cartridge ($6000), Heed Obelisk DT digital transport ($1900), Heed Obelisk DAC, ($1900), Viva Linea, two chassis line level preamplifier ($18,500), Viva Fono, two chassis phono stage ($16,500), Viva Aurora 845 based monos ($43,500), Trenner & Friedl Isis speakers ($40,000), Audio Strata M-series double wide, 3 tier stereo furniture in solid Walnut frames with black composite shelves ($6500), Audio Strata M-series amplifier stands with solid Walnut bases and black composite tops (2 @ $1940 each), Digital, analog, speaker & power cables were all Cardas Clear and additional Tunami power cables by Oyaide on amplifiers.
Cary Audio, Adam Audio,WyWires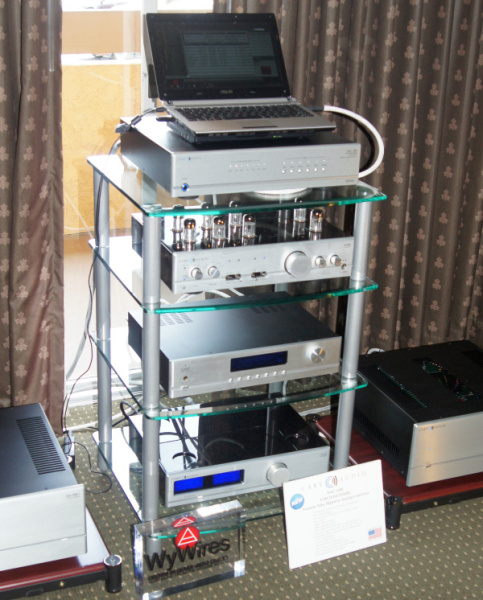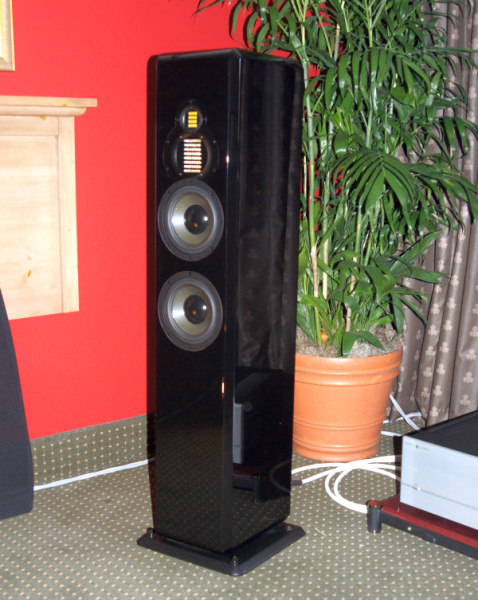 Cary Audio showed their SLP-05 tubed preamplifier ($8500) and SA-500 monoblock solid-state amps ($10,000/pair), and DAC-100 ($2495) with Adam Audio Column speakers ($7500).
This was another system that was all wired up with WyWires. Very nice setup with good sound.
Channel Islands Audio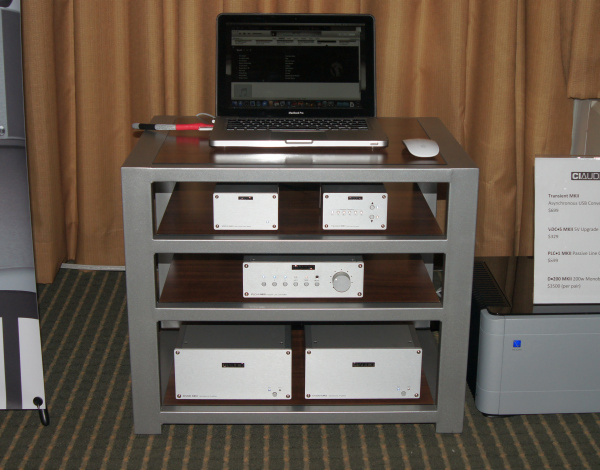 Channel Islands Audio is my kind of company. Built great gear but don't do unnecessary things to it so you can still price it fairly. Their system included the Transient MKII Asynchronous USB Converter/DAC ($699) with the VDC-5 MKII power supply ($329), PLC-1 MKII Passive Line Controller ($899) and a pair of D200 200watt mono amps ($3500/pair).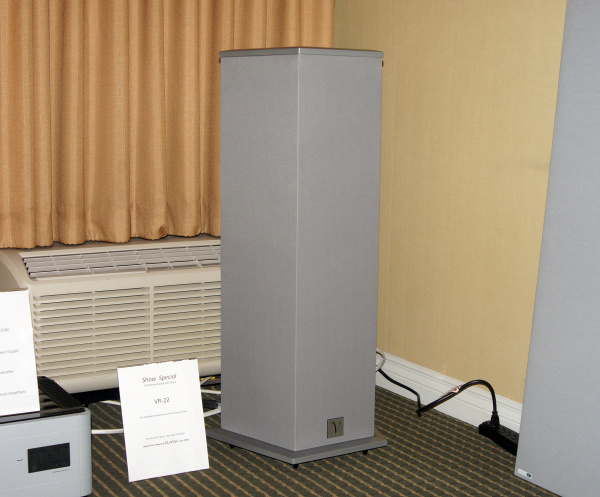 The CIAudio system played into a pair of Von Schweikert VR-22 speakers ($2895). The whole system, was under $10,000, and should give hope to all those who think "high end" audio starts way above that price point.
Colleen Cardas Imports, Unison Research, PureAudio, Opera Loudspeakers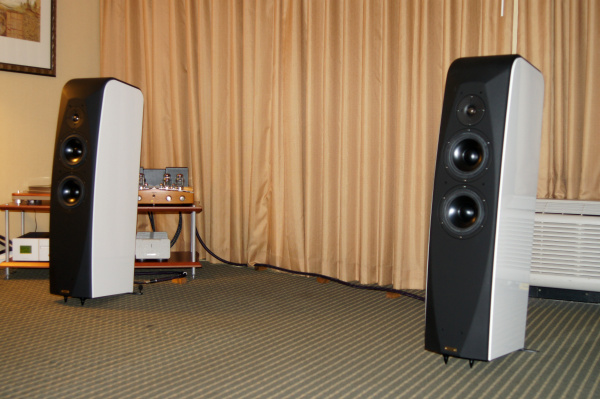 Colleen Cardas Imports had a fine sounding system in a very hospitable room. Though this certainly wasn't a low priced system, at just over $23,000 (plus cables) it was far from the expensive end of what was shown in other rooms. And yet, it was one of the better rooms overall.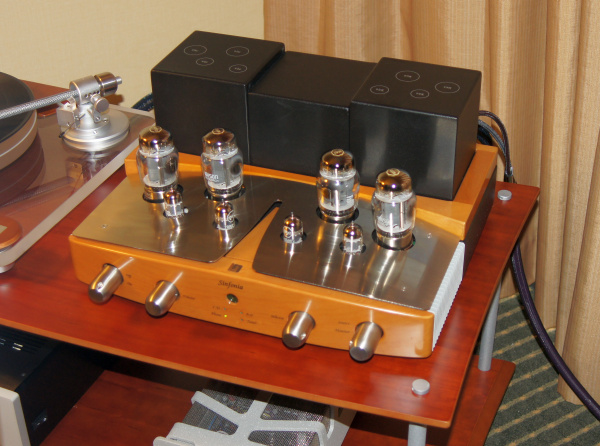 Unison Research Giro turntable w/arm and UN1 cartridge ($3995 complete), PureAudio Vinyl phono pre ($4500), Unison Research Sinfonia integrated amplifier ($6495), Unison Research Unico CDE CD player ($4120), Opera Seconda loudspeakers ($3995/pair), all cables and power management by Furutech.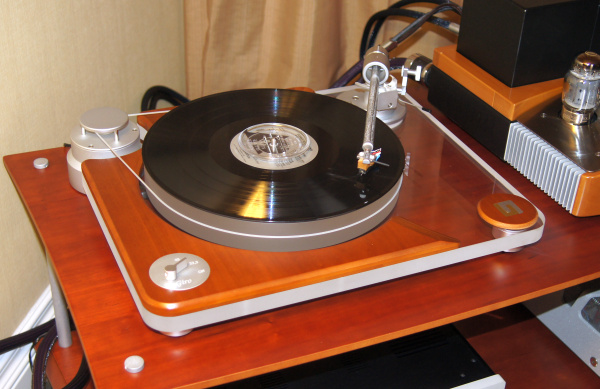 Plus, they were up for musical variety. I played the full 10+ minutes of Van der Graaf Generator's The Sleepwalkers from a 180 gram vinyl release of their Godbluff LP, and they came back with The Pixies' Doolittle LP (MFSL). No room for Diana Krall here!
Dynamic Design, Marten speakers, ModWright, Stillpoints, Annalyric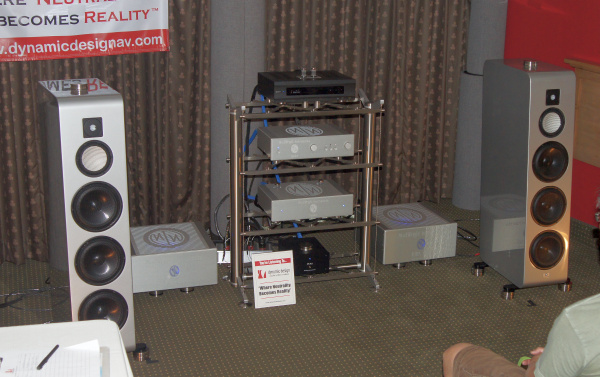 Dynamic Design had a system made up of gear from some of my favorite brands. I've never heard a Marten speaker that I didn't like and the Django XL ($15,000) is simply something special. ModWright's LS36.5 preamp (with external power supply), modified Oppo 105 player, and a pair of KWA 150 Signature mono amplifiers took care of the electronic side, and Annalyric handled power line conditioning. The new Steve Martin/Edie Brickell CD sounded ever so sweet here.
E.A.R., Marten, Helius, Jorma Design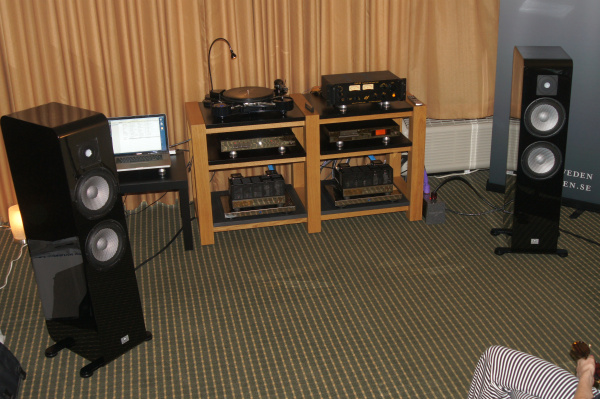 Dan Meinwald's E.A.R. USA rooms are always, without question, amongst the best sounding rooms at any show, and they have been for many years. Not quite sure how he squeezes out the best possible sound from even bad hotel rooms, but he does, time and time again.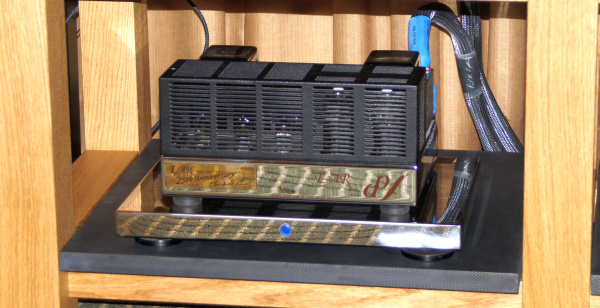 He was showing the smaller Marten Django L speakers ($9000) fronted by a full system of E.A.R. electronics. A special treat this time around were the use of the E.A.R. 509 25th Anniversary mono blocks. There are a numbered series of just 250 units.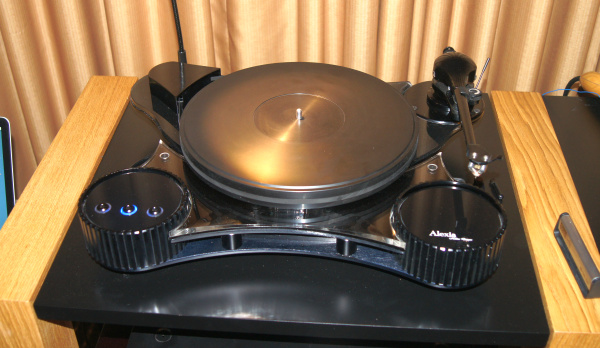 Also something new was the Helius Alexia turntable ($5500 without arm). The suspension on this table had the smoothest, slowest and best damped response I've ever seen in a fully suspended design. We cranked The Black Keys' Brothers LP (180 gram vinyl) here, and it killed. Can't tell me rock is inappropriate for a high-end system.
Electra Fidelity, Fritz Speakers, WyWires, Atma Sphere, Resolution Audio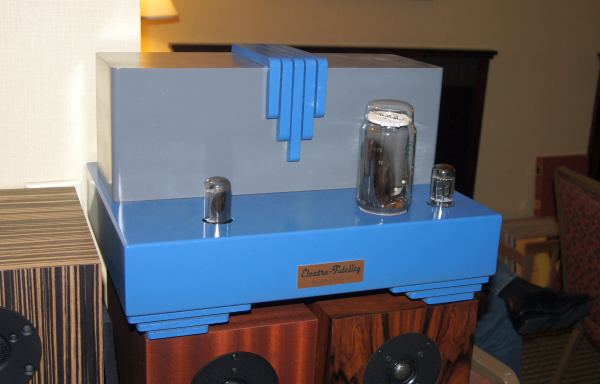 How can you look at this amp and not just feel good. Electra Fidelity amps fortunately sound as good as they look. In this room they had their amps driving a pair of Fritz Speakers.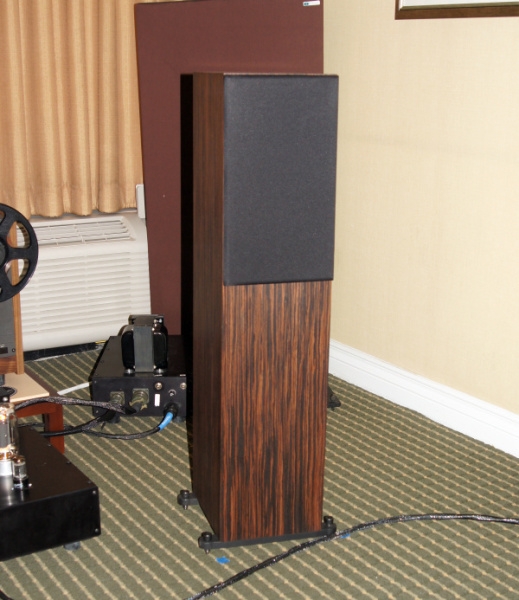 I don't think I've seen a floor standing Fritz speaker before, but the Rev 7 model ($3500/pair) certainly sounded fine, and overall this was a very enjoyable room to hang in and listen. And it was yet another room sporting a full WyWires setup.
Emerald Physics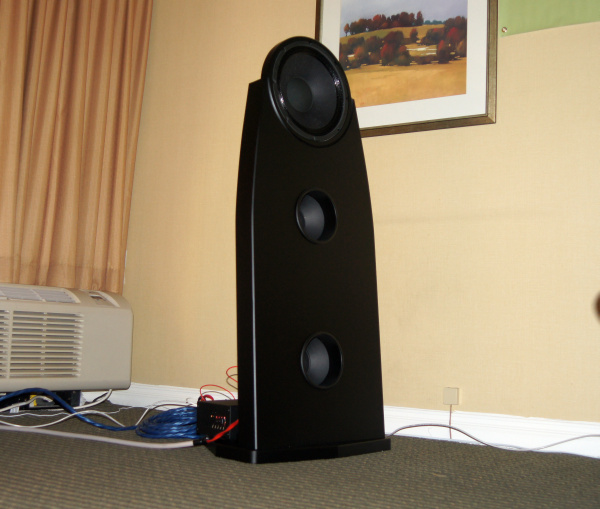 Over the past couple of years I've been very intrigued by the Emerald Physics open baffle, DSP controlled speaker systems. This show they had their new CD2.3 MK2 system ($5950). Don't be fooled into thinking this a single full range driver. The speaker is actually a three-way, four driver system, using a one-inch compression tweeter, a twelve-inch paper cone midrange, and dual fifteen-inch woofers. The controlled directivity design does seem to leave a small sweet spot, but when you are there, the sound opens up and is huge.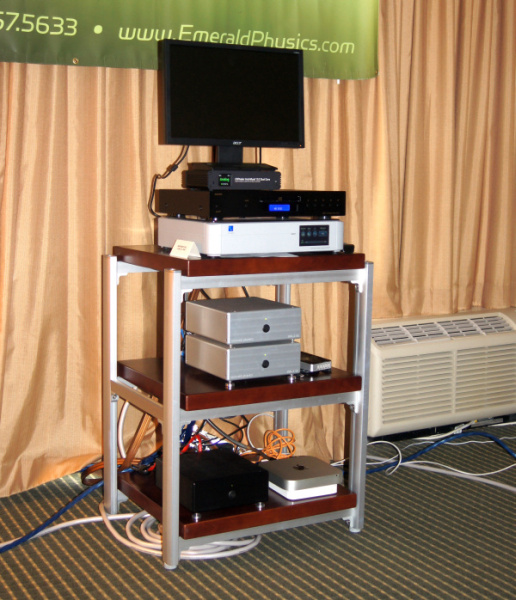 Emerald Physics make their own amplifiers and DACs. The whole system here, which included speakers, multiple amplifiers, DAC, and EQ/Crossover, a PS Audio Perfect Wave DAC MK2 and a DSPeaker (for room correction) was $12,990.
Once again, it was very impressive.
Emotiva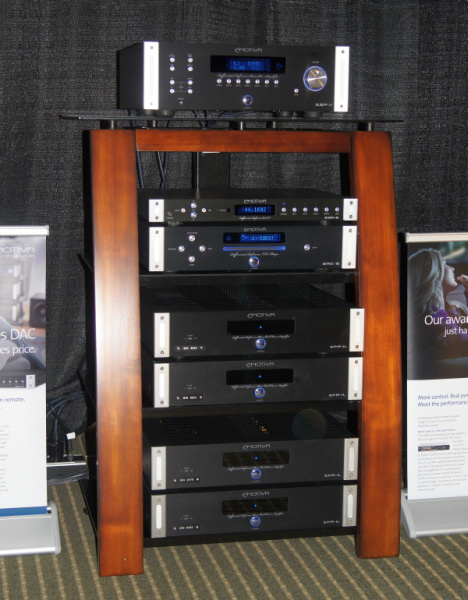 No matter what happens in the world of high end audio, or how high prices get, there will always be a place for companies that work on making good gear at reasonable prices. What sets Emotiva apart from other "budget" brands, is that their gear looks like it could be one of the expensive brands too.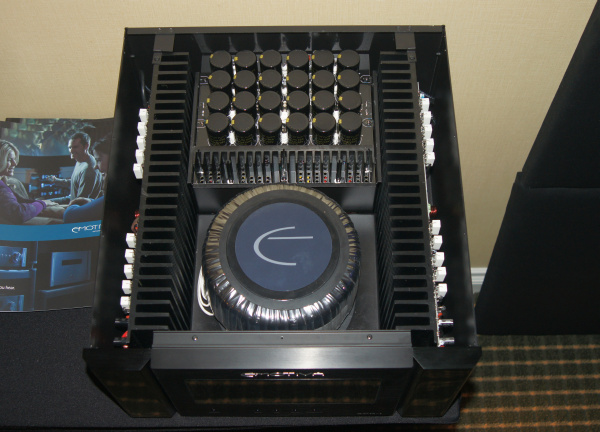 Using a nice pair of B&W speakers, this room rocked when asked to, and handled the traditional jazz band/female vocals pretty darn nicely too. Don't be put off by their price. These guys are serious.
Empirical Audio, Vapor Audio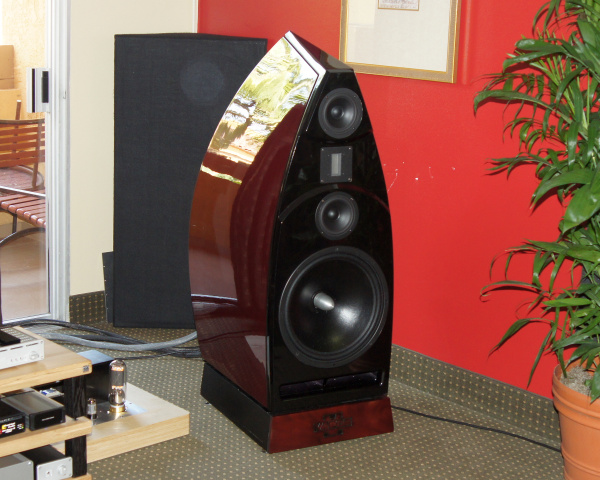 I had only heard of Vapor Audio because of their Internet presence. I had never seen or heard one of the speakers before. Seeing their very large Nimbus speakers had me wondering about the price. After listening for a while, and being very impressed with their dynamic and effortless sound, I really started to wonder, $15,000 maybe $20,000? Hard to judge pricing in High End audio these. At $7895 they actually seem like quite a bargain. They are fairly efficient and an easy load, too.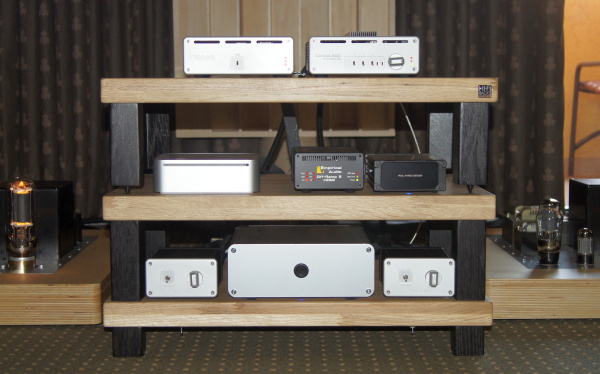 Vapor was teamed up Empirical Audio, another company I wasn't really familiar with. They showed their Audio Off-Ramp 5 USB Converter ($3250), Overdrive SE USB DAC/Pre ($8500), Final Drive (a pair of passive transformer buffers/selectors, $2999). Finishing off the system was a pair of Arte Forma Signature 805 Monoblocks, 40 watts per channel single ended ($7995/pair). The source was a Mac Mini with a Hynes power supply and running Amarra. Overall just a great sounding display.
Fibonacci Technologies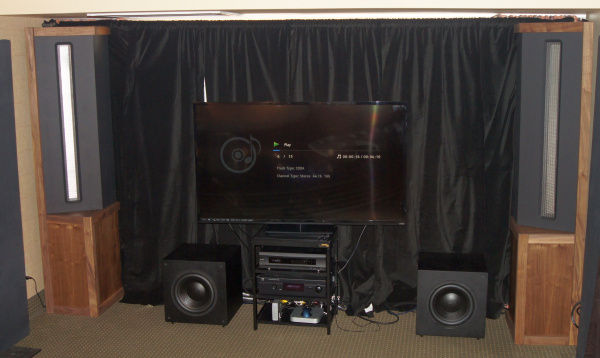 Walking into the largish corner suite that housed the Fibonacci Technologies Mariposa ribbon speakers ($24,000/pair) something told me to plan on sticking around for a while. The tall, narrow, corner loaded ribbons, in spite of a somewhat DIY look and feel, kicked some serious ass. Their single, full-range ribbon driver is curved, and the curve is based on the mathematical Fibonacci series (hence the name), which is supposed to improve dispersion. Crossed over quite subtly at 80Hz to an inexpensive pair of Dayton subwoofers, this system handled my 24/96 files of old 70s prog and classic rock better than most rooms. I spent the better part of forty-five minutes there, letting them pick tracks off my USB drive, and the room stayed packed for the whole thing. A great time.
Gallo Acoustics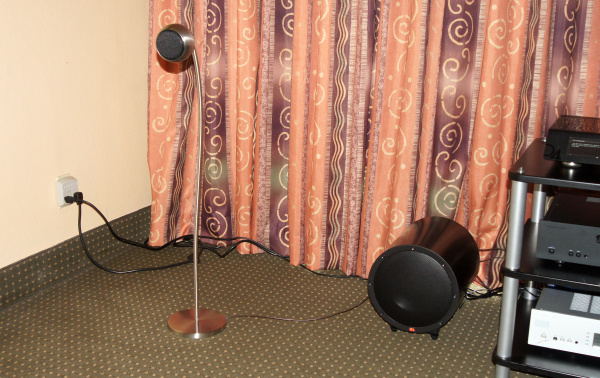 Gallo Acoustics was demonstrating their little Micro SE single driver (3 inch) speakers ($239 each, stands $199 extra) with a TR-1D subwoofer ($599). With all the options and finish upgrades, the system was about $1800. It's still hard to reconcile the speaker's minute appearance with their large sound. I listened to some Rebelution and a track from the new Steve Martin/Edie Brickell CD here, and these little balls work quite nicely.
Gene Rubin Audio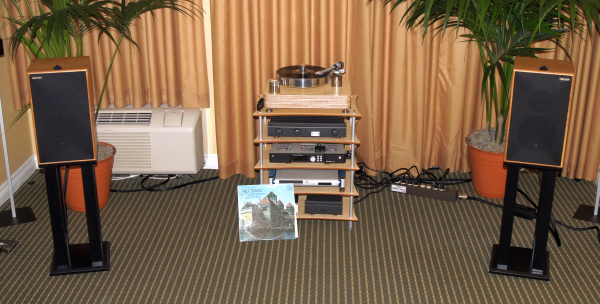 Long time Southern California dealer Gene Rubin (I was a customer way back in the early 1980s) was showing his usual mainstay products from distributor Fidelis, and hosting a superb sounding room. Harbeth Monitor 30.1 speakers ($5990), LFD NCSE MKII integrated amp ($7495), LFD Phono Stage ($1895), Bricasti M1 DAC ($9995), Palmer 2.5 turntable with Origami tomearm ($11,990), Stein Music Aventurin cartridge ($6495) and Stein Music Harmonizers ($1995).
Glow Audio, Audiowood, CRL Cables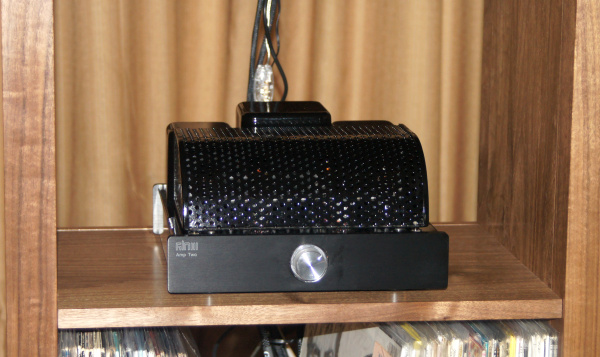 Glow Audio's new Amp 2 ($1508) is a 15-watt, push-pull EL84 based integrated amp. Though it gives up the Amp 1's headphone capability and internal DAC, it does offer enough power to drive a wider variety of speakers.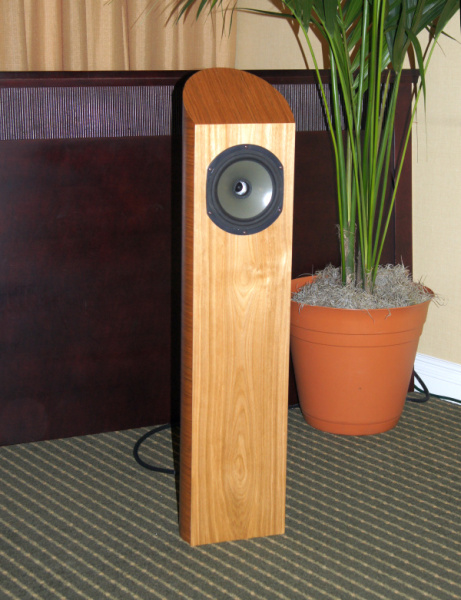 A new speaker from Glow Audio (price TBA). Sounded pretty nice, too.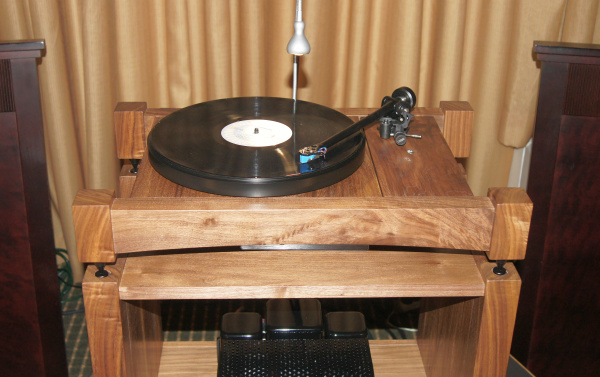 Audiowood makes beautiful custom turntables using quality parts from a variety of manufacturers. Here was one, based on Rega parts, that was built with a matching equipment stand. Every Audiowood table is different of course.
Cable Research Lab supplied all the cables in this room.
Heed, Blackbird Audio, Funk Firm, Profundo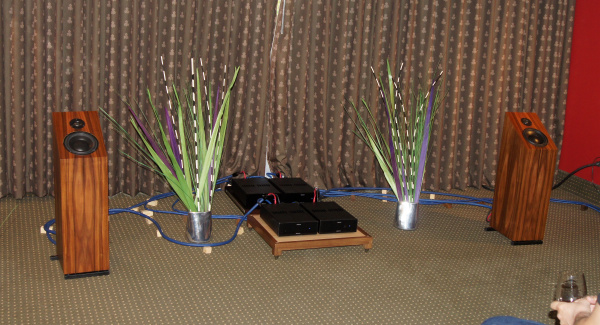 This was the second room hosted by Blackbird Audio and Profundo. It was just about entirely products by Heed (except the Funk Firm turntable). Hungarian based Heed has been receiving excellent reviews worldwide. I can see why. This is the second time I've heard an all Heed system, using their Enigma speakers, and this layout just works for me. The speakers and amps may be physically small, but their soundstage and overall presentation fills the room in a way few other systems at the show could achieve.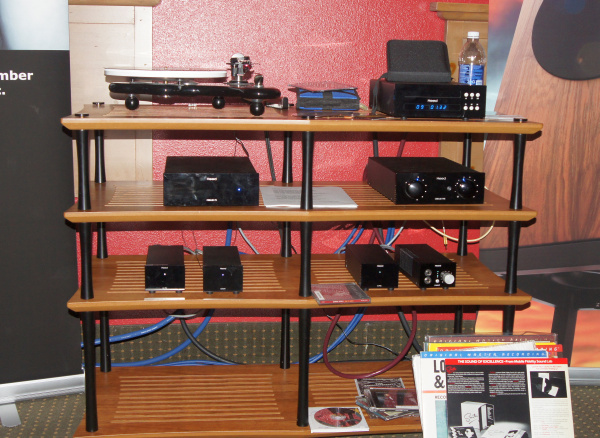 Funk Firm Vector III w/F-XR tonearm ($4090), Transfiguration Axia low output MC cartridge ($2450), Heed Quasar phono stage with Q-PSU power supply ($1200), Heed Obelisk DT digital transport ($1900), Heed Obelisk PRE stereo preamplifier ($1900), Optional (new) Dactil internal DAC card ($400), Heed Obelisk PX external power supply for preamp ($1400), Heed Canalot headphone amp with Q-PSU passive display ($1200), Heed Obelisk PM monos (4200/pair), Heed Enigma two-way speakers in upgraded Rosewood finish ($4250, standard finishes are $3850), Quadraspire Sunoko-Vent 2T double wide stand 3 tier ($2085).
Highwater Sound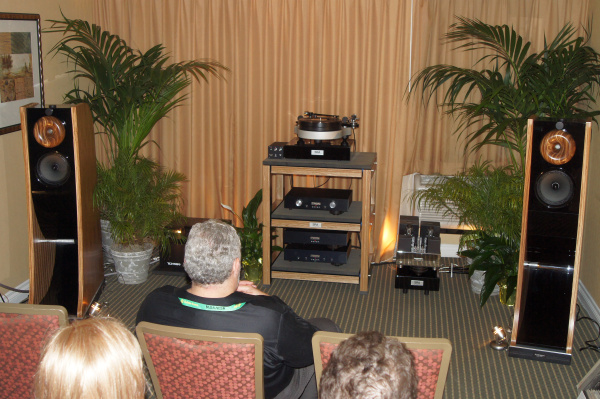 Jeffrey Catalano's High Water Sound imports (and sells direct) a variety of gear that beautiful to both hear and see. His rooms at shows are mostly LP based, but he brings such a great collection of real music you don't have to worry about bringing your own. I know stopping the High Water Sound room will mean hanging out for a while.
On display was TW-Acustic GTS turntable ($12,000) and 10.5 tone arm ($5,500 each), Cessaro Horn Acoustics Chopin speakers ($40,000), Tron-Electric Discovery GT SE 300B Amp ($60,000), Seven GT Line Stage ($18,000), Seven GT Phono/Stereo ($18,000), Seven GT Phono/mono ($18,000), Silent Running Audio Scuttle Rack &Ohio XL Bases (prices vary), Pure Sound CD Player A-8000 ($1800),
That's it for part 1. Part 2 will be ready in a few days.