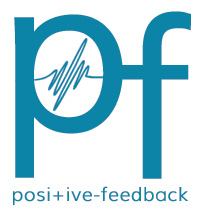 You are reading the older HTML site
Positive Feedback ISSUE 67
may/june 2013
T.H.E Show – Newport 2013 - Part 2 (I through Z)
by Steve Lefkowicz
Induction Dynamics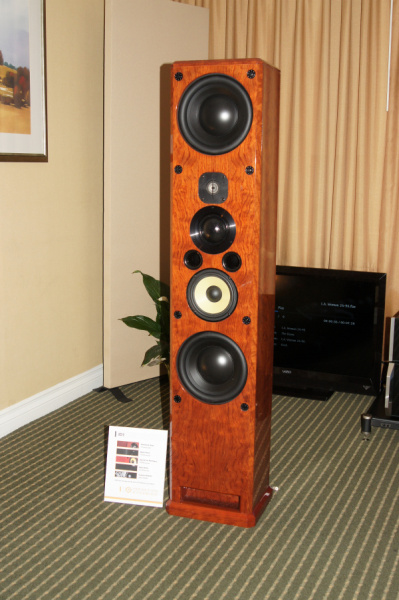 Induction Dynamics ID1 speaker ($15,000 in Rosewood) was being driven by an all McIntosh system. Big, powerful and exciting describes the sound as I heard it. Serious stuff.
JansZen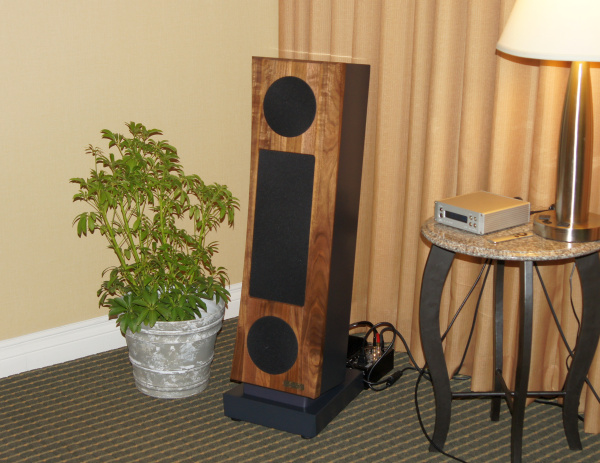 Pete Davey reviewed the JansZen electrostatic speakers back in Issue 59 of PFO, and I've wanted to hear them ever since I read his review. At first glance, they are much smaller than I had expected. Unlike most electrostatics, these have their panels in a cabinet, and are not dipoles. However, unlike many other smaller electrostatics, these offered up great dynamic capabilities, and overall loudness. Since I stopped in here early on the first day, there was no crowd, I felt it was okay to try some, shall we say, challenging music for a demo. We played The Sailor's Tale from 24/96 FLAC file of King Crimson's early album Islands. This dense track has amazing interplay between guitar, sax and Mellotron, and it's easy for a system to make a mess of it. It played brilliantly here, with seamless blending of the 'stat panel and the dynamic woofers.
J-Corder Custom Reel-to-Reels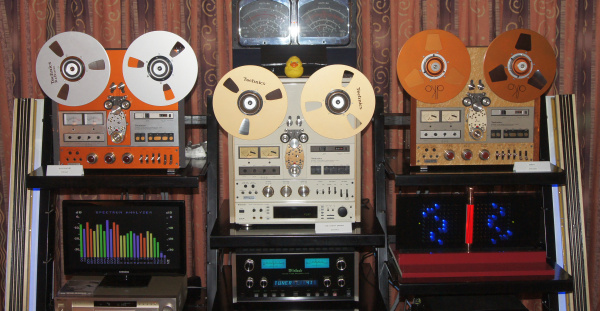 I didn't really get a chance to listen to these recorders, but damn, do they look sweet. If you're looking at getting into reel-to-reel, add J-Corder to your list.
KEF, Audio High, Wire World, Chord, Parasound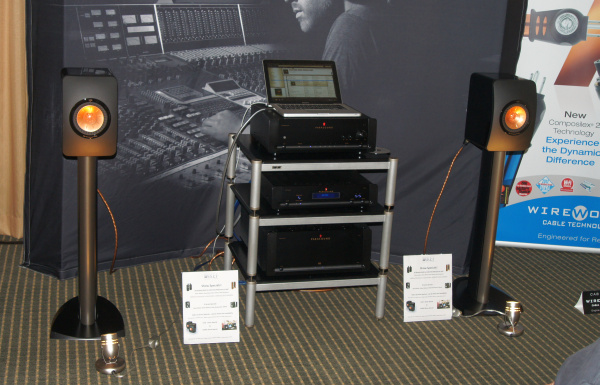 Surprisingly, this was the first time I've heard the much talked about KEF LS50 speakers. I almost expected to be disappointed, since they've received so much praise and I tend to be a little contrarian sometimes. Too bad for me. Matched with a nice set of Parasound electronics, and hooked up with Wire World cables, this system did everything I had read and heard about the little LS50s. We played a few tracks off of The Lumineers' CD, followed up by some tracks they played for us from Ben Howard. Awesome sound…
Kharma International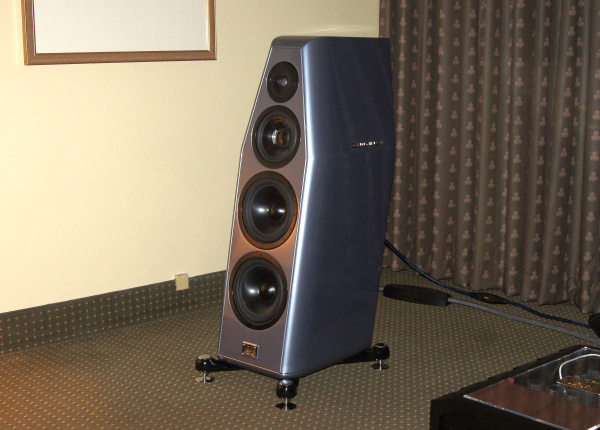 Kharma's fine line speakers have been out of the US market for a few years, but they are back, and sounding mighty fine. The DB9 loudspeaker shown here ($36,000/pair) were driven by some very expensive Exquisite electronics. An overall nice sounding exhibit.
King Sound, Affordable Audio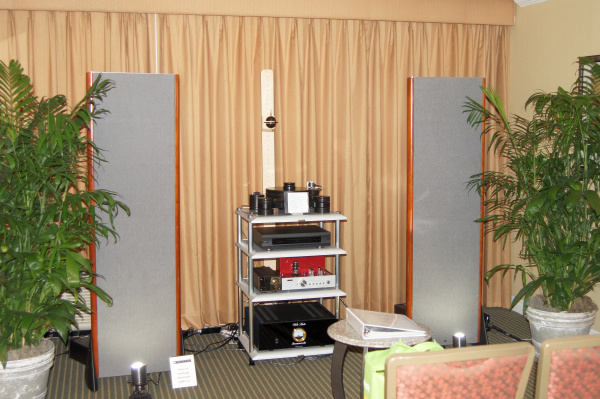 I've been a long time fan of large electrostatics, and have enjoyed my time listening to King Sound speakers at shows over the past few years. This show was no different. Although the fairly large Prince III ($9995/pair) are hardly what most people think of as affordable, in terms of the large, full range electrostatic market, they're actually somewhat of a bargain. They were beautifully driven by a Wells Audio Innamorata Power Amp ($6500), Triode TRX-1 preamplifier ($3200) and a Baetis Audio media server ($3595).
Legacy Audio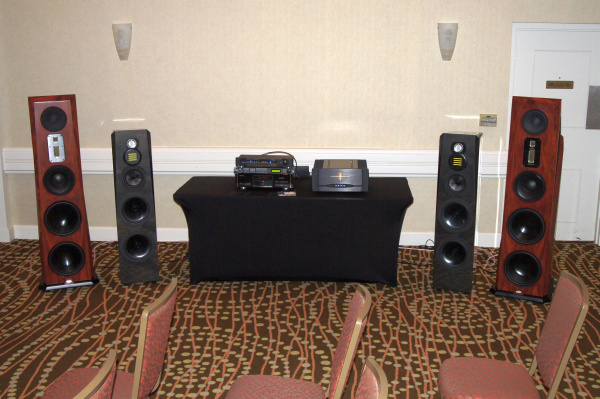 Legacy Audio expanded their display over the past few shows, having four sets of their large speakers set up. When I was there, they were playing their most recent model, the Aeris Premium ($18,850). I've heard several of their models at other shows, and truth be told, although generally quite nice, this wasn't the best setup I've heard from this manufacturer. Their speakers are really much better than what I heard this time around. I would mention in Las Vegas the Aeris was one of my favorite exhibits of the whole show. Just one of the hazards of exhibiting at a show.
MBL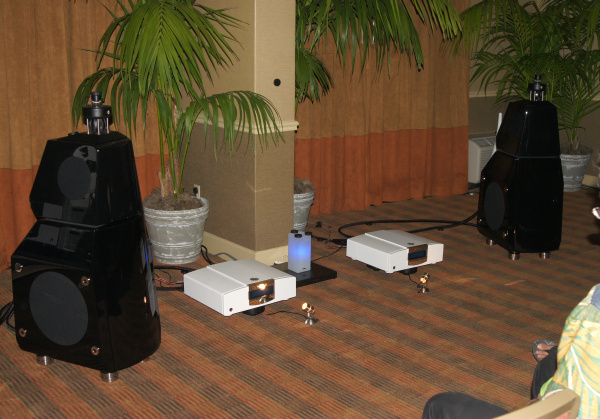 Sporting some of their "budget" equipment, MBL's system came in just about $80,000. Some people's idea of budget is certainly different from others. But don't let the price fool you. This system is all MBL, and definitely sounds it. Once again playing a variety of music requested by the visitors to the room (and from reel to reel tape), this was easily one of the handful of rooms that could be considered among the best of the show.
Napa Acoustics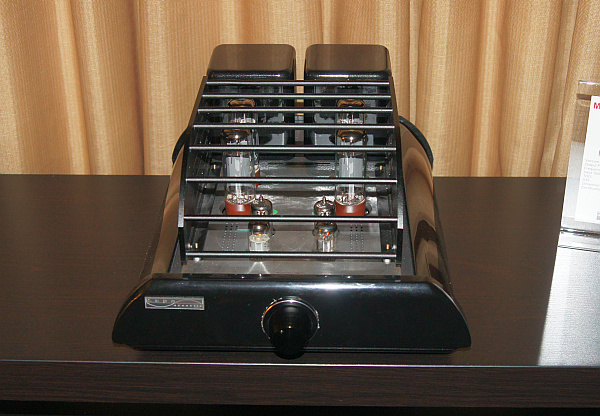 Napa Acoustics has been bringing really affordable products to Newport since the first show in 2011. They continued here with a variety of integrated amplifiers, headphone amps, and CD players, with priced ranging from just $299 for the NA-208H headphone amp, to $1199 for the MT-34 integrated amp, which uses a pair of EL34 tubes per channel to produce 35 watts per channel.
On A Higher Note, Vivid, Luxman, Mola Mola, Brinkman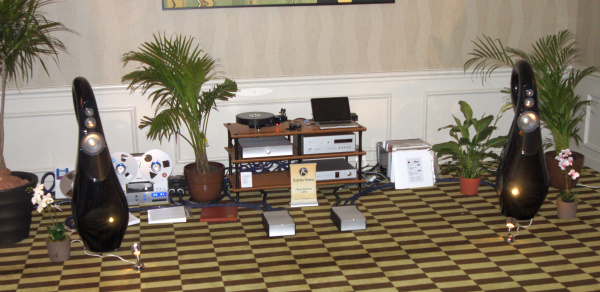 Philip O'Hanlon's On A Higher Note had a sweet sounding and very large room to demo the products he imports. The spectacular looking and sounding Vivid G3 Giya loudspeakers ($40,000/pair) effortlessly fill this large room with wonderful sound, though I haven't a clue what music I was listening to. The rest of the system included Brinkmann Bardo II turntable ($9500), Sonorus ATR10 open-reel tape deck ($13,000), Luxman D-08 CD/SACD player ($17,000), DA-06 DAC ($6000), Mola Mola Kaluga preamp ($10,000), Makua monoblocks ($15,000/pair). Kubala-Sosna Elation cables connected everything.
Onda Ligera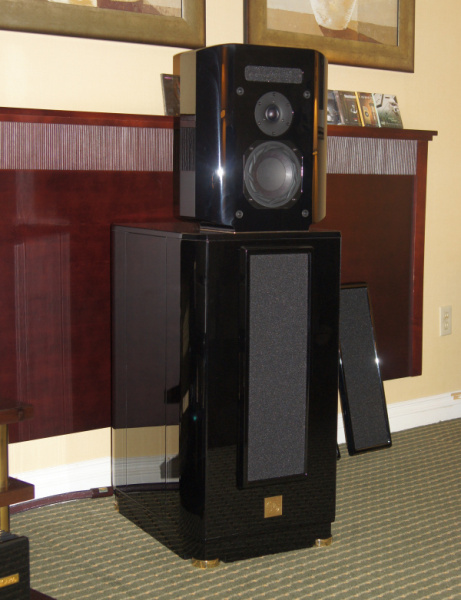 One of the contenders for rookie of the year would certainly Onda Ligera from Latvia, in their first US show. Their large, complex looking WAVE 168D speakers ($35,000/pair) were stunning in their naturalness, smoothness and tonality, yet displayed great dynamics when the music called for it.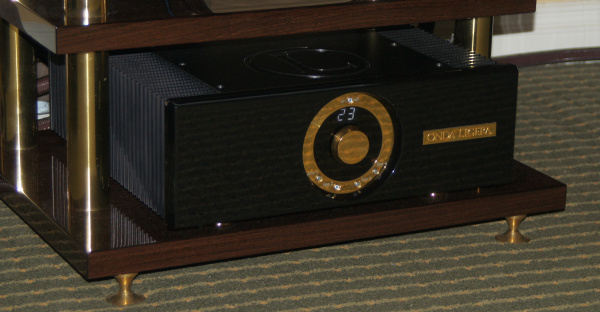 They used their IPA 006 Integrated Amp ($15,000) to drive them, using an Esoteric K-01 CD/SACD player ($19,500) as a source. Nice gear, great sound, and very nice people. A hat trick in their first show!
Positive Feedback's Hospitality Suite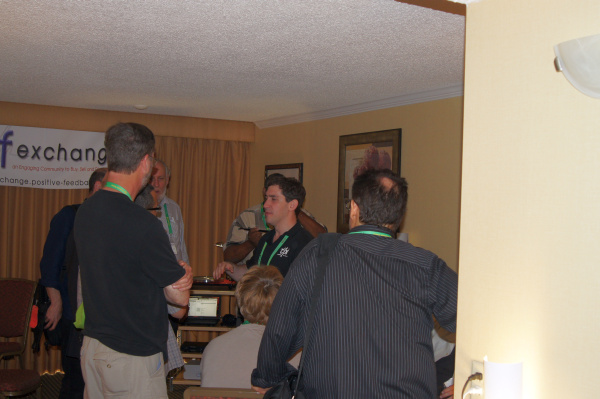 When attending T.H.E Show Newport, you have to stop by the Positive Feedback Hospitality Suite. You never know, you might get meet industry luminaries like Matt Weisfield from VPI or Tim De Paravcini from E.A.R.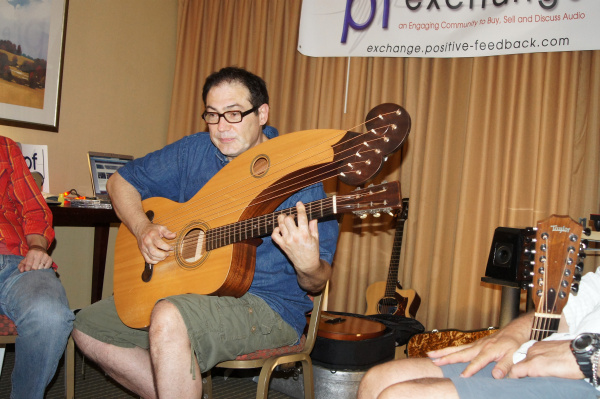 Or you might get to here some awesome live music up close and personal. At the very least you'll get to hang out and chat with members of the Positive Feedback staff and community, and that's always a good time.
Snake River Audio, Sonist, deHavilland, Pete Riggle, George Warren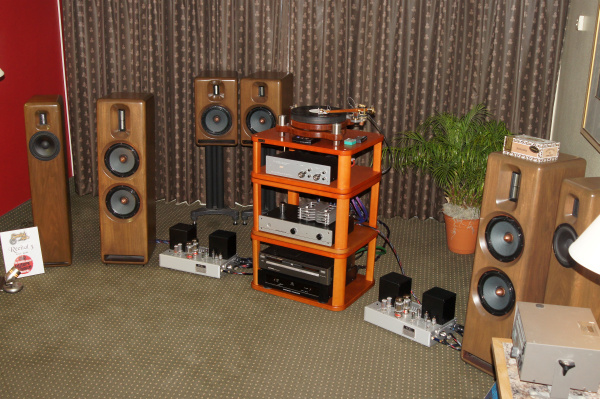 This room held a special place for me. I have known Randy Bankert for many years, and was mightily saddened by his recent passing. I was truly moved by the fact that Snake River Audio's Jonny Wilson not only took over to keep Randy's beautiful sounding Sonist speakers in production, but that he issued special memorial edition speakers, whose finish is intended to reflect the color of the cigars Randy was so fond of smoking.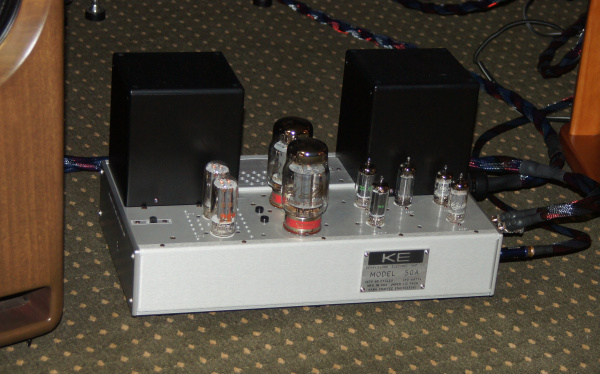 Hearing the top of the line Concerto 4 speakers ($5895/pair) being driven by the always beautiful sounding deHavilland electronics; Model 50A mono amplifiers ($10,800/pair), Mercury 3 Preamplifier ($4495 with remote, $3999 without), and Model 222 Magnetic Tape/ Phono preamplifier ($2695) was a big step above the more budget oriented gear Randy had been using at past shows.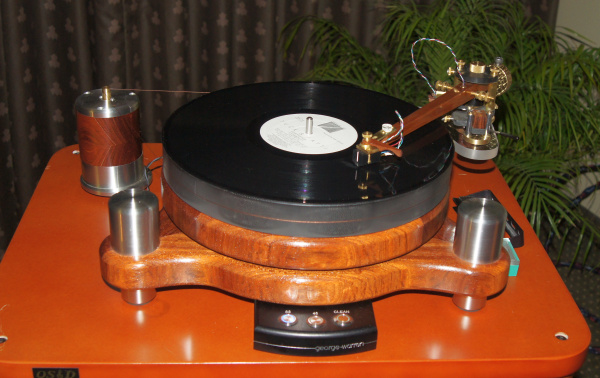 Top it off with the George Warren Turntable ($4850), Pete Riggle tonearm ($1600) and an inexpensive Denon 103 cartridge ($225), and all you need is some good cable.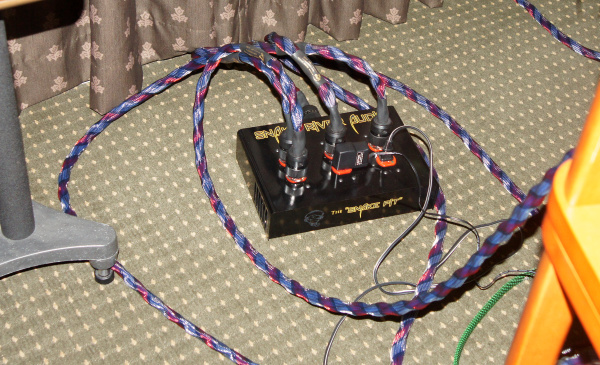 Well, cables is what Snake River Audio does. So naturally the whole system (including the internal wiring of the speakers) was done in a variety of Snake River products. I was so lost in the sound of the music playing; I forgot to note what we listened to. It was beautiful.
Sony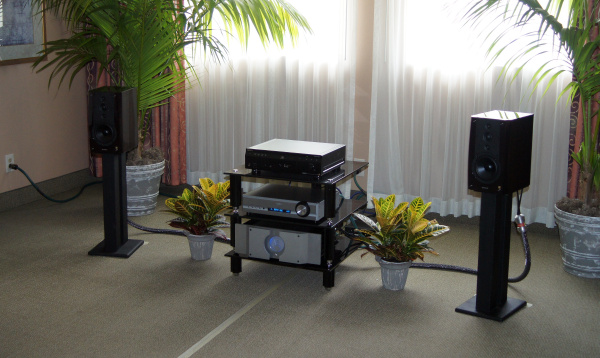 It seems odd that so many people don't think of Sony as a real high-end audio company, yet they have always had real high-end products in their lineup. They have now extended their top of the line ES speaker range down into SS-NA5ES standmounts ($6000/pair) that use four drivers (one 25mm tweeter, two 19mm tweeters, and one 130mm aluminum cone mid/woofer) in a two-way configuration. They played their XA5400ES SACD player ( $1500) through nice Pass Labs electronics. Except for the expected limited low-end response, these sounded remarkably full and musical.
Spatial Computer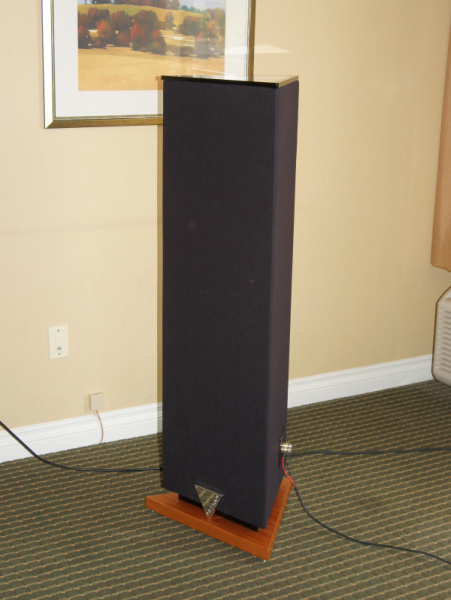 Certainly one of the more interesting new products I saw at the show was the Spatial Computer Trilogy T2 speaker system ($2398/pair). It uses an Emerald Physics concentric large diameter (12 inch) open baffle driver mated to a vented ten-inch woofer in a unique triangular cabinet. Specifying 97dB efficiency and low frequency extension to 32Hz, it is very amplifier friendly. Plus, if you Pure Music or Amarra, for an extra $995 you'll get full room correction to match these speakers to your room. I got lucky stopping by at time when no one else was there early Friday, so we cranked Fleet Foxes, King Crimson, Genesis and The Doors at pretty high volume. These speakers may prove to be an incredible bargain.
Sunny's Home Theater & Music Systems, Wilson, Audio Research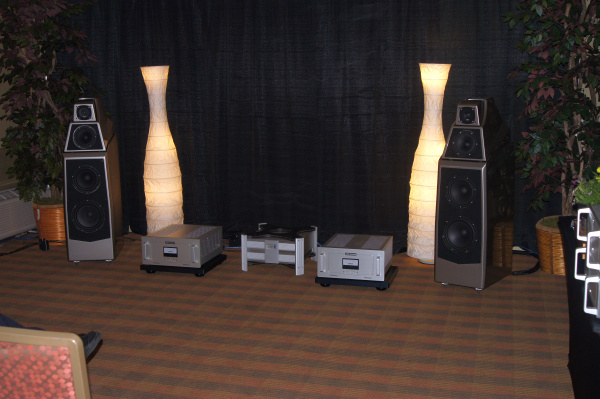 Long time SoCal dealer Sunny's Music Systems hosted a fine sounding room with classic audiophile brands Wilson Audio, Audio Research, Wadia, Pro-ject and Shunyata cables. It sounded like what you'd expect from these brands in a large room. There's good reason these companies have been around for so long.
TAD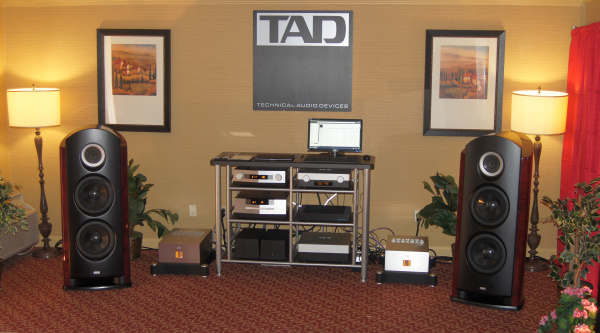 Andrew Jones masterpiece TAD Reference One speaker always makes me wonder why other "statement" speakers can cost so much more. Certainly $78,000 is crazy expensive for a set of speakers, but when you see so many models for so much more money, you almost start thinking of these as a bargain. They pretty much do everything as well or better than anything else I've heard. But please, Andrew, next year, give me five minutes to plug in my USB Drive and crank some of my music. I promise you, for every person that leaves the room, three others will replace them.
Of course this was the whole TAD system, with everything in the lineup bearing their nameplate. Awesome stuff.
Pioneer
I put the Pioneer room after the TAD room simply because this shows the other side of Andrew Jones talents. Some would say it's easier to design an expensive product than a good inexpensive one. I'll have to ask Andrew about that next show.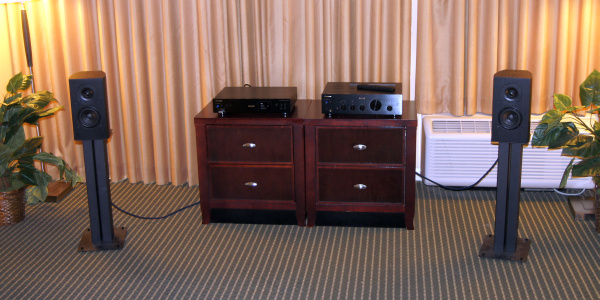 In an all Pioneer system, that included the remarkable SP-BS22 speakers ($139/pair, but often on sale for $99!), the A-20 integrated amp ($299 including MM phono stage) and the N-50 Networked Music Server ($699), Jones showed that it is possible to make a true budget audiophile system. What was even better, was on Sunday when we stopped in again and they set up the larger SP-FS52 floorstanders ($259/pair) at our request. Then we convinced them to stop the "demonstration" to let us play some music. LA Woman, 24/96 file, played loud, awesome sound, and the room filled right up, with no one talking, interrupting, or doing anything other than listening! At the end, the big question was "are they really only $259 a pair?" Almost lost in all this was the A-20 amplifier; a 30-wpc old school integrated, like we had when we were in college back in the 1970s. Even the $299 price was old school. Yowzers…
The Headphonium!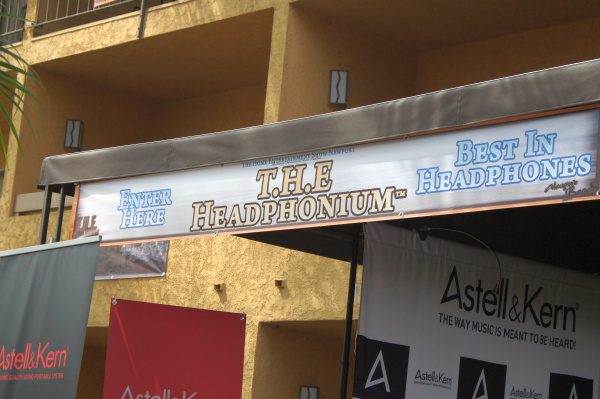 Brainchild of PFO's own Mike Mercer, The Headphonium exhibit brought personal, portable and headphone based audio together in one centralized area. I apologize in advance to those companies who wont have photos here. Even 40+ years in the photo industry can't prevent the occasional screw-up.
Astell & Kern, iRiver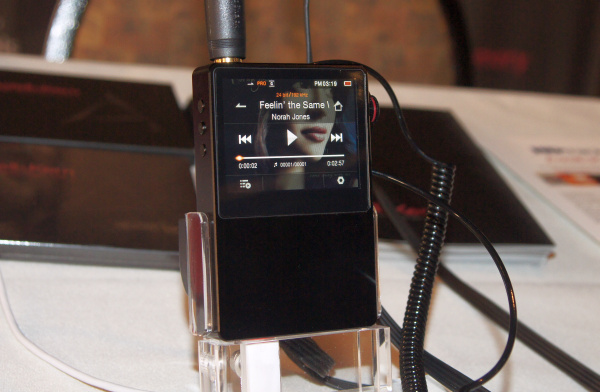 By now almost everyone has heard of the Astell & Kern high-resolution players. These little players sound wonderful, and the idea of using real hi-resolution files, something an iPod just can't do, is real audiophile dream stuff. Though I was initially critical of the use of Micro SD cards for storage, I now think it's a pretty good idea. You have unlimited storage by simply swapping cards out.
CEntrance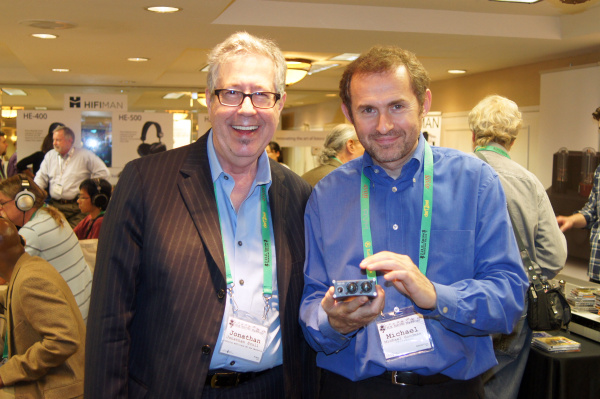 CEntrance's Managing Director Michael Goodman is seen here showing off their new HiFi-M8 portable DAC/Amp ($699) to industry expert and all around good guy Jonathan Scull (of Scull Communications). It is one the few portable DAC/Amps that actually uses the digital signal from the iPod. I tried this unit with my own iPod and several different headphones (including the awesome Audeze LCD-3) and, what can I say, other than I want one.
Schiit Audio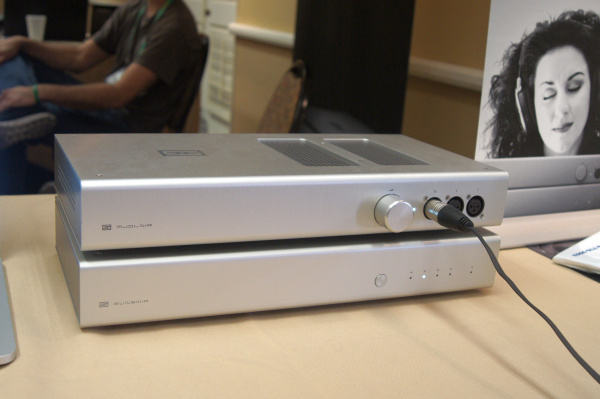 Shiit Audio (okay, try out your best Schiit based pun or comment) showed most of their range of American made headphone amps and DACs. Here is their top of the line fully balanced Mjolnir headphone amp ($749) and Gungnir DAC ($749, $849 with USB). They're pronounced just as they're spelled. Eight watts might not sound like much for your typical speakers, but for headphones, it's like a billion watts. The rest of their lineup is filled with cool products starting at just $99. I have their Valhalla ($349) tube driven amp in for review, which is specifically geared towards high impedance headphones like my 600-ohm Beyerdynamic DT770Pros. No Schiit, this is nice stuff!
Other companies showing in the Headphonium area included:
Elite AV, HRT – showing their full line of small, affordable and highly regarded DACs and ADCs.
Sonic Studio Amarra – one of the best music playback software packages for those using Mac computers.
Mosaex – displayed their high-end media servers.
HiFi Man – displayed the fine line of headphones and amplifiers, portable players and DACs.
ALO Audio – I wish they had shown their whole product lineup, but they were focused on the new top-of-the-line Studio Six headphone amp. Gorgeous sound with Audeze headphones.
Audeze – for many people, the Audeze LCD-3 stands as the pinnacle of modern headphone design. They were not only on display here of course, but almost everywhere that wanted to show off a headphone amp.
Enough with personal audio and headphones, back to hopping from room to room…
Totem Acoustics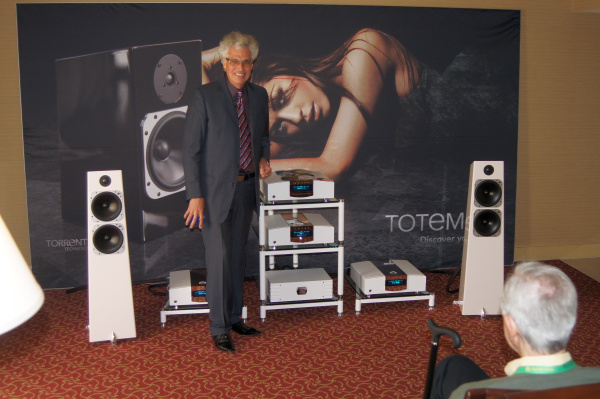 Totem had two nice systems playing in their suite. One side was the Totem Element Metal ($12,000/pair) with electronics supplied by MBL, seen here with Totem designer Vince Bruzzese.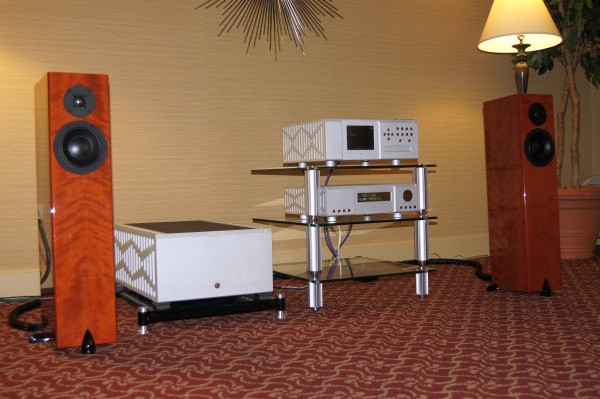 At the other end of the room, was Totem's new Signature Edition Forest ($6000/pair) driven by all Boulder gear. Totem always sounds bigger, fuller and more energetic than you would expect based on their size and looks. A long time favorite of mine.
Triangle Art, KT Audio Imports, NAT Audio, Eventus Audio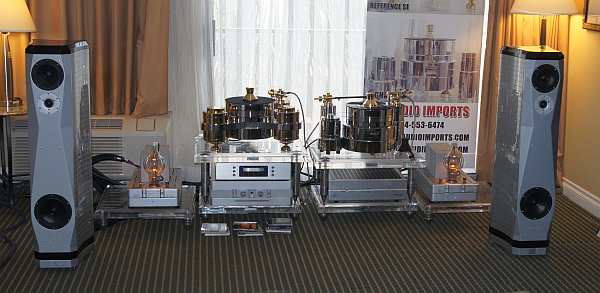 KT Audio imports and Triangle Art had an LP Only display showing off their line of expensive, but undeniably cool looking turntables and tonearms.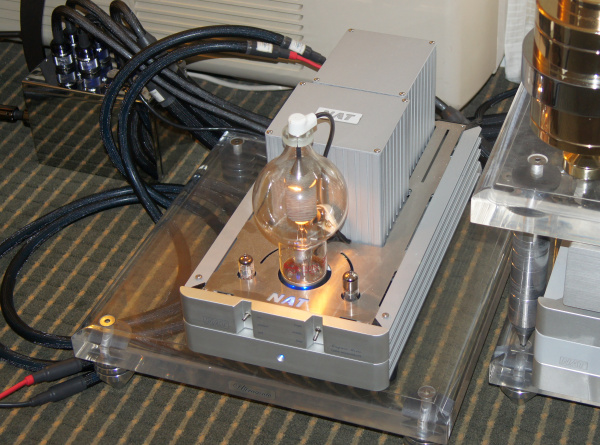 On display were their Reference SE turntable ($20,000), Art Signature turnatable ($12,500), Art Symphony turntable ($5990), Osiris 12" tonearm ($5800), and Osiris 9" tonearm ($4995)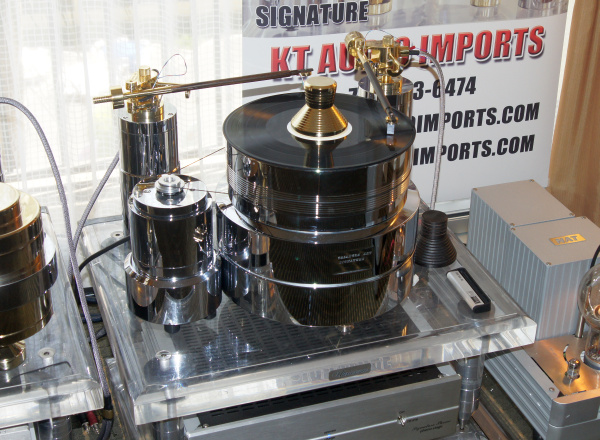 Electronics were NAT Audio's Magnetostat preamp ($17,400), Signature Phono ($9500), and Magma Mono Amps ($44,900) which claims to be the world's most powerful single ended amp, rated at 160 watts using a single 450 TH tube.
The large Eventus Audio Phobos speakers ($19,500) rounded a wonderfully powerful and musical exhibit.
Upscale Audio, Sonus Faber, Prima Luna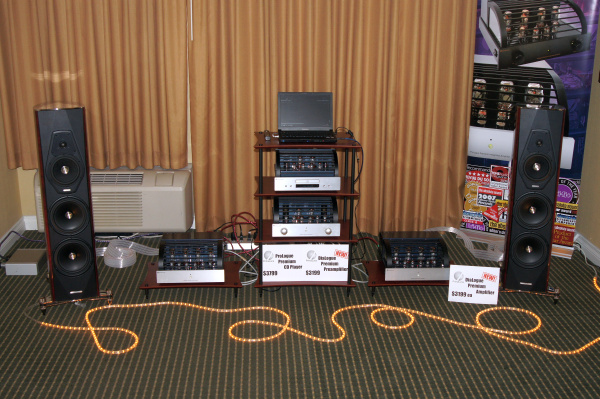 Kevin Deal's Upscale Audio once again had a sweet sounding suite with Prima Luna electronics and Sonus Faber speakers. It wasn't that this room did any one thing spectacularly well, but more like it just got most things right. That's a good thing.
Venice Audio, Harbeth, Line Magnetic, Well Tempered, Leben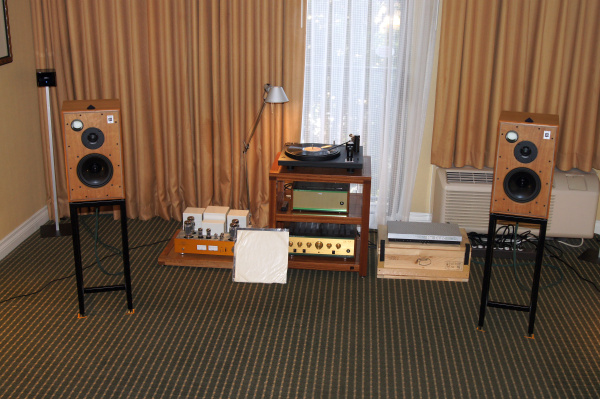 Another southern California dealer hosted room, Peter Selesnick's Venice Audio seemed to focus on creating beautiful music in his demo. Harbeth 30.1 ($5990) or Compact 7ES-3 ($3690) speakers were sounding fine.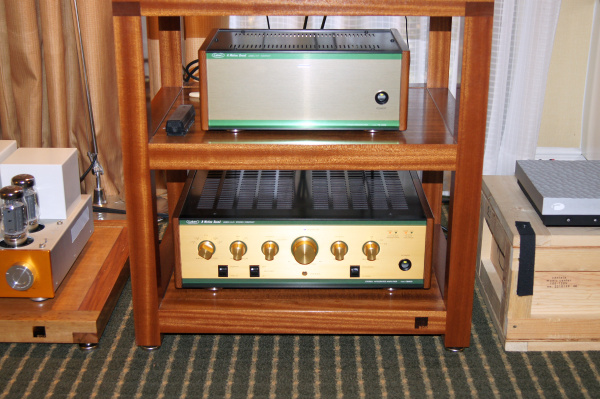 Leben HiFi CS-600 Integrated Amp ($6495) and RS30EQ Phono pre ($2695) were used alternately with Line Magnetic's 501IA integrated amp ($4250), while the Line Magnetic 216IA integrated ($1850) was on static display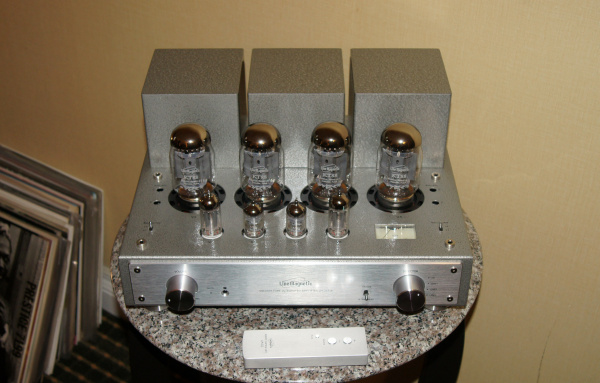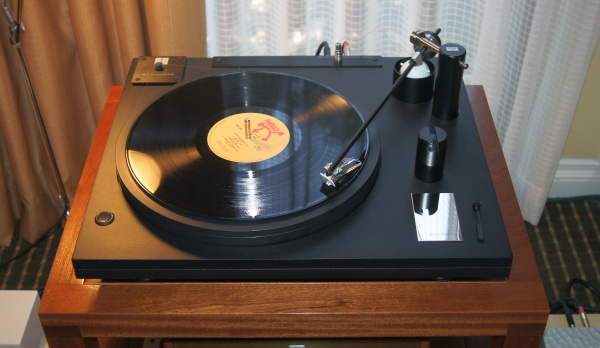 Analog source was a Well Tempered Amadeus table/tonearm ($2850) using their DPS power supply ($400) and an EMT TSD15 MC cartridge ($1950) and an Auditorium 23stepup transformer ($995).
Digital was handled by a Reolution Audio Cantata music center ($6495), while cables were Auditorium 23. Everything sat on Box Furniture racks and stands.
Von Schweikert, Your Final System, Master Built Cables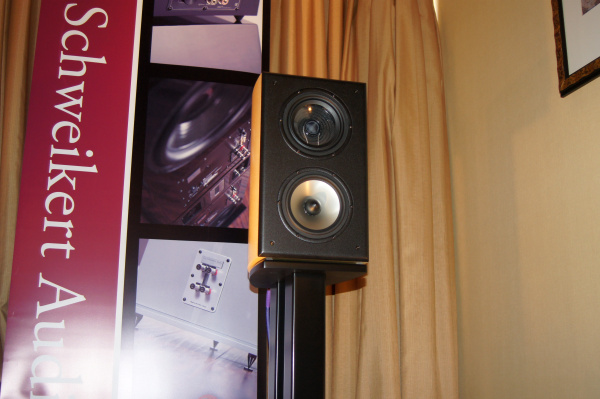 Albert von Schweikert went small this show, demonstrating his beautiful sounding Unifield 2 MKII speakers ($8000/pair). They may look small, but they definitely didn't sound small.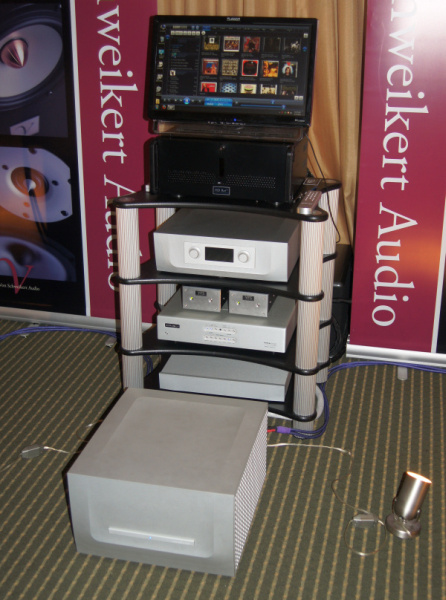 Your Final System added their HD.Ref-3 Limited Edition Music Server Transport System ($15,500) while other electronics were supplied by EMM Labs and Constellation Audio. Cables were all from Master Built Cables.
Wells Audio, Chapman, Dana Cables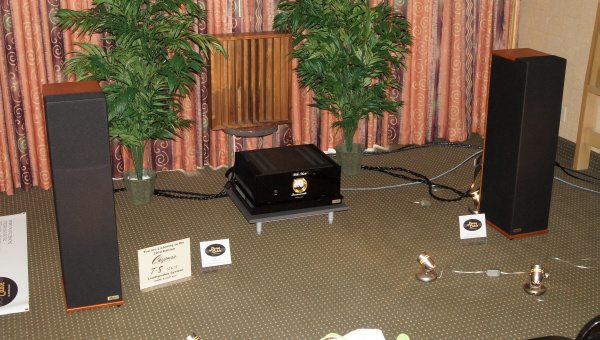 In Las Vegas, the Wells Audio demo was plagued by excessive loudness. Here they turned it down a little, with major benefits. The Wells Audio Innamorata Power Amp ($6500), driving Chapman T-8 MK-II speakers ($9995) and playing off a PC (sorry, don't know what DAC or preamp they were using), sounded spectacular. Everything was hooked up with Dana Cables. One of the nicer sounds at The Atrium.
Wyred 4 Sound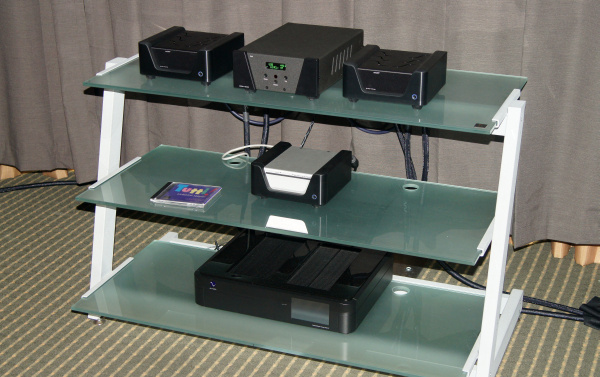 Wyred 4 Sound had lot's gear on display, all quite affordable.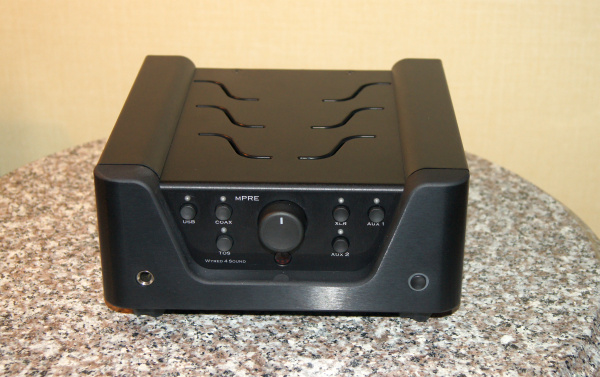 New items included their new little mPRE preamp/DAC ($1099) that has analog and digital inputs. I hope to have of these in for review soon.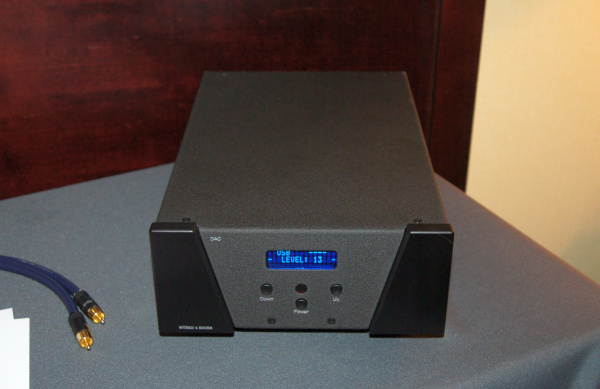 Also shown was their new DAC-2 DSDse ($2499) DSD capable DAC. W4S has long been known for the quality of their DACs (their little mDAC is one of my references in my system), and this is their top of line.
Zesto Audio, WyWires, TAD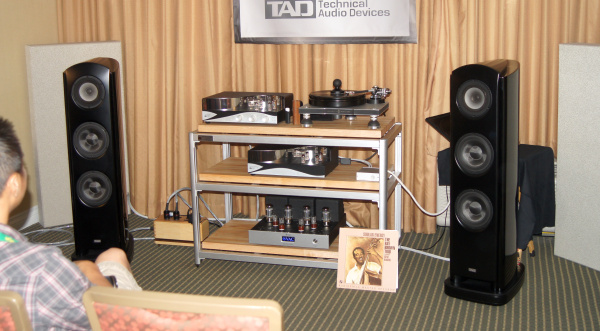 Since I tend to organize these show reports somewhat alphabetically, the Zesto Audio room usually show up at the end. Once again, they had one of the overall nicest sounds at the show. Switching from using the TAD CR-1 to the lower cost TAD Evolution One and using a VAC tube power amp certainly didn't seem to lower their overall sound quality at all. The Leto Preamp and Andros Phono stage were sounding wonderful as always. A Merrill turntable and Tri-Planer arm provided the analog source, and WyWires rounded out the system with all the cables and power conditioning. Great sound and a great way to end the show.