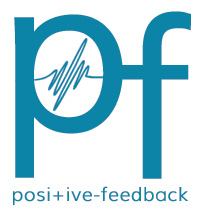 You are reading the older HTML site
Positive Feedback ISSUE 67
may/june 2013
Impressions: My Audio Oasis! Awards for THE Show Newport Beach, 2013
by David W. Robinson
[All photographs and image processing by Robinson]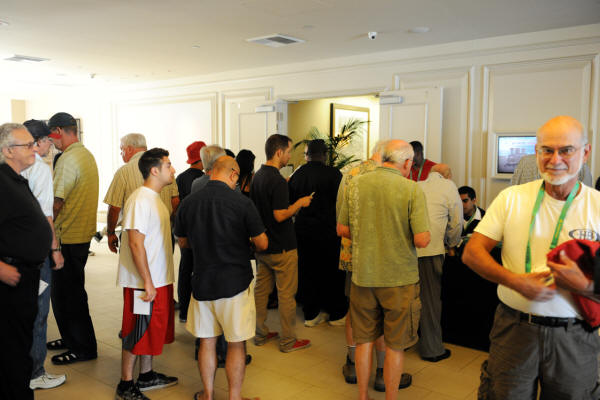 The lobby during the opening of THE Show Newport Beach, 2013… busy!
Another THE Show, Newport Beach edition, in the books and receding in the rear view mirror.
Once again, I confess to having way too much fun, seeing lots of good audio friends, while also having to participate in the Ribbon Cutting ceremony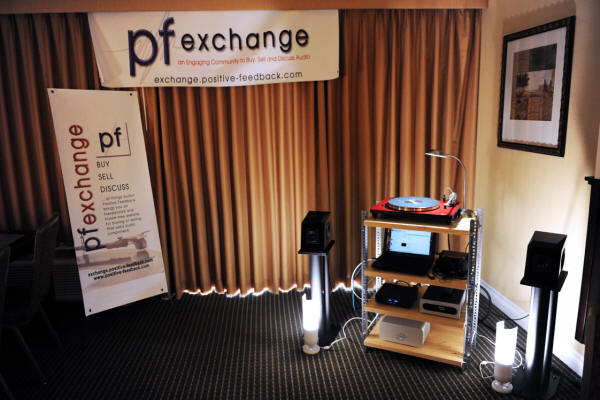 The Positive Feedback Online and Positive Feedback Exchange Hospitality Suite…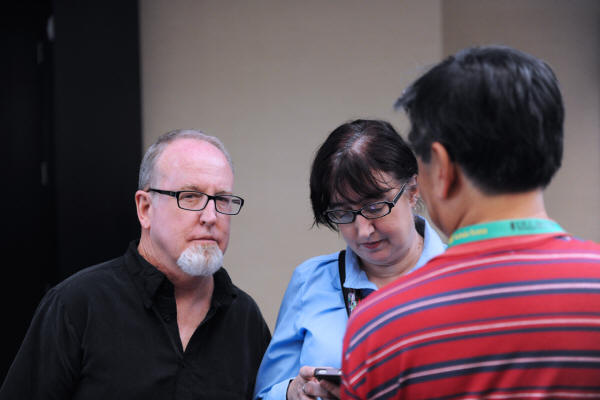 The inimitable Dave and Carol Clark in action at THE Show…
Another of our PFO tribe: Michael Mercer. A photographic portrait by David W. Robinson.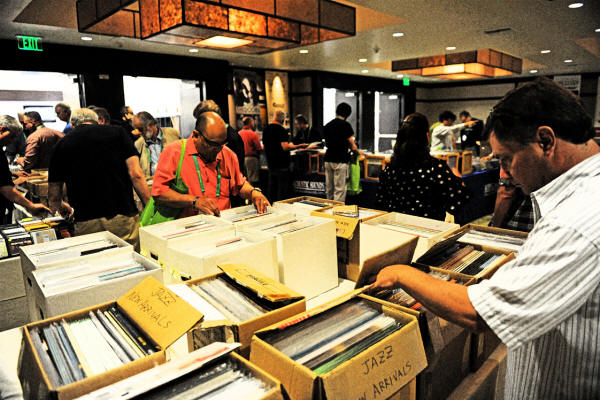 The record room at the Hilton was really jumping! Wall to wall elbows… lots of LPs, SACDs, and other musical life forms being sold. [Fresco by Robinson.]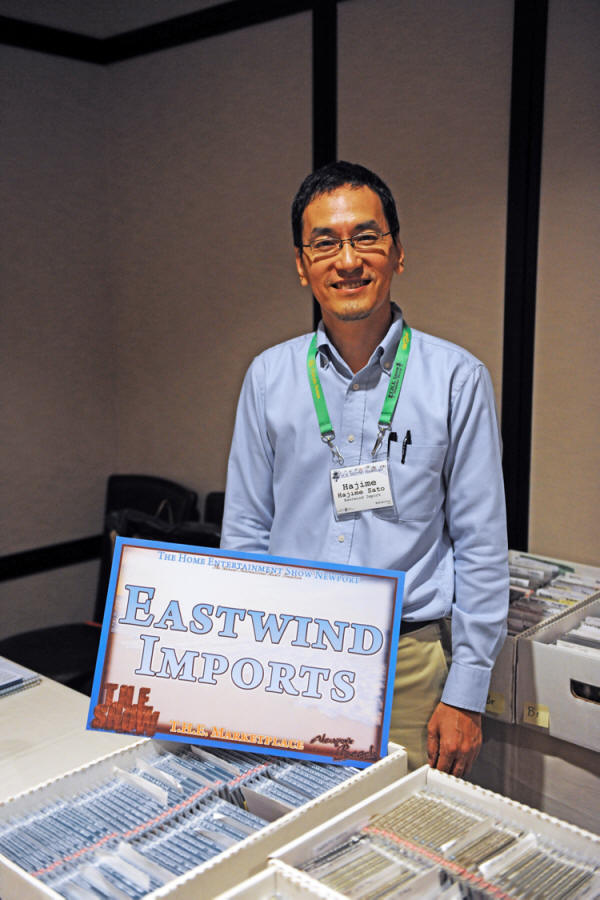 Hajime Sato of Eastwind Imports, standing by a treasure trove of SHM-SACDs… wonderful stuff!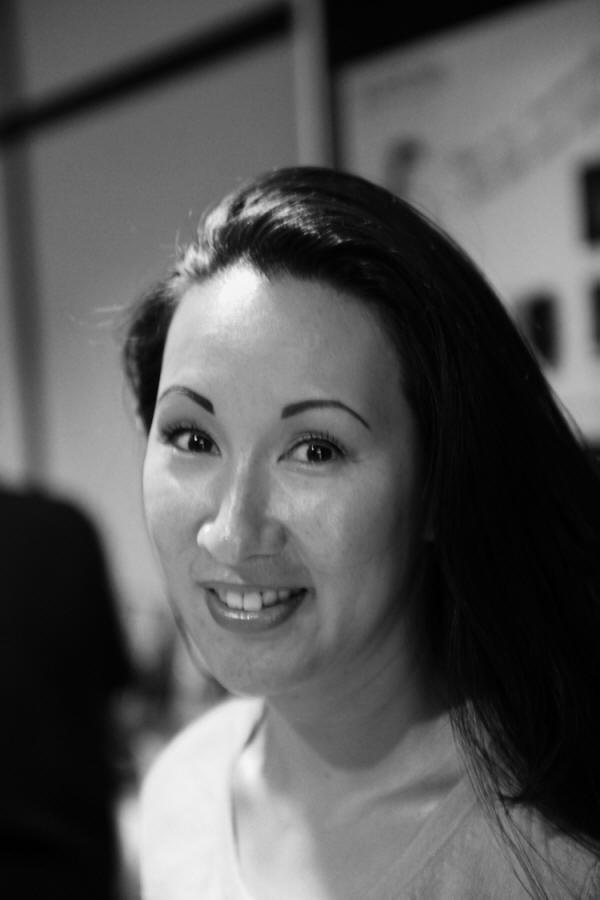 Abey Fonn, President of Impex Records. Abey is the force behind the absolutely brilliant LPs coming from Impex… if you don't have what she's doing, then you're really missing out! [Portrait by David W. Robinson.]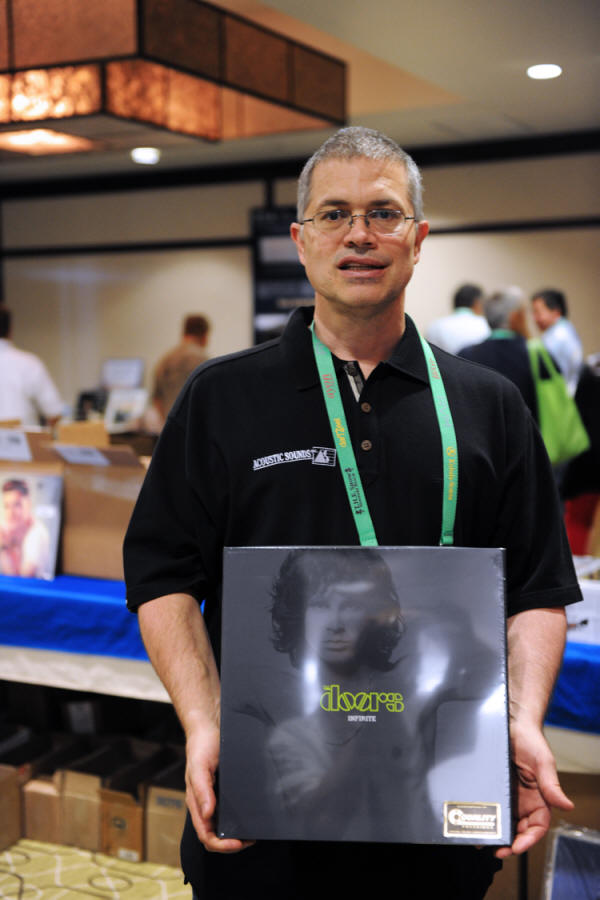 My man! Chad Kassem, President of Acoustic Sounds and Analogue Productions, looking good with his The Doors: Infinite box set of SACDs. Best Doors sound on the planet!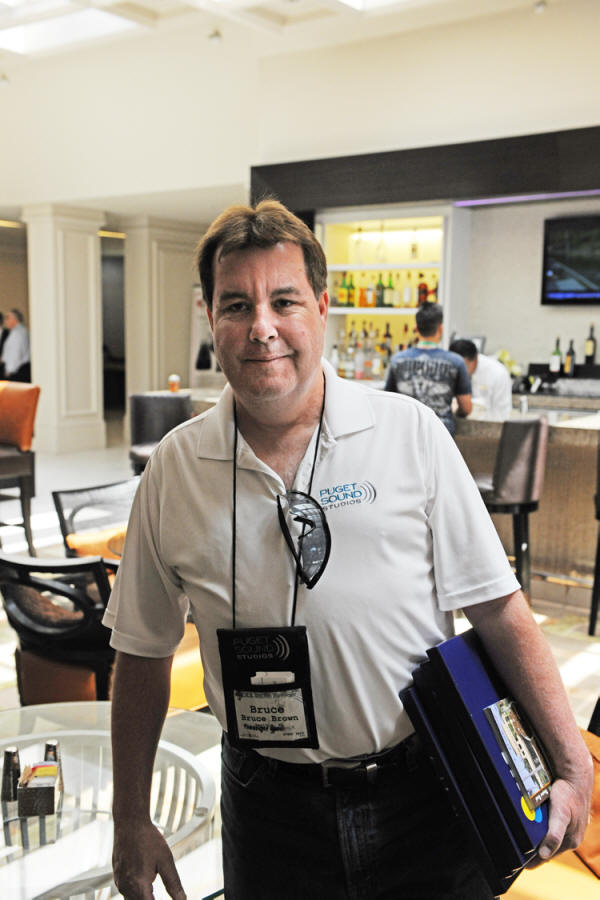 Bruce Brown of Puget Sounds Studios, a good friend of PFO… does very fine mastering work to DSD!
Highlights of People and Live Music
There are always moments at THE Show that have much more to do with the people and live music than with high-end audio gear. This year was no exception; here are some photographic moments along that line: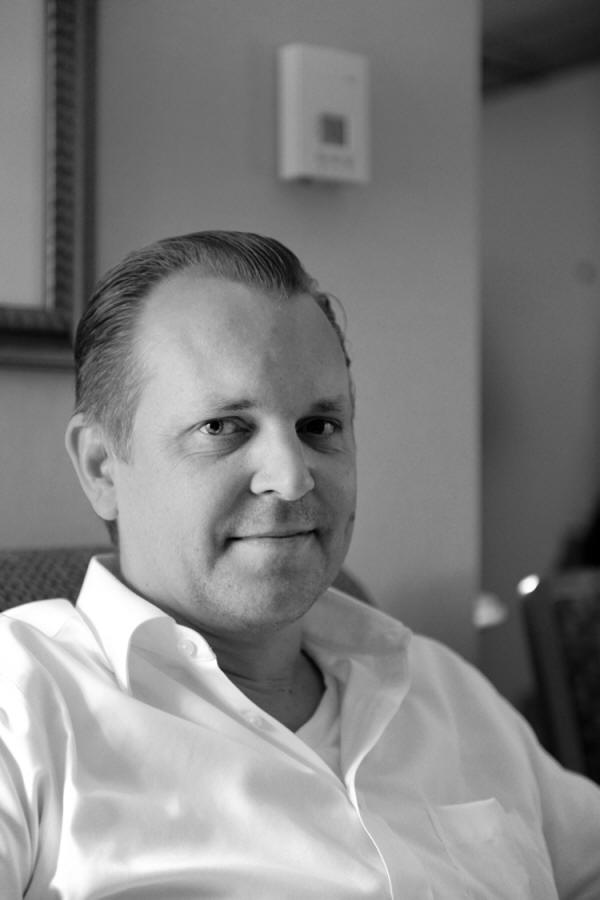 A portrait of my good friend Din Johnson, owner of Ristretto Roasting Company in Portland, hanging out in the PFO room.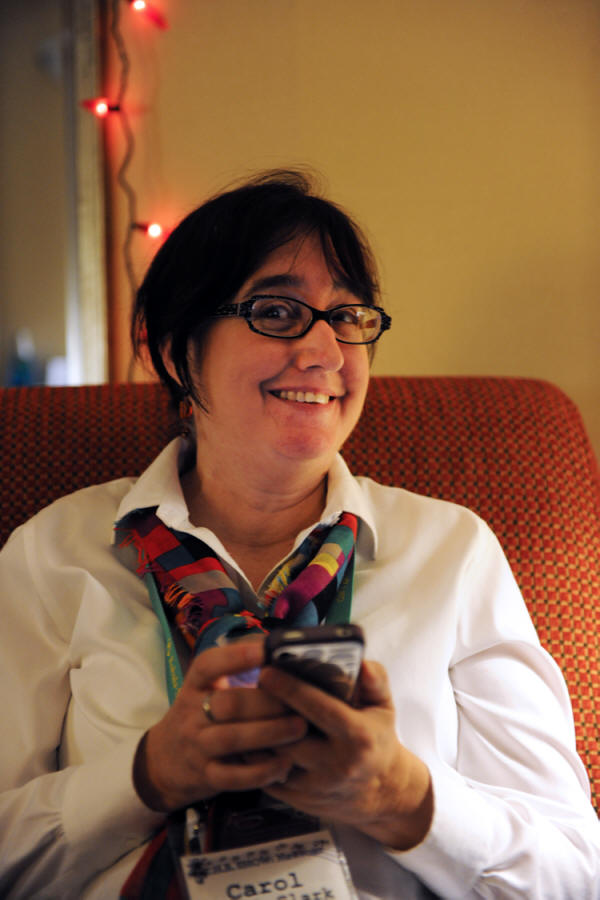 Our dear friend and PFO partner, Carol Clark, enjoying the PFO Hospitality Room.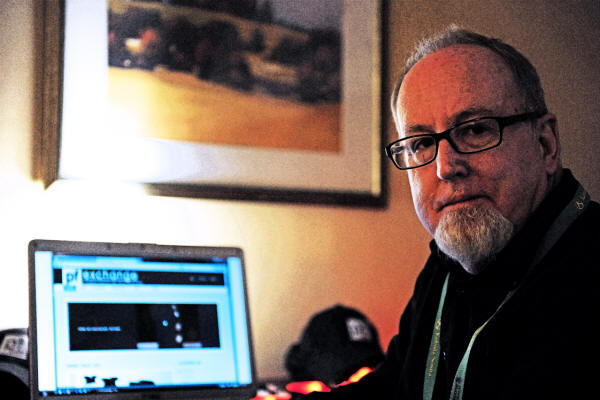 My fellow unindicted co-conspirator at PFO, the inimitable Dave Clark, in fresco…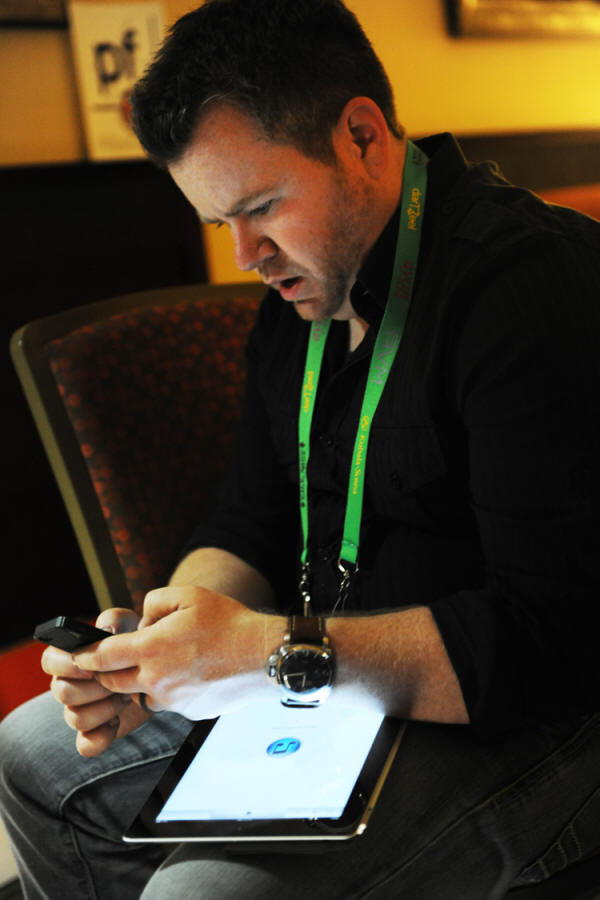 And speaking of inimitable and unindicted, here's our close compadre Pete Davey, our head honcho (along with Sandy Taylor) over at our new audio buy/sell/trade/discuss site, Positive Feedback Exchange (http://exchange.positive-feedback.com). Check it out!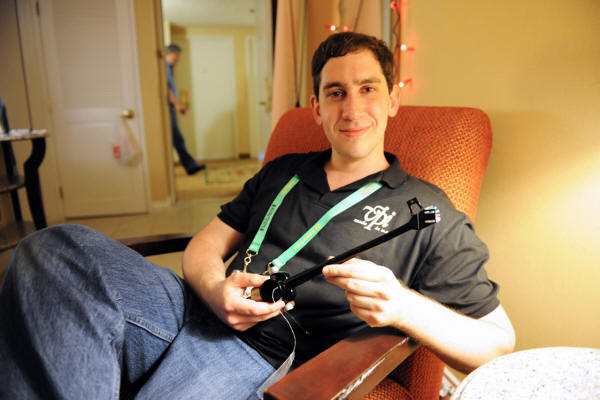 In which our good friend Mat Weisfeld of VPI dropped by the PFO hospitality room and shared his new 3D printer-produced tonearm! Unbelievably good looking… and yes, I said that it was printed! Wonder how it sounds?! And is this the shape of things to come…?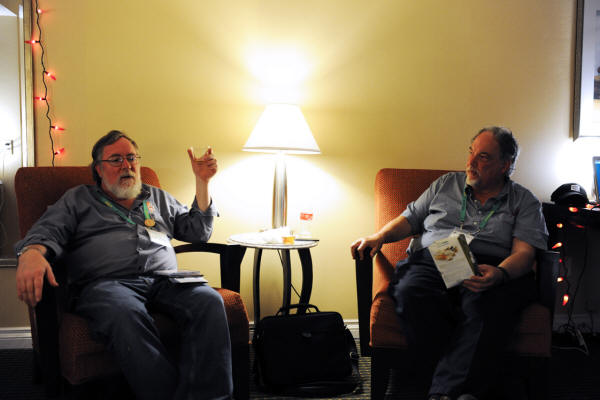 Turntable and tonearm setup specialist Rich O'Neill and our audio friend Bill Leebens sampling the fine bourbons in the PFO hospitality room. We don't call it "hospitality room" for nothing…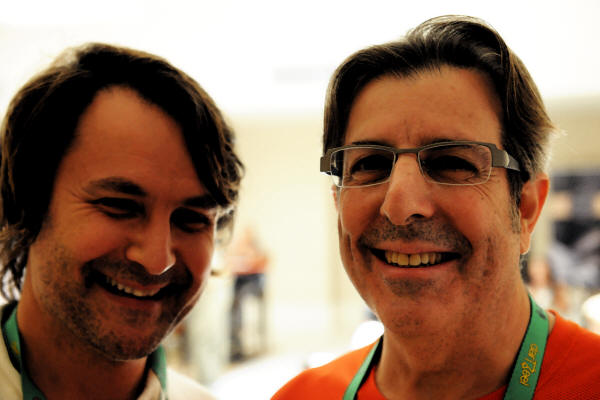 Danny Kaey of PFO and Alan Kafton of audioexcellence az in the Hilton lobby; watercolor by Robinson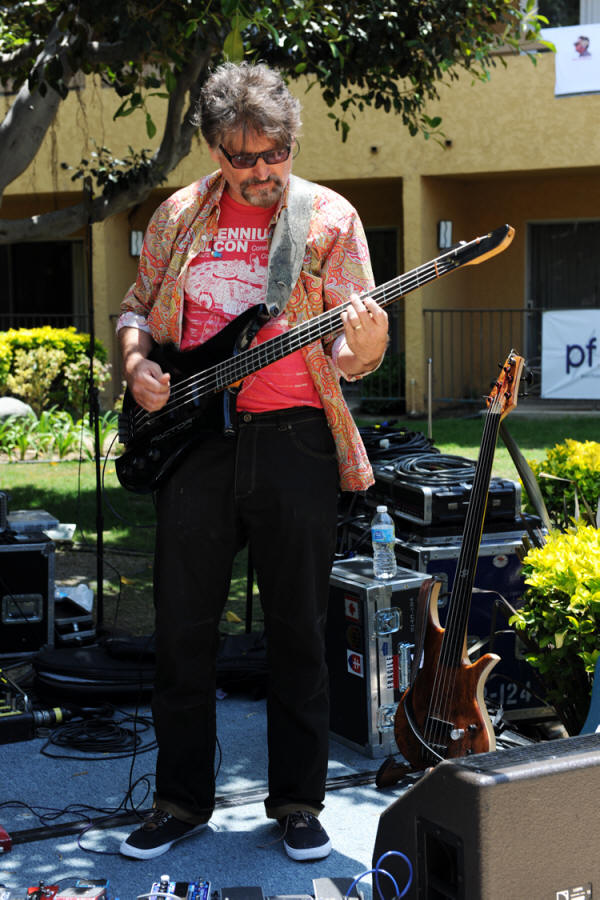 Dean Peer laid down some very righteous bass poolside at the Atrium… excellent stuff!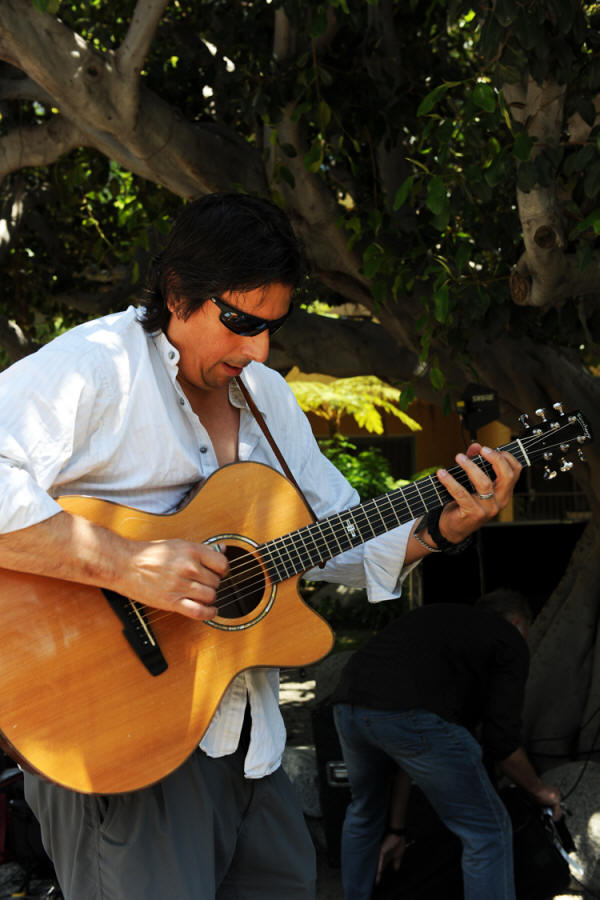 Also poolside at the Atrium: the masterful 6- and 12-string guitarist (and mandolin, and dobro), my Cuz Keith Knight of the Extreme Guitar Duo…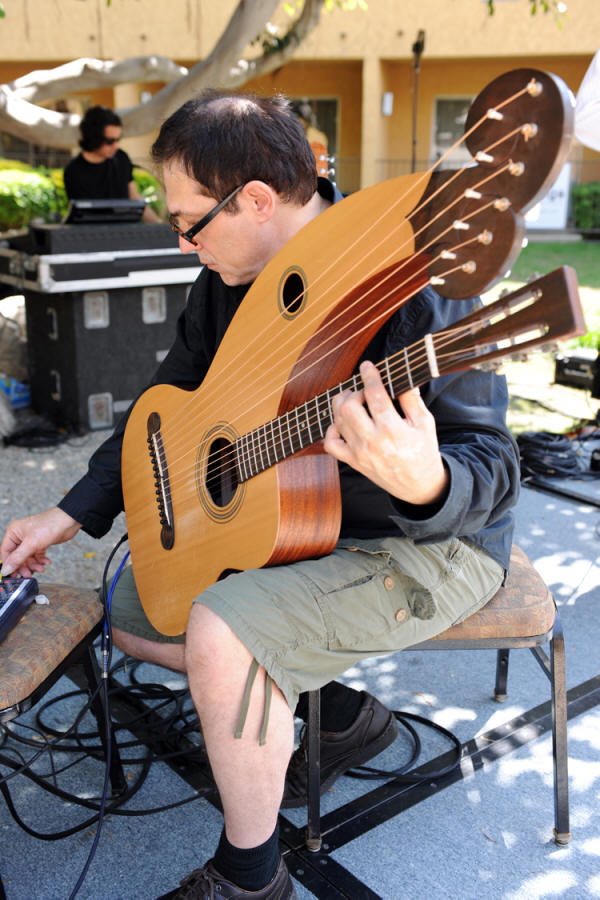 …with his partner, Don Alder, master of the 6-string and harp guitar (pictured here).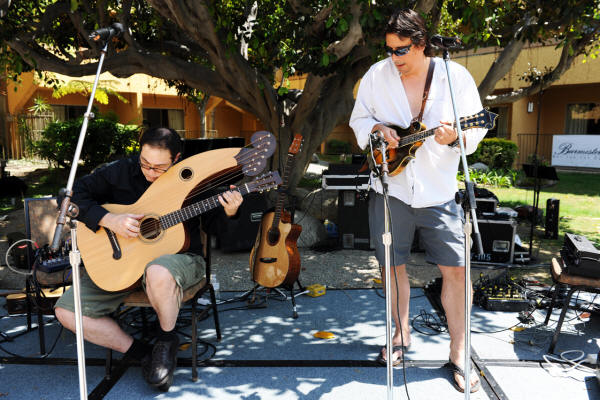 And brother, did the music flow!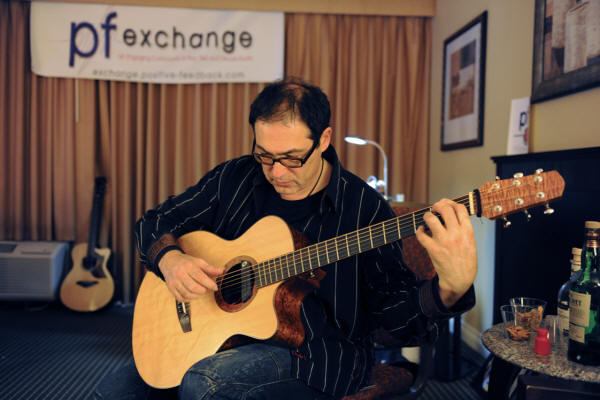 Don Alder of the Extreme Guitar Duo playing live in the PFO hospitality room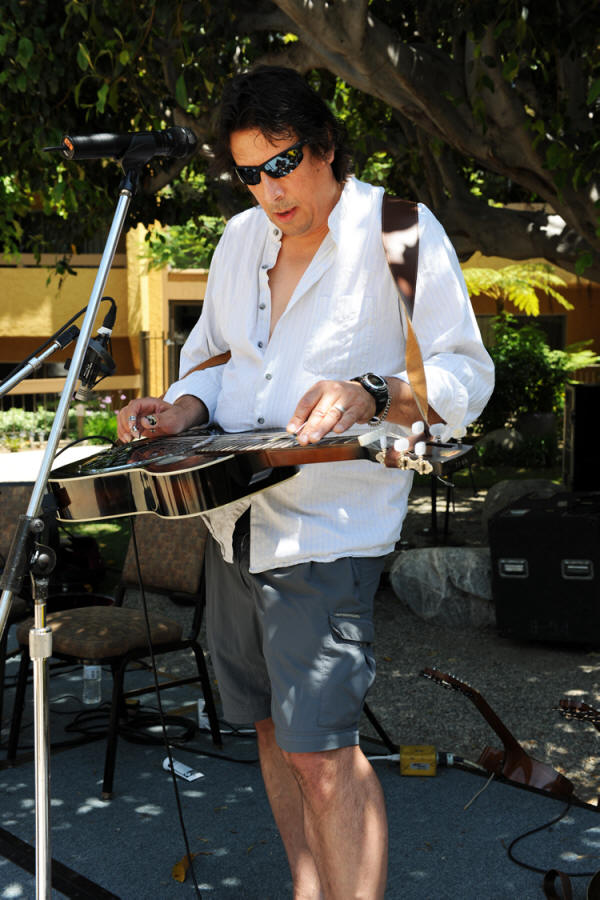 Keith Knight on the Dobro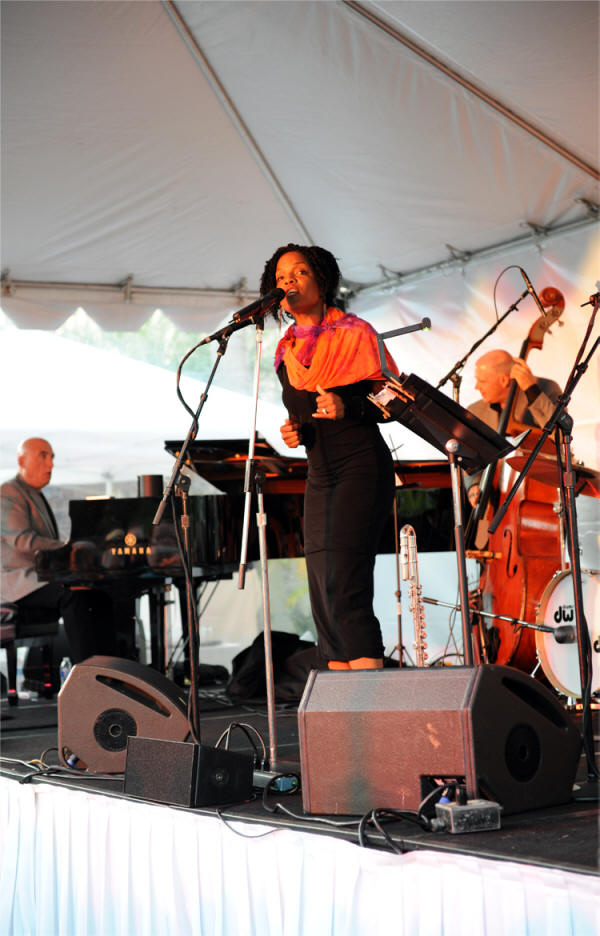 The brilliant Nnena Freelon wowed us all on Saturday night… this girl can SING! On the left is the renowned Michael Garson on piano.
And so it goes…faces, people, live music of all sorts, and a great time being had by all.
Did you say that you missed this show…?
My Audio Oasis! Awards for THE Show Newport Beach, 2013…
Time to turn the page…enough suspense. Here are the winners of my PFO Audio Oasis! Awards for THE Show NB…
MBL
No surprise here; once again MBL's Jeremy Bryan hits a home room in his demo room. The setting was subdued… quite dark, in fact… but it set the mood for the impressive system that I heard.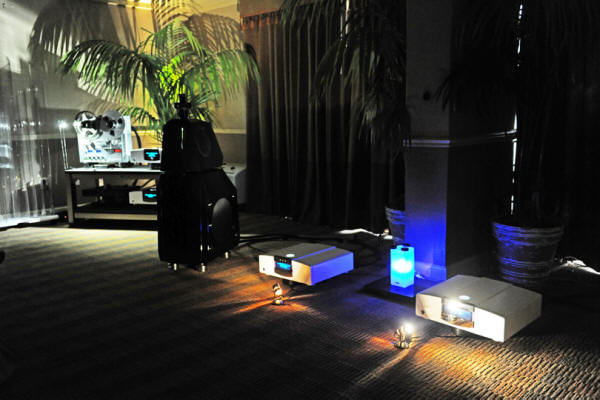 mbl 111F Radialstrahler Loudspeaker @ $42,000
mbl C31 CD Player @ $9200
mbl C11 Preamp @ $8800
mbl C15 monoblock amps (x2) @ $12,500 per unit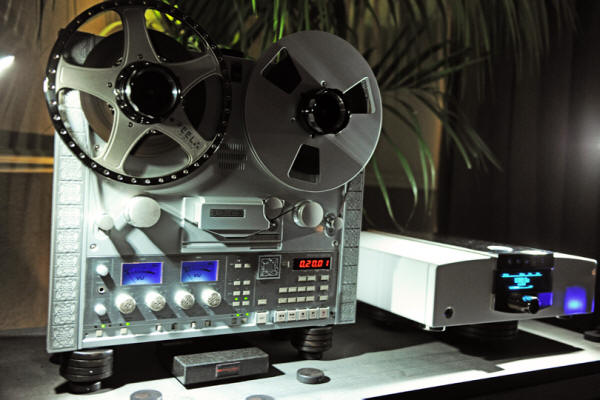 The United Home Audio Phase11 reel-to-reel deck with the very fine Reel-Tronix take-up reel in the MBL room… glorious to see and to hear!
Open reel playback was provided by the United Home Audio Phase11x RTR, which provided brilliant reproduction from the selection of open reel tapes that were in play. I sat for quite a while, just soaking in the open reels. The MBL Corona line acquitted itself very well, indeed! I found it hard to leave the room… always the sign that an Audio Oasis! Award was needed.
Done!
Playback Designs/Evolution Audio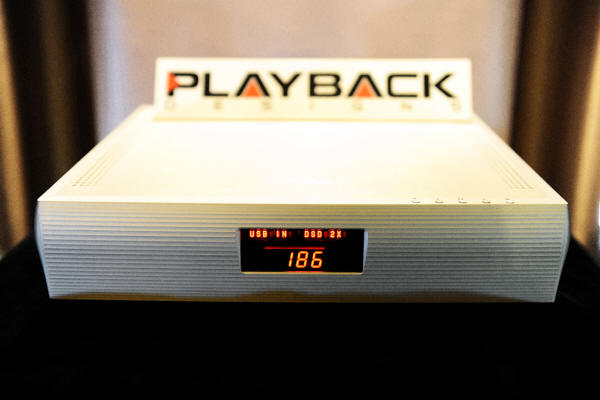 An all-in-one knock-out! The Playback Designs IPS-3 Integrated DSD DAC, Preamp, and Stereo amp… amazing.
Another "no surprise" room was the Blue Light Audio/The Audio Association room, featuring Playback Designs and Evolution Acoustics. The Evolution MMMicroOne loudspeakers were very familiar to me, and have been seen for several years at various shows. Killer deals at $4000 per pair, including their integrated stands… one of the best price-performance speakers in high-end audio, period.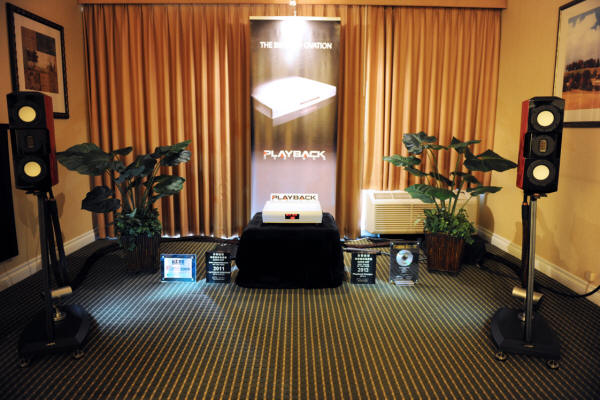 What was new to my ears this year was the Playback Designs IPS-3 integrated. It combines DSD DAC, a preamp, and a stereo amp (130 Watts per channel), all at an MSRP of $13,000. That's a pretty amazing price point for an all-in-one component with top-notch performance.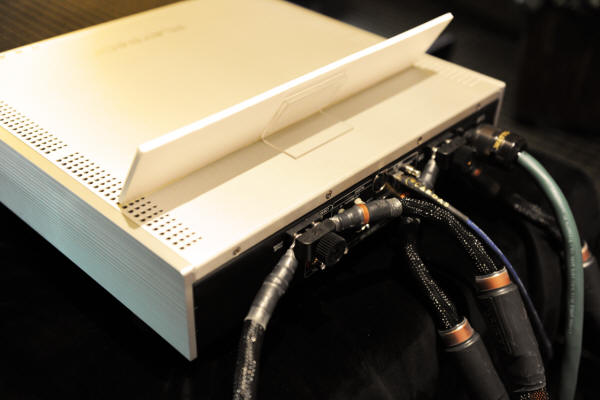 A view of the rear connections on the IPS-3
I spent quite a while in the Playback Designs/Evolution Acoustics room, marveling that such a compact system, looking very sleek and sexy, could be sounding this amazing. Double DSD recordings really helped, of course… nothing like Double DSD to spruce the place up.
Enough. Pure PFO Audio Oasis! Award stuff… killer. And (relatively) amazing prices, too.
E.A.R. USA
Dan Meinwald of E.A.R. USA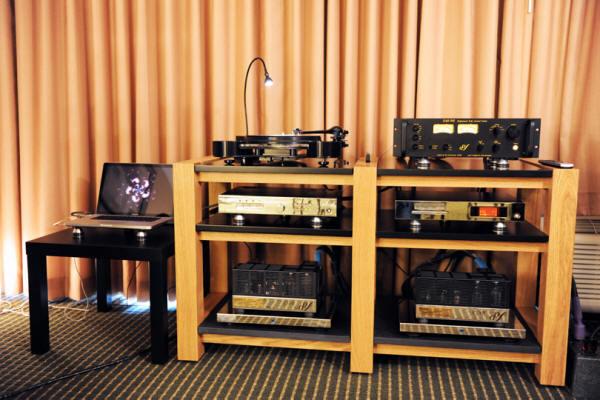 The E.A.R. rack of goodies in Dan Meinwald's E.A.R./Marten Design room…lovely!
Another lovely room to see and hear: Dan Meinwald's E.A.R. and Marten Design space was, once again, showing why it is that I've been able to rely on Dan's E.A.R. room to relax me when I need to hear some great music, fitly reproduced.
I was particularly delighted to see a prototype of Tim deParavicini's new E.A.R. Dac 4 DSD-capable tubed-output DAC. It looks like a very flexible, exceptional-sounding DAC, exactly what I would expect of Tim. I've been told that a review sample will come this way when possible… I'd love to hear this one!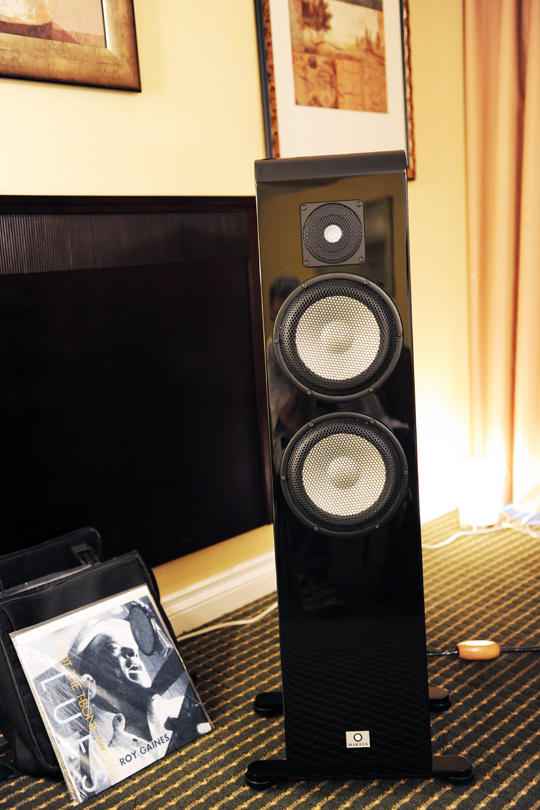 Marten Design: Looking and sounding grand…
Dan's a wonder; so was his room. Another PFO Audio Oasis! Award for the maestro!
GTT Audio: YG Acoustics/Tenor Audio/Luxman/Kubala-Sosna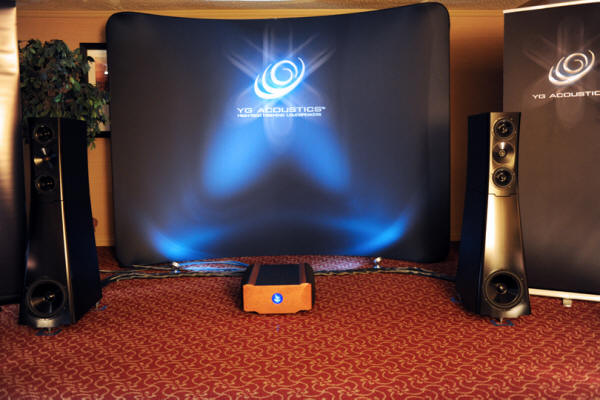 In GTT Audio's YG Acoustics/Tenor/Kubala-Sosna/Luxman room
Yep, I know the sound of this room, having heard a major variant of same in my own listening room. This tandem (apart from the Luxman DSD DAC) took a Brutus Award from me already, and was sounding just as lovely as ever. Bill, Joe, and Jim were rolling some exceptional work in DSD, and I sat there for a while, remembering why it was that I lost my heart to audio back when I was 16 years old.
Once again.
Any room that does that to me is a PFO Audio Oasis! Award winner. Congratuations to YG, Tenor, Kubala-Sosna, and Luxman… this room was heavy with audio coolosity.
So let it be written; so let it be done.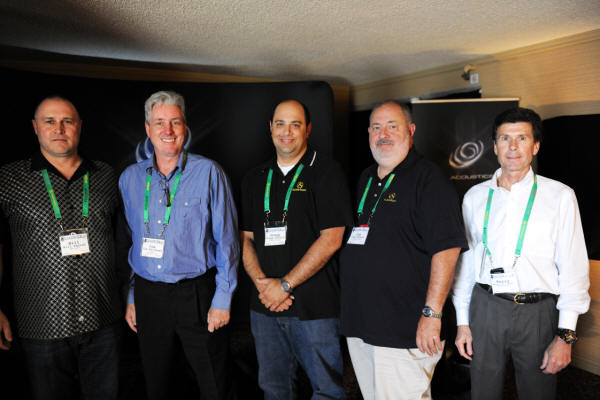 In the GTT Audio room: Left to right, Bill Parish of GTT Audio, Jim Fairhead of Tenor Audio, Greg Kubala of Kubala-Sosna, Joe Kubala likewise, and Kerry St. James of YG Acoustics. Magnificent sound, gentlemen!
Magnepan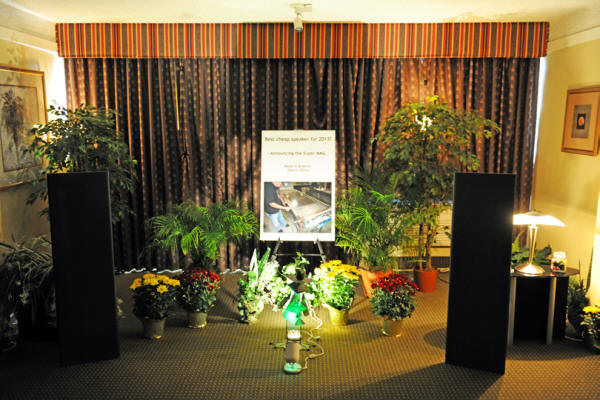 In the Magnepan room…
One surprise at THE Show was how good Magnepan's room sounded to me. Wendell Diller took me in for a listen to their relatively inexpensive (no, not "cheap"!) Super MMG speakers with one of their bass panels in the mix.
You know, it sounded really good!
In fact, it made me smile.
In fact, we're now bringing out a pair of Maggies (the 3.7's) out to one of our reviewers in Vancouver, WA, to dig in on the Maggie sound much more deeply. (Pass Labs on the electronics; Oppo BDP-105 for the source; cabling with Cardas Clear, naturally!) More on this late in the year.
Heck, by that point in the show, what I was hearing in Wendell's room was enough to make me say, "Hell, yeah! Give the man an Audio Oasis! Award!"
MSB Technology
There was one other surprise at the show. Well, not a complete surprise, because I've heard flashes of good sound in this room before.
But the MSB room was sounding truly fine by the time I heard it, on the final day of the show. (Come to think of it, that might have a lot to do with it… the last day of a show is generally when you're finally getting your best sound. Everything is warm, and blooming.)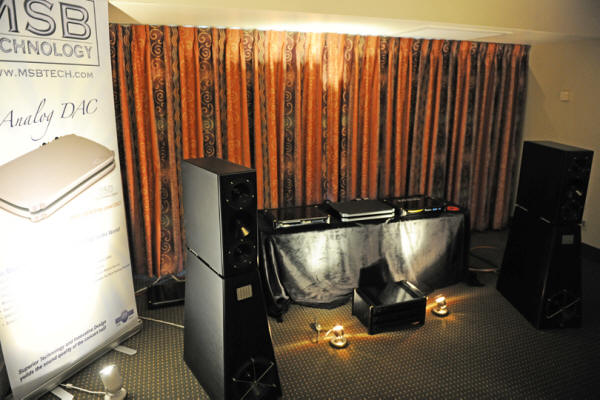 The combination of YG Acoustics with MSB was truly worthy of more time than I had by this point, but listening for a bit showed me that there was some real synergy going on in this room. I know YG Acoustics very well; I'd like to hear more from MSB.
We'll see if they get around to sending their reference set my way. They have DACs that handle DSD, so I'm automatically interested. I'll let you know if this comes together.
Meanwhile, a 2013 Audio Oasis! Award for MSB and YG Acoustics!
The Lotus Group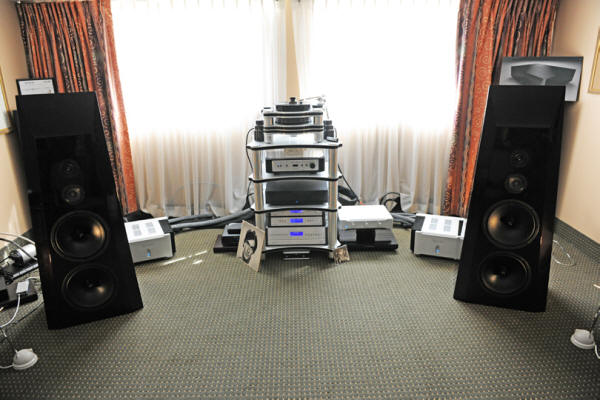 Here was a delightful room, and no shock at all. Joe Cohen has been getting righteous sound and playing excellent music for many moons. It isn't the first time that I've gone to his room, and gotten a musical massage for my mind. Though I got there late in the show… probably a good thing, now that I think of it, what with warm-up and all… I could hear immediately that I was in the presence of "very special!"
The combination of the Lotus Group G2 loudspeakers, SMc VRE-1C preamp, PranaWire cabling, Hanss T-60 turntable, Durand Telos tonearm, Ortofon Anna MC cartridge, and digital electronics by dCS and Esoteric made for a splendidly musical presentation, satisfying at all levels.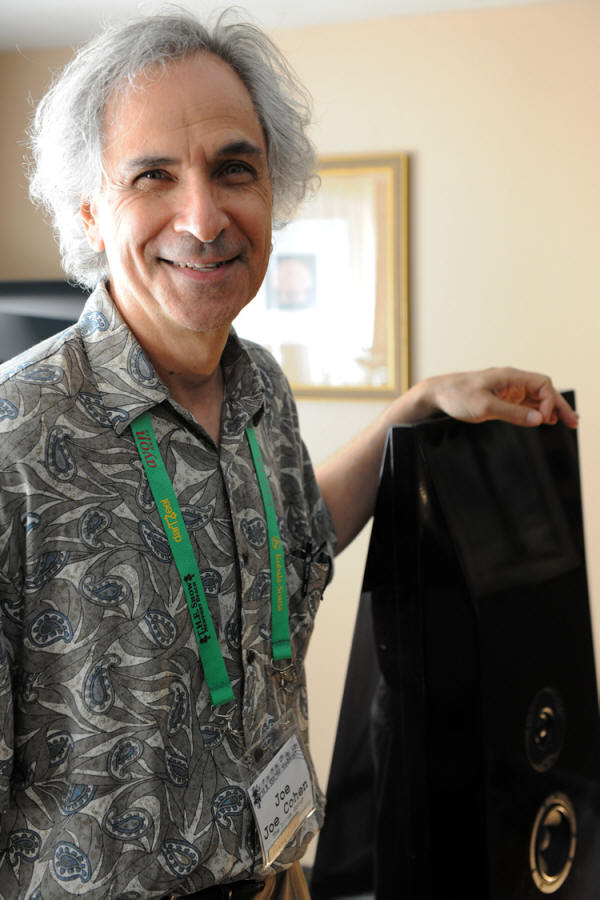 Joe Cohen of The Lotus Group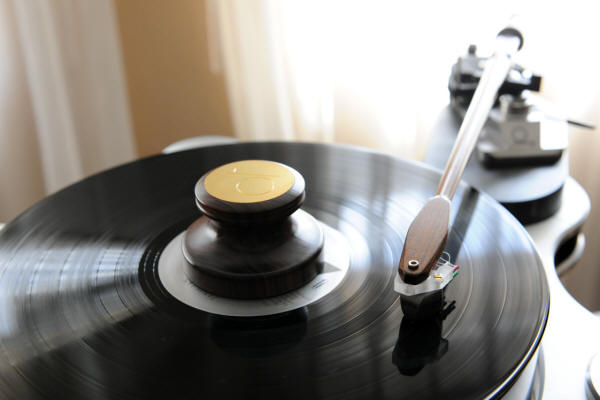 The Durand Telos Tonearm with Durand Record Weight and Ortofon Anna MC cartridge on a Hanss T60 turntable… a heavenly combination!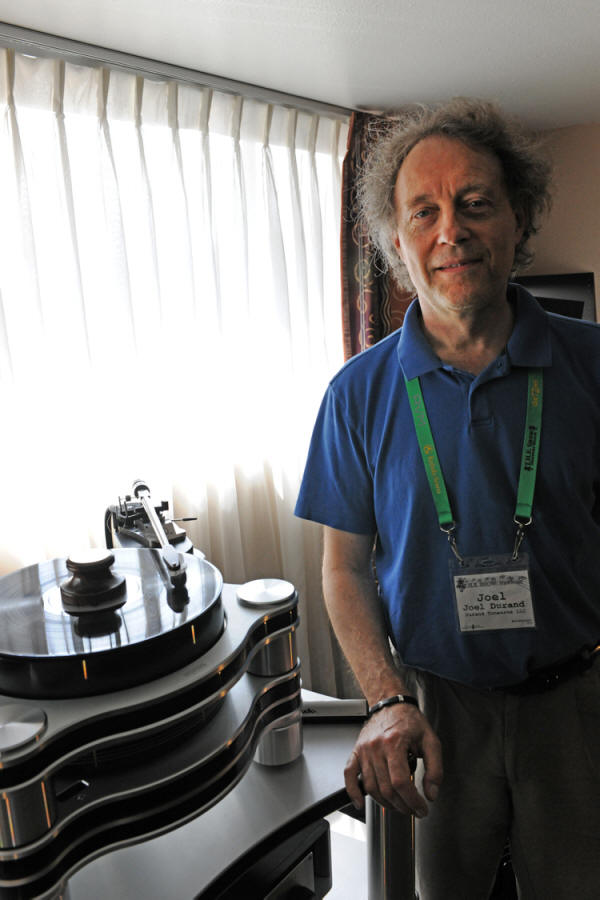 Joel Durand of Durand Tonearms, a genius of tonearm design and making music with turntables…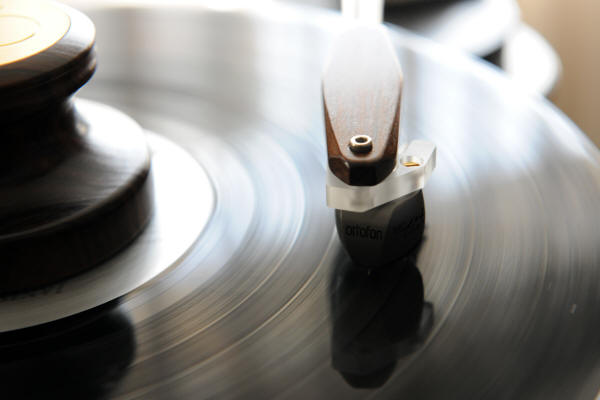 The Ortofon Anna MC cartridge on a Durand Telos tonearm with Durand Record Weight
In fact, this room was a simple and obvious slam-dunk.
Congratulations to Joe, Joel, and all…this was a superb room, with exceptionally musical presentation. I am delighted to give them a PFO Audio Oasis! Award… it's well deserved!
Harmonic Technology/INEX Innovation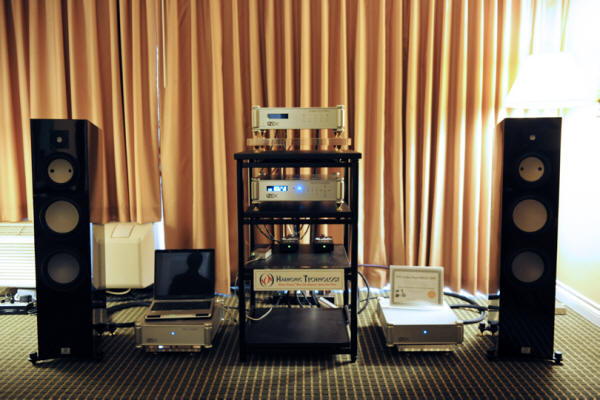 In the Harmonic Technology/INEX Innovations/Marten Design room… good things happening here….
The final room on my list was another surprise to me. Jim Wang of Harmonic Technology was a person that I hadn't seen in a while. Given the vagaries of audio show perambulations, it can be hit-or-miss if I show up to a given room during any given year. For some reason, I had missed the Harmonic Technology room.
This year, however, I was told that I should check it out by a good friend, so I wandered down to check it out. Harmonic Technology and INEX were featuring the new Photon USB2 Audio Cable. Optical in nature, a forte of Jim's approaches over the years, the sound in this INEX system was quite promising. The INEX seemed to synergize quite nicely with the Marten Design speakers, and the high-resolution PCM files actually sounded good in the space.
The new optical system allows the decoupling of EMI and RF from the USB feed, computers and their USB interfaces being notoriously "dirty" when it comes to transmitting audio signals.
Heretofore, this system was for PCM only, which would have greatly limited my interest in it. But Jim informs me that support for DSD is on the way, and that there will be a solution of serious interest to those of us who see DSD as the ultimate format for fine music in the future. When the DSD version comes out, then I hope to see a sample from Jim and company so that I can report on it to you.
Meanwhile, the sound in this room was more than just pretty good… it was impressive.
A 2013 PFO Audio Oasis! Award to the Harmonic Technology/INEX/Marten Design room! I'll want to see what DSD sounds like conveyed in this fashion…