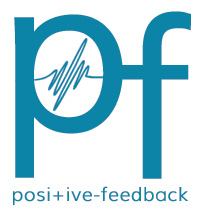 You are reading the older HTML site
Positive Feedback ISSUE 67
may/june 2013
THE Show Newport Beach 2013
by Michael Wechsberg
If you were in Southern California during May 31st to June 2nd and did not attend THE Show Newport Beach then you really missed out on a great time. More than just an audio show, THE Show NB featured great live entertainment, exotic cars, fine wines, rare cigars, terrific food, lots of vinyl and CDs for sale, thought-provoking seminars and much more. Plus, the weather could not be beat. There were a number of PFO correspondents attending the show as well as writers from all over the audio world so you will probably see quite a few show reports in print and on the web. I decided to focus my attention on two areas: powered loudspeakers and DSD-capable digital. I will also make some comments at the end about some of the best sounds that I heard at the show. Sorry I didn't get pictures of everything I will report on.
Lately I've become interested in active loudspeakers because I feel that is the direction the industry will turn in the future not only for convenience and cost, but mainly because it can produce the best sound when done correctly (which no one is doing right now, and I'm not saying I know how to do it correctly either). I believe that reducing or eliminating cables and optimizing the interfaces between electronic and electro-mechanical components will lead to the purest and most accurate sound reproduction. This is possible only by integrating most of the audio system into the speaker boxes as in active powered speakers.
Active speakers are becoming the norm in pro audio applications, mostly for the convenience this approach provides when setting up and tearing down and audio amplification system frequently. Many home theater system providers are also moving in this direction for the same reason and also because of potential cost advantages. In the high-end audio community, active speakers are already common, but mostly in stand-alone subwoofers or built into the woofer sections of integrated loudspeakers. I didn't notice anything new in subwoofers at this year's show but I may have overlooked something. On the other hand, I did notice quite a few old and new loudspeakers with built-in power amplification. One of the best-known high-end companies using powered woofers is Vandersteen Audio. They were demonstrating the excellent Model 7 loudspeaker with Audio Research electronics in one of the best sounding rooms at the show. The Model 7 woofer is driven by a 400W amplifier customized to the woofer and features an 11-band analog bass equalizer used to optimize installation of the speaker into the room. The equalizer works up to about 200Hz only, leaving the rest of spectrum untouched.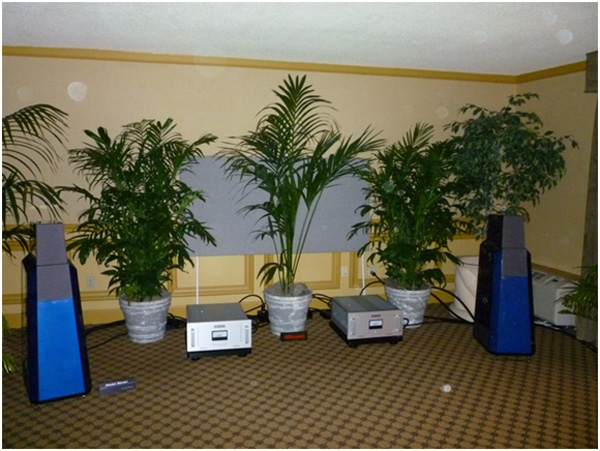 Vandersteen Audio manufacturers their speakers in my home state of California. Another California company making nice sounds at THE Show was PBN Audio. They had on display their gigantic WAS-2 speaker with a built-in 1 kW Ice-Power™ amplifier including digital signal processing for room integration. The amp drives the two 15-inch subwoofers in each speaker cabinet. A pair of huge PBN monoblocks with custom patriotic-themed faceplates powered the rest of drivers in this speaker.
Those are two examples of high-end systems that have bitten the bullet of powered speakers, at least for the low end. There were quite a few others but I didn't catalogue them as I went through THE Show. Next I'll talk about some of the full range powered speakers I saw during my wanderings. I gave the EARO Eight single-driver powered loudspeaker a favorable review in PFO after hearing them at THE Show in 2011, but when I visited their room at THE Show this year they were playing their more affordable Ulf speaker, which is of similar design but smaller (inside speakers on the floor in the picture below). Each speaker takes an analog input on XLR connectors and converts it to 24-bit 96 kHz PCM. A built-in digital processor conditions the signal to match the characteristics of the 5-inch driver before conversion back to analog and into a powerful, class-D amplifier. This year EARO has added a room correction capability into the DSP software inside the speaker. This seemed to really add impact to the sound. I'm sure we will see more DSP and room correction like this at EARO and other brands in the future.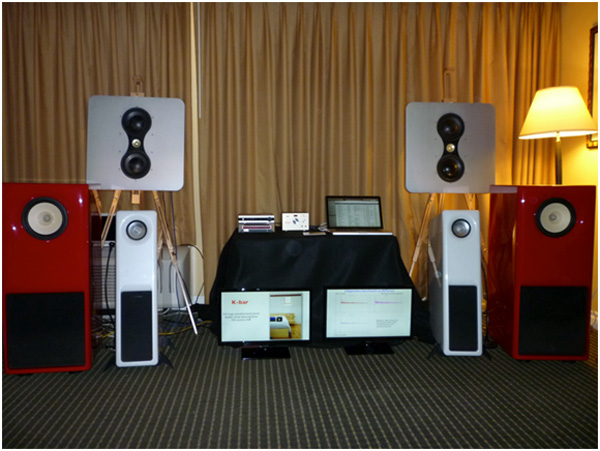 Vanatoo is a fairly new company run by a pair of former aerospace engineers in Washington State. They produce a small stand-mounted active speaker that has some legitimate audiophile chops even though a pair is priced at only $499. Using an active speaker approach gives them a leg up in performance. Nothing too sophisticated here but just a well thought-out design. All the electronics are housed in one speaker (it can be either the left channel or right channel, user designated via a switch) with conventional speaker wire connection over to the second speaker, much like many desktop computer speakers. The Vanatoo Transparent One uses a 5 ¼ inch woofer and a 1-inch silk dome tweeter plus a passive radiator on the back to extend the low-end response to 49Hz. It has three digital inputs (USB, Toslink and Coax) and one analog input. The on-board 60W class-D amplifier uses a chipset from D2Audio that includes digital signal processing to equalize the frequency response to +/- 2 dB from 49 to 20,000Hz. It sounded quite clean with excellent imaging.
Precision Transducer Engineering is another California company that has specialized in powered speakers for over 20 years. At previous shows they demonstrated their tri-amplified Statement speaker that is 5 feet tall and weighs 400 lbs. This time, however, they brought along their more modest Phoenix SG model that has recently undergone some improvements. Each speaker contains three 130W class AB amplifiers, an electronic crossover and equalizer controls to better integrate the speakers into any room. The Phoenix uses a pair of woofers surrounding a Scanspeak dome tweeter. I learned the Phoenix plays LOUD but also with great finesse and honest tonality.
Adam Audio is best known among pro audio circles but also produce both active and passive speakers for the home. I was impressed by their ARTist Series of active loudspeakers consisting of a couple of stand-mounted models and one floorstander. Each speaker features the Adam Extended Accelerating Ribbon Tweeter (X-ART) and separate amplifiers for the woofer and tweeter. All speakers in the series accept RCA, XLR and USB inputs. The smaller models each have a gain control on the front panel that can be used to set the level for both speakers in a stereo pair.
One of best demonstrations I experienced at THE Show was in the Simplifi Audio room where the DSPeaker Room Correction system was being demonstrated on powered speakers from PSI Audio and DSPeaker. Their newest device is the Anti-Mode 2.0 Dual Core model that corrects low frequencies below about 200Hz but has additional features to tweak your system sound and display its frequency response. It was certainly easy to hear the effect of the correction. The powered speakers in the room all featured multiple amplifiers and on-board digital signal processing for crossover and electronic equalization. I forgot to write down any specifics about the speakers or take any pictures as I enjoyed my time in the room too much. Check out the Simplifi web site for more details.
Another company doing similar things to Simplifi was Emerald Physics. They have some unique open-baffle speaker designs at very attractive direct sale prices. The model I listened to was the brand new CS2.3 MK2 that has four drivers and comes with its own digital electronic crossover. The three amplifiers required to drive these guys are not installed inside the speakers so you can use amps of your choice, but EP makes their own amplifiers that are tailored to these speakers. Using the same DSPeaker room correction as Simplifi, the CS2.3 produced an airy open sound with outstanding bass. You might want to check these out or try one of the other EP models.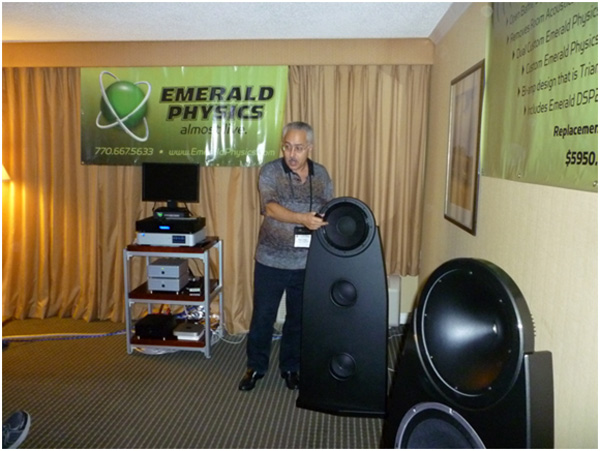 Probably the best known company making powered speakers is Meridian Audio from the UK, however, I only saw them on silent display in one of the dealer rooms. Their flagship is the DSP8000 that comes in an astounding choice of 270 colors and includes the latest digital processor and algorithms in the Meridian line. Meridian is heavily into digital signal processing to optimize the sound of their systems and they are moving the technology to lower price points. The latest model is the M6 that has gotten a few reviews recently. It sort of resembles a shell from a 155mm howitzer, something that is hard to ignore. They have several other models over a broad price range, including a desk-top set. I don't know many audiophiles in the US who like Meridian speakers, but the engineering and execution are impeccable.
Emotiva is known best for their very extensive and affordable line of electronic components designed in Tennessee and manufactured in China. However, they also make speakers, both passive and powered. For example, the Airmotiv 6 Powered Studio Monitor features a folded ribbon tweeter, a 6.5-inch polypropylene woofer, active crossover, RCA and XLR inputs, and two hundred-watt amplifiers in each box. The price has recently been reduced to $599/pr. Emotiva seems to gear their powered speakers to the home theater crowd but they can serve as the center of a good stereo system as well with the right auxiliary equipment.
I had a long discussion about powered speakers with Tom Maker of Maker Audio though he only brought his amplifiers to THE Show and no speakers. Maker Audio is the successor to Edge Electronics and I recently reviewed one of their new amplifiers in PFO (see Issue 67). He was demonstrating his electronics with Quintessence Loudspeakers. The Maker Audio powered speakers, available through select dealers, are a sophisticated design with many optional features that can be tailored to the user. They include cylindrical speaker enclosures, up to 6 amplifiers, digital sound processing and wireless music streaming. Maker tells me most of his active speakers are going into custom installations. I hope to get a pair of Maker speakers to review some time later this year.
A second area I was investigating at THE Show was new DACs especially those with DSD and double DSD capability. There were quite a few brand new or recently upgraded DACs being demonstrated in Newport Beach and others that have come out in the last year or so. When I ran across a recently-released DAC that did not have DSD capability the most common reason cited was the lack of availability of music in this format. However, it seems that most DAC purveyors are betting on the future of DSD downloads or they are listening to their customers who want the flexibility of being able to play back all formats or to take advantage of the superior sound DSD provides.
I saw and heard some really outstanding new DACs from Wadia, Antelope Audio, MSB, EAR, Wyred 4 Sound, Concert Fidelity, Mytek and Playback Designs among others. Wadia, for example, was premiering their Intuition 01 that is a DAC combined with an integrated amplifier. The DAC has a high-resolution USB input capable of 384 kHz and 32 bits with native DSD playback and uses the ESS Sabre 9018 chipset. The Intuition also has a 350 W/channel class D+ amplifier (I guess a D+ is better than a plain D).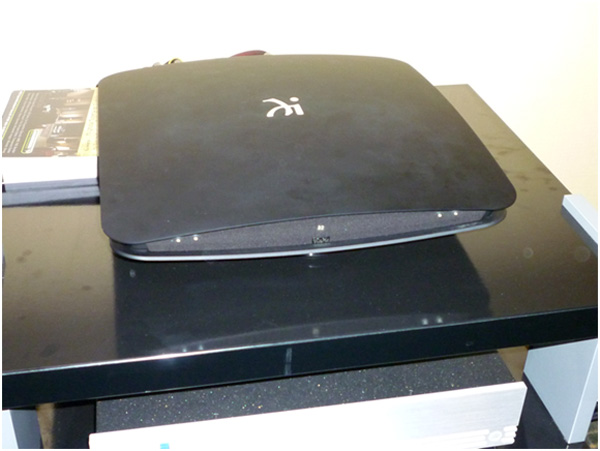 Wyred 4 Sound was showing their DAC-2 DSD that also uses the ESS 9018 32-bit DAC chip to decode all high-resolution PCM formats plus DSD and double DSD for $1599. For an additional $900 they also offer a Special Edition model with premium components and a fancier display.
Antelope Audio had their gorgeous Rubicon AD/DA preamp on display and it sounded glorious but is accessible to only the most well-heeled audiophiles. It uses a very sophisticated atomic clock for exceptional timing accuracy and low jitter. For some of the rest of us they were also showing their Zodiac DACs that come in several versions with up to 384kHz streaming capability. The Zodiac DACs use ovenized crystal clocks that are better than most but short of the standards set by the Rubicon. However, it is possible to attach a Rubicon clock module to the Zodiac DAC to provide performance close to the more expensive model at a much-reduced price.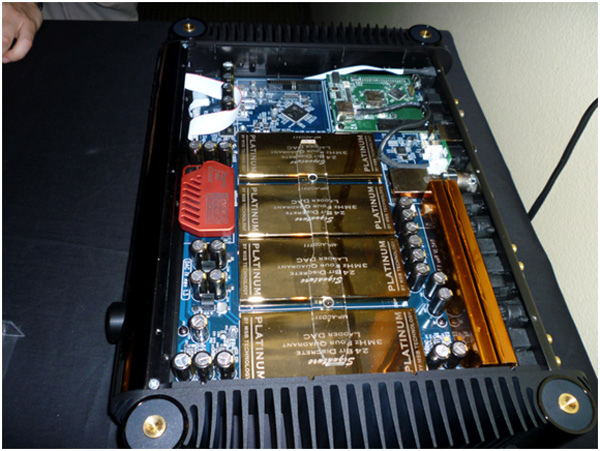 All of the DACs from MSB Technology are DSD capable and include their advanced clocking technology. They were featuring their new Analog DAC that lists for $6995, which is their most affordable product so far. It integrates MSB's most advanced clock, digital filtering and ladder DAC technology in a simple advanced package with a choice of input formats. The picture shows the inside of MSB's more advanced Signature DAC IV plus ($17,995).
I had a most interesting talk with Andreas Koch of Playback Designs about their new Integrated Playback System 3 (IPS-3) integrated DAC/amplifier ($13,000). The IPS-3 features a double DSD capable DAC, preamp and 130W class B amplifier in a single chassis. Unlike most other companies Playback Designs does not use an off-the-shelf chip like the Sabre DAC to realize digital-to-analog conversion functions. Instead they program everything themselves into a field-programmable-gate-array chip. This is common in the Aerospace industry but rare in the commercial space. It gives Playback Designs greater control over the parameters of digital conversion and filtering compared to the more common approach used by most others. The IPS-3 certainly sounded terrific in their demonstration system with the outstanding little MMMicroOne loudspeakers. Watch for reviews of this outstanding new product.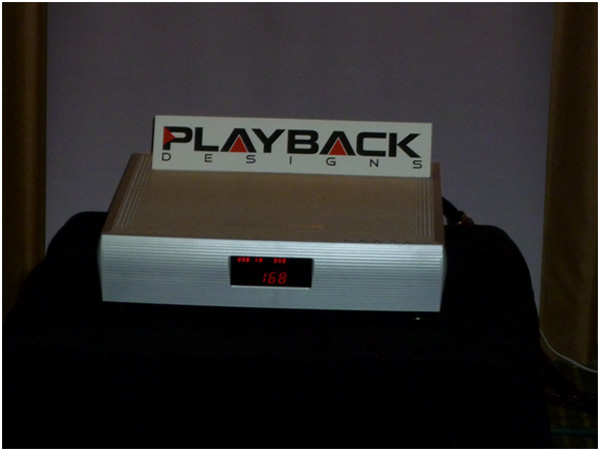 In the E.A.R. room at the Hilton, Dan Meinwald and E.A.R. designer Tim de Paravicini were demonstrating E.A.R.'s new two-box SACD player consisting of a transport and separate DAC. This was the first unit available in the USA and it sounded wonderful on the several SACD cuts I was able to listen to. EAR is still working on DSD over USB for this unit so stay tuned.
Another fine demonstration was available in the Concert Fidelity room but not DSD this time. Instead they were showing the DAC-040BD Battery Drive DAC, which is a non-oversampling DAC with 12AU7 output tubes and tube rectification. This plays redbook CDs and uses a nickel-metal hydride battery supply to isolate the DAC from power line noise. This did a really credible job on CDs without using the upsampling and oversampling of every other DAC at the show. It shows there is more to be squeezed out of our legacy media by using a combination of old and new technologies.
It seems that all show reports have to include an opinion on best sounds at the show even though reaching such a conclusion is really impossible. For me the best sound I heard was at the live entertainment, even though everything was amplified. I especially enjoyed Tierney Sutton on Friday night. My take on the best sound in the show rooms depended a lot on what was playing when I walked in. While I liked a couple of rooms on the 10th floor of the Hilton, including the large TAD Reference speakers with TAD electronics, and the Vandersteen 7s heard with Audio Research electronics, I had the best time down on the main floor of the Hilton. Here I enjoyed DSD master recordings on Vivid Speakers with Luxman electronics in the room hosted by Philip O'Hanlon of On a Higher Note, and the vinyl spinning on a restored Denon turntable with Concert Fidelity electronics and another pair of TAD loudspeakers. I also got a kick out of the Mini Maggie system playing in the Wyred 4 Sound room. These stayed in my memory even though I heard quite a few other great systems during the three days of the show. I also loaded up on quite a bit of vinyl from the record bins and quite a lot of food from the gourmet food trucks, plus snacks at the three hospitality rooms at THE Show. I saw nothing but smiling faces during the entire weekend. Try not to miss this event when it comes around again next year!