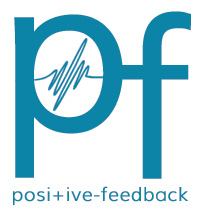 You are reading the older HTML site
Positive Feedback ISSUE 68
july/august 2013
Notes of an Amateur: Saariaho and Bach.
by Bob Neill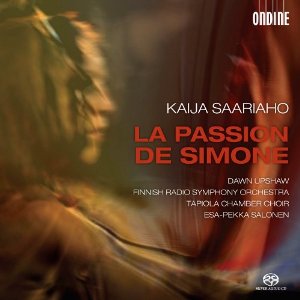 Kaija Saariaho, La Passion de Simone. Dawn Upshaw, soprano. Finnish Radio Symphony Orchestra. Tapiola Chamber Choir. Esa-Pekka Salonen. Ondine ODE 1217-5.
Is modernist musical language more able to express matters of the spirit to us moderns than the traditional language it has aimed to succeed? If composers must imbed in the music a large dose of the strange and wildly unfamiliar to indulge and/or disarm our modern sense of doubt and disbelief, perhaps it is. Kaija Saariaho, Finland's most prominent contemporary classical composer, sees philosopher/activist/martyr Simone Weil as an extraordinary spiritual personage and sets out to persuade us of her special essence in an oratorio through the voice of Dawn Upshaw, our leading female singer of modern music, and a Finnish orchestra and chorus led by Finnish composer/conductor Esa-Pekka Salonen.
Weil herself does not appear as a character in the work. Rather, soprano Upshaw takes the role of her apologist—'sister': she is the intermediary through whom we meet or rather 'contemplate' Weil. Saariaho chooses to keep her subject off stage in order to provide some distance between us and her, distance that we are invited to believe is essential difference. Difference perhaps in kind, not just degree. Also, the work is laid out in fifteen 'stations,' echoing Christ's path to the cross, to further create an impression that this is a spiritual enterprise of some magnitude.
Does Saariaho's music accomplish more than create an effect of great spiritual intensity and difference? Are we moved by the music itself or are we just fascinated (perplexed) spectators? There are some musically compelling passages but they do not predominate. That really is the chief issue with modernist oratorios and operas, even the few successful ones. Vocal works are about song, even if it's just rudimentary chant or chordal progression. So we have to learn to hear vocal music that eschews or hides these things. Modernist composers of vocal music have to teach us to do with a great deal less of it than we tend to want. Even now, a century or more into the modernist movement. La Passion de Simone moves from recitative to 'song'—more often carving out a middle ground between them. And there are periodic brief spoken inspirational interludes which may or may not be quotes from Weil.
No work of art is beyond judgment but some are so ambitious and striking as to urge caution on us in this regard. I'll just say that for this piece to work we must stay with it, give ourselves up to it: stay in the concert hall. Just be there and let Saariaho work. She is never boring. Whether or not she has overreached herself here won't be decided by me, at least not today!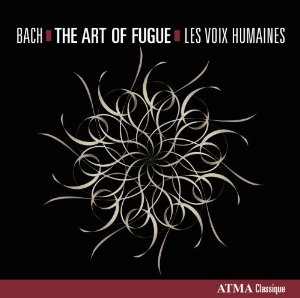 Bach, The Art of Fugue. Les Voix Humaines. Atma-Classique ACD 2 2645.
Bach's Art of Fugue casts different images depending on the instruments used to perform it. Hearing it played by five viols (pardessus, soprano, alto, tenor, bass) is like finding oneself in the belly of an enormous spiritual whale and looking up at all of the bold and beautiful intricate arching bones that provide the sustaining structure, while at the same time feeling an enormous heart beating somewhere! I've heard the work on organ, harpsichord (the instrument it was presumably composed for), and piano; but never on viols. The music is familiar, of course, but the light is lower (not less clear), despite the treble viol's eloquent efforts to mitigate the rich darkness cast by her lower fellows.
If you love the sound of viols, this could well be your version. It is more intellectual through the single voice of a keyboard—and this is in a sense intellectual music, Bach at his least conciliatory, which brings him closer to modernism than in any other of his works. Most people who feel affection and not just respect for this music are drawn to the spell of its architecture. The brilliant Canadian ensemble, Les Voix Humaines, do this aspect of the Art of Fugue maximum justice. Enter the cathedral (or whale) and get lost in a vision of brilliantly articulated space. A remarkable performance and recording.
Equipment used for this audition: Resolution Audio Cantata CD player; Crimson CSD710 preamplifier and CDS640E monoblock amplifier (all solid state); Tocaro 40D single driver speakers. Audio Note OTO Signature integrated amplifier (tubes) and E/SPe HE speakers. Blue Circle FtTH2 integrated amplifier (hybrid). Jean Marie Reynaud Abscissa speakers. Crimson cabling.
Bob Neill is a former equipment reviewer for Enjoy the Music and Positive Feedback Online. He is currently proprietor of Amherst (MA) Audio, which sells equipment from Audio Note (UK), Blue Circle (Canada), Crimson Audio (UK), Resolution Audio (US), and JM Reynaud (France). He is also sales agent for Tocaro loudspeakers (Germany) distributed by Austin (Texas) Hifi.