FRANCISCO DURAN'S SYSTEM
LOUDSPEAKERS
Tonian Labs TL-D1 Loudspeakers with custom cabinet with real wood Bamboo finish.
ELECTRONICS
Margules U280SC Class A tube amplifier (new Version), Marantz PM-15S1G Reference Series Integrated amplifier ("Signature Edition" upgraded by The Upgrade Company), Antique Sound Labs MG-SPM25DT SE mono block tube amplifiers modified by Response Audio, Monarchy Audio SM-70 Class-A amplifier.
SOURCES
Marantz SA-15S2 Reference Series SACD/CD player ("Signature Edition" upgraded by The Upgrade Company), Kuzma Stabi S turntable, Stogi arm, Audioquest 4004i cartridge modified by van den Hul, Sony BDP-S350 Blue Ray Player, Onkyo Model T4 Servo Locked Stereo tuner. Stock MM/MC Phono preamplifier in Marantz SA-15S2.
CABLES
JPS Labs Superconductor Q Series interconnects and speaker cables, Power AC+ , GPA2, and Digital AC power cords, Analysis Plus Solo Crystal Oval interconnects, Oval 12 speaker cables, Soundstring Tricormaxiel speaker cable, PC 30A and 10A power cords, and Octaphase "Alpha Series and Omega Pro Line" interconnects. Oyaide power cord, PS Audio C-4 power cord., Monster Cable M Series HDMI 1.3 cable, Parts Express HDMI cable.
ACCESSORIES
Gingko Audio Cloud Ten (2), Vibrapod Isolators (various sizes), and Cones, Ultra Systems' Hi-Fi Tuning Fuses, (various sizes peppered throughout my gear), Ultra Systems Cathedral Sound Panels, (4), Custom made gear racks for turntable and gear. Balanced Power Technologies BPT 4SE power unit, Brick Wall Series Mode Surge filter (2 outlet), Quiet Line Parallel Power Line Filters, Bybee filters (inside ASL amps), Nitty Gritty record cleaning machine, PS Audio Zero Static record brush, Flitz Metal Polish, Caig ProGold, and Deoxit, Mondial Antenna Ground Isolation Circuit (for incoming Time Warner cable), Walker SST Extreme, Mapleshade Mikro-smooth CD polishing kit and Ionoclast Ion Generator, Bright Star Isonodes, EAT Cool Dampers, Hal O Rings, Cardas, Clearaudio, Hi-Fi News Test LP's, Smoke On The Water, Senor Coconut and his Orchestra used as test LP, generic ferrite rings, ERS paper, Custom made wooden cable lifters by Mr. Clark senior, Ceramic Insulator cable lifters, JandJ, EI, Sovtek/Electro Harmonix, Ruby, SED, Jan Phillips, Sylvania Electron Tubes, Amoeba Music Store record bag!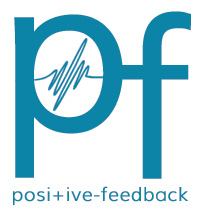 You are reading the older HTML site
Positive Feedback ISSUE 68
july/august 2013
ascend audio
CBM-170 Loudspeakers
as reviewed by Francisco Duran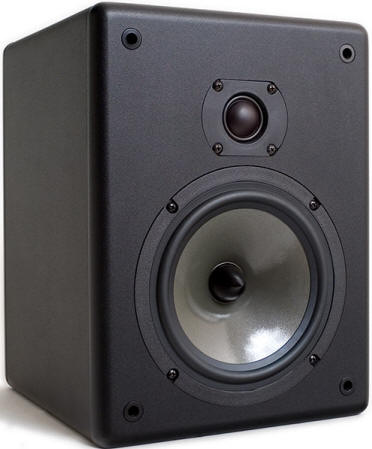 There is an old saying, " cheaper system that is matched well will outperform a more expensive system with poorly matched components." As far as a high end system goes, no truer words can be spoken. At least, that has been my experience. Needless to say, I was a little concerned when I installed a pair of Ascend Acoustics CBM-170 stand mounted speakers in my system. You see the CBM-170s retail for the paltry sum of $350 new. I got my pair from Audiogon for two hundred simoleons. It is not that I have ultra-expensive or ultra-revealing components, but my Marantz Reference amp and SACD player do perform quite a few levels above the stock units thanks to The Upgrade Company. Besides, component matching is everything right? Especially the amp and speaker interface. How did I know that these little lightweight vinyl-clad jobbies were going to mate with my amplifier? Oh why did I buy these speakers? I was looking for a high quality, efficient, stand-mounted speaker that I could use in several systems, and as a substitute if something ever went wrong with my reference speaker, and lo and behold something did. But that is another story for another time.
Let's look at some specs and see what we are getting into. The dimensions are 12" high, 9" wide, and 10" deep. They weigh fourteen pounds each and are constructed in 5/8 MDF. They are clad in a textured vinyl finish the same color as great granddaddy's model T. I read on their website that you can order them in custom colors which elevate the looks to quite a degree. Inside, the cabinets are braced quite well. The custom built high-definition tweeter is a 1 inch soft dome unit while the 6.5 inch is an Aerogel woofer with phase plug and a composite polygel cone. There is a port out the back and a single pair of binding posts, thank God! The back of the speaker also sports a threaded insert for wall mounting. Speaker grills are also provided.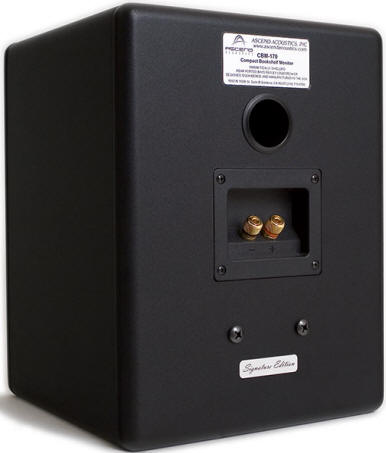 I have seen a picture of the double layer crossover for these speakers, and it is quite a sophisticated unit. This is definitely where Ascend spent the lion's share of the money for this design. Not to mention the rest of the high quality parts throughout. With an in-room sensitivity of 91dB at one watt, one meter efficiency, this speaker can be driven by pretty low watt amperage, proof of which I have done with my low watt Tripath amps and Fatman iTube unit.
As I look back, these speakers have been in and out of my system for quite a long time. One of the reasons is that when we have people over they take up a lot less space, making more room for friends and family. Secondly, they also take up less space when hooked up to my B&W subwoofer. Small as that sub may be it still takes up considerable space adjacent to a door to a room that gets used quite frequently. A problem that has developed recently with my reference speaker's drivers has left me with the little CBM-170s in my main system. In fact I have mentioned them to my good friend Larry Cox so much that he asked me if they were in fact my new reference speakers. I guess they are for now.
Years ago I used to equate neutrality with brightness for various reasons, probably because some reviewers couldn't express themselves properly. I always equated neutrality with tubes because I thought it meant a component was reproducing the true sound of acoustic instruments, as I feel a competently designed tube amp can do better than many other designs or types of amplifiers. Here's another thought, maybe in the world of high end audio, neutrality and musicality are two different things. Insert smiley face here! It is only when you experience a component that is truly neutral that the light turns on inside your head. Oh, it gets out of the way and lets you hear exactly what the components are actually doing downstream. It lets the tonal characteristics of components in the audio chain play as truly as possible. Actually, I have heard that a competently designed amplifier, be it tube or solid state, should do just that. The Ascend Acoustics CBM-170 speakers come close to this ideal. And they do it without breaking the bank.
In the first few months that I had them I would hook up different amplifiers that were in stock to hear which one worked best. This proved a little frustrating because each amp sounded so different. The Fatman iTube sounded rich and warm. My Topping T-amps sounded cleaner, but slightly closed in on top. My Margules U280SC KT-88 ultra linear amp, which should have outclassed these speakers, sounded almost like it did when hooked up to my Tonian's. It sounded clean, extended with a touch of tube warmth, and had a nice dimensionality. My Marantz Reference integrated showed a solid overall grip dynamically, solid dimensionality, and a slight coolness. In fact there are times with the Marantz that I wished for a little more warmth and fullness. Then I realized that is just the way this amp sounds. In other words, these little inexpensive stand mounted speakers were getting the heck out of the way, and showing very closely what each amplifier sounded like with as little interference as possible from them.
What's that you say? Any competently designed speaker can do that? Yes for a price. But I have never heard a pair of speakers do this for fifty bucks shy of $400. My Tonian speakers are neutral to the point that I have learned that they should be run with a good tube amp. Insert smiley face again! The warm sounding Almarro tube mono blocks I reviewed a few years back are a good match for them. I think the Tonian's are a little too neutral. That is also why I use the smooth Marantz Reference components with them. And did I mention that the CBM-170's speakers are efficient? They are driven quite easily to high SPLs with no problem with my low wattage T-amps.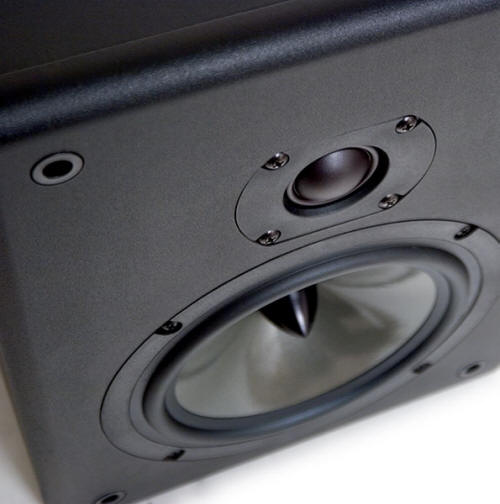 I compared the CBM-170s against speakers in the $1500 to $2000 price range. I also had a pair each of B&W LM-1 and VM-1, the latter of which is a MTM design. Against these two the CBM-170s held their own with their overall signature smoothness and even frequency balance. The CBM-170s also had a fuller, slightly softer bass. The B&W VM-1s were a surprise. They sounded very clean but with a slightly sharper treble. They have very quick dynamics, tighter bass, and are the cleaner overall sounding speaker. I wouldn't call it a win for the B&W, just a different take on the music. Then I climbed up the monetary ladder quite a bit. Speaker X is a small two way with a five inch driver and one inch tweeter. Speaker X had an overall grain less sound with great clarity. It had a way of drawing you into the music with those two qualities. Its soundstage and imaging is very spacious, making for a very lifelike and reach out and touch it sound. The music coming out of these speakers sounded much more focused, if a bit uneven from top to bottom. The CBM-170s had a harder time fleshing out razor sharp images as compared to Speaker X. But on the other hand the CBM-170s were the more balanced sounding of the pair. From the bottom to the top they just sounded more coherent. The more expensive speakers didn't embarrass the CBM-170s in timbre or tonal accuracy either. In fact, the slightly warmish character of Speaker X did seem to get in the way at times. It is a compliment to the CBM-170s that I had to reach quite a bit up in price to beat their performance.
I have heard speakers in the same price bracket that come close to the Ascend Acoustics in one area or another, and even surpassed them in one area or another. But the overall balance of sound quality and parts that are in these speakers make them a super bargain. They are very well balanced, a fact brought out with their smooth and even bass making a smooth and even transition when I am using them with my B&W sub. In fact, it was nice to listen to full orchestra sans sub. Although these speakers are rated on paper to -3dB to 69Hz, that is a solid and smooth 69Hz. There is no fake bass boost here, again making it a snap to integrate with a sub. In fact for most music and movies a sub was icing on the cake and fun, but not necessary to most of the benefit of the signal being fed to them. In other words, you could hear what was missing down low, but it didn't intrude from the enjoyment.
The midrange sounded natural and realistic, reproducing vocals with clarity. Dialogue on movies sounded articulate and easy to follow, for the most part, even without a center channel on my 2.1 rig. I mentioned neutrality earlier; well that character doesn't stop at the midrange. Clean, precise, and again natural are apt descriptors of the treble section of the frequency range. There is no slight roll off or warming up of the treble, except when I hooked them up to my Fatman iTube amp. Piano reproduction sounded extended and precise. Plucked strings had a quick and airy sound. I heard no brightness, etch or glare on excellent recordings. This is amazing performance for $350. If I had a nit to pick, where they did stray from neutrality was that they were a little thin. When I went back and reinstalled the amps listed above and listened carefully, I kept wishing for a little more fullness and richness. There was nothing threadbare to the sound. But after A/Bing them with speaker X, this slight anomaly was apparent. Speaker X also showed that the CBM-170s were not quite as transparent as they were. Speaker X has excellent background clarity. But again, given the price difference, the CBM-170s performance in that area was quite good.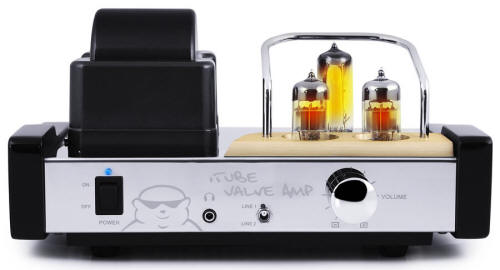 As far as looks are concerned, some might say they have them, but only looks that a mother would love. I happen to like their looks. So is this review down to a proud father? Well I guess I wouldn't own them if I didn't like them. In fact, Ascend doesn't even know I am reviewing them. More importantly, I wanted to report about a speaker that can be added to the list of the Paradigm, Energy, Wharfdale, and the like in the category of price performance ratio that is off the charts. Here is a speaker that is not in the limelight as much as those speakers, but deserves very much to be. Francisco Duran
CBM-170
Retail: $349 a pair
Ascend Acoustics
1062 Calle Negocio Suite G
San Clemente, Ca. 92673
www.ascendacoustics.com
sales@ascendacoustics.com