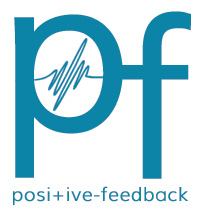 You are reading the older HTML site
Positive Feedback ISSUE 68
july/august 2013
The Future Is Here - Audio Still Rules
by Karl Lozier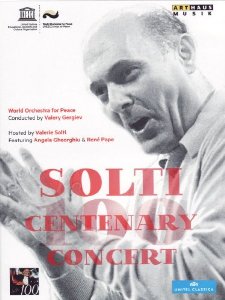 Solti Centenary Concert. Orchestra: World Orchestra for Peace. Conductor: Valery Gergiev. Hosted By: Valerie Solti. Featuring; Rene Pape and Angela Gheorghiu. ArtHausMusik 108 073 Blu-ray single layer
What a beautiful recording .It just happened to be the very first recording that I played with my new television set. Years newer and slightly larger than my old rear projection set I quickly decided that what I was seeing was the best blu-ray picture ever in my home plus, as usual, excellent overall audio quality. The new top of the line Samsung was certainly a factor though it has proven that the video and audio qualities of this recording are absolutely of the highest quality. This very special concert in many respects, including honoring Solti's outstanding musical career, should have almost universal appeal. The orchestral playing in not to be faulted in any aspect, the soprano and bass vocalists are just fine and so is their duet. Solti's wife introduces many of the selections with just the right touch and respect. Mozart and Verdi selections are featured though my personal favorite was an excellent performance of Bartok's Concerto for Orchestra. Simply an outstanding release that most music lovers should treasure, results in a top recommendation.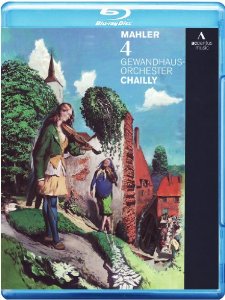 Mahler. Symphony No.4. Orchestra: Gewandhaus Leipzig. Conductor: Riccardo Chailly. Soprano: Christina Landshamer. accentus music ACC10257
Whoa! Do not skip over this if it's just because you think you do not like or know Mahler's music. This beautiful music is perhaps Mahler's best; it certainly is my favorite. As I have often stated, it is not typical of Mahler's symphonies many of which are big featuring choruses and even larger than usual orchestral forces. The popularity of this symphony has been growing and growing the past many years probably because of the many recorded versions now available. Some listeners have mentioned the attraction of the beautiful solo female vocal part, supposedly meant to have a child-like portrayal. In this release the vocalist is superb and perhaps almost subtle as if letting the music itself being foremost. All the instruments and groupings wind up being featured in this seemingly simple at times, composition. It is obviously a dedicated work by a great composer simply entertaining his audience as he might not have been able to do in earlier years. Easily a top recommendation in all respects and do not expect to find its superior in any respect. I believe the vocal soloist to have the best performance ever in my memory.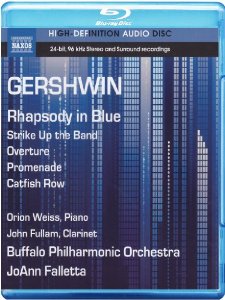 Gershwin. Rhapsody in Blue. Strike Up the Band. Overture. Promenade. Catfish Row. Orchestra: Buffalo Philharmonic. Conductor: JoAnn Falletta. Naxos Blu-ray (High Definition Audio Disc)NBD0033
Here is another release in Naxos' continuing series of high definition audio only Blu-ray recordings. Why you might ask, is Naxos releasing audio only high definition releases. Many of PFO's sophisticated listeners are happy as can be with a good SACD hybrid player that may be better than ever with regular CD releases but many have simply not purchased a really good SACD player and it seems as if the number of releases is dwindling instead of escalating. So high definition audio in the form of Blu-ray releases by Naxos comes to the rescue; you and everyone else have, a Blu-ray/DVD player, right? Therefore all of you can now play some high definition audio only releases on your high definition video-audio Blu-ray players. Modern science is just marvelous coming to the rescue. Enough background for now. Remember Rhapsody in Blue was written for orchestra plus piano and so performed quite excellently here if not as quickly as Gershwin's personal recorded performance. Also remember that the pianist has to respect the jazz elements so important to a good performance of the Rhapsody; we have that here. A seldom mentioned aside about Gershwin's personal premiere of the Rhapsody was the attendance of many famous names of the musical world including composers and musicians from the classical music ones.
Gershwin later did some music for films one of which he turned partly into his Rhapsody No.2. His music for the film, Shall We Dance was ultimately rescued by Ira Gershwin and reconstructed as a concert piece, titled Promenade. It is performed next in this release in the beautiful version featuring the clarinet. Gershwin conducted a suite from his opera Porgy and Bess just ten times before his death and then it got lost in Ira's storage and when found much later it was retitled Catfish Row as performed superbly as the last selection on this simply outstanding release. It is also one of my very top recommendations for all, including non lovers of classical music. A relatively short first selection on the recording is a very nice full and rich arrangement the popular "Strike Up the Band " to show off your new multichannel sound system for friends and neighbors.
Auditory Bliss. Erik Fosnes Hansen
How do we listen to music? Indeed how do we listen to anything? Our use of our hearing consists primarily of a conscious shutting out of our minds the things we don't want to hear. Because the ear is always open we can't shut it the way can our eyes. Even in sleep our hearing is our sensual lifeline back to the reality that surrounds us; it is our last line of defense. From the moment of our birth to the moment of our death, as long as our hearing works, we are surrounded by sound from all sides. We have no choice. That is why sound can feel so insistent.
The preceding is from the first of six pages dedicated to this project and recording. As usual for the 2L label recordings, the audio quality at least approaches state of the art. Those pages have much to say about listening and recordings and some unusual discussions about both and not easily condensed.
"As Gullvag's illustration suggests, what we as listeners encounter here is sheer auditory bliss. Trondheim Solistene take a new step towards bridging the gap between the recording and the living ever open human ear." Now it is up to you readers and potential listeners to make a choice. As usual for the 2L company a large recording space was chosen by Lindberg Lyd AS and recorded at Selbu Church,
Norway in 2011 and financially supported by the Norwegian University of Science and Technology. Listed below find selections that Tronheim Solistene recorded to attempt to close the gap between the recording and the living ever open human ear:
Pyotr Ilyich Tchaikovsky: 1) Souvenir de Florence, 4) Serenade for Strings. Carl Nielsen: 2) Ved en Ung Kunstners Baare, 3) Suite for String Orchestra. 2L-090-PABD. Pure audio Blu-ray recorded in DXD 24bit/352.8kHz
Mozart. Die Zauberflote. (The Magic Flute). Orchestra and Chorus: Teatro Alla Scala. Conductor: Roland Boer. Opus Arte: BD7099 D
The respected "All Music Guide to Classical Music" has the following to say about the famous Mozart opera. 'The Magic Flute is regarded as one of the greatest operas of the entire repertoire. In fact many hold that The Magic Flute is among the greatest human documents.' Do not expect me to disagree with that respected authority. I certainly got completely engrossed in watching many times in the past weeks as it simply grew on me. Sure it might be considered simplistic in our supposedly sophisticated modern society, but so what. Obviously I shall give this release with its top notch audio quality my highest recommendation. If you just want to try a couple of operas get this one, Carmen and one from Wagner's ring group. Do not be in a hurry if just getting started with operas; wait until you have plenty of time and are not rushed. Yeah maybe tough to do that though very possibly well worth it.