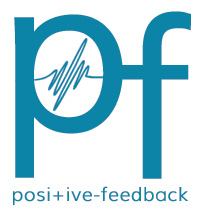 You are reading the older HTML site
Positive Feedback ISSUE 68
july/august 2013
Harmonic Resolution Systems - M3X-1921 RD Isolation Base
by Wojciech Pacuła (images Wojciech Pacuła and HRS, translation by Andrzej Dziadowiec)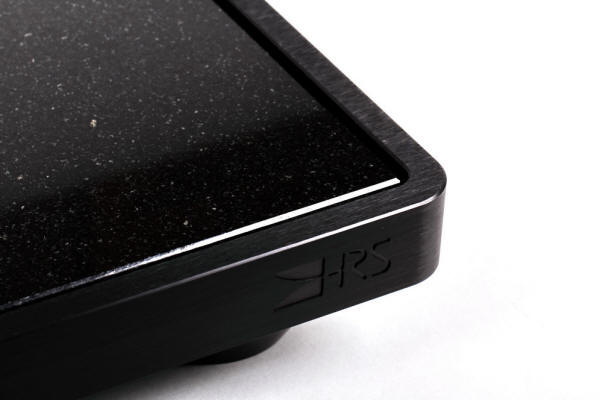 Being able to compare in one place and at the same time several anti-vibration platforms from around the world, including those from the best known manufacturers, it is easy to come to some general conclusions. It only takes a look at the packaging in which they arrive to know whether their manufacturer is an established business or still a fresh venture, and whether their production output exceeds a few copies per month or rather not. Sophisticated, secure packaging is expensive. Although the platforms I'm talking about are far from being cheap, with a small volume of production packaging becomes an important component of the final price. The second determinant is platform's finish quality. Although the most important is how the platform affects the sound, its look and the impression it makes are also very important. At least for me. But even if aesthetics is not important to us, finish quality reflects the importance of the enterprise, the money invested into it, and hence the research and development capabilities. If we look at it this way, the M3X platform will be the most precisely made and best finished platform of all reviewed in this issue of High Fidelity. Only the Pagode Edition from Finite Elemente shows a similar level of finish quality, while using a completely different build material.
The M3X is a very heavy, extremely solid design with a rather low profile body. It integrates several different materials: aluminum, granite, and two types of elastomers, with carefully selected size and weight. It looks this way: the base is machined from a single billet of aluminum which has milled out recesses for the granite slab on top and the feet in the bottom. The granite sits on polymer pads and its sides do not touch the aluminum base; the only point of contact is the bottom surface. The large aluminum feet are decoupled from the base by the other polymer. The side features a milled out logo with distinctive "wings" loosely resembling the "wings" of Theta Digital's logo.

The platform is available in four different sizes, each of them coming in three load ranges. Its size can be thus selected to match an audio component that will sit on it. A properly matched pair will have the component's center of gravity as close as possible to the center of the platform. The permissible load range is important because of the polymers used to decouple the platform components from each other. An increased load necessitates a change of decoupling. The model that is the subject of this review measures 21 x 19 inches (hence its name M3X-1921; dimensions in centimeters are 53.3 x 48.3 x 7.6 cm) and is of the Red (RD) load range version, which is rated at 30 kg.
Michael Latvis, chief of Harmonic Resolution Systems engineers, lists the following advantages of using a well-designed and manufactured platform:
• Drop in the noise floor revealing a new level of inner detail
• Elimination of glare in digital signal quality without sacrificing resolution
• Improvement of bass response and bass resolution of amplifiers
• Larger soundstage with increased space between instruments
• Increase in detail and resolution of analog source
• Significant increase in system musicality and performance veracity
As we read in company promotional materials, the M3X Isolation Base is the latest generation of reference level isolation platforms from HRS. It is made of six different materials, including two proprietary types of polymers, aircraft grade machined aluminums, and polished black granite. The platform maximum load range is matched to the specific audio component's weight and can be modified in the future. Of interest are the two elastomers used in the M3X. The first was developed to maximize isolation efficiency, and the second to control and eliminate any residual energy. A granite plate is combined with a black anodized aluminum base frame.
Among the M3X anti-vibration platform features quoted by the manufacturer are:
• Wide range of vibration and noise reduction, maximizing sound quality
• Good performance on a variety of surfaces and structures
• Low profile and compact design to minimize space requirement problems
• Standard and custom sizes to ensure full audio/video system integration
• Direct integration with HRS audio stands without any modification (concerns the M3X-1719 and M3X-1921 sizes)
The platform looks great and, let me repeat, can be used as a part of the SXR or MXR equipment racks that combine a support frame and HRS isolation bases. The system can also include Damping Plates that are placed directly on top of audio components to reduce chassis vibration and Nimbus anti-vibration spacers. Unfortunately, only the platform arrived in time for this review.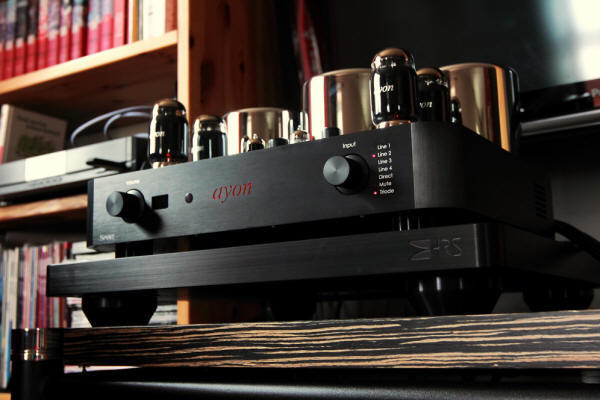 Sound
Records used during auditions
• A Day at Jazz Spot 'Basie'. Selected by Shoji "Swifty" Sugawara, Stereo Sound Reference Record SSRR6-7, 2 x SACD/CD (2011).
• Dominic Miller, Fourth Wall, Q-rious Music QRM 108-2, CD (2006); reviewed HERE.
• Daft Punk, Random Access Memories, Columbia Records/Sony Music Japan SICP-3817, CD (2013).
• Danielsson, Dell, Landgren, Salzau Music On The Water, ACT Music ACT 9445-2, CD (2006).
• Frank Sinatra, Sinatra Sings Gershwin, Columbia/Legacy/Sony Music Entertainment 507878 2, CD (2003).
• The Modern Jazz Quartet, Pyramid, Atlantic Records/Warner Music Japan WPCR-25125, "Atlantic 60th", CD (1960/2006).
• Johann Sebastian Bach, St. John Passion, BWV 245, Smithsonian Chamber Players and Chorus, Kenneth Slowik, Smithsonian Collection Of Recordings ND 0381, 2 x CD (1990).
Japanese editions of CDs and SACDs are available from CD Japan
The sound obtained with the U.S. platform can be hardly confused with anything else. It was the most "physiological" change effected by a vibration isolation product I had heard in my system, except for the Acoustic Revive RAF-48H air floating board. It was also the most pleasant sound modification, all the more surprising as the materials used to manufacture the M3X do not in themselves seem best suited to achieve such great results. These had been so far reserved for wood-based designs, at least in my opinion.
The most important sonic change of an audio component placed on the HRS platform concerns increased definition of sounds. Take note that it's not simply a better selectivity or resolution, but a better definition. It involves a combination of selectivity, resolution and less distortion. The conclusion of my experience is that the smaller the distortion, the warmer, more natural sound we get. While I have auditioned lots of audio gear so far and compared the American platform against other equally eminent isolation boards, it was only with the M3X that I was surprised by what I heard. Although others, such as the Pagode Edition from Finite Elemente, affected the sound even more come and to a greater extent, I embraced these changes intellectually. The platform from Buffalo had a completely different effect on me, stimulating my emotions. Not judging which is right, I will just say I find it easier to accept the kind of changes brought about by the M3X Isolation Base. It also fits a much wider range of products and equipment racks, not just in a short demo but in the longer run. It often happens that we are so enchanted after a fast, sometimes casual, audition in an audio salon that we reach into our wallet for the plastic and leave smiling from ear to ear. And if our plastic is empty, we wait impatiently until it's full again to come back and do it. Over time, some of these casual enchantments change into disappointments. If a particular sonic characteristic is easily perceptible and immediately draws our attention, it often turns out to be dominating and, in consequence, annoying.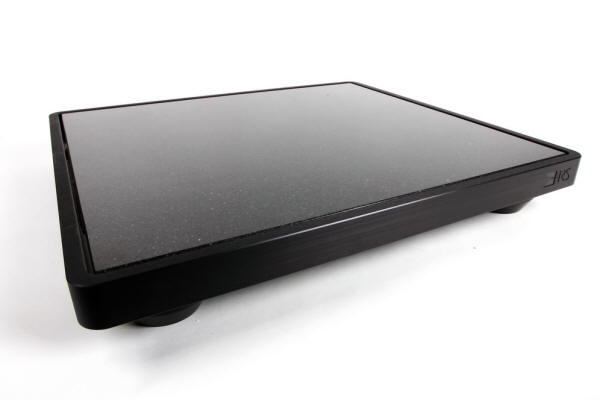 The platform from Harmonic Resolution Systems is special in this respect. Yes, even a short audition allows us to determine the nature of sonic changes it brings about. And yes, we immediately like what we hear. There is no third "yes", however, and there is a "no" instead—we don't get bored with the changes, even after prolonged listening.
As I say, its number one and a hundred and one, and a thousand and one advantage is its perfect defining of sounds. At first glance, the sound seems warm with it. It is an unambiguous change that will be noticed by every music lover, even those unfamiliar with listening to music on high-end audio equipment. For me, an obvious example for that was the lowering of noise and "scrapes" present on some tracks from the album Sinatra Sings Gershwin. Most of the recordings had been transferred from shellac discs, without really cleaning them in the process. That's why "behind" the music there is noise and distortions. It's just that after a while they become part of the music, we get used to them and perceived them as a "benefit of inventory". Now, audio systems respond to such things in a variety of ways. Some emphasize them, bringing them to the surface and better "illuminating". There is then no problem with determining their color, length and intensity. These are systems with high selectivity and definition; very "clean". Other conceal them, blending them with the main presentation, which results in emphasizing what's in the foreground, the music. These are warm sounding systems, with more pronounced midrange, not quite as well defined and not very selective. The HRS belongs to the third, most interesting group. Our first impression is the same as in the second group—a warmer sound, with treble seemingly less energetic than without the platform. After a while, once we adapt to this change we will hear something else—the treble that seemed weaker is in fact much richer in color, details, and changes. Its absolute level may actually be a bit lower (at least subjectively), but despite that we get more information which is much better organized.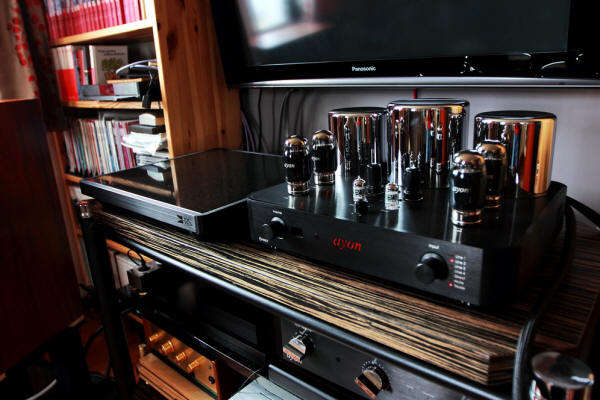 I referred to Sinatra's album, because it is one that focuses the problems of early recordings from the mid-1940s and it is with this album that they are most difficult to control. I don't know how they should really sound since I don't have a 78 RPM turntable or the shellac original, nor was I present in the studio during the recording. All I can say is how the record sounds with various audio products, and how its sound compares to that of the reference system (the reference products). In this case, with the American platform, it sounded excellent.
But the described change came out even better with the two, seemingly completely different albums: Salzau Music On The Water by the trio Danielsson, Dell, Landgren and Daft Punk's Random Access Memories. On both of them I heard that a better defining of sounds means better resolution. Always in context, though, not just for itself. Both albums sounded richer, fuller, and more interesting. Each next return to the "bare" shelf of the Base rack revealed a slight lifelessness. I was able to quickly get used to it and the following day after firing up the Ayon amp it sounded great again, confirming the effectiveness of improvements made by Gerhard Hirt. But only until I put it back on the M3X.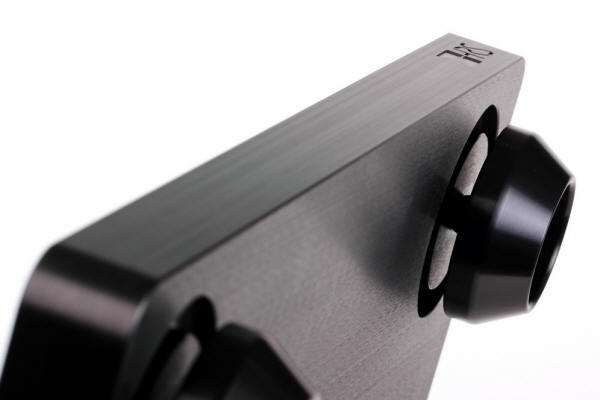 Definition, definition, definition—in this case, it is simply abundant. But there is also a change in tonal balance. Now we get more energy in the lower midrange. The sound is thus more "rotund", more powerful. But in spite of that, we often get the feeling that the foreground is withdrawn. Although these two—warming and withdrawal—might seem to be mutually exclusive, in this case they apparently come from a single source and are the result of much lower distortion. This is not a "warming" that almost always leads to bringing the foreground closer. Here, the instruments are better defined, but the accompanying acoustics and their surroundings are defined even better. Hence, the instruments seem to be a little further away. However, as they have clearer bodies and are better differentiated, they appear to be more present, more strongly marked between the speakers.
Conclusion
The HRS M3X Isolation Board is easy to use, beautifully made, and brings to the sound calm and breath resulting from a better definition, higher resolution, and better grasp of what is in the recording. Without haste and with full self-awareness. The tonal balance is shifted down, so not all music lovers will be pleased with these changes. Those that mostly expect from an audio system selectivity and detailness will be disappointed. Other products will be more suitable for them. Everyone else is welcome in…
Testing Methodology
Despite being a decoupled design, the American platform is a true pleasure to use. The feet have a limited adjustment range and the granite plate sits on the aluminum base frame as if it were glued to it. The M3X has a low profile and hence will fit most equipment racks. It is damn heavy, which makes it unlikely to travel on the supporting shelf. And it looks great, not drawing attention away from the device which it "serves".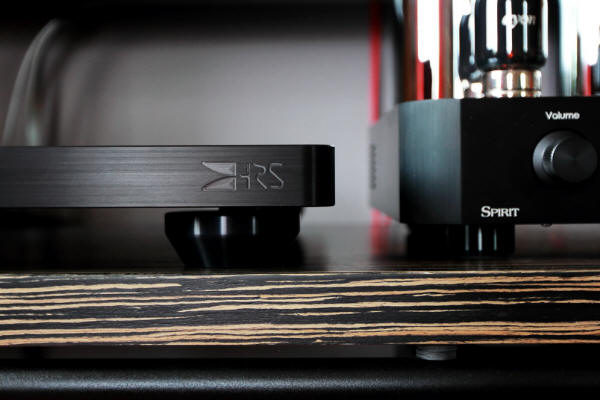 The testing was a multiply repeated A/B/A comparison, with the A and B known. The A involved the Ayon Audio Spirit III tube amplifier sitting on a veneered plywood shelf of the Base VI [Custom Version] audio stand and the B had the amplifier resting on the MX3 platform placed on the same shelf. Music samples were 1 minute long although entire albums were also auditioned. I kept the platform for quite some time after the review, using it to audition other components, such as the Jeff Rowland 625 power amplifier (a review of a Jeff Roland system will appear next month). The MX3 proved great each and every time. Apart from changing the cables, it constituted the largest sonic improvement unrelated to upgrading the basic audio components.
Price (in Poland): 10,600 PLN
Harmonic Resolution Systems Inc.
2495 Main St, Suite 355 | Buffalo | New York 14214 | USA
(716) 873-1437
info@avisolation.com
www.avisolation.com