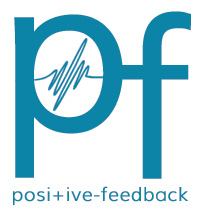 You are reading the older HTML site
Positive Feedback ISSUE 68
july/august 2013
Willie Nelson at the Hollywood Bowl August 10th
by Annie Merkley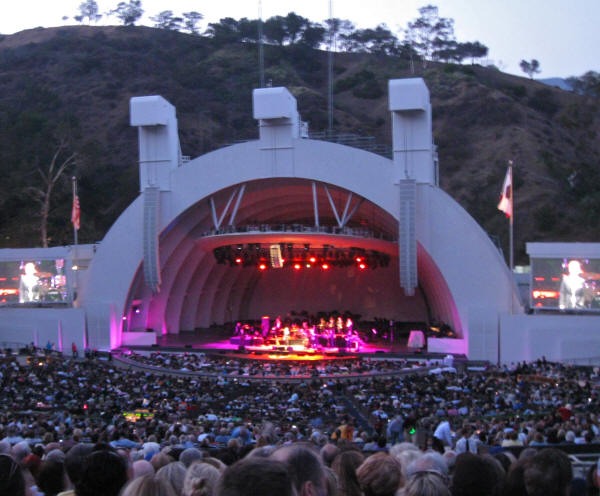 I can't remember a time in my life that I didn't know and recognize Willie Nelson's kind eyes and defiant smile. A chance to see this quintessential icon of American music at one of the most iconic venues was not to be missed. I'd never seen Nelson and had never been to the Hollywood Bowl. The combination of these two behemoths of American culture was the cornerstone for a monumental night.
Arriving at the Hollywood Bowl, a desire was fulfilled that I had acquired around the age 10 when I first saw John Hugh's "Some Kind of Wonderful." The main fella treats his—out of his league—date to an impeccably romantic moment when he brings her to an empty Hollywood Bowl. They get to sit alone in the amphitheater and ogle the sumptuous curves of the luminous "shell."
The new arched shell was built in 2003. It so closely resembles the recognizable 1929 structure that stood before it, I didn't even realize it had been replaced. I thought it had merely been updated with new light fixtures and screens on the sides. The shell was made larger, with more comfortable amenities backstage, and most importantly, more acoustically sound. The Hollywood Bowl is the largest natural amphitheater in the U.S. with a seating capacity almost 18,000. The spot was chosen for it's natural acoustics in the sloping hillside in the early 1900s.
If you find the architecture intriguing, I recommend looking up historical photos. It's wild to see performers standing on nothing but a plank of wood in the earliest images; or to see the 1927 pyramid stage built by Lloyd Wright (Frank Lloyd Wright's eldest son).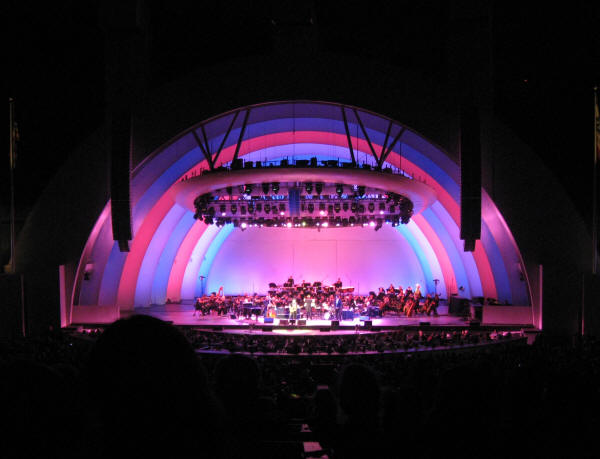 The sun had set and twilight was really setting in as Lyle Lovette and His Large Band took to the stage with a very polished sound. It veered toward a late night TV show house band vibe at times; although there were some cute and quirky moments when it was more stripped down. Lovette liked to sing about food and Texas. He wasn't horrible, it just seemed an elderly crowd at a dinner theater would best appreciate his talents. Time to bring out Willie Nelson!
I'd been told that Nelson would be playing his 1978 album, "Stardust." I listened to the album before the concert, so I knew to expect a slow, jazzy set. Stardust is a cover album of pop standards written from the '20s to '50s including "All of Me," "Georgia on My Mind," and "Unchained Melody." A cinematic soundscape danced through the valley with the Hollywood Bowl Orchestra accompanying Nelson and 'Trigger' (his guitar's name). On the big screens, Trigger looked like he was made from the leather of an old shoe and spray-painted with glitter. The guitar is one of those inanimate objects that seems like it could sit down a barstool next to you and tell you a thing or two.
The sound was clear and intimate, at times the orchestra would drown out Nelson's voice and Trigger, but over-all I was incredibly impressed by the acoustics of this outdoor venue. Certainly the best I have ever encountered, better than any festival or makeshift sports stadium.
Nelson's voice was like butter churned in a whiskey barrel on a moonlight night. The romantic cowboy that knows how to use a shotgun with the allure of a teddy bear. Something about that man just makes me wanna give him a hug, or have him impart some kind of Jedi outlaw wisdom upon you. At 80 years old he still enjoys being on stage, this man has music in his bones. Some artists that have been performing for decades on end treat their sets like stale leftovers, with a lack-luster approach, just doing it for the dough. Not Nelson, he was having fun sharing his music, even after starting out in honky-tonks over 70 years ago guitar pickin' and singin'.
The "Stardust" album was performed with grace, captivating the concertgoers of varied ages from children to people well into their golden years. Nelson's guitar solos exuded his influence of Django Reinhardt with jazz chord progressions tugging gently at the heartstrings. After "Stardust," the last few songs picked up the pace and delivered crowd pleasing hits such as "Whiskey River," "Mammas Don't Let Your Babies Grow Up to be Cowboys," "On the Road Again," and the pot-smoking anthem which Nelson referred to as a gospel song "Roll Me Up and Smoke Me When I Die."
As the lights went up and the great exodus began, my boyfriend and I decided to hang back and wait for the surge of people to pass. The architecture of the shell is enchanting. It drew me in. I was mesmerized by its eye-appealing pull. The ushers gave us no hassles as we wandered around and grabbed a spot front and center to relax, taking in the cool L.A. August night. It was "Some Kind of Wonderful," a magnificent conclusion to a magical night.