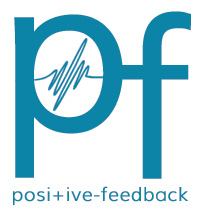 You are reading the older HTML site
Positive Feedback ISSUE 68
july/august 2013
New Releases from PentaTone, NCA, Sony, Tudor, and Azica
by Karl Lozier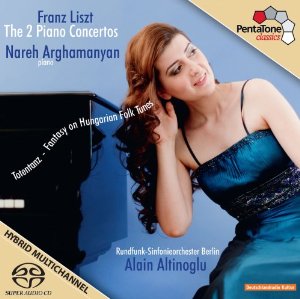 Franz Liszt. Piano Concertos No.1 and No.2 plus Totentanz and Fantasy on Hungarian Folk Tunes. Orchestra: Radio Symphony of Berlin. Conductor: Alain Altinoglu. Pianist: Nareh Arghamanyan. PentaTone PTC SACD 5186 397
This is the first one I chose to listen to this month. The reason was simply that it had been a long time since I had gotten to hear Liszt's piano pieces for piano plus orchestra. Arghamanyan recently reviewed by me of Rachmaninov's piano pieces had me hoping for the same degree of success with Liszt's extroverted show pieces. Actually it has been quite some time since I had gotten to hear Liszt's outstanding piano music. He was a showoff performer and outstandingly good and some of his compositions were tough enough to create problems for other performers and he knew it. I believe that the above listed Totentanz was one of those compositions. As I listened, the feeling that these performances were audibly not quite the equal of her previously released recording. I think I was expecting the sound quality to be its equal and recorded at the same time. It is good, very good but repeated listening revealed it not to be its equal. That happens when even if the recording engineers are the same, the other factors such as a different setting just can not sound exactly the same. In this case the other location in the Netherlands was probably a bit better and the engineers captured that. As usual the PentaTone SACD recording is excellent though not quite the equal of their very best. There is a slight lack of mid- bass palpable fullness, richness and presence, though not enough to prevent recommendation and it deserves and it now has it.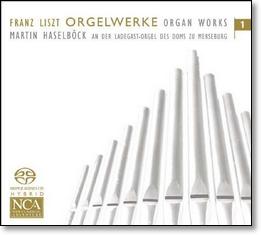 Franz Liszt. Orgelwerke (Organ Works) Vol. No.1. Organist: Martin Haselbock. NCA 60157-215 SACD Hybrid CD
Slightly different organ recording, as no effort is made to appeal to audiophiles. A nice variety of attractive music for music lovers with beautiful recorded audio quality. Most of the compositions are not well known, just good music by Liszt. So music lovers can simply listen and enjoy. Natural sound quality is offered as it should be, so enjoy it all, music lovers. Performances and audio quality are both quite excellent, no caveats needed… and it is full range..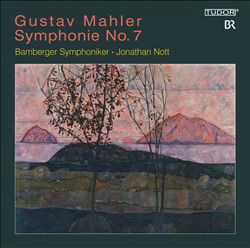 Gustav Mahler. Symphony No.7. Orchestra: Bamberger Symphony. Conductor: Jonathan Nott
The fine combination of Nott conducting the Bamberg symphony results in an almost relaxed version of this fine large scale Mahler symphony. Together they make this Mahler seventh possibly the easiest version to allow the melodies to be fully enjoyed while pretty much playing it straight and widely appealing and letting the melodies to be easily grasped. A fine recommendation is easily awarded and many may now find serious enjoyment with an unexpected selection. The usual excellent playing of the Bamberg Symphony with Nott conducting as would be expected. Easily recommended with excellent audio quality, also as expected. Consistency is so nice to find in reviews.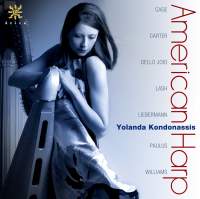 American Harp. John Williams: The Lanes of Limerick. Hannah Lash: Stalk (world premiere). Lowell Liebermann: Music for Harp Op.116 (premiere). Stephen Paulus: Bereuse (world premiere). Norman Dello Joio: Bagatelles. John Cage: In a Landscape. Elliott Carter: Bariolage. Harpist: Yolanda Kondonassis. Azica Records CD ACD-7128
Do not automatically dismiss this unique recording of some new contemporary recordings by some of America's best living composers. What comes to mind when you think of music for the harp and played on the harp? Well, you are wrong this time. Contemporary, modern, or avant-garde invades music for solo harp here. New or different is how much of these unique compositions will sound to you. At times you may not even tell what instrument is playing. You may be shocked or simply intrigued. See if you, modern and harp make a threesome. It certainly is different and unique. Much of the time I could not begin to guess how well the recording was treating the harp. Definitely appealing to those who like or love "different".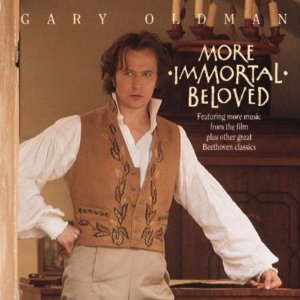 More Immortal Beloved (Starring Gary Oldman). (Featuring more music from the film plus other great Beethoven classics). Excerpts from Symphonies No.3,Eroica, No.5 No.6 Pastoral, and No.9 Choral. Violin concerto plus string quartet Op130. Sony SK62616
More of the music from the soundtrack of Immortal Beloved plus a variety of other Beethoven compositions not heard on the movie soundtracks. We could almost call this a Beethoven sampler album though I think it misses that unique album designation. Probably best recommended for those searching with more Beethoven compositions in mind. Overall quality is surprisingly good. If you liked the original film sound track you should like this one also that's why the made it though it is a bit more on the serious classical side and if it helps you to enjoy classical music, that is just great, enjoy!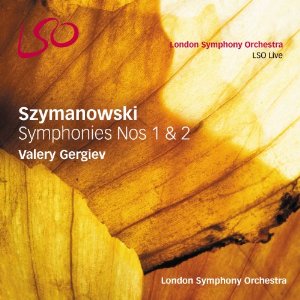 Szymanowski. Symphonies No.1and No.2. Orchestra: London Symphony. Conductor: Valery Gergiev. LSO Live SACD Hybrid 0731
The composers name is sure a new one and if you think it is a Polish name you are correct. You might remember that the word "polish" changes drastically "Polish" when capitalized. Basically I am treating his two symphonies as if they were one. The first contains only two movements. Karol Szymanowski's second symphony seems to have about nine movements. Listening to this fine recording you just might have trouble knowing just where you are listening. None of his symphonies has the traditional four movements. These two have some rather contemporary passages though not to extremes. Each of them are pretty much as with the classical music you are used to, though not completely. You should be able to listen your way through 'new classical' music that your friends may have never heard. Try it, the audio quality is simply just fine with a few audiophile show off passages.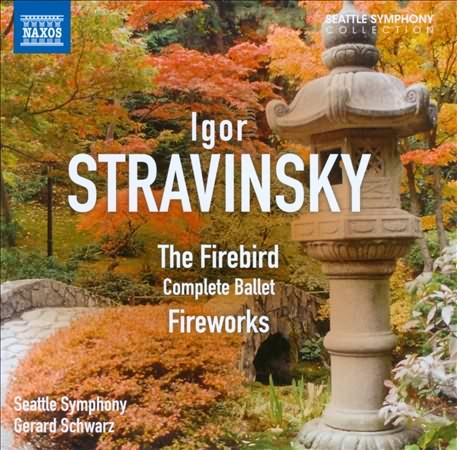 Stravinsky. The Firebird (Complete Ballet). Fireworks. Orchestra: Seattle Symphony. Conductor: Gerard Schwarz. Naxos CD 8.571221
Excellent all around audio quality from deep bass to fine details of ambience as from the original of the Delos recording of some years ago. Still extremely good with solid palpable detailed listening quality. The performance is equally solid and excellent as is common with Schwarz. Definitely recommended. The LSO Live recording of Szymanowski will probably arrive in a couple of days at a few dealers..!