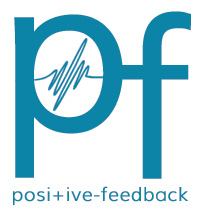 You are reading the older HTML site
Positive Feedback ISSUE 68
july/august 2013
How Was The Show?
by Warren Chi
"Great!"
Unfortunately, more often than not, we simply don't mean it. We mean to say "please don't force me to re-live this night." But instead, we cloak ourselves in decorum and politeness, issuing a patronizing dismissal wrapped in feigned appreciation.
"So how was the show?"
"Great!"
"Was it loud?"
"Great!"
"Stop saying that."
"Great!"
Occasionally, those among us with better diction will offer up some variation. "Spirited, vigorous, avant, experimental," all come to mind... not to mention the ever-so-cryptic "I haven't seen anything like that in a long time." Yet the sentiment is always the same... great. I instinctively cringe when I hear it. Worse, I want to curl up into the fetal position when I fail to stop myself from saying it. Surely, we are not surrounded by greatness at every turn? So why do we do this? Maybe, just maybe, we should stop saying it.
And yet, I realize there is occasion to utter praise. Once in a long while, we truly mean it. But when? When was the last time you went to a truly great show? One so worthy of the ages that some part of you was left behind as you were forced to leave the venue? You can't remember can you? Admittedly, it took me some time to locate one from my own memory banks. So while you wade through the flotsam and jetsam of your own tortured experiences, I shall regale you with my own tale of the last great show I had the fortune to catch.
Cue the flashback shimmer.
November 17 2012 - Room 86/Dim Mak Studios - Hollywood, California
10:05 p.m. - The rain cascaded down in sheets upon the huddled masses—which is to say that a light drizzle threatened to dampen the coiffures of those waiting to get inside. But no amount of torrential misting would deter this decked-out crowd. They were here for a rare treat from one of the most iconic DJs in all of Hip Hop, and they would not be denied. With that mindset, they joined together to form a crushing line, well over a hundred yards long, stretching clear around the block, and rivaling the width of a city bus (is there another kind of bus?).
And the man responsible for causing this scene? It was none other than Mr. Jeffrey Allen Townes... a.k.a. the one, the only, the magnificent, DJ Jazzy Jeff.
Stepping inside, I am immediately struck by how dark it is in here. Yes, I am aware that clubs are dark. But honestly, this is a whole other level of sensory deprivation. Someone could easily be all up in my business, and I wouldn't have a clue that anything was happening until it was over. Of course, I'm not exactly complaining in earnest as the club was filled with (already drunk?) club-life girls that are livin' the dream and makin' Daddy proud.
After much glacial shuffling, we plop down on the VIP couches and catch our breaths over a few beers. The next two hours were—well you know—great. DJ House Shoes and DJ Jay-P spun up spirited and vigorous sets that passed the time quickly.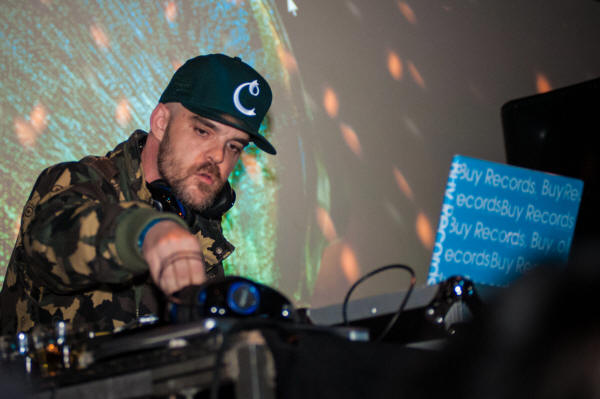 DJ House Shoes performing at Myspace Feel The Music show powered by Denon. Photo by Omar Kenji.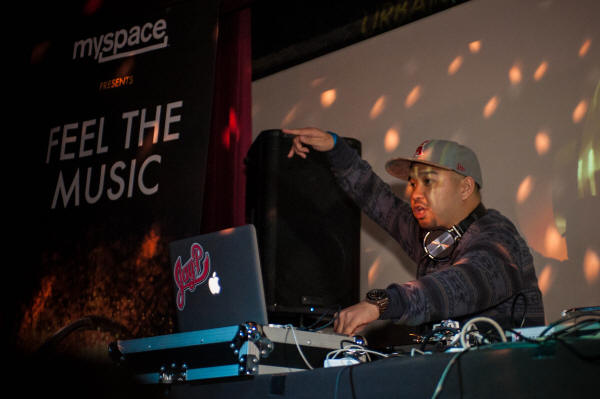 DJ Jay-P performing at Myspace Feel The Music show powered by Denon. Photo by Omar Kenji.
Unexpectedly, DJ Jazzy Jeff is whisked past us with his entourage. And without so much as a word, the crowd senses the moment. It's show time.
12:04 a.m. - Dim Mak Studios is now pulsating with life as DJ Jazzy Jeff and his hype man Skillz (a.k.a. Mad Skillz) take the stage. Skillz grabs the mic, and our attention.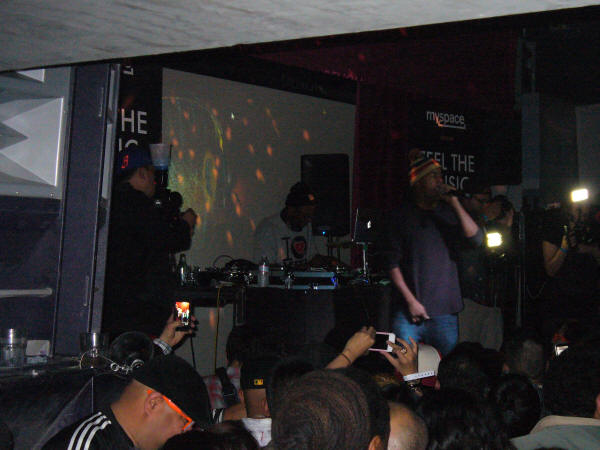 DJ Jazzy Jeff and his hype man Skillz about to tear it up.
"First thing I wanna ask y'all is how many people here love music? Hands in the air if you love music. And I don't just mean Hip Hop, Rap, I mean like all kinds of music. If you genuinely love music, hands in the air right now."
Well all right then, hands up and let's do this!
"...with that being said, when this man is on the turntables, you never know what you might hear. There's no tellin' what you might hear."
He's right of course. Few DJs weave in the entire gamut of pop culture as deftly and as thoroughly as DJ Jazzy Jeff does.
"So I'ma introduce him properly. Some of y'all might have heard of him before. You might have bought his albums back in the day with his partner The Fresh Prince. He's from Philadelphia, PA. You might have heard about some of his artists like Musiq Soulchild, Jill Scott, Boyz-II-Men..."
Jazzy Jeff slowly fades in a cinematically-epic bass line...
"Some of y'all might have seen him on this little TV show called The Fresh Prince of Bel Air. But in case you don't know, I need you to know. The man on the turntables right now is the badddest DJ on the fucking planet - and he goes by the name of DJ Jazzy Jeff!!!"
Aww yeah, here we go, it's about to blow...
"This what we gonna do. Like I said, we going everywhere. We gonna take y'all to a lot of different places. Old school, new school, Funk, Soul, Hip Hop, House, Reggae, we got all dat shit! So if y'all ready to party with DJ Jazzy Jeff make some noise!"
Slam! Jazz drops the dope beat and the whole crowd shudders! And, as ordered, we all bounce, bounce, bounce, bounce. Judging by the looped Khosara sample, it sounds like Jazzy Jeff is leading off this first mixset with Jay-Z's "Big Pimpin'." At that moment, my wingman arrives with another six pack, and now the party is on. For the next quarter hour, all of Dim Mak Studios is spellbound by a non-stop mix n' scratch session the likes of which few will ever experience.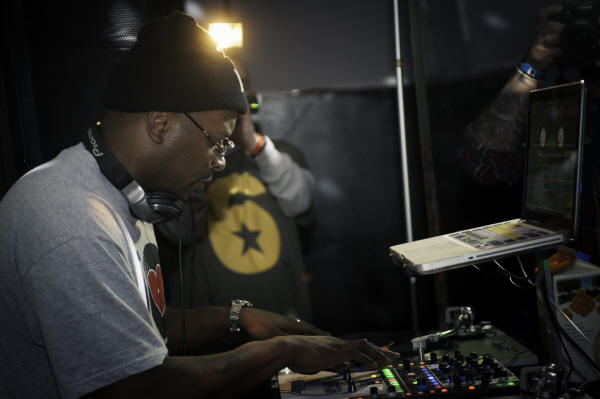 DJ Jazzy Jeff tearin' it up at the Myspace Feel The Music show powered by Denon. Photo by Omar Kenji.
Some might assume that Jazzy Jeff is a relic of decades past, but this man is overflowing with some seriously timeless skills. And this is not simply my opinion. Over the deafening sub-bass, I could overhear a brother yelling to his date for the evening "I used to be pretty dope, but I could never do anything like this!"
Right on brother! It takes a big man to humbly admit something like that. But it takes an even bigger man to create the realization behind that admission. And that bigger man is on stage tearin' it up right now.
12:23 a.m. - Sensing that the bubble was about to burst, Jazzy Jeff brings the intensity down a notch. We're grooved into a happier and more sedate state of mind, beginning with Marley's "One Love." And just in case the subtlety of that sentiment was lost on the crowd, Jazzy Jeff eases us into some Musical Youth for a passing of the Dutchie on the left hand side. But before we all succumb to a state of permanent contentment, Mad Cobra pops in with "Flex," a public service announcement concerning perpetuation of the species. But as this is only the start of his set, we are roused to "Get Up, Stand Up" in short order.
By now, we're all ready for something much more danceable. At this, Jazzy Jeff bares a sly grin, and I get the distinct impression that all is going according to his plan.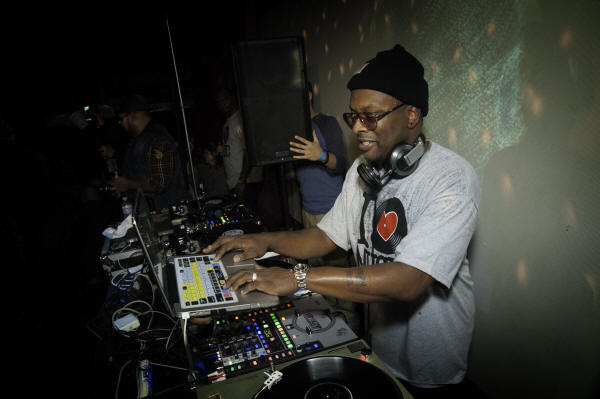 DJ Jazzy Jeff planning his next move up at the Myspace Feel The Music show powered by Denon. Photo by Omar Kenji.
Now that he's got us right where he wants us, he sets us up the bomb... "move bitch, get out the way. Get out the way bitch, get out the way!" As one would expect, we burst to life once again.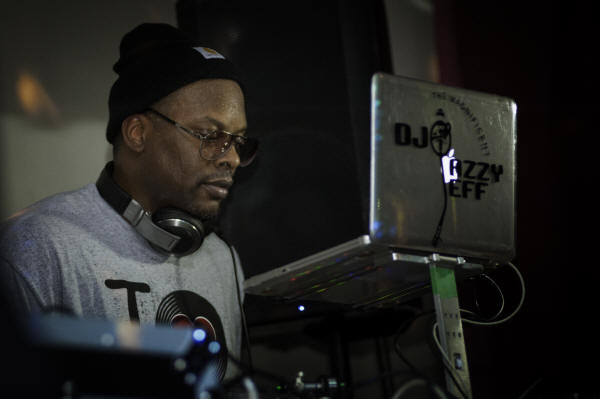 DJ Jazzy Jeff, masterfully orchestrating his mixset for maximum emotional impact, at the Myspace Feel The Music show powered by Denon. Photo by Omar Kenji.
1:04 a.m. - The intensity of our collective exuberance has now reached a fever pitch. And for the first time, I am aware of just how much stifling heat is in the air. It's not just hot up in here, it's burnin' up! As I begin making my way out to the patio for some much-needed relief, an abrupt thought occurs to me. "Where's this 'all kinds of music' that we were told to expect earlier?" Before I could even complete the thought, I am stopped in my tracks by what I hear next.
"Bring me a higher love. Bring me a higher love. Whoa."
That's right y'all! DJ Jazzy Jeff is breaking off a piece of Steve Winwood for our listening pleasure! Maybe it's a sudden relapse into a past life as a wedding DJ. Or maybe he's just effing with us. Either way, he made good on a promise, which pleases me to no end. By now, Jazzy Jeff is being piped throughout the entire club so that I don't miss a single beat of the show as I inch ever closer to the patio. And that's a good thing, or I surely would have missed this:
"My name is Luka. I live on the second floor."
Yes, you read that correctly. Not "Tom's Diner"—which would have made much more sense—but "Luka" instead. My slight case of lulz breaks out into a full-blown epidemic of lmao. As this bit of track selection makes no sense, I get the distinct impression that we're being toyed with. Speaking of toys, the theme from Super Mario Brothers seamlessly finds itself mixed into the set.
Having secured yet another beer, I make a beeline for the outdoor patio area. All the while, my sixth sense is telling me that Jazzy Jeff wants me to return. Okay, maybe it wasn't ESP. Maybe, it was the song that he just spun up...
"Oh baby, give me one more chance (to show you that I love you). Won't you please let me (back in your heart)."
Sorry Jeff, heat is my Kryptonite. But no worries bro, even the outdoor patio is broadcasting your show. Plus, you've got plenty of people back inside (including my wingman) so you won't miss me at all.
"I'm down with OPP. Yeah you know me!" Good. Thanks for understanding Jeff.
I park myself in the patio area for a brief respite, chatting up some new best friends.
"Baby, tell me what is on your mind. I can't wait. Oh-oh-oh-oh-oh-oh-oh-oh, oh-oh-oh oh-oh."
Clearly, DJ Jazzy Jeff has a sense of humor... and an uncanny sense of timing. As I desperately try to catch the flowing conversation over the club PA, I begin to notice the sheer abundance of fashionably-clad ladies parading back and forth.
"That girl is poison. Never trust a big butt and a smile. That girl is poison."
At this track, and it's timing, I release a hearty chortle. And just like that, Skillz comes back to close out the show: "Peace y'all, thanks for comin' out!"
1:58 a.m. - As we step out onto a brisk and glistening Santa Monica Boulevard, I sweetly savor the last fleeting moments of this night. If nothing else, one thing is glaringly obvious. This is NOT your daddy's DJ Jazzy Jeff. His fame made him an icon. His talent and skill made him an undeniable master of his craft. But tonight? Like many of his shows, tonight's performance makes him a legend.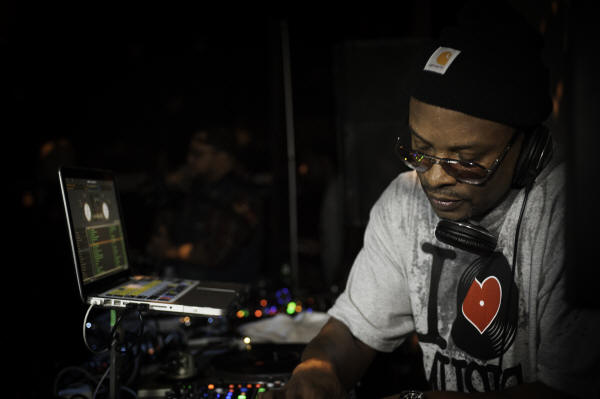 DJ Jazzy Jeff, still at the top of the game after all these years, at the Myspace Feel The Music show powered by Denon. Photo by Omar Kenji.
That was seven months ago. And in case any of my friends are reading this, yes I've been lying to you as of late. The shows that I've caught since then were, in fact, not as great as I had led you to believe. What? You don't care. You weren't there anyway.
But I confess all of this to you now because summer is upon us—and with it, all the pageantry and spectacle of the mega-hyped headlining concerts that only come during this time of year. Will they be something worthy of recollection in our musically-addled minds? Will they be genuine, honest-to-insert-your-preferred-deity-or-lack-thereof-here unforgettable moments in time? And if not, would you still say they're great? Please, please don't. Let's at least be honest with ourselves, even if we can't always be honest with each other.
Either way, I'd like to hear from you. Do let me know about your own adventures! What was the last great show you went to? Not fake great, legitimately great of course. Please share your own story with me via a letter to our editor. And please, by all means, feel free to keep the letters coming all summer long.