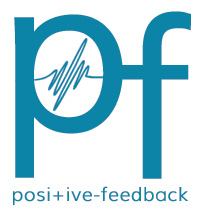 You are reading the older HTML site
Positive Feedback ISSUE 68
july/august 2013
Star Trek - The Original Series (TOS) 1966-1969: Complete Soundtrack Collection
by Jeremy R. Kipnis (at the Kipnis Studios – KSS™)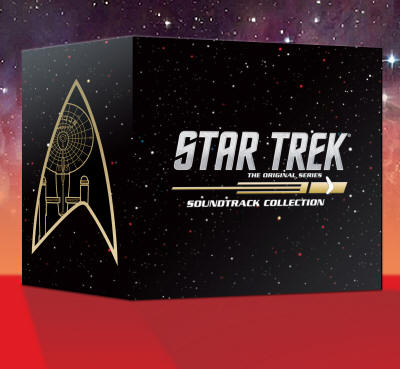 La-La Land Records LLLCD1701: 15-Disc Collectors Box Set (Limited Edition of 6000)
If I had awakened one Christmas Morning as a child in the early 1970's, run downstairs and looked under a festively decorated tree to discover a BIG BOX set of all the Star Trek Music ever recorded, I would have just about died and gone to heaven, right then and there! Those favorite, cherished, sweeping orchestral moments describing the journeys of Kirk, Spock , McCoy, and the crew of the Starship Enterprise transported me, daily, to worlds beyond my wildest imagination. And, now, I would have them for my very own; a coveted prize of immense wealth (to me, at any rate), equivalent to the greatest riches from any country in the world.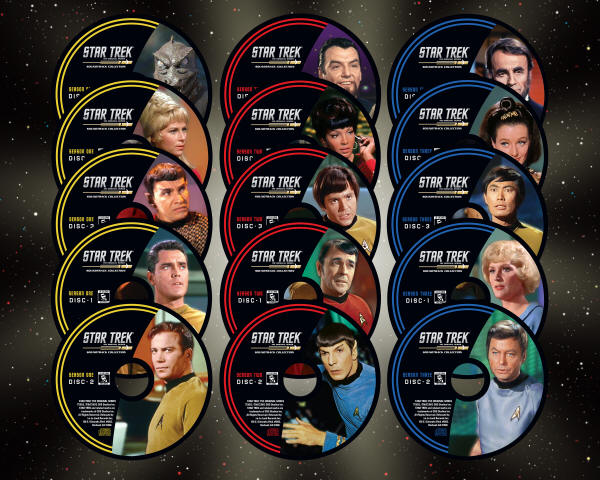 Well, it only took 42 years for that dream to come true! But finally, with La-La Land Records' release of the complete musical scores to every one of the original Star Trek Episodes (there are 79 plus two pilot films), they are now available on a 15-CD box set, (limited edition of 6000 units). Special thanks must go to Producer Lucas Kendall, GNP Crescendo Executive Producer Neil Norman, La-La- Land Records Vice President Matt Verboys, and President & Executive Album Producer MV Gerhard, without whom this project would never have come to light. Although there have been several CDs released over the last three decades containing the odd episode or re-recording of some of this music, this is the very first time ALL of it is actually available, together. Supported by an attractive collector's case, containing a generous 120 pages of booklet (spread across four volumes) featuring many fine articles by Star Trek, film & TV soundtrack historian Jeff Bond, and completely detailing all the many historical facts of the original recording sessions as well as the particulars of how the music was edited for final use in recurring weekly episodes (known as tracking) throughout the series' iconic 3-year run, this is THE MOST spectacular addition to La-La Land Records (est. 2002) extensive catalog of film and television soundtracks, yet. SALUTE!
The scope and emotional impact of these symphonic underscores is both immediately recognizable and deeply transformative to anyone who has ever heard them, even once, and particularly in conjunction with their actual television counterparts (now also available on 1080P Blu-Ray). The music is brilliantly composed and performed by the original artists: Alexander Courage, George Dunning, Jerry Fielding, Gerald Fried (now 84 – and a guest at the premiere release event for this box set), Sol Kaplan, Samuel Matlovski, Joseph Mullendore, and Fred Steiner. In these recordings, the sublime performances are captured and presented cleanly, clearly and without dialogue or sound effects (in chronological order); just like the day they were recorded!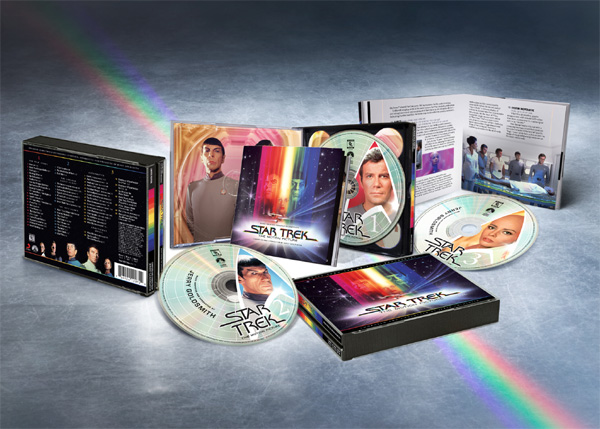 For those already owning some portion of the Star Trek Scores, previously issued on various CDs (currently out of print), there are over 10 CDs worth of NEW music, here (more than 800 minutes), that have never been commercially released, before—and there is much music culled from the nearly 150 reels of original ¼" mono & (a few) stereo master tapes that has NEVER BEEN HEARD before including: alternate takes, excised music, and even sound effects. This material has been masterfully transferred to digital by Johnny Dee Davis and sequenced (down to the note) by Album Music Editor Neil S. Bulk to be exactly what was heard on the original show.
This set contains almost 17 hours of music from this iconic 47 year old series; making it well worth the retail MSRP of $224.98 + shipping. Get your copy before the limited edition of 6000 pieces is sold out, forever!
www.lalalandrecords.com/STTOS.html
Live LONG and Prosper!
An aside…
There are many other fine examples of great TV scores from the 1960's, including my personal favorites: Mission: Impossible (Lalo Schifrin), Batman (Nelson Riddle), Lost In Space (John Williams), The Man From U.N.C.L.E., and many others, which can be found on La-La Land Records, Film Score Monthly, GNP Crescendo, Varese Sarabande, and elsewhere, including YouTube. Please, support these small American Record labels with a purchase!
Bio…

Jeremy R. Kipnis is an Audiophile Producer & Recording Engineer with over 400 albums to his credit. He is also the creator of the Kipnis Studio Standard (KSS)™ - The $6 Million Ultimate Home Cinema & Dedicated Media Room featuring 8K - 3D Projection and unique 24.24 Temporal Surround Sound System. See the KSS™ website for more information: www.Kipnis-Studios.com