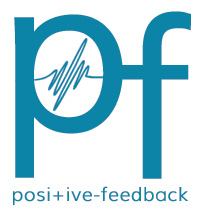 You are reading the older HTML site
Positive Feedback ISSUE 68
july/august 2013
In Reel Time - A Trio of Tape Releases
by Myles B. Astor
Josh Berman Trio: Chicago Retro, "Countless Blues" (Lester Young); "Blue and Sentimental" (Count Basie); "Careful" (Jim Hall); "I Wished Upon the Moon" (Billie Holiday); "Foolin' Myself" (Billie Holiday). Josh Berman: Cornet; Matt Schneider: Guitar; Jason Roebke: Bass. 15 ips, 2-track/¼-inch. Playback EQ: IEC/CCIR. Recorded July 27, 2012. www.internationalphonograph.com. Price: $150.
Jonathan Horwich burst onto the jazz scene in the mid-60s when he, along with partner Bill Hardy, founded Revelation Records. Under their guidance, Revelation Records released forty eight some-odd albums featuring the likes of artists such as Wayne Marsh, Claire Fischer, Anthony Ortega and Bobby Bradford (to name just a few) and gave "unrecognized and deserving jazz musicians an opportunity to record in a relaxed setting, under their own direction and choice of instrumentation."
Skip ahead a few decades to Jonathan's rather unconventional Master Tape recording series. Why bother with tape in today's digital world? Jonathan responded, "I came up with the idea because many people kept asking me why don't you put out some of your master tapes? They had heard them and thought they should be issued and available since there were tapeheads out there. I finally did so." And what's unique about the Master Tape series is the performances in this series are only available on glorious sounding 15 ips, 2-track reel-to-reel tape. Not LP. Not CD. Not even high-rez digital downloads.
The first release in the Master Tape series is the Josh Berman Trio's Chicago Retro recorded at Shirk Studios by Anthony Gravino and Steve Shirk with Jonathan assisting and inputting.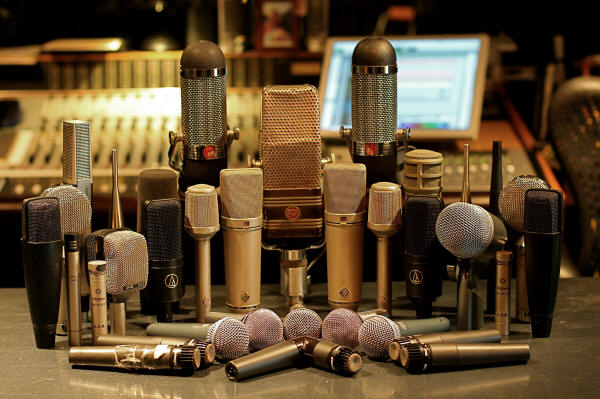 "We used," Jonathan shared, "a Telefunken U-67 (left of center RCA 44BX microphone) that is the finest guitar microphone I have ever heard along with an old RCA ribbon microphone on the cornet. On bass we used another old Coles BBC ribbon microphone that gives a big fat warm sound along with a B&K scientific microphone on the bass to get detail and a taut sound. Pretty simple and straight forward." For this recording a production master was made directly from the 16-track master reducing the tape generation number by at least one.
In the end, Jonathan is, "aiming for the sound one gets with two microphones but using multiple microphones. Most multi-miked recordings," Jonathan feels, "sound synthetic as if the instruments are not in a space or room. Take ECM records. Most people love the sound and it is good but it is not real or natural. The instruments float in a created space. Nothing is wrong with this [ECM's] approach but I'm trying to create a natural sound with multi-miking so instruments sound at the same time both natural and like they were recorded in a room of some kind. [Well, like the Josh Berman that was a small deadish room.] I have a vision in my head of the sound of a naturally multi-miked session; that is what I'm going for and feel I achieved 90% of it with Josh Berman. I've just done a jazz quartet and again got about 90% of what I'm after. I want the audio to just sound natural so the listener feels comfortable with it despite the jazz I put out being a bit advanced for some. The sound will make the advanced jazz a little easier to listen to."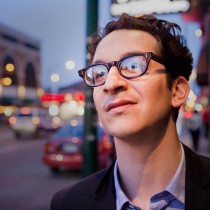 Chicago Retro features Josh Berman on cornet, accompanied by two well-known Chicago jazz scene staples Matt Schneider on guitar and Jason Roebke on bass. Berman is one of many Chicago jazz musicians that Jonathan knows as well as heard performing at clubs around the city (as well as on CD). Berman as reported in a recent interview, "is intensely fascinated by jazz from the 1920's (in Chicago even) and he seems to sample distinct aspects of older traditions—particular swinging rhythms, jerky melodic bursts, syncopated hooks." The pieces Foolin' Myself" and "I Wished On the Moon" were popularized by Billie Holiday in the mid-1930s; "Blue and Sentimental" was a tune first recorded by Count Basie in 1938; and "Countless Blues," also from the 1930s, is attributed to the saxophonist and clarinetist Lester Young. "Careful," was written during the 1950s, very early in guitarist Jim Hall's career and according to his website, "this 16-bar blues remains a favorite for its composer and may well be the most covered composition in his repertoire."
It only takes a moment after looking at the composers and pieces on this one reel to understand the derivation of the album's title! Now this recording won't ever be mistaken for a Rudy van Gelder or a Roy DuNann recording. Instead, the listener is treated to a more intimate, maybe a touch closed-in sound, not unlike that found on Inner City or Steeplechase Records. Overall, the recording slightly favors the midrange tones of Berman's cornet though that may also be a function of the microphone Jonathan favored for this recording. Roebke's bass comes through very clean without being overblown and locked in place. That U-67 gives Schneider's guitar an ever so sweet yet beautifully detailed sound. That said, the recording's tonal qualities, the speakers totally disappearing and the feeling of the musicians being in the room makes for a true winner.
[also highly recommended for an anti-Gil Evan's sound: Clare Fischer: Extension that originally appeared Pacific jazz label]
Patricia Barber: Café Blue, Premonition Records. Producer: Jim Anderson, Recorded and mixed at Chicago Recording company June 28th-30th and July 1, 1994. 15 ips, 2-track/1/4 inch. Playback EQ: IEC/CCIR. Available from Premonition Records, www.premonitionrecords.com. Price: $500.
Café Blue was the album that put Patricia Barber on the map and set the tone for her later albums such as Modern Cool. First released in 1994, Café Blue was Barber's third commercial release and featured in addition to her original compositions, highly personalized versions of "A Taste of Honey," "The Thrill Is Gone" and "Ode to Billy Joe." Old high-end audio magazine collectors/hoarders might want to check out Wayne Donnelly's excellent interview with Patricia Barber entitled "Chicago's New Jazz Diva" that originally appeared many years ago in the pages of Ultimate Audio (Vol. 3, No.3, p. 74).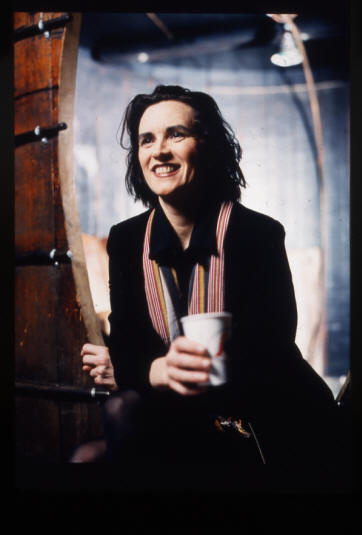 A classically trained pianist turned jazz musician, Barber is perhaps fondly remembered by her long-time producer and engineer Jim Anderson for being, "a picky artist" and by listeners for her, "dark and precise playing interlay." Most audiophiles and music lovers are intimately familiar with Barber's traditional blues-jazz style with many albums being released on both LP and multiple digital formats and now the subject of this review, 15 ips, 2-track tape.
This year's NY Audio Show presented me with a unique opportunity to have some uninterrupted face time with Patricia Barber's longtime producer (on all thirteen of her albums) and recording engineer Jim Anderson. Anderson wears many hats including among them Professor (and past Chairman) at New York University's Clive Davis Institute of Recorded Music, renowned producer and recording engineer not to mention ten time Grammy award winner.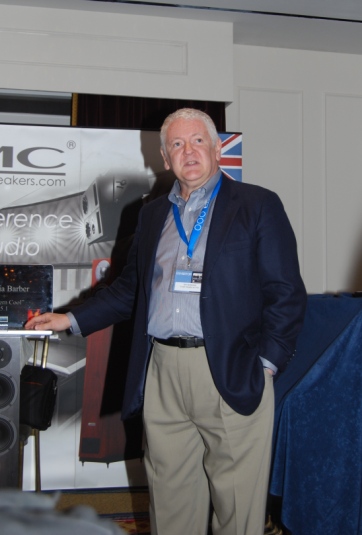 So how did Anderson and Barber originally hook up? It turns out that it was none other than Brian Bacchus, the same person who signed Norah Jones, who originally introduced Anderson to this then promising, young talent many years ago. That chance meeting lead to a long term profession relationship out of which were born thirteen albums.
So why did Barber and Anderson after all these years decide to go back to the studio and remix Café Blue? Anderson answered, "I've always wanted to remix Café Blue based on Modern Cool's aesthetic and bring the recording more up-to-date with her [Barber's] current sound. Over the years, the original recording studio was sold so we had to remix Modern Cool at Skywalker Ranch for surround sound and then go to Capitol recording studios to do the remix of Café Blue. There we primarily used chamber 4, the long-time favorite of Grammy award winning producer and recording engineer Al Schmitt. (Café Blue was originally done with what essentially was a DIY-stairwell reverb.)"
Anderson acknowledged that while, "he's a better mixer many years later, Café Blue has held up very well almost 20 years later." According to Anderson, the original recording of Café Blue (released on both LP and CD), "was made on a Mitsubishi pro-digital tape machine run at 16/48 and then edited in analog and mixed down to ½-inch analog tape with noise reduction. (Interestingly Anderson, in contrast to other producers, still prefers to work with analog consoles along with loving long fades.)" Recalling the original recording, Anderson recounted how "What a Shame," particularly the piano and percussion parts, really established the "sound" of the album. "Three in Wood," one of Anderson's favorite tracks from Café Blue, "was recorded at three in the morning." On the new remix, Anderson went back on "The Thrill is Gone" and, "made fine adjustments in timing, cleaned up the breaths and snorts, all culminating in a better performance."
Handling Premonition's precious, ½-inch final mix, analog master tape of Café Blue and entrusted with creating a running master was long time industry veteran Doug Sax of The Mastering Lab (TML). Premonition's ½-inch master tape was played back on TML's specially modded MCI reel-to-reel machine outfitted with tube electronics and the running master was made on an ATR-102 machine. Jonathan Horwich of International Phonogram then took this running master and created the commercial tape release in real time, one at a time using an ATR Services ATR-102 feeding a Studer 820A machine. The tape, in contrast to the original LP that contained only 9 songs because of space consideration, contains like the original CD and most recently reissued LP, all thirteen tracks originally intended for release on Café Blue. Of course, the order of the songs on the tape are a bit different from the other mediums so as to accommodate the whole album on a pair of 15-inch reels.
Café Blue is particularly best known for Barber's renditions of pop classics such as "Inchworm, A Taste of Honey and Ode to Billy Joe." The first thing that one notes about the Café Blue tape (as well as the reissued LP) is that Barber's vocals have been brought forward—both frequency and image wise—in the most recent mix. In fact, there's very little of the original album's rather annoying nebulous and distant quality to Barber's voice that drove me absolutely insane. Then again, the direct sound isn't, as on the original Café Blue mix, drowning in an ocean of reverb. One area though that has slightly suffered in the remix is the tonal richness of Barber's piano.
Next, there's no mistaking that Anderson has also slightly boosted the low end in most recent Café Blue remix. In addition the tape possesses far greater dynamics and low level detail along with less smearing of Anderson's patented fades compared to the most recent LP issue (and hugely more to the original that was cut from a different tape). The upper octaves, however, still exhibit some of that trademark early digital sound, yet sound very different and cleaner from track-to-track on the tape.
Even though Café Blue is sourced from a digital tape, the best way to listen to this wonderful recording is on tape!
Opus 3: Sampler Tape One, vol.2. Total playing time: 32´30. 15 ips, 2-track, ¼ inch; Playback EQ: IEC/CCIR. Distributor: Audiophile Import Specialists, Tel.: 770-316-6831. Email: berg_kevin@hotmail.com. Price: $250.

1. "Meetin´At The Building" (Trad./adapted by Eric Bibb & Göran Wennerbrandt), From: Eric Bibb, Spirit & The Blues, SACD 19421;2. "My Heart Stood Still" (R. Rogers), From: Johan Dielemans Trio, Round Midnight, CD 19302; 3. "Blues Opus 3" (Öhman-Gustavsson-Vinding-Dahlberg), From: Kjell Öhman, Hammond Connections, CD 19402; 4. "Gammal Fäbopsalm" (O. Lindberg, 1872-1950), From: "Horn and Organ Recital" CD 19501, Sören Hermansson: Horn & Per-Ove Larsson: Organ; 5. "Fantasie" (S.L. Weiss, 1686-1750), From Peder Riis, "Classical Guitar", CD 8015; 6. "Fasten Seat Belts" (Wager-Åstrand), From: "Live at Vattnajökull", CD 19802; 7. "Stealin´ Away" (C. Greaves), From: Kenneth Arnström, Rhythm King, CD 19502; 8. "Easter Parade" (I. Berlin), From: The Lars Erstrand Sessions, CD 19405.
Jan-Eric Persson has once again outdone himself with his second–and markedly more eclectic reel-to-reel sampler tape—taken from the Opus 3 music vaults. Though there's some variability in the sound from track-to-track—ever so obvious on the extremely resolving second generation tape–Vol. 2 still surpasses all expectations and the sound of the first sampler tape.
As previously mentioned (Issue 63), each of the performances on this tape was recorded using the legendary Telefunken M-28 reel-to-reel machine along with Jan-Eric's own, custom-made, tube-based mixer. And like almost all Opus 3 releases, these recordings were made with a Blumlein microphone pattern, ie. crossed figure eights. Jan-Eric is especially proud of the mixer that boasts "the single pentode EF-86, "that he feels is hands down "the best 'sounding' low-level tube."
Some Tape Highlights
Track 1. Meetin' at the Building
One would be hard pressed to find any Opus 3 sampler LP, disc or tape without a track from one of Jan-Eric's favorite artists—Eric Bibb—and this tape is no exception. Spirit and the Blues stands out in Jan-Eric's memory, "as a quite special moment of recording!" Perhaps it's the feeling of being instantly transported back to the original recording. Perhaps it's the combo of Bibb with his back-up singers. Perhaps it's the liveliness and energy of the music coupled with tons of ambient space. Perhaps it's the bottleneck guitar and kongama drum work. Whatever the reason, one is in for an extraordinary musical treat.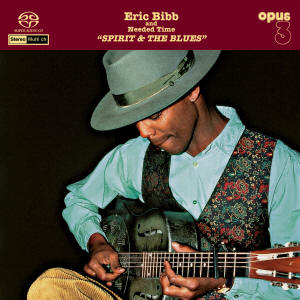 Recording engineers face many challenges and in this instance, Jan-Eric's biggest impediment was, "capturing 14 people with one stereo-microphone, my beloved AKG C-24 with valve! All my stereo recordings are always done with the Blumlein microphone set-up, ie. crossed figure-eight. On this take, however, there is not enough space with so many musicians; with a crossed figure-eight as you can only work 90 degrees in front and back of the stereo-microphone."
Jan-Eric overcame this dilemma using instead an "ordinary X/Y pattern, "where the microphone was adjusted to Cardioid with the two capsules physically pointing 180 degrees away from each other. In this way and position," Jan-Eric said, "the musicians can be positioned 360 degrees around the microphone but still achieve a nice stereo picture! Musicians having solo parts, for example Göran with his National Bottleneck guitar, Janne with his accordion or Christer with his mandolin, had to mix themselves by stepping closer to the microphone. The double bass," Jan-Eric added, "was miked separately with an AKG C-414."

Track 4. Gammal Fäbopsalm
Gammal Fäbopsalm is according to Jan-Eric, "an old and in Sweden very well known folksy song, however, done here in a classical arrangement" with internationally renowned hornist Sören Hermansson accompanied by Per-Ove Larsson on organ.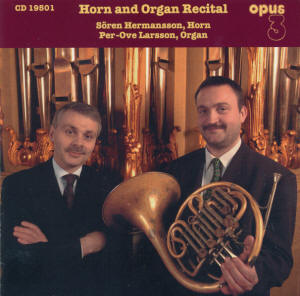 Track four's stupendous bottom end will unquestionably test the moxie and mettle of any and all audio systems. What's particularly noteworthy about this recording is that unlike so many other solo instrument/organ recordings, Jan-Eric maintained an exceptionally realistic perspective between the two instruments. In short, the horn isn't the size of the organ. If that wasn't enough, Jan-Eric also captured the natural acoustics of this church located in the middle of Stockholm in all its glory.
In contrast to the other recordings on this tape, Gammal Fäbopsalm was recorded with an AKG C-426, the C-24's successor. Jan-Eric selected the C-426 for this project, "because of the microphone's quietness, a quality he felt was especially important with this pair of instruments.
Track 6. Fasten Seat Belts
Track six is quite aptly named "Fasten Seat Belts" and many listeners will undoubtedly find this piece the best selection on the new sampler tape. This is one of (of a total of 9 pieces) the tracks from the free improvisation work "Live at Vattnajökull"; "Vattnajökul is," Jan-Eric says, "the big volcano, and this work is 'describing' with music when going up and down on this volcano during an eruption!" This, "very special and different recording," was made by Jan-Eric in Reykjavik, Iceland's biggest church, The Hallgrimskirja located right in the middle of the city. Here you'll find mallets and drums and a whole host of percussion instruments that would be equally at home in John Cage composition along with a large side order of organ. Make sure to keep the volume control handy or the incredible dynamic swings will have you running from the room!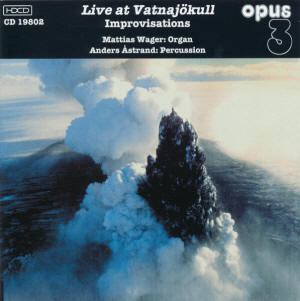 Performing quite admirably on "Fasten Seat Belts" are Mattias Wager on organ and Anders Åstrand on percussion. For "Fasten Seat Belts," Jan-Eric used an AKG C-426 stereo microphone to record the organ along with an AKG C-24 Stereo microphone covering the percussion section.
Track 7: Stealin' Away
One can easily understand after hearing "Stealin' Away" why Rhythm King is one of Opus 3's most popular tape titles. Here you'll find Arnström backed by the Swedish Jazz Kings performing some marvelous 20's inspired traditional jazz. Sonically, this recording has an incredibly low a noise floor and as much clarity and transparency as any recording. The banjo has its readily recognizable, twang, percussive attack and quick decay; and check out the low notes of the tuba. There's great imaging, low level resolution and you can't miss Arnström humming along to the music.
Track 8. Easter Parade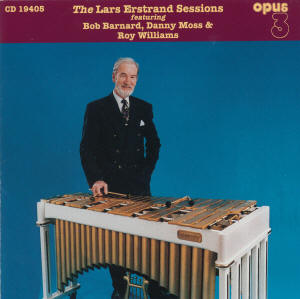 "Lars Erstrand was one of the best swing-vibraphone player in the world," opined Jan-Eric and, "this track is from the 5th album out of a total of 6 that I recorded before he left us." The premise of this album according to Jan-Eric was, "to include three different soloists: Bob Barnard on Cornet, Roy Williams on Trombone and Danny Moss on Tenor sax i.e. three different sessions! This track with the great Danny Moss from down under, felt like a nice "rave up"—both in the actual album and on this master copy. Again with jazz, it is always the AKG C-24 and the Beyer Dynamic double ribbon on double bass.
Top tape pick!