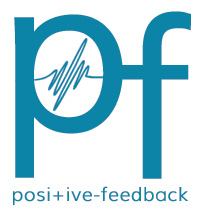 You are reading the older HTML site
Positive Feedback ISSUE 69
september/october 2013
Notes of an Amateur: Bartók!
by Bob Neill
In writing about Prokofiev last time out I said that along with Bartók he has proved less popular than the other major modernists and attributed this to what many take to be a cerebral quality in much of his best known music. With Bartók, this quality comes from the confrontation of a highly analytic music mind with the rural folk music of his native Hungary, music he went out into the field with his Edison recording machine to 'obtain' from peasants he was given access to by a musical friend with 'connections.' (There is a highly informative and extremely well written article in the current (October) Harpers magazine on this adventure by Jay Kirk: http://harpers.org/archive/2013/10/bartoks-monster/) As a good modernist, Bartók was eager to find something of raw, natural substance to bond with his formal musical ideas. What we hear when we listen to his music now is a formidable musical intellect but also the presence of an only partly digested wonderful wildness with which it wrestles like Jacob with an angel. The result, which when only half-attended to can sound cerebral, is an extraordinary new music: it is what makes Bartok a major modernist composer.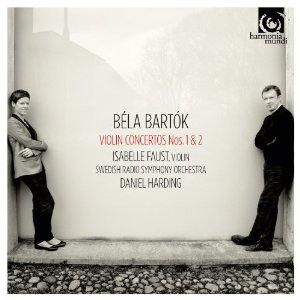 Béla Bartók, Violin Concertos, Nos. 1 & 2. Isabelle Faust, violin. Swedish Radio Symphony Orchestra, Daniel Harding. Harmonia Mundi HMC 902146.
Violinist Isabelle Faust broke into the world of classical music recording twenty years ago as one of Harmonia Mundi's "noveaux interpretes" with two CD's of Bartók's music for violin and piano. Both are now collector's pieces. Since then she has moved through the violin repertoire, becoming one of our most distinguished performers. She is both a fine musician and a great student of the music she performs.
In this new Bartók recording, she gives us both young and mature views of the composer. Violin Concerto No. 1 (1907), written when the composer was 26 and, Ms. Faust informs us, in love, strikes us now as an anomaly when we come to it from his later work. Openly emotional, without a hint of wildness, it is clearly concerned with the expression of romantic emotion rather than carving out a new place in the musical tradition. Much like an early fiction writer's first, autobiographical novel that has to be gotten out of the way before moving onto mature work. It has no recognizable musical voice, feels pretty much like the generic late nineteenth century work that it is. Its appeal is purely in its being appealing, which it is.
Violin Concerto No. 2 (1937-38), composed in the last year of Bartók's life, is a whole other proposition. This is vintage Bartók. Hauntingly and furiously modernist, it weaves hints and snatches of Transylvanian folk music's raw, dissonant, rhythmic melodies into a spell-binding modernist musical drama. Rural dance becomes a complex, whirling meditation. The folk music's rhythmic force in particular provides much of the substance the composer sought for his musical thinking, creating a wonderful mixture of the primitive and the sophisticated. This concerto is a perfect analogy of a classical composer visiting a nearly inaccessible rural village and trying to understand and interpret what he hears with his urban ears and rational mind. It works because the classical composer remains in charge: it is a genuine interpretation of what he hears.
Part of the genius of the work is its 'tranquillo' andante second movement following on the fury of the first, slowing everything down, as if to contemplate what the folk material is really all about. We are still listening to the modernist composer, it is he who is creating the contemplative mood. But we definitely feel we are listening to something behind the frontal energy of the primitive dance music. This movement does periodically break into more energetic expression but tranquility remains in force. By the movement's end we are near absolute peace.
The third and final movement reasserts much of the high energy of the first but adds the orchestral weightiness we associate with the composer's Concerto for Orchestra, composed seven years later. It is as if we have now stepped through the foreground to a larger, more significant place. We hear the violin playing alongside, then before, then in the midst of the orchestra. Orchestral color, orchestral scale, and an orchestra's instrumental complexity are having a substantial effect on what we hear and how we respond. In the end, the violin takes full charge, forcing the orchestra to follow on to a fine and furious finale. The work has long held a secure place in the concerto repertoire.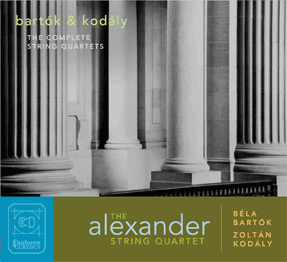 Bartók & Kodály. The Complete String Quartets, The Alexander String Quartet. FoghornClassics. CD 2009. (3)
Quietly, deliberately, and without fanfare, the Alexander String Quartet has been moving through the major string quartet repertoire, leaving extraordinary statements as they go. I have written about their Beethoven and Shostakovich, developing increasing respect for both over time. When they performed here in Amherst last year they told me this Bartók (and Kodály) set was in the works.
The first thing we notice as we work our way though the (three CD) album is the weight and power the Alexanders bring to bear on, or more likely bring out of, this music. I have heard these quartets played with less force and less pace—and with more suavity—by the beloved Vegh Quartet, for example. But that is not the Alexanders' way. They hear Bartók's string quartets as modernist monuments and their interpretation aims to make that case. Which it surely does.
The folk material is more deeply embedded in this music than in the violin concertos but it's here. I don't know whether his research into folk music had begun by the time he composed Quartet No. 1 (1907-1909) but its energy, especially in the third and final movement, says 'yes.' Jay Kirk tells us in his Harper's essay that Bartók's first exposure to this music was overhearing a provincial nursemaid sing in 1904. The quartet has some of the expressive quality of the first violin concerto (1906), but a great deal more that tells us where his mature music will go. This music announces the presence of a new voice, striding across the musical stage as it nears its conclusion. It has an annunciatory quality. The Alexanders capture this, playing the music as the major statement it clearly is. Both Bartók and the Alexanders grab us and propel us forward: Come this way, they all seem to say.
Quartet No. 2 (1917) begins as a more brooding affair but boldness of statement is still present. This is not a meditation, it is more an extended vigorous argument with the self. It is a version of what T.S. Eliot called "felt thought." In the second movement it becomes frenetic, as dance/folk elements come forward to provide driving rhythm. Here we particularly notice the 'refusal to resolve' that Kirk says attracted Bartók to the raw folk music he heard in the field: a compulsion to leave things hanging. This obviously struck him as an essential element of the 'modern situation,' both in and outside the arts. We feel the tension between where we want the music to end and its refusal to go there, to go home. The third movement returns to a more urban version of brooding.
Quartet No. 3 (1927) takes us a giant step farther toward full-fledged modernism. Echoes of the New Vienna School abound, though where Berg, Webern, et al create a rarified avant-garde world, the sturdy rural dance rhythms to which Bartók is so attached keep him grounded -- not to say that the provincial musicians would recognize their material! This is by far the shortest of the six quartets in addition to being the most radical of the first three.
Quartet No. 4 (1928) The Alexander musicians' sense of Bartók pays especially significant dividends in the fourth quartet, which opens with a movement whose musical identity is essentially the power of driving rhythm. Rhythm creates a world almost by itself. Even in the 'busy' second movement we feel the authority of a rhythmic frame. The cello stalks the third movement, which has very little rhythmic energy at all, leading to the fourth where pizzicato from all four instruments brings it back. The fifth and final movement returns us to the forceful, driving rhythm of the opening but with even more furious, irrepressible excitement.
Quartet No. 5 (1934), which has proved the favorite over time, seems to have totally digested its folk material, to the extent that the work has become a pure modernist statement. The first movement attacks us with abstract eloquence. Play it loud and move back! The Alexanders want this quartet to take over the world and in their hands it does. Instrumental lines cross one another like lightning bolts. The second movement leaves fury behind and takes us into a quiet landscape of plaintive speculation. The contrast causes us to focus intently on detail, the kind of thing that is overwhelmed in the first. The third movement begins in the same mood but soon moves into a bolder language featuring syncopated rhythm that creates motion in all directions: we are watching a huge abstract expressionist painting creating itself before us. Strong lines, lighter and thinner lines, jagged cross lines, all swept along, filling a canvas with powerful articulated complex emotion. The fourth movement takes us to a quieter place again but a sonically busy one where solos (first cello, then a violin) speak against jagged rhythms from the other instruments until all are swept up together, the emotional temperature rising, sound levels rising...then falling. The fifth and final movement returns us to the high energy and fury of the first, though it all feels like less of a shock because of where we've just been.
This is highly demanding music which is unlikely to cohere on first listen. I recommend just going with it for a while, always the best advice for listening to challenging music. It would have behooved me to listen longer before trying to write about it. I 'know' this music but the Alexanders really do estrange it and make it stunningly new.
Quartet No. 6 (1949). The fifth and sixth quartets to my ears are probably responsible for much of Bartók's reputation as cerebral. They refuse to surrender themselves to recognizably traditional musical order in our minds—unless the minds are a good deal more sophisticated and experienced than mine. They elude our need for order: they are brilliant complex thought in motion. We sometimes feel we are being confronted with art that knows far more than we do about emotion and thought and how inextricably they two are intertwined. Is this what full developed intellectual genius sounds like? Sandy Wilson, the Alexanders' spokesman (and cellist) warned me not to listen to these six quartets all at once, excellent advice. As a set, they represent too rich a meal for that.
The sixth and final quartet is the most discursive of the group, but its argument is still too difficult for me to begin to trace. It teases us with dance in its second movement—much like a scherzo in a symphony—before moving on to more pressing matters, the delineation of a world. The final movement is full of "ghostlier demarcations" than anything that precedes it, in this quartet or any of the others. It is like the fifth act of a tragedy where the survivors stand around after a dramatic storm, counting the bodies and philosophizing.
This has been an extraordinary two weeks of listening—and I haven't even gotten to the two string quartets of Bartók's friend and colleague, Zoltán Kodály, which the Alexanders have generously given us as an interesting bonus. I'll be brief about him, as this article has already run past any reasonable length.
As a composer of string quartets, Kodály was not the modernist his friend and fellow folk song researcher Bartók was. What I hear in his Quartet No. 1 (1909) is a descendent of Dvorák. He is more prickly here than the late romantic Czech, especially in the hands of the Alexanders; but the compulsion to transform folk material into something utterly new and musically revolutionary is not there. As a result, at least to modern listeners, it is easier to listen to: it fulfills traditional expectations. His Quartet No. 2 (1918) is musically more interesting. Traces of Dvorák remain but this is clearly music of the new century: it explores, speculates. Some rootsy folk dance music appears in the second (of two) movement, but its presence remains subsidiary to the larger concerns of the quartet.
To be hard-hearted about it, the interest here for many of us will be in setting off the music of Bartók, though it also provides us a rare opportunity to hear this music—and to wonder where the composer's extraordinary modernist solo Suite for Cello (1915) came from!
Equipment used for this audition: Resolution Audio Cantata CD player; Crimson 710 preamplifier and 640 amplifier; Tocaro 42 loudspeakers; Crimson cabling.
Bob Neill is a former equipment reviewer for Enjoy the Music and Positive Feedback Online. He is currently proprietor of Amherst Audio in Amherst, Massachusetts which sells equipment from Audio Note (UK), Blue Circle (Canada), Crimson Audio (UK), Jean Marie Reynaud (France), Resolution Audio (US), and Tocaro (Germany).