ANDRE MARC'S SYSTEM
LOUDSPEAKERS
Thiel CS2.4 and Harbeth Compact 7ES3.
ELECTRONICS
Audio Research SP16 and VS55, Belles Soloist 3 and Soloist 5, McIntosh MA6600, and a Revox A722.
SOURCES
Musical Fidelity M1CDT Transport, Marantz CD5003, Squeezebox Touch with CIA VDC-SB external power supply, connected via Ethernet by Gen II Mac Mini running Snow Leopard, Western Digital and Seagate drive. Bryston BDA-1, Musical Fidelity V-DAC II, Revox A77, Kenwood KX-W8010 Cassette Deck.
CABLES
Stager Silver Solids, Kimber KCTG and Silver Streak, Transparent MM2 Plus and Super, Element Cable Silver Serenade, DH Labs White Lightening, Transparent MM2 Plus (speaker), QED Genesis Silver Spiral, Acoustic Zen Tsunami II, Transparent PowerLink, Shunyata Venom, Pangea AC-9, DH Labs Encore, ELement Cable Red Storm, PS Audio (C7), DH Labs TosLink, AES/EBU, Coax, and BNC. Kimber OPT-1 TosLink.
ACCESSORIES
Symposium Rollerblocks, Shakti Stone, Sound Anchors stands, Audience Adept Response aR6 power conditioner, Cable Pro Noisetrapper, Salamander rack.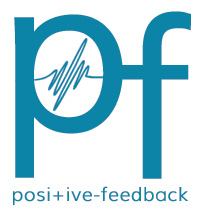 You are reading the older HTML site
Positive Feedback ISSUE 69
september/october 2013
burson audio
Conductor DAC/Preamplifier and Timekeeper Amplifiers
as reviewed by Andre Marc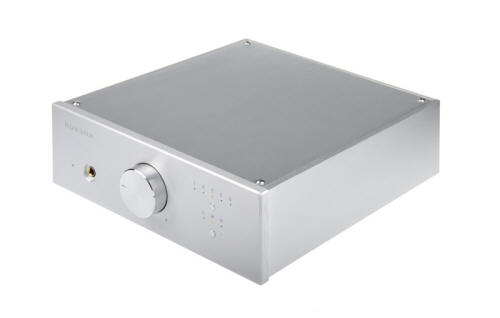 Burson Audio, out of Melbourne, Australia, has been on my radar for a few years now. I had wanted hear some Burson gear in my own system for a while,, and I had the chance to spend some quality time with the Conductor DAC/Preamp/Headphone amp and their brand new off the production line Timekeeper class A/B stereo amplifier. I reviewed the Conductor and Timekeeper as a pair for another publication, and Burson asked if I was interested in writing the Conductor and two Timekeepers, used in mono-block mode. I enthusiastically agreed, and Burson promptly shipped me an additional Timekeeper.
Since I already published a full review of the Conductor and the Timekeeper, I will provide a brief summary of each component and spend most of the time discussing setup and use. The Conductor is a Headphone amp, 192kHz DAC with TosLink, Coax, and USB 2.0 inputs, and an analog preamp, with two RCA inputs. It is a stellar one box solution, the only omissions being remote capability and a sample rate indicator, a feature I personally like. The Conductor is very nicely made, attractive, and it costs $1850.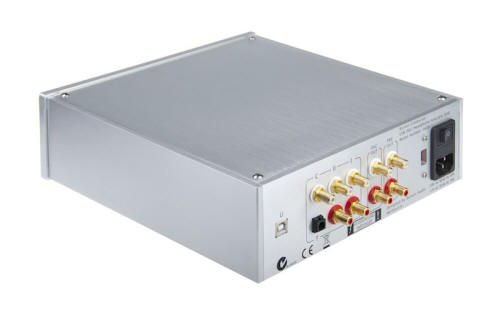 The Timekeeper is a class A/B design, and as a standalone stereo amp, offers 80 wpc. It is also very well made and features high quality connectors, binding posts, and solid case work. It offers three modes of use. Stereo mode via RCA input, mono configuration via RCA, and mono configuration via XLR. In mono block mode, the power soars to an impressive 240 wpc! The Timekeepers retails for $2600 each.
I set up the Conductor and Timekeepers together in my main room driving a pair of Thiel CS2.4 speakers. My Windows 7 laptop running Jriver 19 was used with the Conductor's USB input, and a Squeezebox Touch was connected optically. A Musical Fidelity M1 CDT transport via coax completed the picture. Digital cables were from DH Labs. I received a full set of top shelf Furutech cabling coincidentally; interconnects, speaker cable, and power cords were all from the impressive, and expensive Flux series. I am convinced the Furutech cabling definitely allowed the Burson gear to sound its very best. The power cords especially, in my estimation, were a perfect match for the Timekeepers.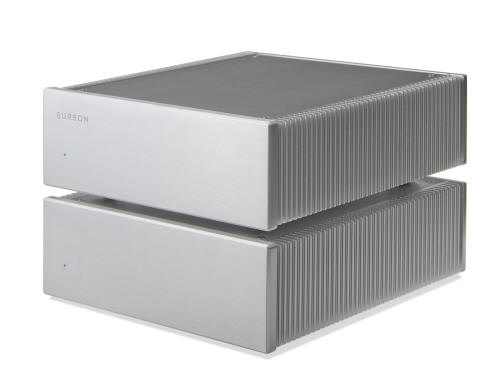 To cut right to the chase, as impressive as the Timekeeper was in stereo mode, and it is very impressive, in mono block-mode the amps went to an a new level performance. The character of the stereo Timekeeper remained, but everything was better. Refinement, a sense of liquid ease to the midrange, and a smooth, velvety treble made long listening sessions the norm. This was just the tip of the iceberg. With one amp driving each channel, stereo imaging was phenomenal. Startling, actually.
The Burson amps are not my first dance with mono blocks. I have had at least half a dozen sets of monos in house, including those from Manley, Marantz, Merrill Audio, Rogue, Carver, and more. It is hard not to be impressed by the excellent channel separation, and effortless control many-mono block amps bring to the table, among other things.
With one Timekeeper driving each channel, I distinctly heard incredibly effortless dynamics. This was apparent when playing some of the excellent Blue Note high resolution HDTracks 192 Khz/24 bit re-masters. Various titles from Wayne Shorter, Freddie Hubbard, Donald Byrd, and John Coltrane were startling in their dimension and power. The musicians seem to be spread across an imaginary stage, and individual instruments retained their distinct character.
Midrange purity was increased as well with the Timekeepers in mono mode. Mind you, this was already one of the Timekeeper's strengths, so I was myself surprised to hear gains in this area. Vocals and strings had lifelike texture, with a buttery smoothness that was immensely enjoyable. One album that crystallized this for me was Scott, the debut solo album from British 60's icon Scott Walker. His voice is one of the greats in pop history, and through the Timekeepers, his vocal on "Montague Terrace (In Blue)" was simply astonishing in its purity. A rare, hair raising "hifi moment".
Another major area that improved with one Timekeeper per channel was bass definition. Mind you, I was quite happy with the bass performance with one of the amps in stereo mode. Bass guitar, tympani, and acoustic bass all had more weight and articulation was excellent. I was especially surprised to hear, almost for the first time, the bass line in Gordon Lightfoot's early composition, "The Way I Feel (Version 1) ", from the double CD The United Artists Collection. This was quite an ear opener.
Channel separation, as noted, a hallmark mark of monoblocks, was evident here in spades. This was especially true with recordings with a fair amount of stereo spread, like orchestral recordings. Even classic rock recordings from the early stereo period, with hard panning, were more cohesive. Jimi Hendrix's Are You Experienced? sounded surprisingly wide screen, the nuances of the recording more apparent, and this is an album I have heard hundreds of times since the age of thirteen, in countless systems.
I used the Timekeepers with the excellent matching Conductor DAC/Preamp/Headphone amp for most of the review period, but I could not resist separating them as well. The Conductor proved to be an excellent DAC and preamp, and not surprisingly, it matched well with the Timekeepers. The only "inconvenience" is the lack of remote control capability. Burson has done this for the sake of sonic purity.
I briefly matched the Timekeepers with the Channel Islands Audio PLC-1 MKII passive linestage and the Belles Soloist 3 preamp with great results. The PLC-1 MKII is quite transparent, and proved the Timekeepers are compatible with a variety of gear. During the period I used the Timekeepers with other preamps, I moved the Conductor into my second system and used a standalone DAC with its fixed outputs, connected to a McIntosh MA6600 amp. It distinguished itself rather nicely apart from the Timekeepers . It offered superb resolution, great dynamics, and allowed the music to breathe. Suffice it say the Conductor would easily be on my short list of DACs in this price range.
I can conclude by saying that a 240 wpc pair of Timekeeper power amps in mono-block mode with the Conductor DAC/preamp at the front end is a world class set of electronics for approximately $7000. With effortless power, superb dynamics, and hassle free operation, I find it hard to find fault beyond nitpicking about a lack of remote control function on the Conductor. The Timekeepers run warm so decent ventilation is required.
These amps and DAC/preamp from Down Under pack a wallop and will drive virtually any speaker to room shaking levels. Burson should be commended for offering components that sound this good and offer this much flexibility for far less than many competitors. An audition as a complete system or individually is highly recommended. Andre Marc
Conductor DAC/Preamp
Retail: $1850
Timekeeper Amplifiers
$2600 each
Burson Audio
http://bursonaudio.com
Review Reference System:
Preamp: Channel Islands Audio PCL-1 MKII, Audio Research SP16L
Power Amp: Bob Carver VTA20s, Audio Research VS55, Rogue ST 100
DAC: Bryston BDA-1, John Kenny Ciunas
Transport: Musical Fidelity M1CDT
Streamer: HP Laptop running Windows 7 & Jriver 19, Squeezebox Touch
Cables: Transparent, Furutech, DH Labs
Accessories: Audience adeptResponse, Symposium Acoustics Rollerblock Jrs
Speakers: Thiel CS2.4, Harbeth Compact 7 ES3, KEF LS50