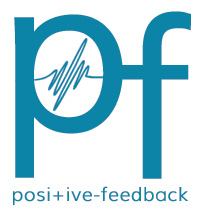 You are reading the older HTML site
Positive Feedback ISSUE 69
september/october 2013
A Follow-up to My Follow-up on the HRT Music Streamer HD
by Tom Gibbs

Late Breaking News! Of course, my review had only been posted a day or so when I received an email from HRT advising me that their USB Audio Class 2 driver was finally available—incredible news! The driver, which is built around the ASIO format, is contained in the latest firmware update on the HRT website. It makes for a very easy installation process using HRT's proprietary software. Using the link provided in the email I downloaded and installed the control panel for the driver, which allows user adjustments of both latency and buffering. Surprisingly enough (and with very little experimentation), I was able to get perfect results using a low latency setting and a really low buffer setting. The installation process was a snap, with zero problems encountered. My JRiver Media Center settings required a minor adjustment—the existing Windows USB driver shows up as well as HRT's ASIO driver, so I simply had to make the switch to the new driver and confirm that the handful of other system settings were consistent with the Streamer HD. It couldn't have been easier, and was so much less trouble than I had anticipated!
So how does it sound? In a word, superb. Rather than dive right into my small library of 24/192 files, I decided to take a bit of a listen to some of the better-sounding 16- and 24-bit/44.1 and 24/96 files just for comparison to the base Windows driver, and the results were not much short of magnificent! I would never in a million years have believed that simply replacing the the USB driver would make such an unbelievable difference. Especially considering my conversations with HRT's Kevin Halverson's and his relative lack of enthusiasm towards the entire driver situation. And his skepticism regarding any perceived performance gains offered by 24/192 playback. HRT's ASIO driver allows my system to sound soooo much better in every way, impacting every aspect of the recorded sound.
The handful of 24/192 files I owned consisted of three titles that I'd yet to have the opportunity to listen to: Joni Mitchell's classic Ladies of the Canyon, Yes' seminal prog-rock classic Close To The Edge and Vince Guaraldi's timeless A Charlie Brown Christmas, all downloads from HDTracks. Starting with Joni Mitchell, I was really impressed with the increased clarity, detail and presence displayed by the 24/192 file compared to my 24/44.1 rip of the HDCD. In terms of detail, you get a much greater sense of layering of instrumental textures and vocals, and Joni's voice is so very lifelike and organic—I've never heard this music presented with such amazing realism. As with all high resolution downloads, it's difficult to know where the file is sourced from, but the download from HDTracks sounds phenomenal! At that point I moved on to Yes and the opening title track, "Close To The Edge"; the crescendo that builds in the first minute and blasts into a cacophony of prog-rock bliss has never sounded so good to these ears. And yet while there's a whole lot going on throughout this classic work, the 24/192 file made it much easier to pick out subtle details effortlessly. And when "And You And I" comes up, I've never heard Chris Squire's Rickenbacker bass with such definition and authority. That's one thing that's really impressed me so far with 24/192 playback – the relative ease with which the music is presented, and the bass response and control is just phenomenal.
Vince Guaraldi's works have always held a special place for me, and even though you'd think A Charlie Brown Christmas would own a limited space in the repertory, it's jazzy, toe-tappingly infectious rhythms are just irresistible. The HDTracks download strikes me as perhaps the finest presentation this classic work has ever received. The instruments seem less obviously left/right, and are more seamlessly integrated in the soundfield, and the realism is staggeringly good. I know we're probably not comparing apples to apples; my rip is from the CD layer of the SACD, and I don't know where the HDTracks file is sourced from. But seriously, I've never heard this music sound quite so good as through the Streamer HD.
From the beginning of my journey into computer-based audio, Morten Lindberg of 2L Music has been there all along. When I first got the Music Streamer II two-plus years ago, he offered me basically unfettered access to his catalog of 24/96 downloads to aid me in my evaluation and explorations. And when I recently shared with him my enthusiasm for the Streamer HD's performance with 24/192 files, he quite generously offered the companion 24/192, 2L downloads for easy comparison to the already superb 24/96 files. I'll just touch on a couple of the highlights here, but a full review of the entire lot will be coming soon.
First up is Divertimenti, which bombards the senses with riveting performances of works by Britten and Bartok, along with equally outstanding readings of two lesser-known composers from the Baltic region, Terje Bjorklund of Norway and Grazyna Bacewicz from Poland. This recording in 24/96 has pretty much been my go-to demonstration of works for string orchestra—the performances by the Trondheim Solistene (Trondheim Soloists) are just remarkably good—a model of great music well played and superbly recorded. Of course, the Bartok "Divertimento" is one of my desert island pieces, but the real surprise here is the Bacewicz "Concerto for Orchestra", which is contemporaneous with Bartok's own seminal work. That's one of the great joys of labels like 2L—you frequently get exposure to deserving but under appreciated composers that are all but unknown to most Western audiences. Regardless, the sound quality of this magnificent album is beyond reproach, making the otherwise superb 24/96 files seem almost flat and lifeless in comparison. There's a heightened level of detail, yet with increased warmth and liquid mids and highs with exceptionally sweet strings, and the stereo imaging is off-the-charts good. When I listen to these 2L recordings in 24/192, I almost feel as though I've just experienced a major component upgrade.
Another great 2L album, Mozart Violin Concertos, also features the Trondheim Solistene with soloist Marianne Thorsen, and together they offer definitive readings of the Mozart Concertos Nos. 3, 4, and 5. Again, this is a reference-caliber recording, and as good as the 24/96 version of these files are, they almost seems colorless compared to the 24/192 files. The sweetness of the strings is simply liquid, and the music emerges from a completely silent background; you can easily close your eyes and place the individual players within the broad and deep soundstage, and you get a totally palpable sense of the aural impression of the recording space. These infinitely familiar works take on a whole new depth of meaning when the performances are this well-crafted and recorded.
Whereas some of the mainstream audio journals have focused on the Streamer HD's shortcomings, pretty much declaring it a Mac-only device, the arrival of 24/192 playback for everyone should greatly enhance its appeal to both Mac and PC users alike. And with the relative ease of installation of the new driver along with the uniformly excellent musical results, I can't see anyone not giving this bargain of a DAC highest recommendations. I obviously only just thought I knew what elevated performance was all about. The Streamer HD with HRT's ASIO driver has truly deepened my appreciation for computer-based playback. And it's heightened my enjoyment level and belief that digital really well-done (even lowly PCM) can provide a truly satisfying and reference-level listening experience. And that experience basically comes without the ritual of inspection, cleaning and careful handling that is the hallmark of analog LP playback—with the Streamer HD, the gratification is almost instantaneous. I've almost had to retrain myself to just relax and enjoy the music—the extent of my ritual nowadays pretty much consists of flipping the CD from the dollar bin over to inspect it for scratches!