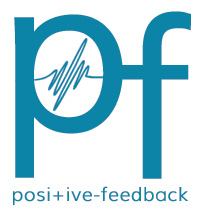 You are reading the older HTML site
Positive Feedback ISSUE 69
september/october 2013
An Active Buffer/Preamplifier by iFi Audio - the iTUBE
by Wojciech Pacuła/HighFidelity.pl, translation by Andrzej Dziadowiec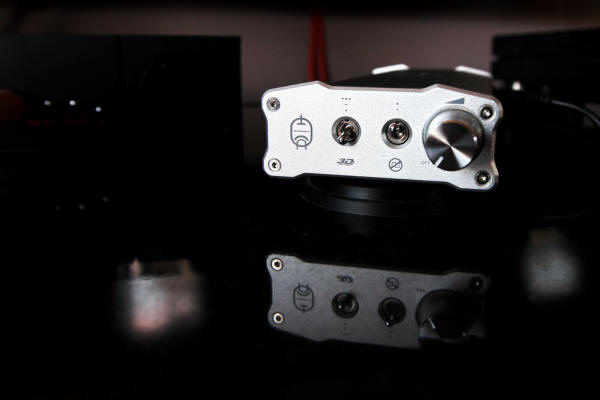 Much has already been written about iFi components, including my own contribution, so there is no need to rehash it. Let me merely point out that iFi is a separate part of Abbingdon Global Group—a high-end company through and through that under the brand Abbingdon Music Research offers high-end amplifiers, DACs, CD players and phono preamps. I am sure that more than once you have seen their characteristic large, rounded aluminum enclosures with large display screens. If you still don't know what it's all about, you must surely remember the fantastic flight cases in which these components arrive. That is exactly how a real high-end packaging should look like! It is really surprising that so few companies do something similar, with a notable exception of the likes of D'Agostino. Apart from really heavy amplifiers and speakers that out of necessity are shipped in wooden crates, smaller components such as network players and preamps, but also turntables often costing thousands and tens of thousands US dollars, arrive packaged in cardboard boxes, much like bananas. When I first saw the CD-77 from AMR arrive in my house and when I opened its aluminum, fully padded flight case, I remembered the company for life. The exquisite sound I heard from the player only reinforced my high opinion about Abbingdon Music Research.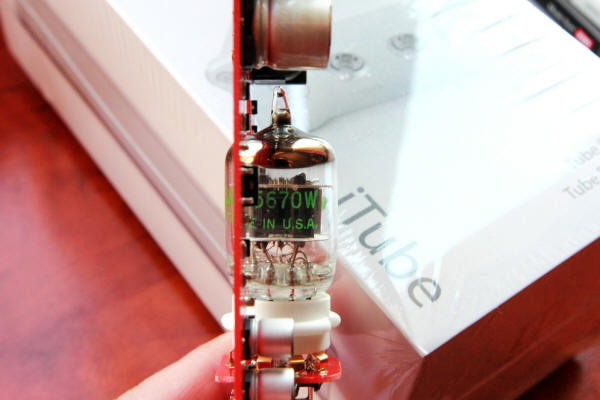 Introduction
I am really in two minds whether it is easier to design a solid high-end product or rather something affordable. On the one hand, it is very difficult for a manufacturer to refine the sound to the point where we no longer talk about treble or bass—generally about tonality—or dynamics and other aspects we analyze in a hi-fi discussion, and instead start talking about a component's music presentation and its interpretation of what is on the record, which is the high-end domain. And very few manufacturers succeed in that. However, investing enough time, talent and money sooner or later yields great results. Looking at it this way, from above, as it were, designing an inexpensive audio component looks like an easy and fun job. Nothing could be further from the truth.
The case is quite straightforward in the high-end which, after all, is a small market with a large proportion of high-end products being individual designs or small product batches. While specialized manufacturers such as Mark Levinson, McIntosh or Accuphase that offer their products to well-off music lovers have developed certain methods to produce larger quantities of expensive audio gear with reproducible parameters, it did require huge money.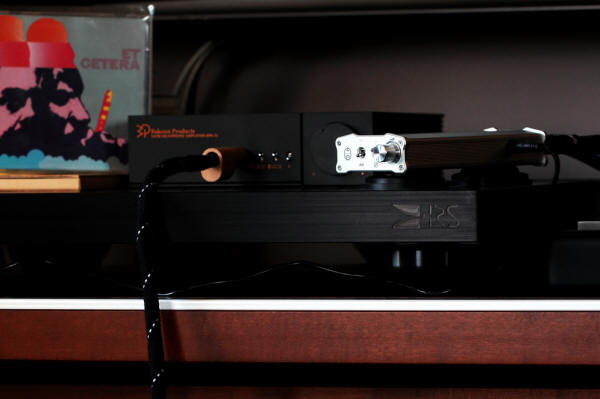 Instead, iFi Audio has focused on computer audio micro-components that are most at home on the desks of young but already demanding music lovers. Designing an affordable DAC, headphone amplifier or even integrated amplifier is not very difficult—just look at the Box Design series from Pro-Ject, or machines from Trends Audio, KingRex, and AOL Audio to figure it out. It requires significantly more skill, however, to design a GOOD component of this type. Creating both small and good as well as smart-looking component is the highest degree of initiation. It requires proficiency in completely different areas than in the high-end, like scrupulous adherence to the budget, the knowledge of market trends and the preferences of young consumers who are the primary target audience for micro-components as well as an extensive expertise in the audio as such.
Before we get to the audition results, let us mention that iFi's current lineup include the iDAC USB D/A converter, the iUSB Power supply, the iCAN headphone amplifier, the iPhono phono stage and the iLink USB converter. The components can be set up by using a dual-headed USB cable with two Type A connectors, called the Gemini ("twins"). I have recently reviewed and highly rated such an iFi system. However, during the review I had in my hands what was supposed to be released two weeks later, and what I believe to be the most interesting representative of the 'i' subspecies: the iTube buffer and active preamplifier in one.
Design and Application
The unit has a form of a small, nicely shaped and proportioned aluminum box. It looks both trendy and elegant, which is not an easy feat. Its carefully thought out design and packaging make it look as if it were made by Apple. The iTube contains two active circuits to improve the quality of the analog signal it receives. The first is a Class A tube buffer designed to "increase our intrinsic enjoyment of music". It is based on a NOS General Electric 5670 tube and has a high input and low output impedance. This type of impedance matching is not uncommon in the audio world. Almost every amplifier and preamplifier sports some kind of input or output buffer to isolate it to a certain extent from the source or the receiver, including the cables used. Everyone who took the trouble to listen to the sonic changes due to various interconnect cables knows only too well that this solution works partially at best. After all, anyone who lives longer than the blowfly surely remembers the so-called "piglets" from Anthony Michaelson, housed in cylindrical enclosures, which made Musical Fidelity famous. The best known among them had to be the X-10D tube buffer.
The iTube from iFi Audio is something similar, at least in part—its 5670 tube may also be used as part of an active preamp. The front panel features a small volume knob to adjust the analog output level. The preamplifier can be set to unity gain, which is 0dB, or +6dB. The potentiometer can also be excluded from the signal path, leaving only the buffer with a 0dB or +6dB gain. The iTube is a tiny component, so it would be impossible to find the room on the fascia for the necessary buttons to select all these functions. Hence, based on the assumption that the iFi operation mode is selected at the beginning of unit operation, the row of DIP-switches has been moved to the bottom panel.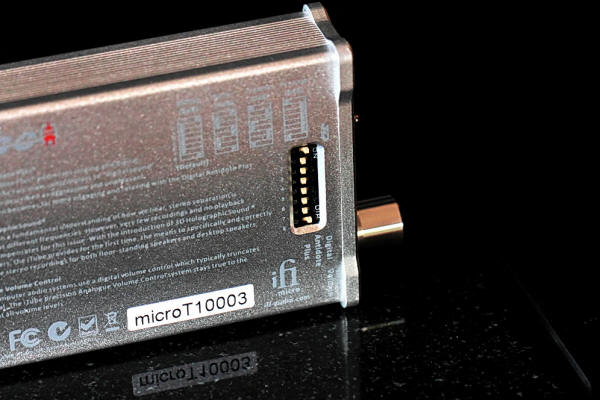 The front panel only sports the volume knob and two switches. Both are new to this kind of audio component and are the most important part of the iTube. They are used to switch on and off two analog filters designed by people from AMR. One is the proprietary Digital Antidote Plus which, according to the manufacturer, "provides the appropriate phase correction in the time domain to remove the harsh, 'ringing' digital sound which causes listener fatigue." The other circuit is the 3D Holographic Sound which has been developed for speaker users (although headphones also benefit from it—see the Sound section below). It is based on knowledge from the field of psychoacoustics about how the human ear localizes sound in space, where lower frequencies are much worse defined than upper frequencies. The 3D Holographic Sound for Speakers analog circuit corrects the bass phase in real time, allowing for a better sound localization and more accurate surround effects.
And it all comes in one small housing. We have at our disposal a stereo analog input and output, both on RCA connectors. They are placed close to each other and using oversized connector plugs, such as WBT, results in scratching them, which I checked. The unit is powered from a small outboard switching power supply.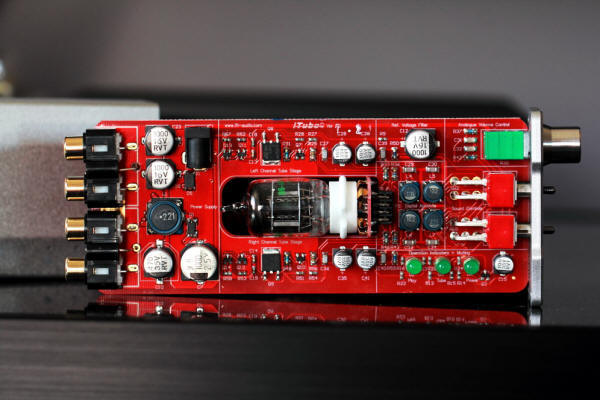 The circuit is mounted on a small PCB dominated by the above mentioned General Electric vacuum tube. The iFi is equipped with its improved JAN (Joint Army Navy) version, originally designed for military use. This miniature dual triode with a medium mu factor is suitable for a wide variety of amplifier, mixer and oscillator applications. General Electric product literature from the 1950s indicates that it was designed to operate in the most demanding environment, including military installations. It is currently manufactured (as 6N3) by the Chinese. In the iFi it is inserted in a valve holder with gold plated contacts, which in turn is plugged into the circuit board by means of a multi-pin connector. The audio signal runs separately for the left and right channels and most of the PCB space is occupied by power supply components and the tube circuit. The filters mentioned above are quite small and appear to be passive. The potentiometer is of a mini-version variety once used almost exclusively in car audio and now equally often in miniature audio. The RCA connectors have gold-plated ground contacts and ordinary inner "hot" pins.
Sound
Albums auditioned during this review
CDs
• The Norwegian Wind Ensemble, Arve Henriksen, Maria Schneider, Sketches Of Spain, Nor Wind Records NWD071, CD (207).
• Republika, Masakra, Pomaton EMI 50999, "Reedycja 2011", CD (1998/2001).
• Warne Marsh Quartet, Music For Prancing, Mode/Muzak MZCS-1111, "Mode Paper Sleeve Collection vol.1", CD (1957/2006).
• OMD, English Electric, 100%/Sony Music Japan SICP-3810, CD (2013).
• Joe Pass, For Django, Pacific Jazz/EMI Music Japan TOCJ-90027, HQCD (1964/2006).
• Carole Creveling, Here Comes Carole Creveling, Euterpean Productions/Sinatra Society of Japan XQAM-1021, CD (1956/2008).
• Carmina Burana, Clemencic Consort – Instruments Anciens, René Clemencic (conductor), Harmonia Mundi France 190336.38, 3 x CD (1975-6-7/1990).
• Marc-Antoine Charpentier, Te Deum H.146, Les Arts Florissants, William Christie (conductor), Harmonia Mundi HMG 501298, "hm Gold", CD (1989/2008).
Audio files
• SATRI Reference Recordings Vol. 2, Bakoon Products, FLAC 24/192.
• T-TOC Data Collection Vol. 1, T-TOC Records DATA-0001, 24/96+24/192, WAV, rips from DVD-R.
• Al Di Meola, Flesh on Flesh, Telarc, 24/96 FLAC, source: HDTracks (2011).
• Charlie Haden & Antonio Forcione, Heartplay, Naim Label, 24/96 FLAC, source: NaimLabel.
• Dead Can Dance, Anastasis, [PIAS] Entertainment Group PIASR311CDX, "Special Edition Hardbound Box Set", CD+USB drive 24/44.1 WAV (2012).
• Depeche Mode, Delta Machine, Columbia Records/Sony Music Japan SICP-3783-4, FLAC 24/44.1, source: HDTracks (2013).
• Miles Davis, Tutu, Warner Brothers Records, FLAC 24/96, source: HDTracks.
• Percy Grainger, Lincolnshire Posy, Dallas Wind Symphony, Jerry Junkin (conductor), Reference Recordings HR-117, HRx, WAV 24/176.4, DVD-R (2009).
• Sonny Rollins, Tenor Madness, Prestige, WAV 24/96, source: HDTracks (1956/2012).
• Stan Getz & João Gilberto, Getz/Gilberto, Verve, FLAC 24/96, source: HDTracks (1963/2012).
• Stardelay, A New High Fidelity, Ozella Music OZL22006CD, FLAC 24/44.1, source: Linn Records (2008).
The iFi product family is clearly aimed at computer audio systems. People listening to music in this way expect small size, user friendliness and reasonable prices. In computer audio the speakers are placed close to each other and the source—a USB DAC—does not usually cost too much. It is therefore no coincidence that the two main filters supplied with this unit have been designed to address these ills. Let us not forget, however, that the iTube's raison d'être is input/output impedance matching.
The component's influence on the sound was quite easy to evaluate. Connecting it to the system improved clarity, added energy and did a certain trick that made listening to music more interesting.
It was much more difficult to determine the point at which iTube's benefits outweighed its drawbacks. The latter were not large but would be difficult to accept in very expensive audio systems – a decreased resolution being the major one. Everyone must personally decide which audio systems will benefit from using the buffer, and which not necessarily so. In my opinion, the iFi will be most appropriate even in systems with components costing around 2000-3000 USD and the sonic improvement it brings can be anticipated with flushed cheeks.
However, it is not as simple as "YES, YES; NO, NO". After multiple auditions in various systems, I am confident that the buffer function is only a part of something larger offered by the iTube. What I mean, of course, are the 3D Holographic Sound for Speakers and Digital Antidote Plus filters.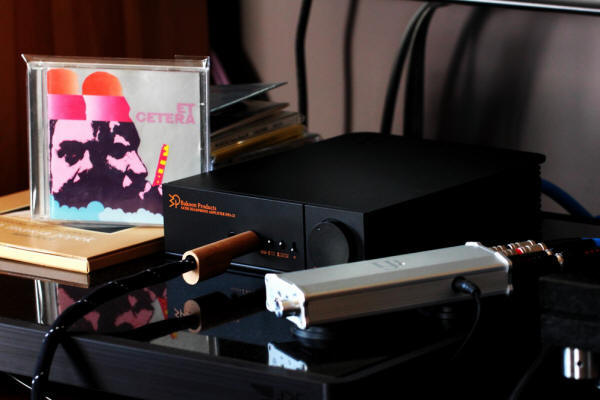 iTube + headphones
However silly it sounds, the 3D Holographic Sound for Speakers impressed me most while I was listening on the headphones. It also performs very well with close field monitors, but in my case "the die was cast" with the headphones on my ears. The iFi Audio buffer features a three-position 3DHSfS switch, with the center position being off and the other two the high and medium settings. I used the latter two. Soundstage "wideners", which is how I classify the 3DHSfS, are at best problematic with the headphones. The case is clear with binaural recordings as it is the most perfect method of rendering the natural acoustic environment. However, if the recording has been made classically, it sounds at least unnatural on the headphones—in the middle of the head. I got used to it during my years of working in the recording studio and at home, where I have a collection of headphones, headphone amplifiers and various accompanying "gadgets". But I know it is a significant departure from the original. Something we fight with in the perfectionist audio, isn't it? Hence, I am curious to listen to all new "inventions" that promise even a little help with restoring the "head stage". What the iFi offers is one of the best solutions I have encountered thus far.
Upon turning on the 3D Holographic Sound, the sound immediately moves out of our head and the first plane is shown in front of us. While a number of "enhancers" is capable of that, the AMR offering does not change tonality in any significant way, which in itself makes it at least worthy of attention. It does not kill dynamics or dilute the sound, either. With all this together, it creates a whole new quality. I verified that against a few headphone amplifiers, including my two references—the Leben CS -300 XS [Custom Version] tube amp and the Bakoon Product HPA-21 solid state. In both cases the effect was similar. In the lower switch position, best for rock, pop and jazz, the sound became really spacious, in the best sense of the word. The sounds were placed in a large space, no longer limited by the headphones, as if they were coming from outside. The performers seemed to be standing on a real stage. The maximum setting added even more air, yet the soundstage appeared too large in most cases, as if artificially inflated. Except for classical music recordings, that is. As I started from "Carmina Burana" performed on period instruments by Clemencic Consort and conducted by René Clemencic, where good imaging is essential to the reception of music, I was sold. A great sense of air and wide sound fields changed the album into a real musical event. I'm not saying here that it sounded bad without the iFi—far from it! But with the buffer/filter in the signal path it became a real spectacle. What's important, the overall tonality changed very little. The low end did not have as good definition as before but it sounded more natural, as if the contourness of classic presentation was just an ersatz. The top end was slightly emphasized, but little enough that it did not affect the enjoyment of listening.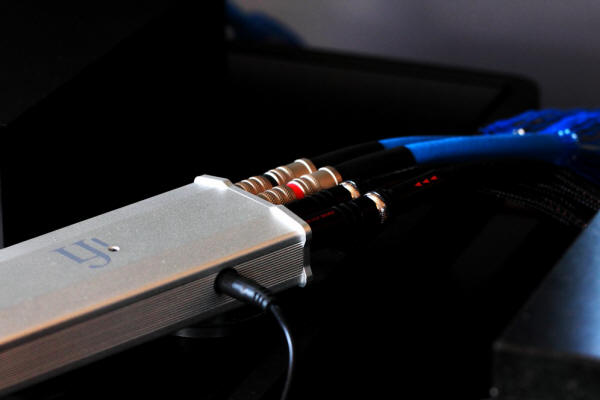 iTube + speakers
One should not forget, however, that the component's intended environment is speaker equipped systems and it was for them that the filter improving recordings' spatial aspects had been created. In my reference system with the Harbeth M40.1 speakers and the Soulution 710 amplifier, the iTube's impact on the sound was huge, but I was not entirely convinced that in all aspects desirable. As I said, plugging the iFi into the signal chain resulted in a slightly worse resolution and clarity as well as somewhat blurred instrument bodies. Let us not pretend that the iTube is an ideal one-for-all solution, free of any flaws. No matter who you hear it from, that is simply not true. This is a fantastic product, but you need to make effective use of its limitations. Hence, listening through the speakers will make sense in systems where they are positioned quite close to each other and do not cost more than, say, 1000-1500 USD. We will then get the kind of soundstage we have never even dreamed of in computer audio, with minimal "own losses"! It won't be a kind of "inflated balloon", but rather something much closer to what we experience live. Combined with genuine lift-off, a large volume and "own" work on spatial localization of each and all sounds. Their definition change, too, and they no longer have clear contours nor are "cut out" from the background, which routinely happens in the hi-fi. In reality, we locate sounds in 90 percent by sight and the recordings are somewhat deceiving in that they attempt to replace our sense of sight. The iFi restores, to a certain extent, the natural order of things—a large soundstage with instruments on it, but also with the accompanying acoustics and reverb, surrounded by large air and devoid of hyper-clear edges.
And there is yet another switch: Digital Antidote Plus. Here, again, it is important to use common sense and be realistic so as not to throw out the baby with the bathwater. This filter has a fairly subtle effect on the sound. Actually, with expensive digital sources, like my Ancient Audio Lektor Air V-Edition CD player (see HERE), which do not sound like a digital source in themselves, i.e. do not generate distortions associated with this medium, the filter changes hardly anything at all. It may somewhat improve the clarity of upper midrange, but only by slightly emphasizing it. The result is different in the case of entry level components. With all inexpensive and medium-priced DACs I used—including the iDAC from iFi Audio—the improvement was worth the effort. The changes were not as spectacular as in the case of 3D, but equally desired in the long term. I do not know exactly what the Digital Antidote Plus does, but it does it very well.
Conclusion
Audio is gadget men's environment, even if they do not admit it. Gadget men's or fetishists'. Hence, "miraculous" products are aplenty around us. Many of them do what is expected, some do not, and a significant group may even decrease sound quality. A few, however, not only do what their manufacturers claim but also do it well. And they are so versatile that one can find further applications for them. The iTube from iFi Audio indeed matches the manufacturer's claim of being the 'Swiss Army Knife of Audio'. Well designed and assembled, including the packaging box in which it arrives, it does real sonic miracles—the kind of miracles we look forward to. It works great in medium-priced systems and is absolutely brilliant at the entry level. Its sonic improvement is fantastic in the headset systems, including the most expensive ones. It costs next to nothing and is straight up hot. If there is something that can save and then help expand our audio world, the world of music lovers and high quality sound, it is definitely products such as those offered by iFi Audio.
Price: $299
Abbingdon Global Group
www.amr-audio.co.uk
22 Notting Hill Gate; London; W11 3JE; United Kingdom;
+44 (0) 870 420 5505
info@ifi-audio.com
www.ifi-audio.com
Country of origin: Great Britain