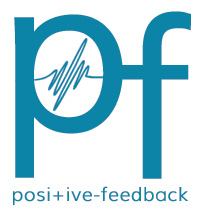 You are reading the older HTML site
Positive Feedback ISSUE 69
september/october 2013
2013 Rocky Mountain Audio Fest Wrap-up
by Michael Wechsberg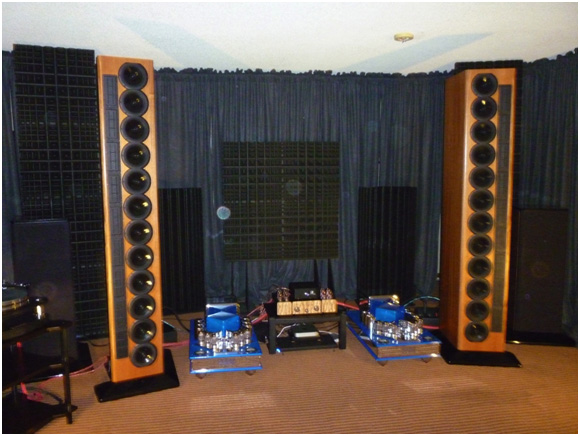 DACs and downloads of the high-resolution variety was what this year's annual trek to mountains was all about. The 3-day Rocky Mountain Audio Fest (RMAF) held its 10-year anniversary at the Denver Marriott Tech Center and once again Marjorie Baumert and the Colorado Audio Society deserve praise for making everything run like clockwork. There was a near record turnout of exhibitors this year, despite the still sluggish economy, but some believed visitor attendance was down a bit from recent years. Yet, all the exhibitors I asked seemed happy with the turnout, and judging by the smiles on all the faces I saw as I toured the halls, and also my own experience, I believe just about everyone had a good time, and that is what this show is known for.
With so many rooms and exhibitors, plus seminars, vinyl and accessory sales, and live entertainment I couldn't make it around to everything, but I did see about 85% of the show. I regret not making it over to the nearby overflow Hyatt Regency hotel where about half a dozen companies displayed their wares including Wilson Audio and Scaena Loudspeakers. Hopefully others will comment on them.
While the resurgence to vinyl continues with many rooms spinning vinyl to demonstrate their wares I would say the majority of rooms were using some form of computer audio for demonstrations. Moreover, I was struck by the large number of new DACs and music streamers available, especially in the Marriott Ballroom where the annual CANJAM took place for personal audio devices. Almost all the DACs I saw can handle high-resolution PCM files (eg. 24-bit/96kHz, 24-bit/192kHz, etc.) but it was astonishing how many can also handle DSD and double DSD despite the meager amount of music currently available in those formats. The majority of seminars held in the Aspen Theater room concerned aspects of digital music reproduction and download. There was also big news in the world of high resolution music downloads, in particular DSD downloads, that I will get to in a moment. This led me to conclude that this RMAF marked a turning point for the high-end in computer audio.
Let me start with the new e28 DAC from Exasound in Canada. This small DAC not only provides DSD and double DSD playback, but also can handle quadruple DSD if any such files become available in the future. And, it has 8 output channels to support surround sound files, all for a price of $3299! I was told the quadruple DSD capability was available to PC users only but everything else would work for both Mac and PC. The other Exasound DACs like the e20 and e18 are also impressive in specifications and price.
I am currently reviewing the Vega DAC from Auralic that features playback of all PCM formats as well as single and double DSD for $3499. The Vega has been out for about a year but their big news was that this Hong Kong company has formed a new subsidiary called Auralic America to improve distribution of their products in the USA. Auralic was set up in the CANJAM room where I got to meet and speak to their brilliant designer Wang Xuanqian. He showed me one of their newest products, the Gemini Dock, shown in the accompanying photo from their press release, that has a DAC and headphone amp built into the base of a stylish headphone stand. It comes in multiple colors and accepts SDXC cards with up to 2 TB storage.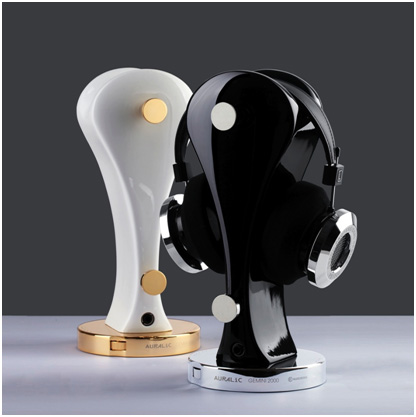 Dan Wright of Modwright is known for his outstanding tube electronic designs including the award winning modifications to the Oppo disc players. I was happy to see Dan now has a DAC making its debut at RMAF in prototype form. Called the "Elyse" it sounded glorious in the room with Daedalus speakers and other Modwright electronics. The Elyse is expected to be available by the end of the year and the price is TBD. Dan told me the DAC currently only plays PCM files but he said DSD capability may be added later. You can bet on that.
I spent quite some time in the Luxman/Vivid room on the Mezzanine floor of the Marriott. Luxman has actually lowered the price on a number of their components including the DSD capable DA-06 DAC that now sells for $4990 (was $6000). Host Philip O'Hanlon tells me they can't make enough of these units and from my listening in this fine room I can understand why.
Mytek was set up in a booth in the lobby of the hotel demonstrating how DSD transfers are made from analog tape using some of the Mytek pro gear. The Mytek Stereo 192 DSD DAC packs a lot of capability into a small package and for $1595 is one of the best values in digital audio.
I didn't detect any changes in the Antelope Audio Rubicon DAC/preamp that features an extremely accurate atomic clock. It has been around for a year or two and as usual it sounded terrific. In the figure it is shown next to the new Zodiac DSD DAC from Antelope that has a PCM sample rate of 768 kHz and also decodes double DSD. Didn't catch the price on this one.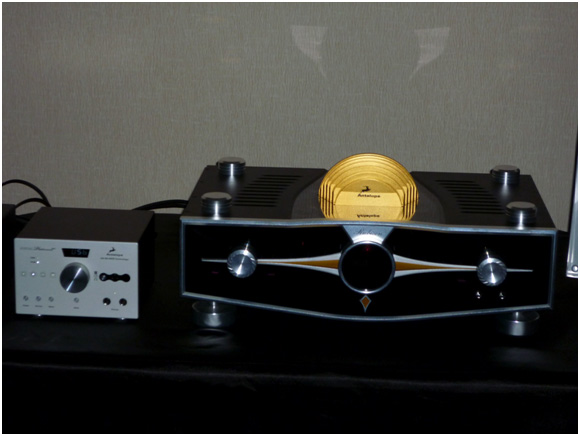 A name that is new to me is Resonessence Labs from Canada. They make several digital components including what I believe is the smallest and so far the cheapest DXD/DSD capable headphone DAC called the Herus. The company is led by engineers who originally developed the ESS Sabre DAC so they know how to squeeze the best out of those devices. The Herus lists for just $399. They have a couple of other DSD DACs intended for use with full size stereo systems that are also reasonably priced.
I spent quite some time speaking with designer Norbert Lindemann from Germany about his Lindemann Musicbook:10 USB music player that features 32-bit/384kHz playback capability in addition to DSD playback. Mr. Lindemann has addressed some of the typical DAC problem areas in a unique way with excellent results. I believe the price is about $5000. The player was being demonstrated together with the Manger MSMS1 Active Loudspeaker and the two together sounded exceptional. Manger, also from Germany, is trying to break back into the US after an extended absence. The Speaker uses a unique full range driver based on the bending wave principal.
Holding court in the CANJAM room was the now well-known Astell & Kern Company. Their portable AK100 and AK120 high resolution Player/DACs have become quite a rage. The smaller $699 AK100 plays only PCM files and accommodates up to 96gb of music that can be stored onboard. The $1299 AK120 has room for up to 192gb of storage and also plays DSD files. These units both sound terrific over headphones but can also be used to drive small speakers.
Sony made some of the biggest news at RMAF by introducing a new line of high-resolution audio products. Of particular note is the HAP-Z1ES Hi-Res HDD Music Player that features a one-terabyte hard disc drive and DSD Re-mastering engine to convert and enhance virtually any music file to double DSD (5.6MHz) quality. Sony has aggressively priced this player at just $2000. As you may recall Sony is one of the inventors of the high-resolution SACD format that has foundered as a format for physical discs. They have now decided to cash in another way by licensing portions of their vast music library for high resolution downloads. Just before RMAF Acoustic Sounds, the biggest purveyor of audiophile vinyl and SACDs, opened up their new download site called Superhirez.com. This site is aiming to be the place to go for DSD downloads of exceptional sounding music. Chad Kassem, the head of Acoustic Sounds, revealed at RMAF that he is working aggressively with Sony, and other labels, to secure the download rights to a huge amount of this music. He said Superhirez.com will have 500 DSD albums available by the end of the year. Prices start at a reasonable $24.99. The commitment from Sony for both hardware and software should be a huge boost to the availability of high-resolution music on the web, particularly in the DSD format.
In fact, the best sound I heard at RMAF was during a demonstration of the music available on Superhirez.com. Using a relatively modest system consisting of the Sony SS-AR1 speakers and the HAP-Z1ES music player, Chad Kassem played a group of us a DSD-encoded cut from the first recording of Elvis Presley in stereo from 1957. What I heard sounded more like a master tape than anything I have heard before, and that is the exciting part of this new development in high resolution downloading. Audiophiles en masse will for the first time have access to master tape sound. The capability of these new ESD-capable DACs combined with proper handling of the downloads is that good. The introduction of Superhirez.com is being greeted with tremendous excitement. I think Chad Kassem was the happiest person I saw at RMAF.
On top of the news from Sony and Acoustic Sounds I also attended a short briefing by Jared Sacks of Channel Classics. The briefing was hosted by Philip O'Hanlon in the Luxman/Vivid demo room at RMAF. The Channel Classics site has been one of the primary destinations to download high-resolution files of mostly classical music recorded by the Channel Classics label. Sacks outlined a plan to vastly grow the availability of DSD music files on the internet via a new site called NativeDSD.com. This site will serve as a host for a number of music labels to post their music in DSD or other high-resolution format. The site will have multiple sub-sites each of which will be managed by the music label. Sacks said he is negotiating with about a dozen labels, however, the only one he could mention by name was Linn Records. The new NativeDSD.com site will be going live in the next few weeks. With this site combined with the effort by Acoustic Sounds it looks like the chicken and egg problem for DSD hardware vs. software has been solved. Hopefully this will encourage more music labels to make their works available as high resolution downloads.
Backing up the news of these download sites, and the availability of so many new DACs (I have left out several other DACs for space reasons) were the RMAF seminars. More than half the seminars had something to do with computer audio. I attended just one of them—a two-hour seminar entitled "DSD Downloads. The New High-Resolution Standard. A Major Update". This session was led by our own Dr. David Robinson, editor-in-chief of Positive Feedback, and included a who's-who in the DSD hardware and software world including folks from Exasound, Mytek, JRiver, Channel D, Channel Classics, Analog Productions and more. They discussed where things are in high-resolution DSD music from a production, distribution and availability stand point. The picture is much brighter than it was two years ago when I attended a similar seminar at RMAF.
Though there was much going on in digital music at RMAF there was also much to see and hear in other aspects of audio. For example, Zesto Audio introduced a spectacular new tube power amplifier that is just as beautiful in sight and in sound as the other components in their line. The Bia 120 Class A Stereo Tube Amp ($12,500) is a huge beast with two KT-88 or KT-120 tubes per channel. It sounded fast, clean and melodious through TAD Evolution One speakers and Wywires cables.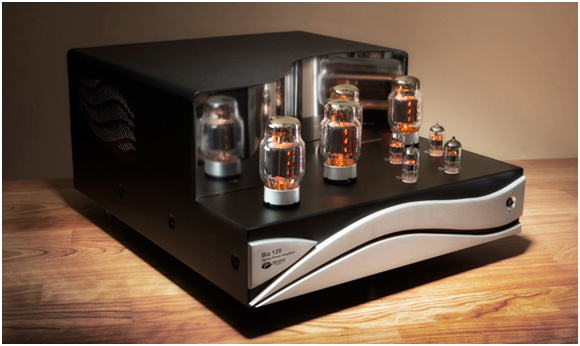 Other new amplifiers I came across were from Wyred4 Sound and Benchmark. Wyred4 Sound showed me their two new class-D amplifiers, models ST 500 mkII and 1000 mkII. They are tentatively priced at $1499 and $1999 respectively and produce 250 and 450 Watts. Wyred4Sound is best known for their digital products and their latest DAC is the DAC-2 DSDse providing DSD capability for $2499.
Benchmark was showing an amplifier said to have a radical new architecture. The design was brought to them by THx of home theater fame. The model AHB2 is rated at 100 W/channel into 8 ohms with an astounding 130 dB of dynamic range. Total harmonic distortion is measured at 0.0004%, which is about as low a number as I've ever seen. The amplifier is still in prototype form and is named after Benchmark founder Allen H. Burdick who passed away in September.
There were several new speakers unveiled at RMAF as well. One that impressed me was the Manger MSMS1 Active Loudspeaker that I mentioned earlier. Another active speaker I liked was the Grimm Audio LS1s 3-way from The Netherlands. Grimm is best known for its precision clocks used in professional audio recording. The LS1s includes one of these precision clocks plus digital processors, digital converters and Ncore amplifiers for $39,900. It had a particularly coherent sound with exceptional clarity.
Other sights and sounds? I really liked the Emerald Physics CS2.3 MkII in the Wyred4Sound room and their CS3 Mk2 speakers powered by Emerald Physics electronics in their own room down the hall. I currently have the Emerald Physics CS2P panel speakers breaking in at my home for an upcoming review.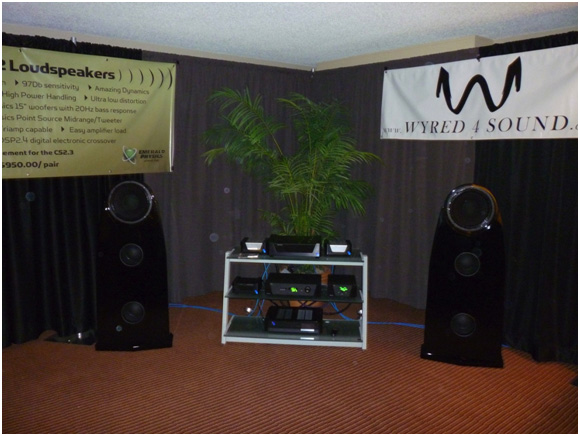 Robert Lee of Acoustic Zen invited me in for a private listening session of his Crescendo speakers. Dave Clark recently wrote a review of these for PF and I have heard them before, but they have never sounded as good as they did on this Saturday morning driven by Triode tube electronics and Acoustic Zen interconnects. Great job.
I always enjoy showrooms with Nola Loudspeakers because frankly these speakers are some of the best out there. This year Carl Marchisotto was demoing his Metro Grand Reference Gold speakers that provide tremendous pace and musicality. It was hard to stay seated while Santana was playing at a pretty high volume.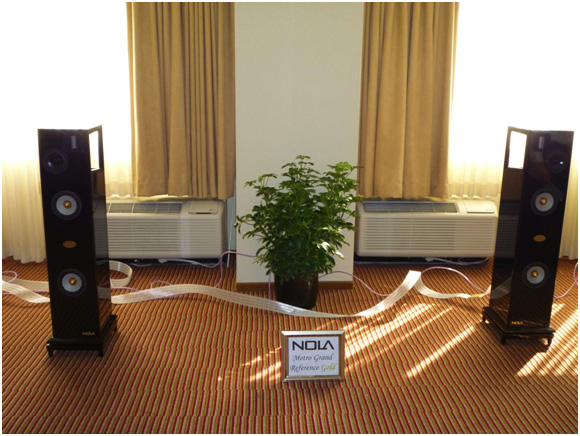 Another highlight for me was the Dynamic Design room that featured the Marten Getz speakers and Modwright electronics with Dynamic Design cables all around. Clean, dynamic, fast and coherent was how I would describe the sound. Bill Artope is another audiophile who knows how to put a good room together and he favors great jazz music as well. Other favorites included Jeff Joseph's Pearl 3 speakers powered by Jeff Rowland electronics, and the Coincident Technology room where I heard their Super Victory II Loudspeakers ($9999) being driven by a really cute 8W EL34 integrated power amp that owner Israel Bloom put together especially for RMAF. The Dynamo 34SE Stereo Integrated Amp costs just $999.
Finally, I can't conclude this report without mentioning the outstanding live entertainment available during the show. I particularly enjoyed meeting Doug MacLeod whose several performances at RMAF were sponsored by Reference Recordings. On Saturday evening there was a great piano recital by Fan-Ya Lin who was brought to Denver by Ray Kimber of Kimber Kable. A couple of her teachers at Weber State University, Dr. Shi-Hwa Wang (violin) and Dr. Yu-Jane Yang (piano) also provided some impromptu performances during the weekend drawn from their recording on Kimber's IsoMike label. Finally, on Sunday as the show was winding down there was the most entertaining R&B performance in the Atrium by New Orleans singer Lillian Boutte. A perfect way to end a wonderful weekend.