ROBERT H. LEVI'S SYSTEM
LOUDSPEAKERS
Marten Bird Loudspeakers, Marten Duke 2 Loudspeakers, and REL Stadium III subwoofer
ELECTRONICS
E.A.R. 324 phono preamplifier, [2] E.A.R. 890 amplifiers (run as monos), E.A.R. 534 Stereo Amplifier, E.A.R. 912 Professional Preamplifier, E.A.R. 834L Tube Line Stage, E.A.R. HP4 Headphone Amplifier, Grado Battery Headphone Amplifier, and KingRex Headphone Amplifier.
SOURCES
Analog: E.A.R. Disk Master Turntable with two Helius Omega Tonearms. Digital: E.A.R. Acute III CD player, E.A.R. Acute 1 CD Player, ModWright Sony 9100ES SACD/CD/DVD Player with Signature Truth Modifications, Mod/Bybee Filters and Revelation Cryo Silver Umbilical. ModWright Sony 999ES CD/SACD/DVD Player with signature Truth Mod and Tube Power Supply, and Alesis Masterlink 24/96 Recorder/Playback Deck. Cartridges: Koetsu Rosewood Signature Phono Cartridge, London Reference Phono Cartridge, and Grado Statement1 Phono Cartridge. LD: Pioneer DVL 919 CD/LD/DVD Player. Tuners: Magnum Dynalab MD-108 Reference Tuner, Marantz 10B FM Tuner, Day Sequerra Reference FM1 Tuner, McIntosh MR71 FM Tuner, Dynaco AF6 FM Tuner, and Marantz ST17 FM Tuner. Headphones: Stax 7t Electrostatic headphones, Grado RS1 headphones, Grado PS 1000 and PS 500 Headphones, Ultrasone Edition 8 Headphones,and Koss ESP950 Electrostatic Headphones.
CABLES
Kubala-Sosna Elation Interconnects, Speaker Cables, and Power Cords. Kubala-Sosna Emotion and Expression Interconnects and power cords, Jorma Design Origo Interconnects and Speaker Cables. Harmonic Technology Magic 2 Interconnects, Magic 1and2 Power Cords, Fantasy Power Cords, Kimber D-60 Digital Interconnects, Kimber Select 3038 Silver and Silver/Copper Interconnects, CRL Silver Interconnects and Custom WyWires Interconnects.
ACCESSORIES
Monster Reference 350 Mark II v2 Power Conditioner, World Power Wing Revised Power Conditioner, Tice Power Block, Tice Clock, and Audio Prism Quiet Line IIs. Anniversary Edition Cable Cooker 2.5, Winds Stylus Pressure Gage, Bedini Ultra Clarifier, VPI Record Cleaning Machine 16.5. Audio Magic's Quantum Physics Noise Disrupters, Marigo Mystery Feet, Townshend Seismic Sinks, Furutech Demag, RSC Sound Panels and 16 inch Bass Trap, and Shunyata Cable Lifters.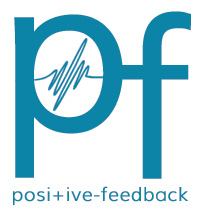 You are reading the older HTML site
Positive Feedback ISSUE 69
september/october 2013
wywires
Platinum Interconnects and Silver Phono Cables
as reviewed by Robert H. Levi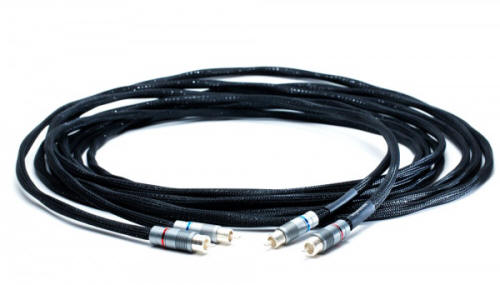 After watching WyWires develop and perfect their wire style since 2003, it is no wonder that their latest top-of-the-line generation of handmade interconnects is a triumph in technology and musicality. Gone is any vestige of non-linearity or smear. Missing is any lack of detail or focus. Imaging is now so solid it seems welded in place. Depth, width, and height are astounding and truly magical. Though they are called Platinum and Silver, they cost well under $2000 and are, without a doubt, the finest interconnects I have ever auditioned below that price level. If WyWires was a major league slugger, I would say he just hit a Grand Slam Home Run right out of the cable ball yard!
With the Platinum wire in house in both RCA and XLR, and the Silver phono in RCA, I began by further breaking in all three wires in FM Tuner circuits for a week as requested by the manufacturer. The cables had already seen 100 hours on a cable cooker, so they must need some real R&R to really sing. The Platinum wires are made of pure copper litz and are not shielded. They are terminated in silver Xhadow Connectors, which grab like crazy. The Silver Phono cables are also pure litz, but are well shielded and super quiet for low-level application. That is all I really know, other than how they perform.
I compared the WyWires to my reference wires: Kubala-Sosna Elation, Jorma Origo, and Kimber 1036. My observations are direct comparisons to these much more expensive interconnects.
The Platinum Interconnect
From the first note, the Platinum performed way beyond its weight class. The high band was open, smooth, and sophisticated. I detected no edge or undue crispness. I particularly loved the violin played with great gusto by Heifetz on the RCA SACD Hybrid 82876, loaded with sweet sparkle and delicacy that tickled your ears like ear candy with the Platinums. It truly sounded like a $5 mil violin. Tons of air and special cues were present on the SACD layer on the Modwright Sony player. You were aware of gorgeous snap and drive as well. All was very realistic and lacked extremely little.
The vocals of Margareta Bengston, Spice of Life, SOL 0001, were terrific and mellifluous. Her voice floats and soars with great beauty and elegance. The mid band of the Platinum is layered just as it should be and beautifully matched in power and authority to the high and lows. I loved the sense of reality. The flash of horns offered that burnished, yet bright, sound any audiophile looks for. Dynamics, both micro and macro, were right as rain. The studio or hall sounds were well stated and not compressed or obscured. Listening was a real education for me, as I did not expect this kind of performance at this price point.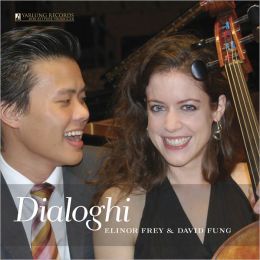 In Dialoghi from Yarlung Records, 78876, the bottom notes of the cello were open, smooth, and alive with growl. The cello cabinet resounded with power and beauty. There were lots of air and hall sounds excited by the cello and piano. The bass range was superb with every disk, and well integrated. Listening was never fatiguing or boring. The Platinum is super quiet, as well.
Just received Ciaramella Dances from Yarlung Records, their newest release, 96819, a real stunner of Renaissance music and dance. This CD is as good as this medium gets, and a jewel through the Platinums. Alive with definition, the "you are there" sound pops into the room right before your ears. Best imaging, pacing, and sense of verisimilitude I have ever heard from a CD, ever! Buy the CD and the Platinums to play it with! Buy a dozen CDs and give them as Christmas gifts! Bravo Yarlung!
Quibbles? At $5000 per meter, I might be able to come up with a few comments.
If you are shopping around $1400, you will not find anything to touch it, nada.
The Silver Phono Interconnect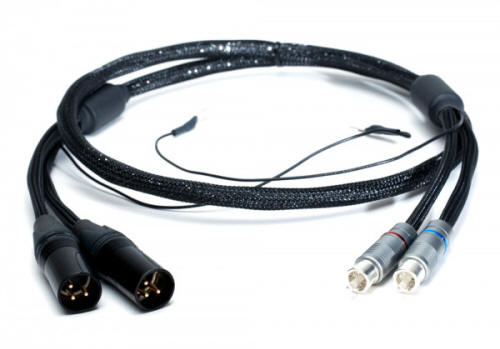 Also made of copper litz and well shielded, it is supremely quiet. I love the Xhadow RCA connectors which snap mightily into place and feel super secure and well grounded. The Silver comes with an attached ground wire terminated in spades, should you require it. I compared it to my references: Jorma Number 1, Jorma Origo, and Kubala-Sosna Emotion.
My comments regarding the Platinum are on target with the Silver used as a phono cable. It appears to have vanishingly low capacitance and to be very stealthy in the circuit. Dynamics exploded with this wire, and definition was extraordinary. It lacked a small bit of definition when compared to the Jorma Origo (at 4 times the price), when used with the London Reference moving magnet cartridge, but it was hard to really tell. They were closer than not, and the Silver did have brighter tonal colors which I mightily enjoyed. I am not sure if there is a right or wrong here. The Silver is outstanding phono wire no matter how you look at it or listen to it. The Silver is the best WyWires phono cable to date, and a terrific reference. It will join my phono arsenal of "the best of the best."
Summary
The new WyWires Platinum Interconnect and Silver Phono Cable are magnificent super high value offerings, from a company based right here in America manufacturing in Southern California. Practice makes perfect, and guess what? WyWires has hit the bullís eye with these wires. They are reference grade, even for the jaded audiophile. I love them, and love the fact that you won't need a home loan to buy them. These wires are the product of an engineer who loves music, and has superior audio taste that shows in his work.
My top recommendation for WyWires Platinum Interconnect and Silver Phono Cable. Best interconnects under $2000 per meter I know of, period. Extraordinary. Robert H. Levi
One 2.0M Single ended Platinum Series
MSRP $1499
One 2.0M Balanced Platinum Series
MSRP $1599
One 1.2M Silver Series Phono
MSRP $1199
WyWires
www.wywires.com