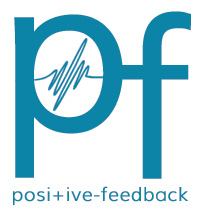 You are reading the older HTML site
Positive Feedback ISSUE 70
november/december 2013
The 10th Annual Positive Feedback Writers' Choice Awards for 2013 - The Best of the Best!
Beginning at the end of 2003, PF established its first annual awards for fine audio. The Brutus Award was established for the best that Dave Clark and I had heard in our own listening rooms during that year. You can think of it as our equivalent of an "Editors' Choice" award.
The Gizmo Award, on the other hand, was established in memory of my very good audio friend, Harvey "Gizmo" Rosenberg, and is given by me to the most conspicuous audiomaniac(s) of the year. Only one Gizmo is given per year.
The following is an opportunity for our editors and writers to recognize superior merit in the audio arts though their "Writers' Choice Awards". Our writers and reviewers have been given broad leeway to cite excellence in fine audio wherever they find it: products, people, recordings, events, groups, etc., so that our readers can be better informed.
It is our hope that you will find the PF Writers' Choice Awards to be helpful to you in your audio journey.
All the best,
David W. Robinson, Editor-in-Chief
---
Andre Marc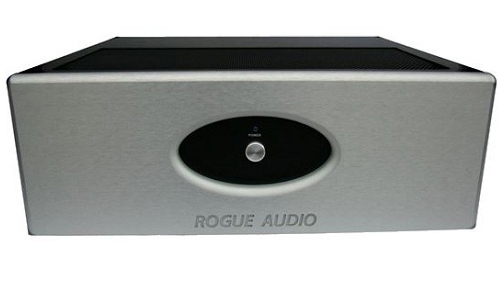 Rogue Stereo 100 - $2995 (introductory)
The Rogue Stereo 100 amplifier defies the price to performance ratio. It offers up 100 watts per channel of pure tube magic with KT120 tubes. The build is beyond reproach, and with XLR and RCA inputs, and 4 Ohm and 8 Ohm speaker taps, everything is covered. The fact that this superb sounding amp can be had for an introductory price of $2995 is a minor miracle. Product of the Year for me.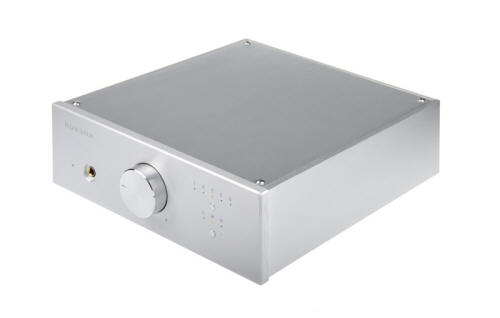 Burson Conductor DAC/Preamp/Headphone Amp ( $1850) and the Timekeeper Mono Block Amplifiers ($2600 each)
The Burson Conductor DAC/Preamp/Headphone amp and Timekeeper mono block amplifiers offered robust and musically engaging sound. The "Burson Approach" is purist in every way. High quality parts and build, versatility, great looks, and high value. No op amps, no remote, and a highly engineered volume control. The Burson combo was one of the more enjoyable set of products to come through the listening room in some time. Highly recommended.
KEF LS50 loudspeaker - $1500
Note, I did not review it for PF, but others have. I feel it deserves a PF award for 2013.
The KEF LS50 was the surprise of the year, wowing reviewers and consumers alike at audio shows, dealers, and turning the value paradigm on it's head. Being a fan of coaxial drivers, the LS50 delivered on the promise of coherence, midrange purity, and silky smooth treble. Set up in a smaller room, near-field, they are nearly flawless, aside from limited bass weight. Great looks, great sound, great deal.
---
John Zurek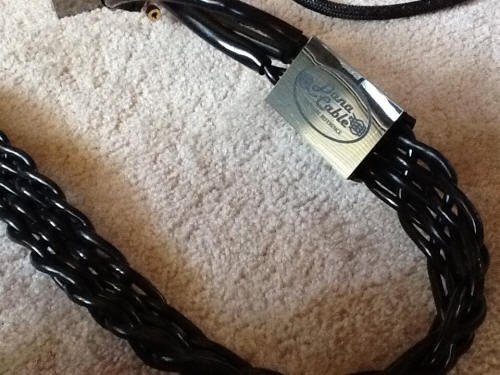 DanaCable Sapphire Reference Speaker Cables $3950
The DanaCable Sapphire Reference Speaker Cables are the finest audio product I've have the pleasure to review this year. I was smitten with them immediately, and if truth be told, the more I listen the more I like. The Sapphire References redefined the term neutrality. They are completely uncolored, but at the same time rich and expressive. My system simply gives me more pleasure than ever before when the DanaCable Sapphire References are in the circuit. The ease, flow and impact truly made all the speakers I used with them sing. I believe they will compete very favorably with the best speaker cables out there.
Lots of copper makes the Sapphire Reference heavy, while the distinct weave pattern helps to mitigate problems with unintentional resistance, parasitic capacitance, and inductance. The ultra-low resistance of the DanaCables keeps the damping factor where it needs to be, giving your system the life it deserves. This is one of the very few products I've reviewed that I could not bear to part with.
---
Larry Cox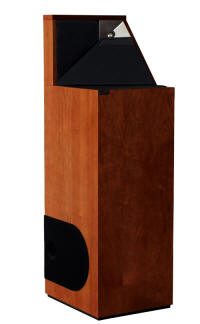 Larsen Model 8 Speakers - $6995
A musical speaker that invites listeners to lean in to their music and come to rest on a subtle, welcome surprise. On the forgiving rather than ruthlessly revealing side of town it's also relatively easy to drive. Its transparency will let you know the qualities of your ancillaries without you feeling penalized; choose well and smile, don't and you're missing out while still enjoying a good experience. The Model 8 is very family friendly to place in your house - plop it right up against your front wall and sit down to a slightly rich timbre that neither thins out as the volume rises nor as you move around your listening room. And, you're welcome to sit in many seats in your listening room, not just stapled to your magic seat. Larsen speakers image differently than many an audiophile speaker, but that's fine, they image more like live music than the hyper resolution that million dollar speakers persuade you exists in life - unsure which is right?, go hear live music with your eyes closed and then compare the experiences. The Larsen should win out. Excellent rendition of timbre throughout the listening room and at all rational volume levels. Place it up against the front wall and enjoy.
---
Michael Wechsberg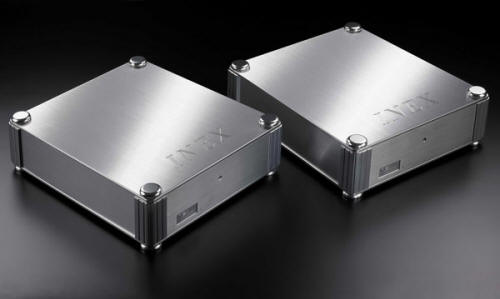 Inex Innovation A200 Linestage ($12,500) and A100 Amplifiers ($14,000/pair includes 5m photonic cable)
Fiber optics technology has been around forever (well, since the 1960's) and started out as an analog transmission technology. By using photonic devices in audio circuits it is possible to solve many issues with copper wire that interfere with fidelity. Only one company I know of has had the technical capability and the courage to take on the job of turning analog electrons into photons and leveraging the considerable advantages of photonics. That company is Inex Innovation, and I had the privilege this year of reviewing their A200 Linestage and A100 Monoblocks, which includes some of their outstanding fiber optic interconnects as well. The sound of this equipment is awesome, and probably as good as any solid-state gear out there. Clarity, power, rhythmic drive, wonderful tonality, solid imaging, just about all you could ask for. This company got a bad rap a few years ago when they first came out with fiber optic audio cables. At that time the judgement was they sounded great but measured lousy. Well, it turns out the user has to do things a bit differently in order to get the best out of this gear compared to conventional audio electronics. But, if you take the trouble to learn the right way (read the review) the results are worth it. Plus the technology itself has gotten better since the first iteration came to market. I encourage you seek out the Inex Innovation gear and give it a listen. I'm sure you will be impressed.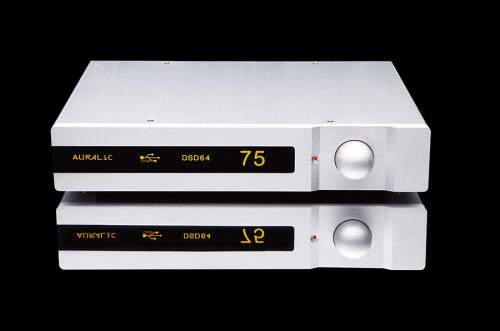 Auralic Vega DAC - $3499
This year I made a bold foray into the world of computer audio and was rewarded with some of the best sound I have ever heard in my home. Most responsible for this is the Auralic Vega DAC, especially when playing well-mastered DSD files. The Auralic is at the cutting edge of digital audio technology, especially with regard to their outstanding femto clock. This clock has the lowest jitter of anything out there under $10,000. Together with other brilliant design features in a beautifully put together piece of audio jewelry the Auralic produces outstanding sound from all PCM formats and DSD as well as double DSD. It's a little tricky getting the best out of the clock, but once it's working you will just die from the beautiful sound it produces. The tonality is dead accurate, wonderful imaging, solid bass and clean and transparent highs characterize the sound from the Vega. The same as I would expect from the master tape. Should be great with all those new DSD downloads becoming available. You have to listen to this DAC before buying any other.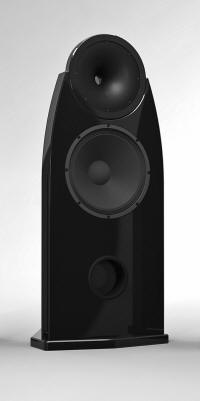 Emerald Physics CS2P Speakers - Matte Black - $2990 (+$1000 for Tricoat gloss finish)
Do you lust for the sound of some of those great speakers you read about in Positive Feedback and other audio magazines but are afraid you will never be able to afford them. Think again. Emerald Physics has mastered the art of open baffle speaker design that eliminates the need for an expensive cabinet that often accounts for half the price of some speakers. Additionally, they sell direct to the consumer over the internet, eliminating the distributors markup. These affordable speakers would not be worthwhile unless they offered above average sound and boy, do they ever! They completely disappear in your listening room and provide a neutral sound flat down below 30 Hz and up above 15 kHz. The imaging is as solid, stable and true as anything I have heard and the dynamic performance is amazing. Transients are snap fast and they can play very, very loud (93 dB efficiency). I enjoyed all types of music on these very engaging speakers and feel they outperform many others costing twice as much or more. Digital signal processing is used to clean up some of the anomalies endemic to open baffle designs. This may bother some purists, but I bet they wouldn't notice if you didn't mention it to them. They would just revel in the wonderful sound produced by these splendid speakers. You must listen to these before taking the plunge into 5-figure speaker pricing.
---
Dean Seislove
A true Writer's Choice Award winner should be something you would recommend to a friend or family member to ensure that they won't be disappointed or hold you to blame later on down the road. Accordingly, all three of this year's selections exhibit trustworthy build quality, painstaking engineering design, and class leading sonic delights. These products are packed with features that can't be done justice by the thumbnail sketches that follow, so be sure to read the column links to get the full story. In no particular order, here are my choices for the best products I've reviewed in 2013...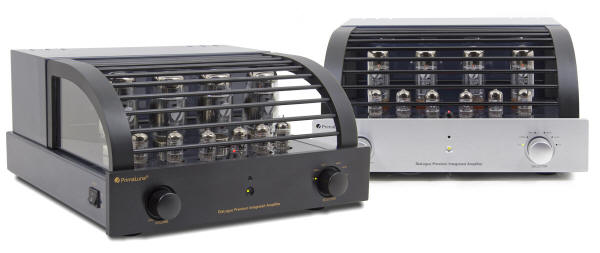 PrimaLuna Dialogue Premium - $3299
The first time I heard the Dialogue Premium, the first word out of my mouth was "Wow!" With some audio gear, that's not such a good thing, but in this instance, I was startled by the vivid, detailed, and lively sound emanating from my speakers. This integrated amplifier tells the tale about source and system without undue embellishment, and is capable of truly beautiful sound. The PrimaLuna is a star at its $3299 price point. And the fun doesn't end with great sound, because the Dialogue Premium is designed to accommodate a variety of various tube choices, even trendy KT120s, if you're so inclined. Too many technical innovations to be recounted here, but be assured the multiple built-in safeguards make tube swapping as easy as can be. Stylishly modern in appearance, too, so it should be welcome in even the smartest of living spaces.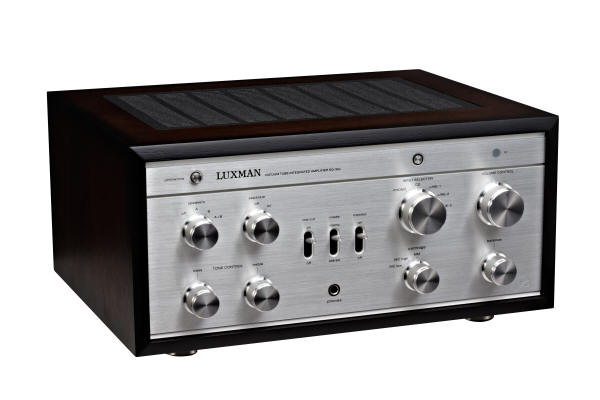 Luxman SQ-30u Integrated Amplifier - $3990
Honored in these pages in its previous iteration as the SQ-38u, this newer, two-thousand dollars cheaper SQ-30u version deserves its own accolades. Unlike the PrimaLuna integrated, this Luxman model does not welcome user meddling under the hood, which is fine, because the SQ-30u is sumptuously lovely right off the shelf. Graceful, full-bodied sound is what makes the Luxman integrated stand apart from its competitors, and the addition of a legitimate headphone and phono amp far exceeds the expectations of its $3990 asking price. Mono switch and low filter switch, too! Comfortably solid in its wood trim and retro fascia, the Luxman SQ-30u has a look and sound designed to provide enjoyment for many years to come. Paired with the Luxman PD-171 turntable (worthy of a Writer's Choice Award in its own right, but I chose the SQ-30u as a better fit for this column), this system rewarded me with as fine a sound as I've heard in my home.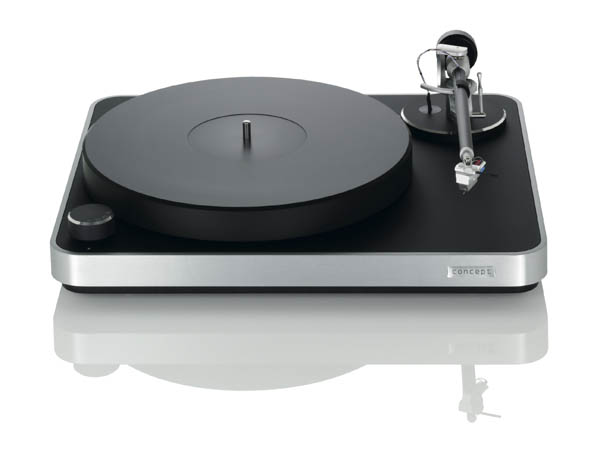 Clearaudio Concept Turntable - $1599 with factory installed moving magnet cartridge
Now that you can buy new vinyl from bands so current, only a hairdresser knows them for sure, it's a good thing that there are a number of solid turntable choices for the neoteric listener looking to make a move. Nicely detailed, responsive, and dynamic sound makes this a great choice for pulling out your beloved Duane Eddy, Paul McCartney and Ry Cooder "Rockestra Theme" 45 rpm (ah, vinyl, it's a strange, idiosyncratic world!), or whatever peppy pop rocks your world. Actually, the exceptional tonal balance makes the Clearaudio Concept a good match for a wide variety of musical genres, and the ingenious design makes set up and play a matter of less than twenty minute's effort. How many turntables can say that? Although inexpensive by audiophile standards at $1600 (with factory installed moving magnet cartridge), there's nothing remotely cheap about the feel and materials used for this turntable. It sounds great, it's easy to use, and it's built to last for the long haul. A turntable for the people....
---
Warren Chi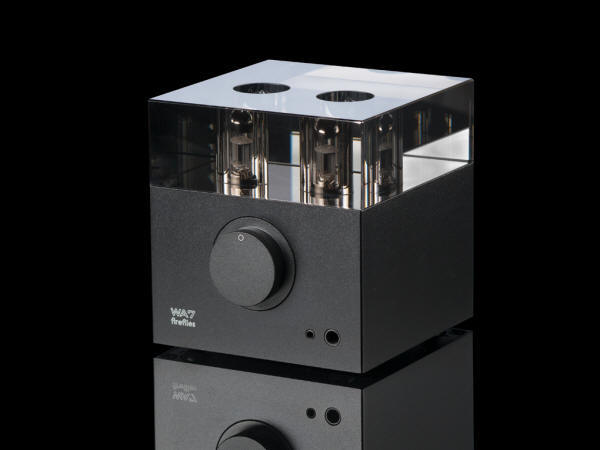 Woo Audio WA7 Fireflies USB DAC & Headphone Amplifier - $999 ($1099 as auditioned)
I would be happy to write this up for public consumption, but here are a few of the things I would include in such a write-up: Yes, the WA7 Fireflies is a gorgeous piece. But ignoring that for a moment, let's take a look at its versatility. It is a standalone 32/192 USB DAC. It's also a pure Class-A tube amp with suprising linearity. It drives everything from high-sensitivity in-ear monitors to high-impedance full-sized headphones - all with a pitch black background. It is easily affordable, and upgradable through the use of tubes and a [soon-to-be-announced] 12AU7 rectifying power supply.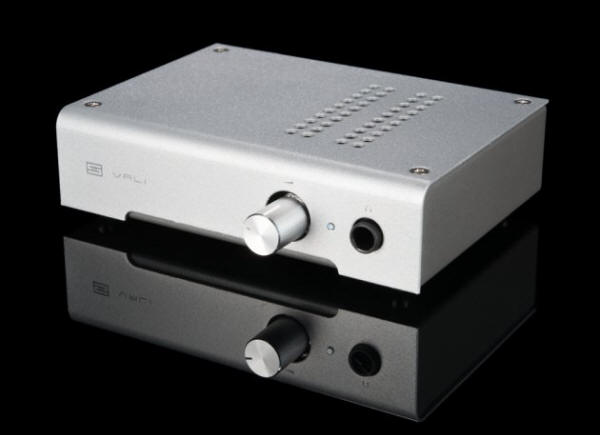 Schiit Audio Vali Tube (Triode) Hybrid Headphone Amplifier - $119 (shipped)
I would be happy to write this up for public consumption, but here are my impressions in Audio360's CanJam show report; it should summarize how I feel about the unit: "Auditioning through the supplied LCD-2, I found the Vali to be very nicely-weighted, with surprisingly good bass control typically found in tube amps far in excess of the Vali's asking price. As such, I also found the lower mids to be exceptionally clean and tight, and free of any loose or syrupy bass bleed. The rest of the mids were smooth and lush especially with female vocals, which I had expected. However, the Vali did not seem to veil or smear any midrange detail - which I did not expect. The highs, far from being offensively rolled-off, had a easy-going sparkle about them. Overall, the Vali gels extremely well across the entire frequency range, with excellent staging that was never once stifling. Obviously, Schiit has yet another winner on their hands with the Vali. And I say this based purely upon its performance - and not its absurdly low price point (though that doesn't hurt). Unless you hate tube amps, the Vali is a clear case of 'shut up and take my money!'"
LH Labs Geek Out Headphone Awesomefier - $199~$299 ($299 as auditioned)
As a headphone enthusiast, I've come across my share of miniature USB DAC/Amp units over the past few years. And while many are passable (Audioquest Dragonfly), and some are superior (HRT Microstreamer, CEntrance DACport), none of them have resonated that deeply with me.
For the most part, their DAC stages aren't worlds better than a quality laptop's sound implementation. And while they do offer more robust amplification, they still don't hold a candle to dedicated desktop amplifiers. So when the Geek Out's crowdsourcing initiative was launched, I remained rather apathetic and blasé about it.
Then I heard it.
OMGWTFBBQ!!11!oneone! How was it possible that this little thing could sound so good? While putting out 1-watt into an LCD-3? It was detailed, natural, balanced and unbelievably clean. And it was not thin or strident at all. The overall presentation was refined with nearly effortless power output.
"Everything was way larger than I expected, and my expectations were not low. I'm waiting for one like an audio junkie." - Michael Mercer
---
Andy Schaub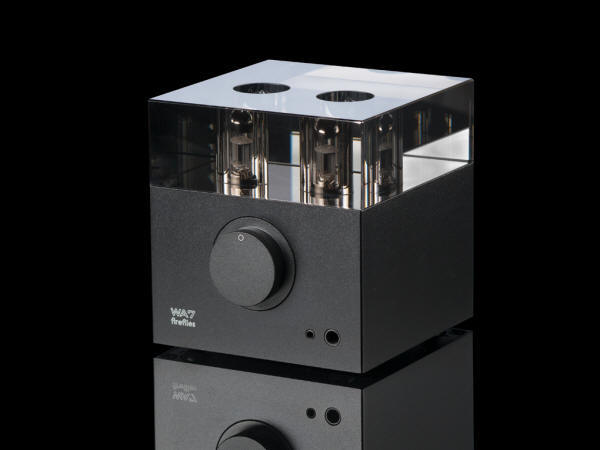 Woo Audio WA7 Fireflies Headphone Amp and High-Resolution USB-based DAC - $999
The WA7 Fireflies is simply the best combination high-resolution USB-based DAC and all tube analog headphone amplifier that I have heard. It's also very flexible in that in can be used as a standalone DAC or standalone headphone amplifier if so desired. I liked it so much that I actually bought one and use it at work with a pair of Beyerdynamic T5p's, a Locus Design Polestar USB cable, and a 17" MacBook Pro with a 256GB solid state drive in it. I really couldn't be happier with the sound.

Magnum Dynalab MD 807T Internet Tuner and High-Resolution DAC - $4500
The MD 807T is truly an amazing device. Even setting aside it's flexibility (high-resolution tube analog DAC, USB thumb drive player, high-quality terrestrial FM tuner, etc.), just the fact that it can take highly-compressed data streams from radio stations all over the world and play them at near (or equal to) CD-quality sound is stunning. I liked it so much that I bought one and often listen to BBC Radio 3 to relax me before I go to sleep at night. The sound quality is not "digital" at all, and of course the background noise is non-existant. It's just warm and relaxed because of those triodes in the output stage. Sure, you can access any of these radio streams in your computer's browser and then run run through a high-resolution DAC, but—trust me—it's not going to sound like the MD 807T. I know because I've tried! The MD807 is a real gem and a truly unique product.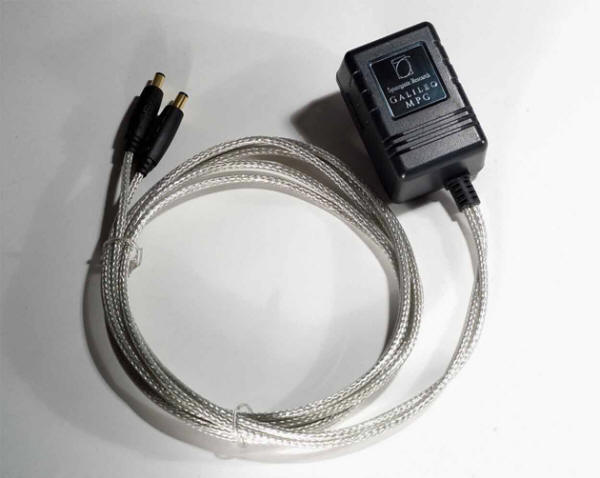 Synergistic Research Galileo MPC custom-built walwart for Synergistic Research Active Cables - $400
Although I should probably give the Synergistic Research USB Active SE cable an award of its own, I am limited to three awards and, despite the fact that the Galileo MPC is confined to anyone owning one or more Synergistic Research active cables, it makes such a huge for such a low price, I feel like it deserves the award this time around. When I bought my Synergistic Research USB Active SE cable, I was very happy with it but a friend wondered if there was anything better than the stock walwart that comes with it. It turns out that there are a couple of better options, but since I only own one Synergistic Research active cable, the Galileo MPC was the right choice for me. It really opens up the cable (and, yes, we're talking about a USB cable), giving me better imaging, soundstaging, and a much quieter background. It's like I've doubled for the performance of the cable for a fraction of the cost of doubling the cable's price. I was so pleased that I kept the review sample.
---
Robert Neill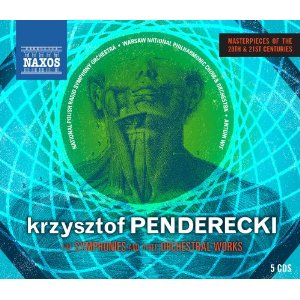 Krzysztof Penderecki, The Symphonies and Other Orchestral Works. National Polish Symphony Orchestra, Antony Witt conductor. Naxos 8.505231. (5 CDs)
Antony Witt's Penderecki symphony cycle for Naxos is part of a comprehensive Penderecki project that has already generated over twenty releases. This is a one-box reissue of Symphonies 1, 2, 3, 4, 5, 7, and 8, along with several other works of orchestral music. As a package, it provides a rich and varied introduction to a modern composer some of us are just beginning to comprehend and admire. Great music, great music-making.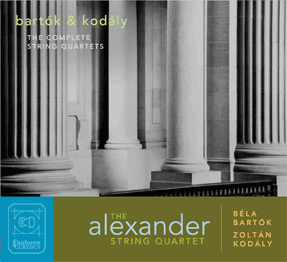 Bartók & Kodály. The Complete String Quartets, The Alexander String Quartet. FoghornClassics. CD 2009. (3 CD's)
Quietly, deliberately, and without fanfare, the Alexander String Quartet has been moving through the major string quartet repertoire, leaving extraordinary statements as they go. I have written about their Beethoven and Shostakovich, developing increasing respect for both over time. The Alexanders bring (bring out?) new weight and power to bear on this major modernist music. I have heard these quartets played with less force and less pace—and with more suavity—by the beloved Vegh Quartet, for example. But that is not the Alexanders' way. They hear Bartók's string quartets as modernist monuments and their interpretation aims to make that case. Which it surely does.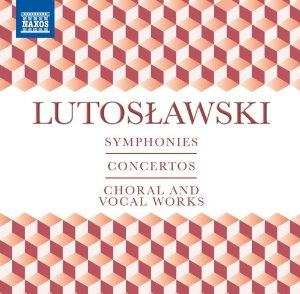 Lutoslawski. Symphonies, Concertos, Choral and Vocal Works. 10 cds. Polish National Radio Symphony Orchestra, Antoni Wit. Naxos 8.501066.
Listening to this generous treasure trove of music by Polish modernist composer Witold Lutoslawski (1913-1994) affords a marvelous opportunity to hear twentieth century music evolve in the hands of one of its most brilliant composers. Lutoslawski is the major voice of first generation Polish modernism, years ahead of his great successor, Penderecki. Naxos is both wise and fortunate to have allied themselves with Wit and the Polish National, the organization who have also recorded much of Penderecki's music for the label. Naxos' presentation of these two major modernist composers is a huge cultural gift to the world.
---
Robert H. Levi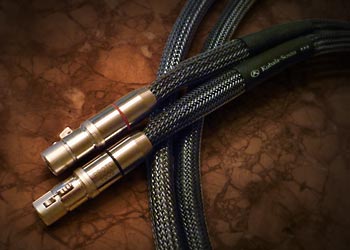 Kubala-Sosna Elation Interconnects and Speaker Cables
With high-end wires now approaching the $25,000! per meter mark and most audio aficionado's realizing to their chagrin that connectivity is the Achilles heel of fine audio, it is with extreme pleasure that I give the Reviewer's Choice Award to Kubala-Sosna for their creation: Elation! At $6000 for the first meter for either the interconnect or speaker cable, it resides in the bargain bin of the cost no object class of cables. As for its overall sonic prowess, it resides in the top pantheon of greatness and perfection eclipsing every cable I have heard to date for musical truth and nothing but the truth! It is built to be as flat the world before 1492 in all musical frequency bands, to pass perfect square waves, to be immune from vibration, EMI, RFI, and internal electrical echo/reflections, is well shielded, immune from floor born EMI and not needing lifters, and comes with extremely elegant and sturdy connectors both RCA/XLR. These are just the developmental parameters I am aware of. Elation sounds like nothing at all. Every time I think I can identify a slight coloration, it ends up being a tube or component upstream. I have five years of use with Elation and it continues to trump my other superb references in my main system for consistent neutrality. It even works magnificently as a tone arm cable with its superb quiet and its ability to pass minute signals unedited. Elation works its very best in a system where all wires connecting the components are Elation as are the power cords which are cut from the same invisible sonic cloth. In my humble opinion based on 50 years of experimentation with the very best, Kubala-Sosna Elation is THE STATE OF THE ART in connectivity in 2013.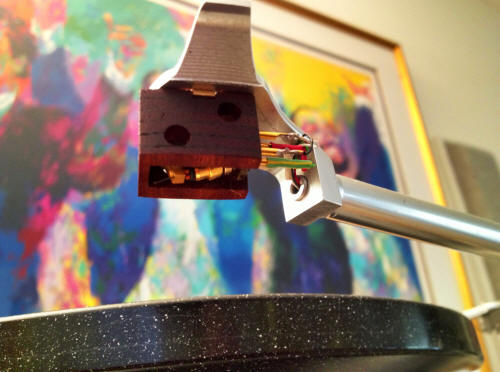 Stein Music Aventurin 6 Phono Cartridge
My biggest beef with this cartridge is that I cannot find anything to criticize. I have tried to imagine a fault or two, but none have appeared to my ears. Based on the Benz LPS motor, but highly modified and rebuilt top to bottom, it sounds nothing at all like the Swiss Miss. It performs like 25% London Reference for dynamics, 25% Dynavector XV1S for perfect tracking at 1.9 grams in every tone arm I know of you might own, and 50% like the magic only Stein Music can imbue in its cartridge to communicate the musical reality of near life itself. At $6500, it is priced near the bottom of the many expensive cartridge choices. It performs at the top, maybe the very top. I use it in a Helius Omega Tone Arm with grand results. Setup is easy, alignment is a snap, it performs at its best a hair below level, its MC output should be fine with any step up transformer or head amp around, and it is cool looking, too. In the best arms on the best tables, it creates the unvarnished truth from LP after LP with wondrous meat on the bones and organic reproduction I have never previously heard from phono. I love it and it has become my top reference. The Aventurin 6 brings each LP to life like it should be heard. It also subtly reduces surface noise while not affecting definition in any way. Nice! The Aventurin 6 clearly shows off the benefits of a good record washing machine and a top LP demagnetizer like the effective and recommended Stein Music DE3. Like I said, I cannot find even a tiny flaw to report. Congratulations to Holger Stein and Stein Music for receiving the Reviewer's Choice Award for the Aventurin 6. Amazing.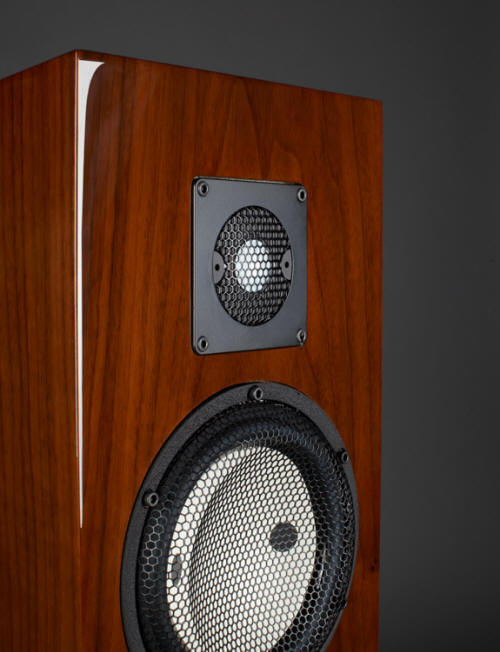 Marten Duke 2 Loudspeakers
I reviewed the original Marten Duke Speakers and bought the review pair. They were the best two way monitors I had heard to date for near field listening and a good deal at $8500. I was unconvinced that I needed to try the new Duke 2s which were also priced at $8500. Unconvinced, that is, until I saw a picture of the new 2s and realized that the ultra new 7 inch Accuton ceramic midrange with the "eyeballs" in the corners was now the new mid/woofer driver being utilized in the new Duke 2 speaker. This driver is the same unit Marten uses in the $95,000 Coltrane 2 and $150,000 Momento Speakers as a midrange unit. It is the mainstay midrange driver in the Birds, my reference speaker. I moved heaven and earth to get these new Duke 2s for review and then bought the review pair. With new and improved supporting circuitry, single wire replacing bi-wire, and an improved 4th generation Accuton ceramic tweeter, the new Duke 2 yielded 25-30% more overall definition, deeper bass, more depth, livelier reproduction and dynamic range, and a truthfulness unmatched in this price range for monitor speakers. If there is a two way monitor under $20K that is more musical and dynamic than these beauties, I have not heard them! With 30-50 watts per channel, tube or solid state, you are there folks! I have run them with PrimaLuna to E.A.R., Pass to Nuforce, and the Duke 2s perform superbly. Imaging is excellent. No parameter you might identify as important to musical reproduction is lacking if your amp is up to snuff. Spend less on speakers, and you will surely get less performance. Spend more, and you might find yourself going backward instead of forward. This new Accuton midrange driver is that good. Marten is known for its high taste levels and it shows big time in its basic speaker offering. Put the Duke 2s with a Marten Form sub or another sub woofer and place it in a much larger room. Congratulations to Marten for receiving the Reviewer's Choice Award for the new Duke 2. The Duke 2 monitor two way speaker is as good as it gets in 2013!
---
Jeff Day
It is time once again for the Annual Positive Feedback Writers' Choice Awards, which means that it is time once again for yours truly to sift through my past year of reviews and identify three items among those worthy contenders for awards.
I very carefully vet each and every item I accept for review so that I can bring you some glimpses into the very best of what is being offered in high-performance audio today, and as my time for writing and reviewing is limited pretty much everything that I have written about for Positive Feedback in 2013 was something that I thought had the potential to be a 'winner' in its own right, so picking three Writers' Choice Awards out of a group of winners that all deserve special mention, is never an easy task.
Since the 9th Annual Positive Feedback Writers' Choice Awards were published in Issue 64, November/December 2012, I have written six reviews, which made up my list of nominees for 2013:
The ASR Emitter II Exclusive Version Blue Amplifier – Issue 66 (March-April, 2013).
The ASR Basis Exclusive Phono Equalizer – Issue 67 (May-June, 2013).
The Sablon Audio Corona Family of Power Cords: The Petit Corona, the Gran Corona, and the Quantum Gran Corona – Issue 68 (July-August, 2013).
The Acoustic Revive Chronicles, Chapter 10 – Issue 68 (July-August 2013).
New Valve Order SPA one Phono Equalizer – Issue 69 (September-October 2013).
The Duelund-WRSE Crossover Project – Issue 70, Part 1 & Part 2 (November-December, 2013).
2013's reviews consisted of three reviews of electronics (the ASR Emitter II Exclusive Version Blue amplifier, the ASR Basis Exclusive phono equalizer, and New Valve Order SPA one phono equalizer), one review of wire products (the Sablon Audio Corona Family of Power Cords), one review of audio accessories (The Acoustic Revive Chronicles, Chapter 10), and one loudspeaker review (The Duelund-Westminster Project). They are all ridiculously good products!
However, after careful consideration, and without further ado, my three Writers' Choice Awards for 2013 from this group of winners are: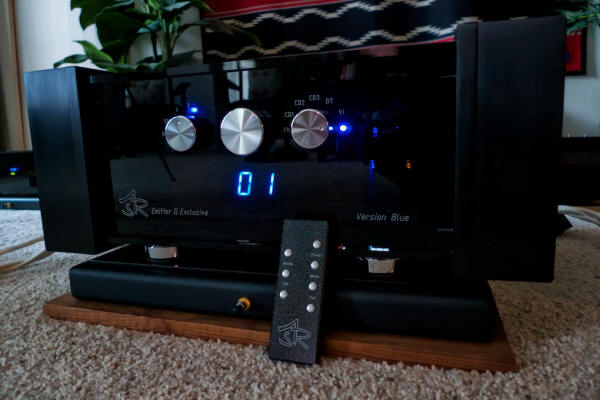 ASR Emitter II Exclusive Version Blue Amplifier ($31,220 USD)
The ASR Emitter II Exclusive Version Blue amplifier that is hand crafted in Germany by Friedrich Schaefer's ASR Audio Systeme is simply the finest amplifier I have ever encountered. Whether the ASR Emitter II Exclusive Version Blue amplifier was powering my Tannoy Westminster Royal SE loudspeakers, or the Tannoy Kingdom Royal loudspeakers that I had in for review during that time, it was hands down the most musically satisfying amplifier I've ever had the pleasure of listening to—period. As I mentioned in the review, in terms of sheer musicality the Emitter II Exclusive Version Blue bested both the vacuum tube and solid-state amplifiers I am familiar with, and if I could have afforded its rather formidable price tag, I would have purchased it in a second! If you can afford to purchase it I recommend you do so!
In North America please contact Mr. Zed Husain of Musical Sounds, LLC, for more information about ASR products, or to arrange for a purchase. For information worldwide about where to purchase the ASR Emitter II Version Blue, please contact Dr. Friedrich Schaefer.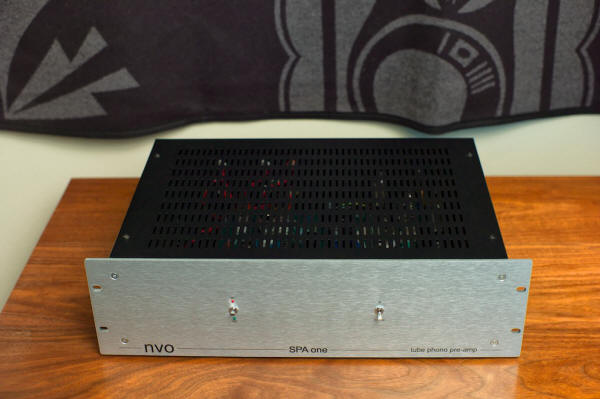 New Valve Order SPA One Phono Equalizer ($4250 USD)
Andreas Hadjiminas is an extremely talented fine audio constructeur working out of Nicosia, Cyprus, and is one of the brightest new lights in the firmament of vacuum tube circuit design. I enjoyed listening to music more Andreas' New Valve Order SPA one phono equalizer than any other phono equalizer I have heard to date. With the SPA one's 13 glowing vacuum tubes lighting my darkened listening room, every single record I listened to became a musically involving event! As I said in the review, in my experience very few components can create a emotional connection to the music at the level of the SPA one—and no other phono equalizer that I am aware of can match it musically—making it a very special device indeed. I haven't come across anything that can come close to its combination of sonics & musicality, and it plays music with a verve that'll light up your heart, thrill your senses, and keep you up late at night listening to music!
New Valve Order products are available through Steven Klein at Sounds of Silence in North America. To find out about availability in other parts of the world please consult the New Valve Order website or contact Panikos Kontemeniotis directly (who is the exporter of the New Valve Order electronics).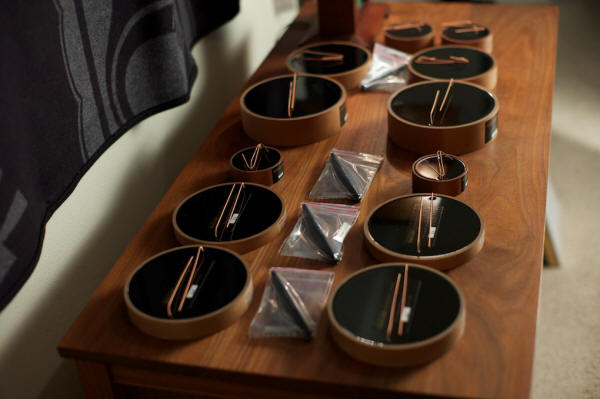 The Duelund-WRSE Crossover Project ($12,402 USD)
Frederik Carøe and Magnus F. Pedersen, the principals of Duelund Coherent Audio, are building the highest quality audio capacitors, inductors, and resistors possible without any consideration for cost constraints. Personally, I believe that Frederik & Magnus' Duelund Coherent Audio CAST product line of capacitors, inductors, and resistors are the finest being made in the world today for audio applications, and each one of them is an impressive work of audio artistry.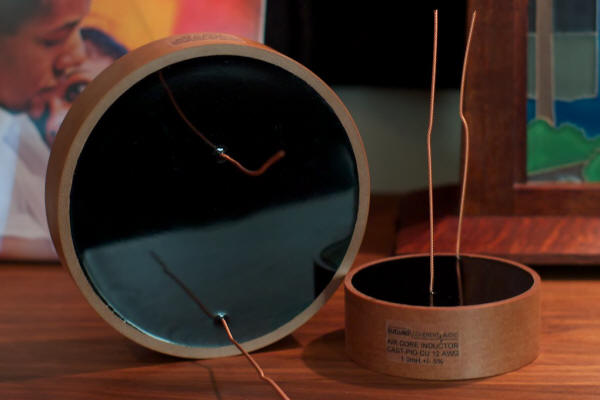 Every single CAST component is handcrafted in an extremely labor intensive many-week process using the finest quality materials to give the optimum reproduction of the recorded music signal. Whether you are building an external crossover for your personal loudspeakers, like I did with my Tannoy Westminster Royal SEs, or whether you are looking for the very best capacitors, inductors, and resistors being made today for the statement products of your loudspeaker company, the Duelund Coherent Audio CAST components are available in either copper or silver, depending on your needs and budget. Custom orders for unique applications are also possible, and you should consult Frederik & Magnus directly for details.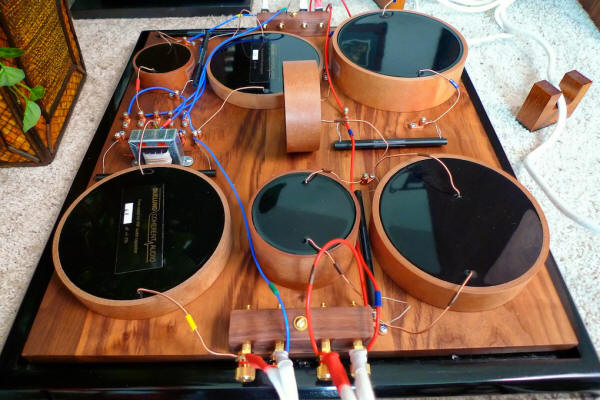 The Duelund Coherent Audio / Tannoy Westminster Royal Special Edition Project was the most exciting audio activity I have ever been involved with. Designing and building the pair of external crossovers for my Westminster Royal SE loudspeakers using the ultra-premium Duelund Coherent Audio CAST capacitors, inductors, and resistors was an audio adventure that I'll never forget, and the performance enhancement to my Westminster Royal SE loudspeakers was absolutely spectacular!
Duelund Coherent Audio products are available through Parts Connexion in North America. To find out about the availability of Duelund Coherent Audio components in other parts of the world please consult the Duelund Coherent Audio website, and to inquire about special applications or custom orders for specific projects you can contact Frederik Carøe directly at Duelund Coherent Audio for more information.
In you want to read in detail what all the fuss is about with the Duelund Coherent Audio CAST capacitors, inductors, and resistors, and my step-by-step documentation of building Duelund CAST external crossovers for my Tannoy Westminster Royal Special Edition loudspeakers, you can read all about it in Issue 70 of Positive Feedback .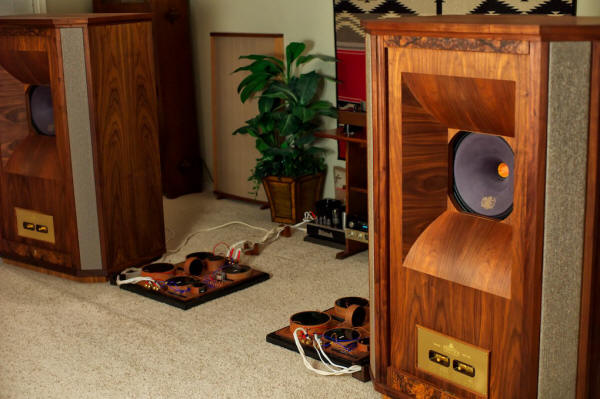 As always, it is a privilege and delight to be able to write about enthusiast audio for all of you here at Positive Feedback , and at my blog Jeff's Place. I hope you have enjoyed reading about all of these fine audio products in their respective reviews during the year, and I hope you'll join me in congratulating Friedrich Schaefer of ASR Audio Systeme for his magnificent Emitter II Exclusive Version Blue amplifier, Andreas Hadjiminas of New Valve Order for his superb SPA one phono equalizer, and Frederik Carøe and Magnus F. Pedersen of Duelund Coherent Audio for their amazing line CAST product line of capacitors, inductors, and resistors. Congratulations to one and all for being selected for the 9th Annual Positive Feedback Online's Writers' Choice Awards!
---
Michael Mercer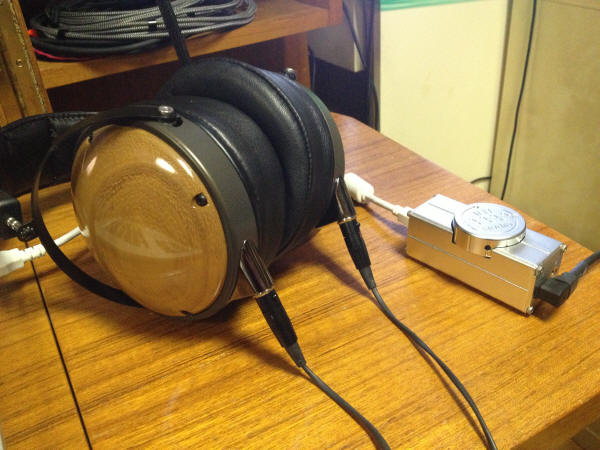 Audeze LCD-X (open-back below) & LCD-XC (closed-back above) Planar Magnetic Headphones - $1699 and $1799
Audeze has not merely delivered the goods again, but have also, again, elevated the game. Being recently labeled an "Audeze Jihadist" by an anonymous commenter on another audio site, I say that not as an advertisement: I wholly believe it. After all, since when did brand loyalty become a crime for journalists? If Audeze built a product I didn't like (or own for that matter) I'd say that too. Fortunately, they continue to innovate without rushing their process. They prove they're after performance above all else: As we devotees waited a year for the LCD-XC, the first closed-back design from Audeze, after they offered us a listen of the first prototype back at CanJam at RMAF 2012! They needed to achieve a level of musical performance worthy of the Audeze name, as my cousin Kenny Gould said at CanJam this year! Both the new open and closed designs offer a new level of sonic engagement and excitement, not to mention downright musicality. You can tell these guys love music. They show it many ways. Alexander Rosson, CEO, is also co-owner of Play Me Records (his partner is his wife, and superstar DJ Reid Speed). Play Me is one of the leading selling underground dubstep labels at Beatport. Audeze, as a team, express their sheer love of music and sound through wonderfully varied events they manage to participate in! From most of the standard-issue audio shows to high end luxury events, and even through participation at music-forward events like SXSW—where they also through a killer dance party with multiple sponsors (Cerwin Vega being one of them).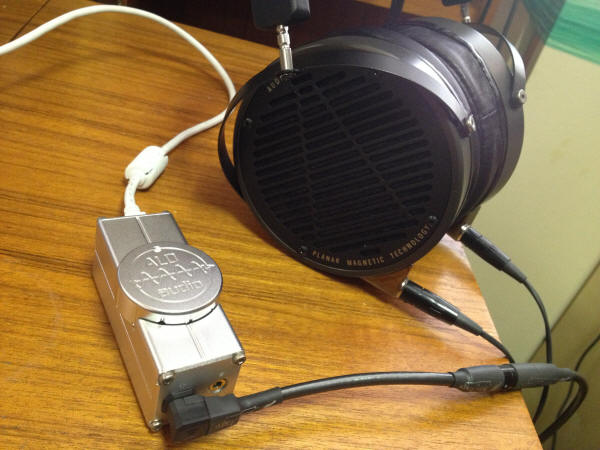 Listening to the LCD-X and XC, there's no doubt about whether the people at Audeze like to get down. Both products don't just sound terrific, they're fun as hell to listen to. The LCD-X, the open-back, has recently ascended my personal ranks, and is now my favorite headphone for recreational listening and studio monitoring. With their new Fazor technology, employed in the X, it's gained a distinct sonic advantage over my previous favorite, their LCD-3, in soundstaging capabilities. There's a far wider and deeper outer-body sound-field when listening to the X. The X has the same warmth and rich tonal qualities of the LCD-3, but with the added openness, you get the best of both worlds. Like listening to a pair of Stax 009s or Sennheiser HD800's with the musical impact of the Audeze LCD-3. Music is vibrant and spatial, soulful, and visceral. Listening to James Blake's "Retrograde" was resplendent. The incredibly unique sibilancy of Blake's wavering high notes was as window-like as I've heard with any great headphone. The cascading synths hovered, with consistent dynamic weight and power. The elements had plenty of air to breath. On Trentemoller's "The Dream" (featuring Low) the harmonies were haunting and bittersweet. The subtle guitar lines moved like audible waves rolling through my ears. It was pure bliss. So how could I not give this grand achievement a Writers Choice Award?
The LCD-XC, Audeze's new closed-back gem, makes listening to music a grand experience. Now, preferring open-back designs for listening (whenever possible), I don't make this statement lightly. I've never been a fan of closed headphones. Most still feel claustrophobic to me. That's the feeling that kept me away from many headphones, except when I'm Djing of course. It's also why I used (and still do) Grado headphones for so many years! They sound like music; they're natural, and they breath! So experiencing the same type of open sound in a closed-in headphone? That didn't seem too likely to me, until the LCD-XC came along (and Mr. Speakers Mad Dogs, and newly released Alpha Dogs). Now, I'd be lying if I said the XC sounds as open as the X. How can it? The headphones are physically closed! Despite this inescapable fact, the Audeze LCD-XC sounds so airy sometimes I get tricked into thinking I'm wearing open-back cans! That's no joke. It's addictive. My wifey loses me to these headphones often during the week. Speaking of that: This has also been my wifeys' dream for a long time too! I bug her to death when I wear my open-back headphones in the house and I don't blame her. With the LCD-XC, I can enjoy my tunes at whatever gain level I choose and not bother my Commander-in-Chief! As the character Lefty said in Donnie Brasco: "Ain't nothin' but nothin' but right". Rocking Alix Perez's "Move Aside" (featuring Foreign Beggars) off his amazing Chroma Chords LP on these headphones makes me feel like I'm at an underground dance party with a small Funktion One system in my head! The bass velocity and slam are sublimely articulated. It punches like bass bins at a club. The vocals are life-like, detailed and natural. The midrange is silky and coherent. Fortunately the XC is also capable of finesse. Boards of Canada's "Reach for the Dead" off Tomorrow's Harvest (reviewed HERE at PF this year) was like liquid and ice. Things were smooth and rolling when they needed to be, and sharp as knives when that was called for. The upper frequencies were almost visual in their presentation. They felt like light. Sounds like fun doesn't it? Glasser's "Landscape" was also equal parts water and and ice. There was a rich textural quality, that seemingly came from the female vocals blending with the synth stabs and pads. The voices were encircled in this puddle of sound, but, and this is so difficult to describe: The puddle wasn't all mass. Meaning it was far from congested. There was tons of air too. It made for captivating listening. I can't offer a higher headphone recommendation. Audeze has re-written the rules of engagement again. The LCD-X and XC don't just sound like music, they feel like music.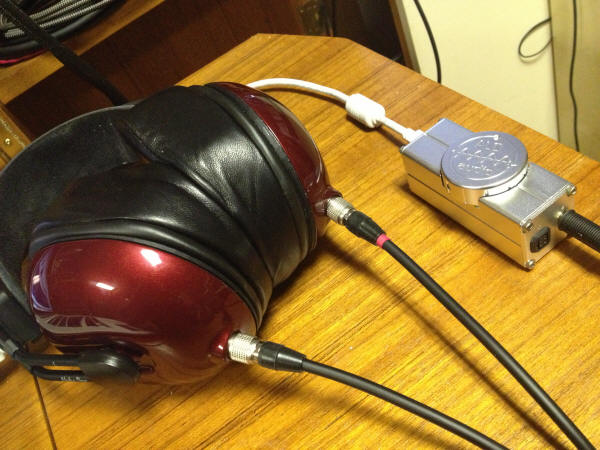 MrSpeakers Alpha Dog Headphones - $599.99
Quoting my dear friend and fellow PF scribe Warren Chi:
If there was ever to be a Cinderella-type success story in the world of modified headphones, it would be—without a doubt—the story of Mr. Speakers... a.k.a. Dan Clark.
I wish I wrote that. Because Mr. Dan Clark, the wizard behind MrSpeakers, gave me something I sorely needed and desired this year: Wonderfully engaging and musical closed-back ortho-dynamic headphones at a real-world price! It was also something Alexandra (the wifey) wanted. She'd had enough of hearing the bleed-through from my open-backs whenever she was nearby. Well, He's granted her silence and me some fantastic listening experiences. The Alpha Dogs have no right to sound this good at this price point, if we're talking high end performance, and what thing typically cost. Honestly: I've felt more fulfilled, and far more excited listening to music through these headphones than I have listening to many supposed state-of-the-art two-channel in-room systems at Hi-fi shows for the last few years! As I told Dan when I first heard the Alpha Dog during Headmasters at the California Audio Show this year: Somehow he's managed to pull the outside in, and the inside out of a closed-back headphone! I'm not sure if that makes any sense, but it's how I felt once I gave them my full attention to the show. Actually, the Alpha Dogs got closer to the performance of the Audeze LCD-XC than I expected! I'm not calling them equals, but at $599 these headphones are nothing short of stunning. I'm sorry I have to bring price into it when it comes to performance, but I think it helps illustrate just how good these headphones are. They'd be a deal at eight hundred bucks.
Dan Clark started MrSpeakers doing headphone modifications. He built up a stellar reputation and a huge buzz on Head-Fi.org with his Mad Dog: The first official MrSpeakers headphone (a modified Fostex T50Rp). I own the latest version of the Mad Dog, and I love those as well. The Alpha's however take things to a whole other level. In order to control the resonance of the ear cup, Clark elected to use 3-D printing to manufacture them as opposed to injection-molding. This process gave the cups more rigidity, providing for a more stable acoustic environment. The results are ridiculously clean sound and an airy presentation. Far more airy and open than you'd expect in anything closed. They're also light and comfortable! Hallelujah for that alone. They feel like soft-leather earmuffs. Comfort and great sonics: Where's the wrong in that? Seriously, there was more than one occasion when I forgot I was listening to closed-backs while playing Boards of Canada's Tomorrow's Harvest (reviewed HERE). The album is a breezy ambient masterpiece. The ebb and flow of the synths were tactile and soothing to the ear. Hearing that LP through the Alpha Dog is meditative. Same effect with Machinedrum's Vapor City (reviewed HERE at Audio360.org)—one of my top five records of the year. They can also bang when you need it too. They didn't buckle during The Haxan Cloak's Excavation, a dark and twisted album with some of the most unique sounds, I won't attempt to describe it here. But during "Consumed", the first track, there's this synth-like stab with a low, low end tone that pulses and ripples. I've heard large scale high end loudspeaker systems buckle when it drops. The Alpha Dog handles it all with precision and soul. That's another characteristic of this headphone that I cherish. It's impressive technically, but it's not overtly "Hi-fi" in its musical presentation. It's crystal clean when called for, and grimy when needed. It's got an addictive sonic quality that I love when it's crankin'. The Alpha Dog is my go-to headphone for daily use on-the-run. They've also played well with others. I've enjoyed them with everything from the Astell & Kern AK120 DAP to the CEntrance HiFi-M8, my E.A.R. HP4 and ALO Studio Six tube headphone amps! They never leave my messenger bag, and I don't think they'll be going anywhere anytime soon. The Alpha Dog deserves all the accolades it's getting. When I'm listening to them time evaporates, and that's not only because they sound terrific: They're so comfy you can wear them for hours.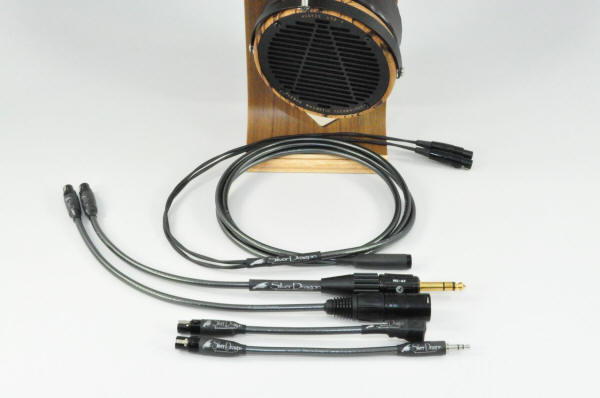 Moon Audio Silver Dragon V3 Audeze headphone cables with interchangeable tips
MSRP: Dependent on cable configuration
There are so many different styles of headphone output terminations on gear today. You've got the standard-issue 1/4", 3.5mm (or "1/8"), XLR, dual-XLR, and RSA balanced to name a few! I gave Drew Baird's Moon Audio Silver Dragon cables a Writers Choice Award before, and I'm proud to do it again. Why? Because I gotta say it: All those different outputs can be a serious pain in the ass. But thanks to Drew's adapter system, I carry whatever ends I need with me at all times. They all share the same cable lead into my Audeze headphones. Each just snaps into place, and you're in business. They're also flexible, which is a must, especially when you're traveling. Too many headphone cables are stiff, and it makes packing gear unnecessarily cumbersome. In addition to being flexible they're also OK to beat on! Now I'm not recommending doing so (wink) but I move around a lot with different headphone rigs, and these cables never failed on me. They also sound fantastic mated with the Audeze's. I run them on my LCD-3's, LCD-X's, and XC's.
Using them on anything from my E.A.R. HP4 to my ALO International battery-powered headphone amp, the Silver Dragons convey that intangible aspect of the music that's so captivating to us all. That thing you can't quite put your finger on. The best word for it is "soul". I have emotional connections to the music when I use these cables. They don't sound like they're filtering things, resulting in oddly-shaped performance curves and such. They manage to do what I look for most in a cable: Whether it be speaker cable, analog interconnect, or digital: They get the hell out of the way of the music. I've tried other cables that sound like they screw up certain genres, and are pleasant with others. It's almost as if the designer let their own particular musical taste seep into the design of their wires. This may also sound crazy – but I have cables that seem to shine on jazz and classical, but fall apart on experimental electronic music and hip hop. In my opinion, the best cable should sound like no cable at all. The Moon Audio Silver Dragons do precisely what they're meant to do: Keep you connected to you music, physically and emotionally. They don't employ any trickery. No in-line boxes with buttons or knobs. These are what some of us call the "straight dope." They also look nice too, which is a bonus. Put it this way: Just the Furutech 1/4" plug that Drew Baird uses on the Moon Audio Silver Dragons cost more than some other cables cost altogether! He uses great parts, provides solid customer service, and makes a helluva product. I highly recommend checking them out ASAP if you have any headphone cable needs. I also use their other interconnects (everything from LOD to mini-to-mini) which are equally impressive. They've become an invaluable tool in my personal audio arsenal.
---
Teresa Goodwin
Opus 3 for affordable DSD downloads
My first award goes to Opus 3's DSD download website dsdfile which is offering their wonderful catalog of naturally recorded high quality analog recordings as high resolution DSD downloads in both standard DSD64 (2.8MHz, same as SACD) and DSD128 (5.6MHz) at very attractive prices! Their full priced albums are $17.99 for DSD64 (2.8MHz) and $19.99 for DSD128 (5.6MHz). Their samplers are $9.99 for DSD64 (2.8MHz) and $12.99 for DSD128 (5.6MHz). In addition they have a "Direct to DSD" 4 song EP for only $4.99 for DSD64 (2.8MHz) and $5.99 for DSD128 (5.6MHz).
Acoustic Sounds DSD and high resolution PCM download site Super HiRez
Acoustic Sounds is now offering DSD and high resolution PCM downloads from audiophile remasters including with their own Analogue Productions and APO Recordings, as well as recordings from other companies at their new website "Acoustic Sounds Super HiRez".
Clever invention of the DSD-over-PCM (DoP) open standard
DoP allows the sending of DSD data over standard PCM interfaces (i.e. AES/EBU, SPDIF, USB etc.) without converting to PCM, keeping the signal native DSD. Transmitting the DSD data via the USB Audio 2.0 protocol uses PCM as a shell to hold the DSD data since the USB standard does not include DSD. It uses a 176.4kHz PCM holder to carry 2.8MHz DSD, and 352.8kHz PCM holder to carry 5.6MHz DSD. In addition to the audio signal there is also embedded information to tell the DAC that the incoming signal is DSD not PCM.

This standard was developed by Andreas Koch (Playback Designs), Andy McHarg (dCS), and Rob Robinson (Channel D) "DSD Explained by Andreas Koch" http://www.playbackdesigns.com/start-here/dsd-explained-by-andreas-koch/
"DoP open Standard" http://dsd-guide.com/sites/default/files/white-papers/DoP_openStandard_1v1.pdf
---
Frank Madrid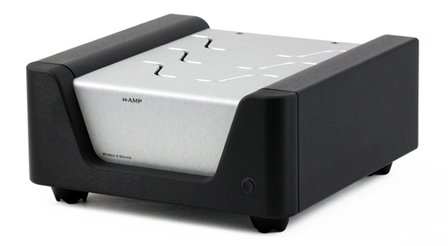 Wyred4Sound mAmp Amplifiers - $899 Each
My first product of choice for this year is the mAmp mono block amplifiers from Wyred4Sound. I saw them at The Show Newport this year and a few months later was lucky enough to get a pair for review. First of all these amplifiers fit right in my system so well it seemed that they were purposely designed for my Fritz Grove speakers. Let's see, how can I describe the sound? Let me count the ways. They have a clean, wide and deep soundstage. They sound smooth and powerful yet are efficient. They are very hi-rez devices yet sound very musical. They are very dynamic. They are Icepower, Class D, small, cool running, affordable, well built in the US of A. Did I forget anything? Oh yes I bought the review pair and they are now my reference amplifiers.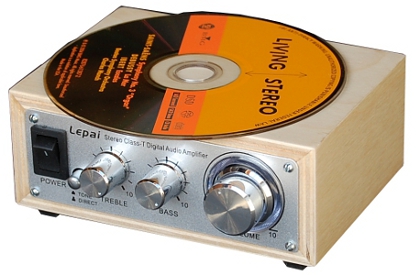 NSMP Modified Lepai Amplifier - Price varies according to options
My second pick is also an amplifier and also a Class D design. With Tripath chips and smaller still than the Wyred4sound amps. The Lepai amp started out as a nice inexpensive little amplifier before NSMT got a hold of it. With a new chassis, some internal parts swap and some beefy speaker posts, they have turned this little mouse into a lion. Need a very nice sounding, powerful, nice looking, and multifunction amp but don't want to spend a lot of dough? This is it. No fussing with tubes, preamplifiers or fancy smanchy wire. Run this amp straight in to a reasonably efficient pair of speakers, turn the volume up and start shaking your head. This mouse that roared can play music and in a very fun way. This is clean, punchy fun music on the cheap. For around $100 give or take depending on power supply options you can start having fun too.
---
Gary Beard
I had the opportunity to experience a number of very fine audio components this year, many of which I have recommended for your further investigation, as they are worthy candidates for your hi-fi dollars. However, none of them made my musical heart flutter like one simple pair of floor standing loudspeakers. They are my Writer's Choice Award for 2013.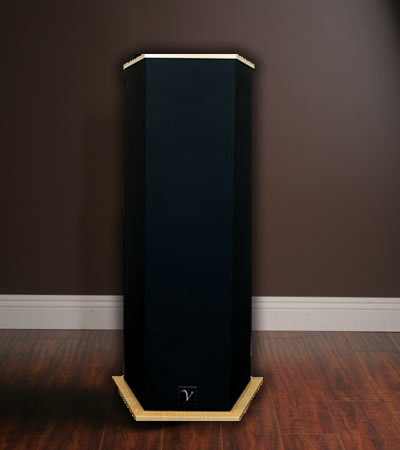 Von Schweikert Audio VR-22 Loudspeakers - $2895 Retail
As long as you have the requisite rear wall for boundary reinforcement, the VR-22 could very well be one of the most versatile, room-friendly floor standing loudspeakers on the market. I drove them with every type of amp I had on hand, from a 10 watt per channel tube amp to higher wattage solid state and class D designs. The VSA VR-22s sounded terrific with all three. They take a while to break-in, but patience is rewarded with awesome bass and captivating sound. They are the biggest bang for the buck audio experience I've had in over a decade of writing about fine audio.
---
Arnis Balgalvis
Devialet D-Premier Integrated Amplifier - $16,000
I have been reading Hi-FI News and Record Review for many years going back to the 60s. Like many of us I became familiar with some reviewers and developed a respectful relationship with them. A certain sense of validity and consistency is the basis here, at least for my way of thinking.
When I read Paul Miller's review of the Devialet D-Premier integrated amplifier in the April 2010 issue of Hi-FI News, the words he used to describe his sonic impressions of the D-Premier had a vastly different tone. It was obvious he was more than just smitten with what the D-Premier did sonically. This was well beyond a rave review—for him the D-Premier was a total game changer sonically and technically. For him it was a look at the future.
Right away, I tried every which way to get my hands on a unit, but it was not to be. There was no US distributor. Remember this was 2010. Devialet was a brand new company so who would get involved. Forget about it.
Finally, in February of 2011 I was able to purchase a D-Premier from Audio Plus Services. Why buy? The waiting list for review samples was far too long for me to wait. I had to have it now.
Well, Paul Miller was right on the money. In the two years of using the D-Premier it has brought me nothing but joy. I have never looked back. The D-Premier has been far and away the most gratifying product that I have had the pleasure of using in all my years of reviewing.
What puts the D-Premier in a league of its own is the sound. I still feel a little inadequate when it comes to characterizing what this unit accomplishes sonically. It is that special, that unique. Sure, pure and clean come to mind. But that's easy and every body has said that. In my review I said: "in my experience the D-Premier is also complete, certain, thorough, unimpaired, free and open." It's a combination of honesty, purity, clarity, openness and transparency. And it is eerie dead quiet.
And it is fast, detailed, dynamic. But not analytic in an overbearing, cool manner. The clarity is not crystalline, glassy, nor sanitized.
With all of its resolution prowess the D-Premier communicates an inviting organic air without a sense of any euphonic coloration.
After living with it for 2 years, the D-Premier continues to impress me day in and day out. I have no desire of wanting anything else. The performance package it brings to the table is absolutely astonishing
The D-Premier is actually a wolf in sheep's clothing. It is practically inconceivable that a unit weighing only 15.2 lbs and measuring 15.75" W by 15.75" D by 1.75" H not only houses a stereo power amp at 240 WPC, but also contains a DAC, a phono stage, and a line stage amplifier. And is Wi-Fi capable. And also provides a stunning looking and ergonomic RF remote control.
The D-Premier stands alone technologically. It exceptionally sophisticated high performance results from combining innovative cutting edge technology with multi-faceted flexibility. As a matter of fact, I am not aware of any other component in the audio industry that is as versatile as the D-Premier. All thanks to today's DSP advanced state of the art.
Devialet is not shy when it comes to promoting their technical prowess. And with good reason. Their claims of innovation stand on very solid ground. The D-Premier incorporates 4 components where each was determined to be so unique that a patent was awarded for all of them: the Analog/Digital Hybrid (ADH) power amplifier, the Ultra Linear Class A amplifier, the "magic wire" DAC, and the switching mode 600 watt Power Supply, capable of supplying 2100 watt peak demands.
For me the ADH amplifier stage is the stand-out achievement. Devialet's engineers first designed the Ultra Linear Class A amplifier and then combined it with a high efficiency switching amplifier in a manner that it boosts the current supply capability when high power is demanded by the signal dynamics delivered to the speaker load.
The D-Premier's DAC will take files up to 24/192 on S/PDIF, AES/EBU, or TOSLINK inputs. It also offers a phono preamp with cartridge loading for just about any MC or MM, hi and low output model, and a line preamp, and a 240 watt/channel power amp into a 6 ohm load. And it does Wi-Fi allowing it to stream stored music from your computer or tablet, etc. or your streaming service of choice.
Being a DSP enabled digital product it is astoundingly adaptable. Want to add a sub? Just program the desired crossover frequency for the high pass filter and select the slopes. Want to double up on power and use two 500 watt D-Premiers in dual-mono? No problem. Go to the Configurator on their web site and let it guide you very simply and very quickly. No shipping, dismantling, no jumpers to change. And no added expense.
The supreme advantage of a DSP enabled digital product is the ability to keep pace with upgrades. The most dramatic upgrade for me was the downloading and implementing the latest firmware version for the D-Premier. The resulting sonic performance gain was well beyond anything possible without resorting to complete component changes. And that, as well as a number of other upgrades, was free of charge.
For me the D-Premier is a bargain at its $16,000 price point.
Yes, $16,000 is a lot of money for an integrated amplifier, but consider that there is potential saving two sets of interconnects and two AC power Cords if you go for separates. If separates are still a thought, the signal path within the D-Premier from the DAC to the speaker terminals is all of 2 inches long and completely devoid of any coupling capacitors.
But the vital aspect of the D-Premier is its superb sonic performance. All the versatility would mean nothing if the D-Premier was not the most pure, clear, clean, and honest sonic performer that I have had in my system. It has a combination of dynamics, speed, and spectral balance that continues to astound and overwhelm me time and again. With the D-Premier in the system, listening is always enjoyable, and thrilling, and engaging.
The Devialet D-Premier Integrated Amplifier gets my highest recommendation.
It is more than worthy of the Brutus Award.
---
Myles Astor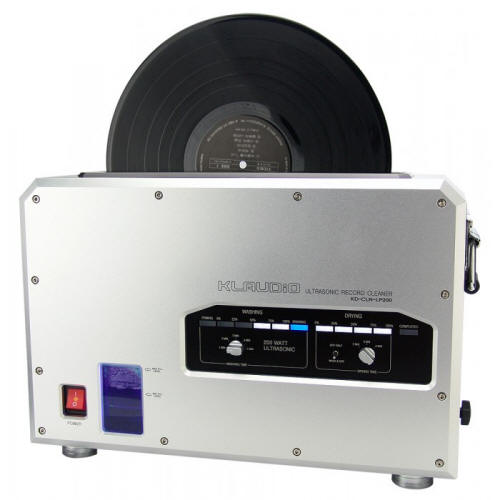 KLaudio Ultrasonic Record Cleaning Machine - $3999.99
Ultrasonic record cleaning machines are arguably the biggest breakthrough in analog playback in the past couple of years. After all, it doesn't matter one iota how good your cartridge, arm, turntable or phono section are if you can't track, perfectly trace and recover all the information encoded in the record groove. More to the point, ultrasonic record cleaning machines can make as big a sonic difference as a cartridge upgrade. And in my experience, no record cleaning machine does a better job of cleaning those new and used LPs than the KLaudio. This extremely well thought out and sturdily built machine has many things going for it. To begin with, the KLaudio machine is fully automatic. Translation: no muss, no fuss. Simply preset the cleaning and drying times, insert the record into the machine and come back when the machine beeps. Second, there's no teeth gnashing over the choice of record cleaning fluid. Simply pour roughly a gallon of distilled water into the machine to start and off you go. Finally, ultrasonically cleaned records possess a sense of quietness, transparency, detail, dimensionality and information across the frequency spectrum that the best traditional scrub and vacuum machines only hint at. A must-have for all serious analog lovers.
Reel-to-reel Recording of the Year: Smoke & Mirrors Percussion Ensemble, Yarlung Records. Steve Reich: Nagoya Marimbas; Lou Harrison: Canticle No.3; Maurice Ravel: Sonatine. Producer and engineer: Bob Attiyeh. 15-ips/2-track, CCIR, Yarlung Records.
In contrast to past years, there was absolutely no shortage of candidates in this category including The Tape Project's Lee Morgan Sidewinder, International Phonograph's Ravi Shankar in Luxembourg, 1980 and Opus 3's One, Vol. 2 Sampler tape. When push came to shove, however, Yarlung Records newly recorded and released Smoke & Mirrors walked away with this year's top prize! This single, roughly 31 minute reel, features a potpourri of percussion music from a trio of 20th century composers ranging from the likes of Steve Reich to Lou Harrison to Maurice Ravel. Each track is a musical and sonic spectacular with perhaps Lou Harrison's Cantitcle No. 3 with its hauntingly, primitive feel punctuated by the ocarina (a Mexican terra cotta flute that as described in the notes looks like, "sweet potato") interspersed with John Cage-ish percussion segments being my favorite. This recording's huge dynamic range (this is not a piece for the weak willed amplifier), instrumental colors and especially cornucopia of percussion instruments including bass drum and tam-tam will give even a thoroughbred audio system everything it can handle and even a bit more.
A big tip of the hat also to Arian Jansen of SonoruS for again stepping up to the plate and sponsoring Yarlung Records second quartet of tape releases.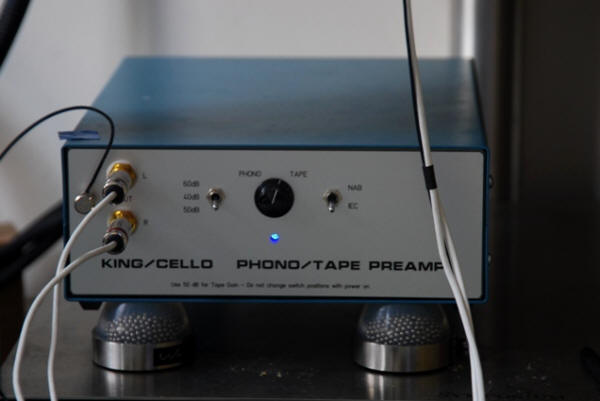 King-Cello Tape Preamplifier - $4000
Truth be told, the stock internal electronics on pro-sumer reel-to-reel tape machines (as well as many pro-machines) leave much to be desired. Thus, to fully appreciate those mouthwatering 15 ips tapes (or if you're among the lucky few, 30 ips) means either adding an external tape preamplifier or modifying the reel-to-reel machine's internal electronics. For those opting for the former route, there's few tape preamplifiers finer than the old Cello P603 module (made for the legendary Cello Audio Suite) based King-Cello. In addition to providing 40-50-60 dB of gain for the tape heads, the King-Cello also allows the user to select between either IEC/NAB equalization curves. On top of that, designer Charlie King includes several other useful features including high frequency trim pots to compensate for head wear and high frequency loss, the ability to compensate for that low frequency tape machine head bump and a separate outboard power supply. Accommodating the outboard electronics will, however, first require direct wiring out the tape heads (in my case, the stock Technics heads were replaced with Pro-Nortronics heads) to the King-Cello tape preamplifier. Coupled with the Pro-Nortronics heads, the King-Cello elevates the sound of the Technics RS1500 to unimaginable heights. The modded Technics machine is extremely neutral, resolving and transparent, displays an extended frequency response at both end of the frequency spectrum, improved dynamics, rock solid bass and three dimensional imaging. On the best recorded tapes, you can literally shake hands with the musicians. Not to be missed!
---
Robert S. Youman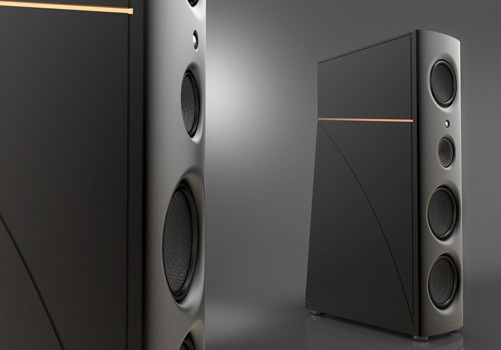 Magico Q7 Speakers ($185,000) and the Vitus Audio RI-100 Integrated Amplifier ($16,000 w/ phono stage)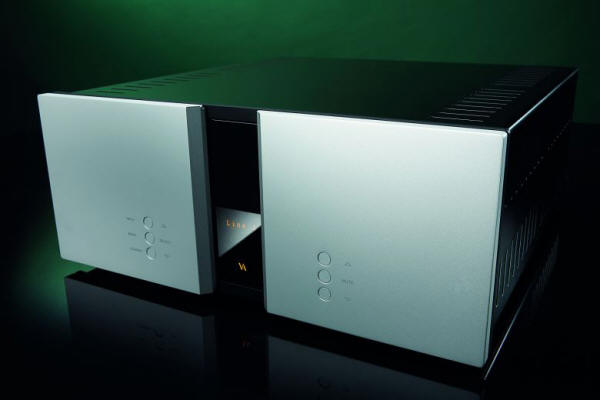 The Magico Q7 Speakers and Vitus Audio RI-100 Integrated Amplifier speak the same language. We talk about components that can provide a synergistic response. These two are a superb example.
Both present some of the most neutral, detailed and transparent sound that I have heard in my listening room. Both are lightning quick. There is no edge or whiteness along for the ride. Timbre, pitch and tone is spot on. There is no romance—all artificial harmonics are stripped away and you are left with the real thing.
Highs and mids are wonderfully fleshed out without excessive bite or grain. Bass texture and slam is with the best. Let me be clear. The sound is not lean! If you love a certain amount of artificial warmth and additional bloom look elsewhere. Just a vivid articulate presentation that will make you believe.
Soundstage is vast and extensive beyond the speakers when the music calls for it. You will not find any manipulation or false dimensions as you listen deep into the recording venue. Imaging is consistently superb and almost holographic with the very best recordings. You don't have to lean into the music to see and hear these variables. Just sit back and absorb.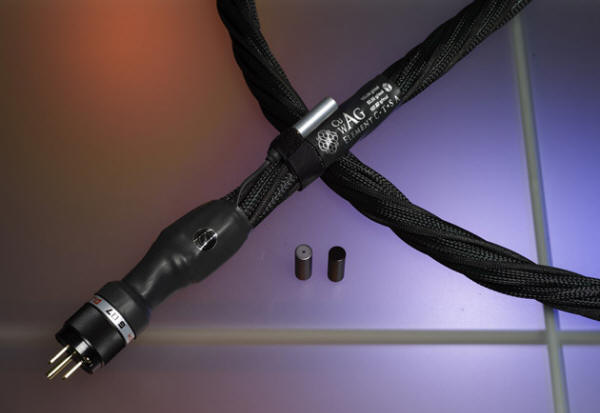 The Synergistic Research Element CTS Power Cords, Interconnects & Speaker Cable - 1 Meter Element CTS Interconnects (RCA) $3600, 1 Meter Element CTS Interconnects (XLR) $3695, 1 Meter Element CTS Phono Reference Cable (RCA ) $2995, 6 Foot Element CTS Speaker Cable (Spades or Bananas) $7125, 5 Foot Element CTS Analogue Power Cord $2800, 5 Foot Element CTS Digital Power Cord $3000
The Synergistic Research Element CTS line of cable products utilizes trickle down technologies from their flagship Galileo research and development. The Element CTS model employs a unique combination of loom materials: Copper, Tungsten and Silver. A key component of the Element CTS series is the use of their "Active Shielded Air Dielectric" which provides a superb job of managing reactive capacitance (signal and cable interaction), radio frequency interference (RFI) and electromagnetic interference (EMI). This feature also includes optional "Enigma Tuning Bullets" which can provide a very effective level of customization depending on your specific listening priorities and your system needs. There are three flavors of Bullets.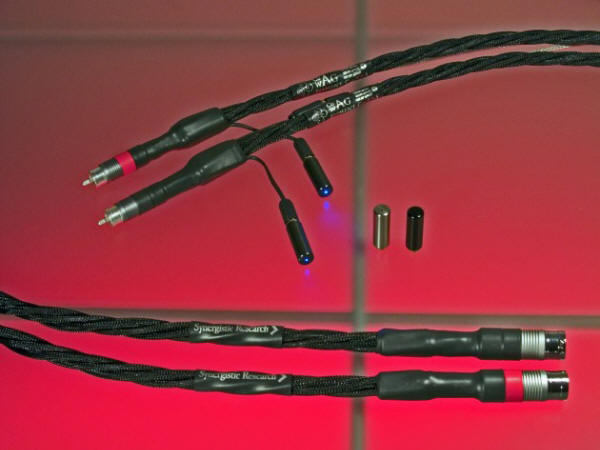 Silver - open & airy
Black - warm & rich
Grey - hybrid of the silver and black
Bottom line: I am hearing things that I have never heard before with titles that I have played hundreds of times if not more. Mids and highs have incredible transient attack, yet still have lifelike natural harmonics and weight. I thought that I had squeezed every last drop of definition and authority from the Magico Q7 loudspeakers, but now it sounds and feels like I am getting another octave on many recordings. Sound stage and imaging is the best that I have experienced in my listening room. A must audition in this price range.
---
Greg Weaver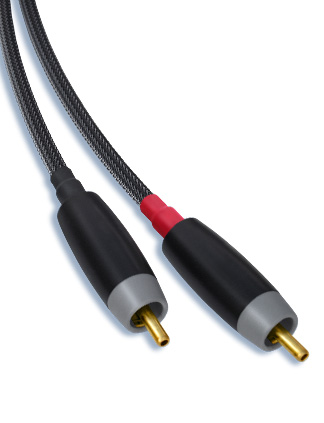 Audience Au24-SE Single Ended Interconnects and Bi-wired Speaker Cables - 1 meter single-ended interconnect - $990, 2 meter bi-wire Speaker cables/Spades - $3895
When John McDonald of Audience informed me that by utilizing a new termination with "enhanced" metallurgy, lower mass, effecting a more secure connection, Audience had found a way to accomplish significant improvements in their already world-class Au24 e series of cables, I couldn't wait to hear them.
As wonderful as the Audience Au24e's are, I have to admit, the—SE's really up the ante—and in a significant manner. I've been listening to the SEs for some time now, and I absolutely LOVE them. They are even quieter, more resolute, especially down by the noise floor, and have even more bloom, especially welcomed from the mid bass up into the upper midrange. To be completely honest, I am hearing things with the SE that were inaudible with even the spectacular Au24 e!
Are they REALLY that good? Yes, they ARE! They are so good, in fact, that the bi-wired speaker cables have usurped top honors in my reference rig—a system with a retail just north of $175K. They have replaced a long-standing set of bi-wires that retails for nearly thirty percent more than the new Au24 SE bi-wires… Yeah, they're THAT good!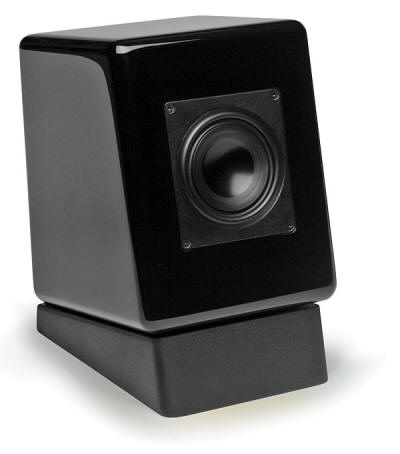 Audience ClairAudient The ONE – Personal Reference Monitor - $995
At first glance, you've NO indication that your entire world may be about to change: then, you hear them. These beautiful little Personal Reference Monitors, just 7" x 7" x 5.5", have the purist timbre you'll ever hear… No, REALLY! With no crossovers, these little upstarts have reset the bar on sonic purity, period.
In this alignment, using their own in-house designed superb A3S driver on the front, and a purpose designed Passive radiator on the rear, you will be astonished at how close to full range this design approaches. Yes, they are shy the lowest octave and a half or so, but you likely won't mind—I know I sure don't when the music is playing. And when placed properly, using the included stands, their ability to recreate the whole musical tapestry is magical.
While designed for personal use with your computer or MP3 player, they REALLY deserve to have a better diet than the lowly MP3. They are so tonally pure, so truthful to timbre and pace, you will find that the better signal you feed them, the more you will learn about the music you are listening to. In fact, if it weren't for their natural power handling limitations (it is a single 3-inch driver, after all), you'd likely use them for your primary loudspeakers. Oh wait, that is what the rest of the ClairAudient line is for!
These little guys will change the way you listen to every other speaker you ever hear. Be prepared to have your ears opened!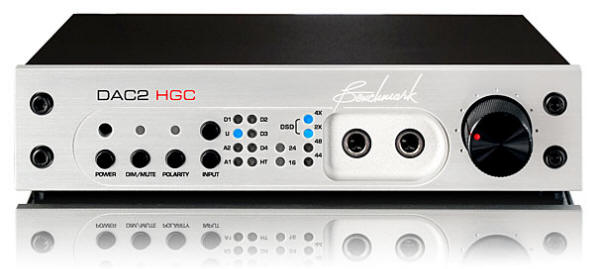 Benchmark DAC2-HGC Digital-to-Analog Converter - $1995
What an achievement! While the DAC2-HGC may not be the last word in extension at either extreme, absolute air or resolve when compared to some DACs that retail for five digits, both its incredible versatility and over-achieving sonic performance make it more than extraordinary!
The DAC2-HGC is a DAC, a preamp, and a headphone amplifier, all in one. It has five digital inputs, two analog inputs, and three analog outputs on the rear panel, and two headphone jacks on the front. It handles 16- or 24-bit word lengths at 44.1, 48, 88.2, 96, 176.4, or 192kHz, AND DSD64 (no DSD128—yet)! It uses their new UltraLock2™ Jitter Attenuation System and Quad 32-bit balanced D/A Conversion System. It offers polarity inversion, Driverless Asynchronous USB 1.1, and Asynchronous USB 2.0 connectivity. It even consumes less power than previous models in doing it.
The "HGC" in the name refers to Benchmark's unique Hybrid Gain Control™ system, which combines active analog gain control, passive low-impedance attenuators, a 32-bit digital gain control, and a servo-driven volume control. Analog inputs are never converted to digital, and digital inputs never pass through an analog potentiometer. This DAC just about has it all, ultra versatility and smooth, seductive sonics approaching state-of-the-art. It was such an over-achiever, I put my money where my mouth is; I bought it!
---
Steve Lefkowicz
My picks for this year's Writer's Choice Awards were pretty easy and clear cut. As usual, I look for those pieces of equipment I've spent sufficient time with to fully understand their quality, while focusing on those products that brought real value to the audio arts. Though I have had the opportunity to use several exceptionally good products this year, three stood out as clear and worthy winners based on my personal criteria.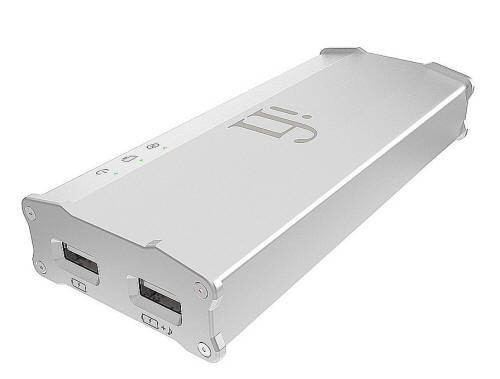 iFi iUSB Power Supply - $199
I've used the iFi iUSB power supply with seven different USB DACs (CEntrance DACport LX, iFi iDAC, HRT Music Streamer II, Audioquest Dragonfly, Wyred4Sound mDAC, Headroom Total BitHead and the USB input of the great new Wyred4Sound mPRE preamp) and three different notebook PCs over the past year and truth be told, it made every one of them sound clearly and substantially better. The improvements in overall quality are profound enough that I can't imagine running a USB DAC without it. You just don't realize how noisy and congested a USB DAC might be when powered straight from a PC's USB port until you hear one running noise free powered by this clean dedicated power supply. To paraphrase Joni Mitchell, you don't know what you've got till it's gone. Simply put, an essential part of a USB based computer audio system.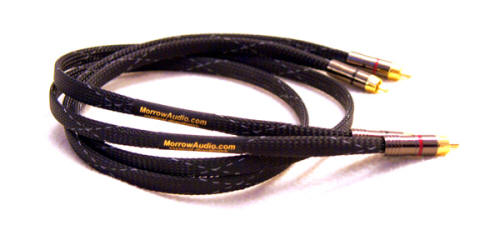 Morrow Audio MA1 Interconnects - $69.95 or less for a 1-meter pair
In a world where a few feet of cable can cost more than a car, and where any discussion of cables can lead to heated and contentious debate, it is a refreshing breath of fresh air to have a product like the MA1 interconnect available. Downright cheap on the grand scale of audiophile pricing, works like a charm, and isn't just some off-the-shelf cable with a fancy outer jacket and a huge markup. Sure, there are better cables for more money, but these may be where the inflection point of diminishing returns sets in, and where increasing quality can become very expensive. I have my entire system wired with these interconnects, and don't feel that I've given up anything to the much more expensive major brand cables they replaced.

Jolida JD9 (fully upgraded) Phono Stage - $1219
Review pending.
The review of this "fully upgraded" phono stage is pending, and should post very soon. This version of the budget oriented JD9 phono stage that has been reviewed in PF before, has been fitted out with two substantial upgrades supplied by Jolida (not an aftermarket modification).
Upgrade package one - Replacement of resistors in the signal path from the stock metal oxide to carbon film resistors. Replacement of two coupling caps on output board to Clarity ESA caps. Replacement of the tubes from stock Tung-Sol 12AX7 to Gold Pin Tung-Sol 12AX7. This upgrade is $200
Upgrade package 2: The addition of a Bybee Rail to the filament of the tubes. ($450)
The result is one of the best phono stages I've ever heard regardless of price, much improved in all respects over the standard version. Certainly the best I've ever had in my system, Transparency, neutrality, detail, dynamics, and frequency extension that goes way beyond the rest of my system. I'll have a lot more to say when the review publishes, but I'll tip you off, it will be what you've just read here, but with a lot more detail.