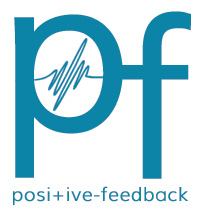 You are reading the older HTML site
Positive Feedback ISSUE 70
november/december 2013
Notes of an Amateur: Handel, Jennifer Koh, Vasks, Britten, and Hosakawa.
by Bob Neill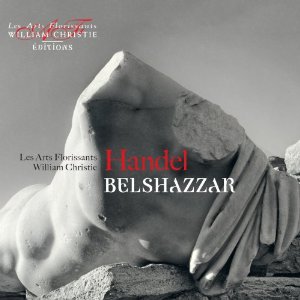 Handel, Belshazzar, Les Arts Florissants. William Christie. LAF Editions.
We are a long way from a time when the staging of highly fanciful baroque operas could convince with its drama, costumes, and decorum. Speaking for those of us who love baroque vocal music but find the music itself more than sufficient and so see no compromise in staged concert versions of operas (or oratorios), I welcome this new recording of Handel's oratorio, Belshazzar, by the preeminent performers (and recorders) of the form, Les Arts Florissants. Director William Christie reminds us in his notes to this first release on the ensemble's own label, that they have been doing this now for 30 years! The singers and musicians have mostly changed; but as with the Tallis Scholars and English Baroque Soloists, the leader and hence the musical vision has not. And neither, our ears tell us, has the quality of the music making. The only pity is that they no longer record on vinyl.
Les Arts Florissants' main focus has always been the French baroque, though they have also flirted successfully with the Brits, bringing their French performing style to the less sensuous and less florid Purcell and Handel. The most moving 'live' classical performance I've ever heard was their concert version (the opera performed in effect as an oratorio) of Purcell's The Fairy Queen, performed in Boston's Jordan Hall. Purcell might have found it all a bit too 'expressive' but 1990 Boston loved it.
The text of Belshazzar is sung here, as written, in English by English speaking soloists. Musically, it is grand ceremonial, melodic, sometimes quite emotionally moving Handel. The 'story' is kept mainly at bay and out of the way, as it should be. We do not have to hear the Persians retaking the palace of Belshazzar and the Babylonians. We came to hear the music which celebrates and tracks the emotion of the action. No blood, no sword play—just rich, eloquent clouds of Handelian magic, some of it among his best writing, presented by one of the very best early music organizations of our times. A fine new generation of soloists, countertenor Iestyn Davies notable among them. While this is not a 'live' recording, it has some 'live' qualities, including a reverberant venue. Welcome to this promising new recording venture.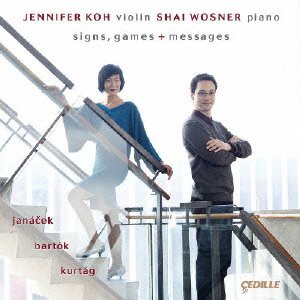 Jennifer Koh, violin. Shai Wosner, piano. Signs, Games, and Messages. Janácek, Bartok, Kurtág. Çedille CDR 90000143.
Jennifer Koh has become one of our most accomplished violinists. Virtually anything she plays now is moving and interesting. This program of works for violin and piano is fascinating in its ability to illuminate all three composers, a rare feat in a recorded program and even in a recital. Koh has found a way to juxtapose music from three central European composers such that each composer's work seems more significant and more comprehensible in the company of the others. She claims it is their interest in Slavic folk music that is the key here, but I suspect there's something even more profound going on below the surface.
I have always been somewhat held off by Janácek in particular but having listened to his Sonata for Violin and Piano here alongside Kurtág and Bartok, I now have the sense that I get him. Kurtág, for all of the stature he has achieved among contemporary composers, has always struck me as somewhat gnomic—illusively cryptic. Alongside Janácek, he becomes fascinating. Bartok is here to 'put it all together' which he does, I suppose. But by the time we get to him, the important musical work has already been done. Brilliant programming, superb and moving musicianship.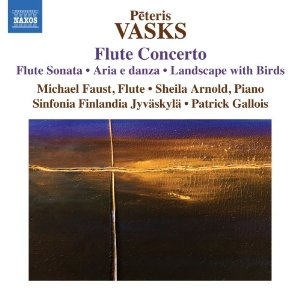 Peteris Vasks, Flute Concerto, etc. Michael Faust, flute. Sinfonia Finlandia Jyväsklä. Patrick Gallois, director. Naxos 8.572634.
Fans of contemporary Lithuanian composer Peteris Vasks (b. 1946) will happily listen to anything by the composer. This album of his music for flute (concerto, solo sonata, duo for flute and piano) presents all of his virtues—the solo and duo work in particular, which pares his neo-romanticism down enough to give it fresh force. We love the lush and plaintive Vasks we hear in the concerto, but this 'smaller' music seems to take us closer to the composer we thought we knew so well.
I would not have thought the flute would suit Vasks: it hasn't the lean, penetrating quality of the violin which expresses him so tellingly. But the flute's pastoral quality serves him well—in the concerto almost too well! Flautist Michael Faust's balance of clarity and warmth save the day.
The Eastern European resistance to the cool abstractions of avant-garde modernism continues apace.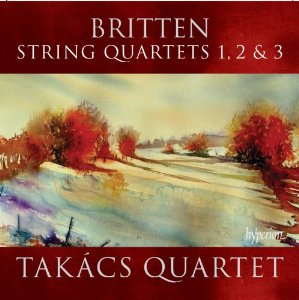 Britten, String Quartets 1,2, & 3. Takács Quartet. Hyperion CDA68004.
That Benjamin Britten became a student of Frank Bridge rather than Shoenberg probably resulted in his becoming a radical conservative rather than a conservative radical. Meaning he was not going to write abstract music in any case. His music, like the man who composed it, is grounded in the past and in the rural world he inhabited on the Sussex coast of England. Not in any sentimental way—Britten loathed sentimentality—but in the way that Eliot preached. He was inspired by earlier music and traditional forms but strove for a fresh and inventive way to build modern music from them. His music sounds like no other I know; and until the world gets its head truly around it, his reputation will remain ambiguous and unsettled.
He wrote just three string quartets that he gave opus numbers to. (A complete recording of his work written for string quartet would include one other and some shorter works—the Endellion Quartet recorded all of this music years ago on vinyl and have just released a newly performed set.)
In Quartet No. 1 (1941), written when Britten was 28, we can hear the conservative music of early twentieth century England but something's not quite right—or rather something is extraordinarily right. There is a plaintive, unsettled quality that casts an expressive shadow over the pastoral lyricism of his contemporaries. Both aesthetically and emotionally the music feels hauntingly unclear and equivocal; and there are some extraordinary moments (Movement 3) that take us where none of his contemporaries could...or would go. Not Birtwhistle, Ferneyhough, or Tippett, who all went down the rabbit hole. But rather to a troubling and questioningly glimpse of the world we know. I had forgotten how wonderful this relatively early work is.
Quartet No. 2 (1945), written just a year or so before the opera Peter Grimes, begins down a bolder, more harried path, eventually settling into a walking rhythm followed by a gallop and then a sprint, all of which eventually relaxes into a very moving meditation. This is one of the oddest movements in all of Britten's work. It is full of things we'll find in his later works; but so far, I've not been able to hear it as coherent music.
Quartet No. 3 (1975), essentially his last composition, is a whole other proposition. Closely associated with the opera, Death in Venice, which it quotes, it feels from the start like a mysterious, extended farewell. It is one of Britten's most moving works. That said, the Tákacs, whose approach has often struck me as a bit cool, don't really suit this most emotionally compelling and beautiful of the three quartets. To test my memory I revisited the Sorrel Quartet's version, one that some listeners feel is too warm and indulgent—and I found what I missed with the Takács. Opinions will split on this—the many admirers of the Takács won't be troubled by my reservations—but their approach is a bit too lean and detached for this Britten lover, at least on Quartet No. 3.
Out of curiosity, I listened to the Sorrels on Quartet No. 2 and alas, their warmer and less austere performance made more sense to me. I might not prefer the Sorrels on Bartok but on Britten I'll have to give them the nod. One more note: superb violist Christine Walther, whom we've frequently heard among musicians at the annual Music@Menlo Festival, is now a member of the Takács, having joined in 2005.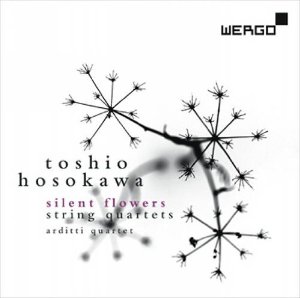 Tosho Hosokawa, Silent Flowers: String Quartets. Arditti Quartet. Wergo WER 6761-2
Much Japanese music proposes to western listeners (simply by being what it is) a different way of being in the world. Modernist Japanese music, the little I've heard, takes this proposal further. I had never heard of Toshio Hosokawa (b. 1955) but I will follow the Arditti Quartet (almost) anywhere in modern music they care to lead. They are the standard in what they do, providing the medium for modernist composers of string quartets to reach us: 170 recordings to date!
There six works for string quartet (1980-2009) offer us a wall or a gate, depending on our willingness to meet the music with open minds. Hosokawa himself describes his aim as wanting to make what he calls in Japanese the dő—the path or way to innermost human nature, "which is somewhat different from the intention of European artists." He pursues not form but formation. As a way of getting through the gate, we could say this is the western equivalent of romanticism—the focus on becoming. Some western avantgarde composers explain their music this way—Hosokawa claims Webern and Nono as influences. But very little of western modernism sounds like Hosokawa's.
To begin with, sustained notes are rare, continually sliding off themselves, urging us not to focus on them as entities but rather as movement. Time is also less noticeable: if anything we feel as if we are rotating about something rather than moving from one place to another. Moods fade in and out but they are never vague—there is nothing dreamy or impressionistic about this music. Rather, it is calligraphic. There are subtle notations next to bold, dissonant statements.
As I almost always say about new and challenging music, one of the best ways to test its strength is to listen to it for an extended period of time and then switch 'back' to something utterly traditional. If you initially feel trapped or limited in the older music, you probably got at least part way through the gate without knowing it.
Equipment used for this audition: Resolution Audio Cantata CD player; Crimson 710 preamplifier and 64 monoblock amplifier; Tocaro 42 speakers; Crimson cabling.
Bob Neill is a former equipment reviewer for Enjoy the Music and Positive Feedback Online. He is currently proprietor of Amherst Audio in Amherst, Massachusetts, which sells equipment from Audio Note (UK), Blue Circle (Canada), Crimson (UK), Jean Marie Reynaud (France), Resolution Audio (US), and Tocaro (Germany).