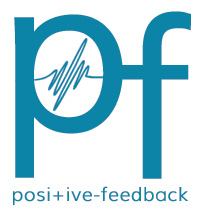 You are reading the older HTML site
Positive Feedback ISSUE 70
november/december 2013
Notes of an Amateur: Petrenko's Shostakovich 4, Rachel Podger, Janowski's Henze.
by Bob Neill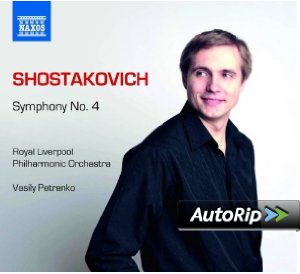 Shostakovich, Symphony No. 4. Royal Liverpool Philharmonic Orchestra, Vasily Petrenko. Naxos 8.573188.
This release came along too late for me to make it one of my three favorite releases of 2013 but it surely deserves it. It is the penultimate issue in one of the finest symphonic cycles I know of. (Nos. 13 and 14 are still in the wings.) and sonically this one may surpass them all: truly extraordinary sound, up there with the best I've heard. Individual instrumental timbres are magic, balance of weight and clarity is perfect.
Shostakovich's Symphony No. 4 is a huge, ambitious work—over an hour long with a sonic and emotional range that is sometimes astounding to attend to. It is like a concerto for orchestra—every section gets to speak. The first (of three) movements (27 minutes itself) is mainly bold, brilliant, and driving, though it eases to a thoughtful, lyric final five minutes, led by a violin solo, then a more playful bassoon, and finally an oboe. The second movement (9 minutes) splits the difference on the matter of intensity. One of the characteristics of the symphony that we begin to notice at about this point—arguably the one that characterizes his symphonic oeuvre as a whole—is a sense of huge spaces between the instruments, meaning no blended wall of sound. The stage is full of a great many individual instrumental voices which never disappear into a sonic cloud. If these symphonies were paintings, we'd be talking about all of the white space. We have the sense that Shostakovich's aesthetic, his style, is about articulation. This may be the chief difference between the Russian and Germanic ways of making symphonies, at least in the eyes of Shostakovich. And it is clearly what makes Petrenko's Shostakovich cycle so singularly powerful. When Petrenko looks at the score he sees (and hears) everything and is committed to giving us this experience.
In the third and final movement (28 minutes), Shostakovich lets the violins, low strings, and winds speak in a more blended voice here and there before returning to his usual ways, moving about the orchestra to let the various sections have their say, sometimes with antiphonal drama that makes us yet again grateful for stereophonic sound. As a whole, the third movement feels like a commitment to explore the possibilities of an orchestra, or of human experience. The finale lets everyone come together for a brilliant explosive five minutes before pulling them back and letting the skies darken.
As I've written before, I came to Petrenko's cycle of these symphonies expecting him to confirm my belief that this music for all its drama and spectacle was ultimately minor stuff. Nearing the end, I find myself persuaded by this bold poet of a conductor that Shostakovich is a major symphonist, strong enough to stand alongside Mahler without apology. If you have not bought into this cycle yet, by all means start here.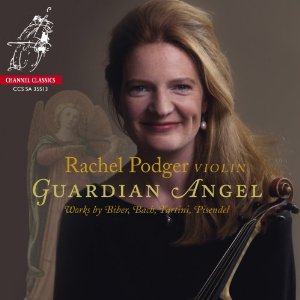 Rachel Podger, violin. Guardian Angel. Works by Biber, Bach, Tartini, Pisendel, Matteis. Channel Classics. CCS SA 35513. (SACD hybrid)
Even for many fairly serious listeners, music for the solo violin tests the love. Played on a 'period' instrument, the test is even more demanding. This is music that indulges a composer's and musician's love of the unadulterated purity of music—and the violin. The composer and musician are inviting us into a private, reflective place where the two of them explore the corners and plumb the depths of their joint vocation.
Rachel Podger, among the very few best period violinists in the world, has earned the right to ask us to take the test. She has recorded a great many CD's of public music with orchestras and ensembles—some of her own convening. Here she plays a half dozen of her personal favorite baroque works for solo violin (including a transposition of a Bach flute sonata), relying on her distinctive compound of great technique and expressiveness—and on the quality of her taste in music—to persuade us that this purest kind of music-making is as wonderful and important as she and her composers believe it is. If you love the baroque violin—its bittersweet ability to wrap itself around notes and breathe them into you; if you love baroque music—love of detail, pattern, and sheer eloquence; and if you love Podger's evident affection for both her instrument and its music and how she can express this affection without losing a trace of the music's integrity—staying on notes a tad longer, turning corners with a bit more grace, well there you are.
By the time she reaches the final piece in the program, a passacaglia from one of Biber's Mystery Sonatas "engraved the Guardian Angel," if you haven't passed her test, you are a tough nut. These eight musical minutes may be the most moving of her career.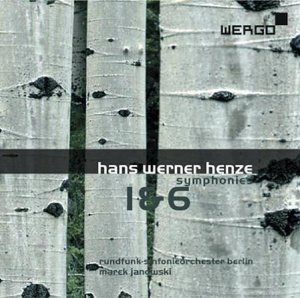 Hans Werner Henze, Symphonies 1 & 6. Radio Symphony Orchestra of Berlin, Marek Janowski. Wergo. WE 6724-2.
Henze, who died last year at age 86, is among the least well known modernists. He was the dean of German composers throughout the latter half of the twentieth century. His predecessor, Hindemith, has fared better in the concert hall and on recordings, though some feel his waters don't run deep enough to justify the success. Henze, with considerably less surface order and coherence, tends to draw us further in.
This new CD is part of a continuing cycle by Janowski for the essential German label, Wergo, which focuses on modernist music. These recording are the only ones I know of Henze's symphonies since his own on DG (Vinyl #1-5, 1966; #6, 1972; digital, #1-6. 1990. Now on Brilliant Classics). The original set introduced me to the composer, who both stunned and fascinated me. Henze's versions give away a bit in clarity and dynamics to Janowski's; they sound more deliberate and reflective. The music goes fine either way, though I find the new ones make a stronger case for the composer's chief virtues. Another advantage of this new recording of Nos. 1 and 6 is that it presents the composer's revised editions of both, done in the 1990's.
Symphony No. 1 is interesting, but the main event here is Symphony No. 6, a wonderfully pure example of abstract expressionism in music: all manner of detail flying across the canvas, urging us to follow, like the white rabbit. Even on my marvelous new little Audio Note K's, the clarity and range are fascinating. What's especially taking is how Henze manages this same aesthetic in the slow second and most of the third movements, wisps and scuddies of instrumental detail— sometimes stormy, sometimes calm—appearing and disappearing. We can't take our eyes off the canvas.
If you are not comfortable with high modernism, this work will not cohere for you. It is more about a world in which all things are possible than a path through it. It is a great showpiece for its aesthetic, which I find almost endlessly fascinating
Time to hear Henze?
Equipment used for this audition: Resolution Audio Cantata CD player; Crimson 710 preamplifier and 640 monoblock amplifier; Tocaro 42 speakers. Audio Note OTO Signature integrated amplifier; Audio Note K/SPe speakers. Crimson cabling.
Bob Neill is a former equipment reviewer for Enjoy the Music and Positive Feedback Online. He is currently proprietor of Amherst Audio in Amherst, Massachusetts,which sells equipment from Audio Note (UK), Blue Circle (Canada), Crimson (UK), Jean Marie Reynaud (France), Resolution Audio (US), and Tocaro (Germany).